Beyond Beta November 2022 at Sociality.io
Ready for Christmas? It is almost there 🎄
Christmas is almost there, and the spirit is something else! It is magical how fast the days passed, the trees shed their leaves, and the year was almost over…Long story short, we took Christmas as our inspiration this month and had some optimizations, and made changes to Sociality.io. This is our gift to you 🎁
Wishing you a holiday season filled with joy, love, and all the things that make your heart sing. See you next year 😅
Here is our summary: Sociality.io in November 2022 ✨
Social Media News in a Nutshell
Get the latest social media news, insights, and marketing tips in your inbox once a week.

Compare options for "Team Performance" reports 🌞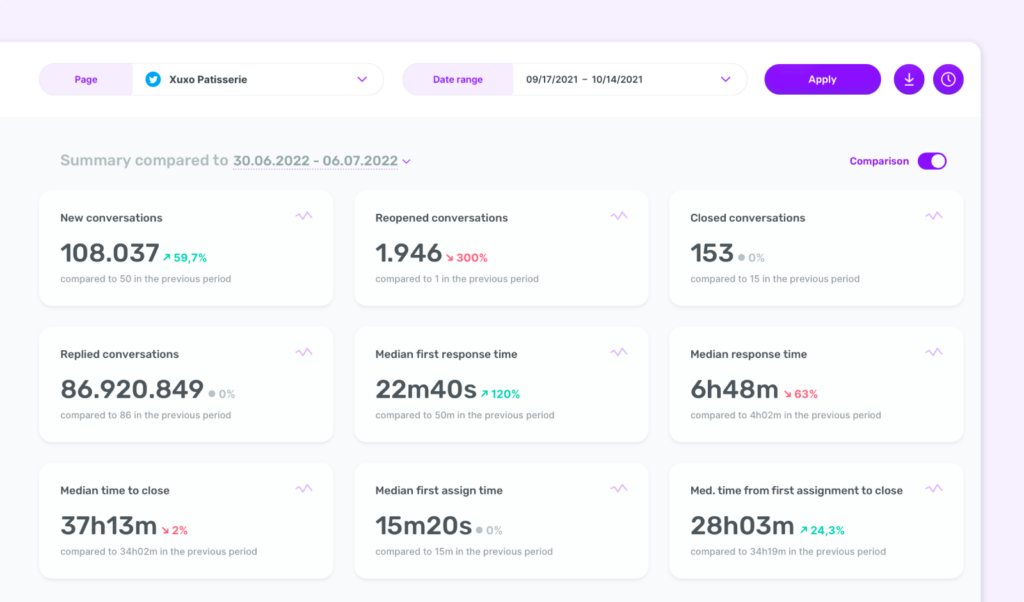 We have made a really straightforward improvement in Engage Module 🙂 We have added a new button called "Comparison" on our Team Performance reports. From now on, you will be able to use this "Comparison" button to compare your metrics on the Summary card on your Team performance reports. So, you will be measuring how your team is managing social engagement, which parts to improve and what actions to take for a better social media management experience, and so on.
All you need to do is activate this "Comparison" button and select the data range you want to compare the data on your Summary card, such as:
New conversations
Replied conversations
Closed conversations
Median time to close, and more!
Our newsletter is now on LinkedIn ⚡️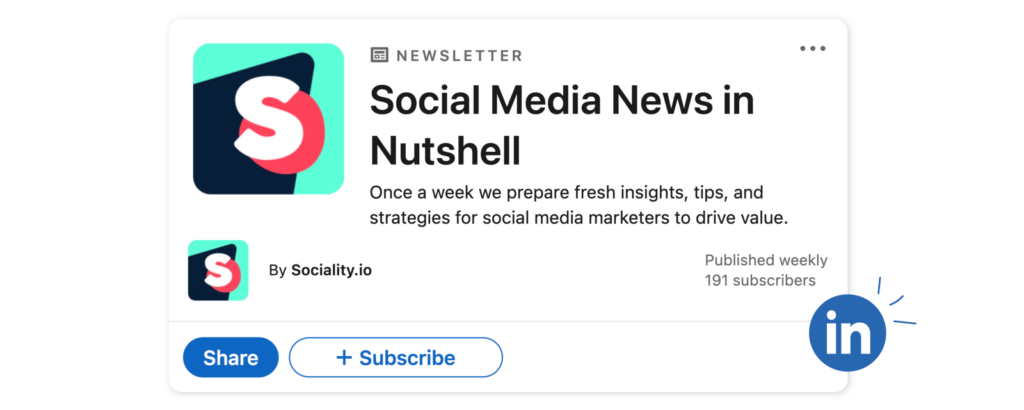 Once a week, we prepare fresh insights, tips, and strategies for social media marketers to drive value for their social presence. In case you do not want crowds and chaos in your inbox, you can simply subscribe to our weekly newsletter via LinkedIn. By doing that, you will be keeping up with what is happening in the social media world while surfing on LinkedIn 🤗
Here you can reach out to the previous newsletter and simply subscribe to our weekly newsletter on LinkedIn: https://www.linkedin.com/newsletters/7003326392016715777/ 🙃
In case you want to get fresh insights, tips, and strategies in your inbox, please visit and subscribe: https://sociality.io/blog/category/newsletter/
The app is now better than it was 😍

It is perfect for integrating new features and improving the existing parts of the tool. It was what we were doing all the way here, actually. This month we decided to take a stop and dedicate ourselves to optimizations on the tool mainly.
A bit heartbroken that we can not just show them with fancy words and cool visuals this month 🥺 However, we are glad that we've made significant optimizations to our product to improve performance and speed. This means that you'll be able to use it more efficiently and effectively without any noticeable changes to the features you're used to.

Mobile: General system improvements are made successfully ✨
As always: General system improvement on the tool 🤗
Analytics module: The problems happening with the time in the comparison section while exporting reports are fixed.
Engage module: UI problems related to page visuals and moderation icons in the Engage module have been resolved 🥳
Reports: The errors experienced in the panel while creating reports covering long date periods and containing a lot of data were solved. Feel free to create reports like that now ⚡️
Engage module: Happy exporting! We have resolved the issues experienced when exporting the conversations 💬
Anything else? We are here to help 👉

[email protected]

We have someone to introduce 🤗
It is a pleasure to share the good news with you folks! It's been a while since we introduced our teammates. It is again the time 😍 Let me introduce our new team member Eyüp to you! He is a "Frontend Developer" on our team and helping Sociality.io with his outstanding contributions 👌 Let's get to know Eyüp better.

Eyüp mentions that he is a strong nature lover who likes camping in nature a lot ⛺️ Listening to music is an inevitable part of his life so it is not a surprise that he spends over 40000 minutes a year listening to music 😁 Also, in his spare time, he enjoys watching game streams 🎮