Migration guide: Agorapulse
Good evening, everyone! Welcome onboard. Our train is departing from Agorapulse station and heading to Sociality.io, your ultimate all-in-one social media management platform. We'd like to provide you our product migration guide.

Please fasten your seat belt and thank you for choosing our tool. We wish you a smooth transition.
Pay attention to key reminders:
Don't worry about your precious data being lost. Sociality.io ensures to save your 3-month guaranteed data from all your social media profiles.
Sociality.io is an all-in-one social media management platform, that offers a wide range of features you need to enhance and facilitate your social media marketing efforts.
We have more detailed guides available here.
Setting up your account is going to take 4 steps, which are vital if you want to receive the maximum value from your Sociality.io account. Switching to a new tool is always frustrating and hesitation to leave things in the status quo is high. So take a deep breath and take your time to set up a complete account. It is not complicated. We promise.
Step 1: Add Brand
1. Click on the profile icon at the bottom left corner.
2. Link the social media accounts of your brands to the system by clicking the "+Add New Social Profile" button
3. With the Settings button, you can edit or delete the account
4. Add Brand by clicking at "+"
5. Upload the logo of your brand
Step 2: Invite team members
Social media marketing is impossible without organic collaboration and a suitable tool that facilitates it. Invite your team members and build a hierarchy of accesses.
Account Settings > Users > All users in your team will be listed on the screen
1. To add a new user click on "Add new user"
2. With the settings buttons, you can edit and delete the user
You can manage team members' accesses and permissions to ensure productive collaboration. To enable it go to Account Settings > Users > Create / Edit User
1. There are 2 different types. The "Admin" type has access to the entire management panel and has full authority. The "Manager" type has limited access to brands and roles.
2. You can identify the brands that managers can access and the roles/access privileges for these brands.
Step 3: Add competitors
Sociliaty.io similar to Agorapulse enables you to track not only your account performance but also to compare to competitors'. However, to achieve any results at first you need to add competitors to the system. Sociality.io will automatically gather data and prepare exportable reports right away.
Go to Account Settings > Competitive Analysis, where you will find accounts you want to perform a competitive analysis are listed on this screen.
1. You can define your competitors' social media accounts for comparison by clicking on the "+ Add New Competitor Profile" button.
2. Optional: with the Settings and Delete buttons, you can edit and delete the analysis account.
After clicking on "Add New competitor profile" a new window will open.
1. You can set the related timezone for the profile you added.
2. Once you have selected the channel type, you should write the name of your competitor the same way as in the corresponding account. The basic data belonging to the account will be displayed on the right. If everything is ok you can complete the process of adding an account to be analyzed by clicking the "Save" button.
Step 4: Listen to keywords
Your favorite "Listening" feature on Agorapulse is also available at Sociality.io. We believe that to fully understand what online audience think about your business you need a feature to track keywords across the entire web and social media in particular.
Once you identify and point to system what it needs to track, Sociality.io does it on autopilot mode.
It can be your company name, product name, competitors name, industry-related keywords, etc. The possibilities are endless!
Account Settings > Listening to This screen lists the keywords to be tracked on news sites, blogs, forums, and social media.
1. After clicking on "Add new topic" a new window will appear.
2. Choose the source first (Twitter, Instagram, Youtube, and Web)
3. Specify language
4. You can include as well as exclude keywords. The system will scan social media and web feeds containing any of the keywords entered in "Or" and "And" sections. You can use «and» to search two words together. The system will reject keywords entered in "Exclude" section.
In contrast to Agorapulse Sociality.io Publish feature combines familiar to you Publish, Publishing Calendar and Publishing list on one dashboard by displaying your content in two different ways and categorizing a type of content by a color.
Essentially we believe that publishing content is only an iceberg and the major work is done behind closed doors. Sociality.io Publish feature helps you to perform activities effectively by spending less time but achieving more.
First of all, Sociality.io Publish tool offers several ways to display your content: Calendar and Social feed.
Everything is displayed on one dashboard where content is categorized by color. Each color indicates a type of content and what action it requires. For example, yellow color tells you that a content waiting for approval or is saved to drafts.
The calendar can be customized to your preferences. You can change the view of the calendar with month, week and agenda view. Also, you can view your content in a calendar view and Social feed, that displays a zoomed version of all posts. You can pay attention to more details, for example, as fewer posts are being displayed on a screen.
Creating a new social media post is very intuitive and in fact, can be done in 3 different ways.
You will easily get used to our Publishing methods:
Approval process
In Sociality.io social media posts, creators can either send for approval, schedule or publish right away (depending on access and permission).
When a social media marketer sends a post for approval, it appears in yellow on the calendar dashboard.
Duplicate
Before we move on, we would like to bring your attention to a vital topic you need to know about to keep your social profiles' engagement rates high – Rescheduling topics. On March 2018, Twitter announced its new updates that state "Posting identical Tweets over multiple hours or days, or scheduling duplicate content for future publication, is still a violation of our rules."
This is the reason why in Sociality.io you won't find a feature to "reschedule your evergreen content". Each social media has its limitations and if Sociality.io algorithm detects red flags such as similar content, more than 4 pictures on Twitter, large picture or video size and many more – it will send you a notification in red color and remind you to rethink the content.
However, you still can post the same content to different social media by using the "Duplicate" tool. Double click at any content > Click on a small "Duplicate" icon at the top right corner.
Sociality.io Engage VS Agorapulse Inbox
Sociality.io is a tool that brings structure to the way companies communicate with followers/subscribers.
The engage section shows you every person, who has left comment or message. The system organizes and gathers comments and direct messages in one place. Sociality.io treats them as important points of interaction. Thus, you can filter all requests, archive, create a custom report and many more features to ensure a productive engagement with your audience.
Although the layout is different in comparison to Agorapulse, similar features are hidden in different places.
To sum up, Sociality.io Engage enables you to do:
Send message or comment by inserting a pre-made template
Respond by sending a visual content
You can reply to a message and archive it to share with colleagues in reports
You can "Add a note" for your teammates
Assign the conversation to a teammate
Star as important
Archive
You can fill-in audiences' personal information (their phone number, email, address, and personal notes)
Sociality.io Listening VS Agorapulse Listening
Sociality.io enables you to listen to the key conversation across the entire web as well as all social media to uncover the true opinions about your brand. We've talked already about adding your keywords into our system and setting up your Listening account. Now let's take a deeper look.
Inside Sociality.io Listen feature you will see a list all the data, process them by sentiment, category or attribute and export it.
You can switch between topics/keywords.
You can filter on incoming data by selecting process and source types.
You can export the data found on the selected topic to Excel by entering the date range.
You can get Excel documentto your e-mail automatically with the frequency you choose.
Once you have made the selections for the data you want to process, just click on the "Save" button.
You can choose keywords you have defined in Step 4. Also, you can enter the word you want to search. At the same time, you can access all the comments on the related content by entering the Id parameter of Facebook Post or Instagram Post.
Sociality.io Report VS Agorapulse Report
Measuring performance and analyzing your social media marketing presence is a major challenge. It takes time to gather all the data from different sources. Agorapulse and Sociality.io prepare reports in seconds.
In Agorapulse you have two reports options: Global and Content. In Sociality.io the Report feature prepares reports for all kind of purposes including Social profile, Competitors, Listening and Conversation Activities.
You will be happy to know that Sociality.io doesn't charge extra $5 for each competitor you track on Facebook. In fact, Competitor report is more detailed and includes all metrics similar to Social profile report.
Competitors Reports
Social media page engagement report
Not only Sociality.io enables you to prepare more reports for all kind of social media marketing activities, but it also gives you richer information inside of each report. For example, take a look at our example. (Notice that due to limitations in GIFs longevity, it still was impossible to capture all metrics provided inside Sociality.io reports).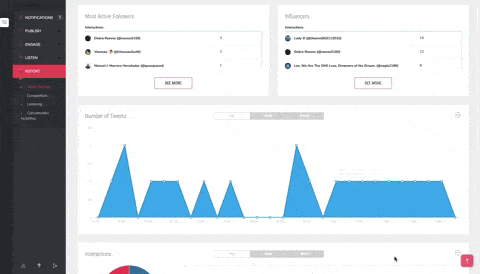 And in case you are wondering where to find Agorapulse's Content report, it is available at the bottom of Social profiles reports.
And lastly, you can let the system know that you want automatic reports to be sent to your email.
And all information from reports is exportable. Each and every chart and table you see can show metrics on a daily, weekly or monthly basis.
And even export reportable are customizable:
---
Ladies and Gentlemen, Now we are approaching to Sociality.io Master Certificate, where the local time is 5:50 PM. At this stage, you should be familiar and equipped with all the knowledge you need for happy and productive user experience.
We hope you have enjoyed our migration guide. We are now preparing to land.
May I remind you that all Feedback and suggestions are welcomed by our wonderful crew aka support team.
We wish you a great day! Thank you for choosing Sociality.io!