Beyond Beta January 2023 at Sociality.io
Coming soon: Valentine's Day ❤️
Happy Valentine's Day from Sociality.io! As we count down to the big day, we wanted to kick off the celebrations early. On this special occasion, we always want to take a moment to express our love and appreciation for all of our valued customers. Thank you for choosing us as your trusted technology partner. 💪 You inspire us every day with your passion for social media marketing and your drive for success. May your day be filled with joy, happiness, and love, just like the successful social strategies you create, analyze, and report with our software. 🥂
Wish you all the best on this day of love. Here is our lovely summary: Sociality.io in January 2023 🤗
Social Media News in a Nutshell
Get the latest social media news, insights, and marketing tips in your inbox once a week.

API management screens are live!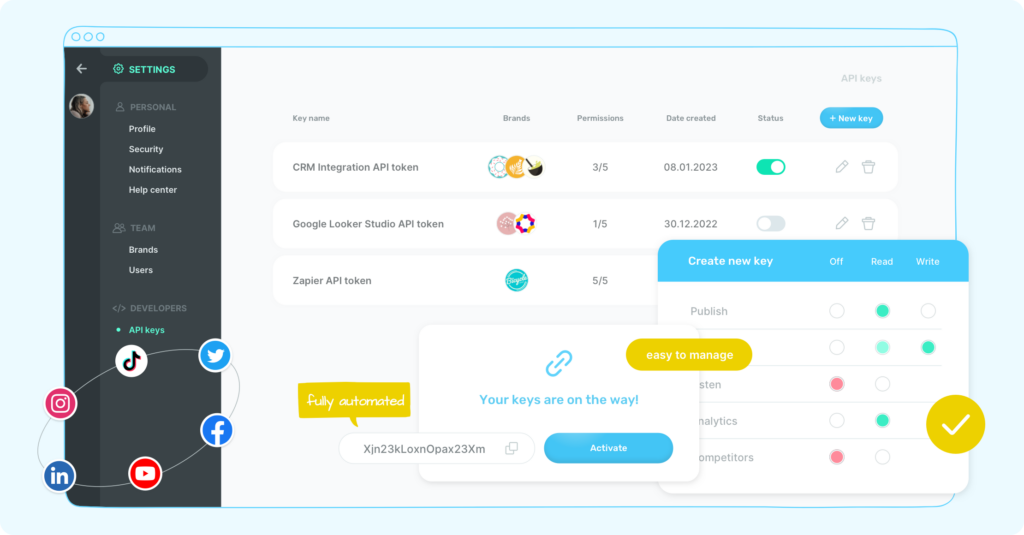 Let's dive into the world of APIs – in case you're not already familiar. 🔍
API stands for "Application Programming Interface" and acts as a bridge between different software systems, making it easier to manage processes. With the Sociality.io API, you can automate your social media workflows by integrating real-time social media data into your internal tools and workflows. 🚀
And the good news doesn't stop there! API management screens are now available inside Sociality.io, making it easier for you to manage your API keys all in one place. 🤩 Upgrade your social media game with ease by taking advantage of Sociality.io's API features!
📣 Attention: This feature is only available in the Enterprise plan.
Where to find the API management screen inside the tool?
Step 1:
Click on "Settings" and then it will directly navigate you to the "Brands" section on the following screen.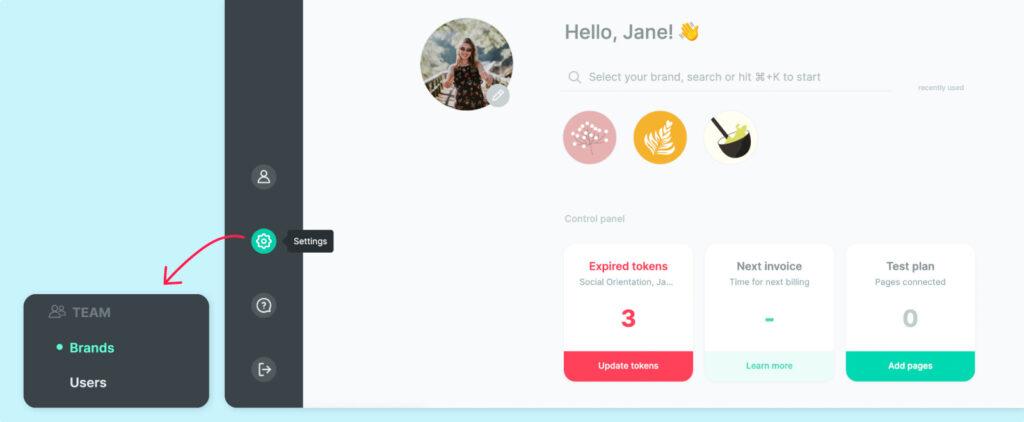 Step 2:
Click "API keys" under the Developers menu to add new API keys or overview previously added API keys.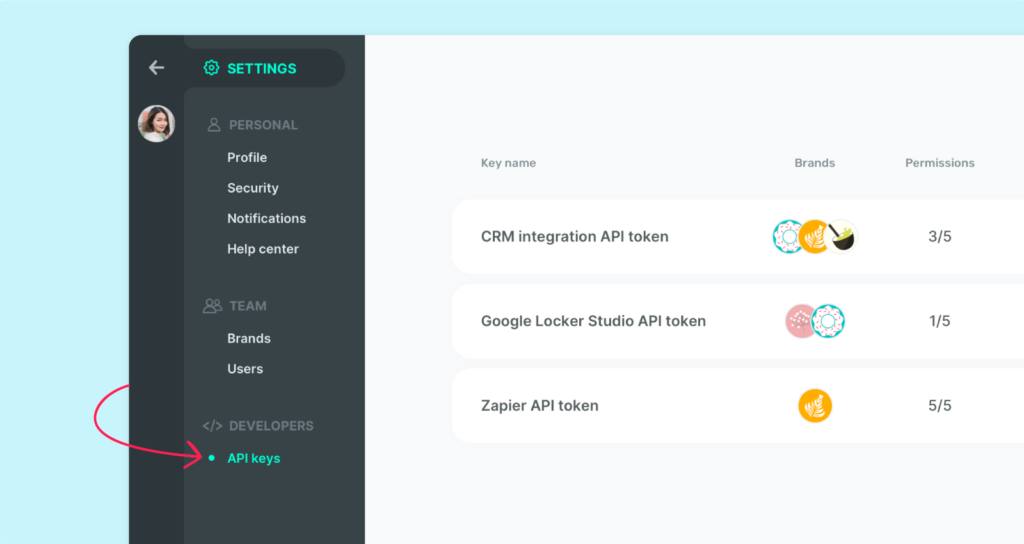 Step 3:
Make changes to the API keys as you wish, such as adding a new API, renaming the existing API key, or deleting the existing API key.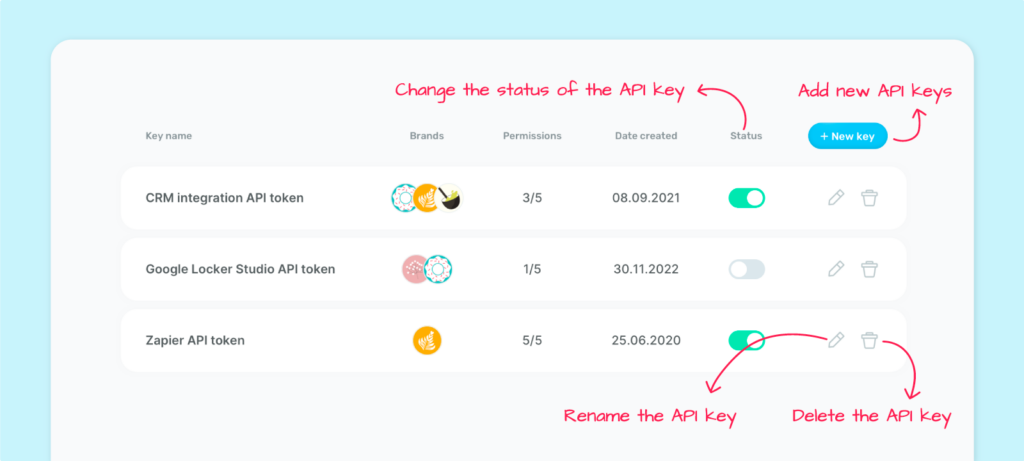 Are technical details leaving you feeling overwhelmed? Fear not! Let your tech savvies into the game! The path to success is made smoother with the help of others. 🙌 So, here is our Sociality.io API document for you to share with your developer team. 🤗
Attention social media enthusiasts! Trends v2 is on the way 🤩
Are you looking for a reliable source for tracking and staying up-to-date with the latest social media trends? Look no further than Sociality.io Trends! 😎 With Sociality.io Trends, you'll always be one step ahead of the game, knowing exactly what's hot and what's not on social media. 🔥 No more scrolling through endless feeds, no more scrolling through outdated content. Get real-time updates on the latest trends, so you can keep your social media accounts on point, and your followers engaged. 🤩
Get ready for even more trend-spotting power! Sociality.io Trends v2 is coming to revolutionize the way you stay up-to-date with the latest social media trends. With new features and an expanded source list, you'll have even more information at your fingertips to drive your social media strategy forward. 🙌
Our team is hard at work to bring you the latest and greatest in trend-tracking technology, and we're thrilled to announce that Trends v2 will launch before Q2. 👍 So, don't wait to get ahead of the curve and stay on top of the latest social media trends. Start using Sociality.io Trends now, and get ready to be the trendsetter of your social media world! 🚀
Sociality.io became the 5th product of the day on Product Hunt 🚀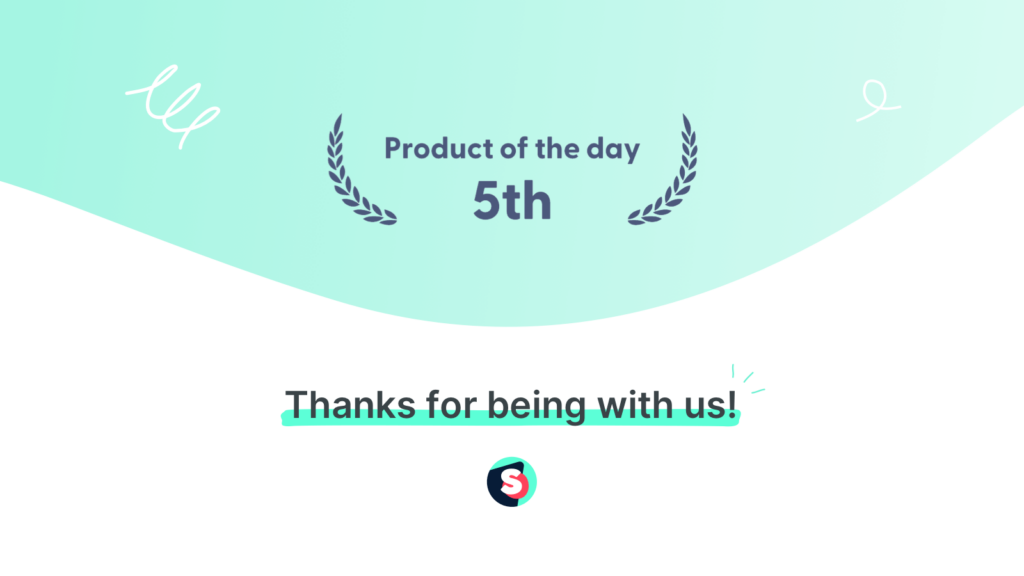 🎉 Thanks to everyone who supported our launch on Product Hunt. We became the 5th product of the day! Your support and encouragement were invaluable, and we couldn't have done it without you! We're so grateful for all the feedback and suggestions you've shared with us ♥️
Our focus remains on developing and perfecting our product, and we're grateful for your ongoing involvement. 🙃
In case you missed our launch on Product Hunt, no worries; here is our profile. You can visit anytime you wish 🤗

New and improved loading screens for Analytics 🤩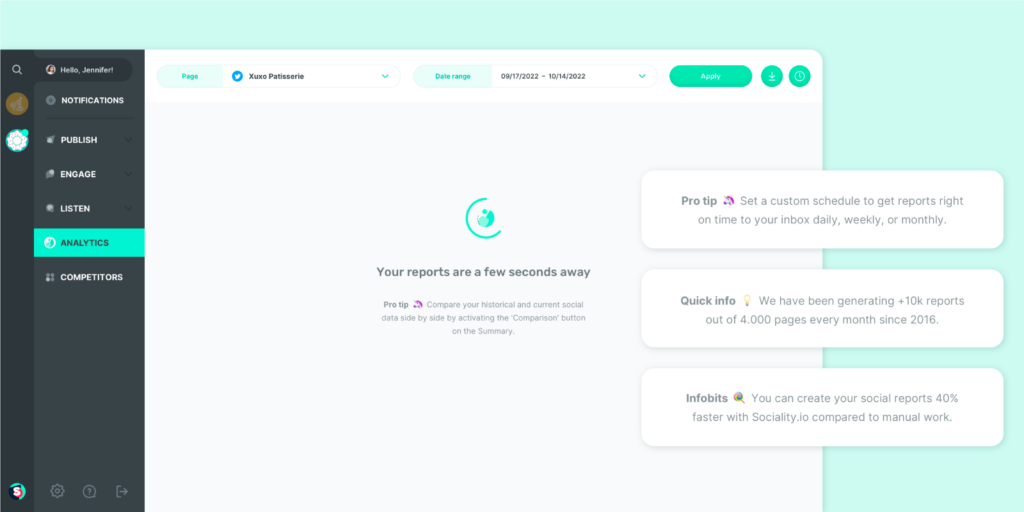 Unlock the full potential of the Sociality.io Analytics tool with our updated loading screens! Enjoy a smoother, quicker experience while waiting for your social media report to be generated. Moreover, you can discover valuable insights, pro tips, quick info, and info bits in no time with our optimized loading process, designed to enhance your use of the Sociality.io Analytics. ❤️
Upgrade your approach to data analysis with these valuable insights, infobits, and quick info snippets:
Pro tip 🦄 Covers tips on how to get the maximum benefit from the Sociality.io Analytics module with module facts & insights.
Quick info 💡Includes Sociality.io company facts – just to let you know in case you wonder about us ✨
Infobits 🍭 Quick and simple insights on how Sociality.io Analytics ease the social reporting for you.
Don't miss a beat this holiday season – the 2023 Social Media Holiday Calendar is updated! 📅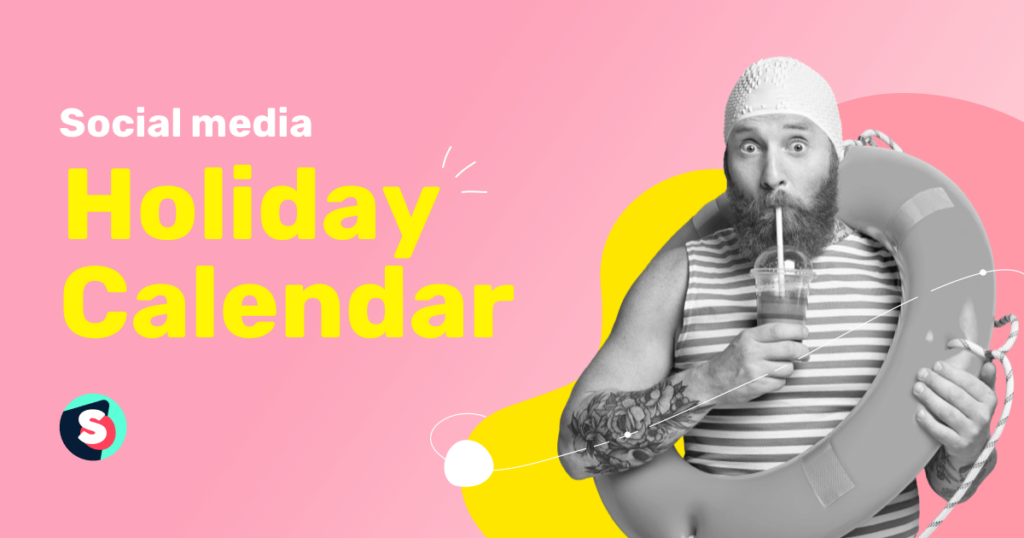 Get ready for the holidays! Our 2023 Social Media Holiday Calendar has been updated and includes many amazing days to celebrate on social media! 🎉
Planning for the holidays just got a whole lot easier! Stay ahead of the game with our comprehensive holiday calendar, now available both on our website and inside the Sociality.io tool. 💻
From international celebrations to the most obscure holidays, we've got you covered! No more searching for special days; simply access the updated calendar and start planning your holiday content today. 🎁
Get ready to connect with your followers and make this holiday season one to remember! Check out our 2023 Social Media Holiday Calendar now! 🚀
Enhanced report export functionality 🥂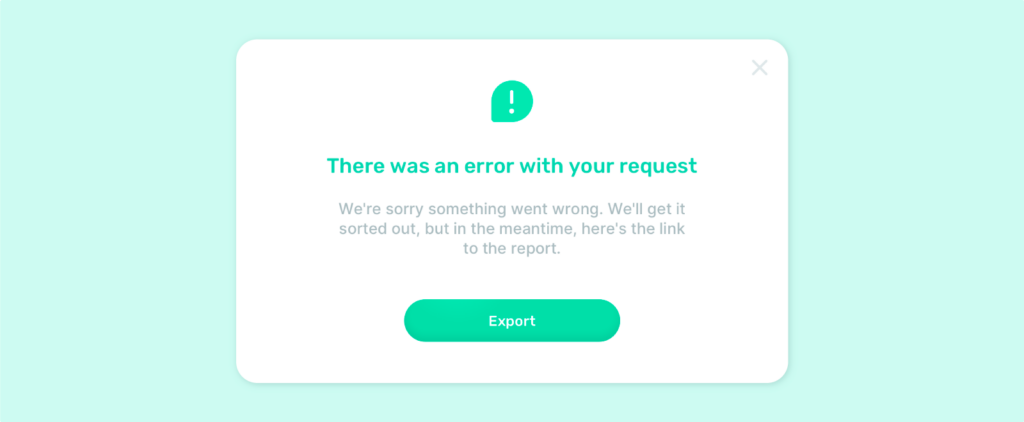 Say goodbye to the frustration of not being able to view your social media reports in the browser due to long date ranges or excessive data. With our latest update, you now have a seamless solution for your social media report exports on Sociality.io! Instead of struggling with display issues, simply export the report for a quick and easy viewing experience. All this process is one click away 🤗

As always, general improvements were completed in the system to better your experience with Sociality.io 💫
Fixed: Content filtering functions in IG report. It was not working properly when filtering by content type; this issue is solved.
Publish module: Facebook Carousel publishing is fixed. You can now easily publish eye-catching carousels with ease, just like before. 🤗
Engage module: Fixed the search and listing issues in the templates section in the Engage module.
Access key: We have solved the problem by adding Instagram and Facebook pages and updating their access key. You can now add both Instagram and Facebook pages and keep their access keys up-to-date for a seamless experience. ✨
Mobile: We took care of mobile too. Mobile improvements were successfully made 🤟
Anything else, folks? We are always here for you 👉

[email protected]