Beyond Beta May 2022 at Sociality.io
Even in history, many things happened in May. For example, did you know that the first color pictures of Earth from space are sent back from Apollo 10 on May 10, 1969? Now, human beings are planning to create a living area in space. What a story…May was super busy for us as well. Without further ado, let's have a quick look at what we have done in May 2022.
Here is the summary of Sociality.io May 2022 ☀️
Social Media News in a Nutshell
Get the latest social media news, insights, and marketing tips in your inbox once a week.

Check your page reports – They include many new features and metrics now!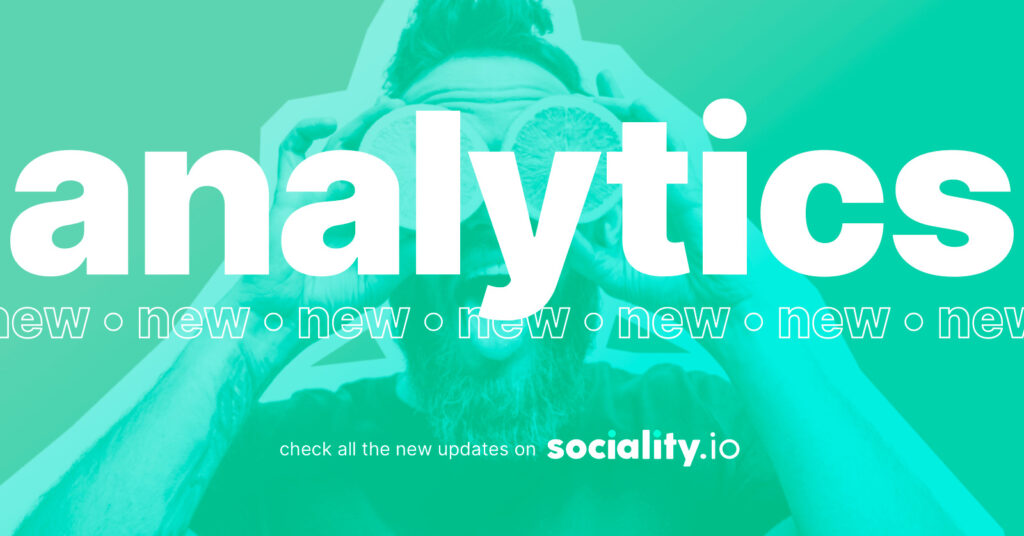 We aim to allow you to experience more comprehensive but direct-to-point representations of the social media reports. We hope these unique and fresh look for reports will enable you to uncover meaningful insights that contribute to more successful social media marketing campaigns 🚀
Wondering about the details? Please visit our blog post to see more about new social media page reports.
🚨 ATTENTION PLEASE 🚨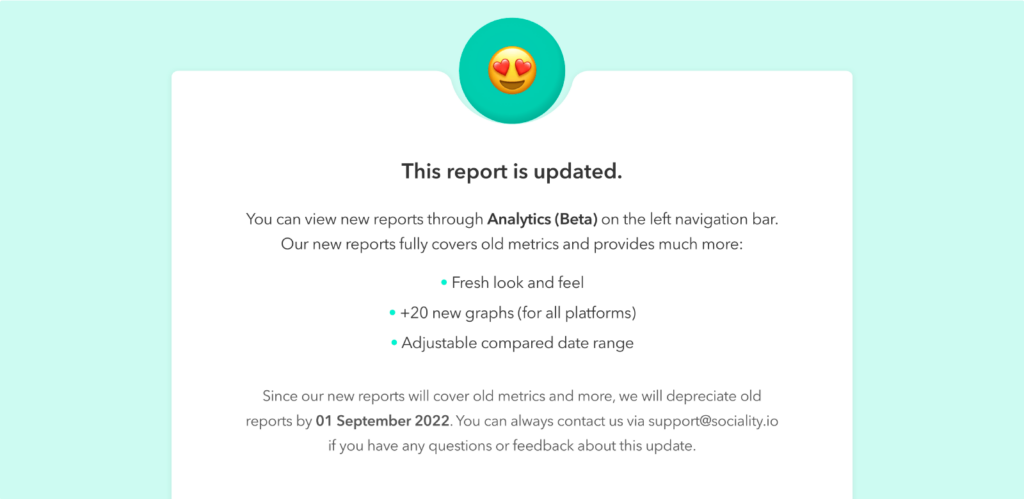 The old reports will be depreciated by 01 September 2022. If you want to keep your data, please be sure you save your reports before the mentioned date. Otherwise, you won't be able to reach the old version of them 🥲
Have you seen our new website?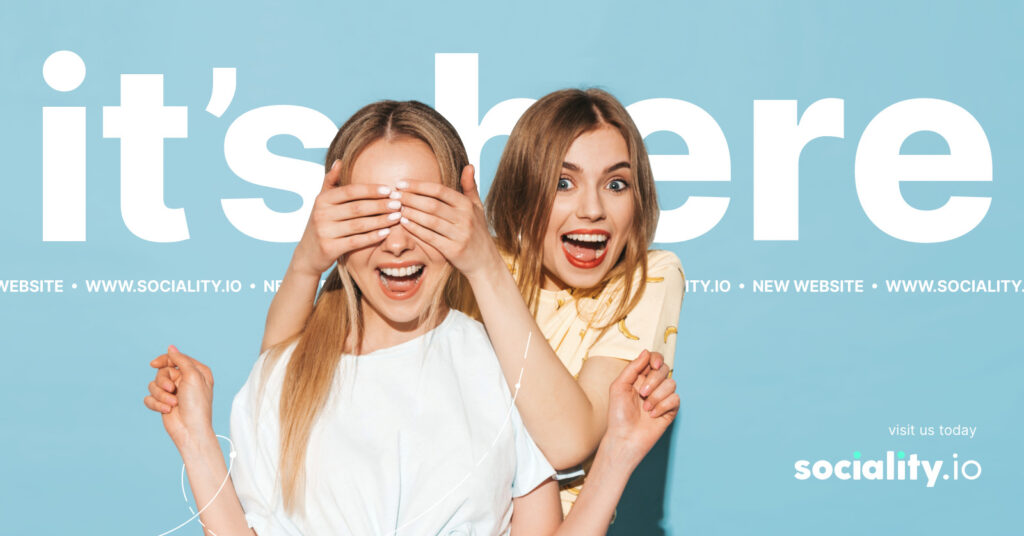 We welcome our new website theme while appreciating our old friend with respect 🙃 We waited so long and worked hard to share this fantastic news. It is our pleasure to share that we moved to a colorful, fresh, and modern approach now 🥳 It has not only a brand new look but it also includes many amazing pages. Here are some of the highlights of our new design:
We have more! Come and say hello now. (You will love it 🥰)
Instagram carousel direct publishing is now available!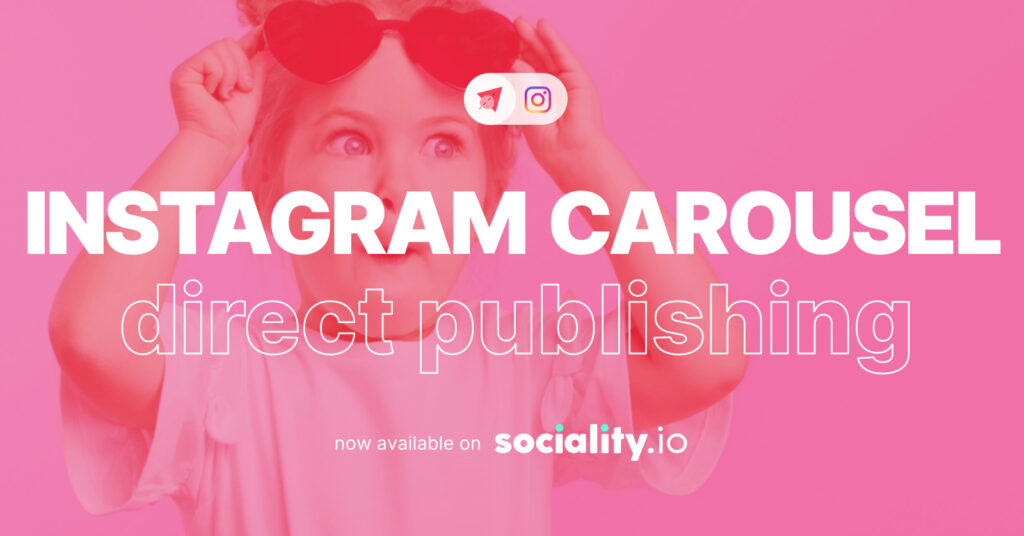 No more traveling around the Sociality.io desktop app and mobile app when publishing your amazing Instagram carousels 🥁 We have updated the Instagram carousel publishing process – it is "direct publishing" now 🥳 All you need is one click and then bumm 🚀
Focus on the carousel posts that will help you to customize your feed and increase engagement ✨ We will handle the rest for you ❤️
If you may have some questions, please visit our announcement page for details.

Brand new paid metrics were added to Twitter page reports✨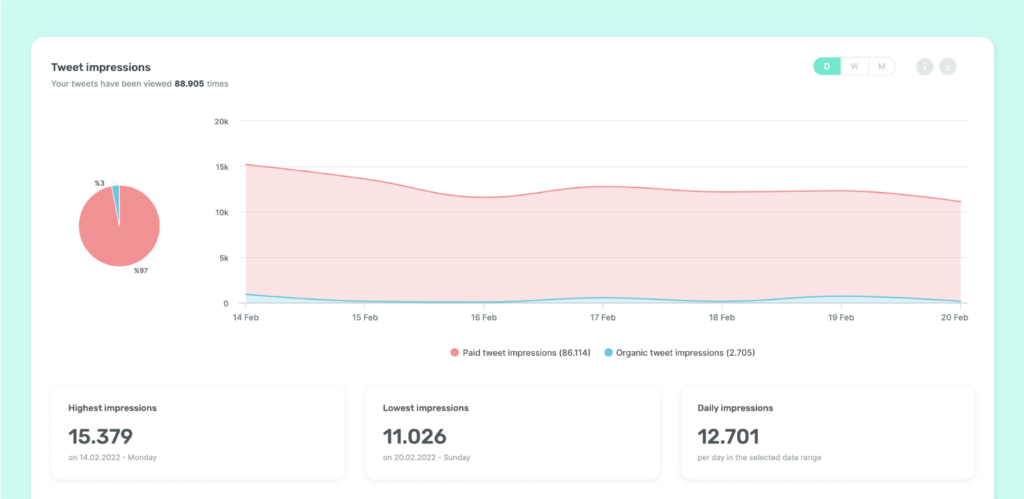 It is believed that Twitter is the best engagement platform with the audience. Well, when that is the point, we believed it would be so handy for you to see completely new metrics in your Twitter reports. So, enjoy the "impressions" and "organic-paid" distribution metrics for most of the Twitter metrics 🤗 Now you are one step closer to making the smartest decisions with your organic-paid social media campaigns on Twitter.
The "hashtag analysis" table for Instagram reports 🙃

We use hashtags on Instagram every day to reach more people with similar interests, but what about measuring their efficiency? 👀 Well, it is so easy now! Discover the hashtags that work best to increase your Instagram content's reach and engagement ✨ Stay in the loop with hashtag analysis, and enhance your Instagram experience by getting more done with less. Uncover the number of posts used for, likes, comments, total engagement, and many other metrics related to hashtags that you used in one table.
Enjoy XLS – CSV exports for all of your page reports 🥳

Social media reports include so much insightful data. By investing in them, you can easily manage your online presence and set realistic goals for your social media management without all the tedious data collection. What is better than having such a report is to export those reports for many different formats – like PPT, PDF, CSV, and XLS. Choose the format you feel comfortable with, and we will handle the rest!

We were encountering some problems with Instagram carousel direct publishing. But no worries we fixed them 🥳
Analytics module – We fixed the "dark background" problem in report exports.
Engage module – We fixed the bug in the Inbox notification count.
Listen module – We fixed the bug with excluded keywords.
General system improvements were completed on both platform and mobile apps 🧿
See you in Beyond Beta June next month 🥰 Reach us out whenever you need us, here we are 👉

[email protected]