Introducing a better way to prepare and explain social media reports to c-levels
When you work on the social media or marketing team, it's easy to understand the value of a social media marketing strategy. Convincing C-level executives that your company's efforts are worth it, however, can be more challenging. To help members of your leadership team other than your CMO understand your approach to social media and, more importantly, the results of your efforts, you need to prepare informative reports.
When you want to impress upon your executive team the importance of social media for your company's marketing strategy, try these three tactics.
Social Media News in a Nutshell
Get the latest social media news, insights, and marketing tips in your inbox once a week.
Present the social media metrics that matter to your C-suite
You're tracking a variety of social media metrics to meet your marketing goals, but your C-suite only cares about certain ones. When it's time to present your results to your executives, don't overwhelm them with every single metric. Have a conversation with your C-suite to determine which metrics matter most to them, and take the time to explain what the data means.
The "right" metrics will depend on what your CEO wants to see, but these four metrics are a good start:
Interactions or Engagement
More than ever, customers are using social media to interact with brands and look for support. In addition, social media platform algorithms prioritize content with more likes, shares, and comments. Engagement is, therefore, a crucial metric that not only gauges performance on social media but also impacts other projects within the marketing department. It affects your customer success team and identifies loyal customers who might make good case studies or participate in a rewards program.
Followers
Followers might seem like a vanity metric, but it represents your brand's influence—or, at least, how others perceive your influence. As humans, we look toward social proof to validate our brand choices and we perceive brands with more followers as more influential. It's not enough to simply count your followers, though. Here, it's about quality as much as quantity. Try to determine if your followers are part of your target audience, or if any industry influencers are following you. This information can help you unlock new customer personas to inform your social strategy or kick off partnerships with influencers.
Brand mentions are great, but not all mentions are positive. You should track mentions as compared to your competitors and gauge positive, negative, or neutral sentiments. A competing brand may have more overall mentions than you, but with a larger percentage being negative. With sentiment analysis, you can gather important information regarding customer support and social campaigns. Try to encourage your executive team to share branded content on social media to boost mentions. You can use a tool like Sociality.io's Listen module to track positive, neutral, and negative mentions of your brand across social media.
Leads
Your C-suite will be interested in leads generated and any revenue that comes through from your social media campaigns. To track your leads, you will need to use tracking codes with every URL you share on social. To better understand which leads produced the biggest ROI, you need to know where your customers are at in the funnel. Channels that promote awareness are good for the top of the funnel, but your paid campaigns should focus on customers who are further along in the purchase process.
Provide relevant information to the appropriate teams
As you generate reports from your social media campaigns, you may have to tailor them to your C-suite or appropriate teams. When you use Sociality.io to pull data on your social media performance, for example, you have access to tons of information that provides useful insights. Depending on what matters to your executive team, however, you may need to pull a different report or clean it up before presenting it.
With Sociality.io, you have access to needs-based reports like team performance, competitor analysis, audience demographics, and brand awareness. Each report is fully customizable, exportable, and able to be scheduled for automatic generation.
Analyze engagement with team performance reports
Using the Sociality.io Engage module, you can generate a team performance report that tracks all your new conversations in a given time period, as well as how many were opened or closed. You can see how long it took your team members to respond to a customer question or comment concerning your brand on social media, plus how long it took to close the matter.
You can also see which team members respond the most and the fastest, to gauge their performance as customer advocates on social media. If engagement and customer support on social media are important to your C-suite, the team performance report provides the information you need.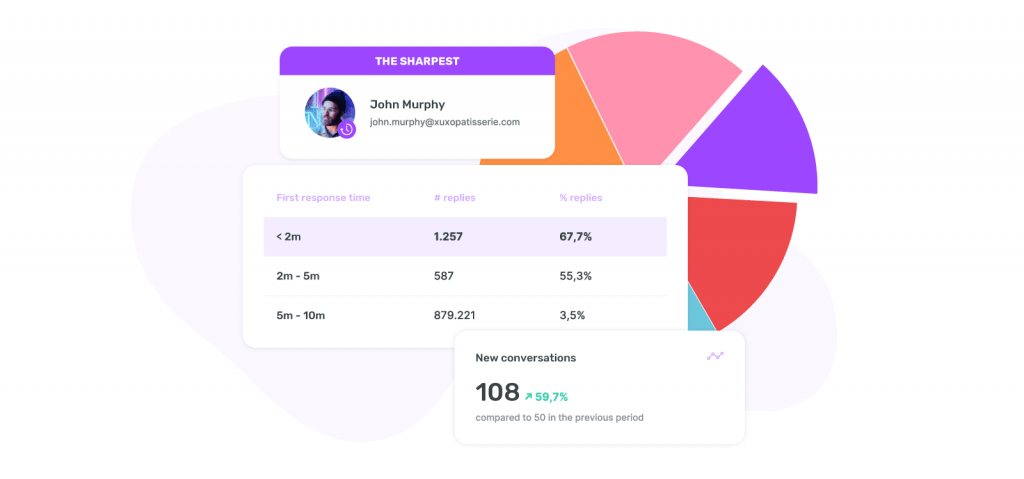 Analyze the competition with competitor reports
In the Sociality.io Competitors Module, you can take a look at your competitors' fan base, growth, post types, and interactions over a given reporting period. These reports allow you to check how many followers other brands gained or lost from day to day, as well as reactions to posts and overall engagement rate.
It's difficult to know how well your brand is doing without benchmarking against your competitors. If your executive team is interested in how you can develop strategies to compete for audience attention on social media, these competitor reports contain the info you need.

Know what people say about the brand with listening reports
Social media listening tools allow you to track mentions of your brand across all platforms, even when your account isn't tagged. Sociality.io's Listen module lets you track these mentions and their sentiments on a day-to-day basis. It also breaks down the sources mentioning your brand across social media, news outlets, blogs, and the web. You can even see a word cloud full of terms that people associate with your brand.
With social listening, you understand how people perceive your brand. You can use those insights to develop awareness campaigns or determine their impact on other initiatives.
Discover more ✨ Top 10 social media listening tools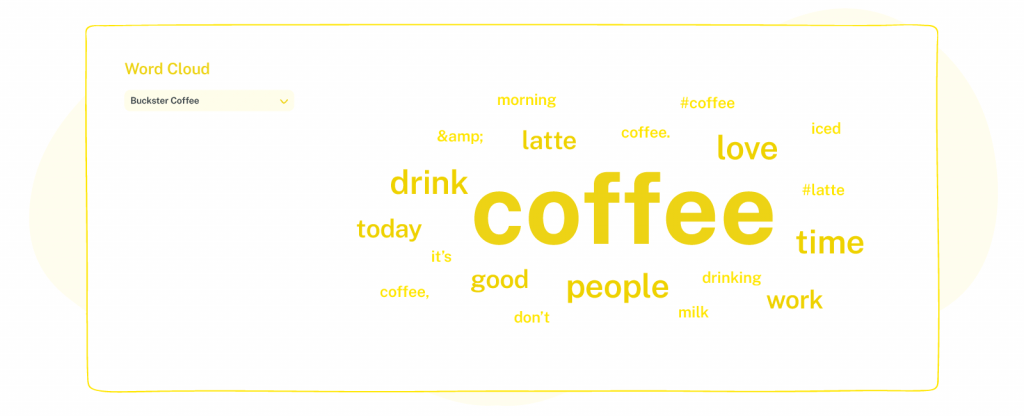 Use an API to connect social data to a CRM
As customer support and success teams interface with customers more and more via social media, CRM software that connects to your social media accounts is a must. Social CRM lets you analyze the customer data you gain from social media and develop a strategy to manage leads and existing customers. The interactions you have with potential and current customers on social media provide actionable information that your C-suite will be interested to see.
You can try to find a CRM tool that enables social integration, or you can use Sociality.io's social API to fetch the data from each social platform for you and send it to your existing CRM software. You can retrieve data about your accounts, posts, keywords, mentions, conversations, and conversation items using Sociality.io.
Conclusion: Getting your C-Suite on Board
Demonstrating to C-level executives that your social media efforts are bringing returns for their investment isn't so intimidating if you know how to prepare and present the data. Tracking significant metrics, tailoring reports for different teams, and allowing a CEO or other executive access to your social CRM to get a snapshot of conversions are all ways to show the C-suite the information they really care about. When you use Sociality.io's reporting tools, you can cut the time spent preparing reports in half.