How to repost an Instagram story? [August 2022 update]
We published this article about six years ago, and over those years, we have been coming back to this article every six months to update it. Although there are thousands of articles on this topic, 80% of them are outdated or show you steps or solutions that do not work. Instagram keeps introducing new features and often tests them at specific geographic locations. It may restrict access to Instagram stories to users in the UK and force them to follow a new flow while the rest of the world is sharing Instagram stories as usual.
This article was updated in August 2022. We hope that in October 2022, the process that we describe below will still apply, and you'll still be able to reshare Instagram Stories without any problem.
Social Media News in a Nutshell
Get the latest social media news, insights, and marketing tips in your inbox once a week.
How to repost a story on Instagram?
Reposting Instagram stories is a straightforward process if you are tagged in the story. These days, you can even reshare stories from private accounts.
You'll receive a notification from your mobile app or social media management tool. Inside direct messages, you'll see the story and an option to "Add to your story." Also, while browsing the stories, you'll see the "Add to your story" sticker, which does the same thing. 
Once you are mentioned or tagged, you have the option to reshare that story for the next 24 hours.
Here are the steps in reposting an Instagram story that you've been tagged in:
1. Open Instagram.
2. Go to Direct Messages.
3. Open the notification that says "@username Mentioned you in their story."
4. Tap "Add to your story."
5. In the story editor, you can add stickers, text, or additional tags, just like in any other story.
6. Tap "Send to" and choose "Your story."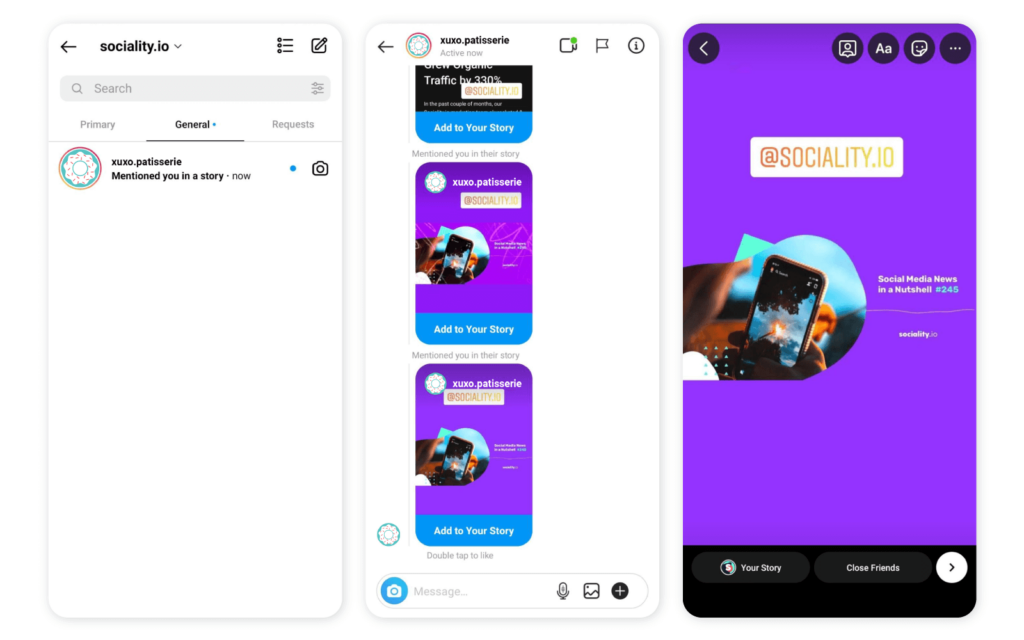 If someone tags you in the first story in a sequence but not in the subsequent ones, you can only reshare the one in which you are tagged.
When reposting an Instagram story doesn't work
Instagram doesn't allow you to report Instagram stories that you haven't been tagged on. The button "Add to your story" appears only when users mention you with @mention.
If you want to get a deeper understanding of your Instagram direct and indirect mentions' sentiment analysis, numbers, frequency, and more, check out our social listening solution.
How to reshare an Instagram story if your account is not tagged
In case you are using our social listening solution and can easily identify user-generated content in which your account is not directly mentioned, you can try to contact the user and ask them to tag you. However, the chance that a user will reupload a story just to tag you is quite low. Instead, you can ask the user for permission to share a screenshot or a screen recording of the story.
Reshare Instagram stories via screenshots or recordings
If the story is a photo, you can simply take a screenshot while it's still active. This screenshot will be saved to your phone's photo gallery, from which you can upload it to your content plan and share it via the scheduling solution or directly from your phone. 
If the story is a video, you can record the video using your phone's built-in screen recorder if it has one, or else download a screen recording app.
When you are ready to record the story, just swipe up and tap the red Record button. Swipe back down to return to the story. Your screen recorder will record everything on the screen, including the sound, until you swipe up and tap the Stop Recording button again. Screen recordings are also saved to your phone's photo gallery, so you can upload them to your story later.
Problems with using third-party software to download Instagram stories
There used to be many downloading solutions for Instagram highlights and stories. The process was easy. Users only had to open the solution, paste the link to their Instagram account, and click "Download." The most famous solution was StorySaver.net. However, Instagram is actively closing its doors to such solutions, as they violate the security and privacy of Instagram users.
How to repost Instagram feed posts to your story
Instagram feed posts made by public accounts can be easily reshared as part of your Instagram story for your audience. To reshare such a post, the account must be public and must have post sharing enabled. This method is widely used because it's simple and it credits the original creator.
When you come across an Instagram post that you want to repost to your story, simply tap the paper airplane icon next to the comment bubble. The option "Add post to your story" will appear, as will a list of your Instagram contacts. You can send the post to whomever among these contacts you want to send the post via a direct message.
When reposting an Instagram post to your story, you have two options:
You can repost the image only or
You can tap on the image and get a preview of the image and the caption before posting both.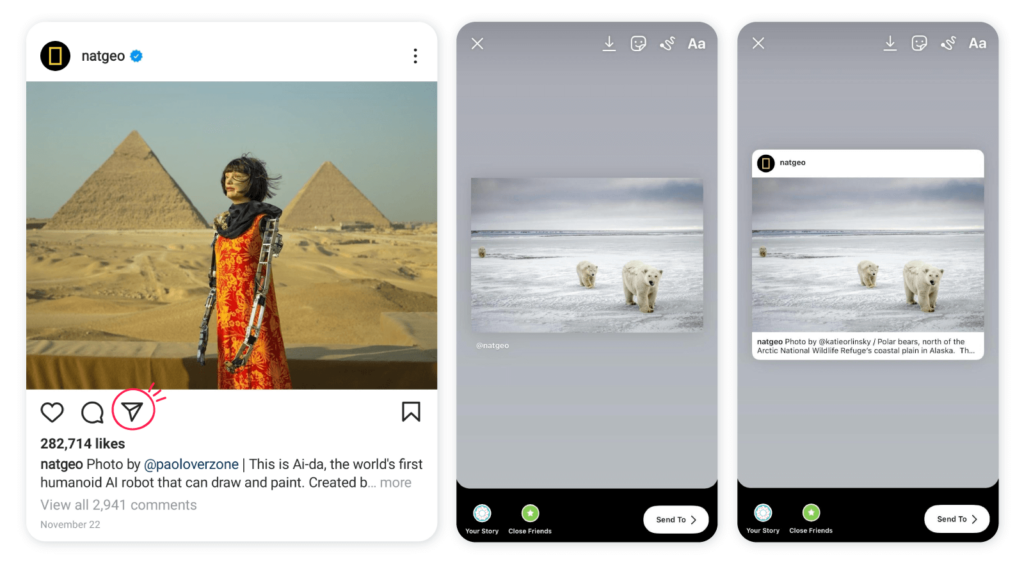 Use the same steps to repost Instagram Reels or your own posts to your Stories.
Creative tips for reposting Instagram stories
Make your Instagram stories look attractive to generate more engagement and add consistent branding. In this article, we are breaking down everything you need to know about Instagram stories: benefits, inspirational ideas, and advertising tips.
1. Customize fonts and background colors
To add text to your Instagram stories, tap the "Aa" icon in the top-right corner. Then, tap the color wheel to see Instagram's selection of preset colors for your text. You can also match a color from your image by using the eyedropper tool. Tap and hold the dropper and drag it over an element in your photo that you want to color-match. This way, you have clear consistency in your Instagram aesthetics. Also, you can play around with Instagram's font selection and add more engaging text to your story.
To change the background color of your Instagram story, tap the three dots in the corner, then, the draw icon. A selection of colors will appear at the bottom. You can change your background color to one of these colors or use the eyedropper tool to change the background color to one that appears in your image.
After selecting a color, tap and press the image to change the background to the color that you chose.
2. Use custom GIFs
Everybody loves GIFs, including social media users . GIFs are also a perfect way to add a personal touch to your Instagram stories. You can use Instagram's GIFs or create your own branded GIFs to strengthen your brand identity and help inspire user-generated content.
3. Try Quote request sticker
At the recent Conversations event, Meta (Instagram's parent company) announced that it is testing the Quote request sticker feature. The sticker makes it easier for users to request a quote about a service or product. It is a great lead generation solution, and it will allow users to add custom questions that they can ask the customer through an Instagram Direct message to facilitate their purchase. 
Although this feature is still in its beta phase, you can check your Instagram account to see if this feature is already available in your region. 
✨ Related article: How to use Instagram question sticker to market your business?
4. Share links with link stickers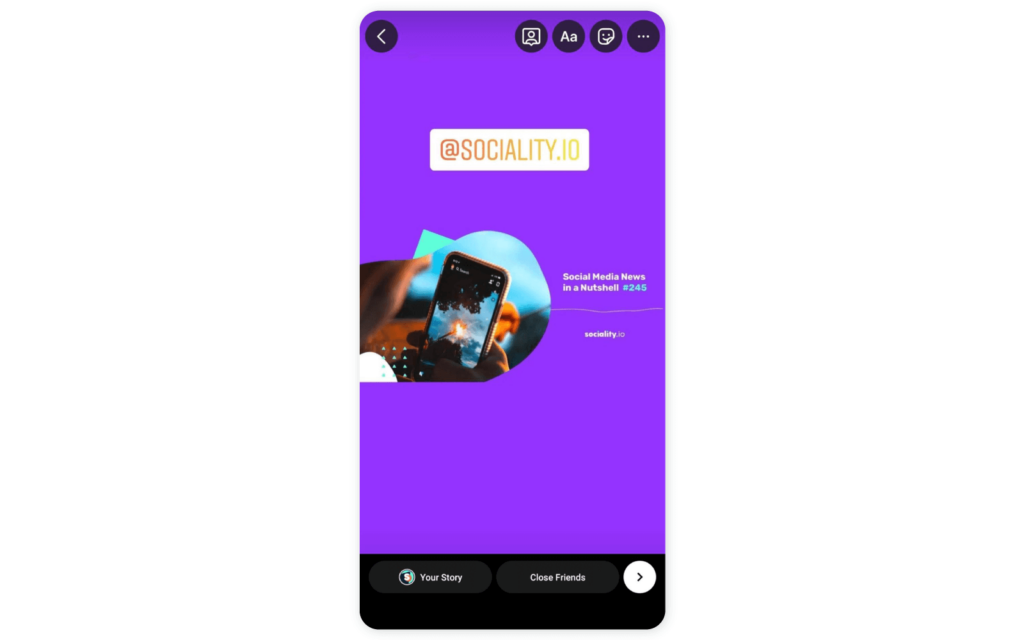 Adding links to stories is now available to all users, not just to users with 10,000 followers. However, be aware that users who spread disinformation, spam, or content that violates community guidelines will lose access to this feature. 
For small businesses and content creators, link stickers are a game changer. Embedding links to your stories drives not only website traffic to them but also makes it easier for your followers to check out your product pages.
To add a link to your Instagram story, you need to use the "Link" sticker. When users click on it, they will be redirected to an external page. To add a sticker with a link:
Upload content to your story;
Select the sticker tool from the top navigation bar;
Tap the "Link" sticker to add your desired link and tap "Done"; and
Add the sticker to your story and click on it to see color variations.
5. Add shoppable Instagram stickers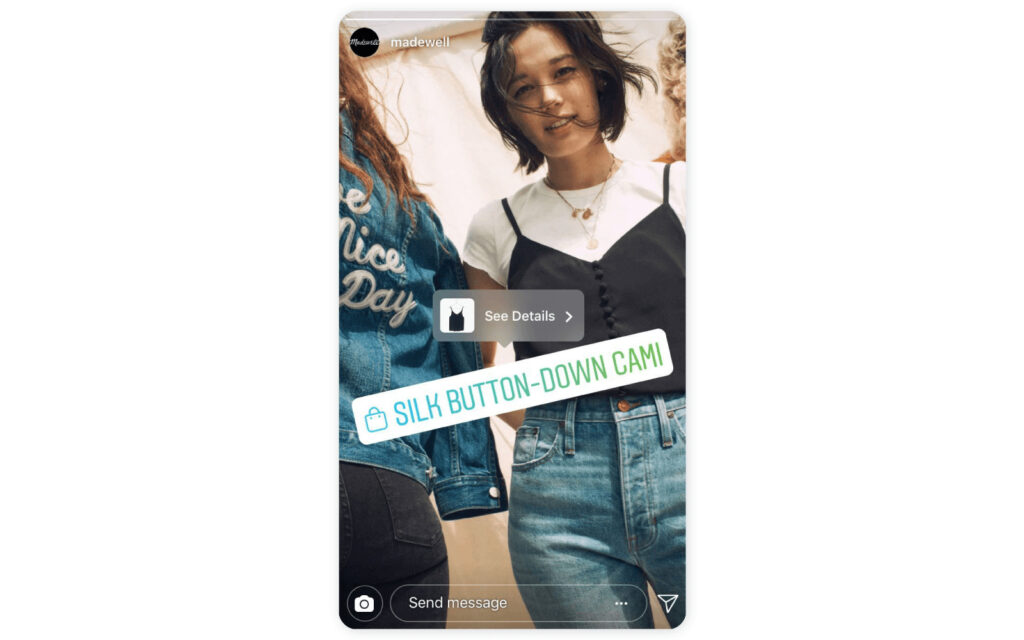 Instagram has made shoppable stickers available in various formats, from feed posts to stories, Reels, and Live. Business and creator accounts can use product stickers in their Instagram stories to promote a specific product. 
Now, e-commerce brands can use the "product" sticker in Instagram stories to tag specific product stories, just like you can with regular Instagram shopping posts. It allows businesses to showcase their products in detail and, ultimately, to make their products easy for customers to purchase.