Managing the time and effort spent while building a strong presence on social media can be tricky. We live in a mobilizing world, where we can interact with anyone in a few clicks. Knowing when to post your content and always making sure to hit those peak hours can be labor-intensive.
How do social media marketers manage to keep on track? The answer is simple; using social media scheduler tools to save time and effort.
Top-rated social media scheduler tools can offer you more than just scheduling. The best tools give you the maximum efficiency to post your content at times of peak interest or in real-time, thus advancing your connection with your audience and improving your team's collaboration.
Your needs can be diversified, but the solution is quite clear.
Here is the Top 10 Social Media Scheduler Tools
1. Sociality.io
Sociality.io offers an advanced solution to comprehend 360° social media marketing strategies.
Sociality.io is ideal for digital agencies and enterprises looking for a collaborative tool with advanced reports and approval processes.

Simultaneous scheduling posts to Facebook, Instagram, Twitter, LinkedIn, and Youtube. 
Approval and revision process with user roles. 
Schedule GIFs, 360° posts, videos, pictures, collages, etc on related social media channels.
Content preview to all social media platforms. 
User-friendly content calendar with various view options (week, month, agenda), team collaboration and filters. 
Advanced performance reports to track progress and benchmark with social media competitors. 
You can post, schedule, or send posts to approval easily on Sociality.io for Facebook, Instagram, Twitter, LinkedIn, and YouTube. Sociality.io has a very efficient mobile app providing you the comfort of managing your social media channels wherever and whenever you want. You can easily manage your posts on Instagram, which is still a bit tricky with other common social media scheduler tools.
One can frequently face the problem of scheduling and sharing animatic content on social media tools. Unlike other social media scheduler tools, you can easily manage your gifs, videos, and 360° posts on related social media channels.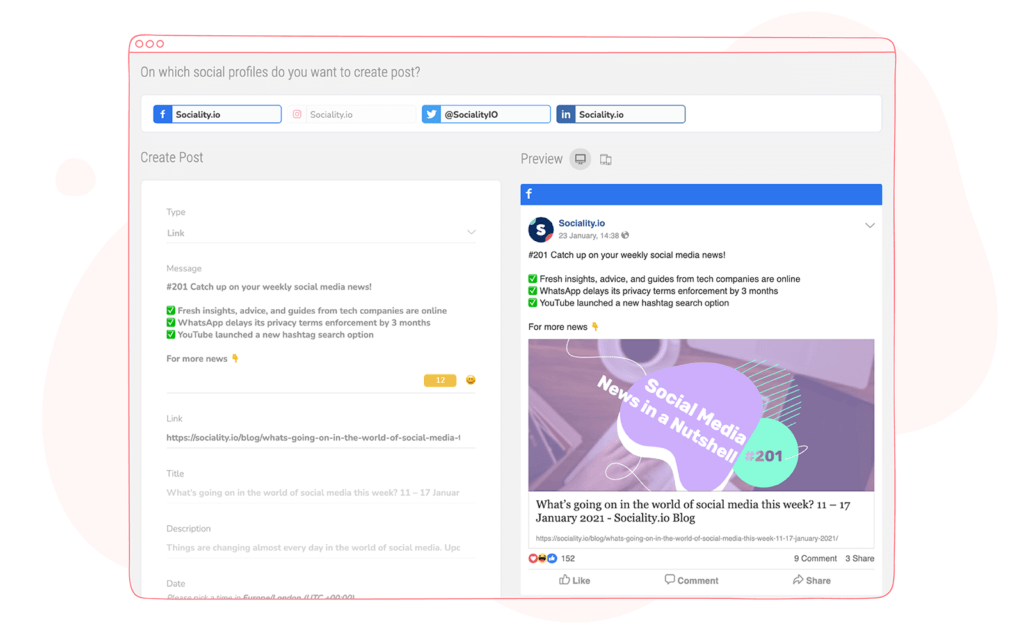 Via Sociality.io, you can easily command your business by viewing your posts on weekly or monthly plans. You can receive reports or PPT files within minutes. This feature saves you more time and makes your team collaborate more effectively, not to mention keeping your brands happy!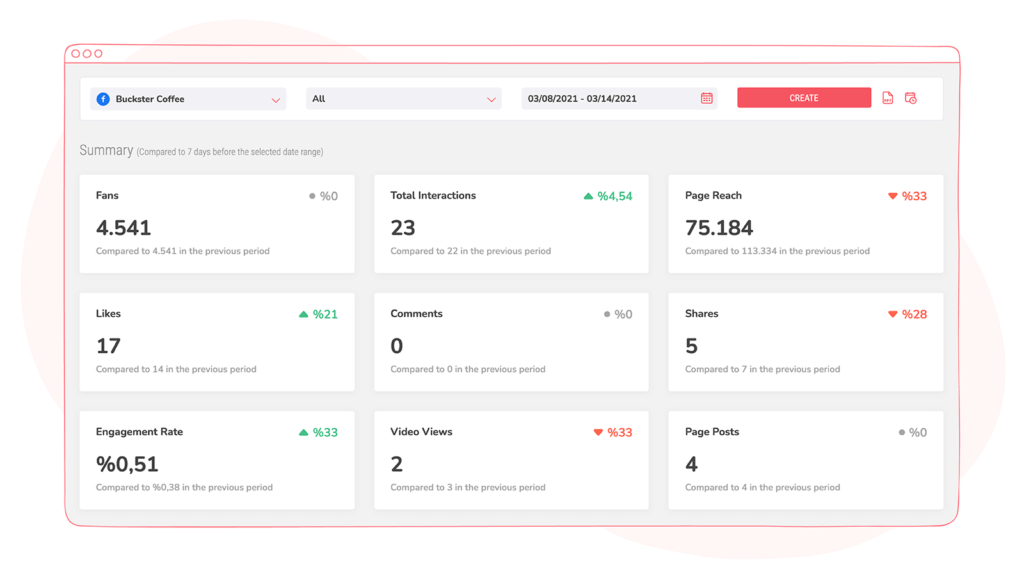 Sociality.io also allows you to get competitors' insights and tell you when they post content. Here is data from Starbucks, Burger King, Taco Bell, Domino's Pizza, Pepsi, and Coca-Cola.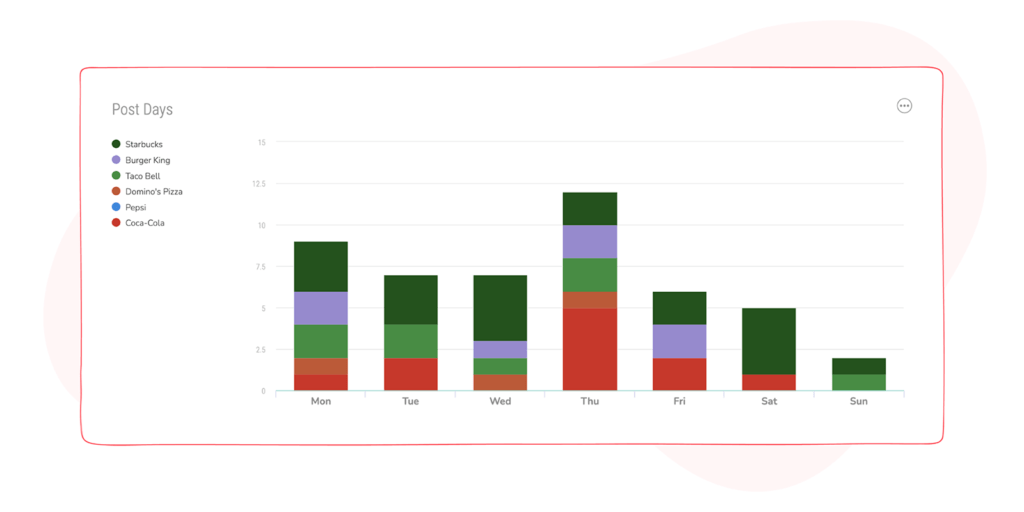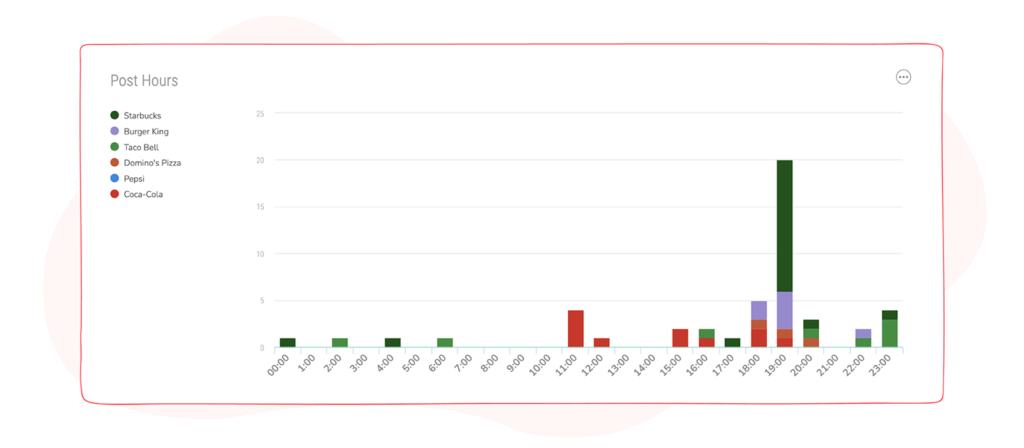 Sociality.io has very flexible pricing options starting from 15 USD/month. Taking all the features Sociality.io offers and its pricing range into consideration, it is safe to say that we have a good option here.
All content in one calendar.
Preparing content plans, tracking approval and revision processes, scheduling approved content in social platforms are now very easy.
2. Buffer
Formerly 'Buffer for Business' and now 'Buffer Publish' is ideal for startups, small to midsize businesses (SMBs).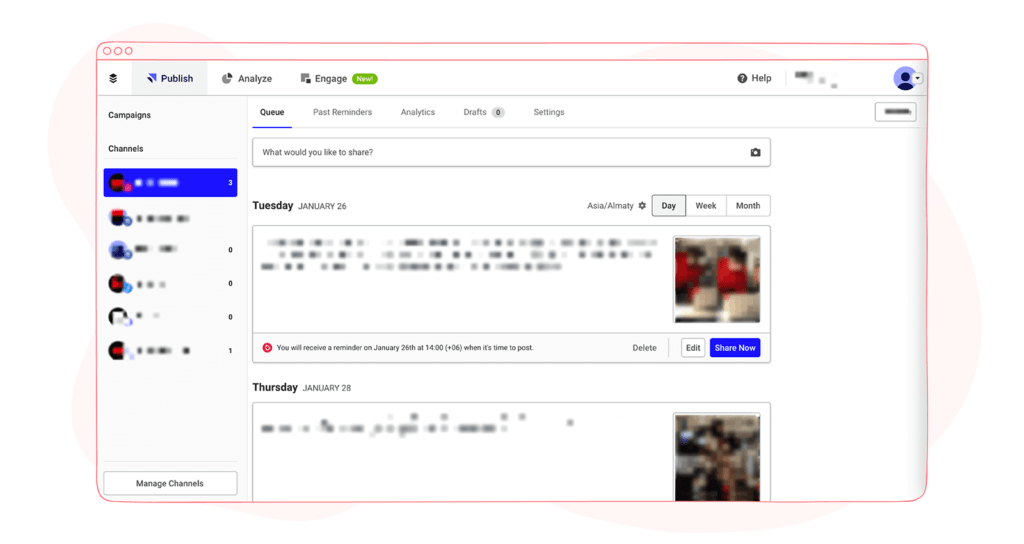 Giving credit to the tool's name, Buffer allows you to organize all the relevant content you might want to share in one place; Buffer Publish. By doing so, you can post the selected contents at the most appropriate times.
Using the Buffer tool, one not only schedules posts but also sends their posts to approval, revision, or add to draft. You can customize your caption before posting your content on every social media channel. Buffer also has a mobile app, and via the app, you can easily upload images, videos or add links to your scheduled posts.
One of the qualities that make Buffer one of the best social media scheduler tools is that Buffer suggests particular posting times for each social media network. Buffer also provides analytics to monitor the posts' success with its second tool Buffer Analyze; which is priced separately. There are 3 different pricing plans within Buffer Publish, starting from $15 per month.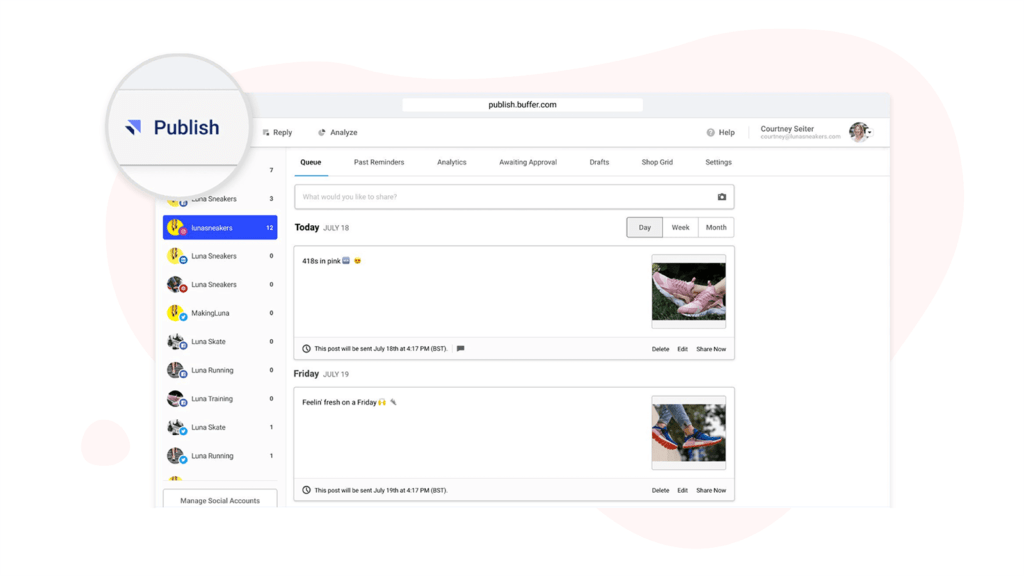 3. Hootsuite
Hootsuite is one of the most recognized and top-ranked software in the social media management segment. It's ideal for small and midsize teams of marketers, agencies, and companies.
You can schedule posts for multiple channels and or delegate them to your team members for revision and approval. You can easily create engaging, accurate, and on-brand posts using Hootsuite's media tool; Compose where you get access to your asset libraries, stock media, image editing tools, and the platform's video publishing tool, which auto-adjusts the bitrate, height, and width to match each network's requirements.
The most common business plan is the Professional plan, which allows 1 user to schedule unlimited posts across 10 social media channels with €19/month.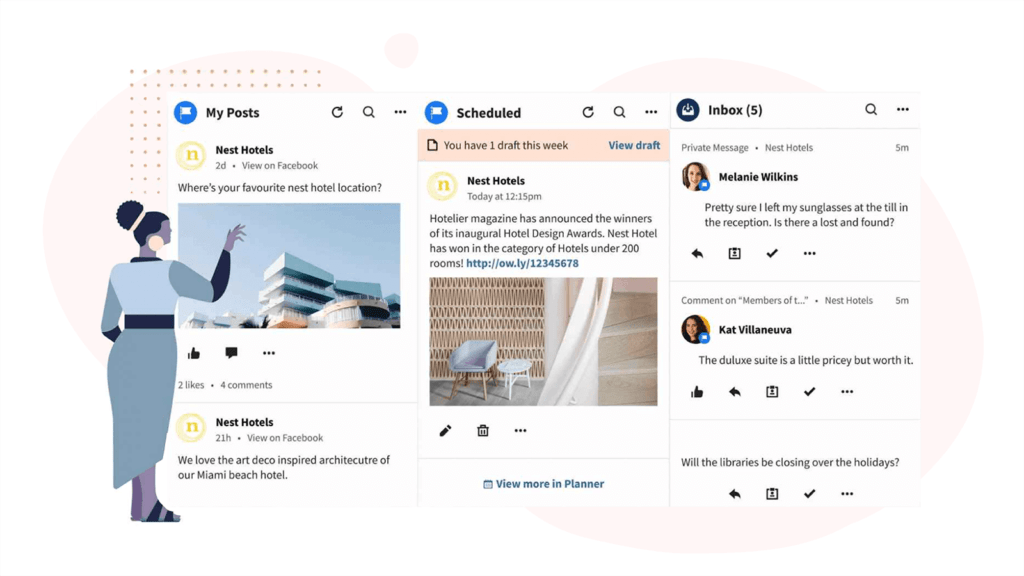 4. Loomly
Loomly is a calendar-based content creation tool and is ideal for small to midsize businesses. It has an easy to adapt interface on the desktop. From one compose box, you can schedule your post, send it to approval, require editing, or publish your content. You can set various calendar workflows, and this comes in pretty handy.
Loomly offers a library feature to collect your images, captions, hashtags, data, and drafts. When in need, you can quickly transform them into an upcoming post. This tool also automatically generates a preview before publishing your scheduled posts. Via Loomly, you can schedule photos, videos, multiple images, links, simple statuses, and Instagram stories.
This top-ranked social media scheduler tool offers you a 15-day no credit card trial, and you can add 10 social media channels to this tool while using your free trial. The base plan starts from $25 /mo.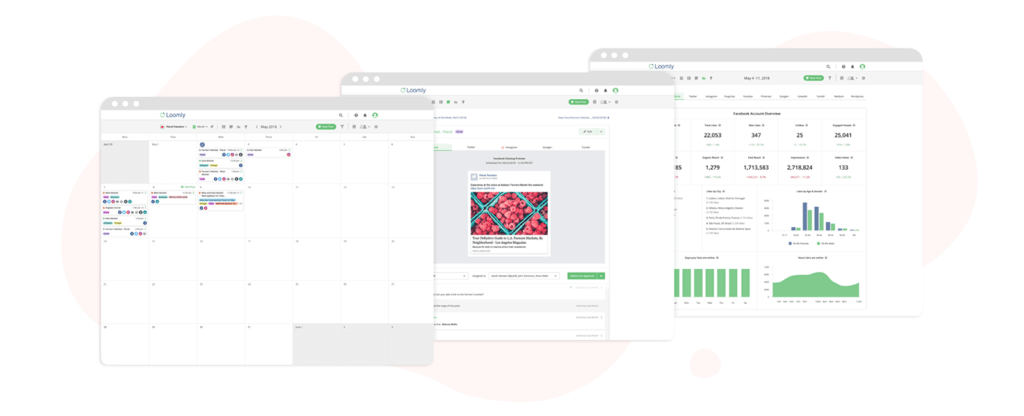 5. Sendible
An official Facebook, LinkedIn, and Instagram partner, Sendible is designed for agencies and is appealing to small to midsize businesses and marketers' teams.
Sendible allows you to plan, schedule, and publish images, videos, and Instagram stories from one compose box with the RSS Auto Posting feature. You can schedule posts individually or in bulk for multiple social media channels.
You can visualize your content plan weekly or monthly and share this calendar with your team on separate queues. You can plan an entire campaign offline, then import it in bulk to the platform's scheduler. Sendible also suggests your best-performing keywords and hashtags relating to your content. Its Starting plan starts from $29/month.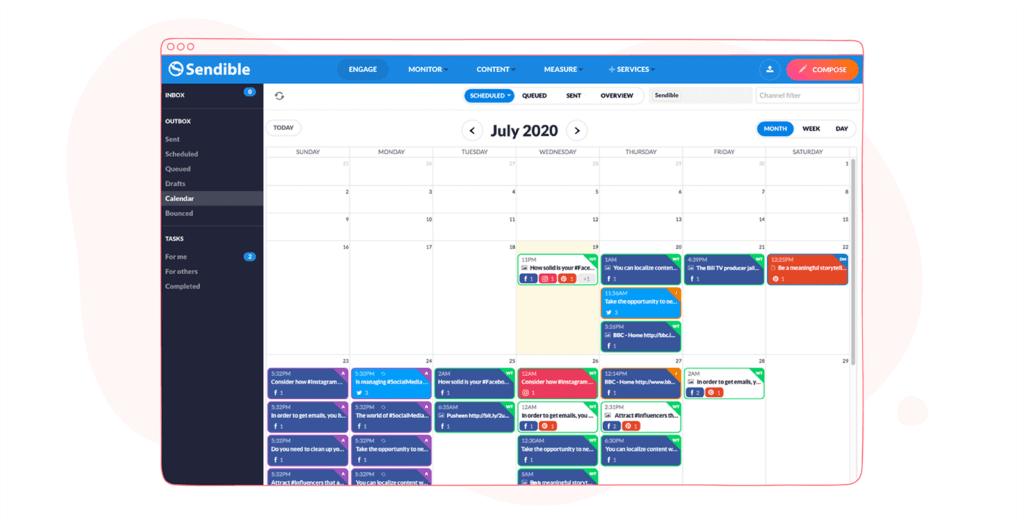 6. SocialBee
SocialBee is a powerful social media scheduling platform that goes beyond scheduling and includes features like competitor research. Founded in 2016, this cloud-based social media tool is used by freelancers, bloggers, entrepreneurs, and marketing agencies worldwide.
Since they're a startup and they have quite an extensive product roadmap, which means their focus is on rolling out new features. At the same time, the more established tools tend to slow down on adding new features.
But for now, their main scheduling feature revolves around category-based evergreen posting. When you schedule posts in different categories, it creates a balanced mix of various types of content. For example, you could have categories for curated content, industry news, and self-promotional topics.
Taking this one stage further, you can recycle your top-performing evergreen content to save time scheduling the same posts again and again. Select which categories you want to be evergreen, and SocialBee handles the rest.
Staying with the evergreen functionality, SocialBee also lets you set posts to expire on a specific date – e.g., end Christmas posts on 25 December – or set posts to expire after a particular number of times – e.g., stop posting after three times.
The platform's standout scheduling feature is its category based scheduling; which allows you to assign each post to a specific category, so it becomes easy for you to schedule based on categories rather than individual posts.
You can choose from 3 subscription plans based on the number of social profiles and content categories you need. Prices start from $19/month and include all the scheduling features.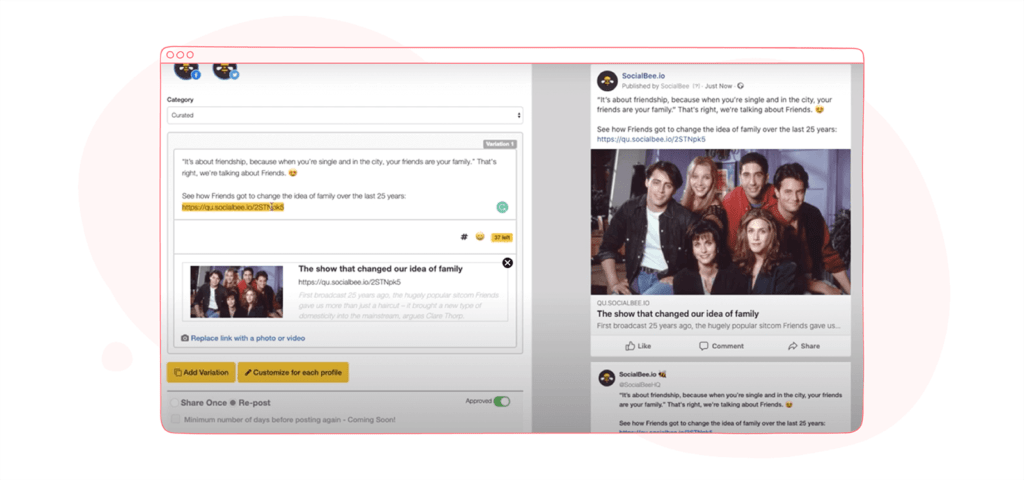 7. Later (formerly Latergramme)
Later's the main goal is to help you schedule your visual content on IG, Pinterest, FB, TW, and TikTok. Its scheduling plans are ideal mostly for freelancers, but some business plans are also available.
Founded as the first-to-market Instagram scheduler in 2014, Later is ranked amongst the best social media scheduler tools. However, it has its own privileges when it comes to posting or scheduling on Instagram. This partnership with Instagram allows you to save captions and hashtags, manage notifications, and edit your image before publishing it. Later is also a Pinterest Marketing Partner.
Later has another unique feature when it comes to uploading or editing images. Drag-and-drop touch is available when it comes to uploading pictures, and you can also crop, add filters and add captions to your image after you upload them.
Its free version (and will stay free forever as they say) includes 1 social set (FB, TW, IG, and Pinterest) and 30 posts per social profile for 1 user.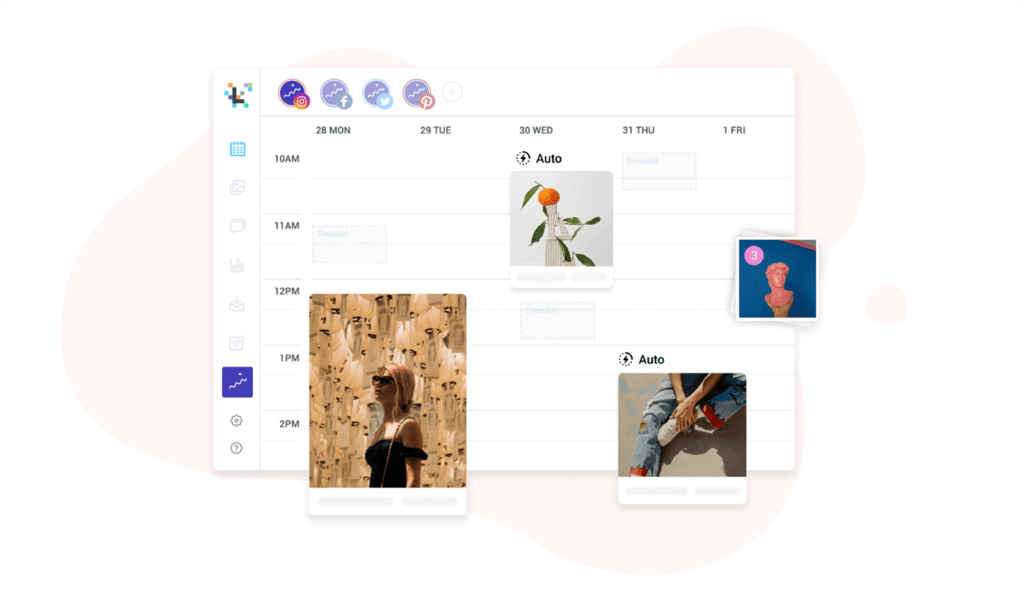 8. eClincher
eClincher is ideal for large teams of marketers and medium to large-scale agencies who work on FB, IG, TW, Pinterest, LinkedIn, Google, and Youtube.
eClincher has a simplified interface, and you can schedule your posts to publish via its visual calendar. You can monitor your workflow via this calendar and schedule your posts at the same time.
Using eClincher, you can reschedule your old posts to publish, and all URLs will be automatically shortened before posting. You can paste your link into the compose box, and it will automatically be shortened using the Google URL shortener. eClincher also partnered with Canva allowing you to create custom images for yourself or your business.
The Basic plan starts from 59USD / month.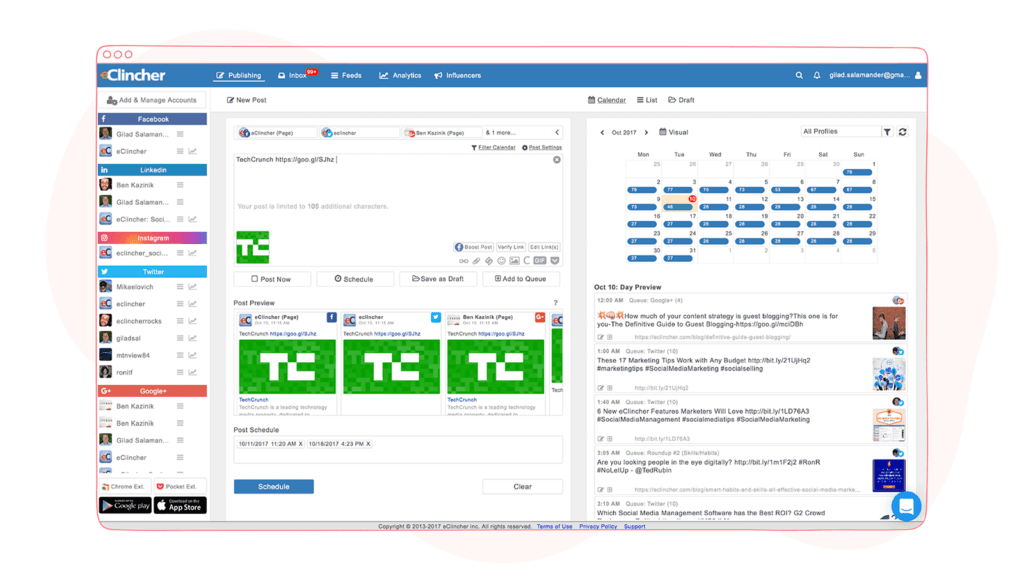 9. Post Planner
Founded in 2011, this software's primary goal is to quickly assist individual marketers and agencies in finding, sharing, and scheduling content.
When we schedule a post to publish, we set a specific time for the future and that Post Planner suggests times of peak interest. This social media scheduler tool assists us in when to publish our posts. It can assume the engagement and reach rate depending on the publishing time.
Post Planner claims to double your engagement rate by suggesting the most appropriate posting times and hashtag recommendations. You can easily manage and schedule your posts within multiple social channels.
Its prices start from 9USD/month, including limited media library access to find industrial contents and Canva design editor.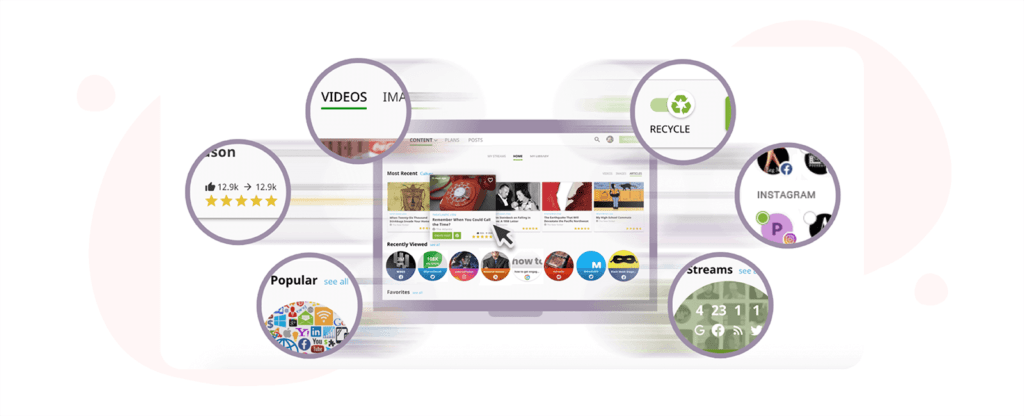 10. ContentCal
Launched in 2016, ContentCal is an ideal content calendar tool and social media management software for freelancers, agencies, and medium-sized businesses.
ContentCal can highlight your top-performing posts and best-performing media. You can modify the layout, add colors and logos to your content, and integrate that content into popular file sharing sites like Google Drive or DropBox. With its Grammarly integration, you can write bold & clear, mistake-free texts. You may also add links and articles into your ContentCal using the Web Clipper browser extension. Additionally, there's color-coding in the content calendar, which makes it so easy to work with.
The minimum plan Pro starts with 17USD /month, and there's a 14 day no credit card free trial available.