It is inevitable for brands to have a presence on social media in 2019. Social helps you connect with your customers, increase awareness about your brand, and boost your business. With more than three billion people around the world using social media every month, it's safe to say that the importance is real. 1 Managing your time and effort while building a strong presence on social media can be tricky. We live in a mobilizing world and we can interact with anyone easily. Users want to receive immediate responses to their problems and complaints. Knowing when to post your content is equally important. Brands need to know their most active hours to reach as many audiences as possible and the same goes for influencers as well. Influencers post on their peak hours to engage with their audience to maximize their engagement. But how do marketers manage to keep on track? The answer is simple; using social media scheduler tools to save time and effort.
Top-rated Social media scheduler tools can offer you more than scheduling your posts. Best Social media scheduler tools give you the maximum efficiency to post your content at the times of peak interest or real-time, advance your connection with your audience and improve the collaboration of your team.
Your needs can be diversified but the solution is quite clear:
Here is the Top 10 Social Media Scheduler Tools
1. Sociality.io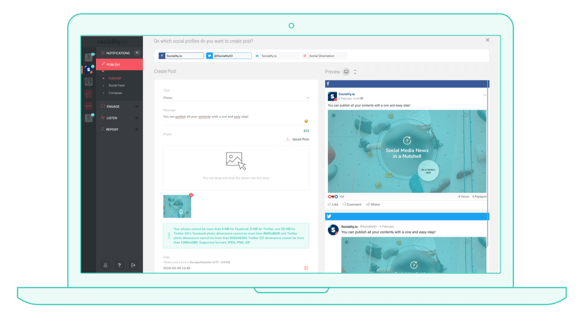 Sociality.io offers great convenience for both individuals and businesses. This social media scheduler tool offers you so much more than just queue up your posts. With Sociality.io, you can analysis your posting times of peak interest and monitor your audience easily.
You can post, schedule or send posts to approval easily on Sociality.io. Sociality.io has a very efficient mobile app providing you the comfort of managing your social media channels wherever and whenever you want. You can easily manage your posts on Instagram which is still a bit tricky with other common social media scheduler tools.
One can frequently face the problem of scheduling and sharing animatic content on social media tools. Unlike other social media scheduler tools, you can easily manage your gifs, videos and 360° posts on related social media channels.
Via Sociality.io, one can easily have a command on their business by viewing their posts on weekly or monthly plans. This feature saves you more time and makes your team collaborate more effectively.
Sociality.io posts your content in the optimal time for your unique audience offers listening and monitoring tools and minimizes your effort.
This tool also has very flexible pricing options. Regarding all the features Sociality.io offers and the pricing range, it is safe to say that we have a good option here. 😊
2. Buffer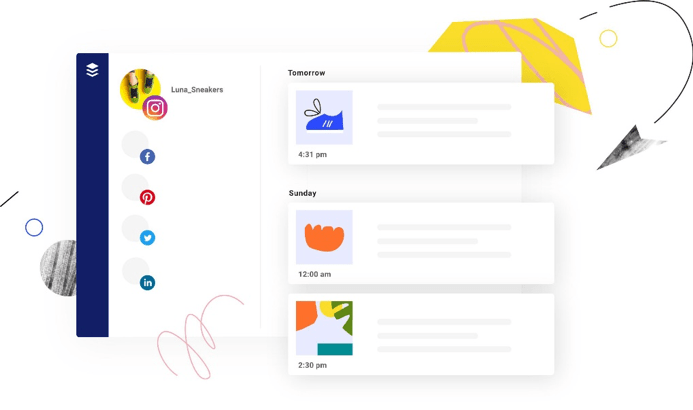 Giving credit to the tool's name, Buffer allows you to organize all the relevant content you might want to share in one place. By doing so, you can post the selected contents on the most appropriate times.
By using the Buffer tool, one can not only schedule posts but also can send their posts to approval, revision or add to draft. You can customize your caption before posting your content on every social media channel.
Buffer also has a mobile app and via this app, you can easily upload images, videos or add links to your scheduled posts. Buffer has a trick that while using the mobile app, you can't choose a cover photo of your gifs or videos. This feature is only available on the web browser extension.
One of the qualities that make Buffer one of the best Social media scheduler tools is that Buffer suggests you particular posting times for each social media network. Buffer tool also provides analytics to monitor the success of your posts.
Buffer offers you a ''freemium'' package by using that you can schedule 10 social updates for free. Using a paid plan gives you unlimited scheduling options.
3. Hootsuite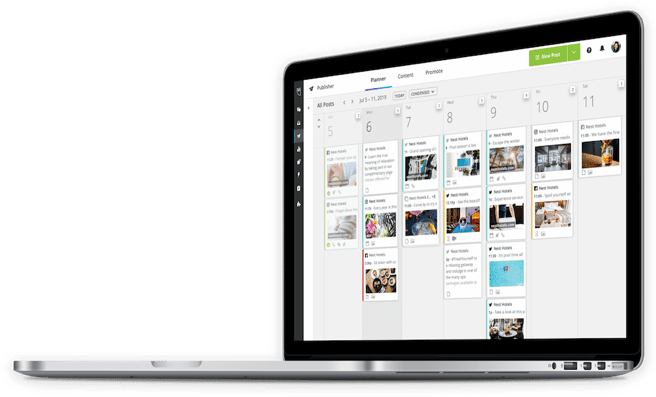 Hootsuite is one of the top-ranked social media scheduler tools that allow you to schedule your posts to publish any time you want in the future. One can create new posts for future publishing or schedule existing posts for the future.
You can schedule posts for multiple channels and or delegate them to your team members for revision or approval.
Hootsuite offers you a wide range of plans to choose depending on your needs. While brands use a business platform, influencers or individuals can select a customized personal plan. It also provides a free plan allows you to schedule 30 posts on 3 social media channels. The most common business plan is ''the Professional Plan'' which allows users unlimited scheduling across 10 social media channels.
4. Woop

Woop is one of the best recommended social media scheduler tools and we are here to tell you why. First of all, you can schedule your posts for multiple social networks from one publishing box. One can easily Schedule posts for publishing via Woop but it does not have a mobile app. You can use Woop only on your desktop platform.
Woop supports Facebook, Twitter, Linkedin, Instagram and also Instagram Stories but it has quite a few standards when it comes to uploading images or videos. You must choose your images and gifs from the recommended specs of social media channels to schedule. Community management and social media scheduling system is easy to adapt to Woop but it is generally preferred for its pricing range. Woop suggests quite reasonable prices for businesses, agencies, and individuals.
5. Later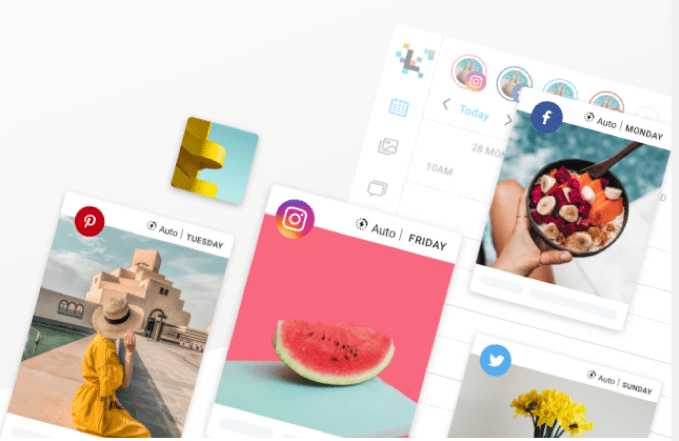 We can rank Later as one of the best social media scheduler tools but when it comes to posting or scheduling on Instagram, Later has it is own priorities. Later is one of the official Instagram partners and this partnership allows you to save captions and hashtags, manage notifications and edit your image before publishing it.
Later has another unique feature when it comes to uploading or editing images. Drag-and-drop touch is available when it comes to uploading images and you can also crop, add filters and add captions to your image after you upload them.
6. Post Planner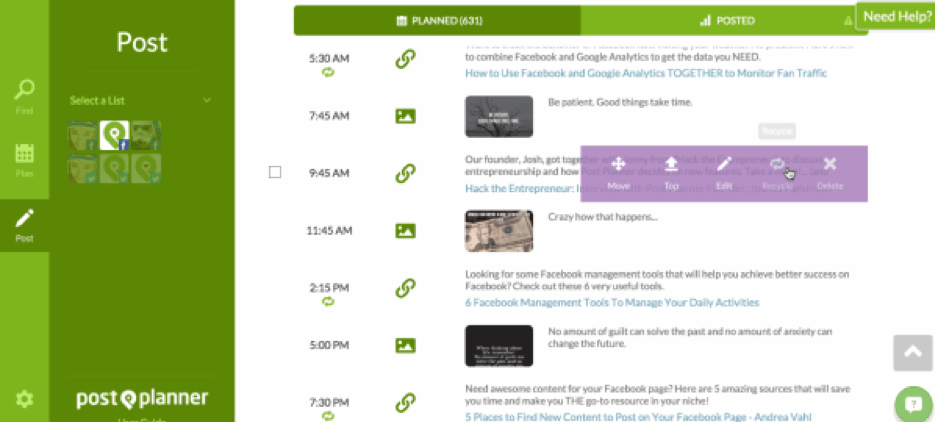 When we schedule a post to publish, we set a certain time for the future but in addition to that Post Planner suggests times of peak interest. This social media scheduler tool assists us in when to publish our posts. It can assume the engagement and reach rate depending on the publishing time.
Post Planner claims to double your engagement rate by suggesting the most appropriate posting times and hashtag recommendations. You can easily manage and schedule your posts within multiple social channels.
7. SocialOomph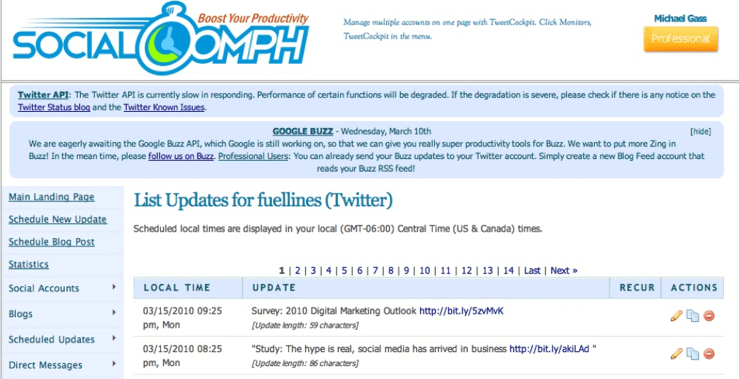 SocialOomph promises to boost your social media productivity. With SocialOomph you can manage your Twitter accounts for free that means you'll be able to schedule your tweets, save your most common hashtags, track keywords, save and reuse your drafts. If you decide to go along with a Professional plan you can manage your Facebook, Pinterest, Linkedin, and Plurk as well. Sadly SocialOomph is not supporting Instagram so you won't be able to manage your Instagram channels via this social media scheduler tool.
This tool has another unusual feature of itself, your posts for Facebook and Twitter will be time-limited. That means after a certain period your posts will be automatically deleted.
8. Loomly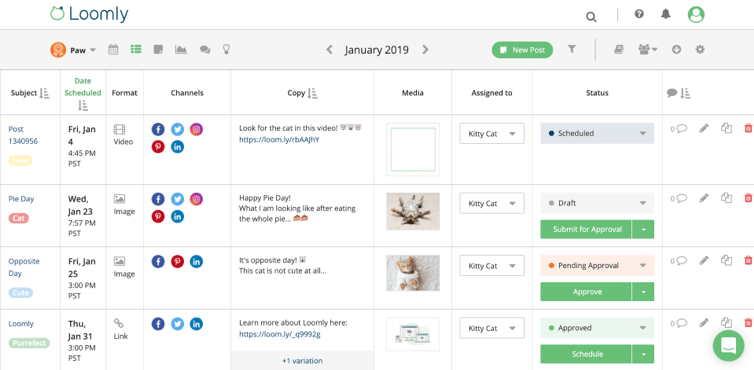 Loomly has an easy to adapt interface on the desktop. From one compose box you can schedule, send to approval, require edit or publish your content.
Loomly offers a library feature to collect your images, captions, hashtags, data, and drafts. When in need you can easily transform them into an upcoming post. This tool also automatically generates a preview before publishing your scheduled posts.
Via Loomly you can schedule photos, videos, multiple images, links, simple statuses, and Instagram stories.
This top-ranked social media scheduler tool offers you a 15-day trial and you can add 10 social media channels to this tool while using your free trial.
9. eClincher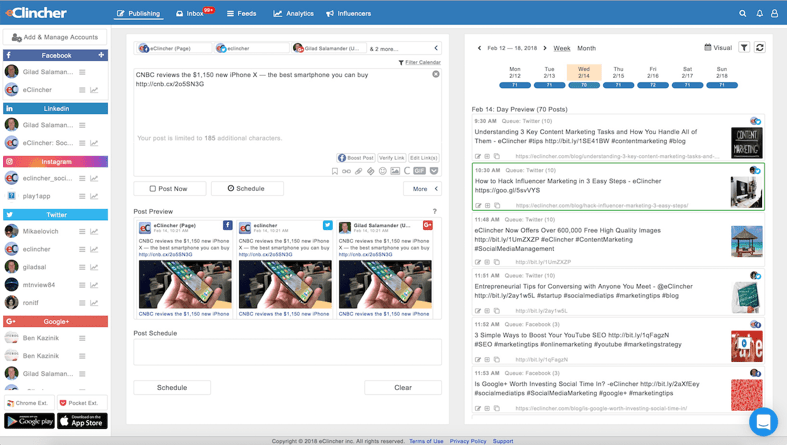 eClincher is one of the best social media scheduler tools for managing accounts from one platform. This tool publishes and schedules your posts to multiple social media channels including Facebook, Twitter, Instagram, Linkedin, Pinterest and more. eClincher has a simplified interface and you can schedule your posts to publish via its visual calendar. You can monitor your workflow via this calendar and schedule your posts at the same time.
Using eClincher you can reschedule your old posts to publish and all URLs will be automatically shortened before posting. You can paste your link into the compose box and it will automatically be shortened using the Google URL shortener.
eClincher also partnered with Canva allowing you yo create custom images for yourself or your business.
10. Sendible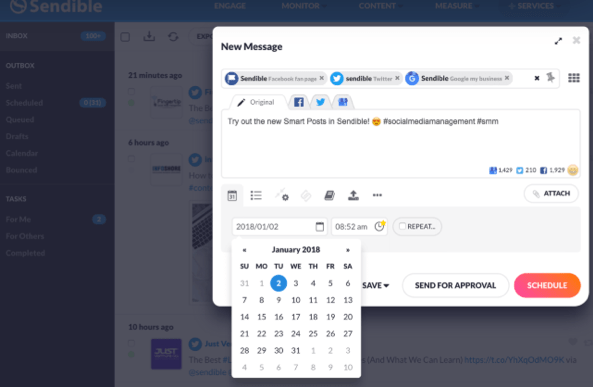 Sendible offers you an easy to adapt the interface to manage multiple social media channels including Wordpress, Tumblr and Medium using only one platform. This tool also helps you to upload videos on YouTube, Facebook, and Twitter.
It allows you to plan, schedule and publish images, videos and Instagram stories from one compose box. You can schedule posts individually or in bulk for multiple social media channels.
You can visualize your content plan on a weekly or monthly calendar and share this calendar with your team. Sendible also suggests your best-performing keywords and hashtags relating to your content.
Businesses and individuals are using social media tools to save time, effort and increase their followers. It is important using one of these social media tools to keep track of the fast-paced nature of social media.