Social media competitor analysis is a type of analysis prepared by examining social media competitors' performance. Although their data is public, compiling and analyzing it requires social API access and experience.
The most significant measure of the success or failure of your performance on social media is your position among your competitors. The idea is to target your competitors and set the right benchmark when evaluating your company's social media presence.
Reasons to integrate competitor monitoring into your workflow
1. Dive deeper into your market segment: Analyzing your competitors' social media behavior will give you an advanced idea of how your market segment fares on digital platforms.
Even if your segment is absent from social media platforms, it will help you understand how to build your content strategy. In this case, you might need to spend more effort to educate people about your offerings, considering that the chances are high the audience hasn't heard of your product.
2. Learn what works for your market in terms of social media: Each industry does social media marketing differently. Some rely heavily on media posts, such as short video clips, infographics, product photos, while others post articles and reports.
What works for some businesses might not work for you regarding social media marketing, so take the time to study what's already popular in your industry. Always make sure to have what's tested in your content strategy, and don't rely only on experimental mediums and content types.
3. Set accurate KPI Expectations: To set measurable goals realistic to your segment, you need first to understand what your competitors have achieved. Are they ahead of you or behind you? If it's the former — study how they have achieved it.
4. Follow market trends: Make competitor analysis a routine task. A regular analysis can help you identify market trends, like seasonal sales, hashtags, or even social media challenges that either one of your competitors started or just participated in.
The 4 steps of social media competitor analysis
Step 0: Prep work
Before you get started, make sure you have prepared an Excel or Google Sheets file to collect all the data. We've created a template for you. It's free and easy to use.
Step 1: Identify social media indirect and direct competitors
Start by making a list of direct and indirect competitors that you want to analyze. In case you don't already know your direct competitors or just want to find more, you can:
Conduct market research
Check online communities and forums
Check search engine results
Conduct keyword research
Step 2: Collect data
Now that you have your competitors' list, it's time to study their social media profiles. You can either concentrate on one social media platform account or multiple. It's up to you.
What do you need to gather and identify in this step?
Link to Account or Username
Number of Followers
Number of Following
Engagement Rate or the Sum of Likes, Comments, and Shares (if applicable) on the last 5-10 posts
Post Frequency
Tonality
Link to Most Popular Post
Link to Worst Performing Post
For instance, let's say you are a brand of interior design and decorations. Then let's have a look at @hmhome as one of your competitors.
| | |
| --- | --- |
| | Competitor 1: H&M Home |
| Link to Account or Username | https://www.instagram.com/hmhome |
| Number of Followers | 4.5M |
| Number of Following | 137 |
| Engagement Rate | 1% |
| Post Frequency | Once a day |
| Tonality | Clear, fresh, and informative |
All the metrics are gathered using the Sociality.io Competitor Analysis module.
It is also helpful to use social listening software that will help you automatically track the page's activity over time and any reaction or comment it gets. Later in this article, we'll share the top helpful tools you should try.
In the next step, you will gather more info and study the list above even more closely. This is just to get you started and give you a general idea of the competitors' performance on social media. During this step, you might also identify that some of the accounts are abandoned and not worth your time as much as other active pages are.
Step 3: Analyze and get insights
You have your competitors and their social media links with basic info separated. It's time to do the analysis. We recommend you start from content strategy analysis, which can make or break a social media strategy. Then move on to studying the engagement and the demographics.
Analyze social media content strategy
Related article: How to Track and Analyze Competitors' Social Media Content Strategy?
Take a closer look at your competitor's content. Study their tone of voice and frequency of posting. Is it consistent? Also, take a look at their media content. Do they share videos, images, slides, and infographics? If yes, then how often? Do their visuals have a custom design?
As we can see, @hmhome shares all types of content consistently: images with shopping tags, videos, IGTV videos, highlighted stories. All the visuals are customized with a single scheme of colors and filled with coziness.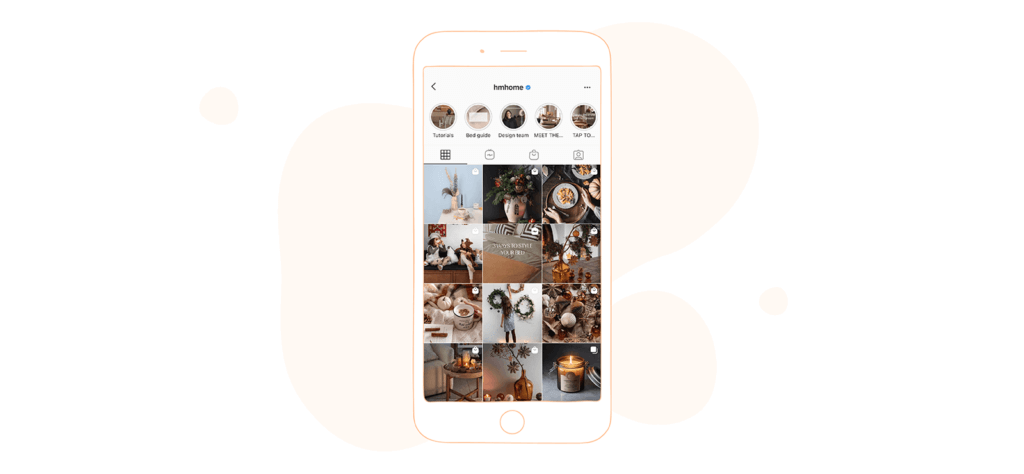 Analyze competitors' Facebook and Instagram ads
Study competitors' ads to understand what works for them, their experiments, and how often they spend money. If possible, also take a look at the promoted content. Sociality.io tool can help you to uncover paid metrics of your competitors.
Ads are a good indicator of how each competitor is presenting itself to new audiences. All major social media platforms present free, first-party tools for everyone to see the pages' ads. Facebook has its Ad Library, which you can also use to study Instagram Ads. Twitter offers the Ads Transparency Center. And LinkedIn has the tool integrated into its interface. You can see the Ads section on each company's LinkedIn page, on the left sidebar.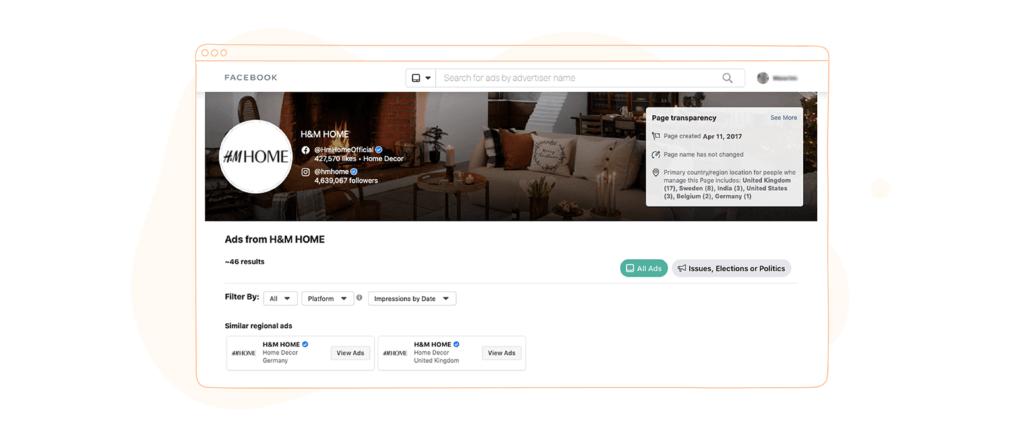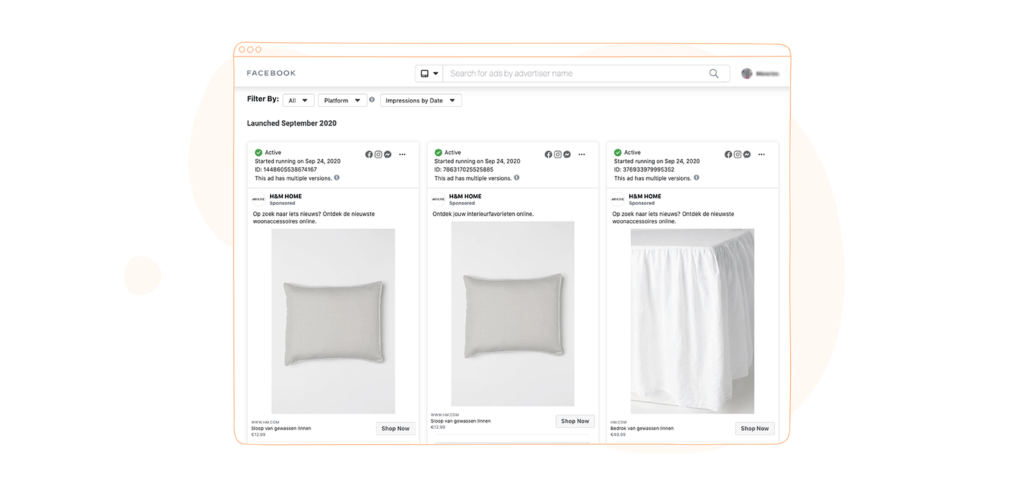 How do followers engage with the competitors' page?
Check the number of likes and other reactions the posts are getting. On Facebook and LinkedIn, which let users react with different emojis, make sure to check which type of reactions they get the most.
Monitor social engagement strategy
Take the time to study the comments people leave under the posts. Are they primarily positive or negative? How do people interact with the brand on social media? How does the brand handle the negative comments (if it receives any)?


Take a look at demographic characteristics
Study the accounts that follow and interact with the page on social media to get a general idea of the demographics your competitor can reach. Compare it to your buyer persona and understand whether you are targeting the right audience. You can either do this manually or use the tools listed below.
Discover how the page has evolution
Go back to the beginnings of the company page and see how their page evolved over the years. Analyze their previous approaches and see how they compare to the current process. Is it more or less effective? Any content mistakes that you can learn and avoid?
Have a glance at the very first post of @hmhome and how its feed looked in August 2015.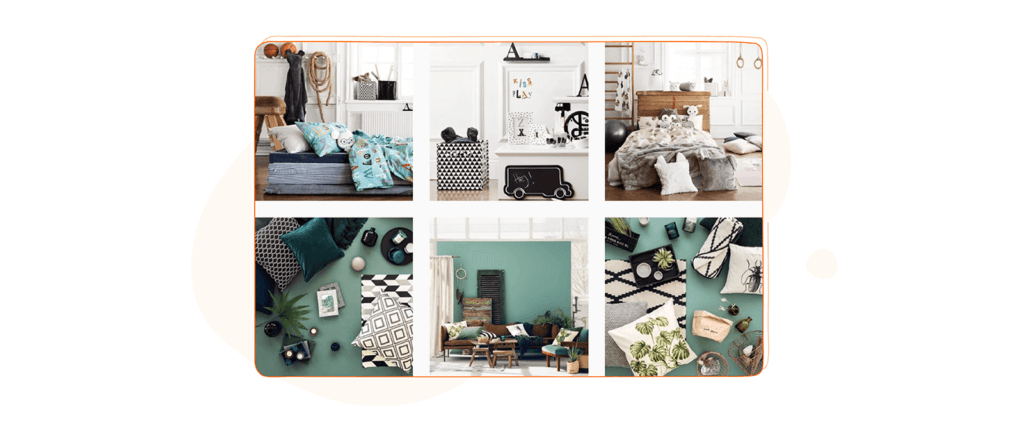 Then Instagram evolved and offered an opportunity to share videos and carousel posts. So in November 2017 @hmhome was using all the features of the Instagram feed.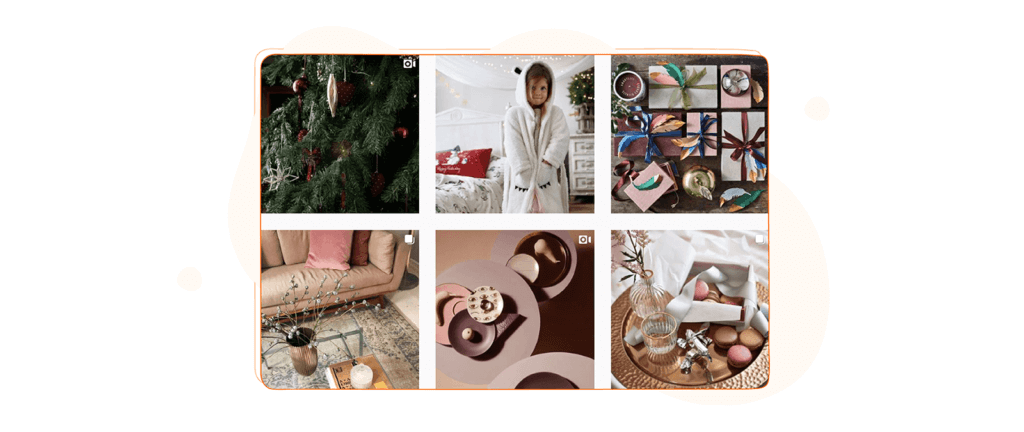 As we noticed above, today, @hmhome uses every possible type of content to run the account effectively.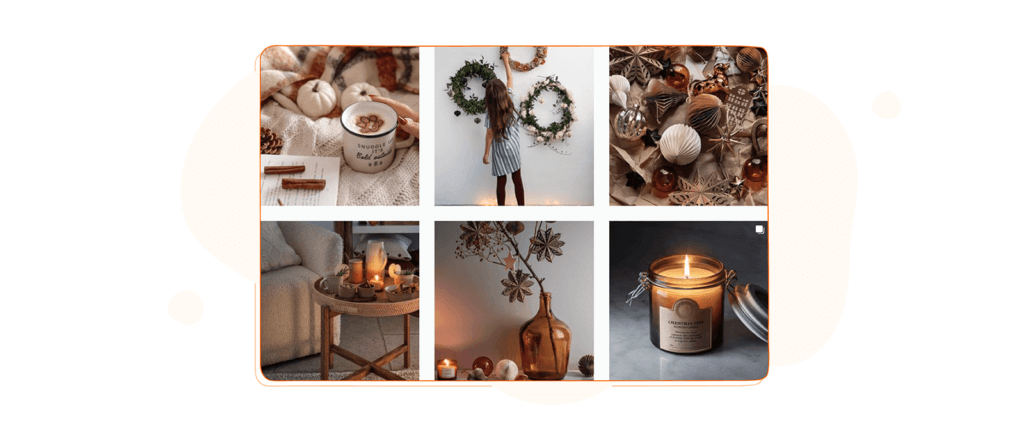 How do competitors position their brand on social?
Take a look at the about/bio section and note how the company positions itself. Which sector it aims to target, and what is its mission statement?
As we can notice, @hmhome uses CTA (call to action) in its bio to drive more engagement and make the audience generate UGC (user-generated content). As we all know, UGC is a king today. Plus, using a clickable link in the bio is also a great way to drive traffic to your website.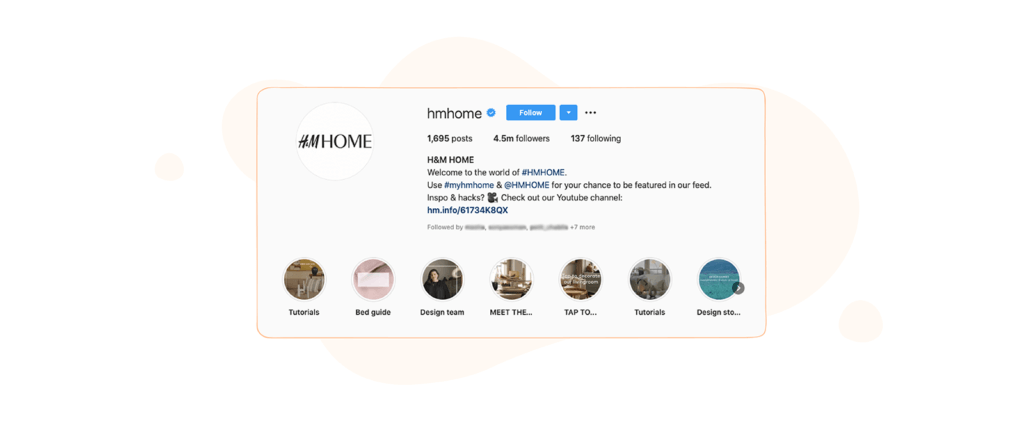 Step 4: Implement
Finally, now it's time to implement your findings into your own social media content strategy. Don't be afraid to experiment to see what works the best for you. It might be a mix of different things. You just have to find your own formula.
From our example of the @hmhome account, we can conclude the following:
@hmhome daily shares different types of content. Visuals maintain a certain cozy mood which is well. However, highlights could be more attractive if they had lovely customized covers.
Customized hashtags #HMHome and #HMOnline are used most often in posts.
Each one of its posts has thousands of likes. On average, it gets 45.000 likes/comments a day. While this seems like a lot, it is an engagement rate of 1%.
Overall, @hmhome does a great job of keeping the feed fresh and unique for its followers and handling neutral and negative feedback well.
Competitor analysis on different social media platforms
Why is it essential to approach competitors on various social media differently?
Every social media platform has its audience and in-platform tools. Since every social media network is different, users expect the content they want to see and share there.
While Instagram is all about connecting through photo and video content, LinkedIn is designed to showcase users' job experience and professional thoughts.
The content posted on each social media affects how well your account performs.
Not every brand/business has to be on every social media possible. Brands/businesses should present on platforms where they can reach and engage the right target audience. Sometimes it's better to spend time and effort on one social media platform and use it to its fullest.
If you want to know the specifics of competitor analysis on each social media platform, we've got you covered. Below are the links to detailed guides about the process on each platform.
Instagram
People spend an average of 28 minutes a day on Instagram in 2020, and 72% of businesses are attracting new customers on this social network. The competitor analysis on Instagram allows you to make a competent adjustment and promote your account more efficiently than competitors do.
Analysis of competitors on Instagram allows you to see the dynamics of the target audience's behavior, the growth of followers, and their reaction to changes in the content strategy. Knowing a competitor's strategy saves you time and money you might have wasted on content that won't work.
👉 Competitor analysis on Instagram
Facebook
Facebook isn't just a place where brands can share content and connect with their audiences. It is one of the most powerful promotion tools. In 2020, users spend an average of 37 minutes a day on Facebook, and Facebook ad budgets grow every year. Finding the right content and promotion strategy is the key to new customers. It's also a huge advantage when you know what approach your competitor is using on Facebook.
👉 Competitor analysis on Facebook
LinkedIn
LinkedIn is a platform for networking and online recruiting. This makes it a great space to promote your brand and conduct an insightful social media competitor analysis and keep an eye on the competition and market trends. LinkedIn offers positioning and profiling info about any company more than any other social media does.
👉Competitor analysis on LinkedIn
Twitter
Twitter excels at helping brands connect with their target audience and stay in the loop with competitors' brand mentions. With the vast majority of brands utilizing social media giant's benefits, the platform becomes an excellent source for conducting a competitor analysis.
👉Competitor analysis on Twitter
The best social media competitor analysis tools
The era of manual labor is gone a long time ago. Numerous SaaS solutions offer a solution to automate the gathering, collect, and analyze competitors' social media accounts. Today automated tools can make your work wildly easier. By using them thoughtfully, you can improve your social media presence.
Time-Saver: Social media audit tools get you the information you need in significantly less time than it would take you to do it manually. Whether it's a single-page analysis or comparing different competitors' performance, such tools are equipped well to accomplish these tasks quickly.
Extra Information: When analyzing manually, calculating the engagement rate of a specific page becomes a hassle. And social media platforms don't let you see the engagement rate of a page that doesn't belong to you. Thankfully, auditing tools are here to save the day. And they do it very well!
Easy to Review: Using a tool, you don't need to set up an Excel or Google Sheet to gather the info. Reports generated by these tools also have visual representations of data that look nice and make the data much easier to process.
These are the top 5 social media competitor analysis tools you should try in 2021:
1. Sociality.io

With the Social Media Competitor Analysis tool from Sociality.io, all competitors are in one report. You can prepare your Facebook, Instagram, Twitter, and YouTube competitor analysis reports in a few minutes. You can measure your performance with your competitor's detailed fan and interaction charts, analyze competing page content with comparative reports and review your content strategy.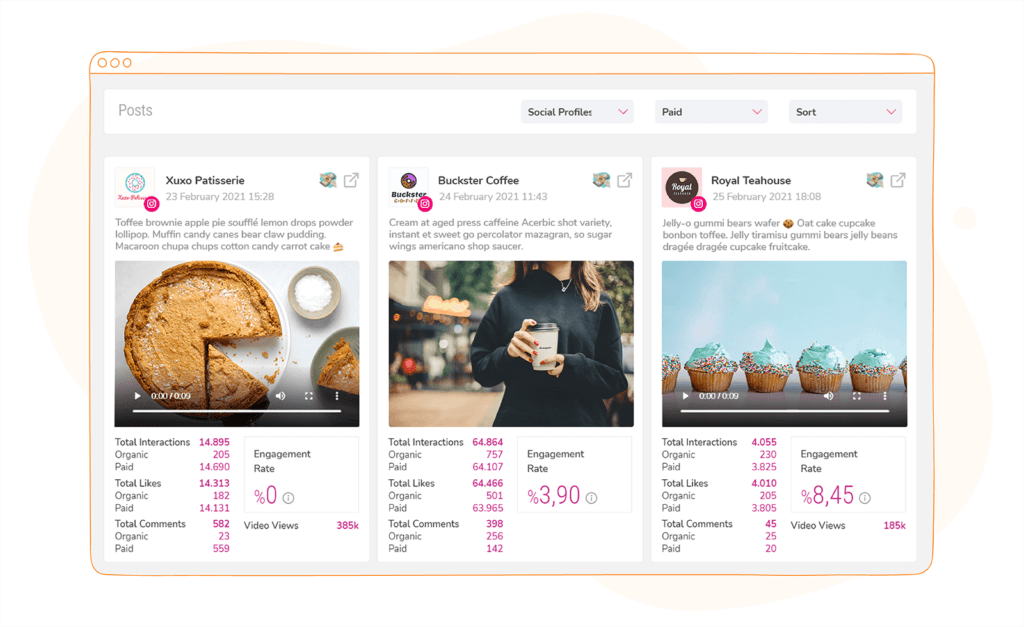 Sociality.io unlimited reports are exportable in PPT and Excel formats include the following metrics:
Total fans/followers/subscribers growth
Number of pages posts
Post types
Number of total interactions with separate graphs for each interaction type (number of reactions, likes, replies, etc.)
Engagement rates
Post days
Post hours
Detailed performance metrics of published and deleted content
Paid vs. organic engagement
Plus, advanced filters allow users to quickly sort competitors' content based on content type or engagement rates.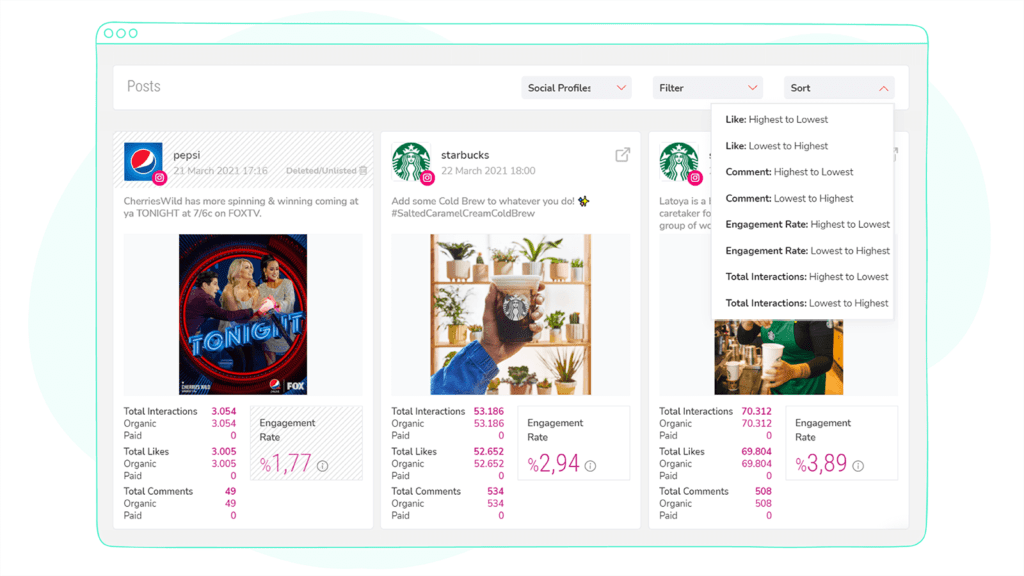 All reports can be automated and delivered right to your team's inbox at the scheduled time and frequency to save time.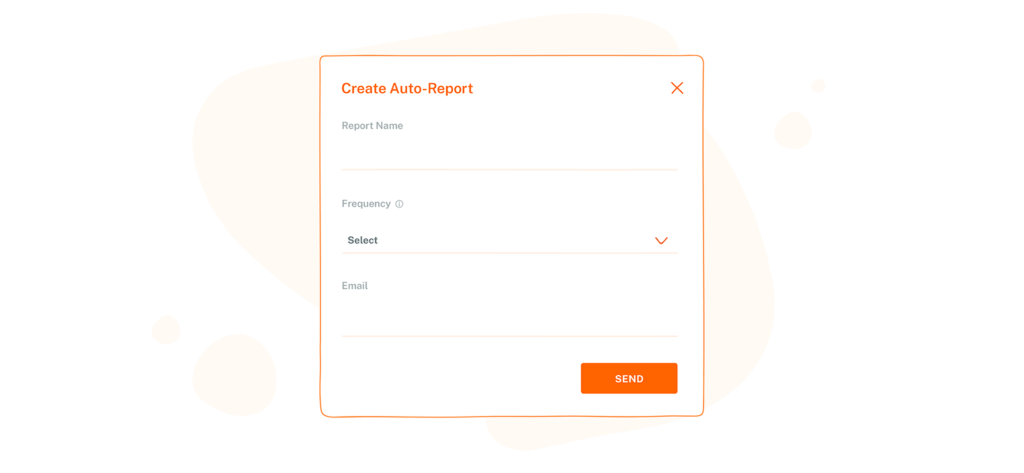 From Capterra reviews: https://www.capterra.com/p/178296/Sociality-io/#reviews
All competitors on one report
No more spending hours for competitor analysis, no more taking wrong decisions due to missed out information.
2. Socialbakers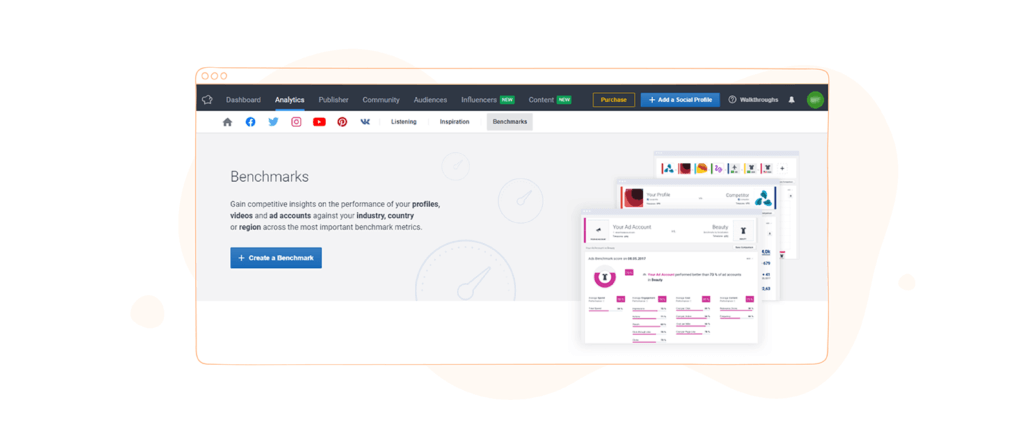 Socialbakers is one of the world's largest social media statistics portals offering in-depth analysis of social media. Socialbakers, which strengthens its infrastructure every day, has been working since 2009 to measure and analyze the social media work of companies and maximize the effectiveness of social marketing campaigns across all major social networks.
Available social media analytics tools of Socialbakers:
Campaign Analytics
Competitor Monitoring
Customizable Reports
Engagement Tracking
Influencer Tracking
Lead Attribution
Multi-Channel Data Collection
Post Scheduling

From Capterra reviews: https://www.capterra.com/p/156842/Socialbakers-Analytics-Plus/#reviews
3. Sprout Social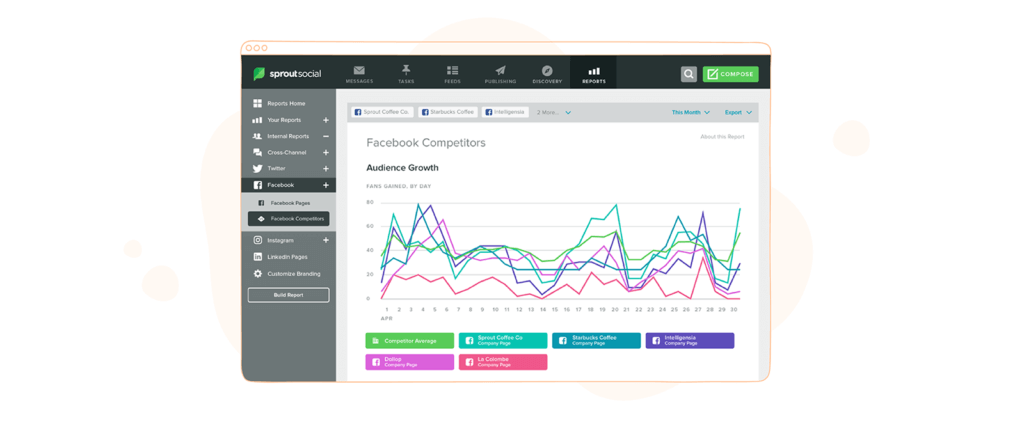 One of the tools you can use to measure your social media accounts is Sprout Social. Use it to compare key performance metrics and see what type of content performs best. Sprout Social's competitor reports can track fundamental metrics like audience growth, engagement, and post volume for each network. In particular, you can examine your followers in detail according to their demographic characteristics.
Available social media analytics tools of Sprout Social:
Campaign Analytics
Competitor Monitoring
Customizable Reports
Engagement Tracking
Influencer Tracking
Multi-Channel Data Collection
Post Scheduling

From Capterra reviews: https://www.capterra.com/p/121447/Sprout-Social/#reviews
4. Hootsuite

Covering the most effective social media tools, Hootsuite is one of the most effective tools for managing, analyzing, and listening to content. You can use Hootsuite to follow your competitors' social media activity, look for specific keywords and hashtags, and see how their customers perceive them.
Available social media analytics tools of Hootsuite:
Competitor monitoring
Campaign analytics
Customizable reports
Post Scheduling

From Capterra reviews: https://www.capterra.com/p/121701/HootSuite/#reviews
5. Brandwatch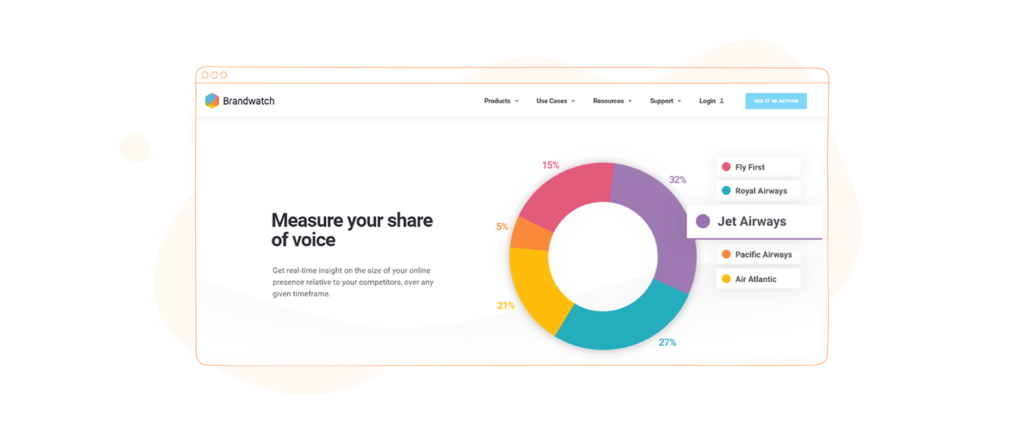 With Brandwatch's Competitor Analysis tool you can learn how your brand performs against your competitors. Gain and use your new insights to shape and improve your social media strategy. Measuring customer perceptions and sentiment instantly helps add context to your competitor analysis.
Available social media analytics tools of Brandwatch:
Competitive analysis
Reputation management
Influencer tracking
Trend tracking
Audience segmentation
Sentiment analysis

From Capterra reviews: https://www.capterra.com/p/157048/Brandwatch/#reviews
How Much Do Social Media Management Tools Cost?
Check out the transparent overview of the pricing tactics for the best social media management tools.

The Wrap-Up
There you have it. Now you are prepared to conduct practical, social media analysis and, most importantly, improve your own digital marketing game through the power of market knowledge. We hope this guide has been helpful.