Social media competitor analysis is a type of analysis that is prepared by examining the use of social media and performance criteria of your competitors. It's usually not an easy job to analyze competitors' social media data. Although most data are public on social media, compiling and analyzing this data correctly; requires the right tools and experience.
The greatest measure of the success or failure of your performance on social media is your position among your competitors in a competitive environment. Social media competitor analysis targets your competitors as a benchmark when evaluating your company's social media outlook.
According to a study by eMarketer, the world's adaptation of social media to marketing has been growing rapidly since 2007. Digital marketing activities were used by 20% in 2007 and today it has increased to 90%. By using the social media competitor analysis tools and reports, you can build your social media marketing strategy according to the data about your industry, your competitors and your target audience.
This means that if your brand still doesn't have a presence on social media, or if your brand's visibility on social media isn't good, it's a little late. But you still can strengthen that side in a short time with a little effort. Just because your competitors have been on social media for years doesn't mean they're doing it very well.
So, how do you know that?
The first step in understanding whether you're successful is to evaluate your opponents. How do your competitors use social media? To answer that question, we first need to make a list of competitors. For example, if you have a hamburger shop, add the name of the possible burger joints around you, the businesses that provide fast food services.
Then write down their websites and the social networks they use, like Facebook, Twitter, Instagram.
Note their function on these social networks in the third stage.
In this article, you can find the top 5 competitor analysis tools in 2019 for social media.
These are the Top 5 Social Media Competitor Analysis Tools, you should try in 2019:
1. Sociality.io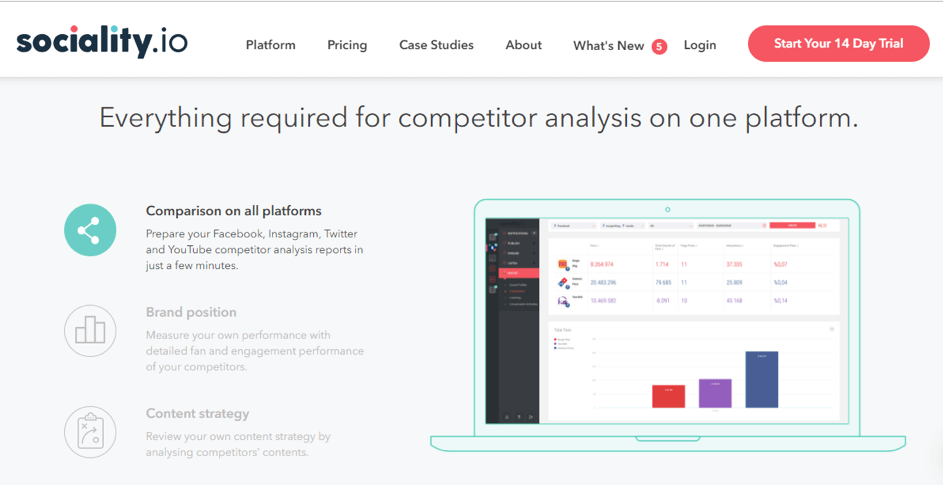 With the Social Media Competitor Analysis tool from Sociality.io, all competitors are in one report. You can prepare your Facebook, Instagram, Twitter, and YouTube competitor analysis reports in a few minutes. You can measure your own performance with your opponent's detailed fan and interaction charts, analyze competing page content with comparative reports and review your own content strategy.
Sociality.io offers many different features for all your needs:
PPT and Excel reports
Retrospective data
Content analysis
Sharing by email
Sharing times
Comparative charts
Graphic descriptions
Interaction rate
Unlimited number of reports
2. Socialbakers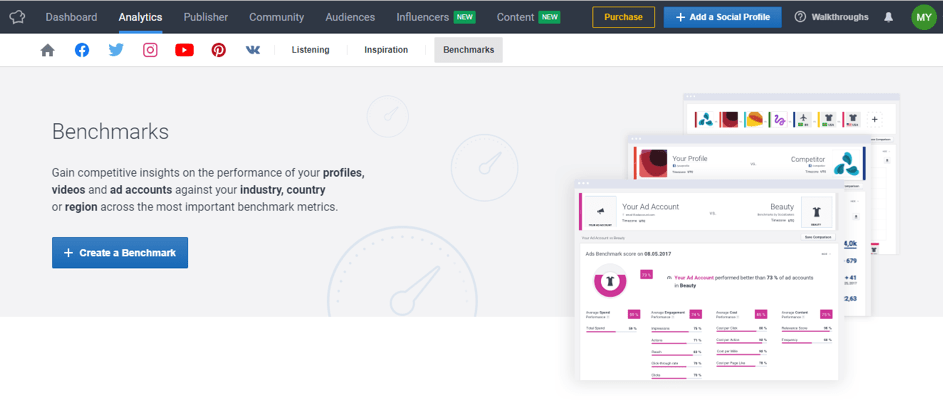 Socialbakers is one of the world's largest social media statistics portals offering in-depth analysis of social media. Socialbakers, which strengthens its infrastructure every day, has been working since 2009 to measure and analyze the social media work of companies and maximize the effectiveness of social marketing campaigns across all major social networks.
3. Sprout Social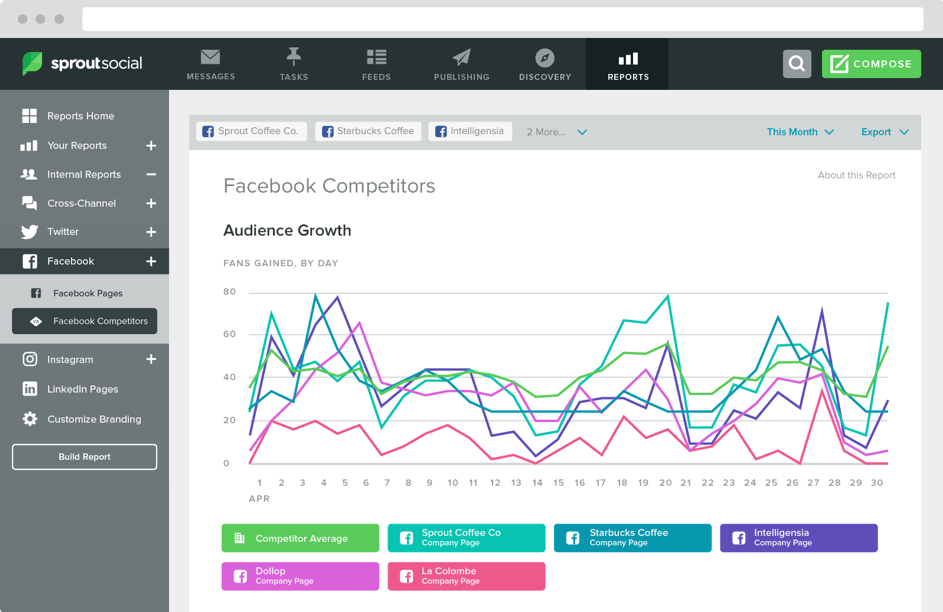 One of the tools you can use to measure your social media accounts is Sprout Social. In particular, you can examine your followers in detail according to their demographic characteristics.
4. Hootsuite
Covering the most effective social media tools, Hootsuite is one of the most effective tools for managing, analyzing and listening to content. You can use Hootsuite to follow your competitors' social media activity, look for specific keywords and hashtags and see how their customers perceive them.
5. Brandwatch
With Brandwatch's Competitor Analysis tool you can learn how your brand performs against your competitors. Gain and use your new insights to shape and improve your social media strategy. Measuring customer perceptions and sentiment instantly helps add context to your competitor analysis.
What will you get at the end of the day?
The most important goal of using a social media tracking platform is to reach and draw meaningful results from a social media communication. By examining social media and using this information, it is possible to get important information about products, brands, and competitors and to gain important insights.
With competitive analysis, your marketing team, product team, sales representatives, public relations professionals, customer relations managers, business development teams and many more departments can find opportunities such as; building the social media marketing, content marketing, and digital marketing strategies to suit their areas. Comparing negative and positive conversations about your competitors provides a deep insight into the performance of many departments in your company.