How to build a social media marketing strategy for 2020
At the beginning of the last decade, social media marketing strategy was this newly-booming phenomenon that businesses were jumping on board to experiment with. Ten years later, social media enters a new decade as a ubiquitous and powerful tool for businesses to connect with their audiences and further grow their market share. Social media marketing is no longer uncharted territory for companies.
While the formula of success is different for each business, there are six factors that you should take into consideration when building your 2020 social media marketing strategy. Whether you're just building a social media presence for your brand or building upon existing success, below are the essential factors that will help you present your brand in the best light possible for maximum growth on social media.
Social Media News in a Nutshell
Get the latest social media news, insights, and marketing tips in your inbox once a week.
Tell a compelling story
Due to social media being so overpopulated, it's much harder to stand out nowadays. You need to make sure you present your brand in a unique and memorable way. Use your bio to briefly present your brand.
Depending on your brand strategy and type of business, you can take different approaches when it comes to bios. Below are some interesting examples for your inspiration.
This company provides skins for various gadgets. dbrand's social media marketing strategy really stands out. As you can see, their Twitter bio reads "overpriced electronic tape that looks cool". Not only the brand doesn't take itself seriously and poke fun at its product often, yet at the same time, they boast about the quality and precise work that's put into production.
Their approach fits perfectly for their audience, which is mostly consisted of tech people who are into meme culture.

Pepsi's Instagram bio shows the purpose of the account. Like dbrand, this global brand that needs no introduction also takes a fun spin on presenting its brand. This is mostly because Pepsi needs no introduction, so they chose to describe the type of content users can expect from their Instagram account.
Related article: Get Inspired by 50+ Instagram Bio Ideas for Your Business Profile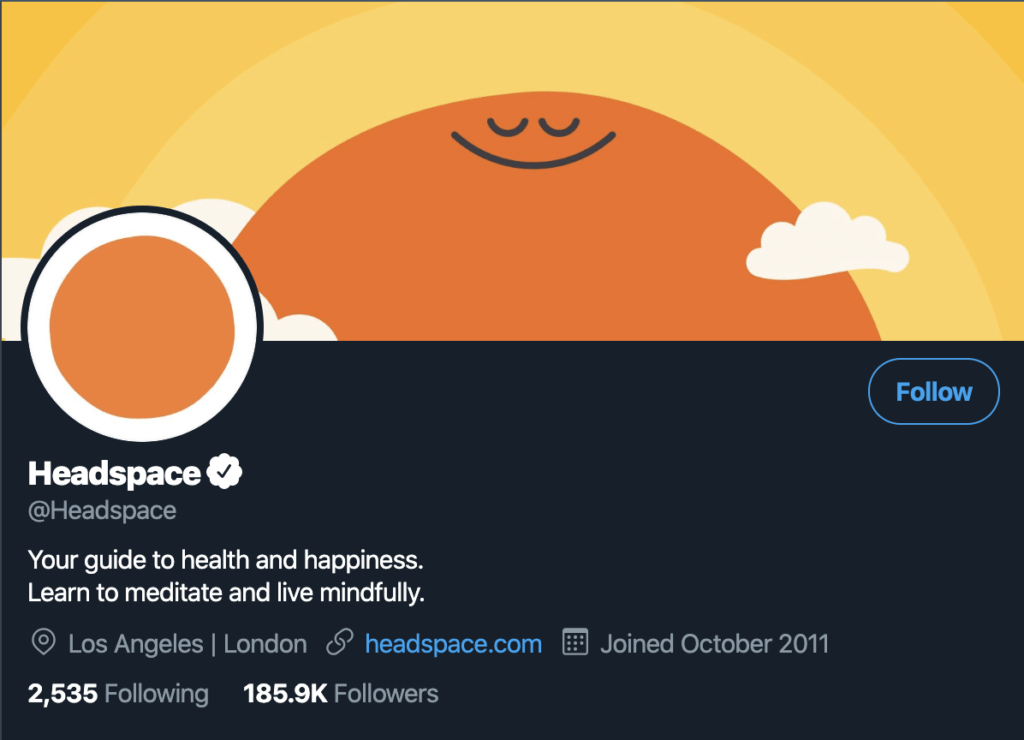 Headspace is a meditation app. Their bio is short and straightforward. In the first sentence, the brand briefly describes itself: "Your guide to health and happiness". In the second sentence, they state their mission: "Learn to meditate and live mindfully." Simple but effective.
Set measurable goals for your social media marketing strategy
You can use social media for various reasons: increase brand awareness, establish thought leadership, get new customers, provide support to your existing customers and answer their questions. Goals not only act as great progress trackers but also guide your strategy.
The goal, of course, directly affects the strategy. Not only key performance indicators are determined based on the goal, but also the execution. If it's brand exposure you're after this means that you will need to make posts often in order to increase your impressions. For customer acquisition, the effectiveness of your posts is determined by the engagement rate and the number of leads you receive from social media activity.
It's always a good idea to set up specific KPI goals. Be realistic though, take into account your current social media KPIs and think how much you can raise your KPIs for a specific period of time. This will help you understand your progress midway through your strategy.
Get to know your audience
We all know that you need to target a relevant audience for your brand, but how do you do it on social media? Well if you're just starting, and you don't have buyer personas, this is where you should start. Based on your buyer persona's target relevant existing accounts with a similar audience, not necessarily a competitor account. You can either follow their followers and or create a joint campaign with that page. A campaign can be anything from an article to research.
If you already have a page, analyze your current following either using the default tools provided by the social network platform or using a social media management tool of your choice. Based on your findings, optimize your targeting. If you see that mostly irrelevant people engage with your page then your content strategy needs revising.
Create compelling content
Content is the essence of your social media efforts. Make sure it is well-customized to your target audience. Use the findings of the audience research phase to better customize your content to your potential prospect's findings.
Make sure to keep your content diverse as much as you can. Use different formats of content, like videos, articles, images, surveys, etc. Keep the content as high-quality as you can to your best ability.
The demand for videos is still very high. People consume more videos than click on article links. Make sure to leverage your content between formats. You can even create short social media slideshow clips that summarize your articles. Constantly experiment and see what works best with your audience.
Choose relevant social media platforms for your marketing strategy
There are dozens of social media networks out there, but these most popular social networks listed below should be your priority. Each one of them is different and requires a different approach, so make sure to customize your strategy for different platforms because what works on Twitter might not work on LinkedIn.
Twitter
Twitter is the "right now" platform compared to the rest. This is where people go when they need to share the first thought that comes to their mind. In order to succeed in this platform you need to be active and on time. Timing is essential for Twitter. If you pick the wrong time for your posts it will get lost in the plethora of tweets that are posted every second. This is the platform that requires the most work.
This platform is great for interacting with your existing customers. Many businesses use Twitter accounts for providing support. It's also a great platform for fun content, so you can take the chance and have fun with your customers just like dbrand does.
Facebook
This is everyone's aunts' favorite social media. In other words, Facebook is more of a family social media. People visit Facebook to keep in touch with their friends and family. And in some cases read the news too, although Twitter is the one that's more news-centered. Facebook is also the place where most of the senior demographic are centered.
Facebook Ads have great paid promotion features that you might find useful. This is great if you want to boost your page visibility. Just like any platform, it has some occasional glitches but compared to other network's paid promotion tools, it's the most reliable.
LinkedIn
This is corporate social media. LinkedIn is more of an official network, but don't feel like you have to be bow-and-tie in all your efforts here, just don't be as casual as you'd be on Twitter.
LinkedIn is great if your company is in a business-to-business (B2B) market. All business executives are here and you have a great chance to present your brand directly to relevant decision-makers.
This platform is also a great place for HR marketing. If you want to build a strong employer image, this is where you do it. You can either center your LinkedIn strategy to this or occasionally slip in fun posts that reflect your strong culture. This will help in attracting strong professionals to join your team.
🧁 Worth checking article: Simplify sales and lead gen with 10 LinkedIn automation tools
Instagram
Images and videos are the main centers of this platform. To succeed on Instagram, make sure to create fun and engaging posts that will attract people to your brand. Instagram is the perfect place for visual products and services, i.e. cosmetics, clothing, health resorts, etc.
This is the platform where you want your products to shine the brightest. Whether you post photos of your product or the process of your service, make sure the images attract your people to your brand.
On Instagram, it's about quality rather than quantity. This doesn't mean that you should post once a month, but you can post 3-4 times a week and still get great results, unlike Twitter where you should post several times a day.
Snapchat
Looking for teenagers? They're all here! This highly-visual platform boasts a largely younger demographic. If your company targets this demographic, this is the place to be.
For businesses, the main content formats are stories, vertical format posts, that can contain both images and videos. This is the place for vibrant and colorful posts that users can interact with. You can share links to your blog posts and your website as well that users can access by swiping up.
Snapchat isn't as universal as the social media platforms mentioned above. If you are targeting a young demographic, it can be a great tool for getting them to notice your brand.
TikTok
This video-based social platform became a booming sensation in 2019 with 614 million app downloads. TikTok mostly boasts pre-teen and teen demographics. People use this platform to create short entertaining clips.
This is currently an experimental ground for businesses. With its growing popularity companies are jumping on board to try it out. So if your brand approach is casual and fun, this platform is worth including in your social media marketing strategy.
Pick the right time
Last but not least, the timing of your posts has a great impact on your social media marketing strategy's success. The optimal timing will be based on your audience report. If you are targeting people who work nine-to-five jobs, the optimal time might be before work hours and the last hour of the working day. If you are targeting a younger audience later hours might work. It all depends on the demographic you are targeting. The more you post on social media, the better you will get to know your audience.
Whether you're building your social media strategy for the first time or updating yours for 2020, the tips mentioned above will help you to better connect with your audience across different platforms. Make sure to constantly track your progress and watch out for possible improvements.