Strategies for social media marketing: How to build an effective one in 2023
At the beginning of the last decade, social media marketing strategy was this newly-booming phenomenon that businesses were jumping on board to experiment with. Ten years later, social media enters a new decade as a ubiquitous and powerful tool for businesses to connect with their audiences and further grow their market share. Social media marketing is no longer uncharted territory for companies.
While the formula of success is different for each business, there are proven ways to achieve success on social media, and that is what we will be discussing in this article. Whether you're just building a social media presence for your brand or building upon existing success, you would get to learn how to create a social media strategy that would set you up for success on social media.
Social Media News in a Nutshell
Get the latest social media news, insights, and marketing tips in your inbox once a week.
What is social media marketing?
Social media marketing (SMM) is a form of digital marketing that involves creating and sharing content on social media networks to reach a targeted audience and generate brand awareness, website traffic, and sales. It involves creating content, running campaigns, and measuring results across social media networks.
It often takes the form of creating posts, running ads, and building relationships with your social media audience. Social media marketing can help businesses engage with customers and build relationships that drive sales.
What are the goals of social media marketing?
The goals of social media marketing can vary depending on the brand and its target audience, but common objectives include:
Increasing brand awareness: This involves reaching as many people as possible with your brand message and making sure they remember your brand when they need the type of product or service you offer.
Building a loyal community of followers: Social media provides a platform for building relationships with your audience. By consistently delivering valuable content and engaging with your followers, you can build a community of loyal followers who will help spread the word about your brand.
Driving website traffic and leads: By including links in your social media posts, you can direct people to your website, where they can learn more about your brand and potentially convert into a lead or customer.
Improving customer engagement: Social media provides an opportunity for two-way communication with your audience. By responding to comments and messages, you can improve customer engagement and build trust with your audience.
Boosting sales and revenue: By promoting your products or services on social media, you can drive sales and increase revenue. A platform like Instagram even has a shopping feature for a business account, where you can scroll through a brand's product and make a purchase right there on the app
Developing a strong brand image and reputation: By consistently delivering high-quality content and engaging with your audience, you can develop a strong brand image and reputation, which will help set you apart from your competitors.
Monitoring and measuring the success of marketing campaigns: Social media platforms provide detailed analytics, which can help you track the success of your marketing campaigns and make data-driven decisions to improve your results.
What is a social media strategy?
A social media strategy is a plan for using social media platforms to achieve specific marketing and communication goals. It outlines the specific actions and tactics a brand will take to engage with its target audience, build its online presence, and reach its objectives.
A social media strategy typically includes the following elements:
Objectives: What the brand wants to achieve through its social media presence.
Target audience: The demographic and interests of people the brand wants to reach and engage with on social media.
Platforms: The specific social media platforms the brand will use to reach its target audience.
Content: The type of content the brand will share on social media and how it will be used to achieve its objectives.
Tone: The tone and style the brand will use on social media to communicate with its audience.
Schedule: A plan for how often the brand will post on social media and the specific times it will post.
Analytics: A plan for tracking and measuring the success of the brand's social media activities and adjusting its strategy accordingly.
🧁 Worth checking articles ⤵️
✨ Top 21 social media scheduler tools in 2023
✨ Top 10 social media analytics & reporting tools in 2023
Why do you need a social media strategy?
A social media strategy is necessary for several reasons:
Defines clear goals and objectives: Having a clear strategy helps define what you want to achieve through social media and provides a roadmap for how to get there.
Helps reach the right audience: Understanding your target audience is key to a successful social media strategy. It ensures you are using the right platforms and delivering the right content to reach your desired audience.
Increases efficiency and effectiveness: A well-thought-out strategy helps you make the most of your time and resources. It helps you prioritize your efforts and allocate your resources in a way that will have the greatest impact.
Improves brand consistency: Social media is an important part of your overall brand presence. A strategy helps ensure that all of your social media activities are consistent with your brand's overall message and tone. For example, see how consistent Sociality.io's page is on two different platforms(Twitter and LinkedIn).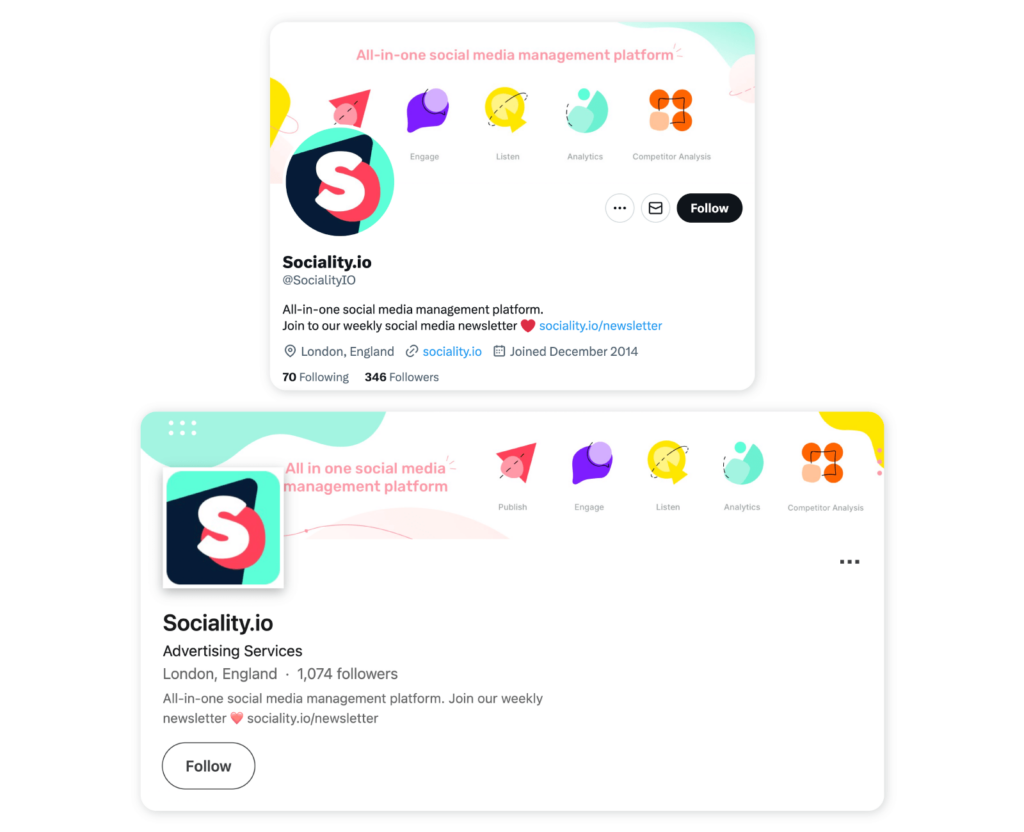 5. Facilitates measurement and analysis: A strategy provides a framework for tracking your progress and measuring the success of your social media activities. This information can then be used to make data-driven decisions and improve your results over time.
In short, a social media strategy provides a roadmap for success and helps you achieve your goals more effectively and efficiently.
How to create strategies for social media in 7 steps
Now that you understand what a social media strategy is and why you need to include it in your marketing plan. Let's get into the specifics of a social media strategy. How do you create a social media strategy from scratch? Where do you start? What are the things to consider? How do you know you have a good strategy in place? These are the questions we will be answering in this section of the article.
Here are 7 steps to creating a social media strategy that can set your brand up for success on social media:
1. Define your objectives
This is the foundation and building block of your social media strategy. It is the clarity that you get from rightly defining your social media goals and objectives that would influence the other aspects of your strategy.
What do you want to achieve through social media? Do you want to increase brand awareness, generate leads, or improve customer engagement? Or increase follower count. While defining your goals, it is also important to set key performance indicators(KPIs) that let you know how well you are doing.
Bonus: Most important social media KPIs that you should track
2. Research and identify your target audience
Who exactly are you trying to reach through social media? Consider factors such as age, location, interests, behavior and economic status. Use all of these factors to streamline the ideal audience for your product or service (you can have multiple ideal audience types that cater for different demographics and pain points).
You can also conduct online surveys and interview your customers, or you can use social listening tools like Sociality.io to get insights into your ideal customer. These tools can help you keep track of all your audience is saying about you or your competitors online.
3. Research your competitors
What are your competitors doing on social media? Look at their content, posting frequency, ad campaigns, and engagement. How do they communicate with their audience? What is their preferred content type? This will give you an idea of what's working for them and what you can do better. You can also gain insights into what your audience wants or what triggers engagement from your audience.
4. Choose the right platforms
Which platforms are your target audience using, and which ones align with your goals? Choose the right platforms. Each platform has its strengths and weaknesses and audience characteristics, so be sure to do your research and customize your strategy for different platforms because what works on Twitter might not work on LinkedIn.
5. Perform a social media audit
This step is only necessary if your company already has a social media page they are active on. Before you start posting on your social media accounts, take some time to conduct a social media audit on each of the accounts on the platforms you've chosen.
Social media audit is simply social media audit is a process of collecting and analyzing social media data and metrics to discover valuable and actionable insights you can use to improve your social media strategy. Go through the data from those accounts and see if you can draw some conclusions for your new strategy.
✨ Bonus article: Top 6 social media competitor audit tools that are worth your time
6. Develop a content strategy
What type of content would you be posting, how frequently would you be posting, and when would you be posting? What tone of voice would be used in your content? You need to be able to answer all of these questions and then plan out a content calendar.
Depending on your content calendar, you may need the help of scheduling tools to post content on days or specific times when you are not online to ensure consistency. Sociality.io publishing tool can help you schedule your social media posts whenever, so you don't have to worry about missing out on your posting schedule because of unforeseen circumstances.
7. Monitor and measure results
Here's one hard truth; there is no assurance your social media strategy will work, no matter how long it took you to come up with it or how good it looks on paper. Testing and iteration is the name of the game.
Put every strategy to the test and see the results. If it's in line with your KPIs, keep it. If it's not, you might want to consider doing away with it.
But always maintain one rule: before you do away with a strategy, dig through your analytics to find out why the said strategy is not doing the expected numbers.
5 best social media strategy examples
1. Semrush
Semrush's social media strategy is unique. It uses a mix of educational content, visually appealing graphics, infographics, and memes to share its message and create a strong connection with its audience. This strategy is consistent across all their platforms, even on LinkedIn. They still post memes, and these memes get high engagement.
2. Dollar Shave Club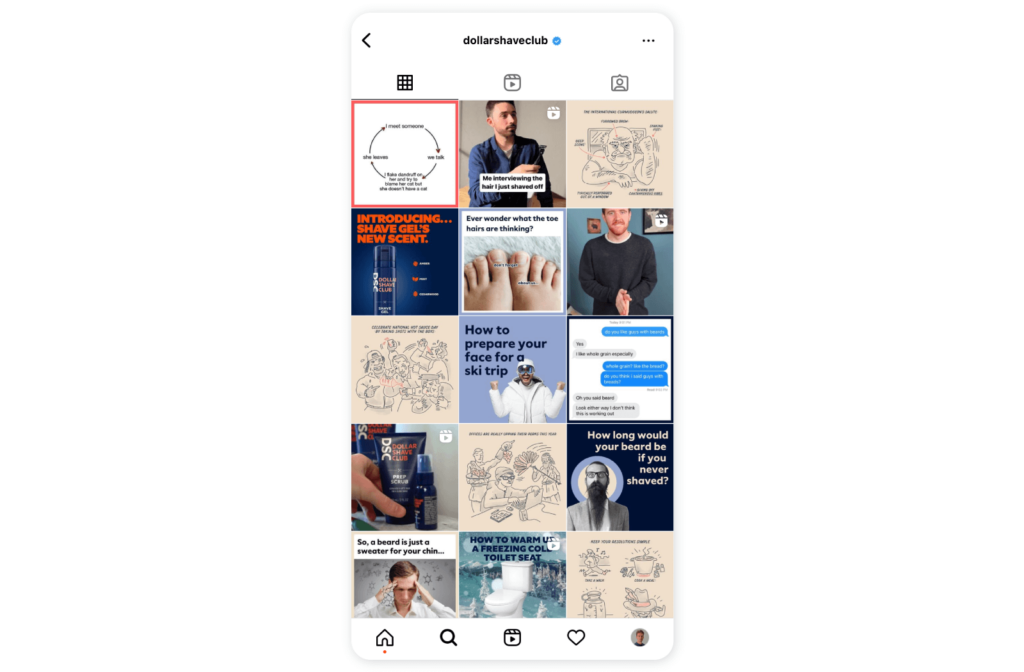 Dollar Shave Club used humor and a unique voice to stand out from competitors and quickly grow its customer base. Its social media presence emphasizes its brand personality and engages with its audience through humor and interactive content. For example, look at this tweet they made in response to Netflix's ban on password sharing
They understand that their audience has no problem with them being the "funny guy" and have embraced that personality on social media.
3. Taco Bell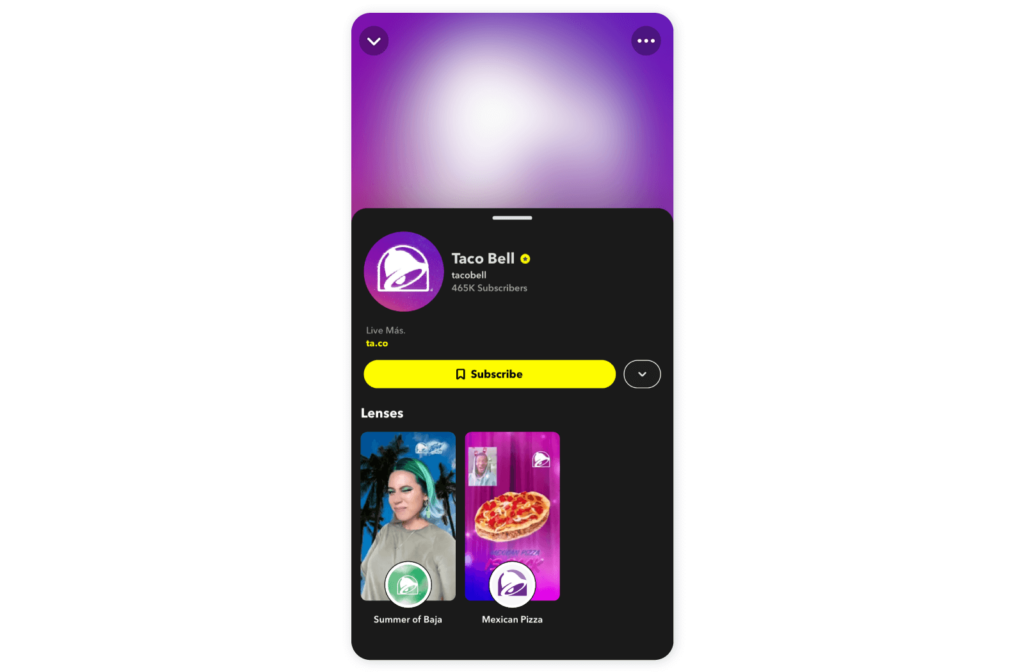 Taco Bell uses Snapchat to showcase its playful brand personality, with filters, lenses, and augmented reality experiences that allow users to interact with its products.
On Instagram, they share pictures of their products and user-generated content.
4. Red Bull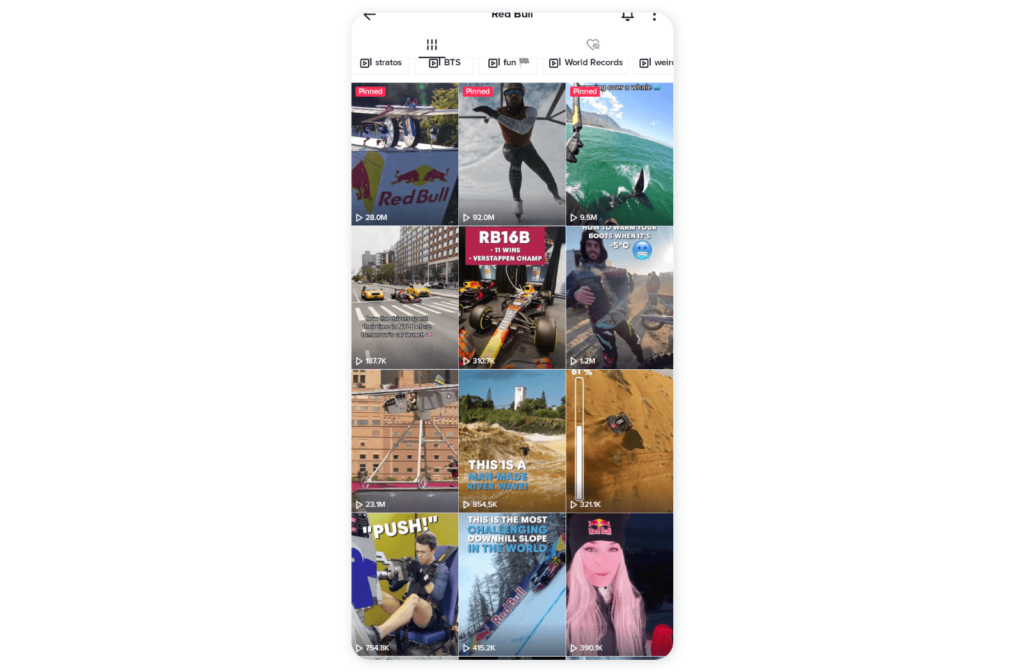 Red Bull has a pretty consistent strategy across all its social media pages. The kind of posts you would find on TikTok is the kind of post you would find on its Instagram page.
It leverages social media to showcase its adventurous brand personality, sharing content about extreme sports, music, and entertainment events in a visually-stunning and engaging way.
5. NASA
NASA's Twitter strategy focuses on education and inspiration, sharing fascinating space-related content, scientific advancements, and behind-the-scenes looks at its missions.
Their Instagram strategy is pretty much the same also. Posting space-related content and celebrating different astronauts that have achieved different feats
Factors to consider when building a social media strategy
Tell a compelling story
Due to social media being so overpopulated, it's much harder to stand out nowadays. You need to make sure you present your brand in a unique and memorable way. Use your bio to briefly present your brand.
Depending on your brand strategy and type of business, you can take different approaches when it comes to bios. Below are some interesting examples for your inspiration.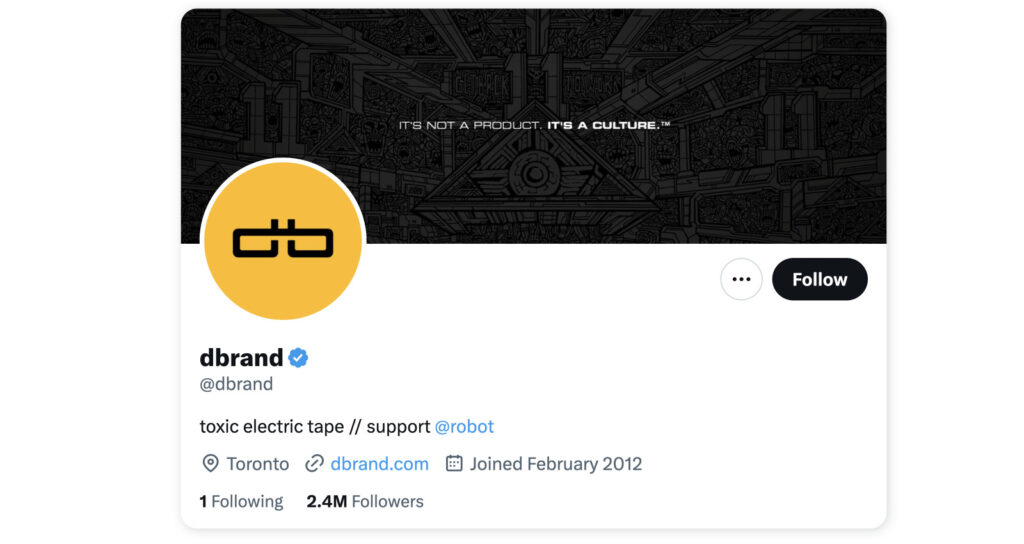 This company provides skins for various gadgets. dbrand's social media marketing strategy really stands out. As you can see, their Twitter bio reads, "overpriced electronic tape that looks cool". Not only does the brand not take itself seriously and poke fun at its product often, but they also boast about the quality and precise work that's put into production.
Their approach fits perfectly for their audience, which mostly consists of tech people who are into meme culture.

Pepsi's Instagram bio shows the purpose of the account. Like dbrand, this global brand that needs no introduction also takes a fun spin on presenting its brand. This is mostly because Pepsi needs no introduction, so they chose to describe the type of content users can expect from their Instagram accounts.
🎉 Related article: Get Inspired by 50+ Instagram Bio Ideas for Your Business Profile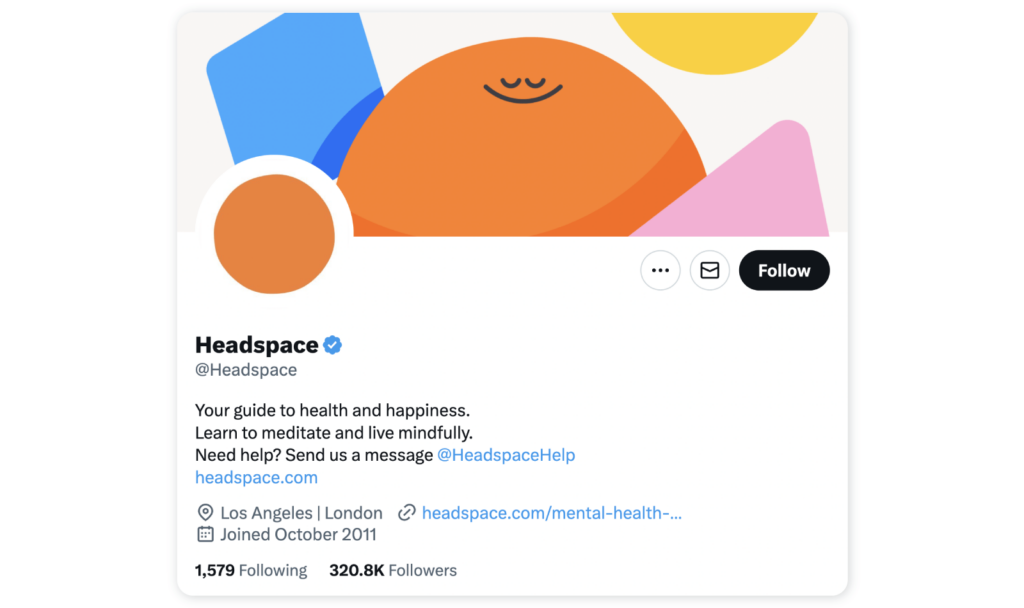 Headspace is a meditation app. Their bio is short and straightforward. In the first sentence, the brand briefly describes itself: "Your guide to health and happiness". In the second sentence, they state their mission: "Learn to meditate and live mindfully." Simple but effective.
Set measurable goals for your social media marketing strategy
You can use social media for various reasons: increase brand awareness, establish thought leadership, get new customers, provide support to your existing customers and answer their questions. Goals not only act as great progress trackers but also guide your strategy.
The goal, of course, directly affects the strategy. Not only key performance indicators are determined based on the goal, but also the execution. If it's brand exposure, you're after this means that you will need to make posts often to increase your impressions. For customer acquisition, the effectiveness of your posts is determined by the engagement rate and the number of leads you receive from social media activity.
It's always a good idea to set up specific KPI goals. Be realistic, though; consider your current social media KPIs and think about how much you can raise your KPIs for a specific period. This will help you understand your progress midway through your strategy.
Get to know your audience
We all know you need to target a relevant audience for your brand, but how do you do it on social media? Well, if you're just starting and don't have buyer personas, this is where you should start. Based on your buyer persona's target, relevant existing accounts with a similar audience, not necessarily a competitor account. You can follow their followers or create a joint campaign with that page. A campaign can be anything from an article to research.
If you already have a page, analyze your current following either using the default tools provided by the social network platform or using a social media management tool of your choice. Based on your findings, optimize your targeting. If you see that mostly irrelevant people engage with your page, then your content strategy needs revising.
Create compelling content
Content is the essence of your social media efforts. Make sure it is well-customized for your target audience. Use the findings of the audience research phase to better customize your content to your potential prospect's findings.
Make sure to keep your content as diverse as you can. Use different content formats, like videos, articles, images, surveys, etc. Keep the content as high-quality as you can to the best ability.
The demand for videos is still very high. People consume more videos than they click on article links. Make sure to leverage your content between formats. You can even create short social media slideshow clips that summarize your articles. Constantly experiment and see what works best for your audience.
🎉 Related Article: Social media trending content ideas – The ultimate list
Choose relevant social media platforms for your marketing strategy
There are dozens of social media networks out there, but the most popular social networks listed below should be your priority. Each is different and requires a different approach, so make sure to customize your strategy for different platforms because what works on Twitter might not work on LinkedIn.
Twitter
Twitter is the "right now" platform compared to the rest. This is where people go when they need to share the first thought that comes to their mind. To succeed in this platform, you need to be active and on time. Timing is essential for Twitter. If you pick the wrong time for your posts, it will get lost in the plethora of tweets posted every second. This is the platform that requires the most work.
This platform is great for interacting with your existing customers. Many businesses use Twitter accounts to provide support. It's also a great platform for fun content, so you can take the chance and have fun with your customers just like dbrand does.
Facebook
This is everyone's aunts' favorite social media. In other words, Facebook is more of a family social media. People visit Facebook to keep in touch with their friends and family. And in some cases read the news too, although Twitter is the one that's more news-centered. Facebook is also the place where most of the senior demographic are centered.
Facebook Ads have great paid promotion features that you might find useful. This is great if you want to boost your page visibility. Like any platform, it has occasional glitches, but compared to other networks' paid promotion tools, it's the most reliable.
🎉 Related Article: How to stay competitive with 2022 Facebook algorithm changes
LinkedIn
This is corporate social media. LinkedIn is more of an official network, but don't feel like you have to be bow-and-tie in all your efforts here, just don't be as casual as you'd be on Twitter.
LinkedIn is great if your company is in a business-to-business (B2B) market. All business executives are here, and you have a great chance to present your brand directly to relevant decision-makers.
This platform is also a great place for HR marketing. If you want to build a strong employer image, this is where you do it. You can either center your LinkedIn strategy on this or occasionally slip in fun posts that reflect your strong culture. This will help in attracting strong professionals to join your team.
🧁 Worth checking article: Simplify sales and lead gen with 10 LinkedIn automation tools
Instagram
Images and videos are the main centers of this platform. To succeed on Instagram, make sure to create fun and engaging posts that will attract people to your brand. Instagram is the perfect place for visual products and services, i.e. cosmetics, clothing, health resorts, etc.
This is the platform where you want your products to shine the brightest. Whether you post photos of your product or the process of your service, make sure the images attract your people to your brand.
On Instagram, it's about quality rather than quantity. This doesn't mean that you should post once a month, but you can post 3-4 times a week and still get great results, unlike Twitter, where you should post several times a day.
Snapchat
Looking for teenagers? They're all here! This highly-visual platform boasts a largely younger demographic. If your company targets this demographic, this is the place to be.
For businesses, the main content formats are stories, and vertical format posts, which can contain images and videos. This is the place for vibrant and colorful posts that users can interact with. You can share links to your blog posts and your website as well that users can access by swiping up.
Snapchat isn't as universal as the social media platforms mentioned above. If you are targeting a young demographic, it can be a great tool for getting them to notice your brand.
TikTok
This video-based social platform became a booming sensation in 2019, with 614 million app downloads. TikTok mostly boasts pre-teen and teen demographics. People use this platform to create short, entertaining clips.
This is currently an experimental ground for businesses. With its growing popularity, companies are jumping on board to try it out. So if your brand approach is casual and fun, this platform is worth including in your social media marketing strategy.
Pick the right time
Last but not least, the timing of your posts has a great impact on your social media marketing strategy's success. The optimal timing will be based on your audience report. If you are targeting people who work nine-to-five jobs, the optimal time might be before work hours and the last hour of the working day. If you are targeting a younger audience, later hours might work. It all depends on the demographic you are targeting. The more you post on social media, the better you will get to know your audience.
Whether you're building your social media strategy for the first time or updating yours for 2023, the tips mentioned above will help you to better connect with your audience across different platforms. Make sure to constantly track your progress and watch out for possible improvements.