Get inspired by 50+ Instagram bio ideas for your business profile
As a business looking to build its online presence, you likely have a profile — or several — on Instagram. If you want to grow your Instagram followers and boost engagement, you need a killer bio in your profile.
In this guide, you'll learn why a good Instagram bio is essential for your business profile, along with tips for how to write one. You can also take inspiration from 50+ examples and templates for your Instagram bio.
Social Media News in a Nutshell
Get the latest social media news, insights, and marketing tips in your inbox once a week.
Why is your Instagram bio so important?
Your Instagram bio doesn't take up much space, but it has a big impact. It's the first thing your potential customers see when they go to your profile. They'll decide whether or not your brand has what they're looking for in the first few seconds it takes to read your bio. So you want it to be good.
An Insta bio is the prime location to establish a connection with your audience. They'll be looking for information about who you are and what you do, as well as any contact info like a website or other social handles. In your bio, you can tell your target customers why your business solves their problems.
Showing off your brand personality is also important on Instagram. Whether you're quirky and laid-back or ultra-cool, communicate your tone with a well-written bio. Potential customers will show more interest in your business if you express your brand identity.

How to write a good Instagram bio
What makes a good Instagram bio? You probably know a good one when you see one, but that doesn't help much when it comes to writing your own. It can be hard to boil your whole business down to 150 characters! Just think of it as the ultimate marketing challenge and ask yourself some questions about your business to get started:
What makes your brand unique? Write a bio that describes how you stand out from your competitors.
What's your brand tone or style? Are you funny, formal, offbeat, cute, or something else? Use the same tone and style you have on your website and other communication channels.
Where are you located? If you're trying to appeal to local customers, make sure you include the location of your brick-and-mortar shop or business.
What action should people take after visiting your profile? Your bio should always prompt users to take action after reading — usually it's heading to your website.

Tips for writing the best Instagram bios
Asking yourself questions about your brand is a good start, but if you still need some help crafting the perfect bio, try some of these tips.
Add hashtags
Instagram lets you add hashtags to your bio. Add your company's branded hashtags in this space to promote them. Note that adding hashtags to your bio doesn't make your profile searchable with those hashtags, so it's best used for your company-specific tags.
Bonus Articles
👉 Debunking 6 Instagram Hashtags Myths
👉 How to use hashtags on Facebook and do they really work?
Use a CTA
Want Instagram users to navigate to your website? Do you have a sale or promotion going on? Your bio is the perfect place to add it.
Show off company personality with emojis
You want your Instagram bio to express your brand personality, and emojis help get the message across. They're also a creative way to save space in your bio.
Keep it short and sweet
You get 150 characters but you don't have to use them all. Make your bio snappy and easy to read.
Display company info
Put your company's contact info in your Instagram bio to make it easier for people to find you. If you're a local business with a brick-and-mortar store, add your address too.
Add multiple links with Linktree
Linktree is a handy tool that lets you add multiple links that users can access from your bio. When they tap the link, they go to a page with several links you've added, such as your blog, YouTube channel, email signup list, or whatever else you want to add.

Choose a category
If you have a business account on Instagram, you can choose a category for your business. A category helps users know what kind of business you are and tells Instagram's search algorithm to display your profile when people search for businesses in your area and category.
50+ Instagram bio ideas you can use for your profile
Now that you know how to write a good Instagram bio and some tips for making your bio sensational, check out these 50+ bio examples you can adapt for your business account.
Funny Instagram bios
Humor can be a great way to encapsulate your brand. Try a pun or joke to break the ice in your bio, like one of the following examples:

The well-known makeup brand Lush capitalizes on its brand recognition and has a funny, tongue-in-cheek bio.

Doritos uses its branded hashtag four times in the bio and pokes a little fun at itself for doing so. It's funny and effective.

The cat food brand Friskies has a humorous bio and promises to offer a more affordable product to their target audience, cat owners.

Fast Food chain Wendy's is known for its funny social media posts, and this emoji-only bio is no different.
Coming up with a funny bio is more difficult for brands than for individuals, and the examples above are all well-known brands that have more recognition. But you don't need to be a world-famous company to flex your funny bone in your Instagram bio. Try to think of a play on words related to your brand name or niche.
Cute Instagram bios
Cute bios make people smile or feel good, and if that's your brand identity, then use it in your bio. Some examples you could use are:
Grateful to be sharing our world with you
Sprinkling kindness everywhere we go
Every day might not be a good day but there is good in every day
Adding a little sparkle to your day
Recommended by 4 out of 5 people who recommend things
Sharing happy thoughts
Always be the rainbow at the end of the thunderstorm
This craft brand in Vancouver has a cute bio that plays on its brand identity as a craft store and workshop.
Business/small business Instagram bios
As a business, you can never go wrong with branded or business-oriented bios. Some good examples are:
Check out our best sellers below
Free international shipping
Tag @[yourInstagramname] with #[brandedhashtag] to be featured!
Official home of [your brand] on Instagram
New products available in the e-shop
Open [your shop hours]. Curbside and local delivery [your phone number]
Founded by @[your personal Instagram profile]

Outdoor and sports clothing brand Outdoor Voices has a simple bio, stating their mission to "get the world moving." They also put their branded hashtag and a link to shop their Instagram posts. It's powerful and straightforward.
Quote Instagram bios
Sometimes, the best way to demonstrate your brand personality is with someone else's words. Quotes can be inspirational, quirky, or humorous. Any of the following quotes would work well for a business on Instagram:
Energy and persistence conquer all things – Benjamin Franklin
If you don't like the road you're walking, start paving another one – Dolly Parton
Imagination is more important than knowledge – Albert Einstein
The way to get started is to quit talking and begin doing – Walt Disney
Success is not final; failure is not fatal: it is the courage to continue that counts – Winston Churchill
Play by the rules, but be ferocious – Phil Knight
Every problem is a gift—without problems we would not grow – Anthony Robbins
Creative and cool Instagram bios
Get creative with your Instagram bio to stand out. If you pull off a cool or classy bio, that'll also get you noticed.

Ice cream retailer Jeni's Splendid Ice Creams is cool and creative, touting their own horn a bit and using relevant emojis.

Shoe brand John Fluevog Shoes has a punny bio that shows off its originality.
Dell's cool bio keeps it simple and classic, including their business category and a link.

Comments By Celebs has a bio that states exactly why the account exists while still being snappy and creative.

Zappos's bio is simple and creative, showcasing exactly what they do and how often they do it.
Some other good ideas for your creative and cool bio could be:
Don't be afraid to be the full package
Anything but predictable
You'll never shine if all you do is throw shade
Influencer Instagram bios
If you're an influencer, your bio might look a bit different from a brand or company. Great examples for different types of influencers might include:
Fashion
I'll make you stop and stare
I may be a fashionista but I'm not all about labels
Money can't be the root of all evil since shopping brings people so much happiness
My clothes might not change the world, but I sure will
"I need new clothes." – Me, every damn day
Fitness
Helping you build healthier habits
You are what you do, not what you say you'll do
Today doesn't need your excuses. Make it happen.
Hustle for more muscle
Do something today that your future self will thank you for
Travel
My best stories are found within the pages of my passport
I haven't been there yet but it's on my list
Join me on my next adventure!
Fill your life with experiences so you always have a great story to tell
I like taking the scenic route
Managing your Instagram account
Of course, your bio is only one integral part of managing your Instagram business account. You also have to engage with followers, publish awesome content, and even analyze what your competitors are doing on the platform to truly grow your presence on Instagram. With the Sociality Engage, Publish, and Competitor Analysis modules, you and your team can easily manage multiple accounts and get all the insights you need to create an effective Instagram strategy.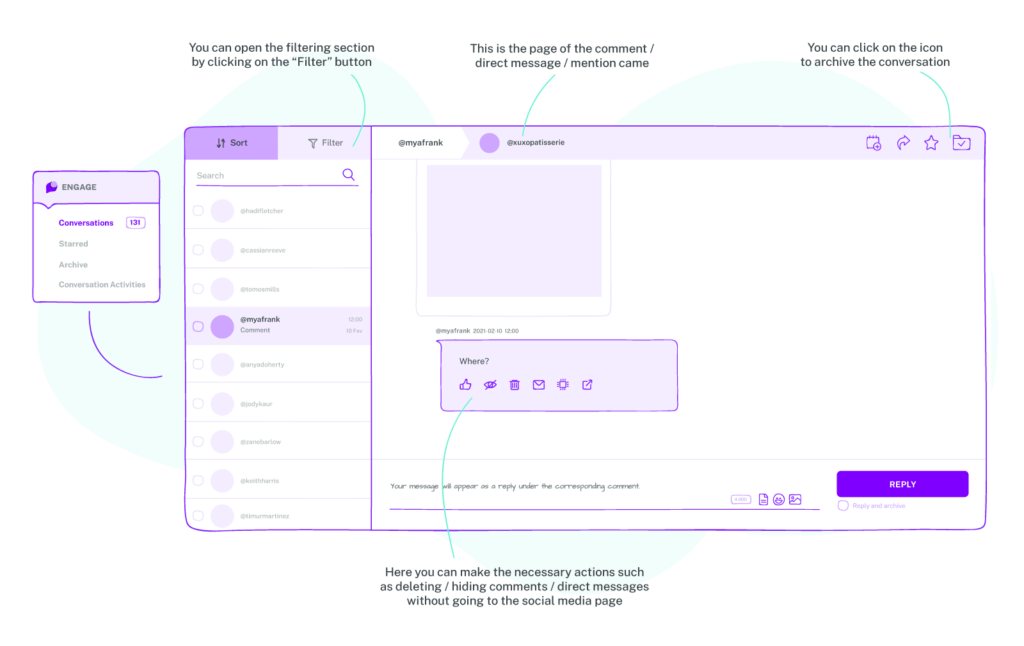 Writing the perfect Instagram bio
Getting your Instagram bio just right is easy if you know who your brand is for and what you have to offer. Having a sense of brand identity already established will help you come up with a good bio too. When in doubt, keep it short and state your company's mission. The most important thing to remember about an Instagram bio for your business profile is that it should provide value for your potential customers.