How to add a link to TikTok bio to drive traffic?
Recently TikTok launched a new feature that allows users to put a link in bio in their profiles. This new feature opens a vast opportunity for brands and creators to drive traffic beyond the app and optimize as many clicks and conversions as possible.
This means that when potential customers discover you on TikTok and get interested in your brand, you have an option to send them off to another page. With a link in your bio, you enable clients to learn more about your business from other resources, whether it is a personal portfolio or blog, a store page, or even just another social media platform.
In this article, we are focusing on TikTok for business purposes. First, we'll show you how to add a link to the bio. Then we'll provide some suggestions with examples of how to optimize links in TikTok.
Social Media News in a Nutshell
Get the latest social media news, insights, and marketing tips in your inbox once a week.
How to add a link in TikTok bio?
As with everything in this straightforward platform, adding a clickable link to the bio is simple and quick. However, this feature was invented for businesses to grow their audience and successfully operate on the platform. Therefore, the privilege to use links in bio belongs only to business accounts.
First and foremost, you need to be or become eligible to add links to your bio. We'll show you step-by-step how to convert a personal account to a business one for your convenience.
Launch the TikTok app.
Open Profile.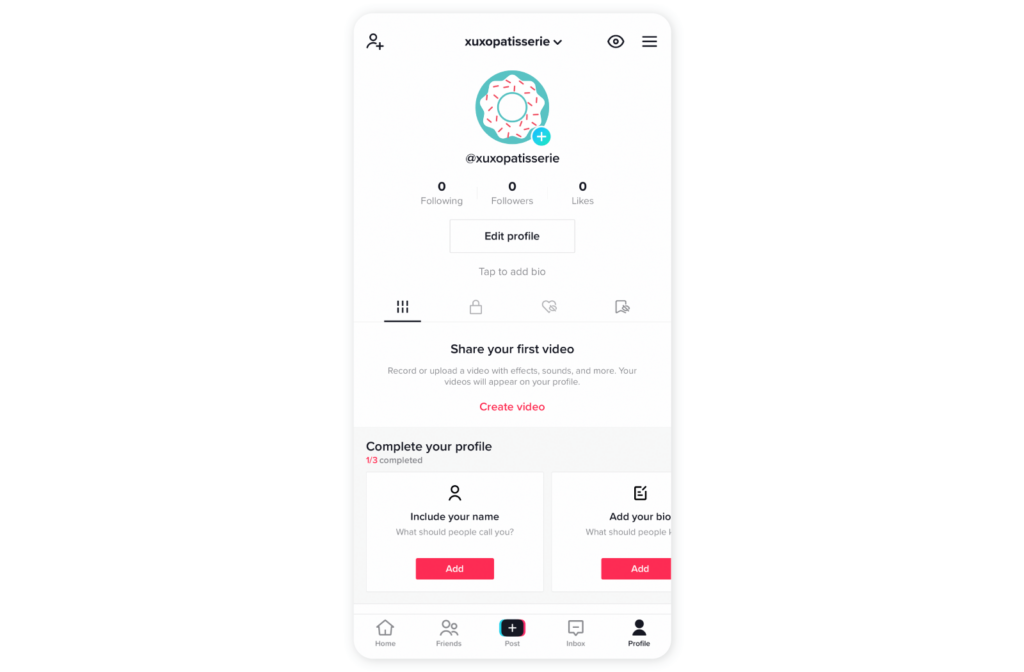 Tap the menu button in the top right corner.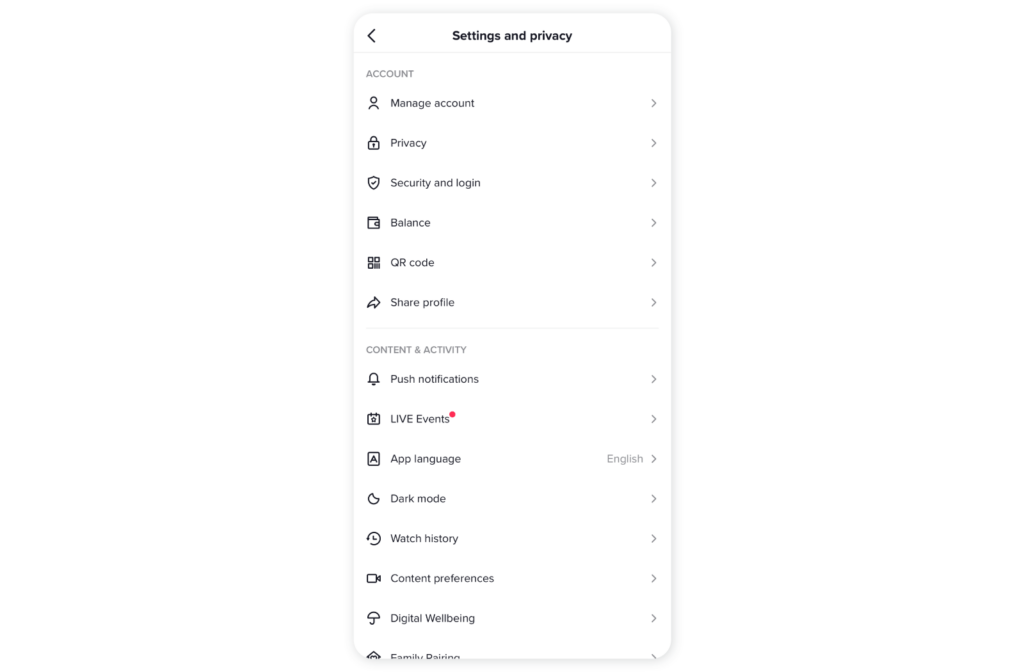 Tap Settings and Privacy.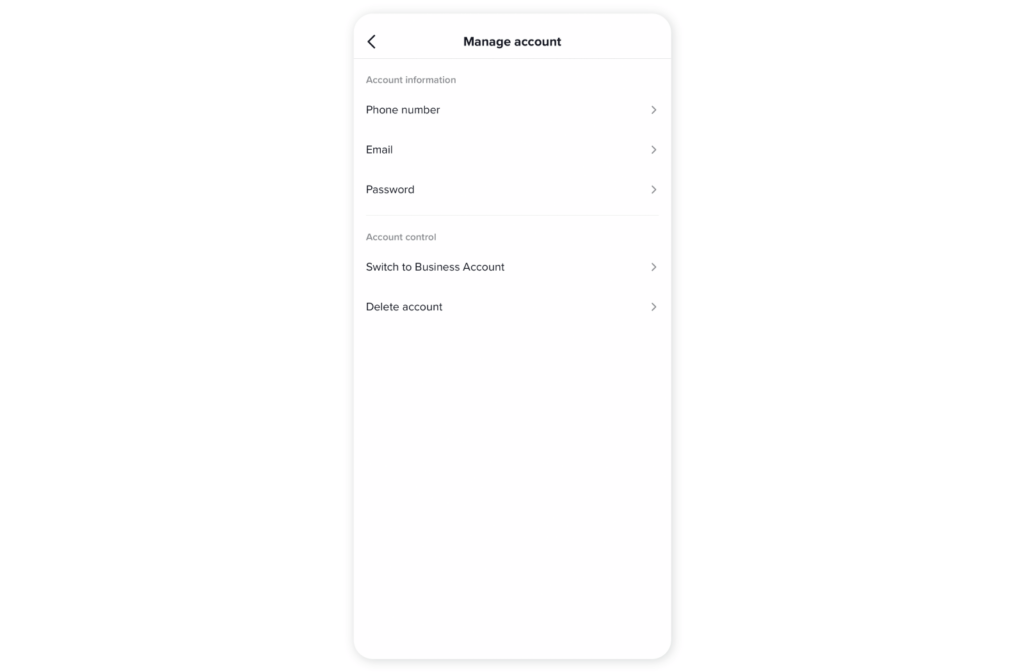 Go to Manage account.
Press switch to Business Account and hit Next.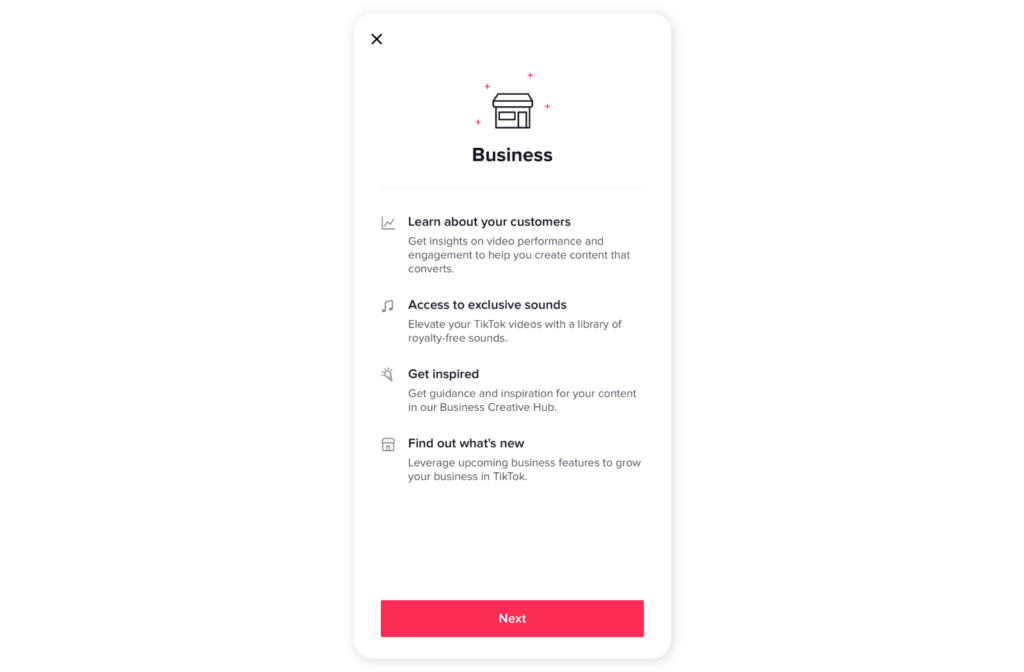 Choose the category your business falls under and tap Next to finish.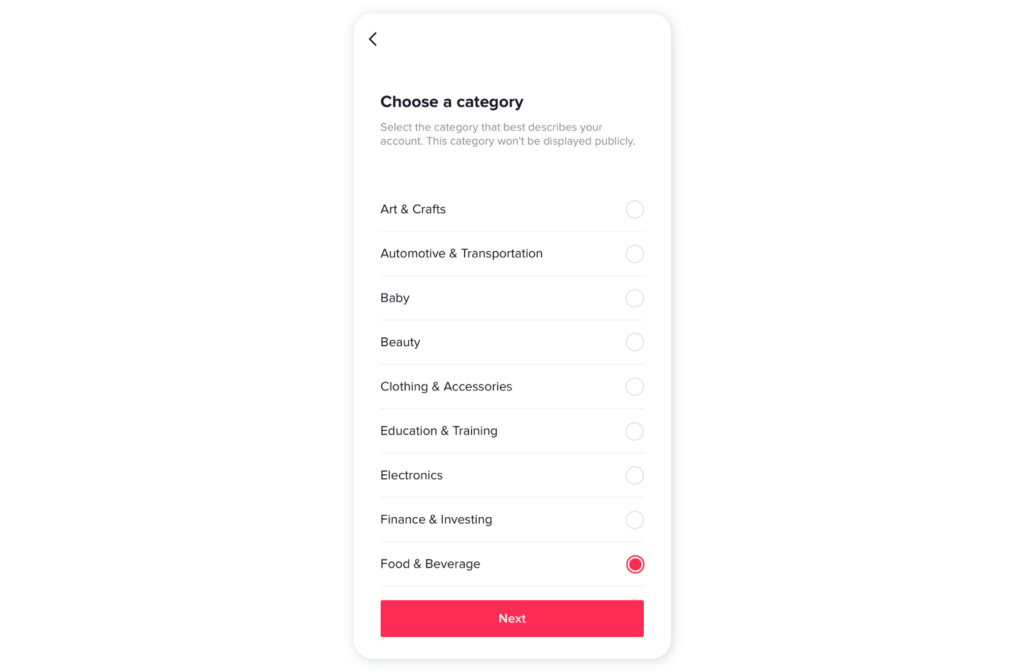 Done. Now you are having a business account.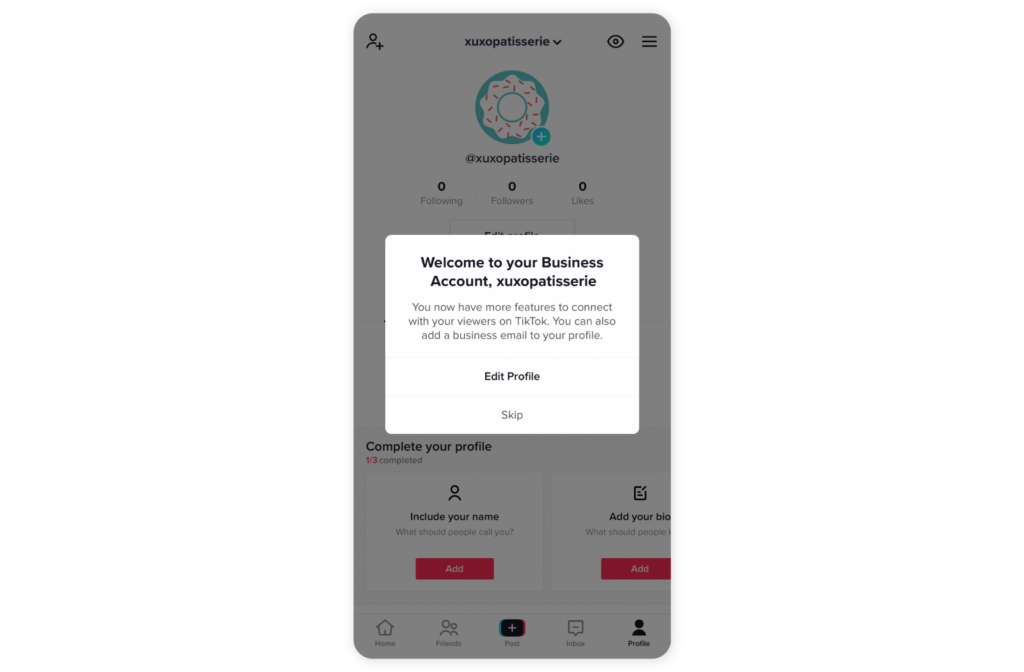 Now that you've switched to a business account follow our next instruction to add a link to your bio.
Open your Profile
Tap Edit profile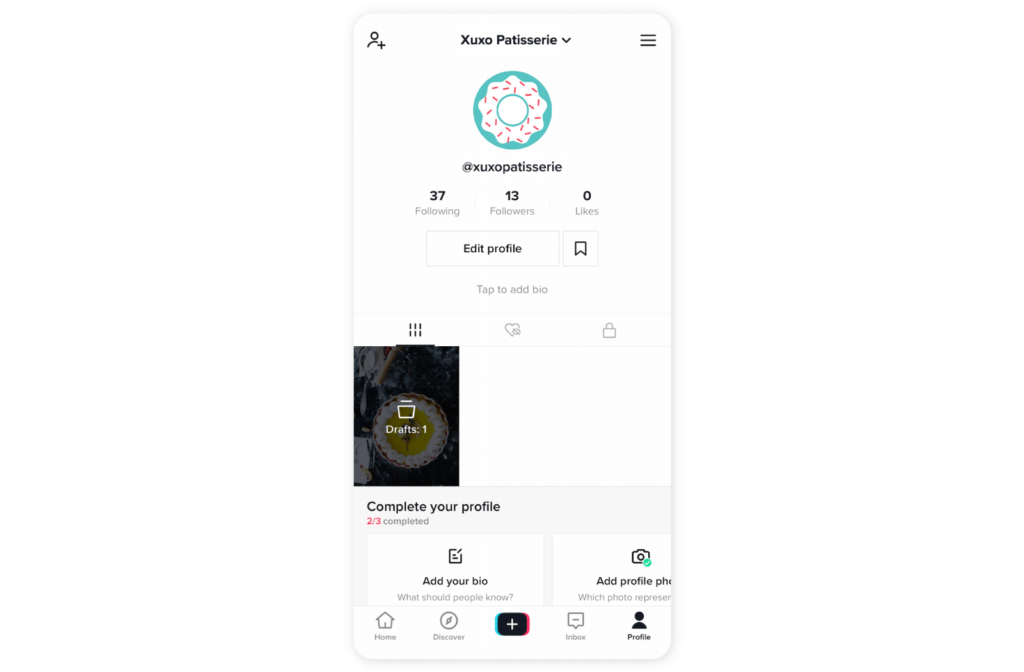 Tap Add your website.
Put your URL.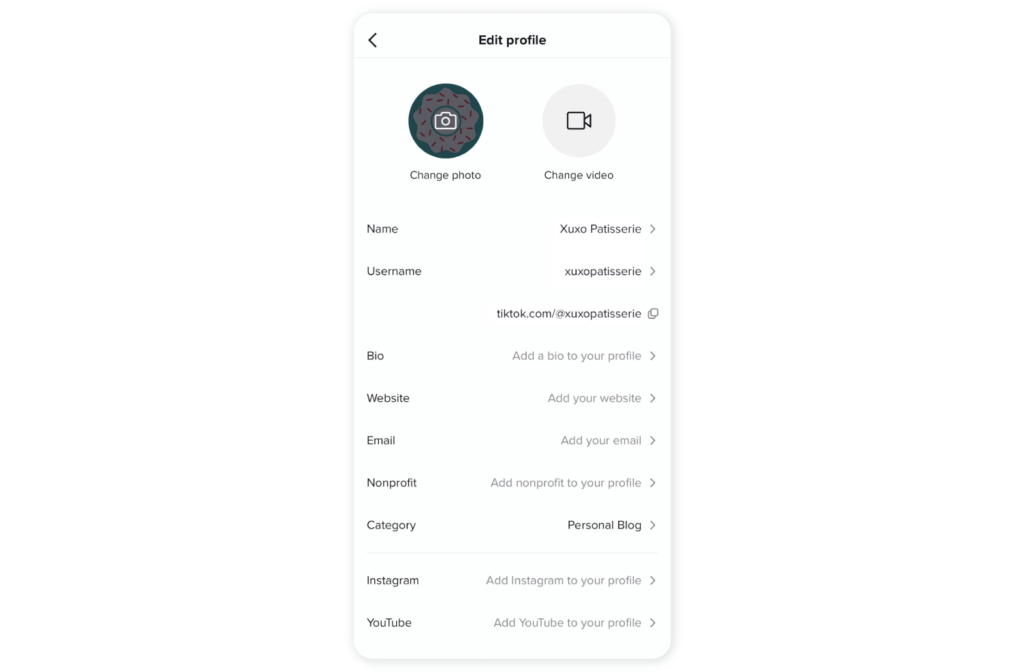 Click Save.
Although, now that you can enjoy using links to develop your business via TikTok, you also might wonder how to get the most out of this useful feature. Keep reading this article, we'll cover link marketing and show its best examples on the platform.
✨ Related article: TikTok marketing: The ultimate guide
Why should you add a link in your TikTok bio?
But firstly, let's have a look a bit closer at the meaning and benefits behind link usage on TikTok. There are four main reasons it makes crucial sense to include a clickable link to your business account bio.
Links in bio drive traffic to your website
A link in bio significantly increases the chances of boosting conversion rates and turning followers into loyal customers. Most importantly, bio links help leverage organic traffic to your website costlessly. With a link, your potential clients can effortlessly access your main website. Such a convenient way profoundly leads people to make impulsive purchases from you.
For instance, when you advertise a certain product through a video, it is essential to offer people a straight landing page where they can buy it. Thus, having your website available in a few clicks can improve your business operations.
Connection with customers
In terms of branding, it would be best if you could provide additional sources where people can dig some information about your business and what you have on offer.
For example, you produce fashion apparel, and your customer gets interested in a particular item that you showcase in a video. Before buying the item, a customer wants to know the composition and care for the product and see the size chart. Instead of inquiring about this information through the inbox, he/she probably would like to find well-descriptive info on your website.
Offer more content
Your business surely has a presence across multiple social media platforms. And you also realize that each of your channels contains specific content, where one is very different from another. If you want your fans to consume more content that you produce, you need to invite people to see other types and formats of content by giving them a link.
Perhaps, some of your fans would also be interested in text-based content from you, which you won't post on TikTok. So this could be an excellent opportunity to engage your audience across all your channels. Consequently, this would have an impact on the loyalty of your clients
TikTok algorithm will push your page
The TikTok algorithm appreciates any activity on your page. The algorithm monitors the number of people visiting your page and the actions they do there. The more clicks it sees, the more it offers your page to an entirely new audience.
If you constantly fuel your followers with videos that incentivize your followers to go further, and they go and click the link, your engagement rate boosts.
Multiple Link option
You might have more than one resource that you want to share with your followers. To provide all of them, you can create a linktree which is a dedicated landing page containing several links. We suggest using Linktree, Lightricks, or Znaplink third-party services to connect your fans to everything else you do.
A blogger @charlidamelio demonstrates an excellent example of a link in bio optimization. She uses one of the beautiful templates by Lightricks to share all of her digital activity with followers. It looks alluring and convenient in practice, so she receives the attention she deserves.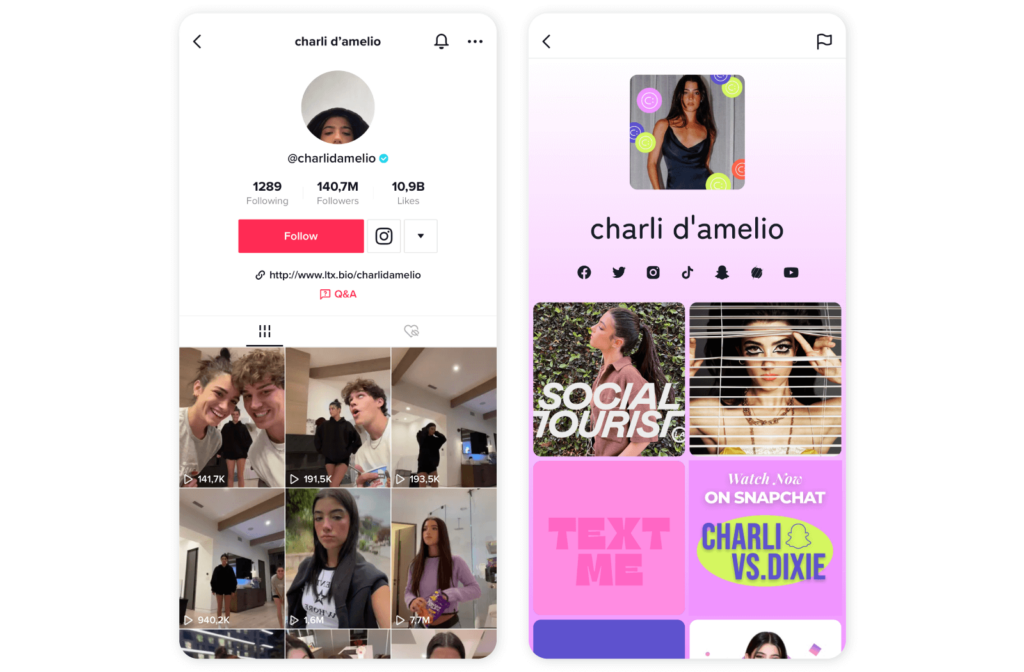 Trends for internal link-building
The creativity of using links is endless for TikTok, but relying on trends will also help. Now let's observe how the link in the bio can contribute to the commercial and creative objectives on TikTok.
Next, we would like to present you with some outstanding accounts that produce TikTok trending videos to attract people to click the link in the bio.
#TikTokMadeMeBuyIt
As we mentioned before, if you post a video that aims to sell a product, you need to prepare a digital source where people can find it. Nevertheless, you also need to create a meaningful or helpful video that would provide valuable inspiration to buy from you.
Fenty Beauty regularly posts make-up tutorials and tips under #TikTokMadeMeBuyIt. In each trend video, the brand focuses on a particular product and encourages followers to try it. The link for that product is always available in bio.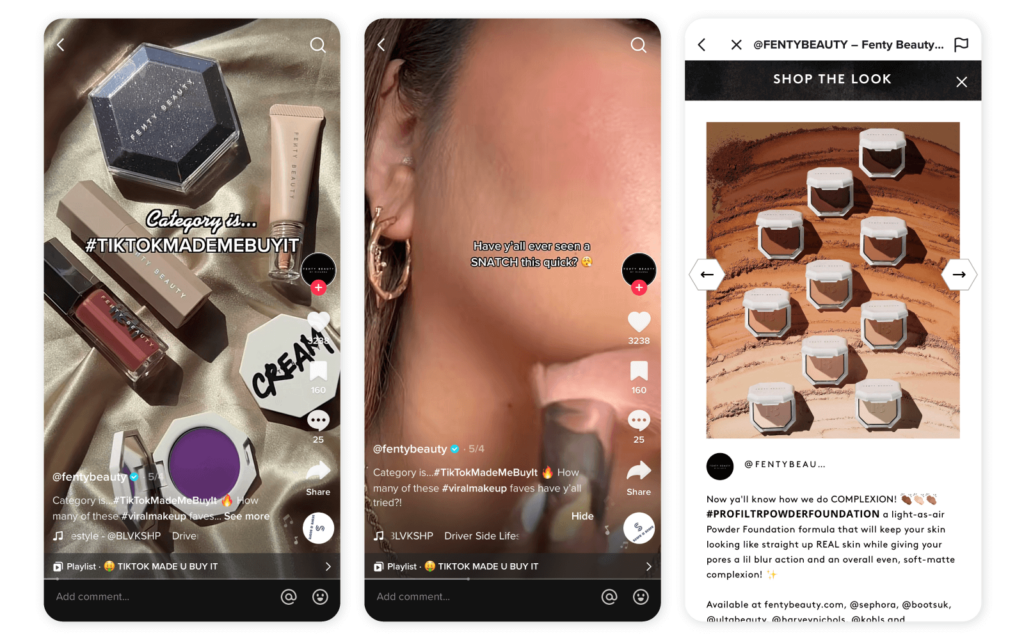 #SustainableBeauty
In 2021, this trend and the increasing popularity of green brands led to many products reaching record sales. Many people have favored this trend due to its genuine and realistic approach. People who look for niche products will also search for precise information. Those who need to know about the ethical side of a brand will click the link.
You can check out a green brand MeUndies, which sells underwear for all genders. They regularly post engaging videos under the #SustainableBeauty tag that reminds its fans about the brand's philosophy and presents its moral standards to a new audience.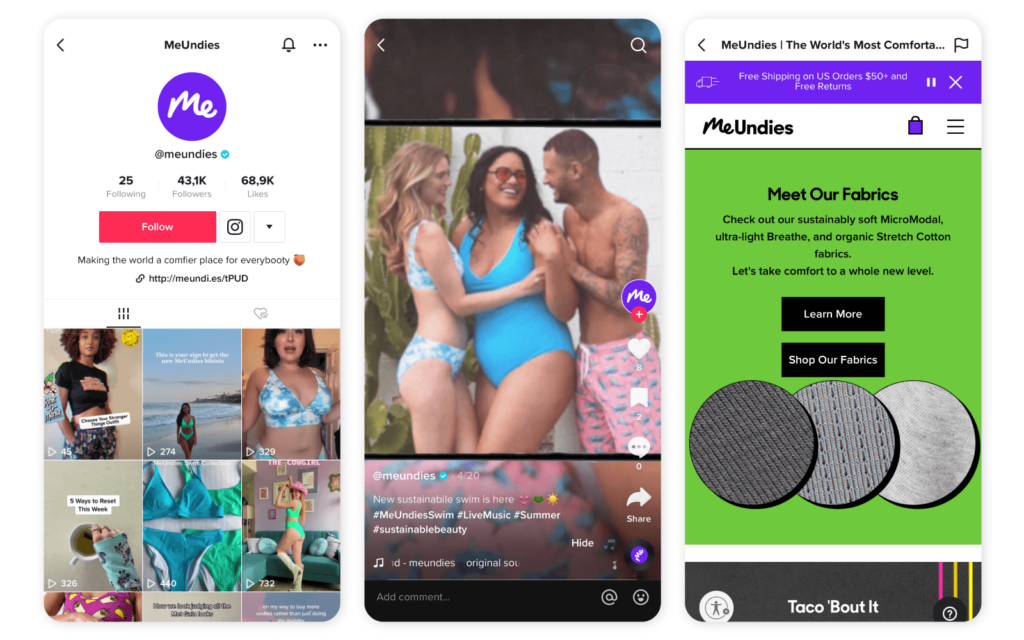 Behind-the-scenes content
People on TikTok favor friendly and authentic translation of life over high-quality production. Hence, behind-the-scenes content brings an excellent opportunity to humanize your presence on TikTok and gain the trust of your followers.
You can discover such an inspirational vibe through the videos like #ADayInMyLife" and #GetReadyWithMe. Having a voice-over narration in behind-the-scenes videos can be especially helpful in promoting your business services.
For instance, The University of Melbourne shares its students' takeovers to promote registration. While their behind-the-scenes tours encourage its followers to learn more about the university. And to make the audience's attention go further, they provide a linktree in their bio that offers all the information about the university, its projects, and its people. So, the visitors can feel the taste of life on campus.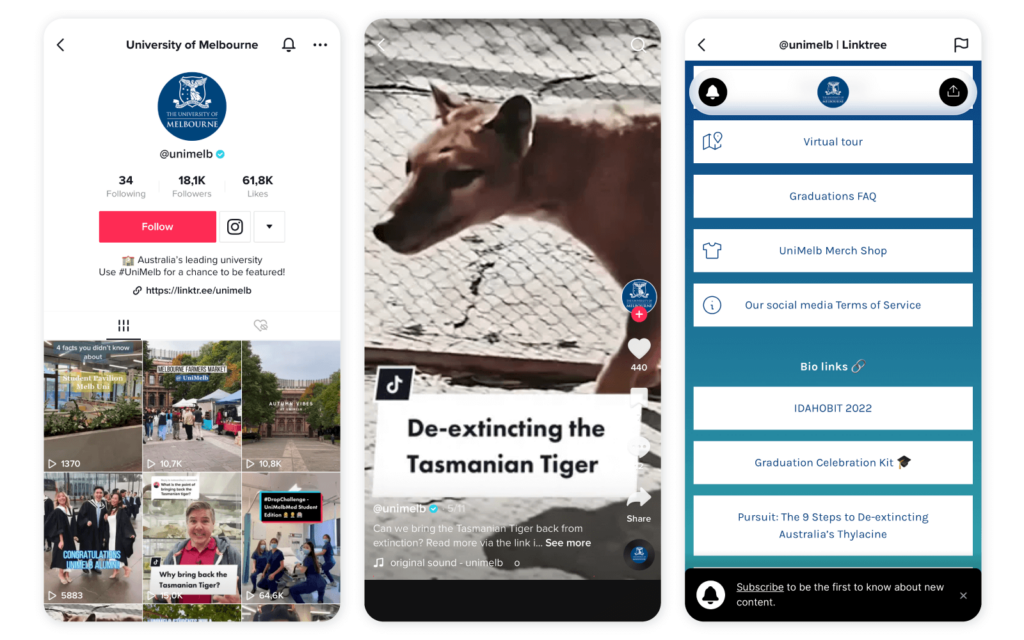 🥁 Bonus article: 100+ trending TikTok hashtags to go viral
Last thought
We have provided you with the step-by-step guide and other helpful information about links in bio to improve your business performance on TikTok. Lastly, we want to assure you that using the new features and trends on the platform would level up your business operations. Good content that is supported with a link draws attention to everything you offer and raises awareness about your products and services.