How does the TikTok algorithm work and how to get on the TikTok fyp?
Since it burst onto the scene in 2016, TikTok has soared in popularity. It now boasts the highest social media engagement rates per post and a staggering 1 billion monthly active users.
TikTok may be a global phenomenon, but it doesn't give much away when it comes to user statistics or how the algorithm actually works.
In response to questions about the algorithm, TikTok responded: "The system recommends content by ranking videos based on a combination of factors — starting from interests you express as a new user and adjusting for things you indicate you're not interested in, too."
In this article, we explore how the TikTok algorithm works and how social media agencies or businesses can land their clients' content on the TikTok For You Page (FYP).
Social Media News in a Nutshell
Get the latest social media news, insights, and marketing tips in your inbox once a week.
How does the TikTok Algorithm work?
At its core, the TikTok algorithm serves users content that it believes the user wants. It will categorize the content based on the type of user it believes will be interested in the content. Content with the most mass appeal will be served to larger audiences.
In order to establish what type of content users want, it considers a range of factors. Those factors include:
Engagement: According to the algorithm, videos with high engagement in terms of Likes, Comments, Shares, Rewatches, Duets, and Completions have mass appeal and can be served to a larger population of users. TikTok has indicated that user activity, especially Completion data, has a stronger impact on the content it suggests that other factors, such as location.
Content topic: The algorithm categorizes video content by user interest. Therefore, the subject matter of the video has a huge impact on how successful it is on TikTok.
Hashtags and keywords: Keywords are the words that people type into the TikTok search bar to find certain types of videos. They give the context of the video content. Relevant hashtags and keywords tell the algorithm what your video is about. The app can then identify which type of user would be interested in this content.
🥁 Bonus article: 100+ trending TikTok hashtags to go viral
Jumping on trends: Content that uses trending audio (trending songs, sounds, voiceover, etc,) has a higher chance of being served to a larger population of users.
User activity and feedback: The algorithm is designed to serve content that is highly interesting to its users. It utilizes user activity data to determine this. For example, ​​Likes, Shares, Comments, or clicking "Not Interested" give the algorithm feedback on how interested the content was for specific users.

Location and language settings: The TikTok algorithm also takes user device settings into account when categorizing high-interest content, sharing content in the language of the user, and videos that are relevant to their geographic location.
What is the TikTok for you page (FYP) page?
TikTok's steady rise in popularity, especially with younger millennials and Gen Zers, has left many asking the question "How can I get on the TikTok For You page?". Before we dive into the answer to this burning question, let's first recap what the TikTok FYP is.
The FYP is the first page that pops up when you open the app. When you log in, you will be brought to a feed of video that has been curated by the TikTok algorithm based on your past activity on the platform, your likes, and other user behaviors. Each user's FYP is unique to them. For instance, if you engage with a few videos about morning routines for success, you are likely to find fresh content on this topic on your FYP daily.
Similar to the Instagram Explore Page, the app suggests content it thinks you will love to lure you in and keep you scrolling.
The videos that appear on a user's FYP are ranked based on the interest indicators we highlighted earlier in this article. According to TikTok, the number of followers the content creator has does not affect the likelihood of the video being ranked highly on users' FYP.
This is good news if your client has a small following and has never had a viral video before. Their content has just as much chance of placing on FYP than content from viral TikTokers and accounts with huge followings. The TikTok algorithm will place video content on the FYP based on the quality of the content and how relevant it is to the user as opposed to how many followers the poster of the content has.
Benefits of getting featured on the TikTok For You Page (FYP)
The next question is what are the advantages for your client if their content makes it onto the TikTok FYP. The simple answer is that when the algorithm picks up your content, it recognizes that their video is great quality content with significant appeal to their audience.
This is invaluable for social media marketers, businesses, and digital agencies. Here's why.
Brand awareness and exposure: Getting featured on TikTok's FYP is one of the best ways to get free advertising for your business or for your client's business. If your average TikTok post received around 50 likes, a FYP feature could grow this to over thousands, millions even.
More followers: Getting featured on the TikTok For You page is almost guaranteed to increase your following. More followers lead to monetization. When an account reaches 10,000 followers, it can make money from its content via the TikTok Creator Fund. Your client or business can keep the momentum going and utilize TikTok to direct traffic to their other social media platforms.
Authority: When the TikTok algorithm begins to share your company's (or client's) content with a larger audience, the brand can leverage this to become a thought leader in a specific niche. Becoming an authority on a specific subject opens doors for sponsorship deals as well as driving sales.
How to how to blow up on tiktok and get on the TikTok For You Page (FYP)?
The TikTok algorithm is constantly changing. This means there is no secret formula that is guaranteed to generate success. Having said that, there are a couple of things you can do to boost the chances of getting your client's content a spot on the TikTok FYP.
Here are 5 tips for success.
Videos can be up to 10 minutes long on TikTok. However, sometimes shorter is better. The TikTok algorithm takes video completion data seriously, so short videos can increase the chances of a viewer watching the whole thing instead of scrolling on. Adding a captivating hook within the first three seconds of the videos will tantalize viewers into staying to the end, boosting the chances of that video making the FYP.
2. Share accessible, engaging content
To get on the TikTok FYP, content needs to be engaging enough that viewers watch the full video. Making the video more accessible will increase the likelihood of viewers sticking around for the full video. This can be achieved by adding text or captions to the video. Edits such as adding stickers, trending audios, and transitions all fare well with the algorithm because they increase viewer engagement.
The algorithm also favors content that features the app's new tools and features, encouraging content creators to keep their ears to the ground and experiment with the latest updates.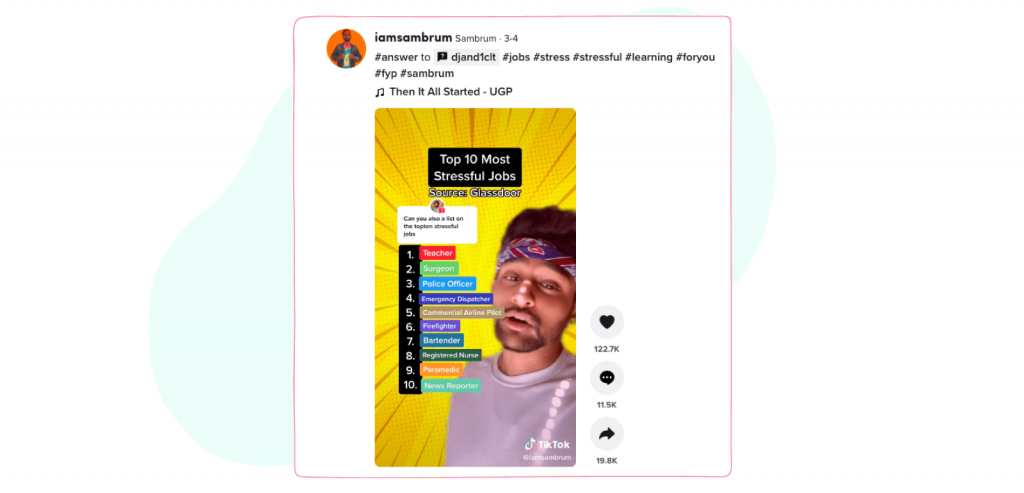 TikTok user iamsambrum uses text to make his content accessible and engaging.
🌸 Bonus tip: Not only sharing accessible content but also sharing TikTok content at the right time is essential to growing your presence on the platform. So, don't forget to check the best times to post on TikTok article we've created for you. Also, you can find out the optimal best time to post your TikTok videos using the Sociality.io TikTok Analytics dashboard. Then, you can schedule your following TikTok video content effortlessly via the Sociality.io TikTok scheduler tool.
Hashtags help the TikTok algorithm categorize the content. Not following hashtagging etiquette can cause great content to be passed over. Hashtags should be relevant, they should be a combination of trending hashtags in your niche and less well-known ones. Additionally, jumping on TikTok's hashtag challenges gets you extra brownie points.
While TikTok has never confirmed the rumor, it is believed that using the hashtags #fyp or #ForYou can get content delivered to a larger population. The algorithm is constantly changing, so the key to proper hashtagging is trial and error. Switch things up and analyze the results using a social media management tool.
The TikTok algorithm favors short, catchy descriptions with relevant hashtags that encourage user engagement.
With a maximum of 150 characters (including hashtags), choosing the right video description is important. Questions, teasers, and intriguing statements such as "Wait until the end" can send the right signals to the algorithm.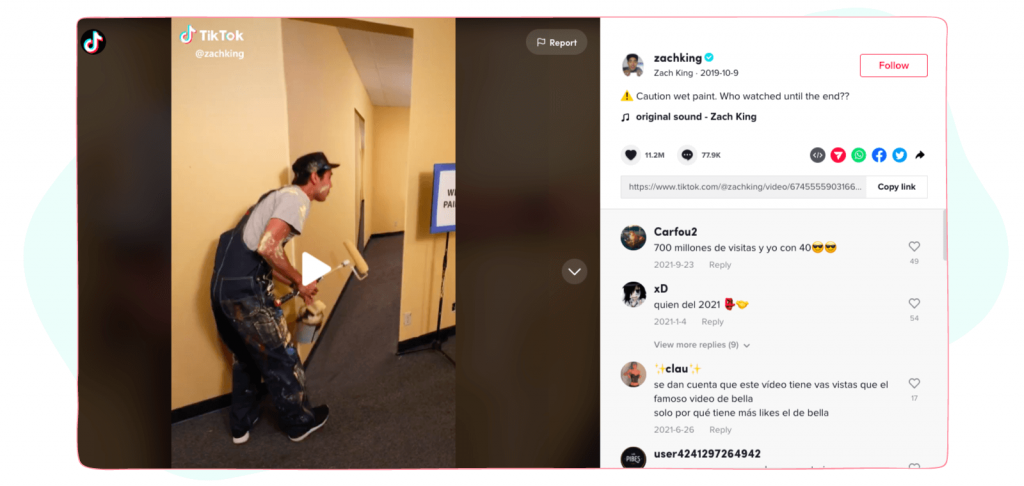 This video from TikToker Zach King became a viral sensation with over 11 million likes. Zach grabbed attention with the description: "Caution wet paint. Who watched to the end?"
4. Pick a niche
Consistent video content that stays within a niche allows your client's business to attract a specific audience. The algorithm recognizes that your content specializes in this niche and pushes it to a large audience of people interested in this type of content. This audience base is more likely to follow and engage with your client's account because the content resonates with them.
For example, if your client is a fitness apparel brand, video content around health, fitness, diet, and lifestyle will most likely resonate best with them. Especially when accompanied by industry-specific hashtags like #fitnessmotivation #athleisure #style #activewear #ootd.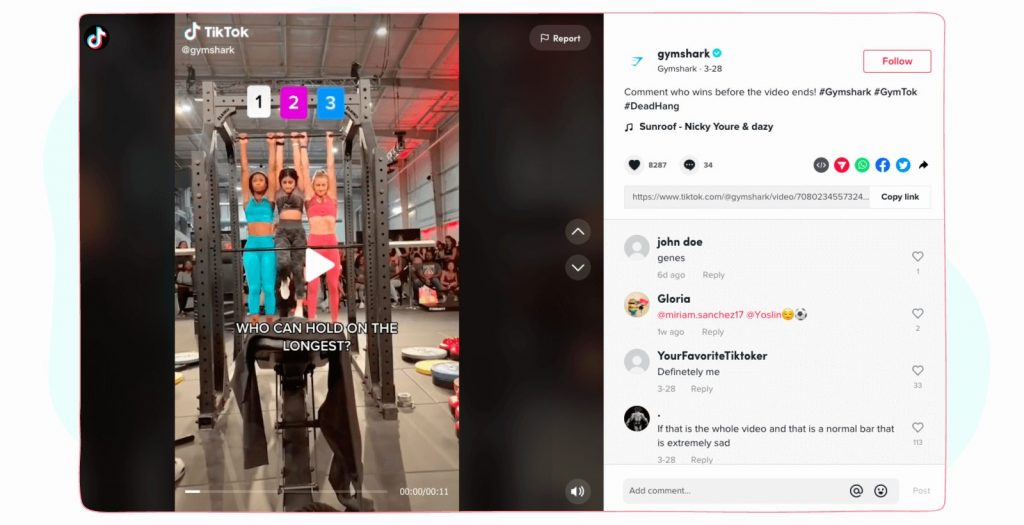 This video by fitness apparel brand Gymshark uses the relevant tags and a catchy question to generate engagement.
Final Thoughts
Nabbing a spot on TikTok's For You Page can do wonders for your client's business. As the algorithm is constantly changing, there is no secret formula to getting featured. However, the tips laid out in this article can dramatically boost your chances.
The first step to getting featured on the For You page is creating great content that is shareable and compelling to your client's audience. Social media management tools use data and analytics to offer insight into who the target audience is and what content resonates with them.