How long are TikTok videos? TikTok video length guide for 2023
TikTok has established itself as the go-to social media platform for entertainment. From side-splitting videos to cooking demos and beauty tutorials, the unique blend of short educational, and entertaining content on this platform is why many millennials and Gen Zs love it.
Since TikTok is home to their target audience, many big brands have already pitched their tent there and optimized the platform's potential to connect with their audience.
As a brand, TikTok for business allows you to use video content to reach your fans right where they are. And just like any other social platform, TikTok has an analytics tool where you can keep your eyes on important metrics about your content and iterate accordingly. One of such is video length.
The jury is always out on this subject, mainly because TikTok is gradually moving away from bite-sized videos. This article helps you put the new video length limit into perspective (as it relates to your brand) and serves as a quick guide for TikTok video length and formats.
TikTok video length limit in 2023
TikTok recently announced it had increased its video length limit to 10 minutes. A giant leap compared to the previous limit of 3 minutes. In a statement to TechCrunch, TikTok hopes this extended video length limit would unleash more creative possibilities for creators worldwide.
This platform became viral for its short-sized videos, and with the previous time limits, creators paid more attention to engaging their audience within the first few seconds of their content. However, you would have to do more than that with this update. Whenever you decide to go the long haul with the new time limit, ensure it's worth your audience's time, and do your best to keep them engaged throughout your content.
Although the feature started rolling out in late February, not everyone has it yet.

To check if you already have the feature:
Open TikTok and launch the camera by clicking on the plus (+) button at the bottom of your screen
Above the record button, swipe across the time limits to see if you already have the feature.
If you don't see the 10 minutes limit as an option, there is no need to worry; it won't be long before you can use the feature.
Average TikTok video length
According to a report by WIRED, one in four of the most liked TikTok videos fall within the optimal recommended video length of 21 to 34 seconds. But you don't always have to confine yourself to this video length limit.
Short-form content can be limiting, especially for a brand promoting its product or service. But the general advice still stands, make your TikToks as short as possible. The consensus on TikTok is that it's a short video platform, so it might take a while for users to adjust to the new time limits. But even more importantly, the TikTok algorithm is hyper-specific, so if users are scrolling past your videos without watching to the end, it sends a negative signal to the algorithm, and this might affect how often your videos show up on your audience's feed.
We are not saying long videos have no place on TikTok. It just has to be done right. For example, look at this video from Procreate. It is over a minute long, and it still has over 15,000 views.
On the other hand, this video by Ryanair is just 6 seconds long and has over 3 million views.
Compare the number of views on those two videos, and you have your answer on which type of videos should dominate your TikTok strategy.
Many creators are also resorting to clipping their long-length videos into shorter bits and posting them in different parts, so that's another option you can look to try out. This is an example of such by Red Bull splitting their TikToks into parts.
The platform also has a tool called TikTok stitch that allows you to take part in someone else's TikTok video and use it in yours, and this is a great way to collaborate with other users. You can always use this to your advantage when creating content.
How to edit the length of a video on TikTok
Editing the length of a video on TikTok is pretty straightforward. Open TikTok and launch the camera by clicking on the plus (+) button at the bottom of your screen.

Launch the camera and press the upload icon to select the video from your gallery to edit the length of an uploaded clip on Tik Tok.

Once you've selected the video, tap on "Adjust clip."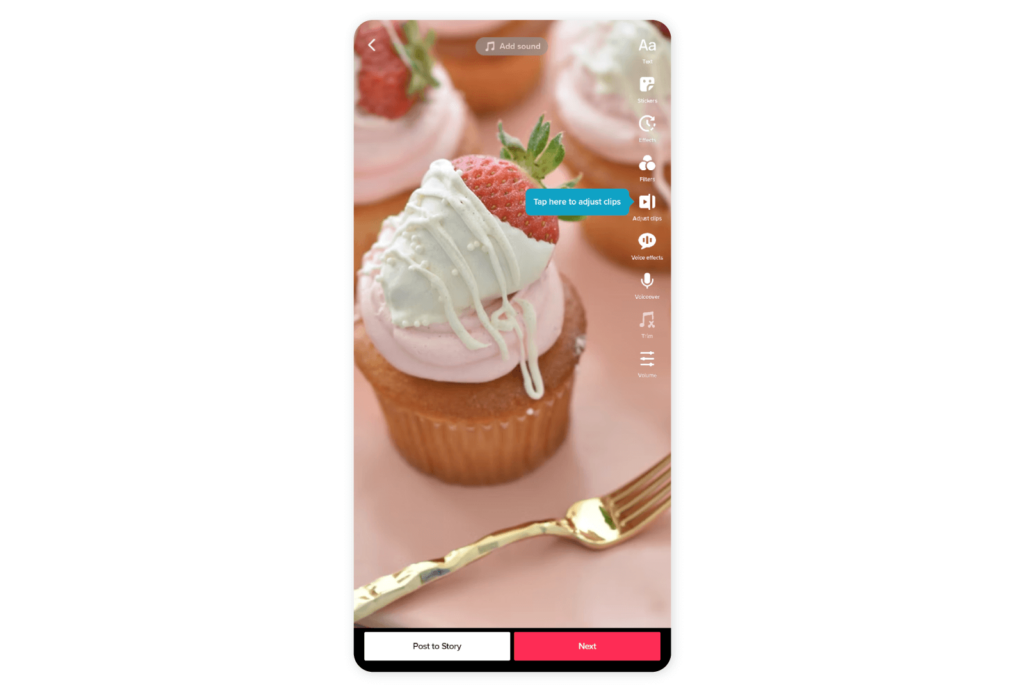 Next, use the slider at the bottom of your screen to trim your video to your preferred length.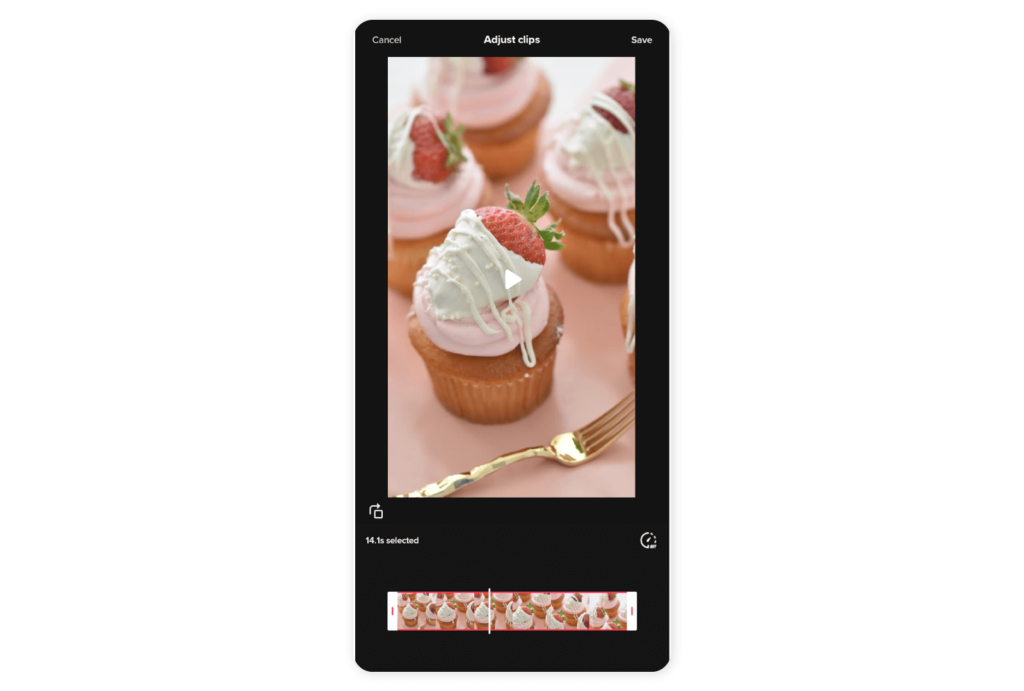 It would be the same process if you used TikTok's inbuilt camera to record a video. Once you're done recording, tap the "Adjust Clips" icon.
🎉 Related Article: What is the best time to post on TikTok?
How to adjust the speed of your TikTok videos
TikTok has an exciting feature that allows you to rival the producers of "The Matrix" and create your own Oscar-worthy video. It's an effect that lets you either increase or reduce the speed of your TikToks, and it's easy to use.
Once you open your TikTok camera, just before you start recording, tap on the speed icon at the top right of your screen.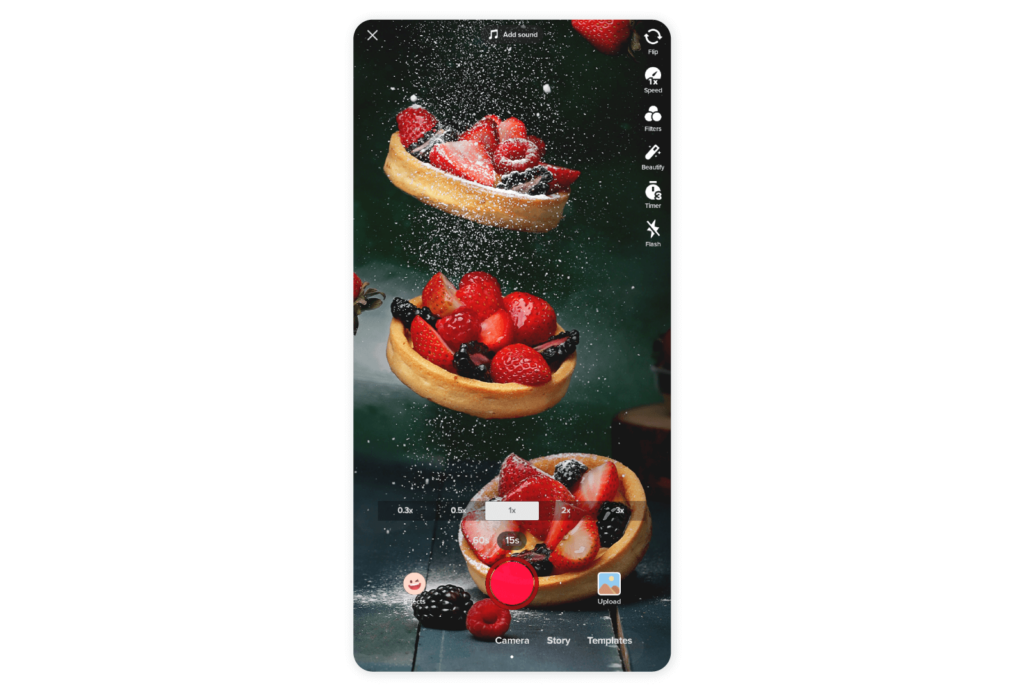 Decide what speed you would like to record your video by toggling between the different speed options. Once you've found your preferred speed, click the red button to start recording.
TikTok also allows you to adjust the speed of a premade video you want to post. The steps are similar to when you want to edit the length of an uploaded video. The only difference is you tap on the speed symbol on the right side of your screen.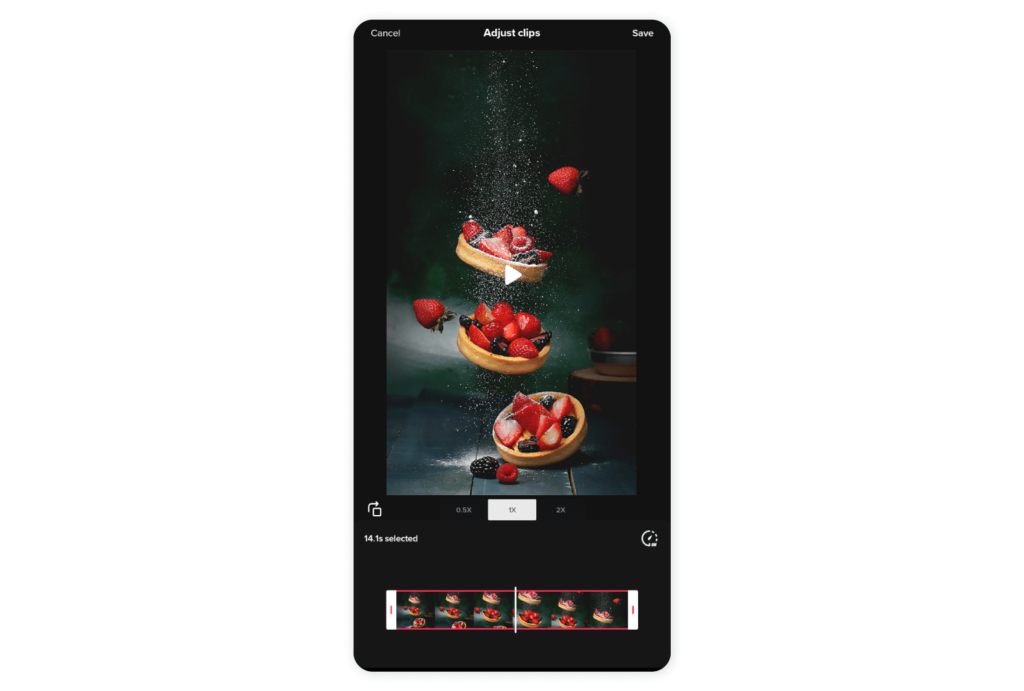 Then choose the desired speed you want to save your video. And that's all! You are on your way to producing videos with amazing cinematic effects.
Formatting your TikTok videos
Like any other platform, you should optimize your video to suit both the platform and your audience. There are some specifications that TikTok's algorithm favors. So let's go through them.
TikTok video dimension: You can film your videos in portrait or landscape mode. But most videos are viewed in portrait mode, so it's best to film that way.
TikTok video resolution: The recommended video resolution is 1080 x 1920 with an aspect ratio of 9:16. If you upload or shoot a video with a resolution higher than 1080p, TikTok would scale it down to 1080p.
TikTok file size: This depends on the device you are using. With Android, the maximum is 72MB, but with Apple devices, you can go as far as 287.6MB
TikTok file type: TikTok supports MOV and MP4 file formats and supports AVI, MPEG, and 3PG file formats for ad videos.
Although video length is not the only determinant for successful content on TikTok, it is not one to glance over. Don't be afraid to test and iterate different video lengths with your audience until you find the sweet spot that works.