What is the best time to post on TikTok?
In 2020, TikTok grew in popularity and became one of the most significant online marketing channels for brands and businesses. This came with the growth of several TikTok users becoming influencers because they understood the algorithms of the platform and knew the best time to post on TikTok. As expected, many businesses have realized the value of influencer marketing on TikTok.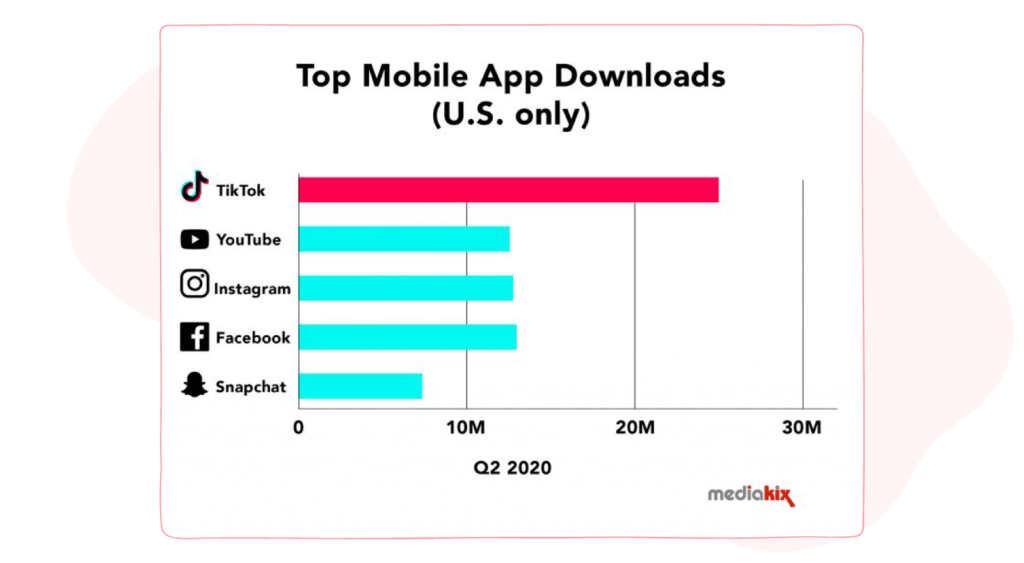 TikTok influencers leveraged this because they understood brilliant ways to help businesses build a brand presence on TikTok and get their products in front of more people. Using this same logic, anyone with an understanding of the TikTok algorithm can use it to boost their audience and increase engagement, just by posting at the right time. If you want to know the best Tik Tok posting times for your brand's TikTok marketing, keep reading.
Importance of TikTok posting times
In marketing, it is impossible to cater to all types of audiences, and the same goes for influencers on every media platform. So when determining the best times to post on TikTok, you have to consider your audience and use it to draw out a unique posting schedule. When you can find the best TikTok times for your audience, it does three things for you:
It helps you reach a wider TikTok audience: Posting at the right time on TikTok simply means that you post when your audience is most active and are available to engage your post. The more people see and engage your post when you post, the more the algorithm pushes it to more people, and you get to reach an even larger audience.
It helps increase the quality of your content: To get the algorithms working for you is getting the posting times right and getting the best content in front of your audience. Many influencers focus on creating viral content that is likely to spread like wildfire beyond their followers and present viewing audience. Having mastered the best times to publish posts on TikTok, you can plan your content and know your timeframe to create the best content.
Getting on the "for you" page (fyp): The "for you" page is the holy grail of every TikTok influencer out there. The fyp page is that section on TikTok that the algorithm puts together videos that match your TikTok history based on your searches, popular audio, hashtags you follow, etc. What does this mean for influencers? Videos on the fyp get the most interaction (likes, comments, and shares). How can you get people to interact with your post if they are not online when you publish posts. This is when mastering the best times to post on TikTok for your audience comes in. In the end, it is the goal of every influencer for their content to show up on the fyp because that is the key to reach more people.
Social Media News in a Nutshell
Get the latest social media news, insights, and marketing tips in your inbox once a week.
Best times to post on TikTok
We've spoken about what posting at the best time does for you on TikTok, but what are the best TikTok times for posting? You also must know how to get on the fyp page for more views. Many media marketing professionals have tried to hack these metrics by asking two questions:
Where is your audience located? The location here is in terms of geographical location. Find out what time zones they are located in and if it is the same as yours. This will help you know if they are in the same time zone as you or if you have to plan your posting schedules to fit the time difference.
When are they active on TikTok? Research has shown that people are most active on social media in the mornings and the evenings. However, that is too generic and may not apply to TikTok users or your audience.
Research has shown that some of the best times to post are in the morning and the evening. The posting times in the TikTok chart below were curated from the results of a study carried out by Influencer Marketing Hub. They analyzed 100,00 posts and found that the posts with the most engagements were published at these times.
| | |
| --- | --- |
| Day | Posting Time |
| Sunday | 7 AM, 8 AM, 4 PM |
| Monday | 6 AM, 10 AM, 10 PM |
| Tuesday | 2 AM, 4 AM, 9 AM |
| Wednesday | 7 AM, 8 AM, 11 PM |
| Thursday | 9 AM, 12 PM, 7 PM |
| Friday | 5 AM, 1 PM, 3 PM |
| Saturday | 11 AM, 7 PM, 8 PM |
Why you should check your TikTok audience analytics
You can get access to information about your audience by studying your TikTok audience analytics. This data is only available if you're using a TikTok pro account. This means that you have to switch to a pro account if you're using a regular account, and you can do this in these four easy steps:
Open the TikTok app
Click to open your profile page and click the "Privacy and settings" tab
Choose the "manage my settings" option
Click the "switch to Pro Account" option
Follow the next instructions and you should be on a pro account in no time.
The analytics data is the core difference between a pro-TikTok account and a regular account. Studying your audience analytics gives a clear picture of who makes up your audience. TikTok analytics can be divided into:
Follower Tab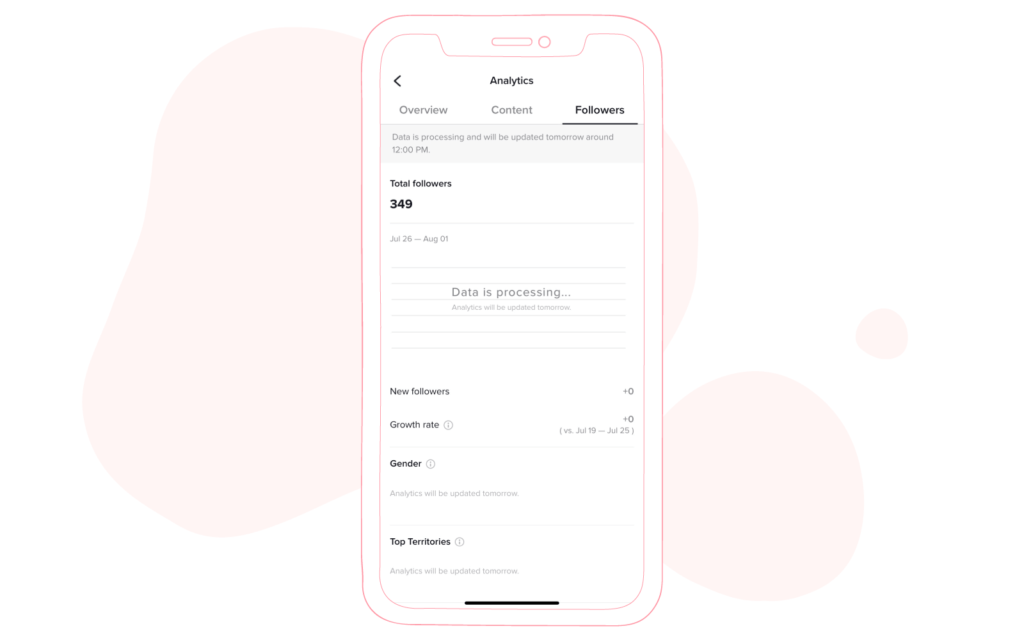 When you just switch your account to Pro, the full details of your followers' tab are revealed after 24hours. Once all the information is available, you will have access to demographic metrics such as gender, age, location, etc. It also shows what your followers are interested in; you can see their activities in days and hours, videos they watched, a sound they listened to or used in their posts, posts they liked, etc.
Content Tab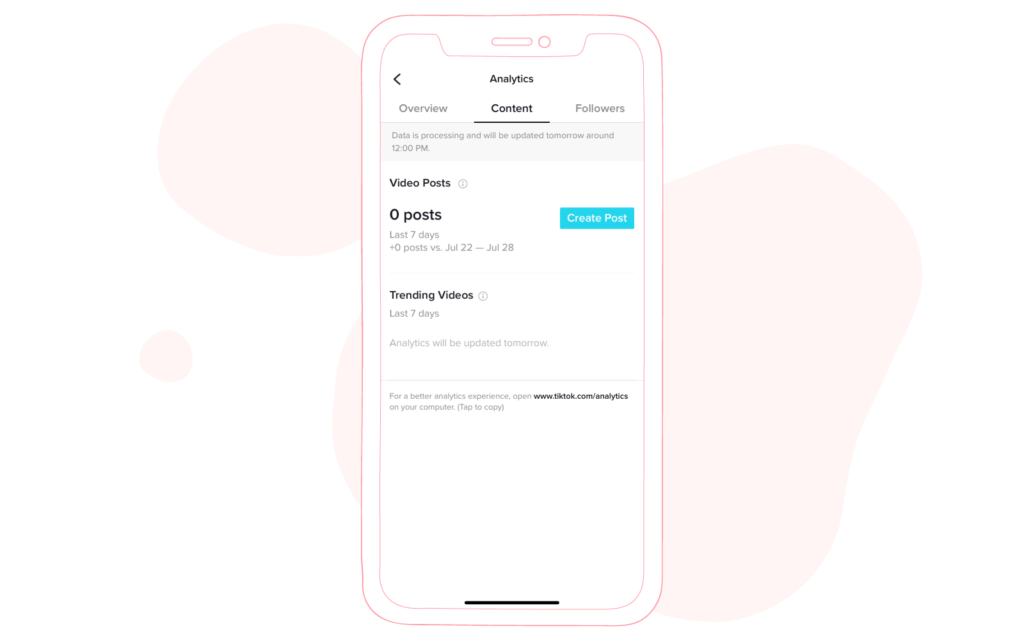 Once your Pro account is fully activated, this tab gives you insight into the performance of your content, as seen in the screenshot above. It shows individual post statistics like the number of views, total likes, total shares, total and average watch time, etc. This tab will also show you the number of times that your hashtag has been used across the platform, etc.
There are many ways to grow your account on TikTok; businesses and influencers mostly use challenges to get more views and reach a larger audience. Challenges that can become viral and create more engagement are the most useful, and they will not count if they are published to your account at the wrong time. That is why finding the best time to post on TikTok will go a long way in growing your account. Once you know the right time, you can comfortably employ TikTok ads to boost your reach further and put your post in front of the right audience.