How to edit TikTok videos? 4 creative tips and 5 editing tool suggestions
If you've recently decided to harness the power of TikTok for your business, it's vital to learn how to create quality content. The higher the quality of your content, the more likely it is to foster interaction and engagement amongst users – two components that are highly favored by the TikTok algorithm. When content aligns with the TikTok algorithm, it performs better on the app. Therefore, if you're wondering how to get more followers on TikTok, high levels of interaction and engagement are essential.
A key step in creating TikTok content that promotes user engagement is learning how to edit TikTok videos effectively. By experimenting with various TikTok editing techniques, you will not only bolster your content on the platform but your overall social media marketing strategy.
In this guide, we'll explain how to edit TikTok videos (both in the app and via third-party platforms). We will also offer some creative strategies you can implement to take your TikTok editing to the next level.
Social Media News in a Nutshell
Get the latest social media news, insights, and marketing tips in your inbox once a week.
How to edit TikTok videos on the app
When it comes to editing TikTok videos on the app itself, you have two primary approaches: editing the videos before you post them or editing the videos after you post them. The first approach is predominantly used when creating new content, while the second technique is most appropriate when making changes to existing content.
How to edit TikTok videos before you post
Record a video – The first step is recording a video or several videos that you will compile in your final TikTok. This can be done using a camera (on your smartphone or otherwise) or directly in the TikTok app (by clicking the large + button at the bottom of your screen). If you film the clips on your smartphone or camera, you will then need to upload the clips to TikTok once you're finished.
Adjust clips – Once you have uploaded all the clips you hope to include in your final video, it's time to adjust the duration of each one. To do so, drag the lines on either side of your clip. To split a video, simply use the white line that runs down the video line.
Add filters – Filters are excellent tools that can help your visuals pop. You can explore the app's range of preset filters, which fall into the following four categories: portrait, landscape, food, and vibe. Select the one that is best suited to your content and/or enhances the aesthetic to your liking.
Add a song or sound – Adding a trending song or sound is a fantastic way to add personality and increase the potential reach of your video. You will see the Add Sound button at the top of your screen during the editing process. Click this button to conduct a TikTok search for songs and sounds, and pick the one you would like to include in your TikTok. Songs and sounds play a key role in TikTok trends, so be sure to choose wisely.
Spruce up your video with effects, text, and/or stickers – Put the finishing touches on your video by experimenting with different effects, the text-to-speech function, and stickers to add an eye-catching element.
How to edit TikTok videos after you post
Visit your TikTok profile and find the video you want to edit.
Click on the video and tap the three dots in the bottom-right corner.
Click Save Video. Doing so will save the video (including any text or effects) directly to your camera roll.
In TikTok, press the Add New Video button at the bottom of your screen (the large white + button).
Click the Upload button in the bottom-right corner and re-upload the video from your camera roll to TikTok.
Follow the same steps outlined in the previous section, making whatever adjustments you would like before posting the newly edited video.
Editing TikTok videos using third-party programs: 5 editing tools to try
You can also edit TikTok videos via third-party apps. These platforms offer an array of features and tools aimed at facilitating the video-editing process. Here are five of the best TikTok editing apps and what you can expect from each of them.
VN Video Editor – Thanks to its intuitive interface, VN Video Editor is ideal for beginner and advanced video editors.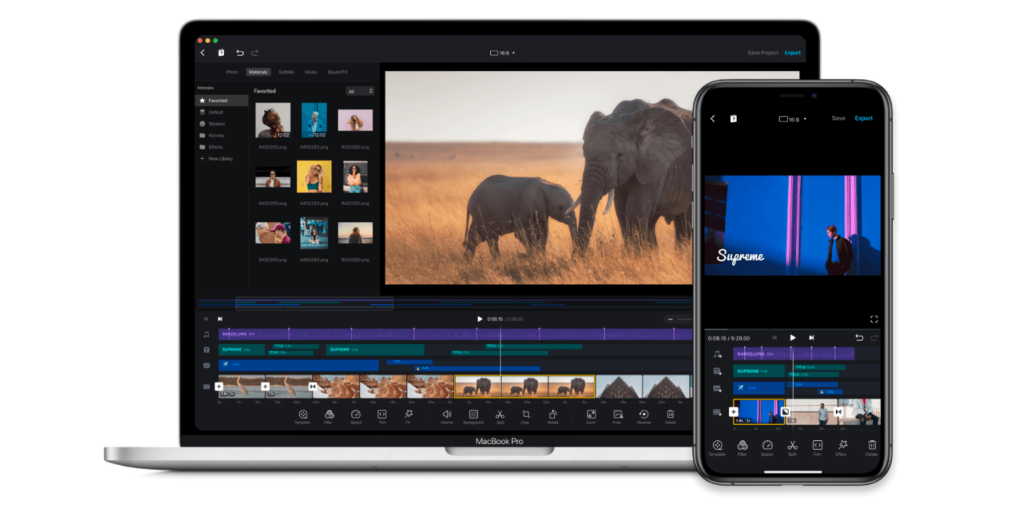 Key features: Multi-track editing; curve shifting; quick video importing.
Pros: Available for iOs and Android users; free; no watermark; free 4K support.
Cons: Occasional playback issues.
CapCut – CapCut is another free, easy-to-use app that operates similarly to TikTok's in-app editing function.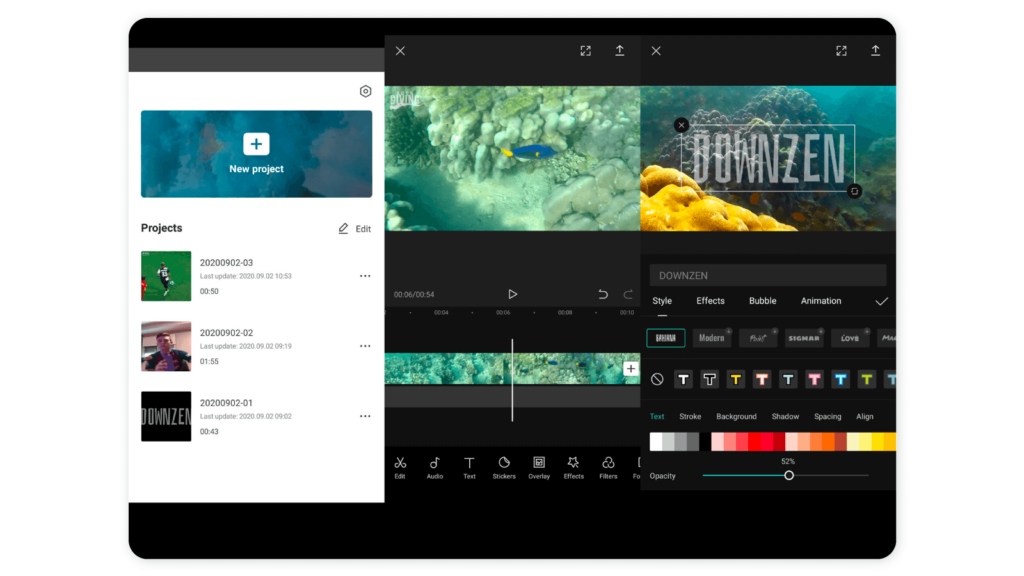 Key features: Extensive music library free copyright music and sounds (beyond what you would find by conducting an in-app TikTok search); high-quality video exportation; split function; speed control.
Pros: Available for iOs and Android users; free; beginner-friendly.
Cons: CapCut's functions are very similar to TikTok, meaning there is little unique added product value. Not a comprehensive editing tool.
InShot Video Editor – InShot Video Editor is a powerful app that allows users to edit videos as well as images. Users can even create collages.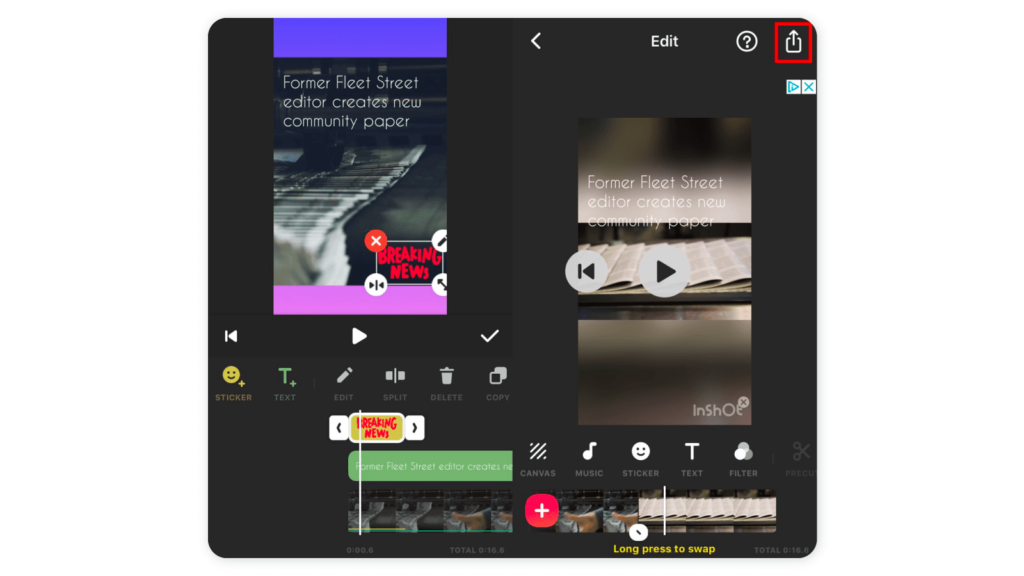 Key features: Wide range of fun and colorful animated stickers; portrait-mode interface in line with TikTok's orientation.
Pros: Available for iOs and Android users; free; very easy to use.
Cons: You are not allowed to exit the app when it is exporting your videos; if you do, this will lead to lost work and you will need to restart the export. The free version of the app only allows you to create watermarked videos.
ViaMaker – ViaMaker is an all-in-one video editor that offers a relatively comprehensive range of basic tools, making it an excellent choice for simple TikTok videos.
Key features: Speed control; text over video; clip-trimming; split function.
Pros: Free; great range of basic tools and effects.
Cons: Not suitable for more advanced, creative videos. Sometimes a bit buggy.
Zoomerang – Intuitive and accessible, Zoomerang is a fantastic third-party alternative to TikTok's in-app editing platform. The app features a particularly heavy focus on creativity and inspiration.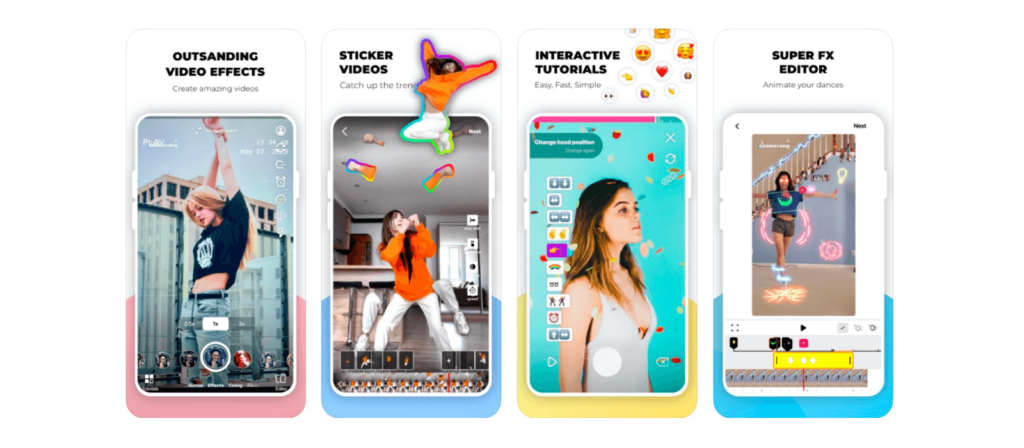 Key features: Instructional tutorials; built-in video recorder; various texts, gifs, and overlays.
Pros: Available for iOs and Android users; free;
Cons: Not suitable for more advanced, creative videos. Sometimes a bit buggy.
4 creative tips for editing TikToks
Use transitions
Transitions are one of the most widely recognized TikTok trends; as a result, it's a great idea to experiment with transitions in your content. There are several types of TikTok transitions, which require varying levels of skill.
To start, try your hand at simpler transitions like jump-and-cut or finger-snapping transitions, an example of which can be found below.
Once you feel like you've grasped the simple TikTok transitions, you can explore the more advanced ones. These are far more seamless; oftentimes, the objective is for the transition to be so smooth that users can't spot when the clips change. Famous TikToker Anna Sitar is often lauded on the app as the "Queen of Transitions" – one look at the video below and it is easy to see why.
Create a loop
Loops are another popular TikTok trend that you can tap into to take your content to the next level. A loop is an effect that occurs when the starting frame and the ending frame of your video are exactly the same. When you edit your TikTok in such a way, it creates a seamless, seemingly endless "loop" effect that will encourage users to watch the video repeatedly.
Leverage the text-to-speech function
TikTok captions play an important role in the content creation process – but the caption isn't the only place where you can include text. The text-to-speech function – which displays captions over your video as someone is talking – is a great tool for enhancing the quality of your TikTok content. Not only that, but it is also an important step in making your video more accessible and more engaging. When editing any TikTok video featuring a person speaking directly to the camera, this step is a must.
Hop on trending filters, effects, sounds, and songs
Whether they are based on filters and effects or sounds and songs, participating in TikTok trends is a surefire way to create more eye-catching content that aligns with the content that users are consuming. Some popular examples of such effects include slow motion, the green screen, and the time warp effect (as seen in the following video).
If you'd like, you can even go one step further in your creative initiatives by creating your own effect, filter, or sound. For example, if you create a sound that several users start using in their own videos, every viewer will see that you are the source of the original sound. In turn, you will likely see an impressive spike in profile traffic and, subsequently, TikTok followers.
Learn more about how to make a sound on TikTok.