Most liked TikToks: Top 10 viral TikTok videos of 2022
Imagine a room on the internet where you can express yourself freely, and your creativity has almost no limits.
TikTok is that room!
While individual creators can argue that they've always had this level of freedom with other social media platforms, it's not the same for businesses. Brands always tend to err on the side of caution on social media, and only the few who are daring enough tend to enjoy virality.
TikTok marketing makes it easier for brands to communicate to their target audience how they love, and the level of creativity on the platform is crazy. But that doesn't mean you have to rival Leonardo da Vinci to go viral on TikTok.
As this list would show you, some of the most liked TikToks are just videos of people or pets doing random things, nothing extraordinary. Just any type of content can succeed on this beloved social media network.
Social Media News in a Nutshell
Get the latest social media news, insights, and marketing tips in your inbox once a week.
Top 10 most liked TikToks of 2022
Lip syncing by Bella Poarch: 56.9 million likes
The most liked video on TikTok is a lip-syncing video by Bella Poarch– a social media personality and singer. She recorded a TikTok of her lip-syncing and head bobbing to the popular "M to the B" song by British rapper Millie B. This video has held down the number one spot for over 577 days.
Jamie Big Sorrel Horse's dancing video: 51.3 million likes
This is just a video of a native American TikTok creator dancing and lip-syncing to Nelly Furtado's "Say it Right" song in a power rangers T-shirt. An excellent example of how random videos can go viral on this platform.
Drawing by Franek Bielak: 50 million likes
Franek Bielak is a polish artist who spent 23 hours drawing and painting human lips with different fruits in between the lips. He saw a TikTok of a live human lip get over 900 thousand likes, and his decision to recreate it in a drawing has earned him a spot on this list.
Lip syncing by Nick Luciano: 48.6 million likes
Nick Luciano didn't look too impressed with a video of KaylaVoid lip-syncing to "SugarCrash! by EllyOtto" and chose to make his own video behind a hilly background. The video had 20 million likes within three days
David Allen's dancing video: 44.4 million likes
"The TikTok drone guy", as he is popularly called, saw a video of a lady dancing to "Stay by Justin Bieber and Kid LAROI" and decided to shoot a video of him dancing to the same song. This time though, with a drone flying 360° and covering all the necessary angles.
Adrian Chateau's dog video: 40.2 million likes
When Adrian decided to jump on the trend of humans barking at their dogs, little did she know that her dog's reaction would make her go viral. Keiko's(her dog) reaction was hilarious and sparked even funnier comments from other users.
MONA singing Suave: 40.1 million likes
Philippine-based TikTok creator Mona Gonzales recorded a video of her singing Suave by El Alfa with the caption "It's time to wake up the neighbours."
Time warp scan by Billie Eilish: 40 million likes
American singer Billie Eilish joined TikTok in 2020, and her first video remains one of the most liked TikToks on the platform. She tried out the "Time Warp Scan Filter", which had hilarious effects on her face.
Khabane Lame banana video: 37.8 million likes
You must have heard of Khaby Lame, but in case you haven't, he is a Senegalese born TikTok creator who makes videos mocking overly complicated life hacks without saying a word. One of such videos is on this list. He shows how you can peel a banana without going through all of the stress.
With over 137 million followers on his account, Khaby lame is one of the most famous TikTokers globally.
Cat pawing at the camera by British Promise Cats: 37 million likes
Here's another video of a pet that did the numbers. In this video, a curious ginger cat pokes his head through the top of a cardboard tube. After failing to achieve its desired result of reaching the bottom of the tube, the cat uses its paw instead. The video went so viral and, at a time, was the most liked TikTok video.
How to go viral on TikTok in 2022
Going viral on TikTok can do wonders for your business, especially brand/product awareness and sales. But only if it's done right.
Here's the good news: TikTok's algorithm works slightly different from other social media platforms. It prides itself on giving every video a fair chance of appearing on the coveted "For You" page.
But like on every other platform, there are best practices that would aid your success on TikTok. This section of the article will walk through these tips to ensure you understand the science behind going viral on TikTok and you don't end up being in a one-video wonder who doesn't know how to replicate previous successes.
1. Understand how the TikTok algorithm works
Unlike other social media platforms, TikTok algorithm pays little regard to the number of followers a page has or its popularity in determining whether to feature it on the "For You" page.
Whenever you post a new video, TikTok immediately sends it out to the "For You" page of some users. Their response regarding average watch time and completion rate determine whether it features on the feed of a much larger audience.
Average watch time is the amount of time users spend watching your video before scrolling away, while completion rate is the number of users watching your video until the end. The higher these numbers, the better your chance of appearing on your audience feed.
2. Mind the length of your videos
TikTok itself became viral for bite-sized videos. Although they are trying to change that reputation by constantly increasing the video length limits, it might take a while for users to adjust to that.
Be on the safe side and stick to short-length videos because those are the type of videos that go viral on the platform. Moreover, the short length ensures that you cut off every bluff and go straight to what you have to say or show in your video without wasting time.
3. Avoid using generic hashtags
Using the trending TikTok hashtags can get the right eyes on your content and expose it to a relevant audience, but generic hashtags like #fyp won't help you do that. Generic hashtags are generally harder to rank for, so it's best to stick with niche hashtags that show your content to a relevant audience.
If the case that your content is not niche-specific, and appeals to a variety of audiences, turn the keywords in your content into hashtags because those keywords are how users would search for content such as yours. You also don't have to overload your content with different hashtags; between 3-5 would do just fine.
4. Use trending music or sounds
Music plays a massive role in virality on TikTok, and the platform provides a rich library of music for creators. Whenever you use trending music in your video, the algorithm recommends your video to users who have watched other TikToks using that same song–which can only work in your favor.
TikTok makes it very easy to find this trending music. Click on the discover tab, and it will show you the trending sounds on TikTok presently.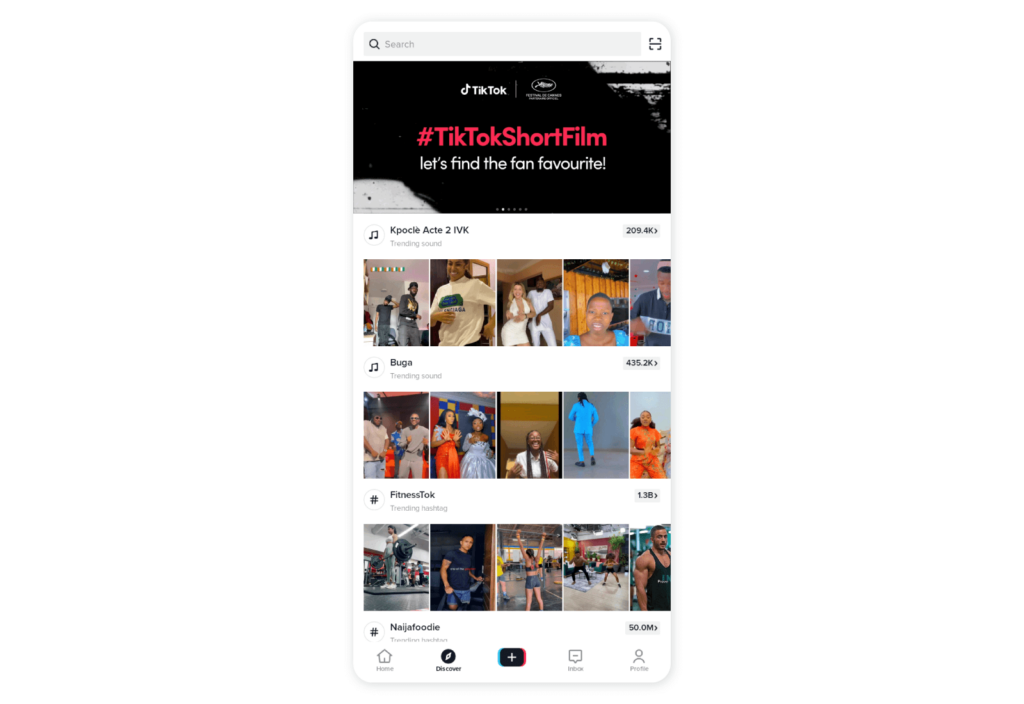 When you tap on the trending TikTok sound, it brings you all the videos that have used that sound together with a " use this sound" option that allows you to use it directly for your video.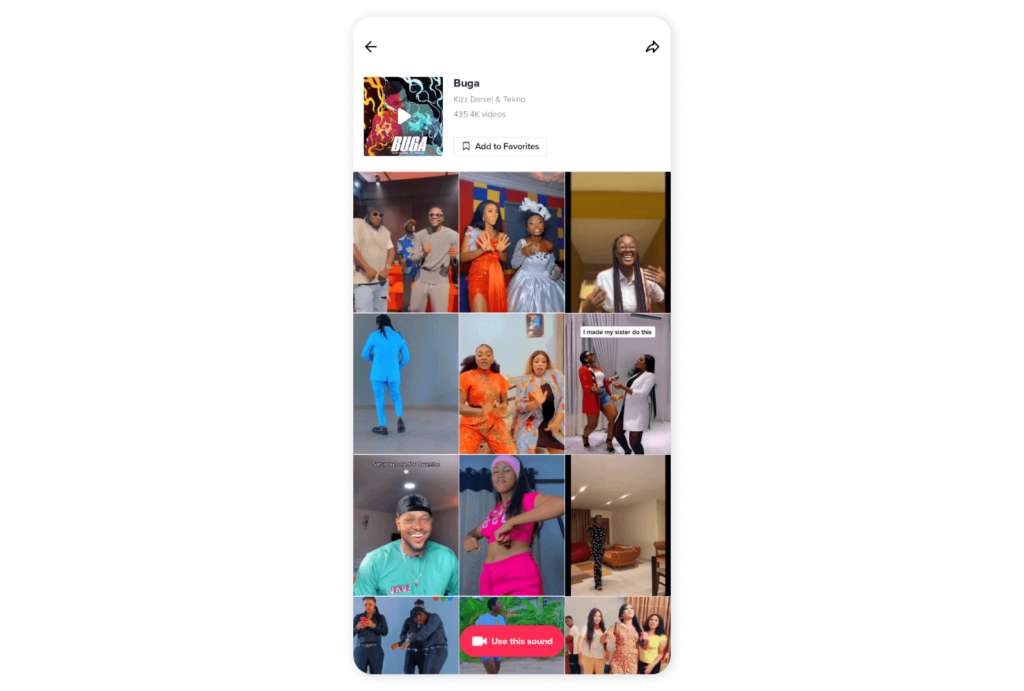 Another way to discover trending sounds is to spend some time on the for you page. Below the caption of every video, you would see a music symbol. Next to the symbol is the name of the sound used in that video.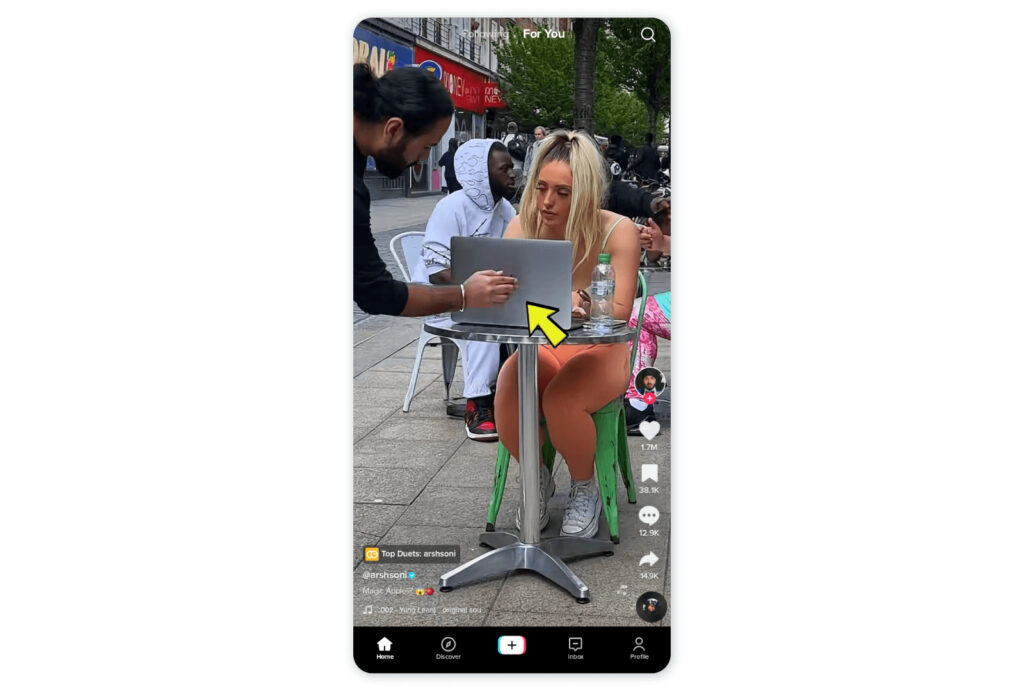 As you scroll through your feed, note any recurring sound to see if it's something you can work with.
5. Collaborate with other creators or influencers
TikTok is huge on collaboration and always rewards it, so if your brand has the resources to collaborate with a personal creator or influence, go for it. But make sure they are relevant to your niche and share a similar target audience. Collaborating with TikTok influencers helps to make their audience aware of you. It would not prove helpful if the influencer is not relevant to your niche and doesn't share a similar target audience.
There are also other ways to collaborate on TikTok. You can use the duets feature or the stitch feature. Duets allow you to react to another TikTok on the same screen, while the stitch feature lets you use a part of another video in your video.
To help you understand these features even more. Here's an example of a Duet video;
https://vm.tiktok.com/ZMLvMUUSf/?k=1
While this is an example of a stitched video;
https://vm.tiktok.com/ZMLvMSLeN/?k=1
Once you see a video you would like to use these features on, tap on the arrow at the right side of your screen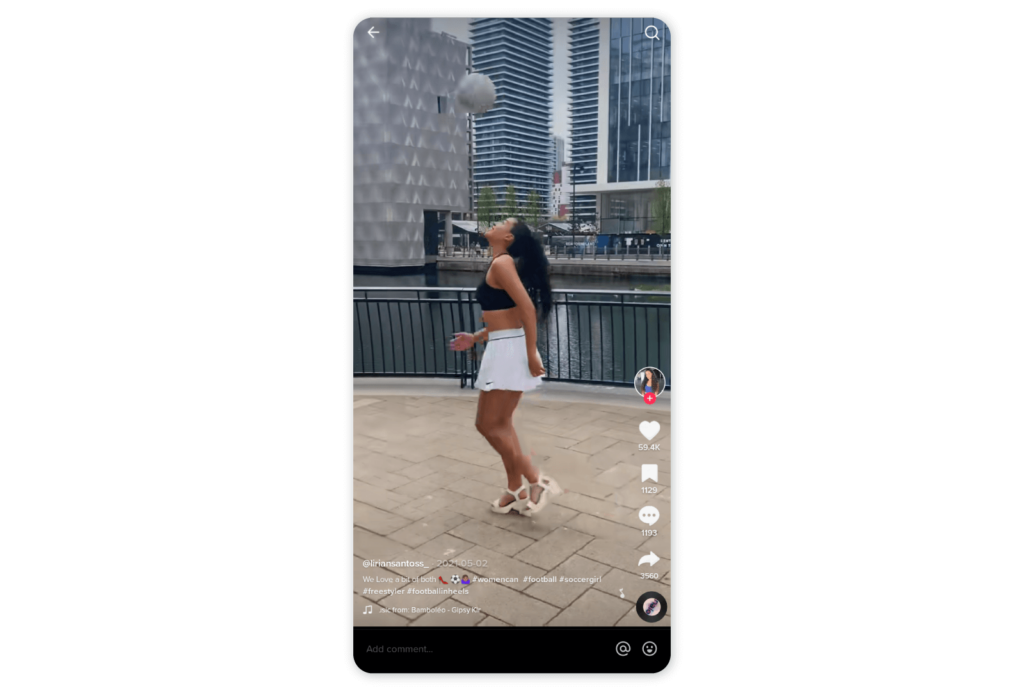 It brings out several options for you, including the duet and stitch features
6. Post at the right time
If you want to go viral on TikTok, it makes sense to post when your audience is active, or else your efforts won't receive the proper response. You don't have to guess your audience peak periods; your TikTok analytics would analyze when your audience is most active. Use that data to decide when best to post your content
🎉Bonus Article: What is the best time to post on TikTok?
7. Use a strong call to action
Please don't assume your audience would like, comment, or share your video after watching it; give them a nudge by reminding them to do so. If you just started a challenge, encourage them to jump on it. Use strong CTAs to create FOMO amongst your audience.
Frequently Asked Questions
Which TikTok has the most views in 2022?
Zach King's Harry Potter illusion video is the most viewed video on TikTok. It has 2.2 billion views.
Who has the most followers on TikTok in 2022?
With over 140 million followers, Charli D'Amelio has the most followers on TikTok.
Who has the most likes on the TikTok account?
With over 10 billion likes, Charli D'Amelio has the most likes on her TikTok account.