Most liked TikToks: Top 10 viral TikTok videos of 2023
Imagine a room on the internet where you can express yourself freely, and your creativity has almost no limits.
TikTok is that room!
While individual creators can argue that they've always had this level of freedom with other social media platforms, it's not the same for businesses. Brands tend to err on the side of caution on social media, and only the few who are daring enough tend to enjoy virality.
TikTok marketing makes it easier for brands to communicate with their target audience in creative new ways. But that doesn't mean you have to rival Leonardo da Vinci to go viral on TikTok.
As this list will show you, some of the most liked TikToks are just videos of people or pets doing random things, nothing extraordinary. Any type of content can succeed on this beloved social media network.
Social Media News in a Nutshell
Get the latest social media news, insights, and marketing tips in your inbox once a week.
What is the most liked video on TikTok in 2023?
Do you want your business to hit the big time on TikTok? Then it's time to get your creative juices flowing. To inspire you, we've rounded up the most popular TikTok videos so far in 2023.
1. Bella Poarch – Lip Syncing to M to the B by Millie B (61.1 million likes, 2.2 million comments)
The most liked TikTok video is a lip-syncing video by Bella Poarch– a social media personality and singer. She recorded a TikTok of her lip-syncing and head bobbing to the popular "M to the B" song by British rapper Millie B. This video has held down the number one spot since August 19 2020.
It may just be time to brush up on your lip-syncing skills if you want your brand to go viral on TikTok.
2. Jamie Big Sorrel Horse – Dancing to Nelly Furtado Say it Right (51.8 million likes, 697.7k comments)
The second most-liked TikTik video is by a native American TikTok creator dancing and lip-syncing to Nelly Furtado's "Say it Right" song. The combination of his dancing, power rangers T-shirt, and general good vibes took the TikTok universe by storm. It's an excellent example of how random videos can go viral on this platform.
3. Franek Bielak – Mouth drawings (51.2 million likes, 823.4k comments)
Franek Bielak is a polish artist with a passion for vibrant colors. He spent 23 hours drawing and painting human lips with different fruits in between the lips, documenting the full process on TikTok. After seeing a TikTok of a live human lip get over 900 thousand likes, he decided to recreate it in a drawing and nabbed himself a spot on this list.
4. Nick Luciano – Lip syncing to SugarCrash Ellyoyo (49.8 million likes, 807.1k comments)
What started out as a simple challenge soon escalated into one of the most viral TikTik videos of 2023. TikToker Nick Luciano made it his mission to beat another creator's record by gaining a whopping 5.5 million likes for lip-syncing to the SugarCrash song Ellyoto.
Needless to say, he smashed the challenge and ended up with a staggering 49.8 million likes. Maybe it was the scenic background or Nick's sense of humor. Either way, the video racked up 20 million likes in just three days.
5. Totouchanemu – Dancing to Justin Bieber and Kid LAROI Stay (45 million likes, 311.7k comments)
"The TikTok drone guy", as he is popularly called, saw a video of a lady dancing to "Stay by Justin Bieber and Kid LAROI" and decided to shoot a video of him dancing to the same song. This time though, with a drone flying 360° and covering all the necessary angles.
6. MONA – singing El Alfa Suave (41.5 million likes, 211.8k comments)
Philippine-based TikTok creator Mona Gonzales recorded a video of her singing Suave by El Alfa with the caption "It's time to wake up the neighbours."
Thanks to her stunning vocals and impressive pipes, she went on to collaborate with another well-known TikTok artist, The Gadget. Together they released a full track of the remix, delighting fans everywhere.
7. Adrian Chateau Wiles – Bark at your's dog video: (40.62 million likes, 526.7k comments)
When Adrian decided to jump on the trend of humans barking at their dogs, little did she know that her dog's reaction would make her go viral. Her dog Keiko's (her dog) reaction was hilarious and sparked even funnier comments from other users.
Adrian proves you don't need to be a seasoned TikToker to go viral. This was her very first video and one of the most liked TikToks of 2023. That's great news if your brand is new on TikTok and hasn't amassed a cult following just yet.
8. Billie Eilish- Time warp scan (40.5 million likes, 590.7k comments)
Everyone's favorite American singer Billie Eilish joined TikTok in 2020, and her first video remains one of the most liked TikToks on the platform. She tried out the "Time Warp Scan Filter," which had hilarious effects on her face.
9. Khabane Lame – Banana video (37.9 million likes, 593.4k comments)
You must have heard of Khaby Lame. Still, in case you haven't, he is a Senegalese-born TikTok creator who makes videos mocking overly complicated life hacks without saying a word. One these videos is on this list. He shows how you can peel a banana without going through all of the stress.
With over 155 million followers on his account, Khaby lame is one of the most famous TikTokers globally.
10. British Promise Cats – Cat pawing at the camera by (37.4 million likes, 456k comments)
Cat people assemble; you're going to want to see this TikTok by British Promise Cats! In this video, a curious ginger cat pokes his head through the top of a cardboard tube. After failing to achieve its desired result of reaching the bottom of the tube, the cat uses its paw instead. The video quickly went viral and, at a time, held the title of the most liked TikTok video.
How to go viral on TikTok in 2023
Going viral on TikTok can do wonders for your business, especially brand/product awareness and sales. But only if it's done right.

Here's the good news: TikTok's algorithm works slightly differently from other social media platforms. It prides itself on giving every video a fair chance of appearing on the coveted "For You" page.

But like every other platform, there are best practices that can aid your success on TikTok. And let's face it; nobody wants to be a one-video wonder, now do they?
We walk through these tips and cover everything you need to know on how to get more likes on TikTok.
1. Get verified on TikTok
Getting verified on TikTok can do wonders for your chances of going viral. Here's why:
Credibility: TikTok verification shows fellow users that you're a trustworthy and legit account. As a result, users are more likely to engage with you on the platform.
Visibility: Getting verified on TikTok earns you a lovely blue tick beside your name. And this doesn't just look pretty; it bumps you up the list during search results and makes it easier for users to find your videos.
Improved odds of landing on the FYP: The TikTok algorithm is always on the hunt for high-quality content from credible creators. As such, being verified increases your chances of appearing on the "For You" page, where users go to discover new videos.
Partnerships: Once your brand is verified, lots of doors open to you, including partnership opportunities. Collaborating with other brands and creators can grow brand awareness and reach on the app.
All in all, TikTok verification increases your credibility and visibility on the app, boosting your chances of going viral.
Get the full lowdown here 👉🏾 How to get verified on TikTok in 2023? The essential guide
2. Post consistently
Consistent posting is one of the best ways to improve your likelihood of going viral. Not only does the algorithm favor creators who post consistently, but doing so increases engagement, visibility, and credibility on the platform.
Sticking to a posting schedule may seem tough, but it's a walk in the park with the right automation tools. Sociality.io's TikTok video scheduler tool effortlessly generates a clear and consistent content calendar for you. Simply schedule your TikTok content and watch as it frees up your time, allowing you to enjoy the benefits of efficient content management. Discover more benefits now!
Get the right tools 👉🏾 11 must-have TikTok tools to boost your following
3. Have fun with TikTok filters
TikTok filters are more than just a fun feature; they can seriously up your odds of becoming a viral sensation. Here are a few reasons to play around with TikTok filters.
With a little out-of-the-box thinking, filters can make your content stand out in the pack and increase engagement (we all know the TikTok algorithm favors engaging content). As a result, users are more likely to share your videos.
They're also excellent for jumping on viral TikTok trends and challenges. That way, your videos have a better chance of reaching other users participating in the trends.
Filters are a golden opportunity to cement your brand identity and ensure users immediately recognize your content when scrolling. A side effect of this is better user engagement and shareability.
Become a filter expert 👉🏾 How to use TikTok filters? The essential list of best filters to try
4. Leverage TikTok stories
If you're unfamiliar with TikTok Stories (also known as TikTok Moments), you may be missing a trick. This relatively new feature is perfect for increasing engagement, participating in viral trends, and establishing a clear brand identity.
TikTok stories have a lot of viral power when used correctly, from behind-the-scenes snippets to sharing more raw content with your audience.
Follow these steps to make a TikTok story:
Click + at the bottom of your screen
Use the TikTok camera
Apply your Sounds, Effects, Filters, or other camera tools of choice
Hit the Record button to start filming or the Photo button on the screen, or upload content by tapping the Upload button.
Record your video
Hit Post to Story
Make any final edits
Post your Story
Check how your story is performing using a social media management tool
Get the inside scoop on stories here 👉🏾 A starter guide to TikTok Stories
5. Get strategic with TikTok Stitch
A stellar TikTok Stitch strategy can reap many viral benefits, including:
Collaboration opportunities with other brands and creators to reach a wider audience
A smart way to take advantage of viral trends and add your own twist to boost brand visibility
Chances to get creative with your content and enhance engagement
For the uninitiated, TikTok Stitch allows you to take a snippet of another creator's video and use it in your own, making a side-by-side collaboration. With plenty of potential to go viral, incorporating Stitches into your social media strategy could help you hit the big leagues.
💡 Find inspiration here: How to Stitch on TikTok? 5 Best examples for marketers
6. Dive deep into TikTok comments
If your brand isn't getting involved in the TikTok comment section, then you're missing out on some great engagement opportunities.
Comments on your videos encourage users to interact and engage with your content, increasing their chances of sharing it. At the same time, it's a nice way to build a community, connect with your audience, and build a loyal following. Of course, this only works if you respond to comments, participate in conversations, and effectively manage the comments section. The good news is that you can experience seamless TikTok comment moderation with Sociality.io! Our user-friendly dashboard makes managing comments a breeze. Filter out spam, engage with your audience, and effortlessly maintain a positive online environment. Elevate your TikTok presence with the power of Sociality.io's comment moderation feature. Discover more features and capabilities now!
Leaving comments on other brands' videos is another hack for gaining some much-needed visibility and putting your stamp on viral TikTok trends and challenges. Plus, considering TikTok's algorithm factors in engagement metrics, getting involved in the comments can be important in getting your content featured on the FYP.
🎓 Learn how to master the TikTok comments section here: Everything you need to know about TikTok comments
7. Get to grips with the TikTok algorithm
Unlike other social media platforms, the TikTok algorithm pays little regard to the number of followers a page has or its popularity in determining whether to feature it on the "For You" page.
Whenever you post a new video, TikTok immediately pushes it out to some users' "For You" page. It then gauges how they respond (average watch time, completion rates, etc.) to determine whether it makes it on the feed of a much larger audience.
The average watch time is the amount of time users spend watching your video before scrolling away, while the completion rate is the number of users watching your video until the end. The higher these numbers, the better your chance of appearing on your audience's feed.
🎉 Bonus read: How to go live on TikTok
8. Pay attention to TikTok video length
TikTok became viral thanks to its bite-sized videos. Although it's trying to change that reputation by constantly increasing the video length limits, it might take time for users to adjust.
Plus, judging by the most viral videos on the app, it's pretty clear that people want short videos that get right to the point. So, if you're trying to grab your audience's attention and entice them to hit the like button, keep it short and hook them right from the get-go.
9. Avoid using generic TikTok hashtags
Using trending TikTok hashtags can get the right eyes on your content and expose it to a relevant audience, but generic hashtags like #fyp won't help you do that. Generic hashtags are generally harder to rank for, so it's best to stick with niche hashtags that show your content to a relevant audience. In other words, #getcreative.
If your content is not niche-specific and appeals to a variety of audiences, turn the keywords in your content into hashtags because those keywords are how users would search for content such as yours. You also don't have to overload your content with different hashtags; between 3-5 will do just fine.
10. Use trending music or sounds
Music plays a massive role in virality on TikTok, and the platform provides a rich library of music for creators to leverage.
Don't be fooled into thinking music and sounds are just about adding some spice to your videos, though. Piggybacking trending sounds is also a nifty way to push your brand's content in front of new audiences.
Whenever you use trending music in your video, the algorithm recommends your video to users who have watched other TikToks using that same song–which can only work in your favor.
TikTok makes it very easy to find this trending music. Click on the Discover tab, and the top trending TikTok sounds will immediately pop up.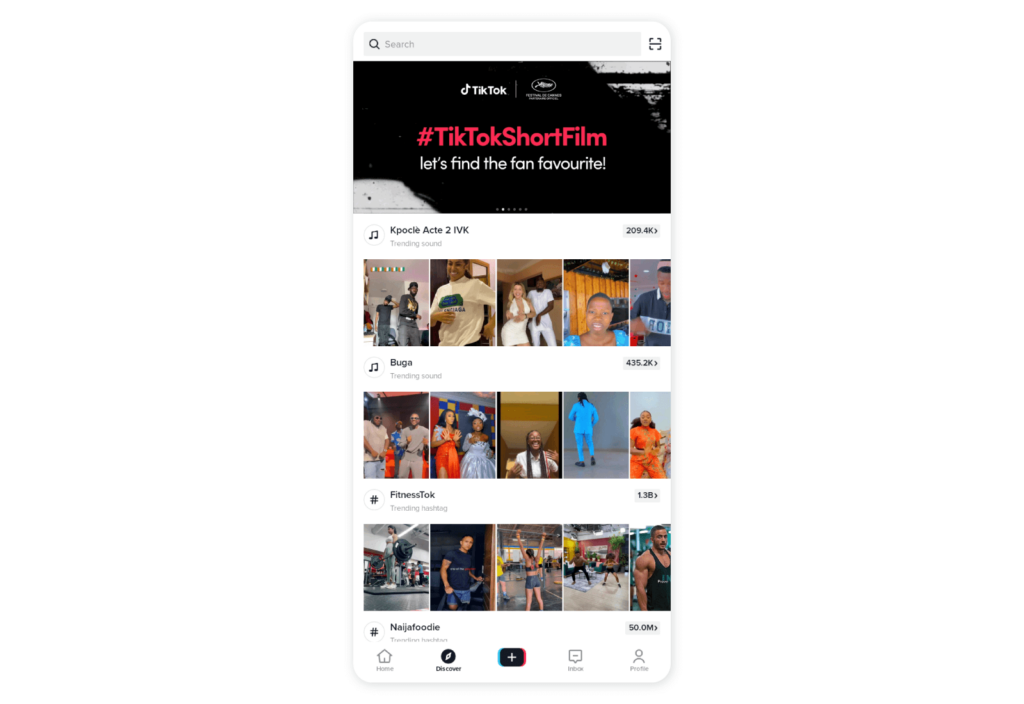 When you tap on the trending TikTok sound, it showcases all the videos that have used that sound together with a "use this sound" option that allows you to apply it directly for your video.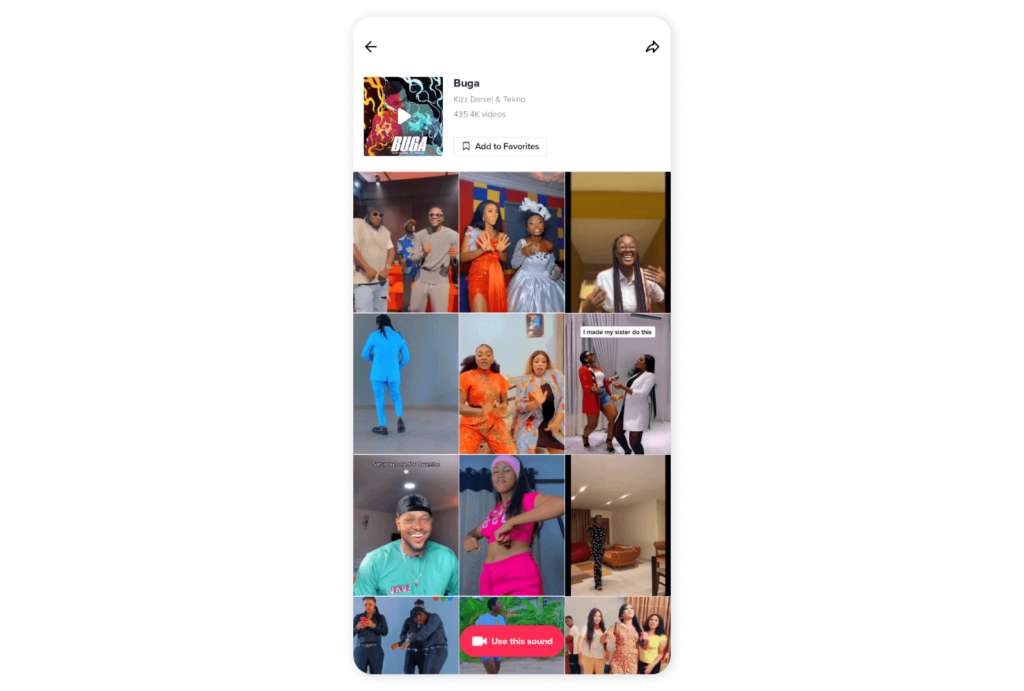 Another way to discover trending sounds is to spend some time on the For You page. Below the caption of every video, you can see a music symbol. Next to the symbol is the name of the sound used in that video.
This gives you some inspiration of what's trending and what might resonate with your audience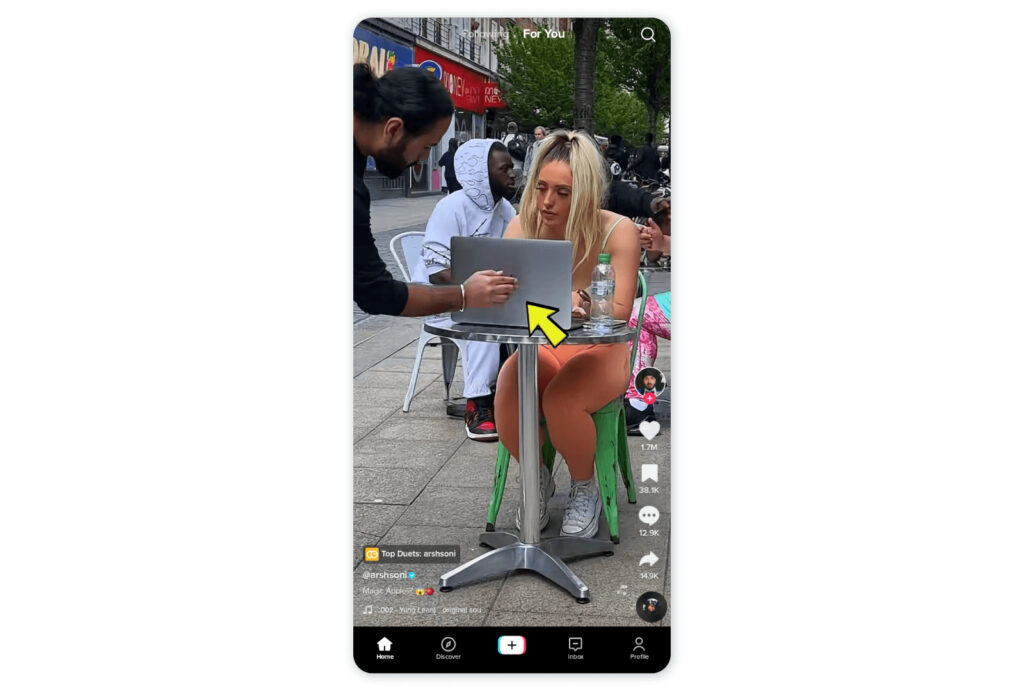 As you scroll through your feed, note any recurring sound to see if it's something you can work with.
Proceed with caution, though. Due to copyright issues, business accounts can't access hit songs from well-known artists. If you try, a disclaimer will pop up.
Instead, you'll have to look for workarounds, like using royalty-free audios, finding sound partnerships, or creating your own sounds. It may be a little trickier, but it's definitely worth the effort.
11. Hook your audience with a catchy TikTok caption
Don't underestimate the power of a compelling TikTok caption. On top of adding context to your video, a caption can grab users' attention. Plus, it's the perfect opportunity to add some relevant hashtags, showcase your humor, or inspire action with a well-crafted CTA.
The key is to keep it short and to the point. Too much text will cause users to keep scrolling. In short, the right caption can increase engagement, shareability, and put your content in front of a wider audience.
🎓 Master TikTok captions here: How to write a good TikTok caption? (+ Inspiring ideas)
12. Collaborate with other creators or influencers
TikTok is huge on collaboration and always rewards it, so if your brand has the resources to collaborate with a personal creator or influence, go for it. Extra points if they're famous TikTokers. But make sure they are relevant to your niche and share a similar target audience.
Collaborating with TikTok influencers helps to make their audience aware of you. It would not prove helpful if the influencer is not relevant to your niche and doesn't share a similar target audience.
There are also other ways to collaborate on TikTok. You can use the duets feature or the stitch feature. Duets allow you to react to another TikTok on the same screen, while the stitch feature lets you use a part of another video in your video.
Let's take a look at how brands use these features to generate buzz and raise engagement.
When a barista posted a video of her trying (and failing) to make a coffee with the Sportswear brand Puma's log on top, it was quick to pounce. Puma took advantage of the already viral appeal of the original video, using Duet to show their followers making their own attempt at the challenge.
While it may have nothing to do with the products Puma sells, it was a hit and drove brand awareness.
This is a great example of how makeup brand Urban Decay used TikTok stitch as part of their product launch. Here's the orginal video:
And here's how creators stitched the video to give Urban Decay lots of high-quality user-generated content:
If you want to use Duets or Stitch, simply head to the video you want to use and tap the arrow at the right side of your screen.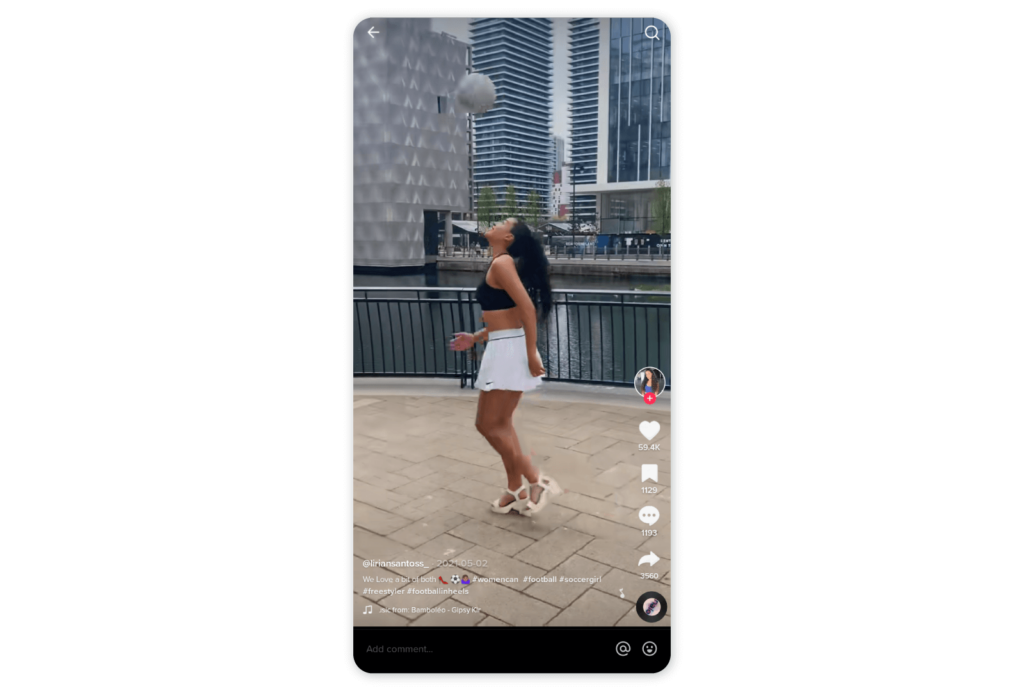 This will bring up several options for you, including the duet and stitch features.
13. Research the best time to post on TikTok
If you want to go viral on TikTok, it makes sense to post when your audience is active, or else your efforts won't receive the proper response. You don't have to guess your audience peak periods; your TikTok analytics would analyze when your audience is most active. Use that data to decide when best to post your content.
Let's face it, data is worth its weight in gold when it comes to nailing your TikTok social media strategy. That's where investing in a powerful social media management tool can really pay off.
For instance, Sociality.io TikTok analytics makes it easy for your brand to automate analytics and get the data you need. Fast. That way, you can spend less time on manual tasks and more time working on your next viral vid.
🎉 Bonus Article: What is the best time to post on TikTok?
14. TikTok Ads
Perhaps the most effective way to gain more brand exposure fast is to invest in a solid TikTok ads strategy. On top of reaching a larger audience, brands can target TikTok ads to specific audiences, segmenting users by age, location, or interests. That way, your content reaches the right people.
Another big plus of ads on TikTok is the plethora of formats to choose from. You can decide which format is most effective for your goals, for instance, a brand takeover, in-feed ad, or sponsored hashtag.
Reaching viral status through ads is an art and a science, so make sure you follow these best practices.
Adding a strong call to action (more on that below) will drive people to like, share, or comment. Just make sure your ads align with your brand, target audience, and business goals.
🙇 Get the inside scoop on TikTok ads: Everything about TikTok & its Ads offerings – Sociality.io Blog
15. Use a strong call to action
Please don't assume your audience will automatically like, comment, or share your video after watching it; give them a gentle nudge to remind them.
It's all about using strong calls to action (CTAs) that compel them to take action. For instance, If you just started a challenge, encourage them to jump on it. Using persuasive CTAs creates FOMO amongst your audience and encourages them to engage.

FAQs
We answer all your burning questions about the top viral TikTok videos of 2023.
What is the most liked TikTok in 2023?
The most liked video on TikTok is Bella Poarch lip-syncing and nodding along to the popular "M to the B" song by British rapper Millie B. With over 60 million likes, Bella is the owner of the most-liked TikTok video of all time.
What is the most viewed TikTok in 2023?
Zach King's Harry Potter illusion video is the most viewed video on TikTok. It has racked up an incredible 2.3 billion views.
Who has the most followers on TikTok in 2023?
TikTok creator and comedian Khabane Lame officially became the most followed person on TikTok, hitting 155 million followers. He's closely followed by Charli D'Amelio who has an impressive 150 million.
If your brand is looking to grow its following to Khabane Lame proportions, you'll need a killer TikTok marketing strategy and a slew of creative posts that appeal to your followers.
Can you see who liked your TikTok?
In a word, yes. TikTok offers a number of ways for your brand to see who is liking your content.
The easiest option is to keep an eye on the notifications tab. You'll receive a notification every time a user likes your content, and you can check these by tapping the 'Inbox' icon at the bottom of your homepage.
However, if your brand has a lot of engagement, it can be tricky to keep track of who has liked what, especially if you want to see who has liked a particular TikTok.
Luckily, in March 2022, some well-known TikTokers let slip that they had gained access to a new feature that allowed them to see exactly who likes their video. All they have to do is click on the video, and a new 'likes' tab appears in the comment section of the video showing a list of all the users who have liked that content.
A word of warning, though. Not everyone has access to this feature just yet, so you'll need to check if your brand is one of the chosen few.
Here's how:
Open TikTok.
Tap the 'Profile' tab.
Select the video you want to check.
Tap the comment section.
Hit 'Likes' at the top of the comments tab.
Don't despair if your account hasn't been granted access just yet, it's bound to be rolled out to users everywhere very soon.
Wrapping up
Achieving viral TikTok status can be an overnight thing for some lucky brands and creators, but for most, it's the result of hard work. Part of this hard work is analyzing data and finding out who is liking your content. This allows you to see what's working and what isn't so you can adjust accordingly.
Sociality.io's new TikTok analytics helps you put your social media management on autopilot. You can mine valuable data on everything from hashtag analysis to optimal posting times and use these insights to make your next move. Plus, with all that extra free time, your team can focus on becoming the next big TikTok sensation.
Give it a try today!