Everything you need to know about TikTok comments
TikTok is the home of trends, challenges, and viral comments. From the I Am José Mourinho life hacks trend to leaving a half-baked brownie recipe in the comments, it's all about the inside jokes. And that's part of the beauty of the app; you never know what will go viral in the TikTok universe. Your latest TikTok comment could blow up overnight without you even realizing it (until you check your TikTok Analytics, of course).
If you've been scrolling TikTok recently, you may have noticed the comments section is where it's all happening. Famous TikTokers are using the video reply feature to inspire new trends and generate fresh content for their feeds.
With TikTok comments becoming the next big trend, we've answered all your burning questions. From weird and wonderful viral trends happening in the comment section to side-splitting TikTok comments, we cover it all. Plus, you'll discover how to limit, hide, pin, and buy TikTok comments. To the comments section!
Social Media News in a Nutshell
Get the latest social media news, insights, and marketing tips in your inbox once a week.
Trends that have taken over the comments section
While some TikTok trends are pretty self-explanatory, others are a little harder to get your head around. Take the latest trends of writing "story time" or "crop" in the comments section. With seemingly no context, these trends have left some TikTok users baffled and a little frustrated.
We break down the context and story behind both of these trends below.
A brief history of story time TikTok comments
The origins of TikTok storytime comments can be traced back to a type of video that was popular on TikTok a while back. In these videos, users told a story about something that happened to them in their lives, prompting the "story time" comment. Essentially, users would comment "story time" to let the creator know that they wanted to hear more or the backstory.
While that's how the trend started, it seems to have taken on a life form of its own. TikTok has now flooded with "story time" comments on posts where it makes no sense.
Getting to the bottom of crop comments on TikTok
The story behind the "crop" comments on TikTok is pretty similar. Originally, TikTokers commented "crop" when they wanted the creator to re-upload the video so other users could screenshot and crop it. For instance, without any visible user names or like buttons so it can be used as a meme. It was commonly used in posts with celebrities, memes, and unusual or aesthetic images.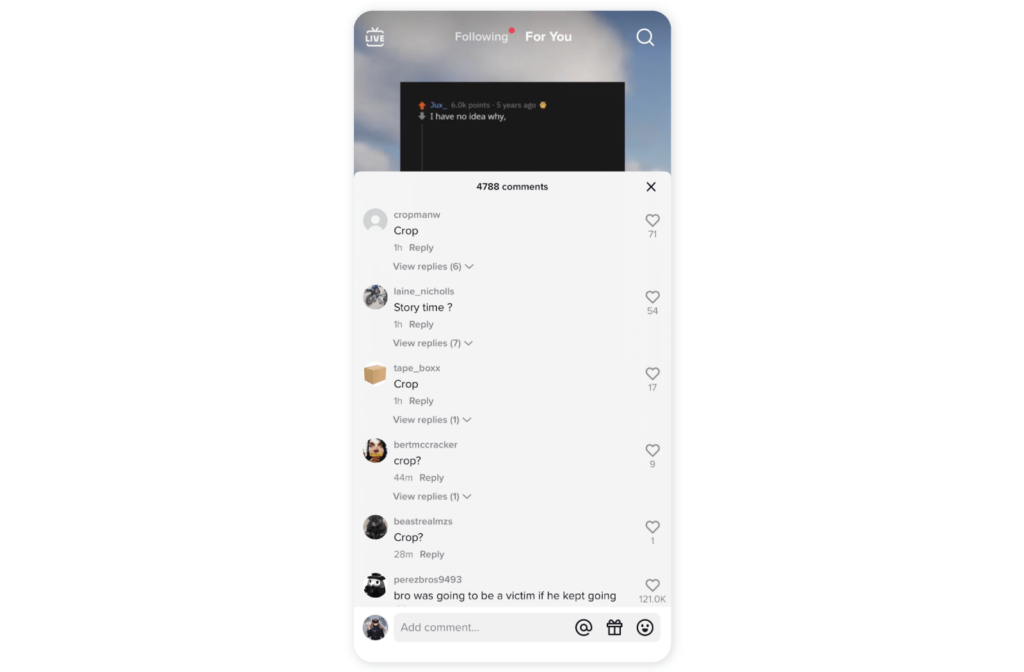 While these trends started off as harmless fun, they have now become synonymous with spam comments. Much to the frustration of many TikTok users. In a recent post, Twitter user @yurieruzar complained, "I hate that TikTok comments are now full of 'crop' 'story time?' Now I can't find the actual funny comments :/."
Reddit user @ClarenceAppendix showed their frustration in a recent Reddit thread, stating, "It's more people saying it ironically. It was funny the first time, but now it's annoying".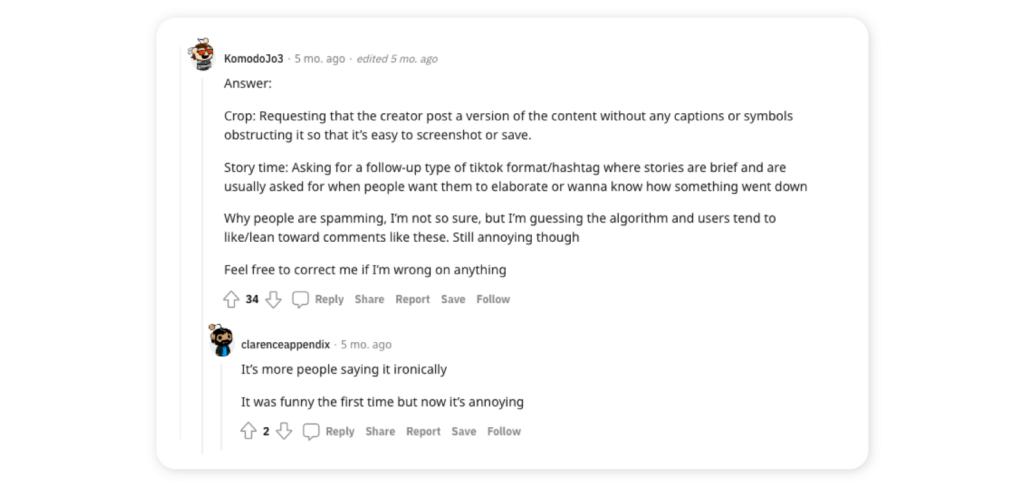 And it's not just "story time" and "crop" comments. These are just part of a long line of spam comments that have been inundating TikTok. Love them or hate them, one thing's for sure – they aren't going anywhere soon.
How to limit comments on TikTok
In a bid to improve its users' well-being and overall experience on the platform, TikTok provides a range of safety, privacy, and well-being tools. One of these tools is limiting comments on your posts.
Filter TikTok comments
Users can now filter comments so that comments containing a custom list of keywords are automatically blocked. The first step is to manually set a list of keyword filters. Here's how.
Click on Privacy and Settings
Select "Privacy and Safety"
Tap on "Filter Comments"
Click the toggle to enable > tap "Add Keywords."
Select your keywords and click "done."
Now you have set your keyword list, comments containing these words will be removed from your videos. Previous and future comments that contain those words will also be removed.
Restrict TikTok comments
Another way to limit comments on TikTok is by enabling comment restrictions. This nifty tool lets you choose who can comment on your content. For instance, you can limit comments to friends only or turn off comments completely.
To limit who can comment on your videos, simply follow the steps below.
Go to the Privacy and Safety settings on your profile
Tap "Who Can Comment on My Videos"
Select Everyone, Friends, or Off
If you come across comments on your videos that violate TikTok's community guidelines, you can report them by tapping on the comment and following the steps on the screen.
What happens when you buy TikTok comments?
Building the perfect TikTok feed takes time, perseverance, and a thick skin. And even then, sometimes your video just doesn't get the love it deserves. This not only hurts your pride, but it may hurt your future growth on the platform. Word on the digital street says that the TikTok algorithm favors videos with plenty of likes and a hiving comments section.
With personal pride and the prospect of TikTok stardom at stake, it's not a surprise that users have taken to buying TikTok comments. In fact, a growing number of TikTokers are using this tactic as a shortcut to TikTok success. Don't get your hopes up just yet, though. Buying comments may give your account an instant boost (and a couple of hundred more comments), but long-term success is unlikely.
It's relatively easy to buy TikTok comments. A quick Google search will bring up a decent range of websites that will provide you with generic or custom comments. You simply need to share your video URL and pay up. Speaking of payment, you can expect to pay anything from $6 to $40 for 100 comments. The price will depend on the website and whether you opt for custom comments. What's more, you will usually get the option to have the comments appear immediately or to have them drip-fed to not raise any red flags with the algorithm.
It all sounds pretty straightforward, right? Not quite, here's the catch.
The comments you get for your money are generally from obviously fake bots and lack any context or value. On top of that, many of the companies selling these comments are, shall we say, a little shady. As such, you are most likely to get a bunch of very spammy, non-sensical comments on your video (or random emojis) and not much extra traction.
All-in-all, buying comments on TikTok is probably not worth your money or time. Instead, invest that time into a killer influencer marketing strategy or a TikTok tool to grow your following. Put simply, the best way to grow your TikTok is with authentic comments from engaged followers.
How to delete comments on TikTok
We've all been there. You leave a comment under somebody's video and then instantly regret it. Unfortunately with TikTok, you can't edit a comment once it has been posted. However, if your comment is full of typos or just plain cringe, you can delete it.
A word of caution, though. Once you delete a comment, it's gone forever. Therefore, if you want to delete a comment you wrote because of a typo or small error, make sure you copy the comment before you delete it. That way, you can paste the original comment into the new one and edit it before reposting it.
Similarly, you can delete other users' comments on your videos. With over a billion monthly users, it's common to get random comments from bots or unknown accounts on TikTok. If these comments are spammy, offensive, inappropriate, or just not your vibe, you can simply remove them. You can even remove them in bulk to save yourself time. Once removed, these comments will no longer be visible to you or your followers.
Whether you want to delete your own comment or somebody else's, we've listed the steps below.
Go to the video where the comment appears.
Select the comment icon on the right to reach the comments
Press and hold on to the comment you wish to remove
Click Delete
And here's how to bulk delete comments on your video.
Go to the video where the comments appear.
Select the comment icon on the right to reach the comments
Press and hold on a comment or click the pencil in the top left corner
Click on Manage multiple comments
Tap next to the comments you'd like to delete, choosing up to 100 at a time
Click Delete, then tap Delete to confirm
How to pin comments on TikTok
Like other social media platforms, TikTok allows you to pin your favorite comments to your videos. When you pin a comment, it becomes the first one everyone sees on your post. This comes in handy for creators looking to grow their following or users who just love sharing videos on the app.
You can pin interesting conversation threads on your posts or highlight comments you like. Plus, it's a great way to set the tone in your comments section or offer more context about your post.
We share how to pin your favorite comment on your latest TikTok video below. You'll follow the same steps to unpin a comment.
Go to your video
Find the comment you'd like to pin or unpin
Press and hold on to the comment
Select Pin comment or Unpin comment
Once you have pinned a comment, a grey "Pinned" icon will appear above the comment.
But, you may wonder, what happens if you pin a comment and then an even better one comes along? Don't panic, TikTok has you covered. You can easily replace a pinned comment following the instructions below.
Go to your video
Find the pinned comment you'd like to replace
Press and hold on the comment, then select Pin and replace
Pinning comments is a fun way to share extra details about your video, set the tone of the comments, or simply put your fave comment on display. What's more, you can prompt discussions and boost engagement on your content. You can choose to pin your own comment or another user's comment on your video. Just remember, you can only pin one comment at a time so choose wisely.
How to hide comments on TikTok live
TikTok live is a fun way to watch live streams on the platform. But, the live comments scrolling on the top of the video can be a little distracting. The good news is that there's a way to watch your favorite live streams on TikTok without the constant stream of comments.
Until recently, hiding the comments on TikTok live was as simple as touching the middle of the screen and swiping right. To bring the comments back, you just had to touch the screen and swipe left. However, following a recent update, the process has changed. We've put instructions below.
How to hide comments on TikTok live as a viewer:
Open the TikTok app
Go to the Live you want to watch
Click on the Share icon on the live stream
Tap Clear display
It's as simple as that! Once you have hidden comments on TikTok live, you can continue watching your favorite creators' live streams without those pesky comments getting in the way. You're welcome!
TikTok creators may also choose to limit or turn off comments during a TikTok live stream. In fact, many creators with a large following choose to do this to avoid receiving offensive or inappropriate comments that they can't control. To disable comments on your next TikTok live, follow the instructions below.
Select the Create icon on the home screen (it's a plus icon)
Keep swiping left until you reach the LIVE option
Choose an image and title for your stream
Select Go LIVE to start your stream
Tap the three dots to go to Setting and features
Select Filter comments
Revolutionize TikTok comment management with Sociality.io
Taming the TikTok comment chaos has never been easier than with Sociality.io. Our platform empowers you to effortlessly take charge of your TikTok video comments, elevating your brand's influence on this dynamic platform. Cultivate unwavering brand loyalty by efficiently handling TikTok video comments at any scale. Swiftly respond to TikTok comments, forging instant connections with your customers.
Discover the Possibilities with Sociality.io:
Experience seamless TikTok comment management through our user-friendly, all-in-one dashboard, boasting an array of features, including:
Instant Replies: Craft quick responses to TikTok comments (up to 150 characters).
Comment Curation: Effortlessly conceal undesirable comments.
Gratitude Showcase: Express appreciation by liking comments.
Comment Control: Maintain authority by deleting your own comments.
Elevate your TikTok game with Sociality.io and watch your brand's presence flourish.
TikTok emoji comments: Unlocking the secret emojis
There's more to TikTok than just sharing videos. The platform has a strong community culture that encourages commenting on other users' comments. As we've seen already, commenting is a fantastic medium for brands and influencers to gain exposure and join the conversation. If you want to delight your followers with some creative comments, then we've got a trick up our sleeves we think you'll love.
Did you know that TikTok has a secret language?
That's right, the app has forty-six hidden emojis for users to unlock. You may recognize some of these emojis from other apps, but some are unique to TikTok. TikTok emoji comments are perfect when you're in a pinch. You can engage and convey your reaction to a video without crafting a lengthy comment. Plus, throwing in one of the hidden emojis could give your comment that extra bit of pizzazz.
To unlock the hidden emojis, you must type the secret word inside two square brackets. For instance, typing [slap] will unlock a dumpling being slapped. Perfect for reacting to a harsh or rude comment.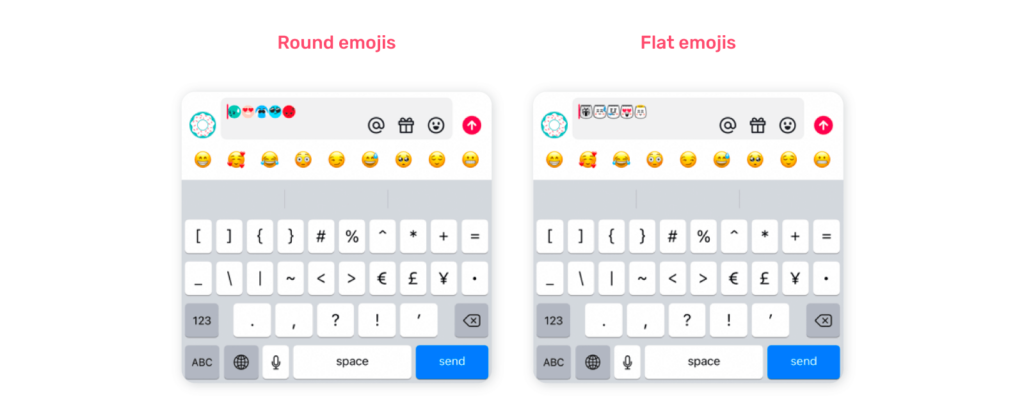 Using TikTok's hidden emojis won't just make you seem like a TikTok aficionado, but the emojis appear in the same style on all devices and systems. As a result, users will know exactly what your emoji means no matter the device.
✨ Related article: How to use secret TikTok emojis? Unlock the hidden codes
TikTok comments not showing? Here's what to do
Whether you're a business, creator, or user, the TikTok comments section is a great way to engage and interact with your followers. Unfortunately, there have been several glitches with the app recently, leaving the comments blank.
If your TikTok comments aren't showing, don't panic. We have a few hacks to help you.
1. Restart the app
Sometimes the age-old "have you tried turning it off and on again" advice really works. So, the first step is to close down TikTok and reopen it.
If your comments don't reappear, then try uninstalling TikTok from your phone and redownloading it. This may do the trick.
2. Clear the cache
TikTok often recommends clearing your cache on the app to deal with common issues. To clear your cache, follow the steps below.
Go to Profile in the bottom-right corner of the screen
Select the 3-line icon in the top-right
Tap Clear cache
3. Check your internet connection
Issues with your internet connection could cause TikTok to load slowly and prevent comments from popping up. So, double-check your mobile data connection or restart your WiFi router to see if that fixes the issue.
4. Review your settings
If your comments still aren't appearing, you may want to check your settings. Start by making sure you're logged into your TikTok account. Comments are only visible to TikTok users with accounts, so this could explain why your comments have disappeared. As such, if you have accidentally logged out of the app and you're accessing TikTok on the web, this would explain the glitch.
Alternatively, you may have selected certain privacy settings that have caused problems with the comments. For instance, you could have turned off commenting or chosen to filter comments from friends. Check your privacy settings following the steps below.
Go to Profile in the bottom-right corner
Select the 3-line icon in the top right corner
Tap Privacy
Edit "Who can comment on your videos."
5. Report the issue
If none of the fixes above work, you should report the issue directly to TikTok.
You may be wondering if it's really a big deal if your TikTok comments aren't showing up. And the short answer is yes.
TikTok commenting culture is huge and only looks set to grow bigger. As we've already seen in this article, comments enable creators, and brands to engage with their audience, gain free exposure and spark conversations. Besides, jumping on the latest comment trend is a great way to land on the TikTok FYP page. Many brands even leverage the comments section for customer service.
Trending on TikTok: Replying to comments with a video
A fun trend is sweeping the TikTok universe. On your daily scrolling, you may have noticed brands and influencers replying to comments with a video. It's a pretty revolutionary new TikTok feature that is taking TikTok comments to the next level. And giving users lots of fresh new content. A win-win!
The tutorial video below shows you how to reply to a comment with a video.
So how are TikTok creators using this rather nifty new tool?
The possibilities are endless. For instance, this creator is known for creating content around dipping ice cream cones into tasty toppings. With the new feature, they can reply to comments requesting a specific combination of toppings with a mouthwatering video like the one below.
Funny TikTok comments that made us chuckle
You know what they say, laughter is the best medicine. That's why most users enjoy TikTok – they want to be entertained and amused. Posting funny videos is one way to gain a following on TikTok, but don't forget about the comments. Sometimes the comments are better than the videos on TikTok. So, if you fancy yourself a bit of a comedian, leaving a witty reply on other users' videos could make you a hit on the platform.
To inspire you, we've put together a few funny TikTok comments that have tickled our funny bones.
The one where Gary Lee lost his wallet
When a user posted a video announcing that they had found a wallet and asked the owner Gary Lee to get in touch, TikTok users got creative. The comments were flooded with fake accounts claiming to be different members of Gary Lee's family, including his dog.
Who knows if Gary Lee was ever reunited with his wallet, but we certainly had a chuckle at the hilarious comments section and stitch duets the video inspired.
The one where we left fairy comments
For the uninitiated, this TikTok trend may seem a little mean. However, TikTok has crafted its very own signature sense of humor. And it's dark.
The fairy comments trend is a perfect example. The trend began when users started leaving seemingly sweet comments full of cute emojis like this: 🧚‍♂️✨🦋👑.
But, in true TikTok style, the comments then take a rather sharp turn, going from cute to cutthroat. Take a look at the example below.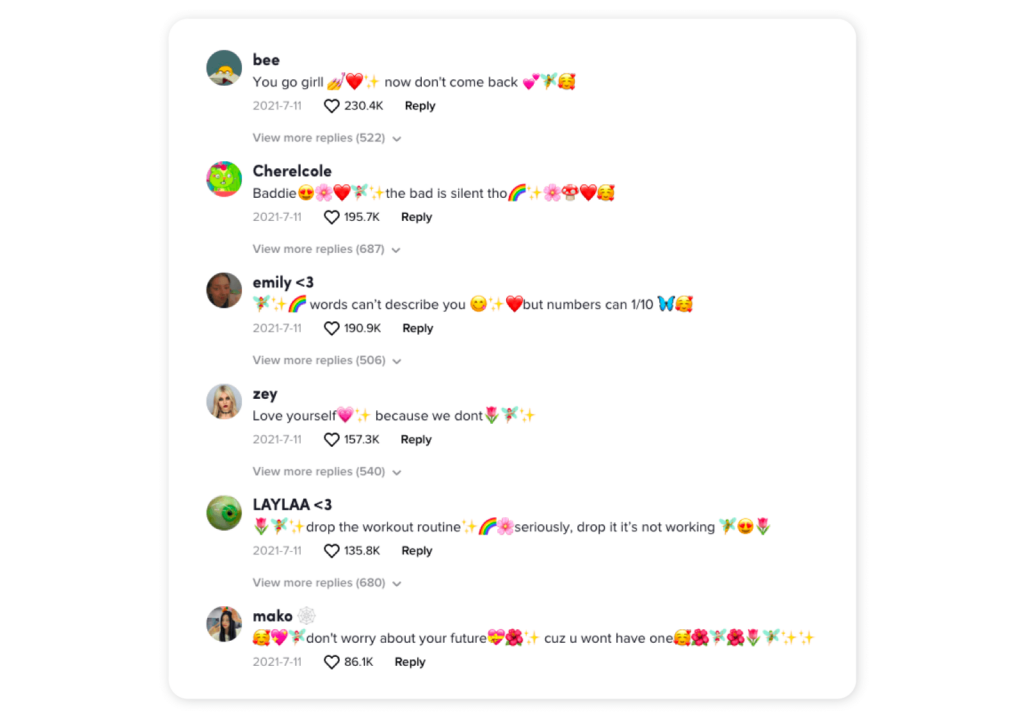 TikTok users, especially Gen Zers, have fully embraced the dark humor behind fairy comments. So much so that many TikTokers post content asking users to write their best fairy comment below.
Next time you scroll through the comments section of canceled celebrities or influencers (we're looking at you, Perez Hilton), you will likely find some pretty brutal (and witty) fairy comments.
The one where with the backhanded Facebook comments
If you have been on TikTok recently, you may have noticed a new trend filling the comments section. TikTokers are posting videos and asking users to make the comments section into a particular scenario. From having conversations with yourself to your deepest 3 am thoughts, there are some pretty hilarious comments popping up all over the app.
One of our personal favorites is this video asking users to fill the comments section with backhanded Facebook comments after a mom posts her kid's college decision. We have to admit it, most of the replies are hilariously spot on.
The roundup
There you have it, we've rounded up everything you need to know about TikTok comments. From starting viral trends to prompting discussions to simply sharing the love, comments are a fantastic way to engage on the app. As such, TikTok has rolled out a bunch of tools and features to allow users to manage comments on their profiles.
Whether you want to leverage comments to grow your TikTok marketing strategy or simply remove spammy comments on your post, this guide shows you how.