11 must-have TikTok tools to boost your following
With one billion active global users, TikTok is growing at a colossal speed. This is great news if you're trying to grow your following. However, with great growth opportunity comes great competition. As such, you'll need an arsenal full of TikTok tools to stay ahead of the curve.
To aid you in your bid for TikTok domination, we've compiled a list of the best TikTok tools to boost growth. From understanding TikTok analytics to scheduling posts, there's software to help you.
Let's take a closer look.
Social Media News in a Nutshell
Get the latest social media news, insights, and marketing tips in your inbox once a week.
Best TikTok research tools
The first step in amassing a cult following on TikTok is learning the landscape. TikTok research tools give your business a leg up on the competition by offering insights into trend forecasts and selecting viral hashtags.
Here are two TikTok research tools to get the inside scoop on what's trending on the app.
Trend Tok
Let's start with TrendTok. A hit amongst TikTokers, this handy tool helps businesses stay ahead of TikTok trends. From forecasting the next viral trend to tracking the longevity of current ones, TrendTok allows you to leverage upcoming trends and create compelling content.
Using artificial intelligence, TrendTok suggests the best trends for your audience based on your location and categories. On top of setting you up for viral success, the tool also offers analytics to measure the success of trends and content performance on the app.
Pricing: TrendTok offers a free Basic version or a Pro version for $19.99/per year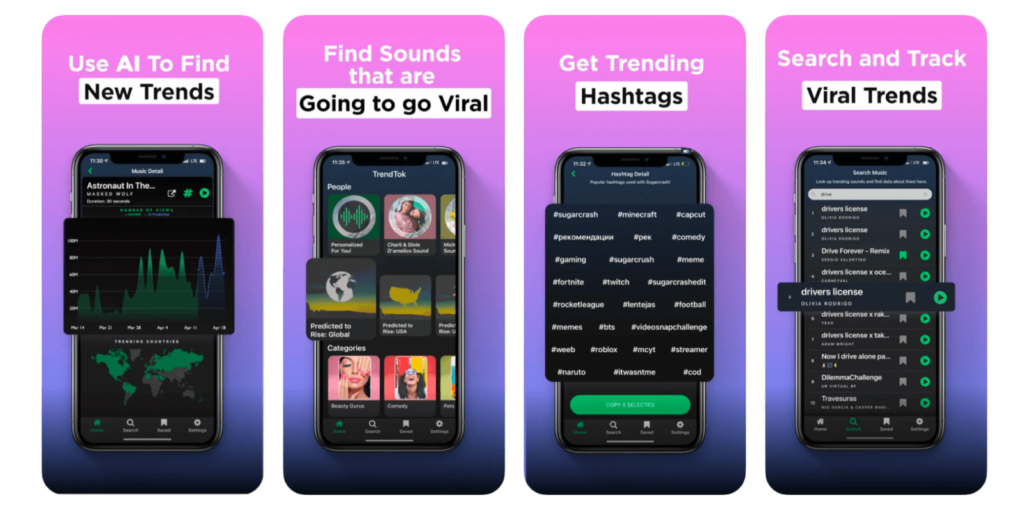 If you want to get more followers on TikTok, you will need to make it as easy as possible for users to find your content. That's where TikTok hashtags come in.
Hashtags make your videos discoverable and put your content in front of new viewers. More importantly, they introduce your content to users who are already interested in the topic. For example, if your business posts cleaning hacks, using the hashtag #cleantok will make your video more visible to cleaning fans. This increases your chances of getting high engagement on the video.
Sociality.io now comes with powerful TikTok analytics so your business can leverage hashtag analysis to gain visibility. It allows you to discover the best hashtags to boost your TikTok content's reach and engagement. What's more, the hashtag analysis empowers you to stay up-to-date with the latest hashtags on the app. It's perfect for upping your TikTok hashtags game and landing on the TikTok For You Page (FYP).
Pricing: Starting kit costs $99/month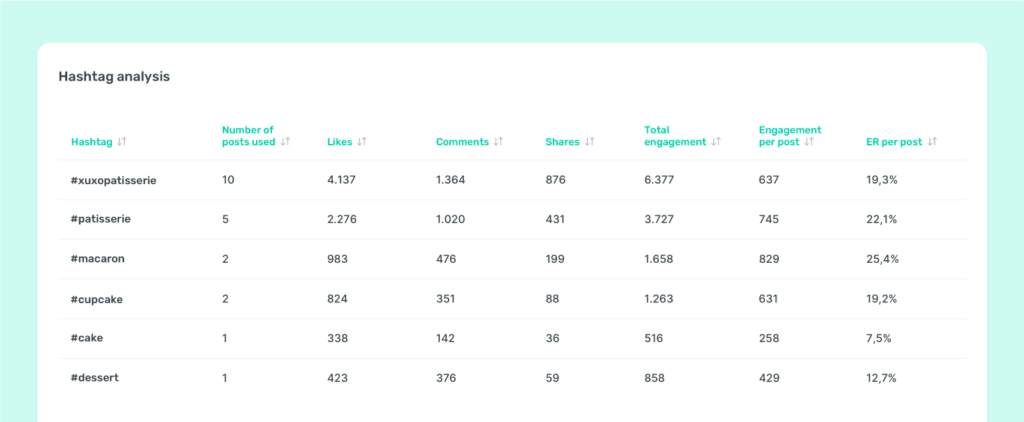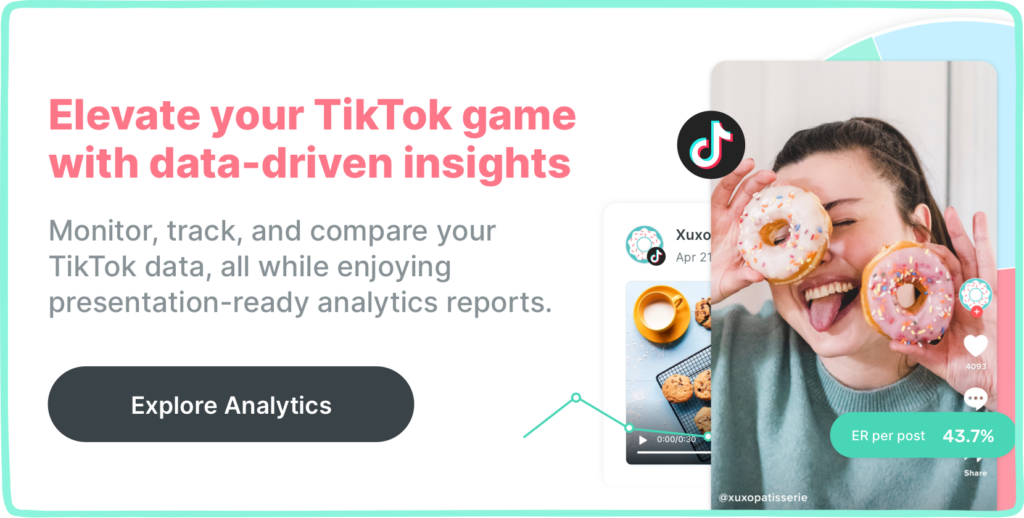 Top TikTok tools for editing
TikTok is all about the visuals. So, it makes sense that users are more likely to follow your account if you post high-quality content. Upping your content game will require a great content strategy and a strong TikTok editing tool to make your videos pop.
If you're on a budget, you can make some pretty cool edits using TikTok's in-built editing tool. However, if you want to stay ahead of the curve and create viral-worthy videos, it's worth splashing out on one of these TikTok editing tools. Trust us, your feed will thank you.
Quik
Iconic camera brand GoPro has the perfect app for content creators who like to live on the edge. Built with thrillseekers in mind, GoPro's Quik editing tool matches your content with jaw-dropping themes and transitions. This helps users create professional-grade, shareable content in a fraction of the time. Quik is one of the best TikTok editing tools out there.
Pricing: $1.99/month or $9.99/year
Wondershare Filmora
An influencer staple, the Wondershare Filmora editor, is an advanced editing solution for making videos your users can't help but love. From filters to overlays to a royalty-free library, it comes with everything TikTok creators need. Plus, users can develop their editing skills using the video editing academy.
Pricing: $69.99 for a lifetime subscription
Adobe Premiere Rush
Adobe Premiere Rush is a slick editing tool suitable for all skill levels. Adobe's popular editing tool comes with an array of filters, transitions, and features for every type of content. What's more, Adobe Premiere Rush is the first third-party app where users can publish to TikTok directly.

Pricing: Free as part of a starter plan with premium options available from $9.99/month or $119.88/year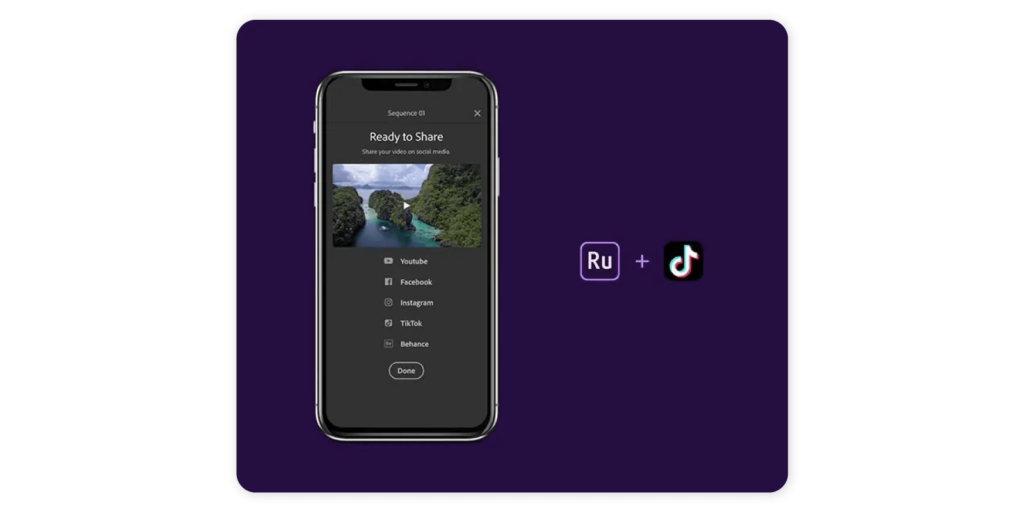 Essential TikTok tools to grow your following
You've gotten the lay of the land, your video editing is on point, and now it's time to supercharge your growth. We've handpicked three TikTok tools that are bound to boost your follower count and manage your profile.
Sociality.io
Sociality.io's TikTok Analytics
There's no doubt that having access to TikTok analytics is a powerful advantage. That being said, sifting through and deciphering the data is a whole other story. That's why the majority of businesses and top creators use a social media management tool. From scheduling TikTok posts to extracting simple-to-use analytics reports, the right tool can revolutionize your TikTok game (and save you some serious time). 
Sociality.io is a social media management tool that helps data-driven companies grow their presence on social media. You can use this multi-purpose toolkit to schedule and publish posts, analyze your competitors, monitor brand health, and engage with your audience at scale. More importantly, it offers powerful analytics.
TikTok video scheduling with Sociality.io
Organically growing your followers on TikTok isn't something that happens overnight. You'll need to roll up your sleeves and plan, create, and optimize your TikTok content strategy. Sounds difficult, right? Don't worry, it's actually more straightforward than you think. Take control of your TikTok content strategy by scheduling your videos in advance using Sociality.io. Plan your posts, choose optimal posting times, and ensure your content reaches the right audience at the right moment effortlessly.
Efficient comment management on TikTok with Sociality.io
Beyond being a video-sharing platform, TikTok is fundamentally a dynamic social media platform where interactions and engagement are crucial. Additionally, the TikTok algorithm rewards content that spawns this kind of interaction and engagement. For brands aiming to grow their TikTok followers, prioritizing engagement-driven strategies is essential. With Sociality.io's user-friendly dashboard, explore your ultimate tool for seamlessly orchestrating TikTok comment management and nurturing a thriving community of followers.
Pricing: $99/month for a Pro account, $199/month for a Business account, and price on request for Enterprise accounts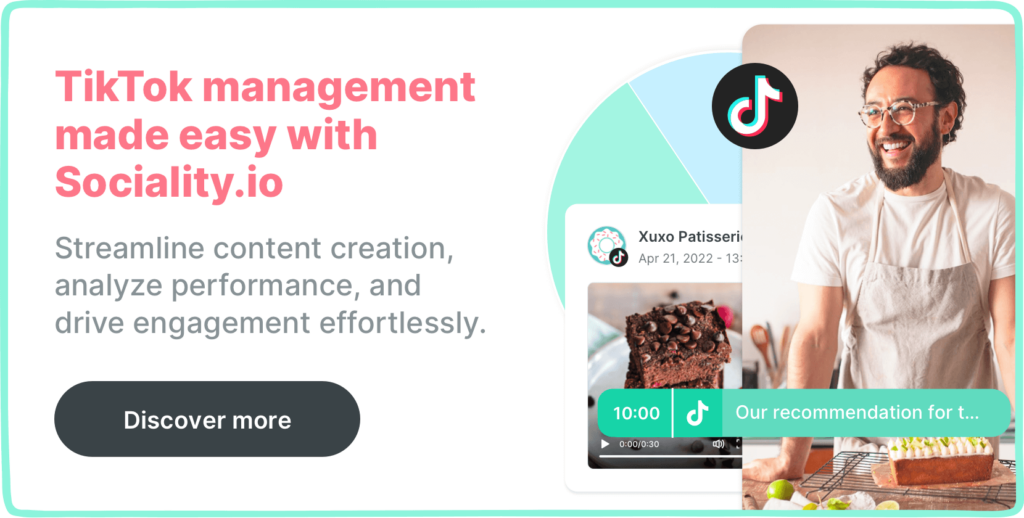 FanBytes by Brainlabs
Let's talk about influencer marketing. More than just a passing craze, a killer influencer marketing strategy plays a pivotal role in upping your follower count. Working with influencers raises brand awareness and introduces your brand to a whole new audience. If you want to harness the viral power of influencers, you may want to invest in an influencer tool.
Fanbytes is one of the best TikTok tools out there for finding influencers for your brand. Powered by neuro-linguistic programming and machine learning, it searches bios to find influencers based on your brand's location and audience profiles. To track performance during the influencer campaign, Fanbytes offers access to comprehensive analytics.
Pricing: On a campaign basis, starting at £3000.

Media Mister
We'll let you in on a secret, most popular businesses and influencers buy TikTok followers. Buying followers boosts your credibility and sets you up as an authority in your niche. As such, the TikTok algorithm will recognize this boost in engagement performance and push your content out to a wider audience.
Media Mister is a tool that enables you to buy followers and likes on TikTok. It works by sourcing followers from real TikTok users within its own network. Your account will gain new followers and likes over a period of time to avoid triggering spam alerts on the app. That way, you reduce the risk of being shadowbanned on TikTok.
Pricing: Based on the number of likes or followers. Prices start at $2 for 25 followers or likes.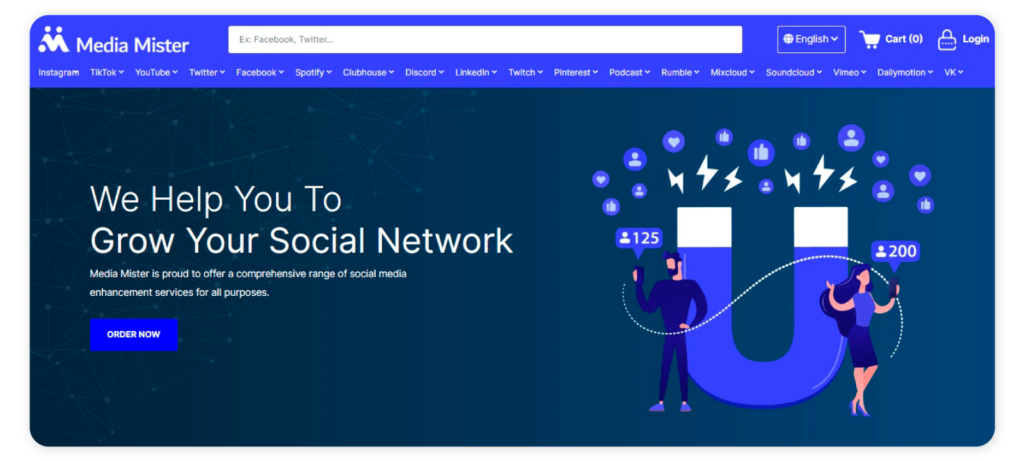 The best TikTok creator tools for growth
Dying to get your follower count up? You're in luck. TikTok has an in-built toolkit designed to help you; creator tools.
Creator tools empower users to level up their TikTok marketing game. The advanced features give you the tools to develop a content strategy, boost engagement, and learn more about your audience through powerful analytics. Creator tools are available to both personal and business creator accounts. Bear in mind that you must meet TikTok's eligibility requirements to access some of the tools.
Let's take a look at the key creator tools for growing your following.
TikTok analytics
Analytics offers valuable insights into how your content is performing. For instance, using the analytics dashboard you can see your follower count, profile views, and video views. This empowers you to build an effective content strategy. What's more, you can check how each video is performing and evaluate campaigns. As a result, you can leverage TikTok analytics to understand what content is resonating with your audience.
Data is power. The more you understand your audience, the better you can customize your content and grow your following. Users must have a TikTok Pro account to access TikTok analytics.
Pricing: $20/month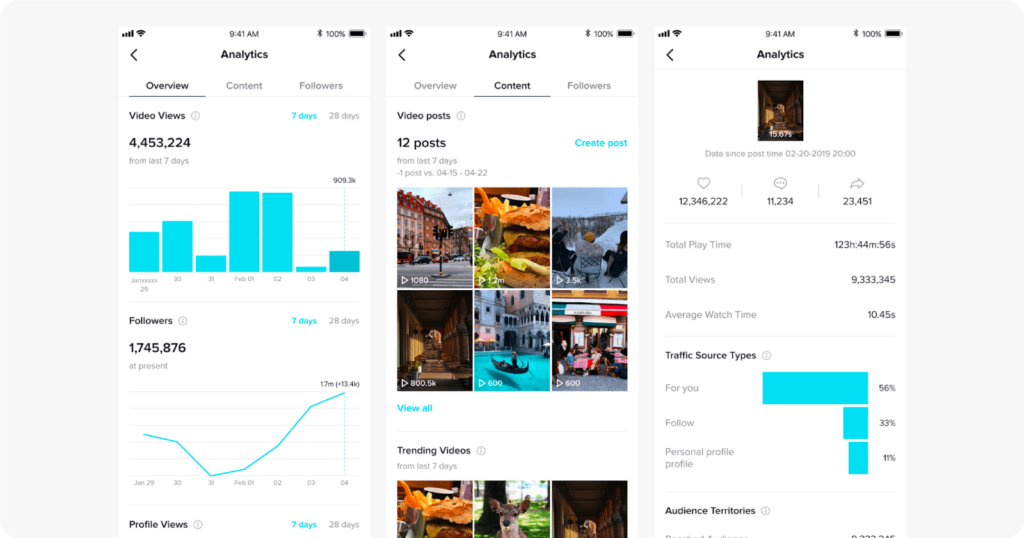 TikTok Pixel
TikTok Pixel is a tool for tracking the impact of your ad campaign on your website. In short, it allows you to easily monitor conversion and optimize your ad campaigns on the app. Additionally, you can use TikTok Pixel to build custom audiences based on the data it tracks on your website. TikTok Pixel is essentially a piece of code embedded into your sites to track user behaviors.
Pricing: $2.99/month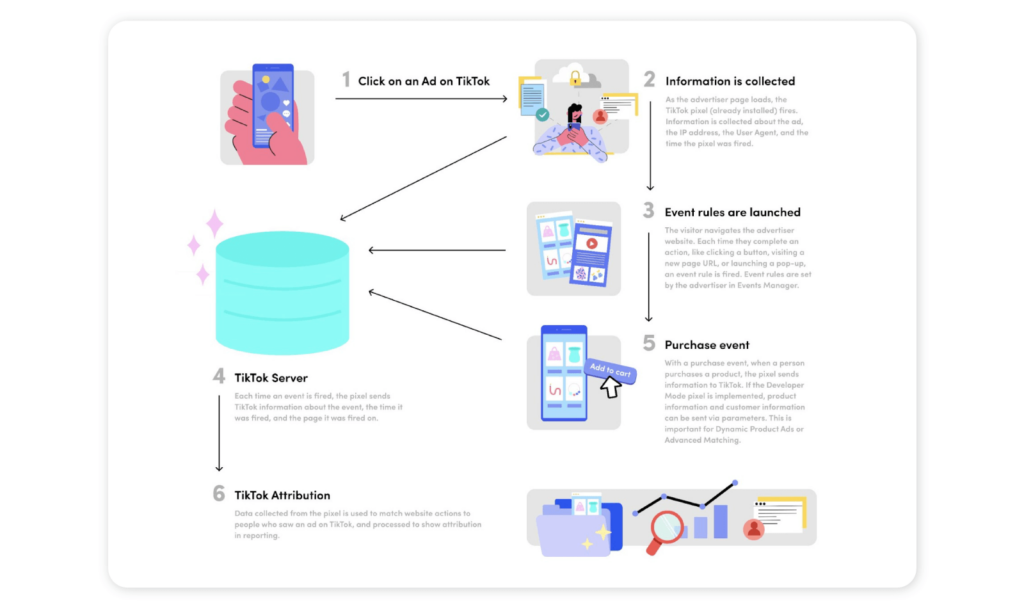 TikTok Promote
TikTok Promote is an ad tool that boosts existing content. It's perfect for increasing your visibility, directing more traffic to your website, and generally improving your follower count. However, it's only available to those with a Creator profile.
To use TikTok Promote, you simply choose a promotion goal (more engagement, increased followers, higher website traffic, etc). You can set a budget and a time frame as well as customize your audience. It's a cost-effective way to boost followers.
Pricing: According to TikTok, you can garner up to 1000 views for just 10 dollars.

How to get creator TikTok tools
2021 saw TikTok make creator tools open to all public accounts. That being said, access to the TikTok creator fund is still restricted. Creators who want to join the fund must fulfill TikTok's eligibility criteria listed below:
To apply for the Creator Fund, users must:
Don't despair if your application isn't approved, you can always reapply in thirty days.
Now let's look at how to access TikTok's creator tools. The good news is that it couldn't be easier. Simply follow the four simple steps below.
1. Go to Profile in the bottom right of the screen
2. Tap the hamburger icon in the top right to get to your settings
3. Click on Creator tools
4. Select the tool you'd like to review.
Round up
In February 2021, TikTok was the highest-grossing non-gaming app in the world with over $110 million in user spending. And it shows no signs of slowing down.
With huge earning potential and over a billion active users, it's no wonder businesses are looking to grow their following. TikTok tools are the secret weapon for businesses looking to grow their TikTok accounts. Whether you want to gain insights into your audience, find influencers, or create better content, there's a tool to help. As such, investing in the right tools could be just the thing to get your TikTok to blow up.