TikTok hashtags explained: 100+ best TikTok hashtags for 2023
When you make great content, you want to ensure that it gets seen. Naturally, hashtags are one of the best tools at your disposal to help make this happen. While hashtags can be found across several social media platforms, including Instagram, Twitter, and Facebook, there is perhaps no platform that takes them as seriously as TikTok. When content features the appropriate number of hashtags, the TikTok algorithm boosts it at an exponential rate. However, as a social media marketer, it's important to learn the hidden nuances to fully benefit from the viral nature of hashtags on TikTok.
This guide will act as your starting point. Below, we walk you through the most important details about TikTok hashtags, including what they are, how they work, and the best ones to use in 2023. With these insights, you'll not only have a better understanding of TikTok but how to leverage it for your brand.
Social Media News in a Nutshell
Get the latest social media news, insights, and marketing tips in your inbox once a week.
What are hashtags, and do hashtags work on TikTok?
Just like on any other social media platform, hashtags are pieces of text with the # symbols in front of them. The symbol then turns the text into a URL, automatically categorizing it with other content sharing that same hashtag. Hashtags are crucial not only for organizing content on social channels but also for helping users discover relevant posts more easily.
Now, you may be wondering: do hashtags actually work on TikTok? The answer is yes! In fact, hashtags are far and away the best tool for exposing your content to new audiences as they significantly increase your videos' probability of reaching users' For You Page (FYP).
Unlike other social media outlets – such as Instagram, Facebook, Twitter, or YouTube – using the right hashtags on TikTok allows you to collect views, foster engagement, and go viral at an unprecedented rate. As a result, the platform also heightens your chances of joining both macro and micro-communities in which users unite over shared interests.
What are trending TikTok hashtags?
While we will delve deeper into the best viral hashtags to use in 2023, this section will be dedicated to providing an overview of what trending hashtags are and how they work.
Trending TikTok hashtags is an umbrella term that captures all the hashtags that are most commonly used on the platform. Trending TikTok hashtags typically change as TikTok trends themselves change. For example, you may see a surge in certain hashtags that are tied to specific challenges or trends, but these tend to cycle.
However, some TikTok hashtags tend to stand the test of time and have remained trending for long periods – many of these will be explored in the best hashtags for TikTok in the 2023 section.
An excellent way to keep up with trending hashtags on TikTok is by consulting Sociality.io Trends. Here, you can monitor trends – and therefore trending hashtags – across a wide variety of social media platforms, including TikTok.
How to find the best hashtags for your TikTok videos
When it comes to finding the best hashtags to use in your own TikTok videos, there are several approaches you can use. In this guide, we'll touch on the following four:
TikTok search function
Hashtag generator
Competitor analysis method
Searching by relevance
Use the TikTok search function
This strategy is simplicity at its finest. One of the easiest (and most effective) techniques for finding suitable hashtags is to use the TikTok search bar.
Simply open the TikTok app and click 'Discover' at the bottom of your screen. Type in any words that you think best represent your sector, brand, and/or content. Once you've completed your search, click on the 'Hashtags' tab. Here you'll see a list of the most popular hashtags related to your search; next to every single hashtag, you'll also see how many views it has collected. With these figures, you'll be better able to identify broad and niche-specific hashtags.
Search by relevance
This method involves manually using the TikTok search function again, just slightly differently. Under this approach, you'll filter content by domain or interests. From there, you'll assess which hashtags are used in posts that seem to be high-performing and align with your business interests. You might spy on many useful tags and even hashtag sets.
TikTok hashtag generator
There are multiple TikTok hashtag generator tools you can use to quickly find trending hashtags. All you'll need to do is search keywords related to the content you've created, and the generator will take care of the rest, scouring TikTok hashtags and providing you with the most relevant ones.
Many social media marketers consider TikTok Hashtags and Influencer Marketing Hub as the top ones. In the screenshots below, we'll walk you through how to use them.
TikTok Hashtags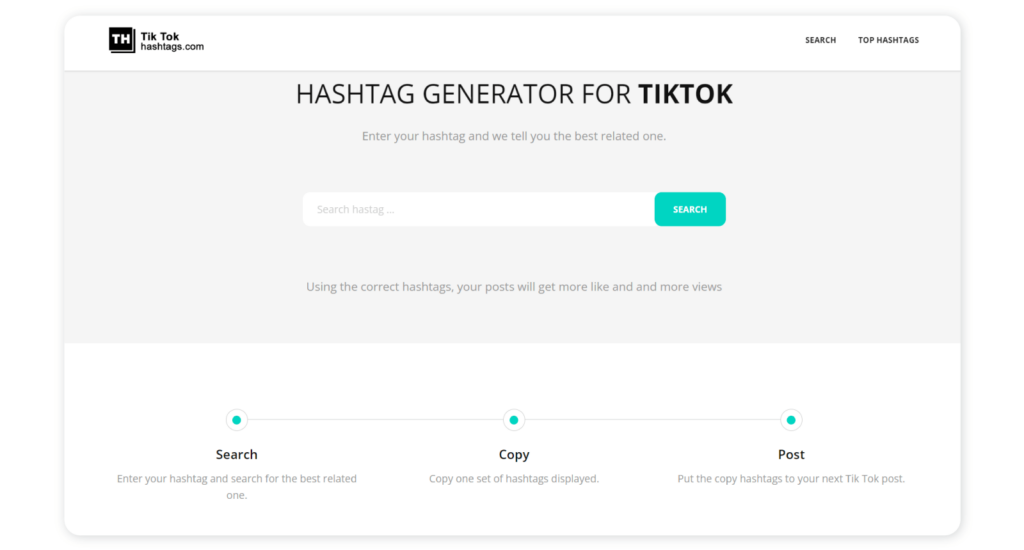 In the search bar, type a word that best describes your industry/company.
Click "Search."
The tool will generate two hashtag sets as well as the number of views that have been accumulated using these hashtags.
Choose from one of the sets by clicking "Copy"; this will save tags to your clipboard.
From there, you'll simply need to paste them in the caption of your video.
As you can see in the example below, TikTok Hashtags generated a number of hashtags related to small business, including #shopsmall, #handmade, and #shoplocal.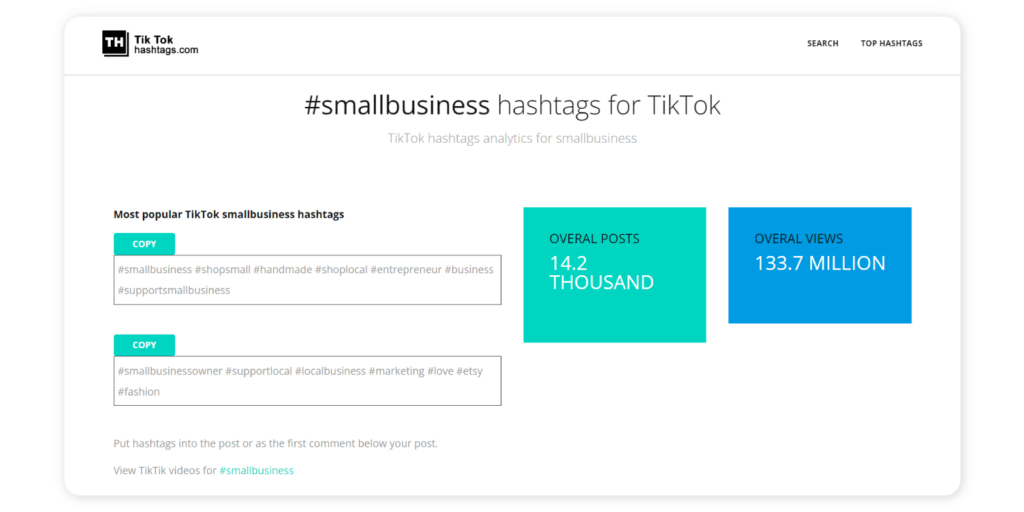 Influencer Marketing Hub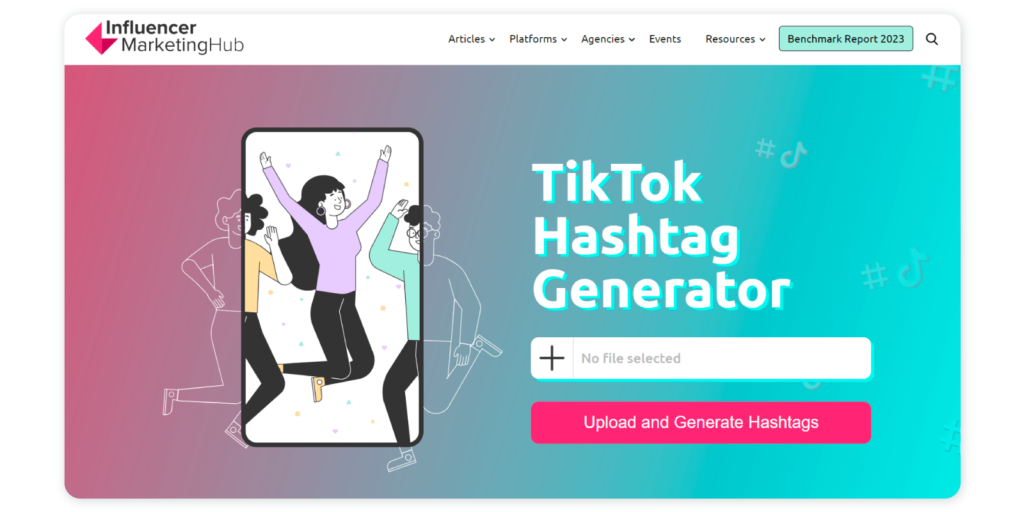 Upload a video that you intend to post on TikTok.
Click "Upload and Generate Hashtags."
The tool will generate a list of hashtags you can use on your video.
To choose ones that you like, all you'll need to do is click on little circles.
Next, click "Copy Hashtags" and the tags will be saved to your clipboard.
Paste them into the caption of your video.
How to create a hashtag on TikTok
Creating your own branded hashtag on TikTok is an effective way to set yourself apart as an industry leader. Technically speaking, you can easily create a hashtag by using # + any word or combination of letters.
Before you dive into creating a branded hashtag, you must thoroughly and strategically plan the idea behind the tag and the content that will aid in promoting it. Typically, companies create their own hashtags when running user-generated content (UGC) campaigns. However, you can easily create content internally to promote your custom hashtag and foster brand awareness.
Here are some tips for creating a custom hashtag:
Craft a few different options. With the help of your team, select the one that best aligns with your company and social media marketing objectives.
Optimize your hashtags by making them memorable and easy to spell.
If you want to transfer loyal fans from your other social media platforms, use hashtags that were successful there.
Remember: relevance is key. Above all else, your custom hashtag should be pertinent to your brand, its identity, and its mission.
Nike is a masterclass in the branded hashtag realm, with its custom hashtag #nikefitcheck having over 1.4 million views on TikTok. The corporation has made several videos using the hashtag and the same signature sound. The company's own videos have featured prominent athletes such as Colin Kaepernick and Sanya Richards-Ross. However, the hashtag and style of the video have evolved into a trend that has been repurposed by individual creators, many of whom wear Nike shoes and attire in their own videos.
3 practices of TikTok hashtags to go viral
If you're eager to improve your chances of going viral, it's important to go beyond hashtags. Below, we outline some of the most effective tactics to ensure your content reaches the widest audience possible.
Study the practices of TikTok influencers
TikTok influencers understand exactly what it takes to go viral on the app. As a result, it's a great idea to find influencers and study their behaviors, particularly those whose interests and audiences may align with those of your business.
By getting familiar with relevant creators, you'll also open the door to influencer marketing opportunities should you wish to pursue that form of promotion.
Get familiar with your audience
Your content is never going to go viral if it isn't clear who it's intended to reach. In order to go viral, you need to have an excellent understanding of who your audience is, their behavioral tendencies, and what kind of content resonates with them. It's also important to remember that your audience on TikTok may differ slightly from other platforms, particularly since the user base on TikTok is younger than many other sites.
Post consistently
According to the age-old expression, consistency is key – and this is certainly true when it comes to going viral and growing your audience on TikTok. When you post consistently on the app – particularly about topics related to your niche or industry – the algorithm begins to recognize you as not only a regular contributor but an expert in your field.
Not to mention, posting consistently conveys a sense of reliability to your audience and gives them new content to look forward to when they decide to follow you.
Best hashtags for TikTok in 2023
When it comes to the best hashtags to use on TikTok, these can be categorized as general hashtags or industry/interest-specific hashtags. In this section, we'll examine both types, starting with general TikTok hashtags.
| | |
| --- | --- |
| Hashtag | Views |
| #fyp | 36842.9 B |
| #foryoupage | 13864.4 B |
| #trending | 3245.1 B |
| #viral | 13698.5 B |
| #tiktok | 4501.1 B |
| #tiktokchallenge | 22.1 B |
| #tiktoktravel | 37.7 B |
| #tiktokers | 34.9 B |
| #love | 1067 B |
| #likeforlike | 22.7 B |
Next, the table below outlines some of the most viral hashtags across various industries and interests, some of which may align with your brand.
| | |
| --- | --- |
| Industry/Interest | Hashtags |
| Gym | #gym, #fitness, #workout, #fit, #gymlife, and #fitfam |
| Food | #food, #foodporn, #foodie, #foodphotgraphy, and #foodlover |
| Funny | #funny, #memes, #comedy, #humor, #lmao, and #fun |
| Music | #music, #hiphop, #rap, #singer, #musician, #dj, #musica, #rock, #party, and #dance |
| Fashion | #fashion, #ootd, #style, #fashionblogger, #moda, #model, #photooftheday, and #follow |
| Cats | #cat, #cats, #catstagram, #catlover, #kitten, #kitty, and #meow |
| Dogs | #dog, #dogs, #puppy, #dogstagram, #doglover, and #dogoftheday |
| Nature | #nature, #naturephotography, #photooftheday, #travel, and #naturelovers |
| Small Business | #smallbusiness, #smallbusinessowner, #shopsmall, #shoplocal, #entrepreneur, and #etsy |
| Sisters | #sister, #sisters, #sisterlove, #brother, #bro, and #siblings |
| Motivation | #motivation, #fitnessmotivation, #motivationalquotes, and #success |
| Makeup | #makeup, #beauty, #makeupartists, #mua, #makeuplover, #makeuptutorial, #like, #hair, #beautiful, and #skincare |
| Memes | #meme, #memes, #dankmemes, #memesdaily, and #funnymemes |
| Workout | #workout, #training, #health, #sport, #crossfit, #gymlife, #bodybuilding, #gym, and #fitnessmotivation |
Conclusion
When you use TikTok for business purposes, hashtags are an integral tool in improving the discoverability of your content and increasing your chances of going viral. In turn, they can help dramatically in expanding brand awareness and attracting loyal customers.
To make the most of TikTok hashtags, you'll need to monitor TikTok trends as well as the performance of your TikTok posts. Fortunately, this process is made much easier with the help of Sociality.io.
In addition to the Competitor Analysis module, Sociality.io also offers an Analytics module, providing you with your most salient figures at a quick glance. In this section, you'll not only be able to view important TikTok analytics (such as views, likes, comments, and best times to post) but you'll have the capacity to generate customized reports in a matter of minutes. By saving time on reporting, you'll have more time to make quality content and grow your business.