100+ trending TikTok hashtags to go viral
There is no other social media platform that treats hashtags as seriously as TikTok does. If you apply the right set of hashtags, the algorithm will boost your content at an exponential rate. However, similarly to other platforms social media marketers need to learn the hidden nuances to benefit from the viral nature of hashtags on TikTok.
So, this article will be your ultimate guide on how to use hashtags on TikTok effectively. This information will help you develop a solid TikTok hashtag strategy and grow your presence on the platform.
Social Media News in a Nutshell
Get the latest social media news, insights, and marketing tips in your inbox once a week.
Do hashtags work on TikTok?
The answer is — absolutely yes! If you want to expose your content to new audiences, you definitely have to use hashtags. TikTok hashtags significantly increase your videos' probability of reaching someone's FYP (For Your Page).
TikTok's algorithm aims to build and evolve not only broad communities but also all the smaller ones where people unite under niche interests. It pushes users' content beyond his/her audience through hashtags to accelerate content circulation and consumerism.
Unlike other social media networks like Instagram, Facebook, and Youtube, using the right hashtags on TikTok enables you to collect views and engagement and even go viral within a very short time.
🧁 Related article: 6 Instagram hashtags myths
But what's the mechanism? In TikTok, the main discovery tool is the "For You" page (equivalent to Instagram's Explore); it locates a personalized, scrollable feed that meets each individual's interests. And here, hashtags indeed play a crucial role. They index content within the platform.
For both users and the algorithm, hashtags indicate that a particular video is related to X topic and might be interesting to Y category of users.
How to choose trending TikTok hashtags?
Indeed, this part of social media marketing involves critical thinking, as any selection process does. The main idea is to apply hashtags that accurately represent your content and that people might be looking for.
Don't pick hashtags randomly; do some study and analysis if you aim to amplify your content's reach and get more followers. Also, beware that if you choose an inappropriate hashtag for your video, you will prevent the algorithm from finding the right audience for you. For example, if you put #gamelancer to a makeup video, it would affect your statistics dramatically.
Also crucial to know about three main categories of hashtags:
Broad hashtags
Trending hashtags
Specific/niche hashtags
We suggest mixing types to find a balance between niche and popular hashtags. Start broad and pave the way to more specific ones. For example, your business operates in the e-commerce sector; a broad hashtag could be #ecommercebusiness. Then, as you go more precise, you can also put hashtag #enterpreneurtips and, even more specifically, #beautybrand.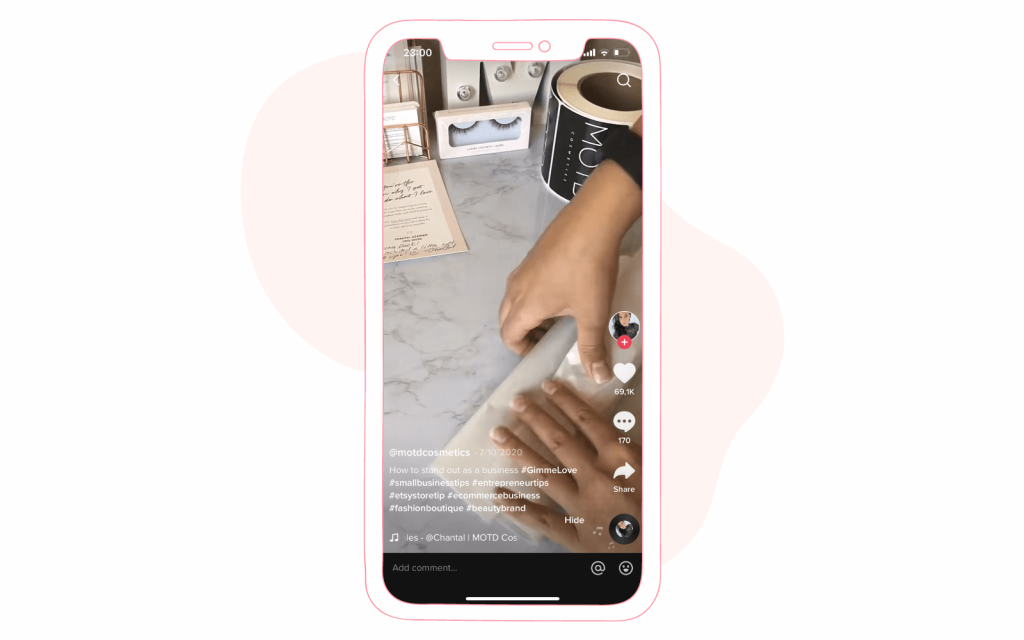 In what proportion should you mix hashtags? We suggest combining three niche-specific and two broad hashtags, and one of your personal or branded hashtags if you have. Thus the identification of your video would be accurate and therefore successful. Like in the example below; @goodlife_designer uses broad #foryou and #viral, #pourtoi and #furdich for a specific-language audience, and his own branded #goodlife_designer.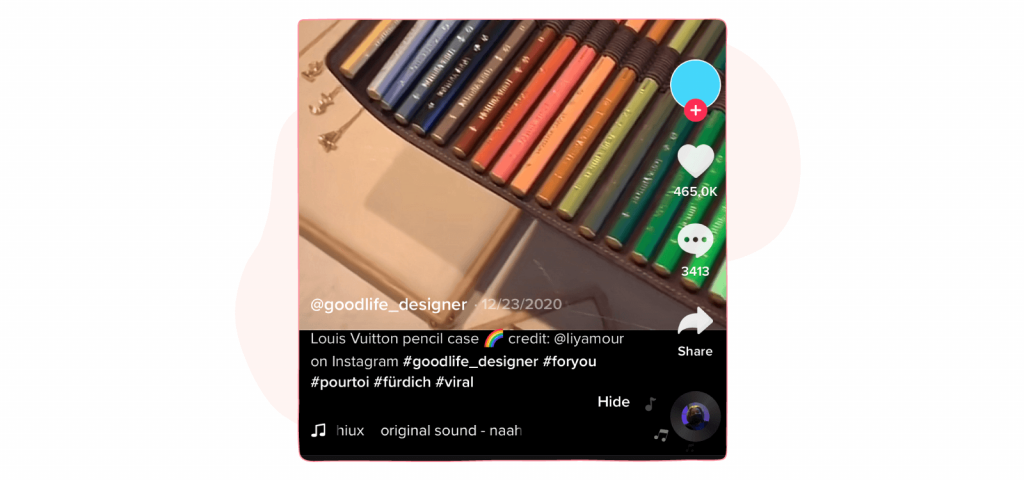 How to find trending hashtags on TikTok?
Now we'll describe four main methods to search for hashtags. By this moment, we recommend you to have a concrete community portrait to which you want to present your videos.
Don't discard the idea of simply using a search bar. Remember that TikTok became viral a few years ago and that there aren't many software options available to automate this process.
Open the TikTok app and tap "Discover" on the bottom of the screen; make some efforts to sort through words that you think might epitomize your industry. As you see the search results, have a look on your right; next to every single hashtag, you'll see how many views it has collected. This would help you to identify broad and niche-specific hashtags.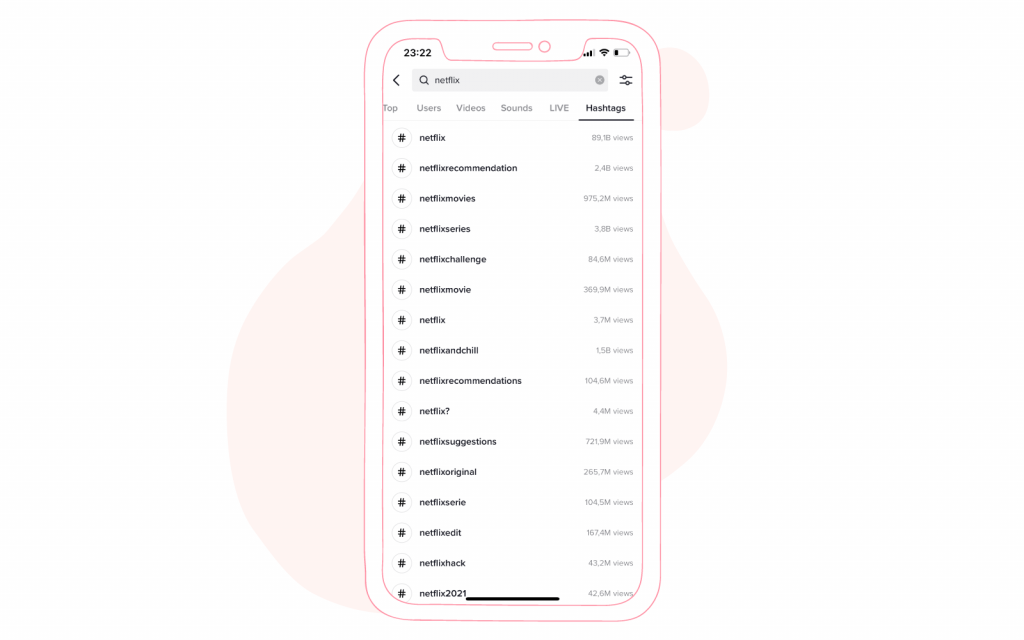 Search by relevance
One of the simplest yet most effective ways is to analyze similar industry content to find relevant hashtags. This method involves a manual approach. Start filtering content by domain or interests that are relevant to your business. Then, point out what hashtags are used in posts that seem to be high-performing and align with your business interests. You might spy many useful tags and even sets of tags. For example, you are a videographer and you have produced a video editing tutorial in Adobe Premiere Pro. Type "Adobeediting" in TikTok to discover and go through several videos to see how people tag such content.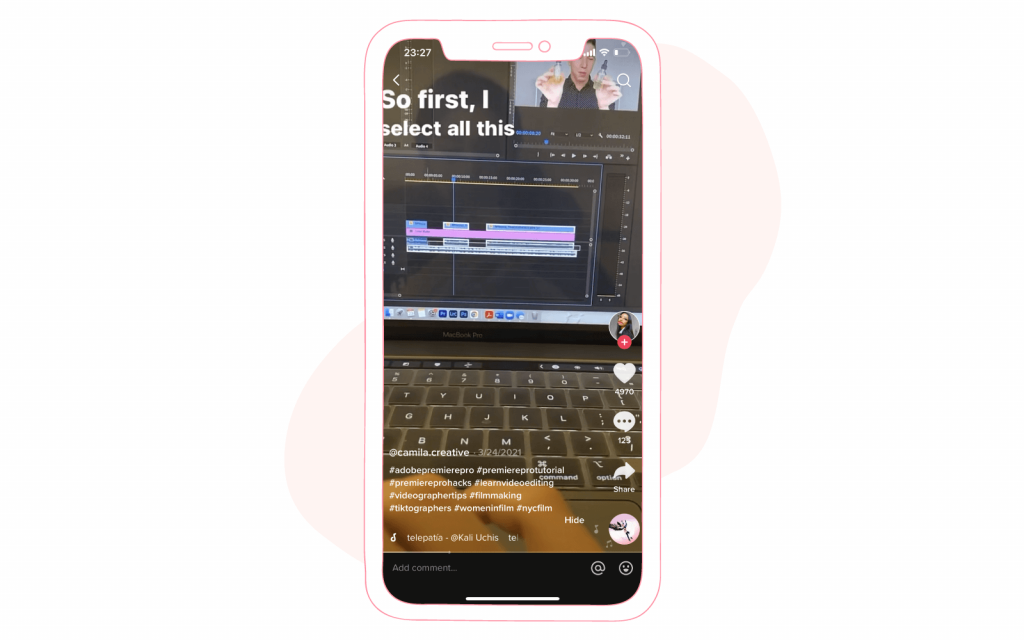 Analyze what hashtags your competitors use
You can spot what hashtags your social media competitors are using under their most successful posts; those ones might also be effective for you. Unfortunately, neither the Sociality.io Competitor Analysis module nor any other social media management tool automates this process.
Then, you can dive deeper and fulfill this strategy by researching what hashtags your audience uses. You can find many specific tags with a whole community around them related to your business. Who knows, maybe this will become a crucial element in your hashtag strategy, or you will jump into a new community. Indeed this is how smart brands dig into an emerging trend in their industry and prepare to expand their reach.
💫 Related article: How to track and analyze competitors' social media content strategy
TikTok hashtags generator tool
Alternatively, you can use a TikTok hashtag generator tool that automates the search for relevant hashtags to you. It is straightforward in use. You only have to type some keywords into a search box based on the content you have created. The Generator scours the TikTok database and extracts relevant ones. Many social media marketers consider TikTok Hashtags and Influencer Marketing Hub as the top ones. We'll quickly show you how to use them:
TikTok Hashtags
Put a word that can describe your industry or content in the search bar.
Click "Search."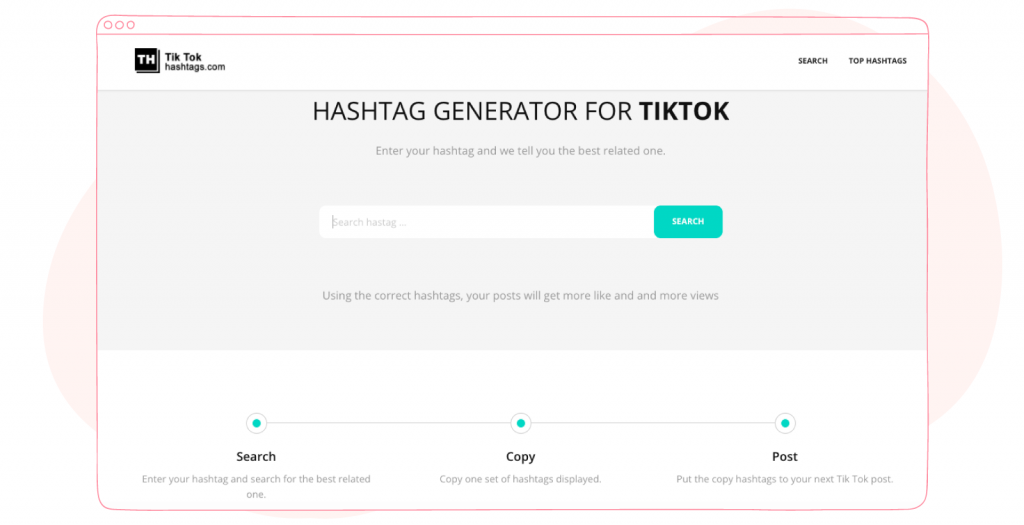 Choose one of the hashtag sets it offers to you
Press "Copy" and it will save tags to your clipboard
Then you will just have to paste them in the caption of your video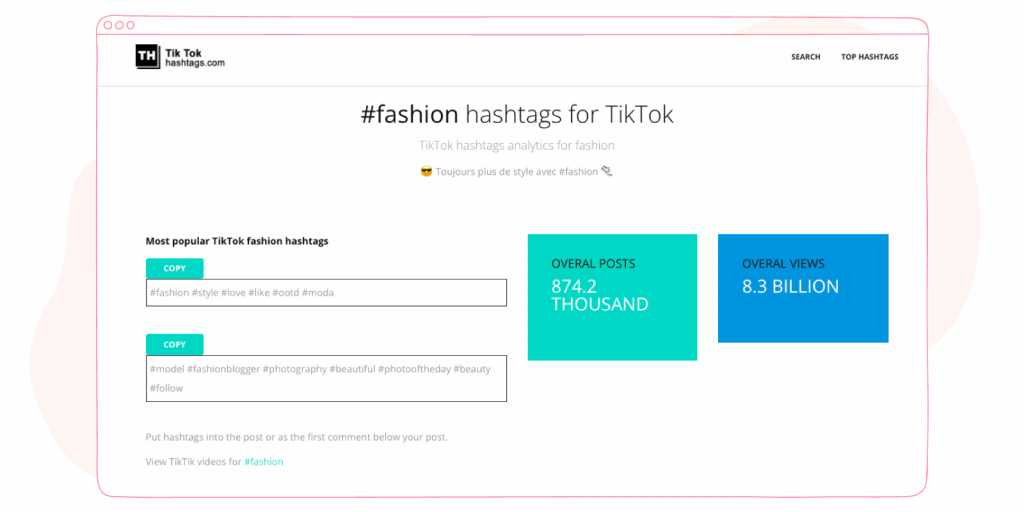 Influencer Marketing Hub
Upload a video that you intend to post on TikTok.
Click "Upload and Generate Hashtags."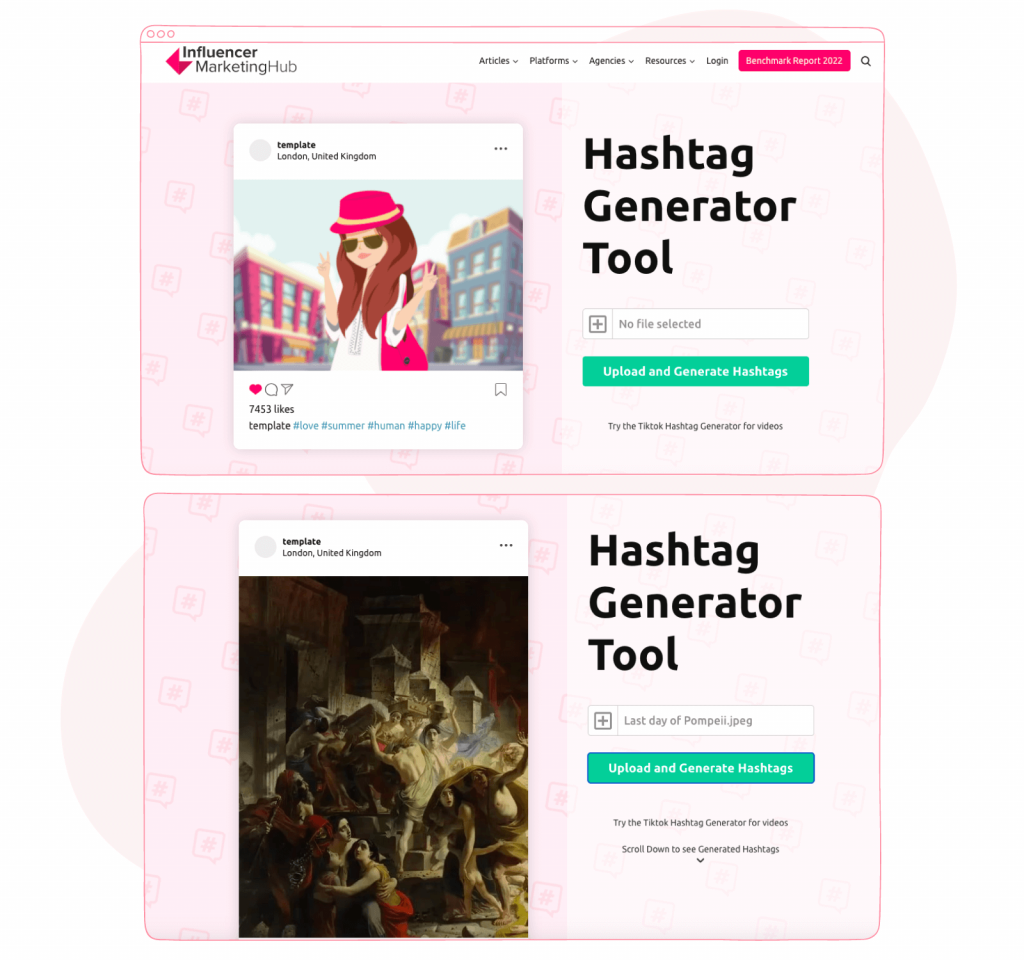 See the list you tags it offers.
To choose ones that you like click on little circles.
Press "Copy Hashtags" and it will save tags to your clipboard.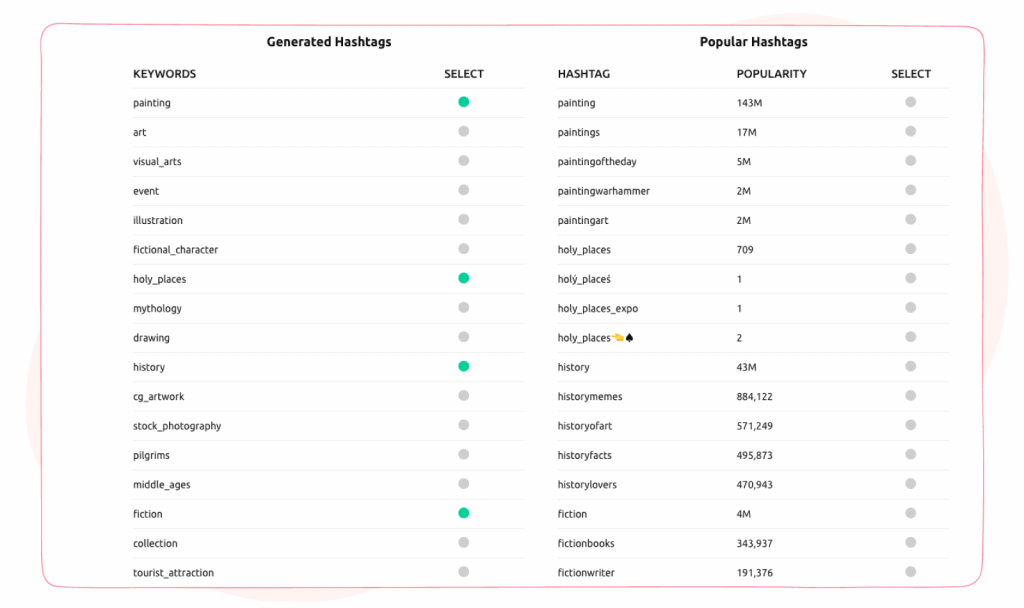 After, paste them into the caption of your video.
Note
You need a minimum of 3 characters per hashtag. Hashtags are assumed to be written in captions, which are limited to 100 characters. This means that the maximum hashtag-set size would be 33 per post. However, you can use a trick if you like and increase the number of hashtags; just add more hashtags in the comments section.
How to create your own hashtag?
Here we come to develop a branded hashtag and, consequently, create a specific community. Technically speaking, you can easily create a hashtag by using # + word or a combination of letters. But before that, you need to thoroughly plan a certain content and idea for the best chances of other people to accede to your freshly made tag.
Typically, brands create their own hashtags when running user-generated content campaigns. But besides that, custom hashtags also help you with personal branding on TikTok and take your marketing to a new level.
Here are some tips for creating a custom hashtag:
We recommend crafting one or two great hashtags.
Maximize the simplicity of hashtags to make them memorable and easy to spell.
Hashtags should relate to your campaign, content, or challenge.
If you want to transfer loyal fans from your other social media platforms, then use hashtags that were successful there.
Try to develop a completely new hashtag when creating a specific campaign.
For example, we give Maison Pierre Herme Paris a bespoke dessert brand. Despite its complex name, it has created a very simple hashtag #pierreherme so that its followers could easily remember how to mark the brand in their TikTok degustations.
The best hashtags on TikTok in 2022
Here we've got you covered with the most currently hyping hashtags that you can apply to all sorts of content. You can't imagine how many people search for content under banal tags. So, don't underestimate broad hashtags and think they are ineffective due to their simplicity. And remember, the strategy of combination shows excellent results.
Broad and generally trending hashtags list in 2022:
| | | | | | |
| --- | --- | --- | --- | --- | --- |
| Best | Views | Viral | Views | Trending Now | Views |
| #TikTok | 2676,4B | #love | 655,5B | #ootd | 42,2B |
| #fyp | #20531,2B | #storytime | 154B | #greenscreenvideo | 256,9B |
| #explore | 264,8B | #cute221,3B | 221,3B | #15svines | 78,7B |
| #foryoupage | 965,9B | #catsoftiktok | 106,4B | #stitch | 608B |
| #followforfollow | 63,8M | #dogsoftiktok | 90,1B | #gaming | 221,7B |
| #meme | 392,3B | #fashion | 126,1B | #animeedit | 93,4B |
| #challenge | 186,4B | #viral | 7126B | #mexico | 175,2B |
In the second table, we also grouped by specification the other most trending hashtags in 2022. We sorted them by relevant categories for the most demanding segments.
Industry popular hashtags list by different segments:
| | | | | |
| --- | --- | --- | --- | --- |
| Segment | General | Popular | Viral | Niche |
| Marketing | #marketing#branding#advertising | #marketingstrategy#socialmedia#brandingpersonal | #contentmarketing#marketingtips#brandingtips | #seo#graphicdesign#socialmediamarketing#digitalmarketing |
| Arts &Craft | #craftchallenge#mycraft#artandcraft | #crafty#easycraft#craftTok | #5_min_craft#diycraft#artsandcrafts#handmade | #newspapercraft#digitalart#woodmaking |
| Dance/Music | #dancedhallenge#choreography | #danceinpublic#danceclass#dancersofinstagram | #dancetrending2022#duets#musergeneration | #dancekpop#btsmemes#musicallyindia#bhfyp |
| Business | #business#entrepreneurship#investment | #businesstip#careergoal#businessideas#businesscoach | #hustle#blockchain#startup#freelancer#wealth | #marketing#trading#digitalbusiness#forextrader#smallbiz#crypto#bitcoin |
| Education | #knowledge#learning#educationalvideo | #knowledgeIspower#edutok#learnonTikTok#fact | #didyouknow#mindpower#testbook#educationmotivation | #healtheducation#wisdom#student#college#sciencechallenge |
| Beauty | #makeupartist#beauty#beautytips#model | #beauty4charity#unlockbeauty#beautymood#hairgoals#facial | #mua#skincareroutine#makeupideas#makeupchallenge#makeuptutorial#makeuphack | #paradise_sights#allesecht #locken#beautybeast#antiaging |
| Frenship/Relationship | #relationship#friendship#gf#bf | #ily#lovequates#frnzz | #couplegoals#internetfriendship#friendshipneverends | #relationshipadvice#friendshipcollar#longdistancefrienship |
| Motivation | #motivation#inspirational#quotes | #succes#mindset#selfcare#talk | #motivationmonday#quotesToLiveBy#mentalhealth#hungryforsuccess | #myvoice#anxiety#fitnesmotivation |
| Food & Cooking | #foodie#foodrecipe | #easyrecipe#foodislove | #foodporn#homemade#yummy#mysecretrecipe | #veganrecipe#healthyfood |
Tag this too
We gave you the most popular hashtags for 2022, but most importantly, we've discussed everything you need to know to find key tags that open the TikTok communities. Thus you will be able to find and select hashtags in the future smartly when things and trends on the platform are up to future dates. Remember, all trends are constantly rising and falling. Thus, take out of this article the notion of researching and analyzing hashtags. By doing so, you will be able to build a successful social media campaign and grow social media communities.