How to go live on TikTok in 2023? Here are all the answers
Stronger relationships with your audience. More exposure to new followers. Truly engaging content.
These are just some of the reasons why live streaming should be added to your business's social media content plans. Most social media platforms realize this and have provided you with a way to start a live broadcast with just a few clicks.
TikTok is one such platform. And with over one billion monthly active users on the platform, it's no wonder why brands (like Off-White and Walmart) and famous TikTokers (like Khaby Lame and Charlie D'Amelio) have included live streaming as part of their TikTok marketing strategy.
If you use TikTok for business, you can interact with your audience in real-time using its live-streaming technology, TikTok Live. In this post, I'll show you how to use TikTok Live and include tips for hosting a successful stream.
Social Media News in a Nutshell
Get the latest social media news, insights, and marketing tips in your inbox once a week.
What is TikTok Live?
TikTok Live is a TikTok feature that allows brands like yours and users to interact in real-time. You'll be able to live-stream to your audience while responding to questions and comments and even accept virtual gifts.
Think of TikTok Live as TikTok's answer to Facebook Live, Instagram Live, and YouTube Live – a way for businesses to connect with their audience and build communities.
There are however a few requirements before anyone can go live on TikTok. These requirements are:
You need at least 1,000 followers to use TikTok Live. But I'll be introducing you to a hack around this in case your TikTok account is new.
All users need to be at least 16 years to launch TikTok live.
All users need to be at least 18 years to send or receive gifts during a Live. These gifts are virtual rewards that can be converted to money.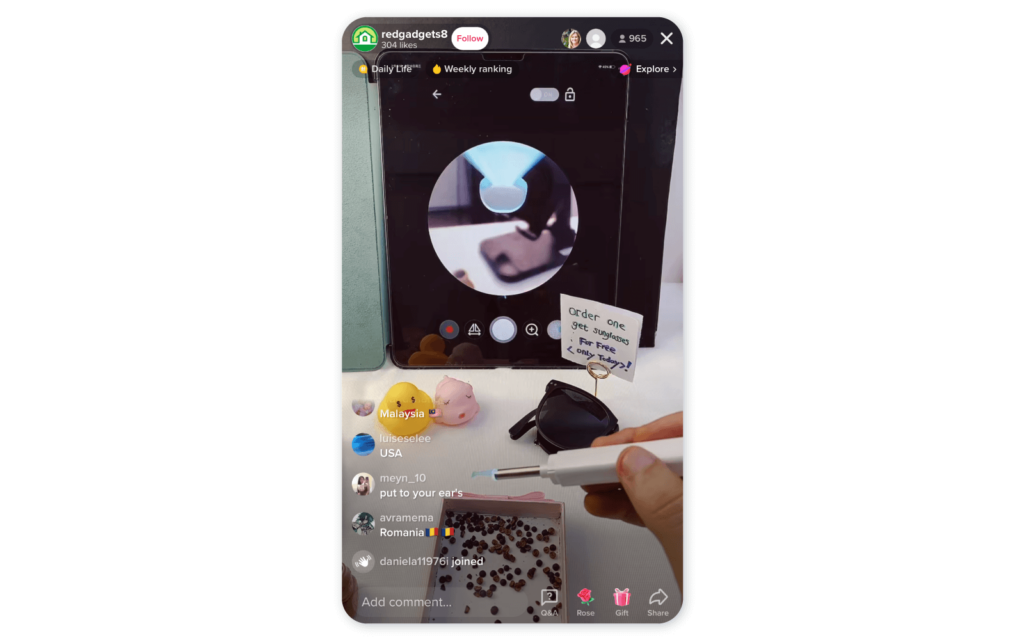 How to go live on TikTok
If you meet all the requirements above, your next question should be:
"How do I go live on TikTok?"
Here's how to do so?
Open TikTok on your phone.

Tap the + button at the bottom of your screen.

Swipe through the options that appear under the red record button till you find live. Click on it.

Now, choose your title, cover photo, and effects.

Tap the "Go Live" button.
How to go live on TikTok with less than 1,000 followers
What if you don't have up to 1,000 followers on TikTok? Does that mean you can't go live?
Well, not exactly. There's a trick to get around the 1,000-followers rule until you figure out how to get more followers on TikTok.
Tap the hamburger icon at the top-right corner of your screen and choose Settings and privacy.

Scroll down to support and tap Report a problem.

Tap I can't start a Live.

On the screen that comes up, tap No under the question Is your problem resolved?

Tap "Need more help" and under "Tell us your feedback", type something like: Hello TikTok, I can't go Live on TikTok, Can you enable it for me, please?

Send it and you should have access to TikTok in two days.
Best practices for going live on TikTok
Before you go live on TikTok for the first time, there are some tips you should have in mind to ensure your stream is successful.
These tips are:
Keep your stream length to around 30 minutes
TikTok live streams are limited to 60-minute sessions. And if you need more time, you can start another live video immediately. So, the length of your stream completely depends on you.
But keep in mind that TikTok is geared towards shorter content. You don't want your viewers to leave before you achieve the goal of your stream. Keeping your stream's length around 30 minutes is a good place to start.
Make your stream look professional
You don't need a lot to make a TikTok live stream look professional. Just make sure to:
Choose the best camera angle.

Use natural lighting. And if that isn't available or it isn't good enough, use a ring light instead.

Shoot your video in a quiet place.

Make sure your phone is held in a steady position
Be clear on your stream's goal
Before you go live, be clear on what you want to achieve with your TikTok stream. Do you want to drive traffic to your website or promote a new product? Do you want to interact with your community or share a company update?
This clarity will help you structure your content in the most effective way.
Go live when the majority of your followers are online
What's the point of streaming if half your followers won't be there to see it?
It makes sense to host your stream when your followers are typically online. This means more engagement in your video; which tells the TikTok algorithm that people love your content. How do you know when your followers come online? You'll get this information in the follower activity section of your TikTok analytics.
Provide your viewers with the next steps
Depending on your stream's goal, make it clear to your audience what their next steps need to be. It could be to sign up for your newsletter, purchase a product, or even ask for a follow.
Best ideas for your TikTok Live
Coming up with ideas for your TikTok Live can be tricky.
You want engagement around your content but that doesn't mean you should jump on the latest TikTok challenges to get it. The key here is to understand your audience and the type of content they'll find valuable. Not only will that help you build stronger communities around your brand, but it'll also make it easier for TikTok to add an extra layer of authenticity to your brand with its blue tick.
Here are a few ideas to get started.
Host a Q&A session
Q&A sessions are an opportunity for you to position your brand as an expert. Proffer solutions to problems your target audience struggle with. You can even show how your product solves those problems.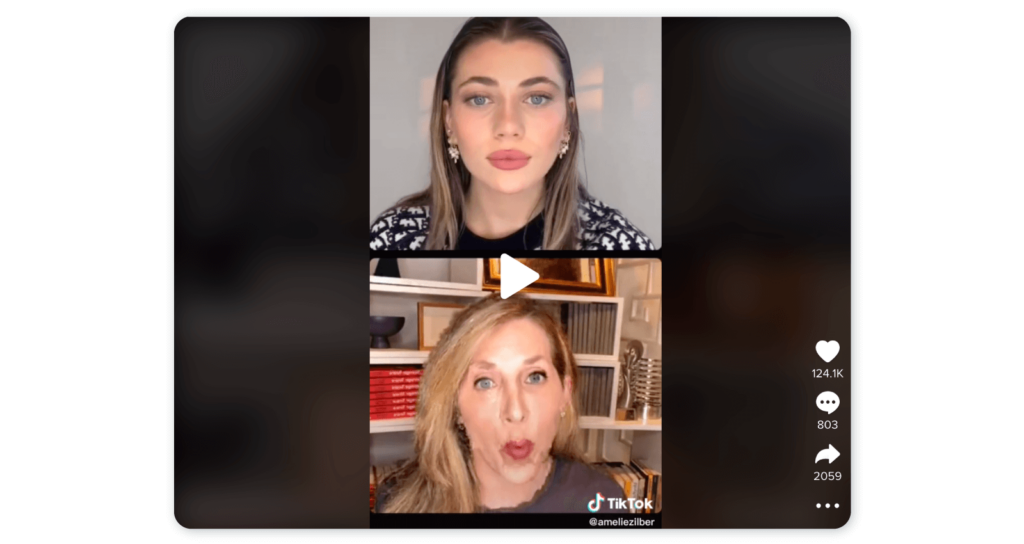 Show behind the scenes
You can take your audience behind the scenes. Show them how your brand creates its product or manages a process.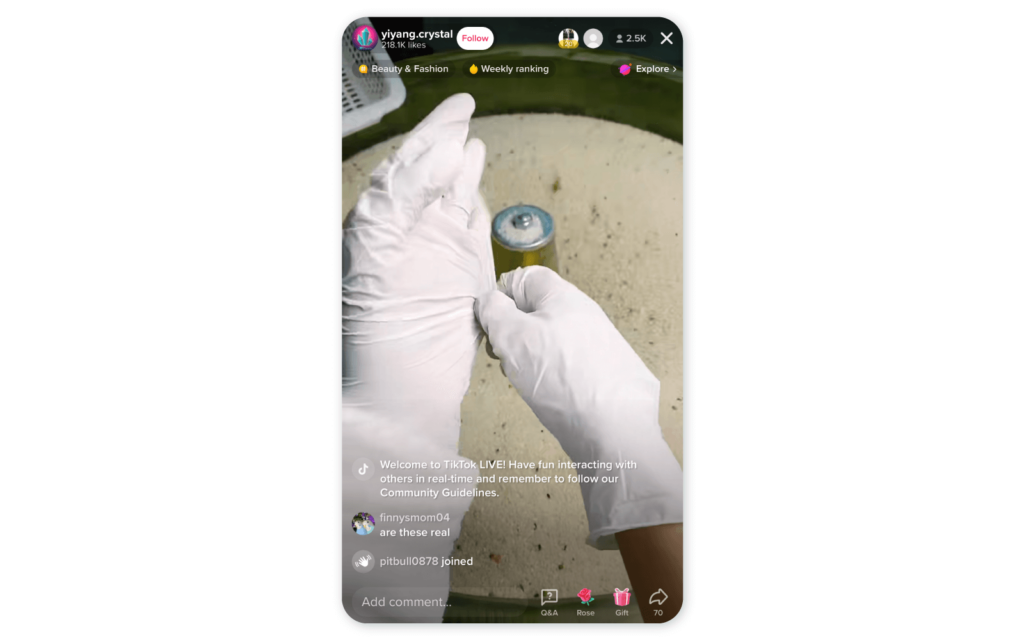 Organize interviews and collaborations
Is there a thought leader or influencer in your space that your viewers will love to hear from? TikTok Live is a great way to host live interview sessions with them.
Not only will this bring you closer to your audience, but it will also expose you to more people.
Ask for feedback
Hosting a TikTok Live is a great opportunity to get real-time feedback on your brand's marketing or products.
Like every other social media platform, your success on TikTok depends on the relationships you build with your audience. People buy from brands they trust. And TikTok Live is an effective way to build that trust.
With the steps and tips outlined in this guide, you'll be able to get started with your TikTok live sessions – even if you have less than a thousand followers.