How to nail the TikTok challenge for businesses?
TikTok continues to grow rapidly as more people look for ways to keep themselves entertained in the era of pandemics. TikTok's algorithms are designed to skyrocket brand awareness. For brands trying to reach local or global markets, the social media platform is a great venue. If you don't know where to start, here is a guide on how to nail TikTok challenges for businesses.
Social Media News in a Nutshell
Get the latest social media news, insights, and marketing tips in your inbox once a week.
What is TikTok?
Unless you live under a rock, TikTok is the most addictive social media platform with the most intelligent algorithm.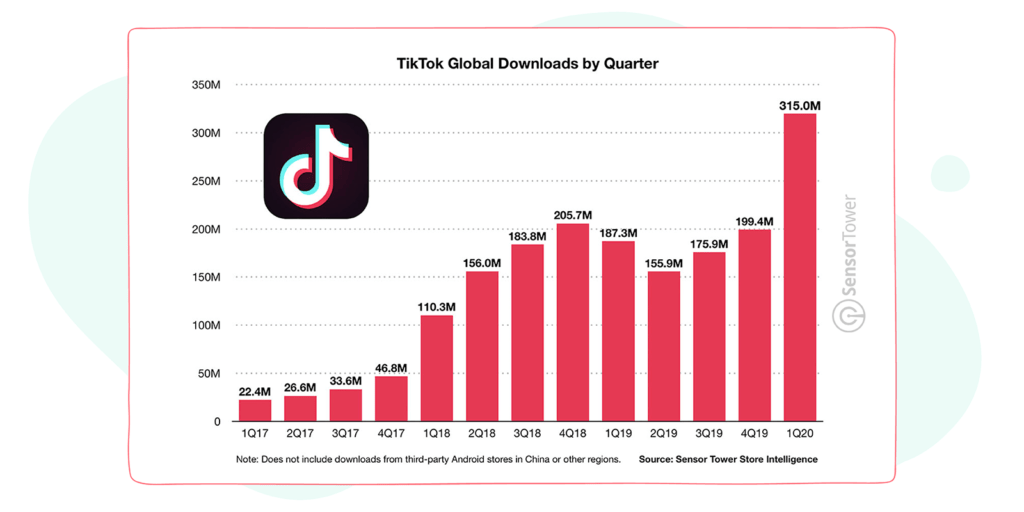 TikTok has demonstrated success so far and has reached 1 billion active monthly users. The main advantage of TikTok is that it gives way to newcomers.
The algorithms are structured in a way that a new user can easily become popular and gain an audience in just a few videos.
🥁 Related article: How does the TikTok algorithm work and how to get on the TikTok fyp?
To advertise a business on TikTok, it is better to connect a PRO account. This function on the social network is free. Connecting a business account simplifies the process of collecting statistics and provides additional tools to improve performance, and allows you to create advertisements.
✨ Bonus article: How to use TikTok for business? (+TikTok ideas)
What is a TikTok challenge?
The TikTok hashtag challenge is the most popular promotion strategy on TikTok. In order to attract the attention of potential customers, brands often participate in challenges or launch their own.
How does it work? Participants need to complete a specific task and indicate the hashtag of the challenge. For more excitement, the authors of the best videos are given prizes, and popular bloggers are also attracted to the challenge. In this case, you will have every chance of getting millions of views and getting into the recommendations.
The branded effect, a 2D or 3D mask, is a tool that is often used in conjunction with the hashtag challenges. It's a filter that a user can use in his video.
Global brands also use localization strategies and create local TikTok challenges designed specifically for a certain target market.
For example, Dirol, a brand of chewing gum, launched the Dirol branded-effect hashtag challenge #DirolДерзкийСтайл in Russia to draw attention to its new black gum. Videos with this hashtag reached 284,7 million views.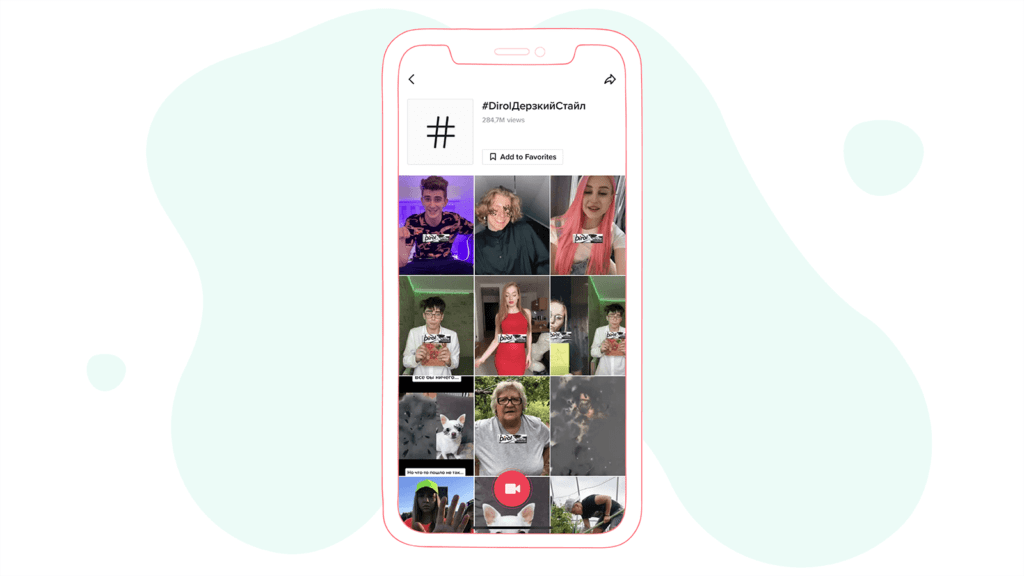 Pepsi India has launched the #SwagStepChallenge dance challenge with its branded effect. The videos gained a record 107,4 billion views, creating a new global record on TikTok. The Swag Step Challenge became the fastest hashtag challenge using a branded effect.
As you can see, the world's biggest companies are looking to TikTok to market their products. Here is Walmart's hashtag challenge #DealDropDance which encouraged users to share their feelings on Black Friday savings at their stores. This challenge generated 4,1 billion views.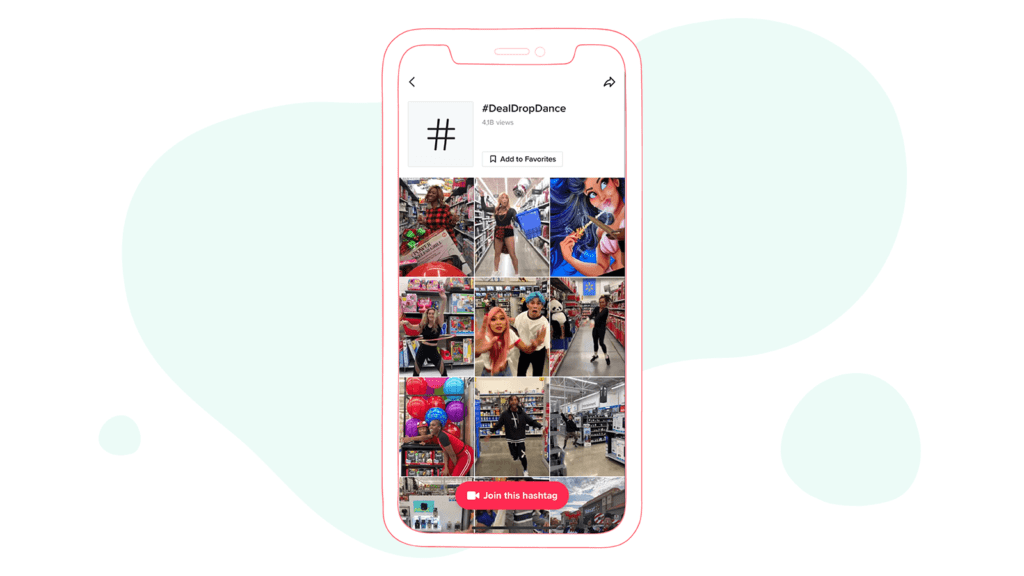 Not only big companies but also celebrities try to get on the TikTok hype. "Honey" star Jessica Alba even uses some trend hashtags to genuinely demonstrate some products of her "Honest" company. Users demonstrated their cleaning activities with the hashtag #CleanTok (almost 12 billion views), and here is Jessica Alba joining the hashtag with her "Honey" multi-surface refillable cleaner kit in the video.
Worth checking 👉 How to use hashtags on Facebook and do they really work?
How to participate in a TikTok challenge?
Businesses can join and participate in organic TikTok challenges that are trending. You need to create a video based on a trending challenge and make sure to use the same audio clip as other challenge videos. You can find this out by looking at the bottom of the videos in the TikTok challenge hashtag.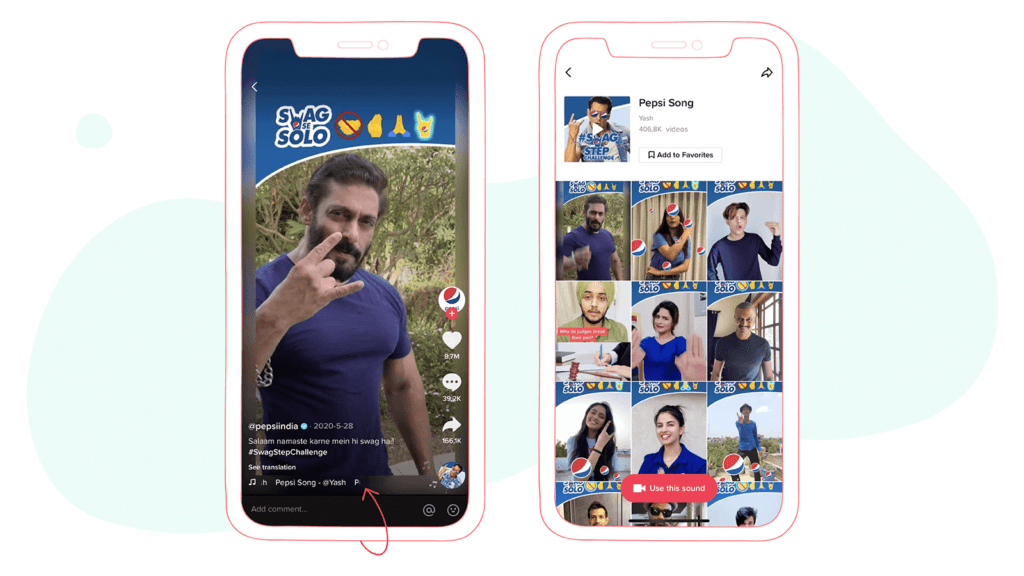 TikTok has a variety of video editing tools that let you add filters, stickers, text, and video transitions that will enhance the overall quality of your challenge video.
Participating in an organic TikTok challenge allows you to ride the popularity of an already trending TikTok challenge, without much effort on your part. And, given that users often follow the trending hashtags associated with these challenges, you can also get more views and followers using this tactic.
How to run a branded TikTok challenge?
Running your own branded TikTok challenge requires some research, creativity, and time.
Here are four main steps that you need to follow to create your custom TikTok challenge.
1. Come up with an idea
First, you need to come up with an idea and set your main objective. Do you want to let your target market know you're on TikTok so you can gain followers? Are you hoping to drive sales for a new product you're launching? TikTok's challenges have a way of going viral and if you come up with a good idea, your challenge might go viral as well.
✨ Related article: What is social media viral marketing?
2. Promote your challenge
Think about how you are going to promote your challenge. Here are some options of promotion:
Turn your TikTok challenge into a competition. You can offer a prize to creators who follow your competition entry rules.
Work with TikTok directly to promote your branded challenge to the masses.
Run TikTok influencer marketing campaign. This will let influencers' audiences know about the challenge and some of them will likely participate in it.
Related article: What is influencer marketing? Learn how to leverage your business
3. Set clear rules
You need to describe what the challenge is and how users can participate in it. The more clear your guidelines are, the easier it will be for people to participate. It's important to create something viral. If you make your challenge too difficult for people to recreate, users are less likely to participate in the challenge.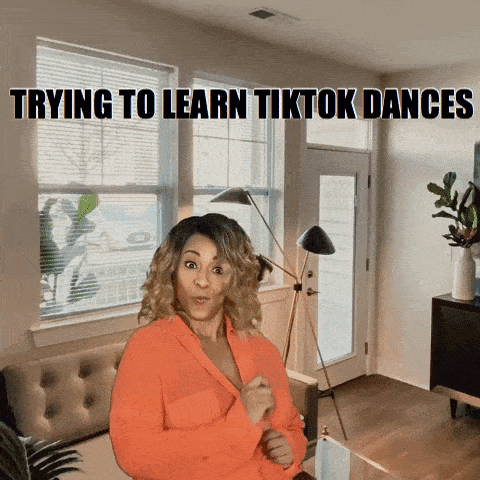 For example, see this #inmydenim challenge from fashion brand Guess. The rules are simple and clear. The brand did not specifically ask people to wear their denim, to expand the scope of the challenge and allow more people to participate.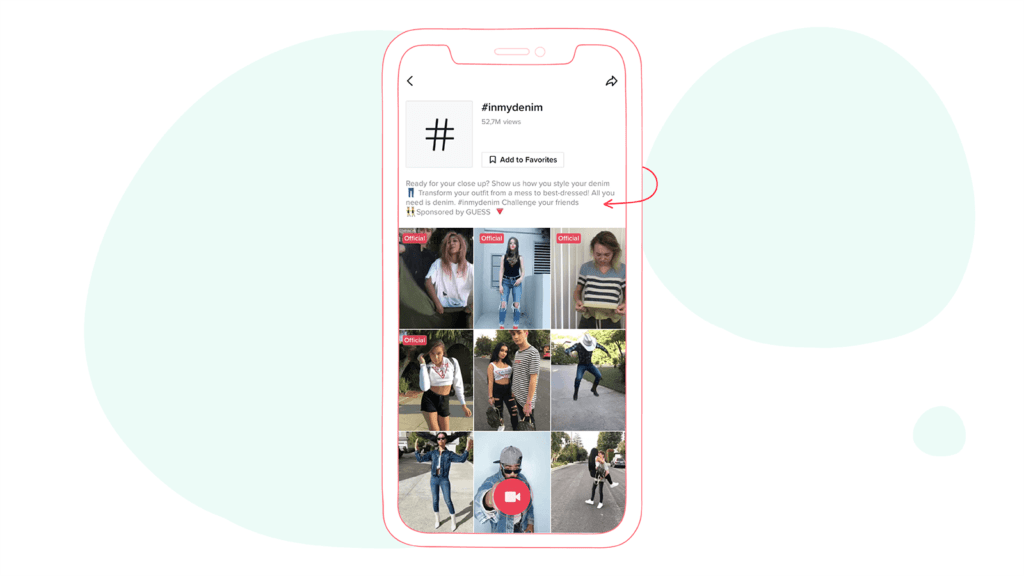 4. Create and publish your TikTok challenge video
The first TikTok video on the challenge should come from you. So, define the challenge clearly, create a hashtag, and create one or more videos demonstrating the challenge.
Pick a TikTok Sound: Your TikTok challenge sound could be your own original sound or a sound clip from a movie or TV show.
TikTok Challenge Movements: The people or objects in your video need to be moving. It could be a slight movement or a short choreographed dance. Get creative for this part!
Once you've got your concept, sound, and movements, start filming. It may take you a while to get the perfect shot but it'll be well worth it in the end.
Related articles ⤵️
Successful TikTok challenges by brands
Here are some examples of successful TikTok challenges by famous brands.
The #shareacoke challenge from the Coca-Cola Company has received 19.6 million views. TikTok users created creative videos with a bottle of Cola using the track "Urboy TJ". As a result, the brand not only gained new followers on TikTok but also popularized the product among the audience.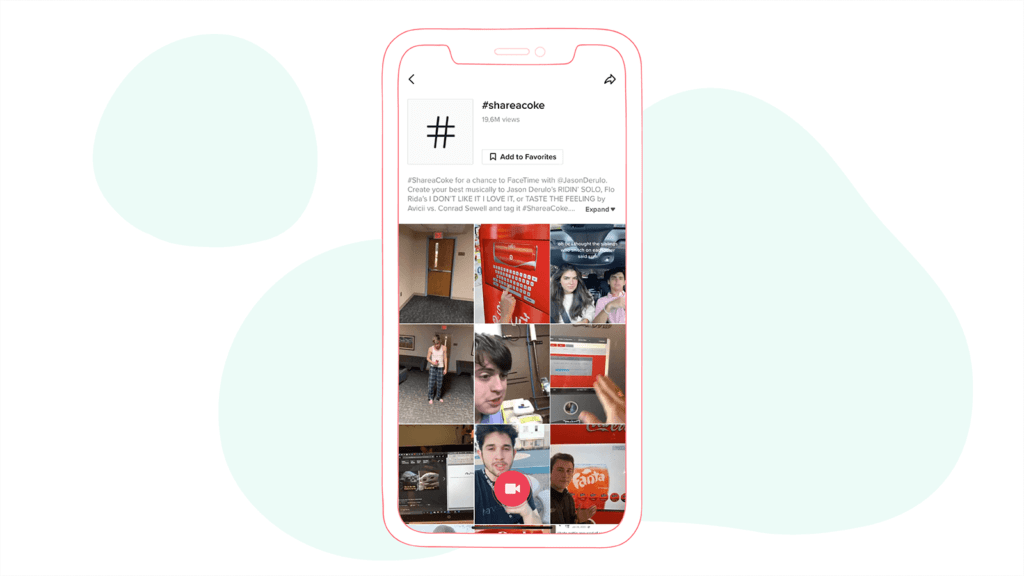 Fashion brand Calvin Klein has posted videos of celebrities wearing branded clothing. ASAP Rocky, Kendall Jenner, and Shawn Mendes shared one true fact about themselves. This is how the #mycalvins challenge started, in which TikTokers shared their confessions. The videos have collected 32.5 million views.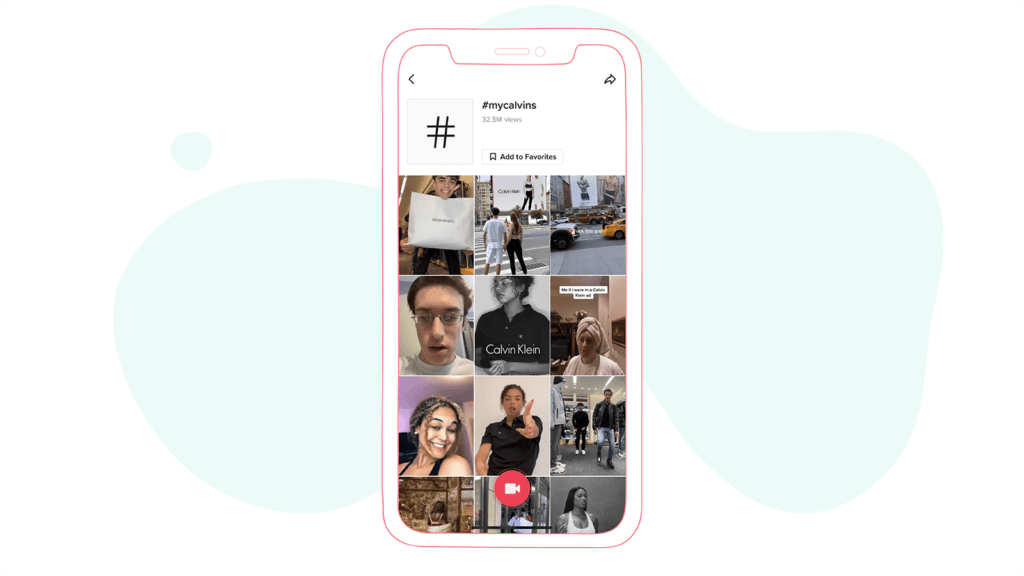 Related article: How to find social media influencers for your brand?
Fast food company McDonald's launched the #BigMacTikTok campaign. Users had to repeat a simple dance sequence using the brand's single and record it on video. All participants received free Big Macs and a chance to win a cash prize. Videos with the hashtag #BigMacTikTok have received over 15,5 million views.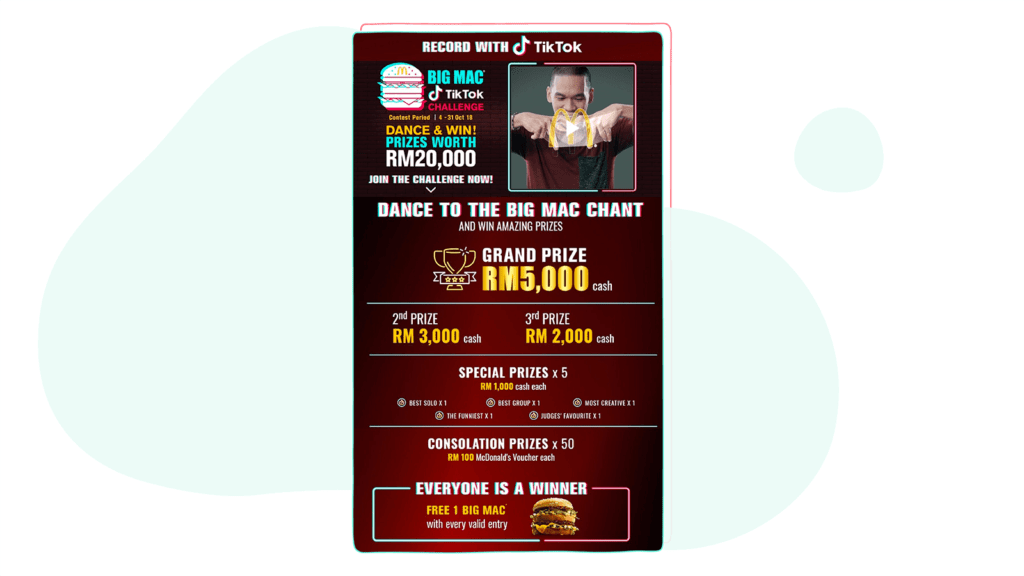 To sum up,
TikTok has got the niche of a young friendly platform, where people come for self-expression, relaxation, and entertainment. Brands should definitely pay attention to this social network to communicate brand values and build relationships with their audience. Challenges brought TikTok and its users' mad fame. So get involved as a brand and run branded hashtag challenges.
✨ Related article: Everything you need to know about TikTok & its Ads offerings