Everything you need to know about TikTok & its Ads offerings
Launched in 2018, TikTok now has 500 million users worldwide, with an average time spent lasting 52 minutes per day per user. It was the 6th ranking app globally by monthly active users in 2019 and it continued to grow in 2020 and 2021.
Social Media News in a Nutshell
Get the latest social media news, insights, and marketing tips in your inbox once a week.
What is TikTok?
Carrying a more sizable following than some other platforms such as Snapchat, Twitter, and LinkedIn; TikTok shows us what's going on in the world of Millennials and the infamous Gen Z! According to a Fall 2020 Survey from Piper Sands, Snapchat is still the favorite social media platform among the U.S. teenagers, however, Instagram fell from #2 to #3 and TikTok moved up to #2.
TikTok users spend more than 850 minutes per month on the app
Most popular overall app downloaded globally in 2020
The app is available to download in 154 countries with 45 language options
1,000,000 Estimated Daily Page Views
60.9 Million downloads in January 2021 alone
29% of U.S. teens consider TikTok their favorite social media platform
58% of U.S. TikTok users are women
3rd fastest-growing brand of 2020
In countries like China, Indonesia, Malaysia, Saudi Arabia, and the UAE, membership among 25-34 year-olds is higher than among 16-24s
A presence in TikTok and TikTok marketing might be crucial for your brand if it targets a younger audience. TikTok videos can be up to 60 seconds long however, given the fact that the average attention span of any millennial is approximately 8 seconds, most content in the app averages 10 to 15 seconds. It is recommended by TikTok specialists that brands should add around 4 to 8 pieces of content per day.
🥁 Bonus: How long are TikTok videos? TikTok video length guide for 2022
Of course, the more is not always the merrier. You'll constantly need to monitor and analyze feedback from users and understand whether or not your efforts are channelized in the right direction.
Setting up an account on TikTok
If you have no idea what's going on in the platform (because it is, indeed, a whole different culture level), just go ahead and download the app. You don't need to create an account on it. The app only asks you to submit a couple of subjects that interest you so that it can bring you the most suitable videos. If you feel like creating an account, you can create one after you surf on TikTok.
It's highly recommended to switch to a Pro account on TikTok. TikTok Pro is currently free for all TikTok users. To do so; go to Settings, Manage My Account, and on the bottom, click on Switch to Pro Account.
In order to create a business account and use TikTok for business, you'll need to sign up as a regular user first. You can create an account with either an email address, phone number, or an existing social media account.
Important tips when using TikTok (also when using other social media platforms)
Use suitable hashtags for your content and campaigns
Comment regularly and encourage your TikTok audience to comment on your posts
Follow current TikTok Trends
Post regularly and often
Get yourself familiarize with TikTok Effects and use them
Use TikTok Ads and set Hashtag Challenges
Create to-the-point videos and write clear descriptions
How to use TikTok advertising
As the company suggests; TikTok For Business is where you can unleash your brand's creative side. A fully immersive – no judgment world'. It's because TikTok and its users don't really care about aesthetics as much as Instagram. There are actually copycat contents because of their natural structure. For example; in Hashtag Challenges – a staple fixture of the app – one TikTok user (or an influencer you collaborate with) will share an original clip where he/she dances to audio. Then others who are inspired by this video will post videos of themselves repeating the same dance to the same audio. This is totally normal, and it's kind of the very nature of the app.
Worth checking: How to nail the TikTok challenge for businesses?
TikTok advertising strategies
In-feed ads: The most cost-effective ads option of all. The ads appear in the native feed of TikTok users' "For You" pages.
Brand takeovers: The ads appear as soon as someone opens their TikTok app. It's a full-screen display for a couple of seconds.
Branded hashtag challenge: As explained in the above paragraph. The videos can include a shopping component for retailers.
Branded lenses: These ads appear in TikTok's more creative and AR-based places.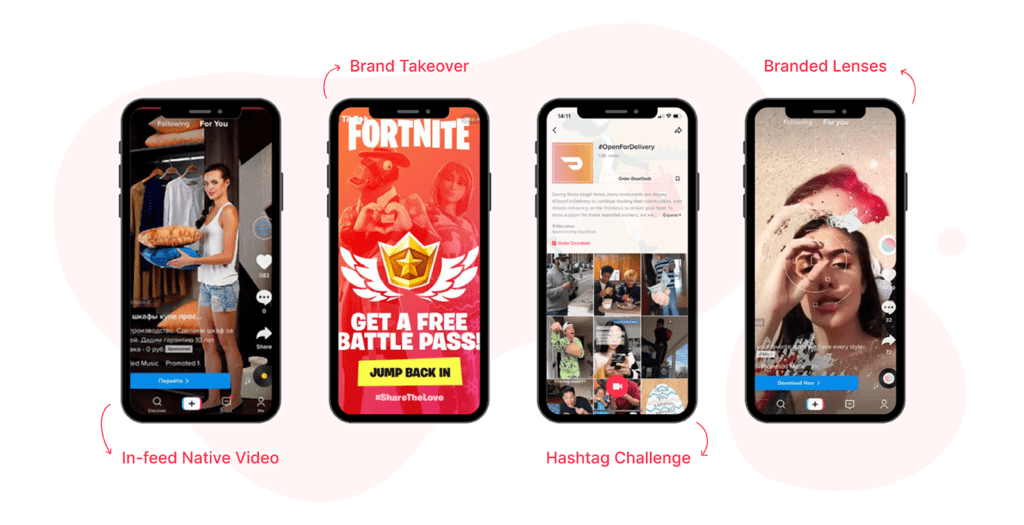 Steps for setting up TikTok Ads
Go to ads.tiktok.com and set up your ads account. This isn't yet a fully automated process, and after a page of questions, you receive a message saying that TikTok will get back to you. Assuming you meet TikTok's criteria, one of their account reps will set up an account for you.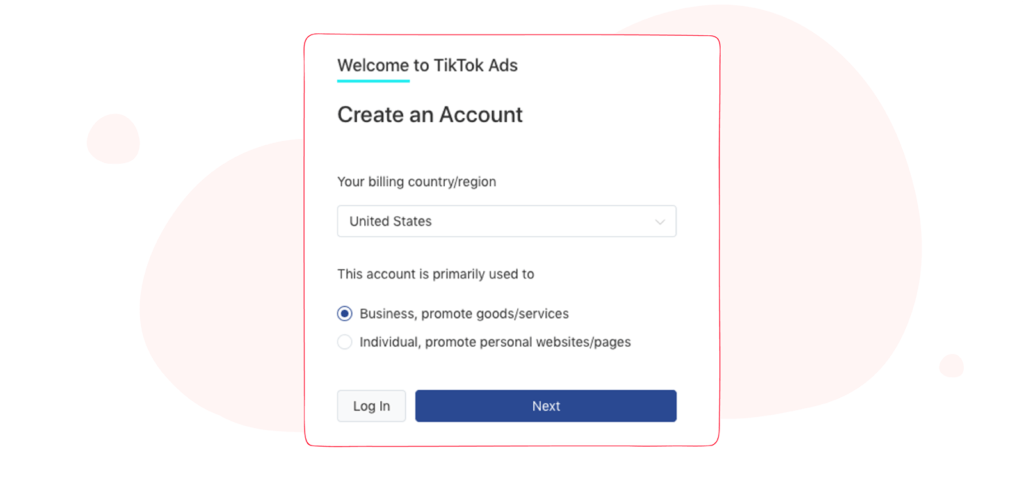 Once you have an ads account, begin to create your campaign. Here you set up your goal, you can choose from Traffic, Conversions, or App Installs.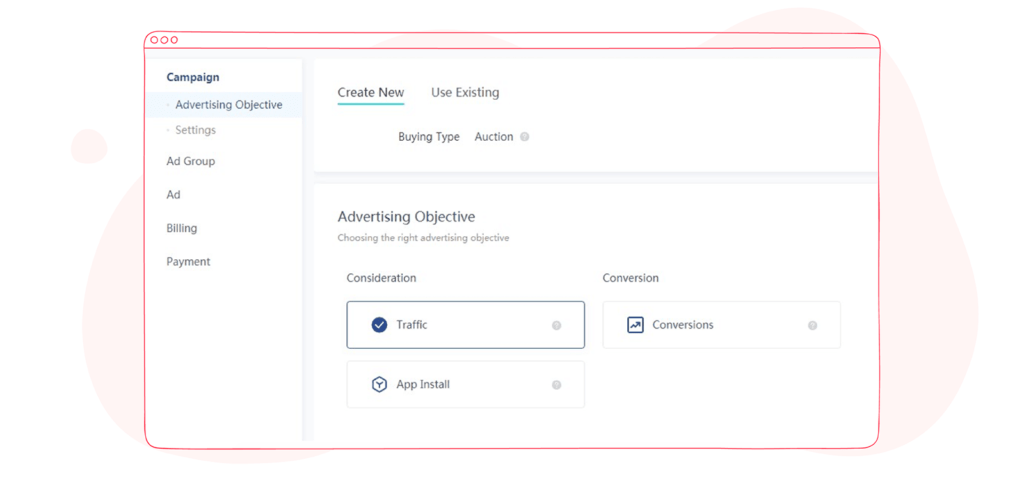 The next stage is to set up the ad groups and finalize your ads' details. You can pick Automatic Placement or Select Placement. Keep in mind that TikTok is just one of ByteDance's apps. So you can choose to place your ads on Vigo Video (India), BuzzVideo (Japan), TopBuzz (USA), News Republic, and some others.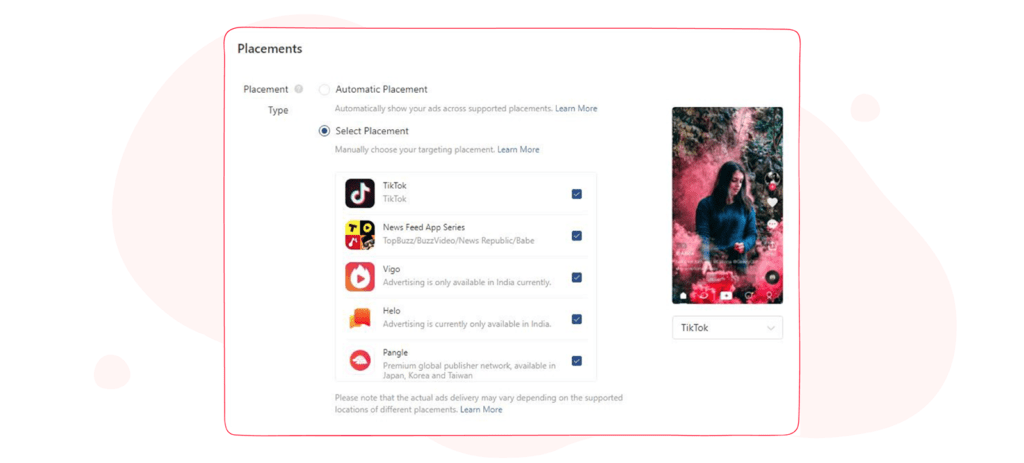 Create your target audience. As always, be as specific as possible so that you don't waste your money.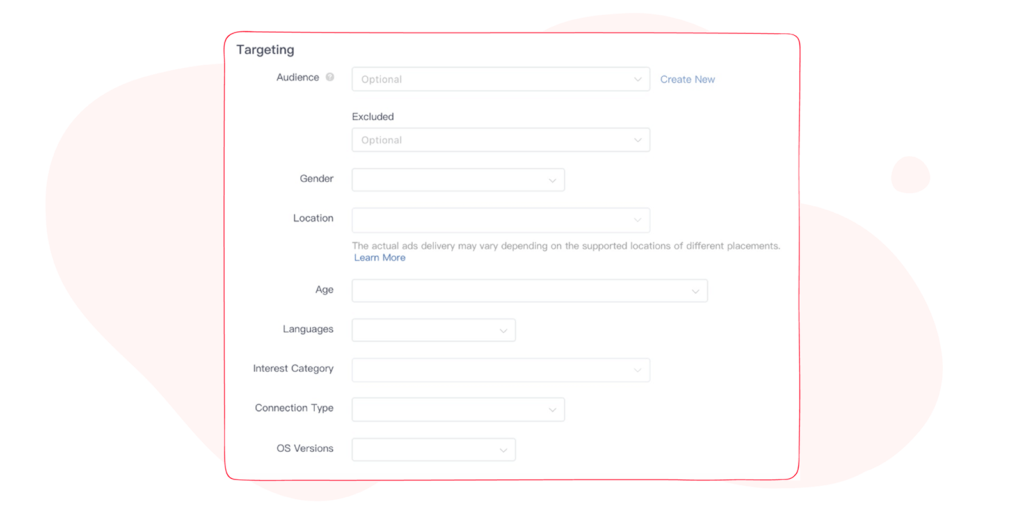 Set your ad budget and schedule it
Set your optimization goal. TikTok asks you whether to optimize your ads for Conversion, Click, or Impressions. With Conversion, ads are priced by CPC (optimization cost per click), with Click, ads are priced by CPC (cost per click) and with Impression, ads are priced by CPM (cost per mille)
Last but not least, upload the ad! TikTok provides creative tools that can help you out in creating a video.
To wrap up; it's undeniable that TikTok has a promising future but for obvious reasons, it might or might not be your go-to medium to attract your clients and/or potential clients. Don't jump into it just because you're fascinated with the statistics or whatnot. If you decide that TikTok is the right medium for you, make sure you make a long-term content strategy and have consistent branding as you'd do on any other social media app. Check this article out and get inspired by the TikTok stories of brands like Colgate, Nespresso, McDonald's, and even some educational organizations!
More resources for you: