What is viral marketing and is it still working in 2022?
Millions of people hearing about your brand for free is a dream of every business. Before you rush to your marketing team and demand "One viral content to go, please," let's dive into the phenomenon to understand how it works and how to make the success of other brands repeatable and applicable to your marketing campaigns. Also, together we will find out if it's still working in 2022.
Social Media News in a Nutshell
Get the latest social media news, insights, and marketing tips in your inbox once a week.
What is viral marketing?
Let's start with a quick definition of viral marketing:
Viral marketing is when your immediate audience or users of your product/ service decide to voluntarily share, distribute or talk about your product, content, or brand.
To bring this definition home, think about how word of mouth works. Customers use a product/service and practically become unpaid salespeople for that brand. They don't hesitate to share this newfound solution with their friends and family.
Now, the internet is the world's marketplace, and content is the accepted currency. It's how brands talk to their audience, inform, educate or entertain them.
So what is viral content?
Viral content is a magic video, photo, tweet, etc., that instantly becomes popular on the internet and is shared by everyone. Viral marketing aims to use the same principle to promote a brand.
The term "viral" depicts the speed at which such content spreads like wildfire from person to person on the Internet. The method of promotion relies heavily on people willingly distributing viral-worthy content. Social media users will spread the content like butter on a hot toast across the web on their own. Just sit and relax.
Unfortunately, viral marketing is not that simple. It can backfire if your content is not well thought out. But if you are lucky enough to go viral for all the right reasons, your brand will be organically seen by millions and gain international recognition.
Through several real viral marketing cases, let's see what can make a brand go viral.
Related Article: 6 Important Social Media Trends in 2020
The bright side of viral marketing
Viral exposure on the internet not only provides amazing brand exposure but also can help to multiply your impressions and engagement on social media channels. Furthermore, it can build a positive image that ultimately will increase the bottom line.
Press coverage is sort of a package deal for viral marketing. Press loves to cover viral content. If you produce something that goes viral, publications won't miss the chance to cover it. As a result, organic exposure will increase all by itself!
One of the recent cases of viral marketing comes from Gymshark.
Gymshark is a fast-growing brand that sells fitness apparel and accessories. They are one of the brands killing it on TikTok. In this viral video, a man wearing a Gymshark T-shirt was lifting some heavyweights and getting hyped up by another gym user to pull off more reps.
Simple right? Yes! But that video has over 4 million likes and about 1600 comments on TikTok. Here are some of the comments on the video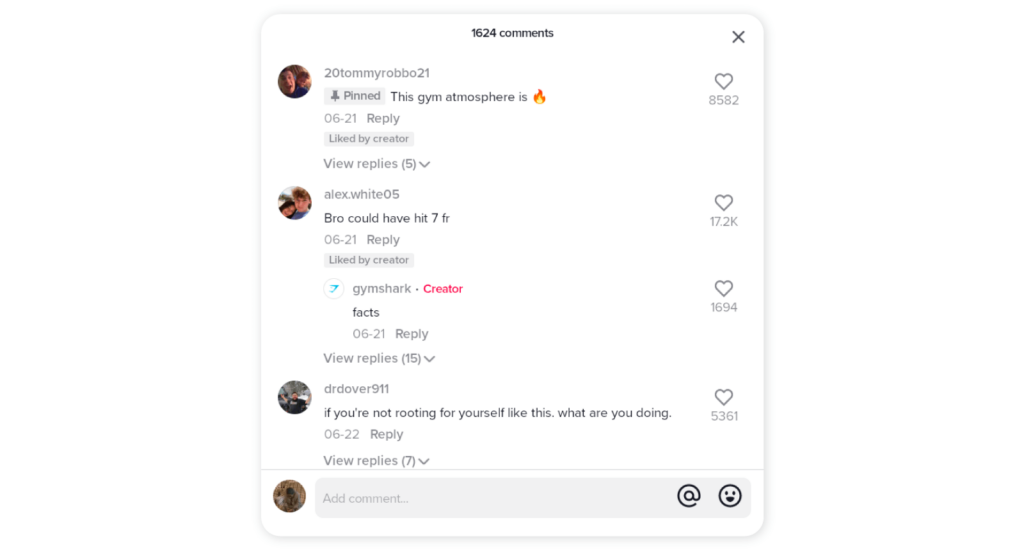 From the comments, you can already have an idea why this content went viral; it was user-generated content that resonated with their audience.
Gymshark's TikTok marketing strategy is a perfect blend of engaging, entertaining, and motivational user-generated content, so it's little wonder they have a handful of content that qualifies as viral on TikTok. They understand what sort of content works for their TikTok audience, which has seen them grow to 3.8 million followers on TikTok.
✨ Bonus: How to get more followers on TikTok? Here are 10 tactics
Yes, virality can be unpredictable, but like Gymshark, you combine the necessary elements of viral marketing. It becomes a case of forcing your luck (or, in this case, virality).
Another notable example would be one from the viral marketing hall of fame—DollarShaveClub's "Our Blades Are F***ing Great" ad. This one was a straight-up marketing video advertising their shaving blades, but they did so in a confident, non-traditional, and funny way that was relatable to thousands.
The ad garnered so much attention because it spoke directly to the consumers in a straightforward tone, addressed an issue with their solution, and managed to entertain them at the same time. It set a standard for many startups that tried to imitate this style for their ads.
The dark side of viral marketing
It's not always rainbows and butterflies when it comes to viral marketing. Some brands have got it the hard way with going viral. It's not always that the marketing team can foresee and prevent a campaign from going viral for all the wrong reasons. I'm sure the Peloton marketing team would agree.
The fitness equipment company released an ad for Christmas last year, which at first glance is your average Christmas ad, but ended up offending many women and instantly became infamous. The company ended up pulling off the ad from YouTube and apologizing for it.
As if that's not bad enough, the company's stocks dropped significantly after the marketing disaster. And as every viral content, it also managed to generate quite the headlines. Take a look at some of the headlines below:
"Peloton Ad Is Criticized as Sexist and Dystopian" by The New York Times
"Peloton ad costs the company and shareholders $1.6 billion" by CBS News
Another case of viral marketing gone wrong was a tweet by Burger King on International Women's Day(IWD).
As expected, IWD gets social media managers itching to celebrate women but this particular gesture by Burger King was not well received by the public.
The reception the original tweet got was overwhelmingly negative, so much so that the brand was forced to delete it and apologize, following abusive comments in the thread.
The brand went ahead to do some damage control and tweeted this to explain their intention, but maybe such bad publicity could have been avoided.

This should serve as a lesson to brands to be extra careful when addressing sensitive topics. Every detail needs to be thought out and planned out carefully.
Elements of a viral content
A few of the social media viral marketing cases described above probably gave you some hints about viral content's elements.
Take the Gymshark case, for example. The video has several elements at once. It not only stood out with a unique brand voice but also utilized TikTok for what it is – a place where people love humor and creative content. The content wouldn't go viral the same way on Facebook.
All the past examples of social media viral marketing cases show a pattern of key elements for viral social media content. Cyberclick's article does a great job of describing those key elements. We'll briefly go over each element to give you an understanding:
1. Trendjacking: A lot of brands were able to add their penny to something viral and get a moment of fame for themselves. A notable example is Adobe's response to Drake's Certified Lover Boy album art of 12 emojis of women in different skin tones. They hopped on the trend and used it to show their other products, with each emoji exhibiting different Adobe software.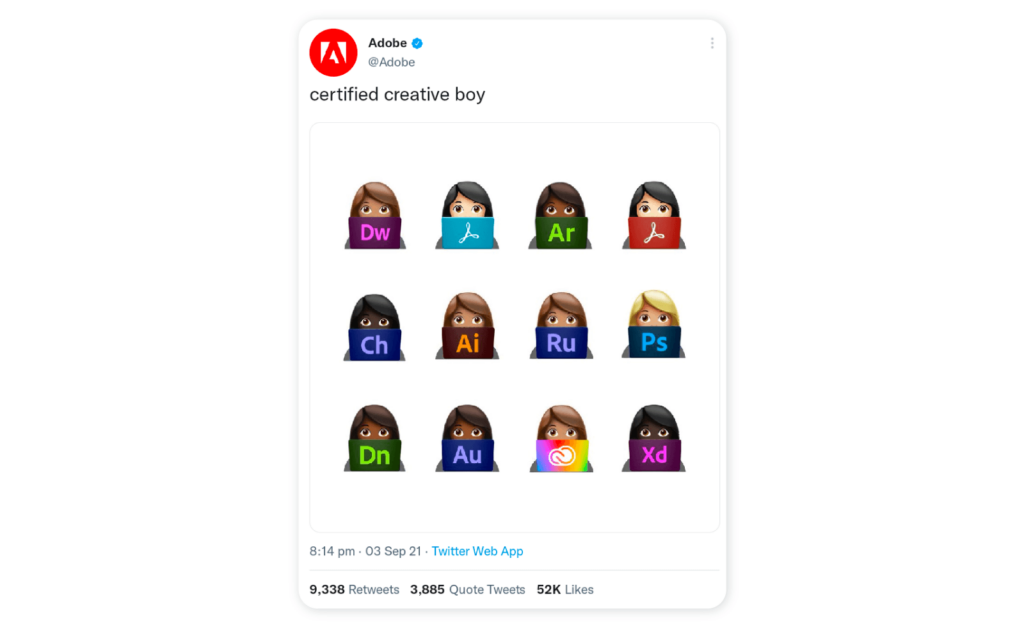 2. Unique Brand Voice: The Dollar Shave Club example also has this element. This brand's ad stood out because of its unique brand voice. You don't have to go that extreme if you are not sure if your audience is okay with it.
3. Utilizing the Social Landscape: Different platforms, audiences, and ways of interacting with content. Take the social media platform and its audience into account when developing your viral social media content.
4. Correct Use of Influencers: Having a famous influencer in your campaign may help your content to go viral. Just don't do it as Pepsi did with their Kendall Jenner ad back in 2017. Their 2018 Cindy Crawford ad is a better example of a successful celebrity endorsement campaign.
5. Hashtags: The use of correct hashtags or coming up with your hashtag can help to spread your message or invite people to engage with your content.
Worth checking:
👉 How to use hashtags on Facebook and do they really work?
👉 How to build a social media marketing strategy
Viral marketing strategies for your campaigns
1. Understand your audience
Yes, viral marketing aims at spreading your content beyond your immediate audience. However, you still have to pay attention to your audience because they are the first point of contact for your content. When you hit it off with your audience, the odds of virality are already in your favor.
Learn what kind of content triggers an engagement from your audience. You can also turn to your competitors to see how your target audience interacts with their content or use past campaigns you've run to understand better what resonates with them.
What time are they most active? What platform do they use the most? What tone of voice do they relate with more? All of these seemingly tiny details, if not put into consideration, can be your greatest undoing. Dollar Shave Club could only be that bold and blunt with their ad because they were sure their audience wouldn't find it offensive.
You can choose to do all of these manually or turn to a social analytics tool like Sociality.io, which does all the groundwork and allows you to focus on the campaign itself.
With our social media listening and competitor analysis tool, you can get all these data points about your audience in minutes and use them to create better marketing campaigns.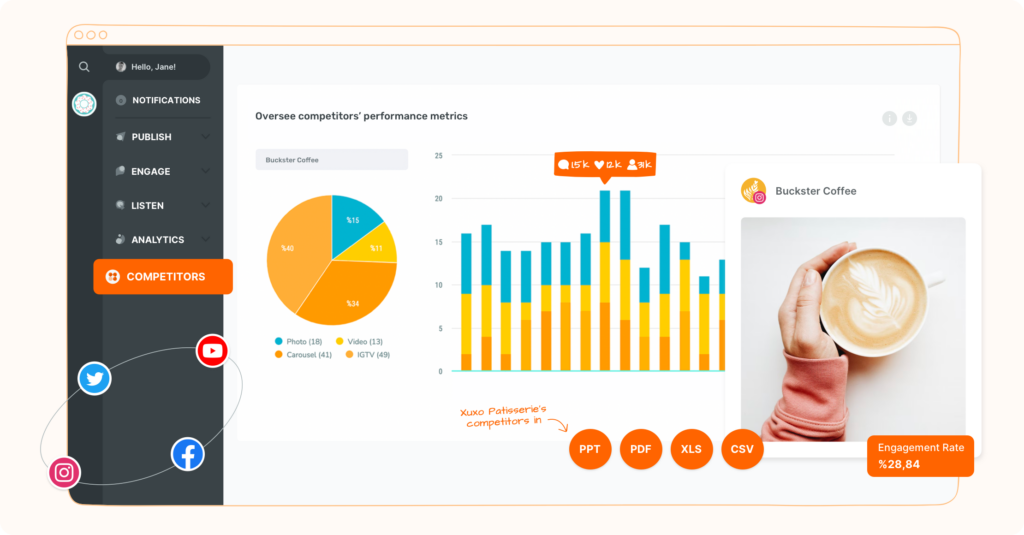 2. Tap into your audience's emotions
When we talk about emotions in marketing, we don't just mean campaigns or content that causes your audience to be sad or tear up. There are several other emotions like happiness, trust, fear, and anger that you can tap into.
Brands like Nike, Dove, and Coca-Cola understand this so well, and that is why most of their campaigns end up going viral. Let your campaigns carry a message that aligns with the values of your audience or speaks to a pain point or concern, and watch them turn into brand evangelists.
Coca-Cola's "choose happiness" campaign focused on inspiring happiness amongst its audience by encouraging them to share their happy experiences and memories. On the other hand, a car insurance company can leverage the feeling of fear by showing their audience how much loss they have to bear if there is damage to their uninsured car.
3. Add some humour
Humour on the internet spreads like wildfire, and that's why brands are starting to include memes in their content strategy. People will stop scrolling if they think your content will make them laugh, and if it does, they are immediately tapping on the share button and distributing it to their network. Don't be scared to let loose a bit with your audience.
Of course, you have to be wary of the platform you are using. Twitter is much more accommodating of humour and sarcasm than a platform like LinkedIn but also less forgiving when your content falls on the other side of funny.
4. Involve your audience using user-generated content
If great content is what grants you access to the virality party, user-generated content(UGC) is the extroverted friend who makes sure you make new friends before leaving the party. UGC puts your campaigns on autopilot and allows you to take a back seat while your audience does the "viral spreading." The best part is your audience won't mind doing this, especially if your campaign is centered on a societal value or issue. That way, they believe they are partaking in something bigger than themselves.
Even if your campaign is solely to promote your product or service, your customers won't mind being the face of your social media pages(except you are marketing a bad product).
Six of the best viral marketing examples to learn from in 2022
1. Tesco's " Together this Ramadan" billboard Campaign
A popular British supermarket marked the month of Ramadan with a creative outdoor ad which soon became the talk of the Internet. They teamed up with creative agency BBH to show support for the Muslim community during their holy month.
The digital billboards show empty plates filling up with delicious food as the sun sets. This signifies the Iftar meal eaten at the end of each day's fast during the Ramadan period. The ad includes a copy that says " Together this Ramadan" and another copy below which says, "in honour of everyone fasting, these plates only fill up as the sun goes down."
They strategically placed these digital billboards in areas with a prevalent Muslim community. The billboards also faced eastwards, with the sun setting behind.
What they did right: They demonstrated their commitment to inclusivity through this marketing campaign. They were intentional about reaching the Muslim community–even down to the little details of the campaign.
Don't just talk about your brand values on paper. Let your audience be able to see it in your marketing campaigns.
2. CPB London " Imagine" campaign
London-based advertising agency CPB launched an "imagine" campaign to celebrate International Women's Day 2022. The theme of the year's celebration was "breaking the bias," and this inspiring campaign did just that.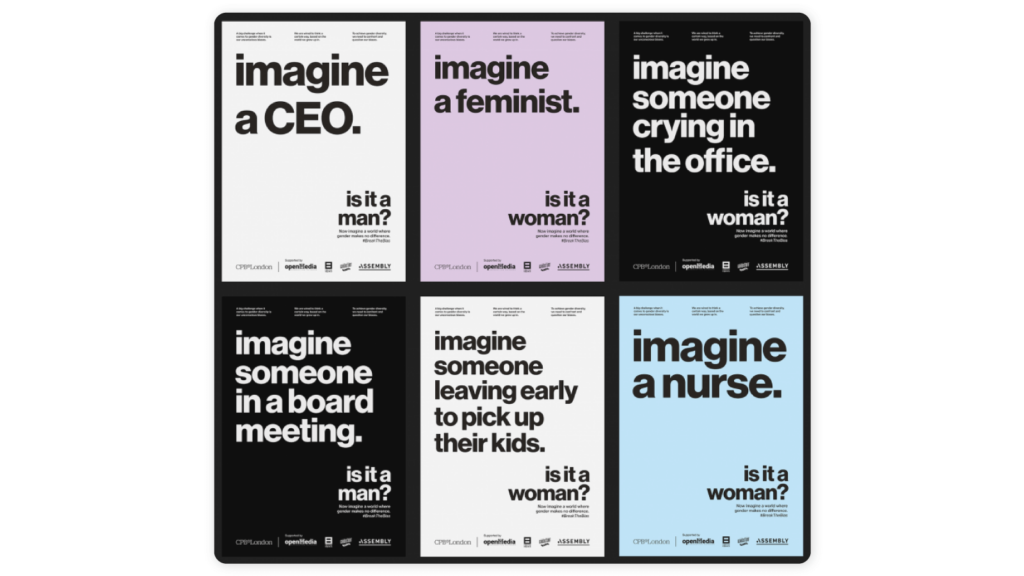 It centers around the common gender bias of society at large. It asks you to question your internal bias by imagining different social roles that were commonly associated with men and women, respectively. These text-only posters asked if people imagined a man or a woman in different roles.
A nationwide study in the United Kingdom inspired this campaign; 39% of primary school children believe that mothers should look after their babies and do all the house chores.
Alongside these ads, they also launched a children's coloring book where young ones were asked to draw what they imagined when they read the same headlines in the ad copies. All proceeds from the sales were used to support The Young Women's Trust and Beyond Equality's quest to build a more gender-diverse future.
What they did right: They used this campaign to address a deep-rooted societal issue affecting the female gender.
3. Reddit's five-second Super Bowl commercial
Most Superbowl ads fall within the 30 seconds to a one-minute time range, but Reddit decided to try something different. They aired a 5-second commercial during the Super Bowl halftime show.
The commercial started with two S.U.V.s racing across the desert before it glitched out, displayed some text, and ended with horses galloping through a field.
Yes, all of those within five seconds. Of course, viewers were confused and went to social media to talk about what they had just witnessed.
This tweet by Reddit was already waiting for them. The tweet currently has 465,000 views. Now, videos could pause the video and get the message Reddit was trying to pass with the commercial.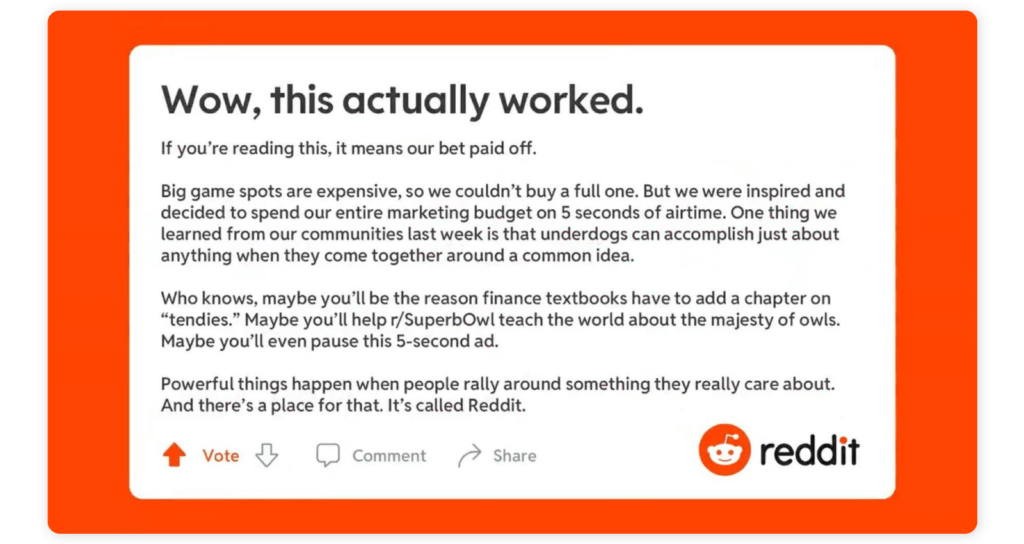 What they did right: They used unconventional and unique tactics to stand out and get their audience's attention—a good example of a brand taking risks that eventually pay off.
4. Spotify: unwrapped campaign
At the end of every year, Spotify, the music streaming platform with over 381 million active users, releases a personalized summary of all the music you listen to throughout the year. The wrap shows you different statistics like your most played artist, most played songs, and the number of minutes you've spent listening to music, and then creates a personalized playlist off all that information.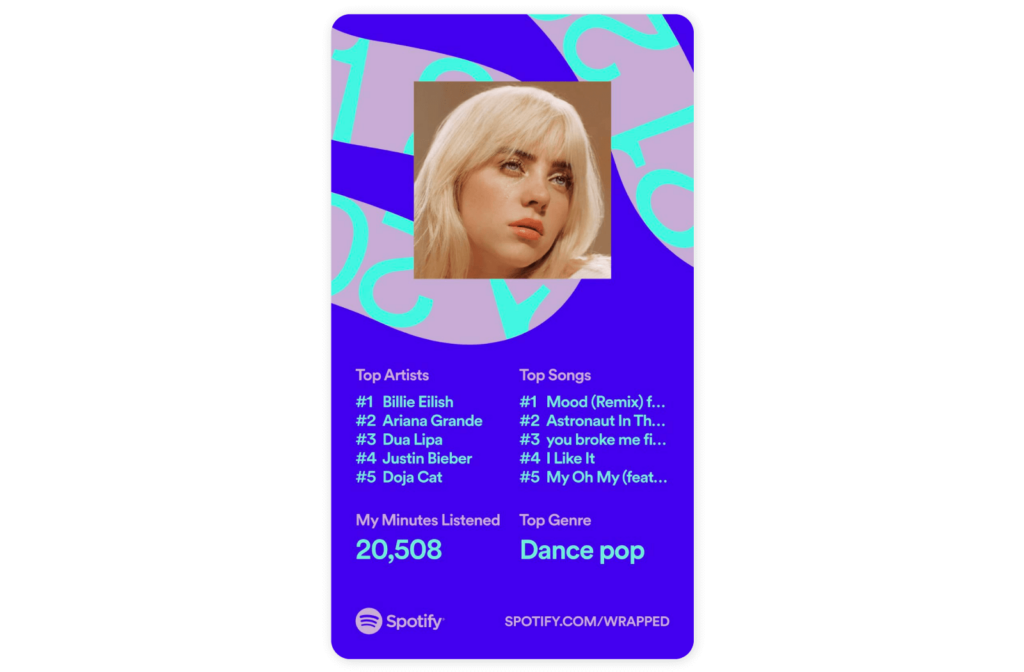 Every user's wrapped summary comes with colorful graphics instantly shareable on social media. This is a great way to keep users engaged and exploit user-generated content for viral marketing.
What they did right: Everyone likes to show off their music taste, especially if it's a tad different from the norm. Every year, they exploit this human desire and get existing users to market their product for free while satisfying their user's needs and keeping them engaged.
5. YouTube and BTS: Permission to Dance Challenge
YouTube partnered with popular k-pop band BTS in July 2021 with the "Permission to Dance " challenge to promote its new short-form video functionality—YouTube Shorts.
To participate in this challenge, users were asked to create a 15-second YouTube Short from the Youtube mobile app replicating the dance moves from BTS's new permission to dance music video.
This challenge has generated over 148,000 video submissions across 84,000 channels, with BTS' English announcement tweet pulling about 240,000 likes.
Both parties benefited from this partnership as YouTube was able to promote their new feature, and BTS was able to increase the reach of their new single.
What they did right: This is an example of influencer marketing, just that this time both parties benefited. YouTube and BTS leveraged each other's established audience to promote their work.
6. Drake's Album Cover
Popular Canadian rapper Drake broke the internet again by releasing his Sixth studio album—Certified Lover Boy. He has developed a reputation for using memes to make his work go viral. So it is no surprise that he inspired yet another meme phenomenon to market this new album.
Days before the album's official release, Drake announced the new album by posting the cover art of the album. It featured 12 emojis of pregnant women in different skin tones wearing different colored tops.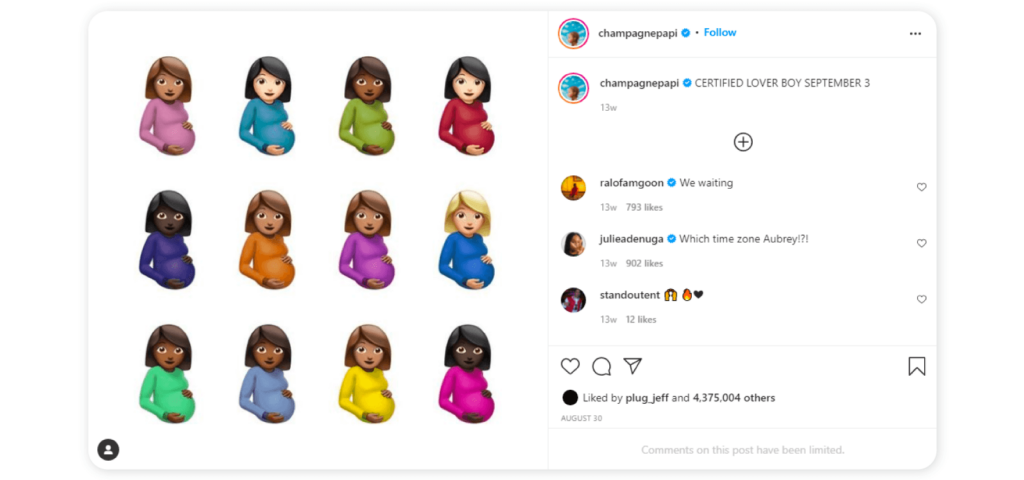 Soon enough, another musician, Lil Nas X, spurred the trend by announcing his new album by posting a similar image of 12 pregnant men. Other brands then began to share their version of the album art.
Nando weighed in with "Certified Chicken Lover."
Adobe with "Certified Creative Boy" and
Crocs with "Certified Lover of Crocs."
They all did this to showcase the different ranges of their product.
This resulted in the album being the most-streamed album in a single day on both Apple Music and Spotify on September 4, 2021 ( a day after its release). The album also debuted as No.1 on the Billboard 200 charts of most popular albums in the United States and sold over 613,000 in its first week.
What he did right: Drake's album marketing strategy is a perfect example of letting the media and your fans do all the marketing for you. He understands that the Internet loves memes, so he creates one from his work, which attracts the media and ultimately provides the needed publicity for his album.
Is viral marketing still relevant in 2022?
The last decade proved that people are tired of the fake corporate approach to consumers. The success of campaigns like DollarShaveClub's "Our Blades Are F***ing Great" showed the demand for honest and straightforward brand voices. Many similar campaigns followed throughout the decade, which proved to be successful on the internet.
Examples from Gymshark and Drake prove that viral marketing is still relevant. The Peloton ad and the burger king tweet, on the other hand, shows that brands are on thin ice, and the slightest carelessness in a campaign may break it and leave the brand in cold waters.
Viral marketing is always unpredictable, and the general cliche rule of marketing of being authentic is especially applicable. The cases above show how to successfully make your take on brand authenticity in the era where people expect transparency and straightforwardness from the brands they use.