How to use hashtags on Facebook and do they really work?
Most marketers can boast of having a good grasp of the workings of hashtags on Instagram and Twitter, but the same cannot be said of Facebook hashtags.
Despite being in use since 2013, the use of hashtags on Facebook is yet to get as much buzz as on other social networks. Debates have gone on for years as to why this is so, but here's one thing that's as clear as day.
With over 2.89 billion active monthly users, Facebook remains the largest social media network in the world.
Bonus article: Learn from top-performing Facebook pages on how to boost engagement
That number suggests that whatever efforts you put into learning how hashtags work on Facebook would yield immense returns for your business, provided you get it right.
In this article, we would walk you through the fundamentals of hashtags: the how, when, and where to use hashtags on Facebook, giving relevant examples in each case.
Social Media News in a Nutshell
Get the latest social media news, insights, and marketing tips in your inbox once a week.
Hashtag basics
Hashtags are simply words or phrases preceded by the pound (#) symbol. It turns topics and phrases into clickable links with their own URL.
Imagine trying to keep up with all the conversations happening around the Super Bowl on the night of the finals. A simple #SuperBowl search on your social media platform would plug you into all the discussions about that sporting event.
Hashtags remain the most efficient and organized way to monitor events or conversations on Facebook and it works on all types of posts and comments including personal profile posts, event posts, group posts, and fan page posts.
Why use hashtags on Facebook
Helps your target audience find you: All of your social media efforts are to see that your posts get in front of the right people; people you consider your ideal audience, and hashtags help you do just that.
Using the right hashtags helps project your content beyond your followers, right into the search results of people who are interested in hearing what you have to say. For example, a food company making a post about a new food menu for vegetarians should consider adding the hashtag #vegeterians to their post. That way vegetarians can easily find that post and be convinced to try out their new product.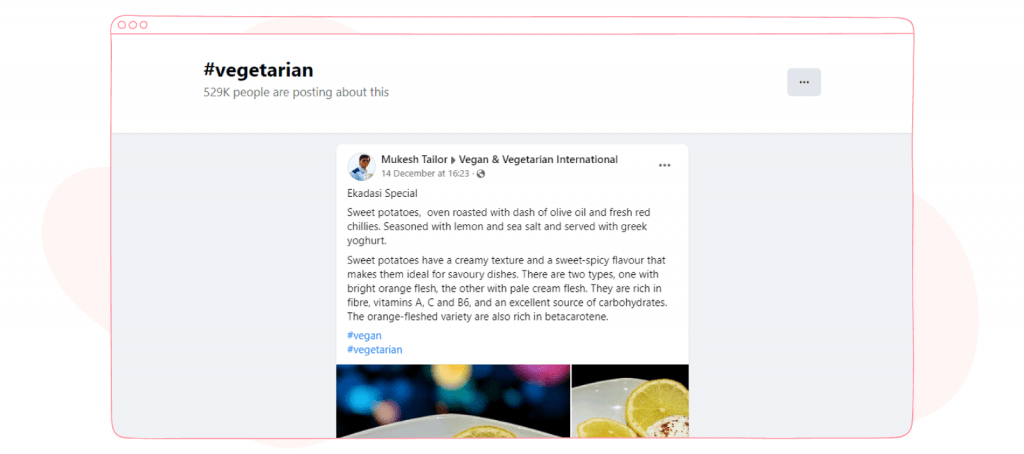 The use of that hashtag makes your post visible in the search results of anyone searching about vegetarians, it extends your content to that many people without the use of paid ads.
Increases engagements with your followers: Including hashtags in your post means you are either starting a new conversation or taking part in a conversation already happening, but more importantly, it makes your post more visible in such conversations. This can ultimately lead to better engagements with your post (especially if it's a popular or trending hashtag) through likes, shares, and comments and ultimately new followers.
Monitor trending topics: Hashtag allows you to monitor which topics are popular with your audience and you can use that information to create and curate the best content for your audience while learning how best to trigger engagements from them.
May help 👉 How to find your unicorn content?
Show support for other social issues: Customers love to see brands showing a human side and engaging in discussions about societal issues that affect everyone. Some of these issues can be quite sensitive, so ensure you have it well thought out before taking any step.
For example, International Women's Day (IWD) is a day brands show their support for women in society.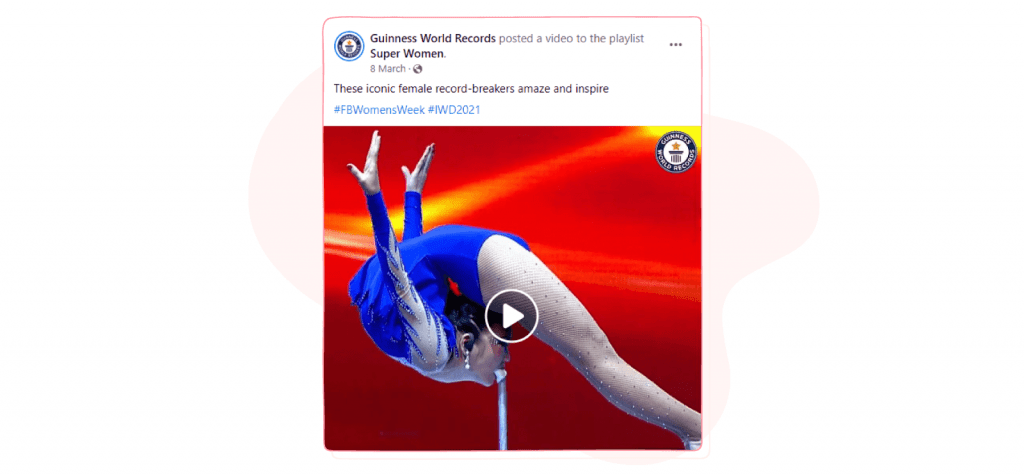 How to find the best hashtags to use on Facebook
If you post regularly to your Facebook account, we recommend building an extensive library of hashtags. This way, you can have an abundance of hashtags to choose from for your post—depending on their relevance. But how do you know which hashtags are deserving of a spot:
By monitoring your competitors: You have a shared target audience with your competitors, so what works well for them, would probably do for you also. Go to their pages, check their contents. Pay attention to how they use hashtags, where they use them, and how many they use.
But here's a warning; Identity which of these hashtags are branded or campaign hashtags (more on that soon) and do away with them. The best you can do with those is to gain inspiration for your own branded/campaign hashtags, not directly copy them.
Keep an eye on influencers: Depending on your niche, influencers can also serve as reference persons to help understand your target audience, due to the influence they might have on them. You can take a cue from such pages and use it to build your hashtag strategy. Just make sure the influencers are relevant to your niche.
Using a social media listening tool: Just as the name implies, social media listening tools are tools that help you listen to what your audience is saying and allow you to monitor all your social media networks in one place.
With tools like Sociality.io, you can easily find comments, mentions, and analyze posts about your brand using the listening function. You get detailed reports that give you deep insights into your audience
Using related hashtags: When you type in your first hashtag on a post, Facebook recognizes that and recommends related and trending hashtags to use via a drop-down list like this: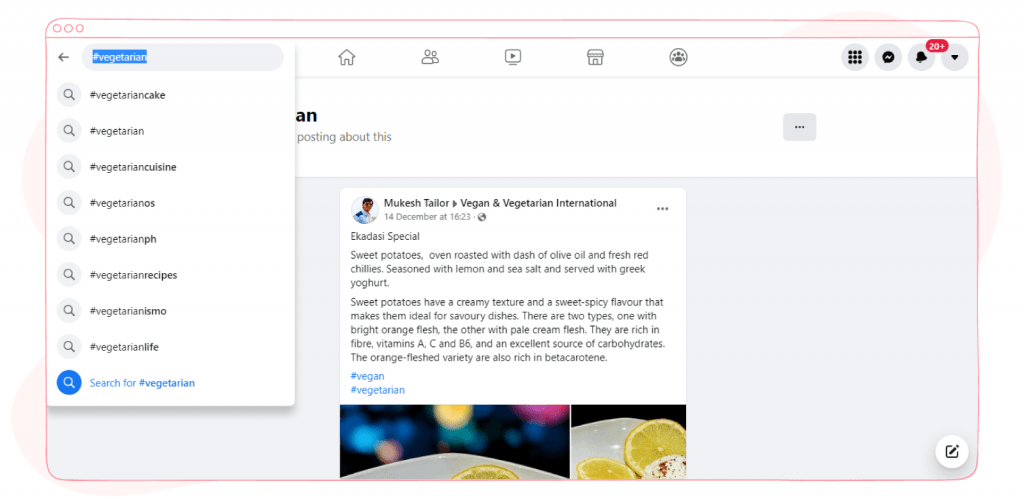 You should consider using some of these related hashtags, most especially if they go well with your post. Some of them might even be more specific than the popular hashtags you are already using which could help to connect with a more targeted and narrow audience.
Related article: How to create a no-code Facebook chatbot?
How to use Facebook Hashtags
Use popular hashtags: Adding a popular or trending hashtag to your post is a great way to get in on a topic already getting the buzz or engagements from your audience and even get your post seen by many others
But here's a caveat; If your post does not in any way relate to the trending hashtags at the moment, don't force it. Make your posts and your hashtags blend as seamlessly as possible.
Use relevant hashtags: the more relevant your choice of hashtags is to your post, the more the chances of your post getting to the right eyes. Use hashtags that are both relevant to your target audience and your post. This would help you receive more engagements from those who are specifically searching for your content.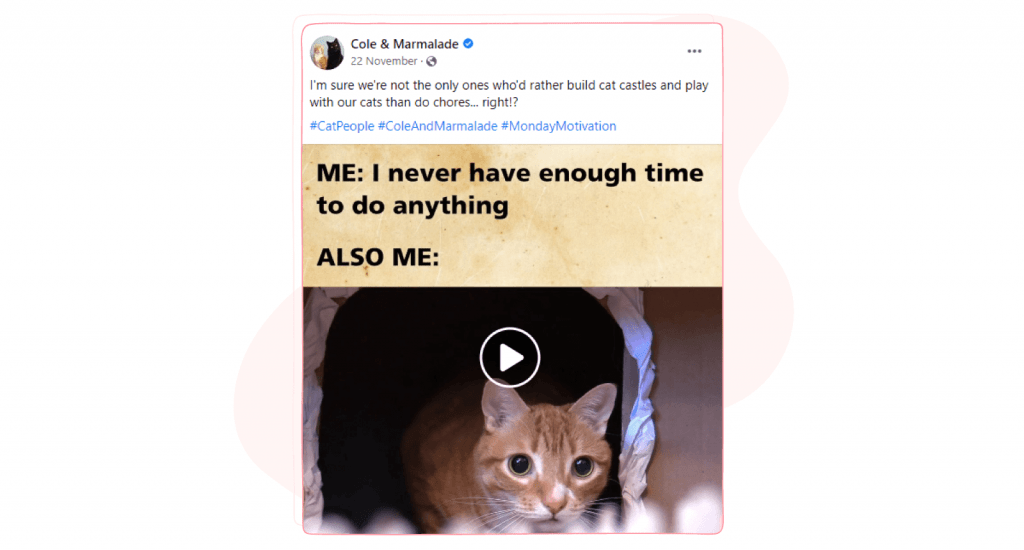 The sweet spot is of course highly specific or relevant hashtags that are also popular or trending. But your hashtag strategy should also include a selection of low-volume, highly-relevant hashtags. It might not be as popular but it could make a perfect match for your account. for example food, dinner dessert.
Use branded hashtags: This just involves creating specific hashtags relating to your product or brand. Having a branded hashtag that you include in your post helps your audience to find posts related to your company just by using that hashtag. For branded hashtags you do not necessarily have to force your brand name into it, you can just create a phrase or tagline that people can associate with your brand identity. This would even help to sound less promotional.
Coke's #ShareaCoke is a great example of this. That hashtag has been entirely branded by coke on all social media networks.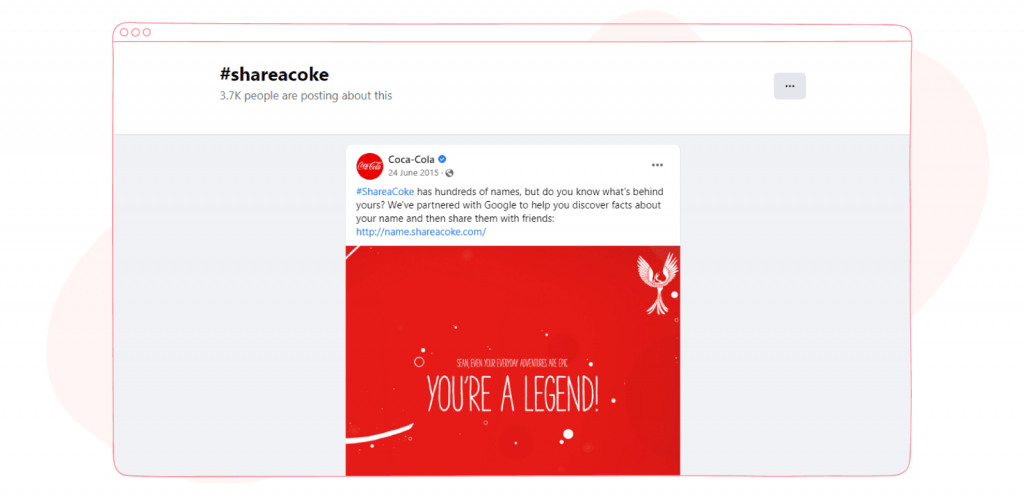 Use campaign hashtags: they can be seen as short-term brand hashtags designed specifically for a marketing campaign, and only last till the end of that campaign. For example, creating a campaign hashtag for the launch of your latest product. They encourage conversations around your content or campaigns.
Here, Shopify uses hashtags to promote an event, with the hashtag specifically being the name of the event itself.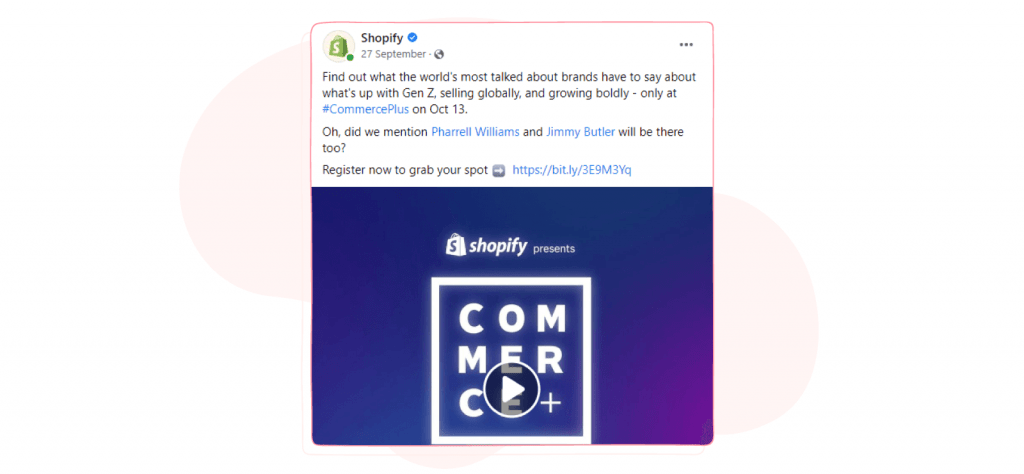 How many hashtags should you use on Facebook
Depending on what kind of product or service your brand offers and who your target audience is, the answer to this might vary but the key here is to test and iterate till you find the number that works well with your audience.
But there is just one golden rule; let the copy of your post shine. You don't want your post looking like a giant wall of hashtags with a sprinkle of content. It could discourage people from reading and engaging with your content.
Best practices for using hashtags on Facebook
Capitalize the first letter in each word of your hashtag. It makes it easier to read.
Audit your best posts and add relevant hashtags to them to boost their visibility.
Your privacy settings prevail over your post, so ensure your post is set to public. Any other option would restrict your post to that group of people.

Don't use spaces between hashtags phrases
Do not add punctuations to your hashtags
Incorporate your tags into sentences e.g who gets your vote for the #NBAFinals MVP rather than who gets your vote for the NBA Finals MVP #NBAFinals
Don't use several different hashtags for a single topic, as it can be confusing
Do hashtags still work on Facebook?
Chances are your competitors are already using hashtags to reach so many of your shared target audience on Facebook and you might be missing out on a lot of your ideal audience if you don't do likewise. Whatever form of content you are posting; an image, video, or just a plain copy, get a relevant hashtag to it.
Having said that, If you want to make the best use of Facebook hashtags, you have to be able to tell the impact it has on your posts.
Using our platform, you can easily monitor the engagements of all your posts, using it to compare posts with different hashtags. You can also track every hashtag you use on Facebook with our listening function, which lets you see how many interactions and conversations those hashtags are generating, and as a whole, you can then use this information to evaluate your hashtag strategy.