How to create a no-code Facebook chatbot?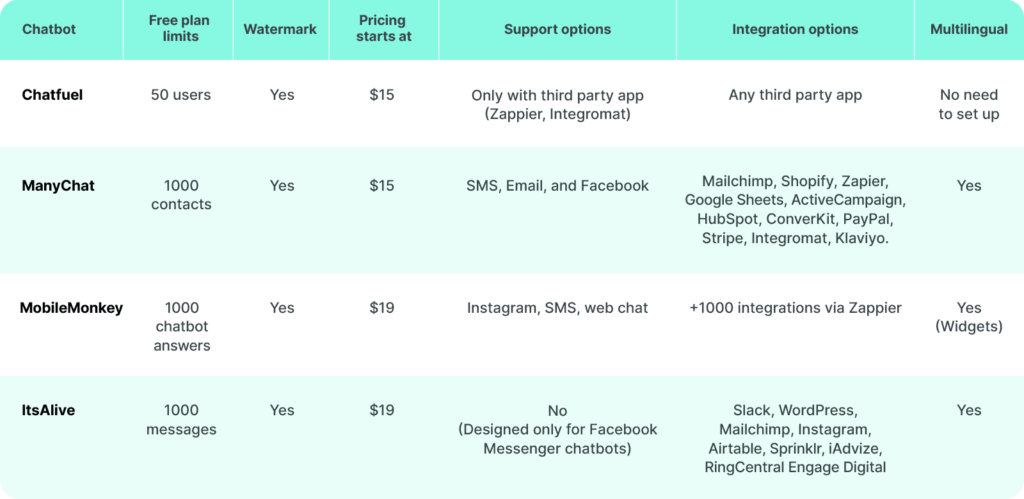 Every month, over 20 billion Facebook messages are circulated in a B2C circle. The popularity of chatbots has been growing rapidly to meet consumer demands and shifts in behaviors. Today, customers simply expect businesses to offer customer support through social media channels.
A chatbot is a programmed AI software that automatically responds to customers' questions. It helps to optimize support and social media teams' working time by directing them to the right information, product, or business department.
Creating a chatbot might seem stressful for those who lack coding skills and don't have the resources to develop a new solution. To solve this problem, there are ready-to-install chatbots. This article has made a list of free and paid solutions that allow you to integrate Facebook chatbots without any coding quickly.
Social Media News in a Nutshell
Get the latest social media news, insights, and marketing tips in your inbox once a week.
Define Facebook chatbot's purpose
It is essential to define the chatbot's purpose and prepare a list of frequently asked questions. For instance, you can share some basic information:
Get started button
Greeting message
Working hours
Location
Contacts
Menu
Save user phone
Save user email
Quick reply
Product gallery
Chatbots can drive customers to take action by imitating real human conversations. For example, your chatbot can explain what your company does and direct customers to the right person or department if you have a media agency. Or, if you have a restaurant, a chatbot can send a digital menu or allow them to book a table. Yes, the possibilities of chatbots can be endless, but where to start? Let's dig into the subject.
Related article: How to Conduct a Competitor Analysis on Facebook
How to make a Facebook bot?
Choose the right platform. There are numerous free and paid Facebook Messenger chatbots, builders to choose from.
Launched in 2015 as a chatbot platform, Chatfuel has evolved into one of the most used bot platforms for Facebook Messenger. Nowadays, Chatfuel has over 100 million users per month and serves both small businesses and big companies such as Buzzfeed, Netflix, VISA, Adidas.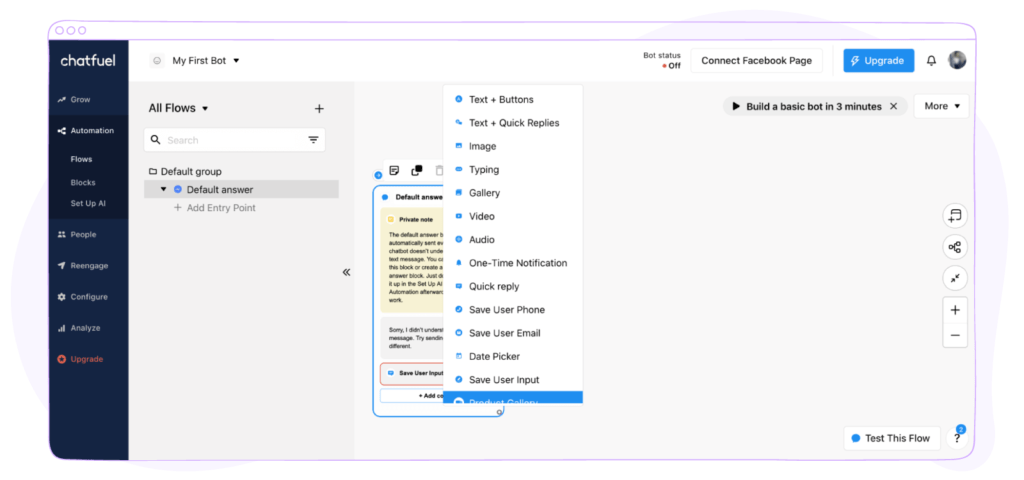 Chatfuel is designed for users with non-technical skills with an intuitive interface.
Setting up a Facebook Messenger chatbot takes 3 minutes.
Various features: providing basic information about a company, quick replies, sending notifications and reminders about upcoming events, and many others.
The number of different options can be confusing and seem complicated to review the entire mechanism of business-user interaction.
Reviews say that Chatfuel bots can fail to recognize the user's inputs and do not respond.
The free version includes a watermark, and the number of subscribers is limited to 50 reachable users.
The PRO plan starts from $15 per month.
Related article: Top 10 Social Media Scheduler Tools in 2021
As the platform's official website says, ManyChat is the most used Chat Marketing Platform globally, and it is easy to explain why. ManyChat is loved for its ease of use and free option features. The platform offers no-code chatbots for Facebook Messenger and has a simple drag-and-drop interface to set up.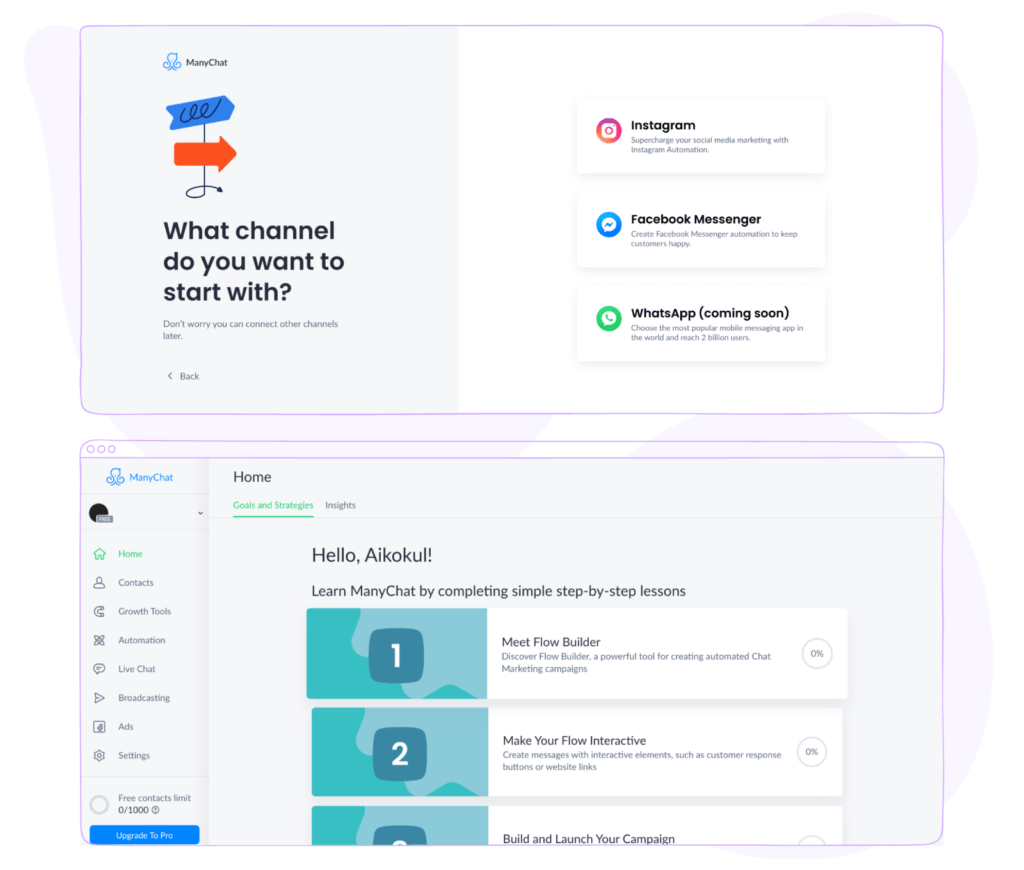 ManyChat supports SMS, Email, and Facebook at the same interface or separately. 
Integration options: Mailchimp, Shopify, and Google Sheets. 
Test and preview automated messages.
The free option includes up to 1,000 contacts with unlimited custom chatbot flows, unlimited broadcasts, and comments tools.
The free plan includes 1000 users. 
According to reviews, user experience can be failed by software crashes and glitches and by technical issues with broadcasting.  
The PRO plan starts at $15 per month, but pricing depends on your marketing strategy and how many people you want to engage.
To set up the chatbot, visit ManyChat's YouTube channel.
Related article: Facebook dark posts demystified. How to create and use dark posts in 2022?
Next on the list is MobileMonkey, which is also focused on creating a no-code chatbot for Facebook Messenger. The platform allows marketers to develop Facebook bots, interact with their customers, segment their audience, grow their contact list, and increase conversions. Large companies such as Toyota, Big Guys Pizza, and DocsApp are among MobileMonkey's customers, but the platform offers solutions for large and small businesses.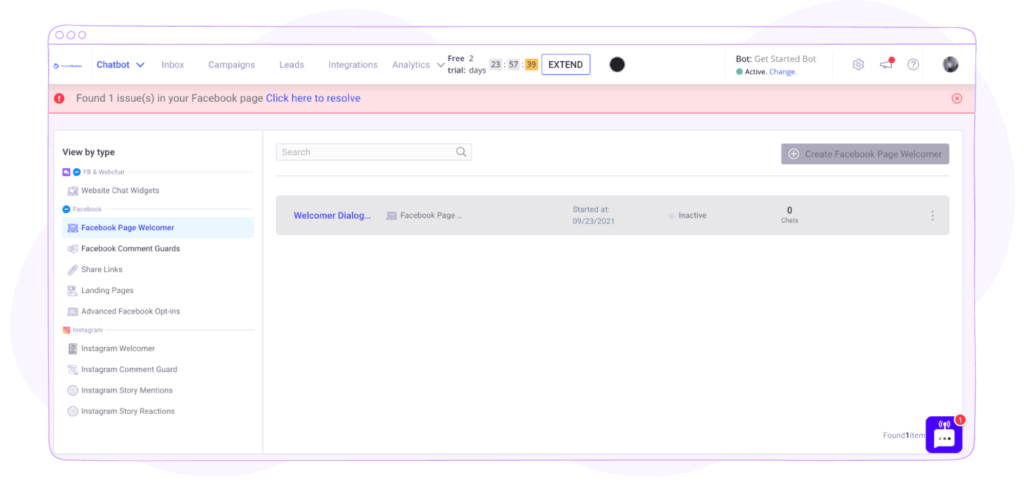 Marketing analytics and a well-coordinated lead generation. MobileMonkey collects user data and displays analytics on conversions, contacts, and types of popular questions.
The free plan includes a chatbot, integrating the chatbot into your website, advertising in Facebook Messenger, blast messages, and lead magnets.
The free plan comes with a 1000 chatbot answers limit.
The MobileMonkey setup can be a little more confusing as it is not like the drag-and-drop functionality of other platforms.
The platform doesn't display all the topics in one room – instead, you'll see each item in a row. The order of items is easy to change, but if you add new terms, things can get a bit more complicated.
The plans include special offers for small businesses, marketing agencies, and remote marketers. The PRO plan starts at $19 per month.
Check out MobileMonkey's chatbot setting up tutorial here.
ItsAlive is a platform that solely focuses on Facebook Messenger only. The platform is oriented to marketers, small businesses, and big global players such as Coca-Cola, Universal, and Johnson&Johnson.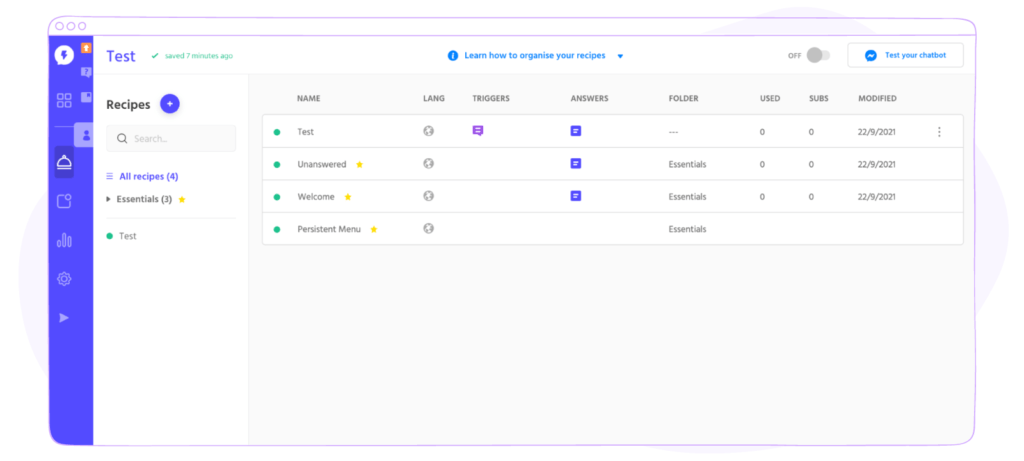 The user-friendly and multilingual platform.
Lead generation form and email notification.
Categorizes different requests, schedules broadcasts, fits all the business's sizes.
The free option includes the creation of 1 chatbot and up to 1,000 messages per month.
ItsAlive offers 5 types of pricing plans that are pretty flexible. The PRO plan starts at $19 per month and includes full analytics, defining KPIs.
To check how to build a chatbot on this platform, follow the link on a YouTube tutorial.
Related article: Reasons Why You Should Stop Measuring Social Media Vanity Metrics
Conclusion
Chatbot constructor platforms are easy to use and offer advanced options for integrated marketing. The setup times are getting shorter, the user experience is becoming more intuitive, and the possibilities for bots are getting wider.
There is no need to code a chatbot. In addition to embedding chatbots to Facebook Messenger, you can connect bots to other platforms such as Shopify, Slack, Hubspot, MailChimp, Microsoft Teams using one platform.
As we noted, Facebook chatbots equip you with user data and allow you to analyze popular requests and customer feedback. Thus, a properly configured chatbot can become an indispensable assistant that satisfies user requests and drives new leads.
Mentioning lead generation, here is the "Top 6 LinkedIn features to boost lead generation." Don't miss out!