How to manage a social media team?
What is the role of social media in your business and how to effectively manage a social team? Almost everyone who spends time building a social image knows this fact: posting daily content is not social media marketing.
Nowadays social media is one of the most powerful tools to reach and engage with your audience. Companies need time and effort to outperform competitors in a game defined by algorithms. Today your presence on social networks is a tool to grow your business.
Before making any decision you should ask yourself the main question "Why do I need this?". If you have a solid answer, then ACT!
Here is the article that explains everything you need to know to manage a social media team.
Social Media News in a Nutshell
Get the latest social media news, insights, and marketing tips in your inbox once a week.
Understand the power of social media marketing
So why exactly do you want to use social media platforms as a marketing channel? To place stock banners there? To get real customers? Or subscribers? To consult your clients online?
The standard cliche is to evaluate the effectiveness of social media presence by tracking the number of subscribers and likes under posts.
But, as soon as the social media promotion begins, prepare yourself to replace quantitative indicators with qualitative ones.
It is very usual when the head of the company points to the page on Facebook and says:
Look, here we have 1000 subscribers. And how many subscribers does our competitor have?
The competitor has 10,000 subscribers.
Why aren't we doing anything? Do something immediately!
Likes, tweets, shares, video views, subscribers, and other vanity metrics are very easy to cheat on. Social media management is much more interesting than these commonplace ideas.
Related article: 6 Ways how technology can simplify social media management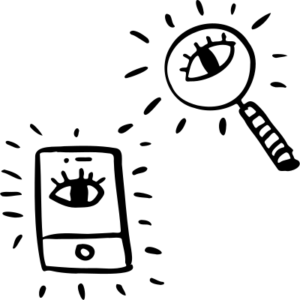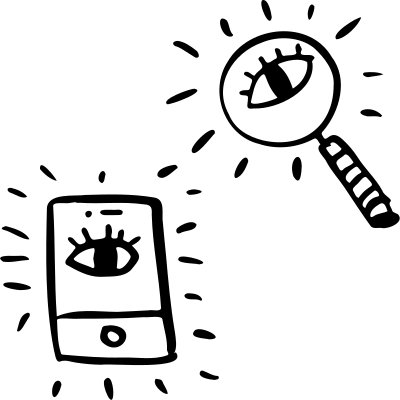 Why do you need an SMM promotion? Social media platforms should solve your business problems. Without a clear understanding of why you need a social media team, there is a high probability of coming to the wrong place. It's pointless to be present on social media "just because everybody does it".
Setting goals is the best way to understand performance. Also, it will help you to make better decisions when managing the social media team.
Make a list of your company's tasks that can be solved using social media. For example:
Company reputation management.
Getting leads aka potential customer.
Informing potential customers about the company's products and services.
Informing about promotions and discounts of the company.
Getting feedback on products/services, responding to reviews.
Creating a personnel reserve for the company, hiring new employees.
The more detailed you describe these tasks, the better. Later you can use them to evaluate the effectiveness of your social media team.
Dream team: Who do you need and what functions does each member perform?
A few years ago, it was usual to look for a specialist in all trades. A person who can write copy, design visuals, take photographs, shoot videos, launch targeted advertisements, negotiate with influencers, make sales via direct messages, and walk the director's dog.
Today everything has changed. Social media is overblown by increased opportunities and, accordingly, budgets. New specializations have occurred. Even copywriters should be selected for a specific platform, not to mention advertisers.
A developed social media team often needs narrow specialists who are single-discipline experts: one only creates content and does not launch ad campaigns or communicate with subscribers: because there are advertisers and community managers to do that.
Social media management is the coordinated work of the whole team. The absence of any screw destroys the whole mechanism. You may have chic texts, but poor visuals. Well-tuned advertising, but passive communication with users.
Remember, there is no right or wrong way to form your team. However, it is important to consider the key roles. Some of them can be combined in one person.
Here is the post by Nike Run Club (@nikerunning)
Let's see what functions each member of the social team performs on this Nike's example: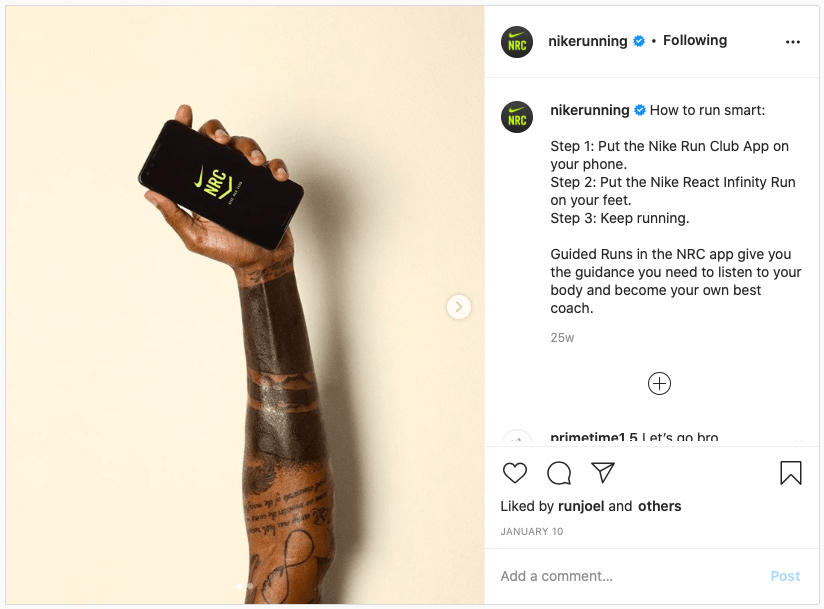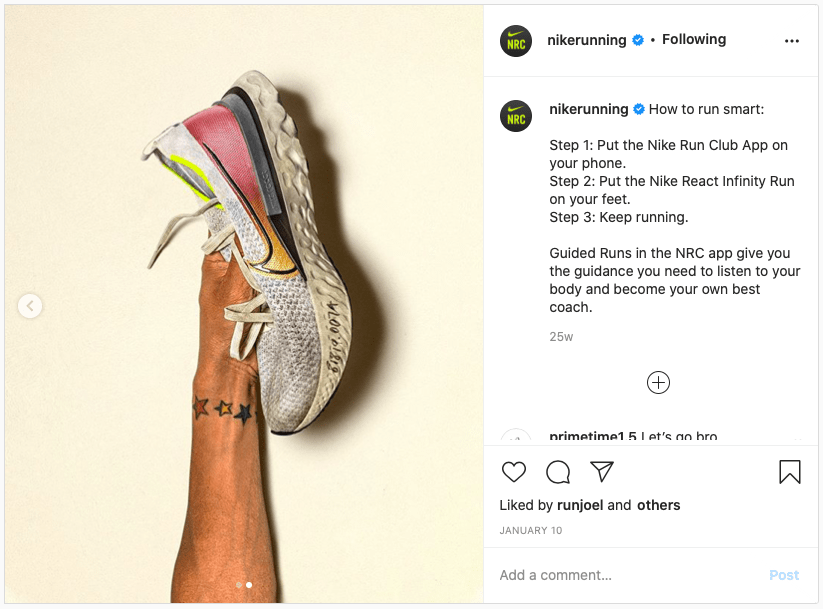 The social media manager supervises SMM projects and the whole team. A manager understands the company's values and products very well, sets goals, traces strategy, develops content plans, manages all the social media accounts. Besides, the social media manager is responsible for preparing competitor analysis reports and setting the right benchmarks.
Here we can see the manager's goal was to inform or remind the audience about the products: Nike running application and new shoes.
2. Content creators
Content is your brand's media voice. It is the most valuable thing you can share on social media. Content creating is the teamwork of copywriters, graphic designers, photographers, video editors, and the curator. By creating engaging and unique content you can earn your audience's trust and desire to use your product. Look at the simple steps to start running with Nike: don't you want to take a glance at the app or tag a friend with whom you want to start running?
3. Community manager
Your audience is the real person behind the screens with real emotions and feelings. Besides, they want to share their opinions, ask questions, or just thank the brand. You should always be there for them: to listen, discuss, and comment. A community manager interacts with the audience on behalf of your brand. The goal is to turn your neutral followers into loyal ones, and the loyal ones into brand advocates. Just do it 😉
4. Social media advertiser
When it comes to advertising you need someone with solid budget management abilities and a solid understanding of every social media platform's ads features. Note that, every campaign should be well measured to reach the right audience.
5. Social media analyst
Social media analyst collects primary information about the project and makes the analysis of the whole niche. Also, he/she creates a common strategy, develops achievement tactics, analyses the team's work via data and metrics (engagement rates, conversions, etc.).
Besides that, there are plenty of other duties, like social media influencer managers, production team leaders, product experts – whom expert opinions are also needed.
Pro tips: Education & team collaboration
The power of social media gurus lies in their lifelong learning dedication
Not a single diploma of any higher education institution is suitable for social media. Universities have not yet reached the point of graduating SMM geniuses. There would be no use in such diplomas anyway.
From mastering the profession, we moved on to mastering a set of skills, and this process is not finite. There are plenty of free social media marketing courses that can be useful for your social media team. Check out some of them right here: Top 6 free online social media marketing courses in 2020
Managing a social media team can be a bit complex. However, it opens up cool prospects for your brand. Just don't stop halfway and don't be afraid of ambitious projects.
Automate social media marketing processes with smart software
Collaboration with the audience can help us understand what kind of content it needs. On top of that, collaboration within the team itself can help it to tune to the right workflow. There are many useful tools and platforms to make sure your team is in the same league.
Here at Sociality.io, we support all social media platforms, so you have all the needed data on one screen. How can your team use it to make the working process easier?
Social media managers use our social media publishing platform to plan and approve/reject the content.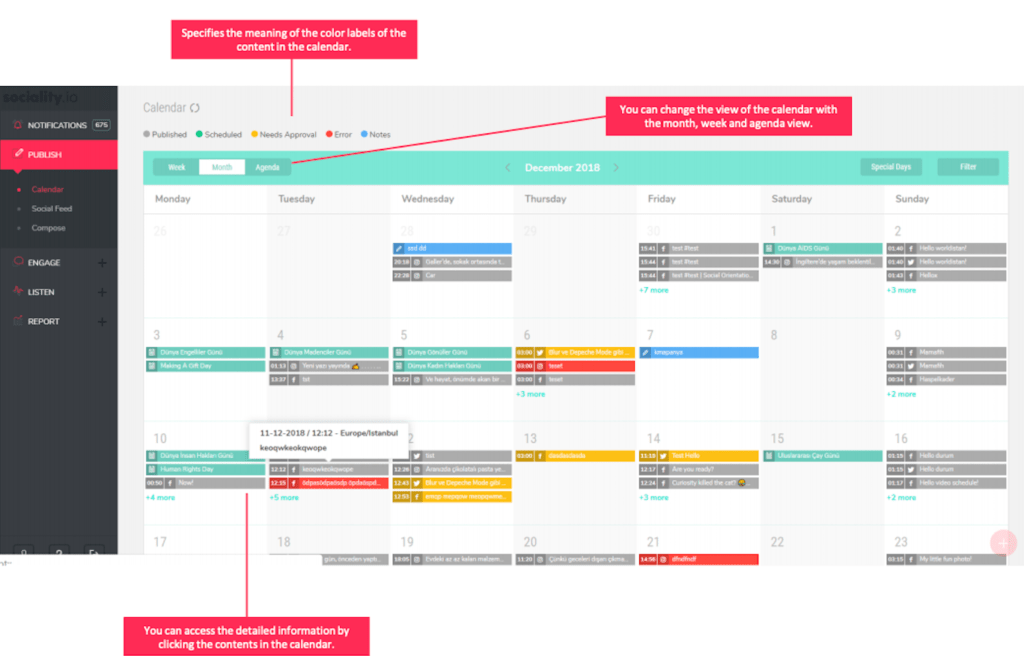 Content creators use social media management platforms to schedule their content without switching between social network platforms.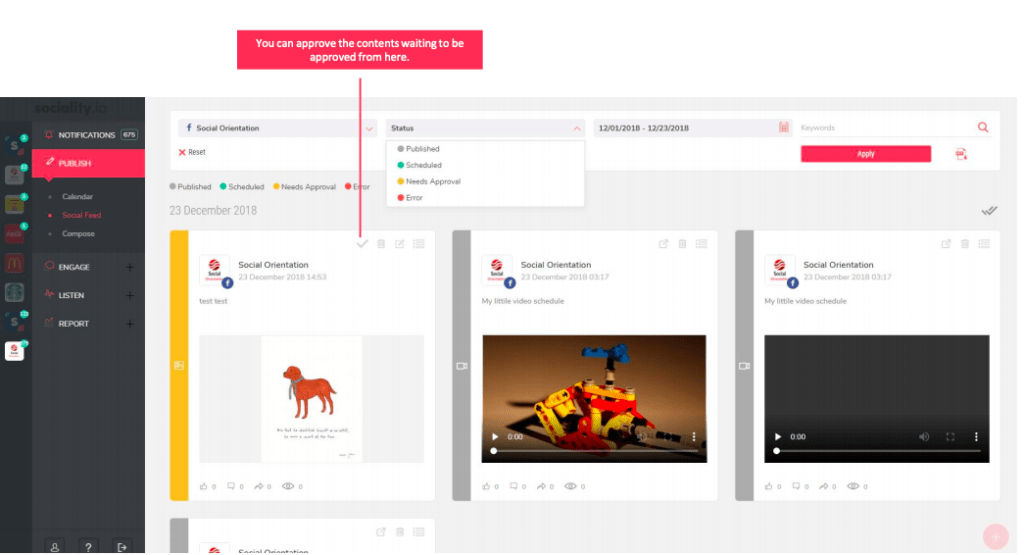 Community managers use the social media management platform's Engage feature to communicate with audiences, it makes it easy to respond to every message on any platform.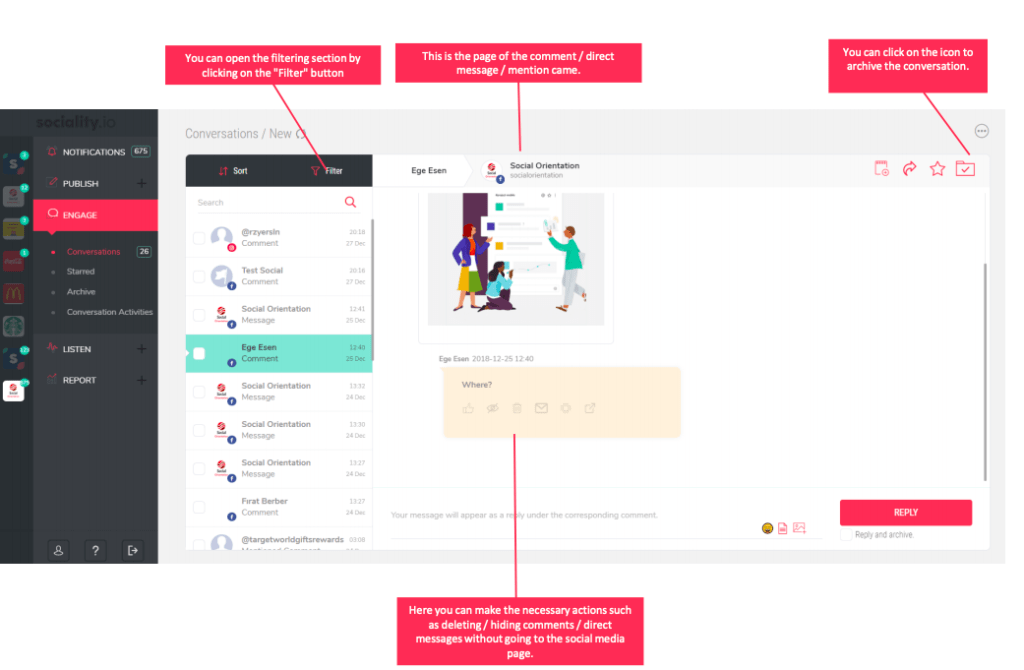 Analysts use social media Reports to prepare social media reports in a few minutes. Moreover, you can track your data and competitors' data.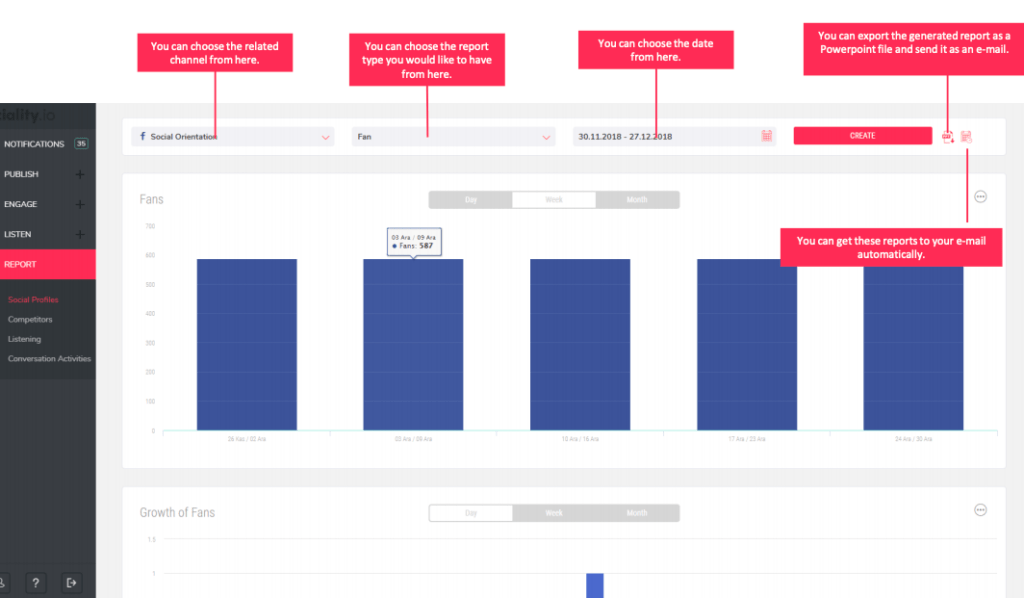 Disclaimer: in the example above we used the Sociality.io tool to show how SMM teams collaborate inside the platform. However, some or all actions can also be performed on Buffer, Hootsuite, AgoraPulse, etc.