Top 6 free online social media marketing courses in 2020
We continue presenting useful resources for social media marketing. For this week's article, we decided to present you top 6 free social media marketing courses to either learn or improve your marketing skills for social media. The courses below are either totally free or give you a chance to audit the course for free, meaning that you can take the entire course or some parts of it without receiving certification.
We intentionally kept the list diverse, including courses about social media specifics that we think are essential to being an up-to-date social media marketing professional. So without further ado, let's dive in!
Social Media News in a Nutshell
Get the latest social media news, insights, and marketing tips in your inbox once a week.
HubSpot's social media strategy certification course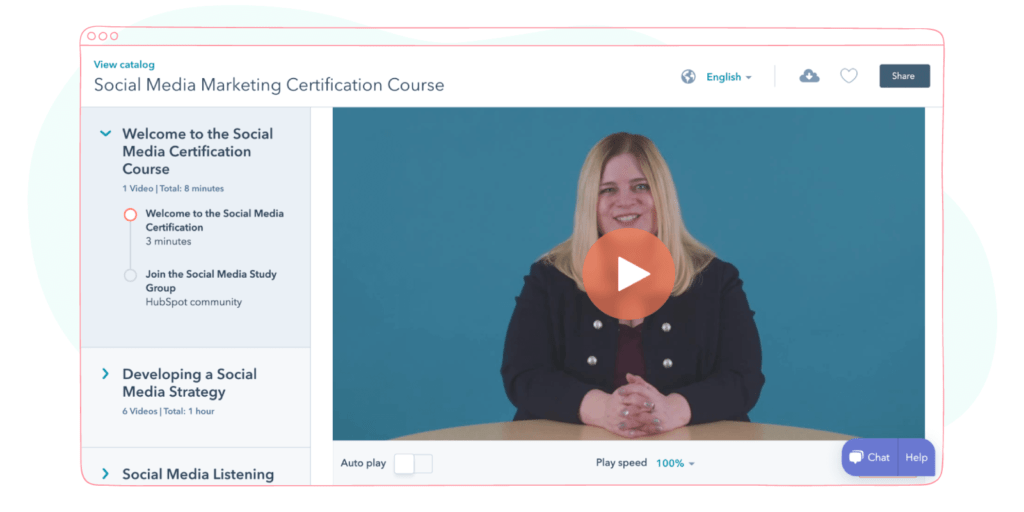 Payment
Free
Duration
3:59 hours
Course Curriculum
Developing a social media strategy

Social media listening and monitoring

Building a content strategy for social media

Extending your reach on social media

Using social media to build one-to-one relationships

Introduction to social media advertising

Measuring your social return on investment

Essentials for continued success with social media
Completing this course will help you
Develop an engaging and effective social media strategy for your business

Build an inbound social media strategy that delights your customers and grows your bottom line

Leverage the power of social media to transform your business and your career
HubSpot has a well-established online digital marketing academy where they offer free certification courses. Their Social Media Strategy Certification Course has 9 lessons with a total duration of around 4 hours.
The course title clarifies that it focuses on building a solid social media strategy for brand promotion. HubSpot Academy shines with its well-produced courses accessible to anyone with an internet connection. Their certifications are recognized in the industry as a digital marketing education standard. Check out the course landing page.
Viral marketing and how to create contagious content on Coursera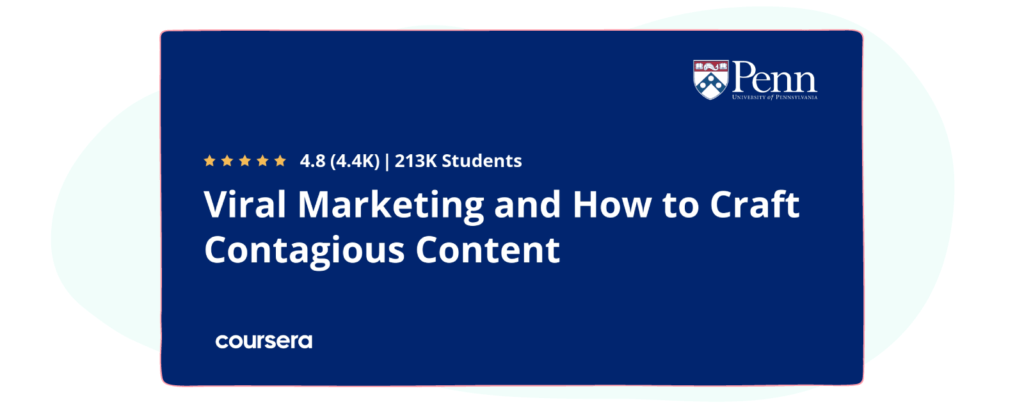 Payment
You can audit this course for free. When you audit a course, you can access the course materials without graded assignments or the ability to earn a certificate.
Duration
Approximately 4 month
Course Curriculum
What makes ideas sticky?

How does social influence shapes behavior?

The power of word of mouth

Social networks
Skills you'll gain
Social network, Viral marketing, Marketing, Marketing strategy.
The University of Pennsylvania needs no introduction, and you have the opportunity to audit it for free. The course covers more general content marketing and the elements of internet virality. It, of course, covers social media as well since most viral content goes viral thanks to social media.
The course is self-paced even though the structure is organized by weeks. This course is intended to be completed in 4 weeks. And for a price, you can get a certification of completion. You can take a look at the syllabus and enroll here.
Northwestern's social media marketing specialization on Coursera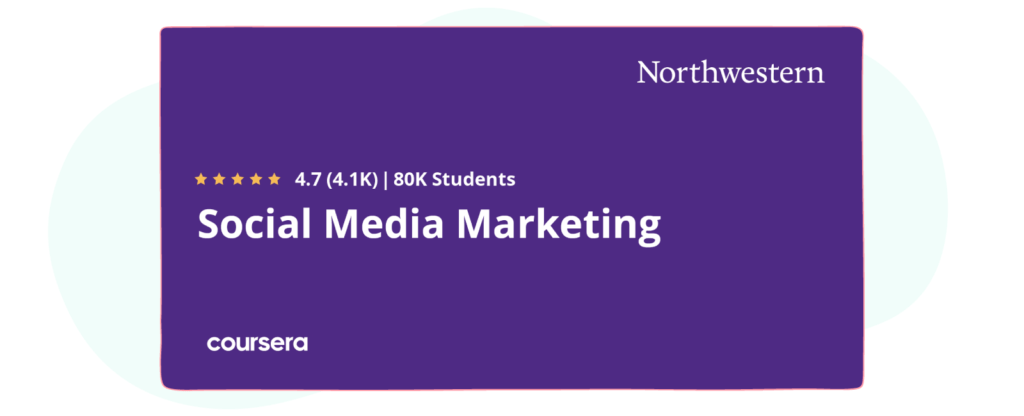 Payment
You can audit this course for free. When you audit a course, you can access the course materials without graded assignments or the ability to earn a certificate.
Duration
Approx. 7 months to complete
Skills you'll gain
Business Planning, Digital Marketing, Social Media Marketing, Influencer Marketing, Analytics, Social Marketing, Social Network, Social Media, Marketing Strategy, Writing, A/B Testing, Budget.
What is Social?
Introduction to Social Marketing

Social Trends

The Business of Social

Social Overview
The importance of listening?
Big data

Big information

Big insights

Real-time in action
Engagement & nurture marketing strategies
Social strategy overview

Engagement strategy

Nurture marketing strategy

Developing a great blog
Content, advertising, and social IMC
Content strategy

Advertising

Social integrated marketing communication (IMC)

Measuring your social programs
Another great resource for social media marketing on Coursera, this time from Northwestern. A specialization is a series of four-week courses. In this case, the number of courses is six.
The specialization starts with covering the basics of social media marketing and goes all the way to social media management tactics. You don't have to take the entire specialization, though. If you don't need the basics course, you can jump to the course you want.
You can audit the entire specialization for free, and if you want that Northwestern certification to bump up your resume, you can apply for financial aid. Take a look at the course here.
Facebook Blueprint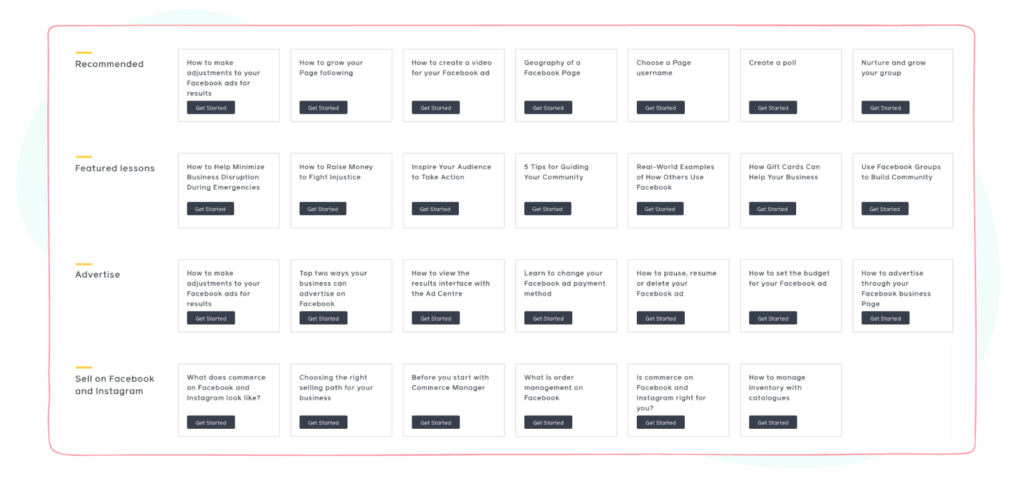 Facebook's Blueprint is another series of social media marketing courses, and what better way to learn the specifics of Facebook marketing than from the social networking giant itself. All kinds of courses on the platform cover everything from creating a Facebook page for company promotion to writing Facebook ads.
You can either start a course, a program, or get a certification.
Facebook increases the reach of their certificates by adding new languages: English, Spanish, Portuguese, Traditional Chinese, German, and Korean.
Facebook even organized courses into lists based on different stages of social media promotion. We highly recommend you to check the courses out which you can do here.
Google Analytics Academy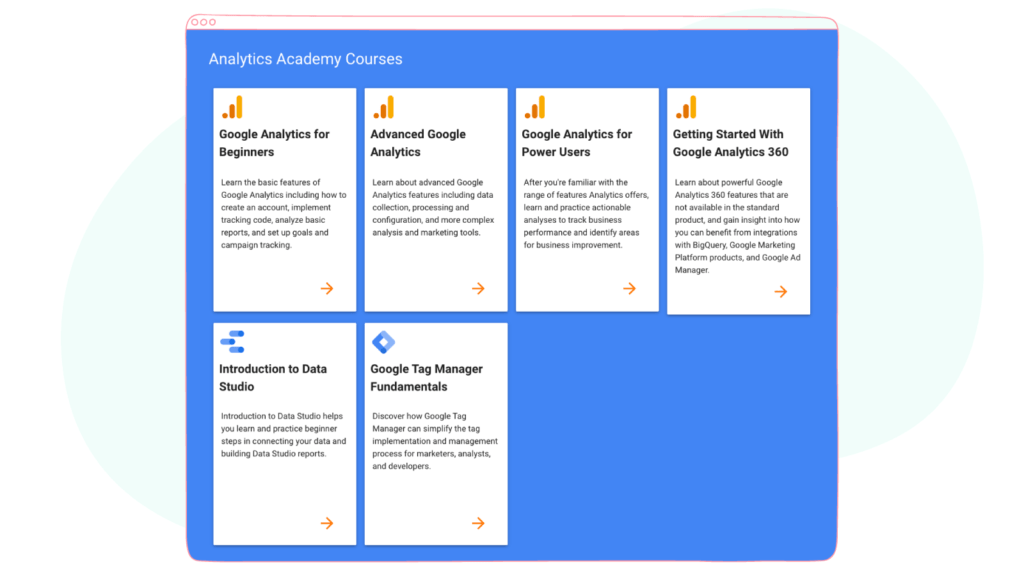 | | |
| --- | --- |
| Payment | Free |
| Duration | Is not defined |
| Google Analytics for Beginners | Learn the basic features of Google Analytics, including creating an account, implementing tracking code, analyzing basic reports, and setting up goals and campaign tracking. |
| Advanced Google Analytics | Learn about advanced Google Analytics features, including data collection, processing and configuration, and more complex analysis and marketing tools. |
| Google Analytics for Power Users | After you're familiar with the range of features Analytics offers, learn and practice actionable analyses to track business performance and identify areas for business improvement. |
| Getting Started With Google Analytics 360 | Learn about powerful Google Analytics 360 features that are not available in the standard product. You can gain insight into how you can benefit from integrating BigQuery, Google Marketing Platform products, and Google Ad Manager. |
Having analytics skills is essential for successful campaign monitoring. That's exactly why we included Google's very own Analytics Academy, an amazing free source for Google Analytics courses.
This course will show you all the tricks and tips for effectively tracking your campaigns and analyzing the traffic your social media efforts bring. If you're just starting out it's a great way to learn about the different key performance indexes used in digital marketing. The courses are still great for non-beginners as well.
There are several courses based on experience level, and the great thing is they are all free with a completion certification. Check it out here.
Video storytelling for social media challenge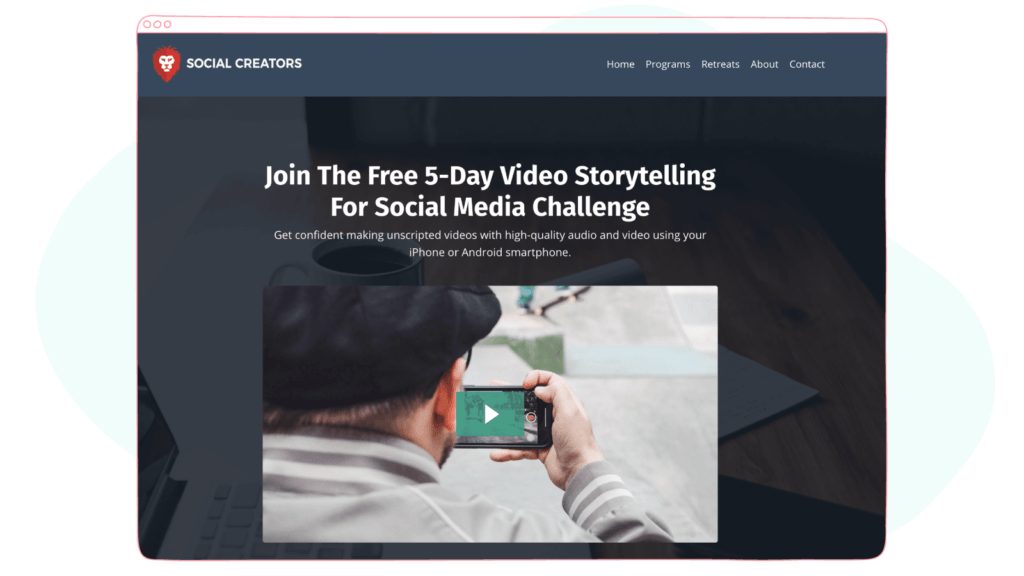 Payment
Free
Duration
5 days
Curriculum
7 Essential guidelines for using your smartphone to make videos

How To Film Outdoors And Indoors Using Natural Lighting

Making better videos with high-quality audio and video (+ Download the video storytelling toolkit)

Creating the video storytelling habit

Storytelling flow: the video creation challenge
Skills you'll gain
Smartphone Filming, Create The Habit, Build Your Audience
This one is a little different. It's a free course that is more like a challenge. The goal, as the title suggests, is to explore video marketing on social media. The challenge is designed in a way that will help you create fun and engaging videos for your social media accounts. No need to get professional video gear. You can just use your phone.
With the increasing demand for video content, this skill is essential to every social media marketing specialist. Just like the rest of the courses included, this one is free as well. You can check it out here.
Happy learning! Whether you are learning to start a career as a social media marketing specialist, upgrade your current qualification, or promote your own business, the free courses listed above are guaranteed to help you achieve your goals. If you think courses deserve to be on this list, feel free to let us know in the comments below.