6 Ways how technology can simplify social media management
From coffee shops, salons, and fitness centers to retail shopping outlets, it is essential for businesses to maximize the benefits that come with social media management software.
The digitalization era has created several ways for consumers to engage and communicate with businesses of every size, scope, and shape. One is a social media hub that enables businesses to display their content in their digital properties. Consider Snapchat statistics, for instance, which show how businesses can use the app to deliver targeted content effectively:
Snapchat attracts over 190 million daily users (Statista).
Snapchat users spend 49.5 minutes per day on average using the app (Claire Mckinney PR).
Just imagine the potential market right there, especially that 2018 Murphy Research for Snap, Inc. also found that the all-time favorite app of American teens and millennials is the preferred platform for socialization and shopping. About 34% of the users said they use it for hanging out with friends, while another 19% stated they use it for shopping.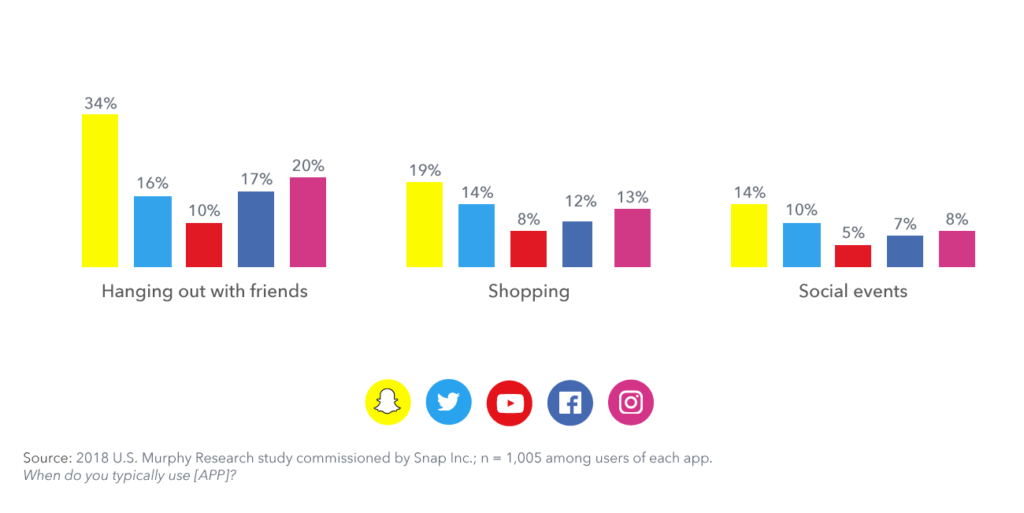 Nonetheless, while businesses recognize the importance of establishing a social media presence those who have embraced social media marketing even for a while, know that it can be tedious and time-consuming. Fortunately, there are tools with innovative marketing automation for SaaS available to make it easier for businesses to handle the whole process – from planning to implementation – in a faster and more efficient manner.
🧁 Worth checking article: Simplify sales and lead gen with 10 LinkedIn automation tools
Below are the benefits of social media management software:
1. It helps you manage and organize multiple social media accounts
One obvious advantage of social media management tools is that if you want to post something, you no longer need to log in to all your social media platforms individually. They can be interlinked with one another in a single platform. All you have to do is log in, create a post, pick the accounts where you intend to publish it, and the tool will do the rest.
2. It supports social media performance analysis
Analyzing how the brand performs on social media is usually not something that small businesses prioritize. This is especially when they need to individually log in to multiple accounts to find out how they performed. Nevertheless, as businesses aim to establish a reputation online and manage a social media crisis, there are no other means of improving than monitoring the performance of their previous posts.
Businesses need to find out why a particular post received significant engagement or nothing at all. Different factors may come into play, such as the hashtags used, the time of posting, or the type of content.
The best social media marketing tools can simplify this process in big time. They can show you the engagement on every post from multiple accounts on one platform.
3. It makes finding relevant content easier
Searching for relevant industry-related content, which you can either share or use as inspiration for a blog you're working on can eat a lot of your time. There are particular tools that assist in creating content. Some could help in finding content for specific keywords and topics. Others have browser extensions that enable you to add articles directly to the platform and share them.
Social Media News in a Nutshell
Get the latest social media news, insights, and marketing tips in your inbox once a week.
4. It improves team collaboration
Social media software can improve the workflow of your social media management team, regardless of whether there are only two of you in the team or you have more than 20 members.
A lot of tools available enable businesses to manage their social media platforms in teams. This means that they give you the chance to collaborate on social media marketing efforts by allowing you to create a team and add members to it. You can assign different tasks to every member. You can assign an editor, for instance, to create a post while you can designate an administrator to approve them before publishing.
Buffer and Hootsuite are some of the market leaders. However, more tools are available today and users have the advantage of looking for scheduling tool alternatives that suit their business needs and budget better.
5. It keeps you up with social engagement
Some tools enable you to monitor your social engagement more conveniently and without requiring you to switch between multiple platforms. They can let you know when a follower likes, shares, or comments on your posts. In turn, they enable you to immediately react to comments, filter engagements by post or platform, or accumulate them all.
6. It enables you to schedule social media posts
With an efficient social media tool in place, you do not always have to be online to manage your social media posts. If you're off for the weekend, for instance, you can schedule to publish particular posts ahead. The best social media marketing tools available come with some sort of editorial calendar, enabling you to plan the publishing of your posts. Some even have options for users to create a lineup of posts that only require you to select a platform and frequency of posting. They'll automatically post them for you.
Aside from automatic scheduling, you can benefit from having all your posts in an editorial calendar by being able to see a summary of your posting schedules, frequency, and possible gaps occurring over multiple platforms.
Should your business invest in a social media management tool?
Social media management software is essential if you wish to have effective and consistent social media marketing. It can help you improve your planning and implementation while enabling you to save valuable time you can use in other business growth requirements. There is no need to worry about the costs of such technology as even small businesses with limited resources can be able to afford them. There are several social media management tools available with cost-effective plans that you can check out without you breaking the bank.