Today we'll talk about some of the best Social Media Analytics and Reporting Tools that went beyond our expectations in 2021 but before; let's highlight the importance of analytics one more time.
With the explosion in the number of social media sites and the number of users worldwide being 3.484 billion (9% more than 2018!), it is now more important than ever to decipher the hidden info behind all your social media activities than it was in the early age of social media.
To find this hidden gem; you need to do some analysis and reporting. Social Media Analytics is concerned with collecting, monitoring, analyzing, summarizing, and visualizing social media data in order to facilitate conversations and interactions while showing useful patterns and intelligence for you to create social media strategies, to understand your online campaign efforts, and to maintain a competitive advantage over other brands.
Let's check out our TOP 10 Social Media Analytics and Reporting Tools list and find you your future lifesaver!
1. Sociality.io
This one is our favorite because, duh!
Sociality.io is a social media management platform suitable for use by single persons, digital agencies, brands, and freelance social media executives. Apart from publishing contents in several accounts at once, sending the contents you schedule to your teammates for administrator approval and tracking the content; there are more important tools than these basic ones.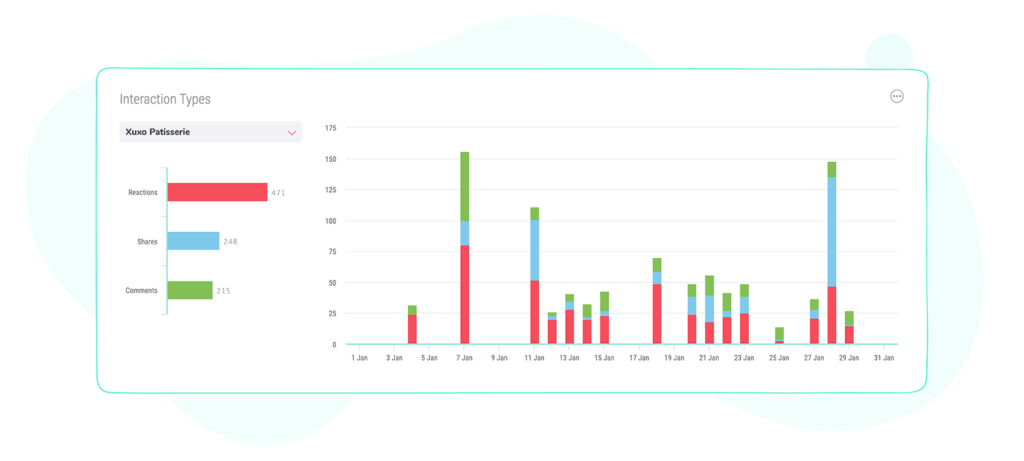 Social Media Competitor Analysis lets you see all your selected competitors on one report so that you can recreate your social media strategies, make more accurate decisions and keep track of your market. You will also be able to measure your own performance with detailed fan and engagement performance of your competitor. The tool allows you to compare up to 15 competitor pages at once, while you can add an unlimited number of competitor pages on YouTube, FB, Instagram, and Twitter.
Through their reporting tool; you can export instant reports of all accounts as PowerPoint or Excel file. With detailed fan, reach and engagement analysis, you can increase your performance and develop a more engaging content strategy. Tooltips, team activity measurements, historical data and much more is available here!
With its starting price being as little as $3 / Month / Service and the complimentary 14-day long free trial service, you might as well see yourself why brands like WPP, Tribal Worldwide, Isobar, Ogilvy, ING Bank, and Havas prefers Sociality!
All competitors on one report
No more spending hours for competitor analysis, no more taking wrong decisions due to missed out information.
2. Hootsuite
If you're not new to social media management, it's impossible not to hear about Hootsuite. As one of the pioneers and a market leader for a very long time now; Hootsuite focuses on small and medium-size business and enterprises. With over 18 million users around the world; it is the most widely used platform for managing social media.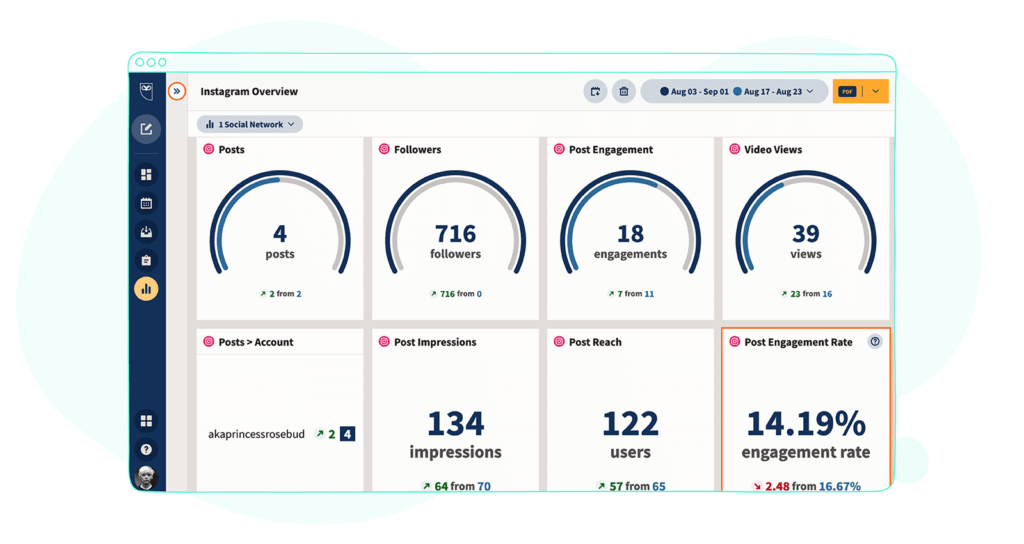 Hootsuite has many features from analytics to assignments to contacts to the app directory. You get an overview of key metrics, unlimited real-time reports and team performance measurement with its analytics tool across all social platforms. From over 200 metrics; you customize reports and export them in PDF, Excel, or PPT formats.
By the way; Hootsuite University, which includes many tutorials and certificate programs gives you extended lessons such as Social ROI and Value Analysis, Advanced Social Media Strategy, and training for specific sectors like health care, financial institutions, advocacy and more.
With its starting price being $19.99 / Month and a 30-day free trial period, you might want to jump and see what it has to offer!
3. Buffer
Buffer has 3 main types of tools and many extensions to make your life as a social media manager.
If your main goal is to build your audience and grow your brand in the world of social media, you'll need Buffer Publish. The tool lets you plan, schedule and publish contents for Instagram, FB, Twitter, Pinterest and LinkedIn on one simple dashboard and you get to work simultaneously with your teammates for approvals and revisions. With its starting price being $15 / Month for Pro, you can also pick either Premium or Business Plan depending on your team's and brand's needs.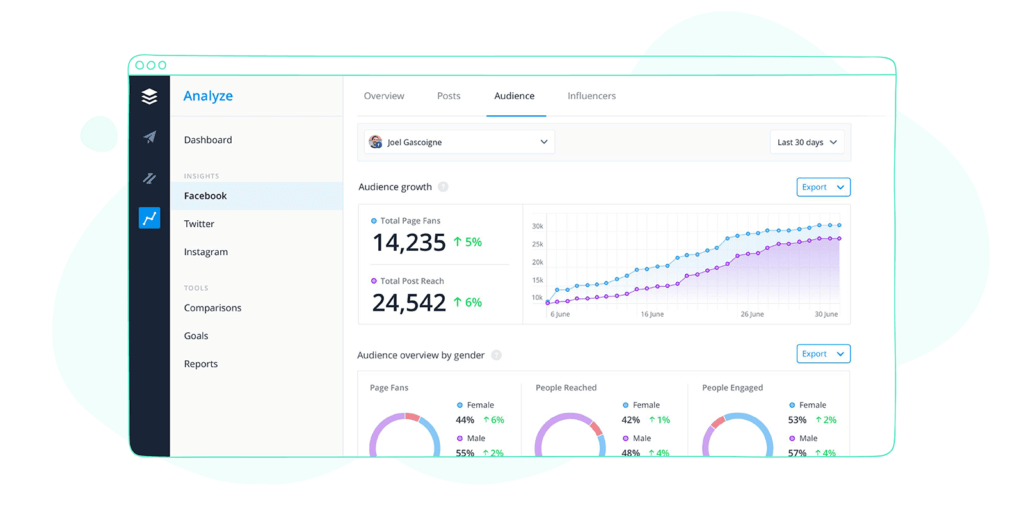 Buffer Reply is preferred if you focus on customer service on social media. Checking inbox, answering questions has never been easy! On Buffer Reply; you are able to reply to all your social conversations and support requests across IG, Facebook, and Twitter from one collaborative team inbox. Plus; you can assign conversations to the right person on your team, see who else is viewing a conversation, and drop-down notes for your team to see for future reference. Automated and saved replies, shortcuts and priority tagging are also super useful. To measure your customer service performance, Buffer Reply gives you an overall and extended report to see volume, response times, the productivity of your team in CSV format.
Buffer Analyze is their FB and IG analytics tool. Again on one single dashboard; you track your FB and IG performance and create reports. To get a better understanding of your audience demographics, account analytics, story & post analytics, your 'top' posts and more, Buffer Analyze is the way to go!
4. Socialbakers
Socialbakers' social media management tool analyzes your social channels and benchmarks their performances according to which you can create more original content, set better advertising strategies, make decisions based on their AI recommendations, calculate ROI, and predict future engagement.
You can post to all your social media channels from one simple interface and manage your content across multiple profiles in one collaborative calendar with your teammates. With their Audience Analytics tool, you simplify your audience research with an AI-driven platform. Within seconds, you will be seeing the right online persona profiles for your business based on your own digital and social media data. You are also set to see your audience evolve over time.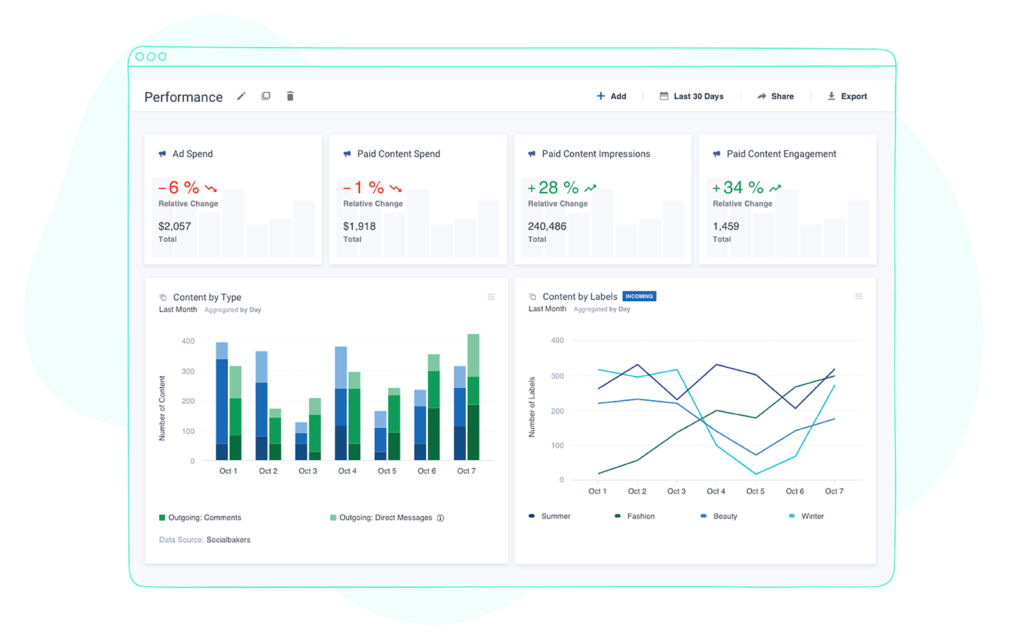 Social Media Analytics tool will help you to make FB to IG comparisons to see how your strategy compares to your main rival or to top 10 look-a-like pages. Your report can be saved and shared in PPTX, XLS or PDF formats. Content Analytics tool will help you to dive into A.I driven Content Hub to get insights and analysis from across all digital channels to help you create engaging and loving content.
Apart from their social media management and monitoring tools, they also offer solutions in audience & influencer engagement, content intelligence, community management, and social media marketing suite.
5. Agora Pulse
Agorapulse's Facebook Competitors Visual Report shows how engaged your fans are compared with others in your audience. You can also get a report of your contents and get a customizable CSV download for detailed analysis.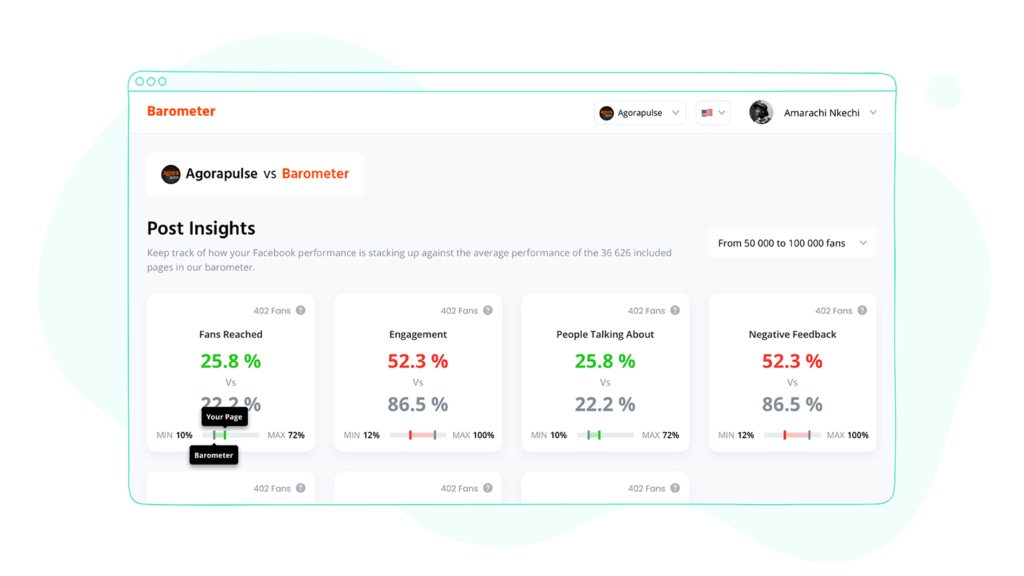 More features for social media reporting include community management and response time report; CSV file of the content report; customizable date ranges, Facebook ROI report, labeled content distribution report, PowerPoint download of global stats report of global content and competitor stats, report for Instagram stories and more!
With over 17,000 social media managers using Agora Pulse daily, we find it easy, convenient and enough for a small/medium-size companies.
6. Sprout Social
Sprout Social divides platforms as Analytics, Engagement, Publishing, Listening, Collaboration and Automation. Let's focus on Analytics;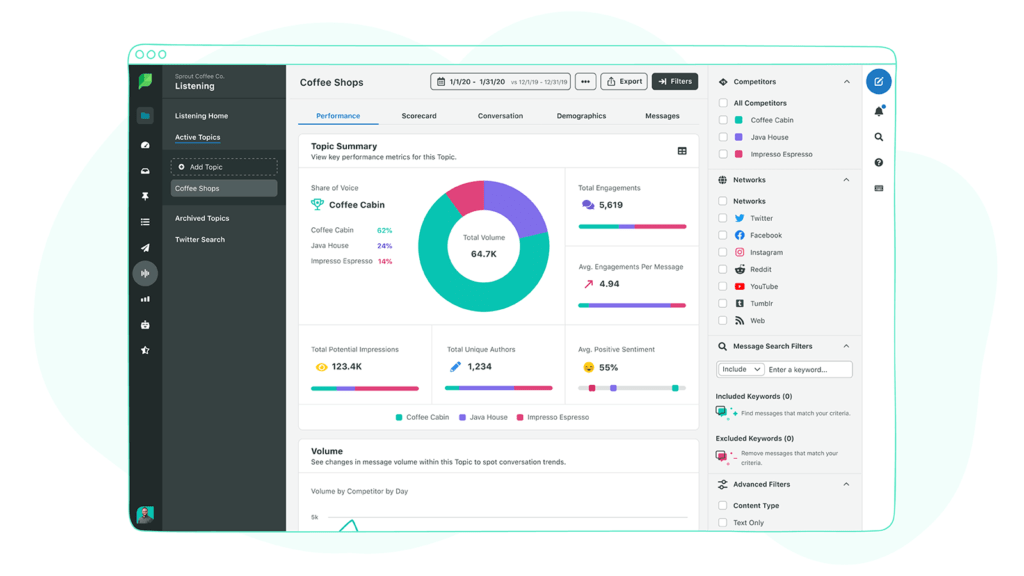 Measure performance across channels and let your data tell the story with presentation-ready network, content, team and productivity reports. It includes 18 different reports on activities like task report, team report, Facebook competitors report and more. By measuring the ROI of your paid activity, you'll understand how your advertising budget impacts your company page growth by comparing paid versus organic impressions and fans gained.
The pricing is $99 / Month / User for the most basic plan and includes 5 social profiles.
7. Keyhole
Via Keyhole, you build/strengthen your own data systems with Keyhole's Social Media Analytics and Media Monitoring API. Keyhole's API lets you start fetching data from Twitter, Facebook, YouTube, Instagram, and tens of millions of news, blogs and forum websites.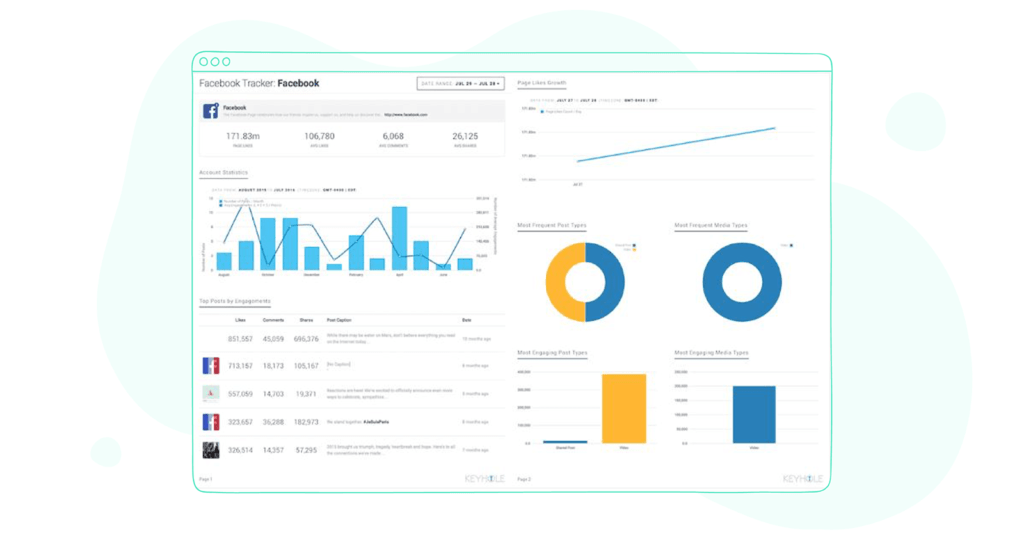 Keyhole uses Trend Analysis to show you which keywords are gaining traction and showing up time and time again in conversations, and which popular ones are losing steam. The best way to know how your campaigns are performing is with hashtag analytics. Keyhole is the only hashtag tracking product that uses artificial intelligence and machine learning to predict how hashtags are likely to perform in the next day, week and month. That being said; they help you predict the amount of engagement, reach and impressions it will get before it does so you can course-correct to reach your goal and know when you're on track.
You can create shareable real-time dashboards with clients, or download your report in PDF or CVS formats. Besides all these; Keyhole gives very specific solutions and insights than all the other social media analytics platforms such as competitive analysis, brand monitoring, influencer marketing, and tracking, market research, event monitoring and more. Mashable, Google, United Nations, L'Oreal, Ogilvy and many more top brands use Keyhole.
8. Netbase
When it comes to Next Generation AI-powered analytics, we have to name Netbase. Social media intelligence (SMI or SOCMINT) represents the stack of technology solutions and methods used to monitor social media including social conversations and emerging trends. This intelligence is then analyzed and used to create meaningful content and make business decisions across many disciplines.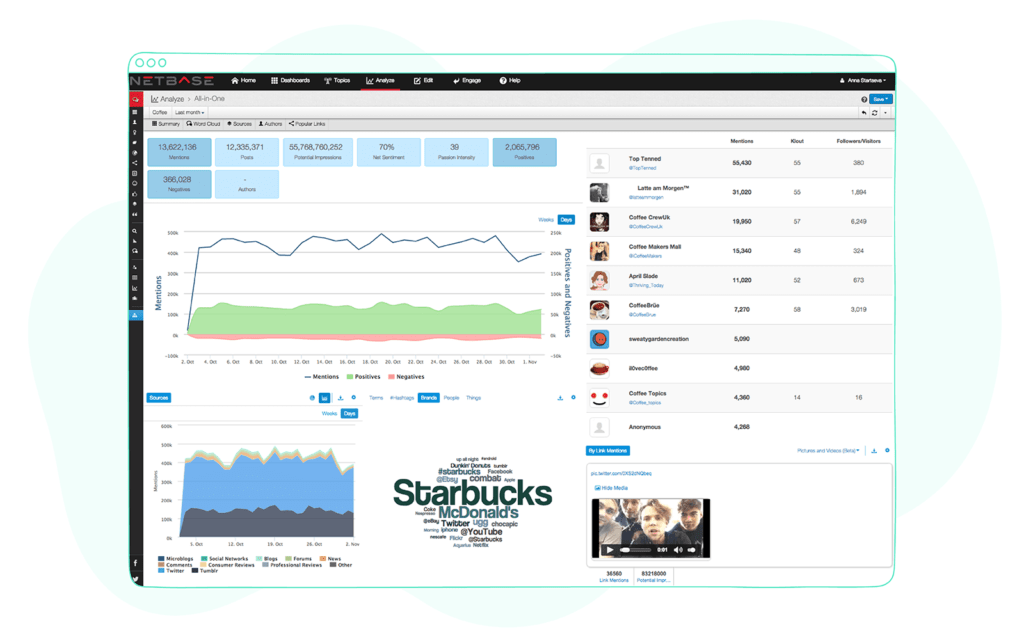 Social Sentiment analysis is the use of natural language processing (NLP) to analyze social conversations online and determine deeper context as they apply your relevant topics, brands, and themes. Its net sentiment score and the brand passion index show how users feel about your brand and compare across your competitors. Thus, as a brand; you evaluate your brand's health, deal with any crises safer and earlier and understand the competition.
Social media analytics report gives you all the social metrics, social media listenings, audience analysis, competitive analysis, Social Sentiment analysis, and social media monitoring services.
Image analytics and customer experience analytics are also available within the platform. Global brands like Taco Bell, Coca Cola, and Yum! use this tool to track conversations around their brands on social and make important marketing decisions.
9. Brand24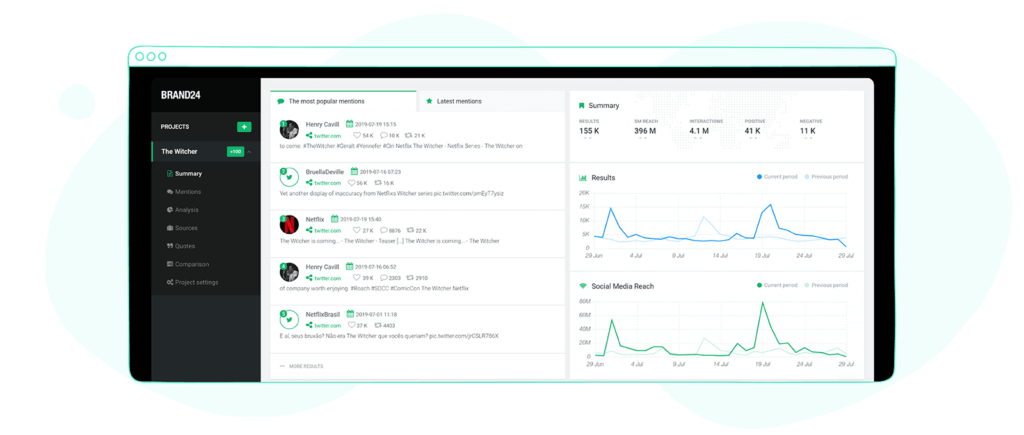 Brand24 features a web-based dashboard that shows real-time insights and provides detailed statistics about your content and audience.
With its automated sentiment analysis, they use advanced sentiment detection to segment positive, negative and neutral mentions, and you get your instant alert notification. And with mention analytics; you get to see who is actually talking about your brand online and insights about them.
You can turn your data into automated PDF reports, .xls files, and infographics.
10. SumAll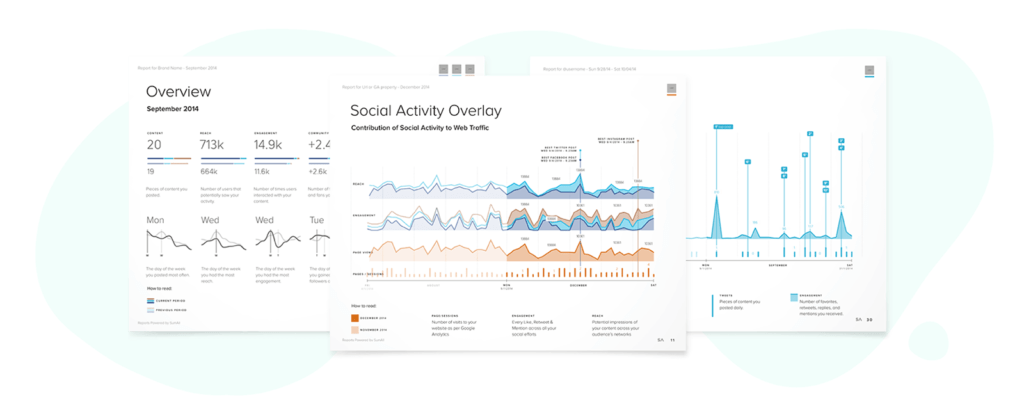 Last but not least; we present you SumAll. This free app allows you to automate much of your social media marketing. Apart from scheduling and reporting, its social media analytics allows you to track your social media, ads, and sales data. It saves your data into a graphical web dashboard and sends you a weekly e-mail analysis so you keep an eye on the top-level metrics.
Now go ahead, pick one and start adding value to your social media marketing efforts!
See you in the next blog!