5 Proven steps to master social media automation (+ Free tools)
Social media automation has become every marketer's day-to-day reality. When your job involves plenty of creative thinking, conducting research, and conceptualizing ideas — tedious and repetitive tasks are your biggest enemy.
Especially if you have to manually gather all the data and analytics from several social media accounts and platforms. That's where automating all your social media activities comes in.
However, with automation, you not only streamline repetitive tasks but most importantly gathers social media data to make smarter decisions. You'll know what content performs better, audience preferences, and team performance metrics.
Social media automation tools flood the market. Currently, there are more than 1000+ solutions available. This article aims to bring our expertise and show you a step-by-step guide on how to organize an effective workflow for your team. Let's dive in.
🧁 Related article: Simplify sales and lead gen with 10 LinkedIn automation tools
Social Media News in a Nutshell
Get the latest social media news, insights, and marketing tips in your inbox once a week.
Step 1: Create content
It can be tough to create content that drives engagement, and generates revenue. Especially if you add the pressure of coming up with fresh ideas that haven't been published or visualized before.
To help you get started, some automation tools generate content like copy and visuals from scratch. Some examples of these tools include Conversion.ai, Articoolo, Grammarly for copy, and Canva or Snappa for visuals. We are going to give you a short description of each of them in the section below.
Automated copywriting tools:
Conversion.ai (Paid): An advanced AI-assisted copywriting tool that will help you create short and long forms of content for social media, newsletters, blog posts, and much more.
Articoolo (Paid): Articoolo generates articles from scratch. All you need to do is add a few keywords and pick how many words you'd like it to be.
Grammarly (Free): This tool will not write your content for you. However, it will give you tips on how to improve it, let you pick what you want your text to sound like, and much more.
Automated visual content creation tools:
Canva (Free): Canva is a graphic design tool, used for creating social media graphics, presentations, posters, papers, and other visual material. Users can use the templates provided in the app. You can go for the Pro plan if you want extra features, but the free version already allows you to do a whole lot.
Snappa (Paid): Snappa is a very similar tool to Canva, but one of its main differences is that it focuses on simple, easy-to-use tools, whereas Canva has more advanced design features.
It is important to remember that although these tools have become very advanced, they will not do your job for you. However, if used properly, they can be very helpful. Your content needs to breathe, and that can only be achieved if it involves human touch.
To help you with your content calendar, Sociality.io has many useful templates such as this social media planning template. Use it to visualize your monthly content planning across several platforms.
Step 2: Content curation
Content Curation is the process of sorting through content to determine what is considered valuable and worth sharing with your audience. In short, these tools let you pick areas or subjects that you think your audience would be interested in, then the tool will curate this material for you to share and post on your various social media sites.
Some curation tools include:
Scoop.it – Creates shareable lists on every topic you can think of.
Feedly – Organizes all your publications and blogs in one place.
Flipboard – Let's you create digital magazines for your audience by combining updates from social feeds and news sources.
Additionally, content curation might help you understand your audience a lot better, as you'll be informed on what they engage with the most. This allows you to generate better content ideas for the future.
🥁 Related article: Social media trending content ideas – The ultimate list
Step 3: Schedule posts across platforms in one place
There are many tools that will help you schedule your social media posts simultaneously across several platforms, which is a very attractive feature for social media marketers.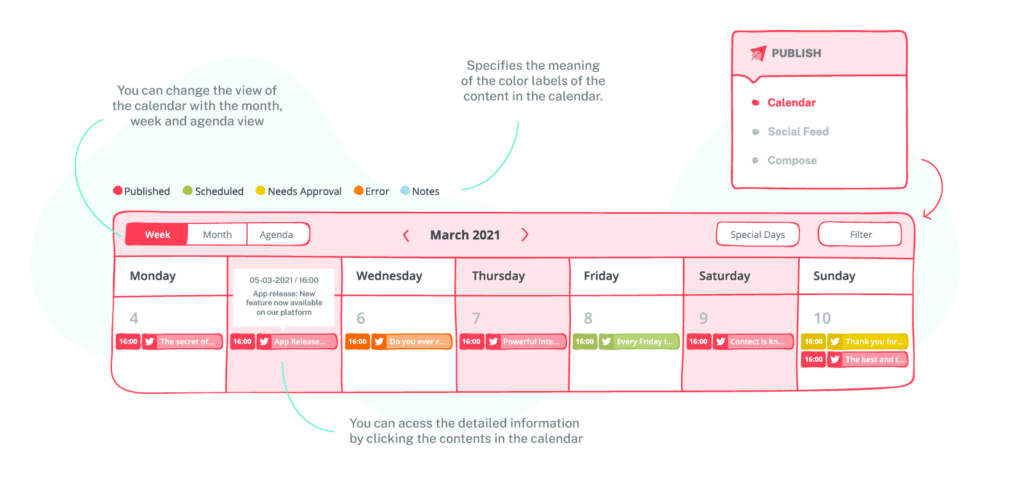 Scheduling helps you establish a consistent, regular queue of posts. Moreover, total content scheduling ahead will then open more space you can devote to creation.
You'll eliminate the time-consuming process of posting reminders, to-do lists, and the common mistake of forgetting to post something at a specific time that unfortunately seems to happen even to senior (but overwhelmed) digital marketers.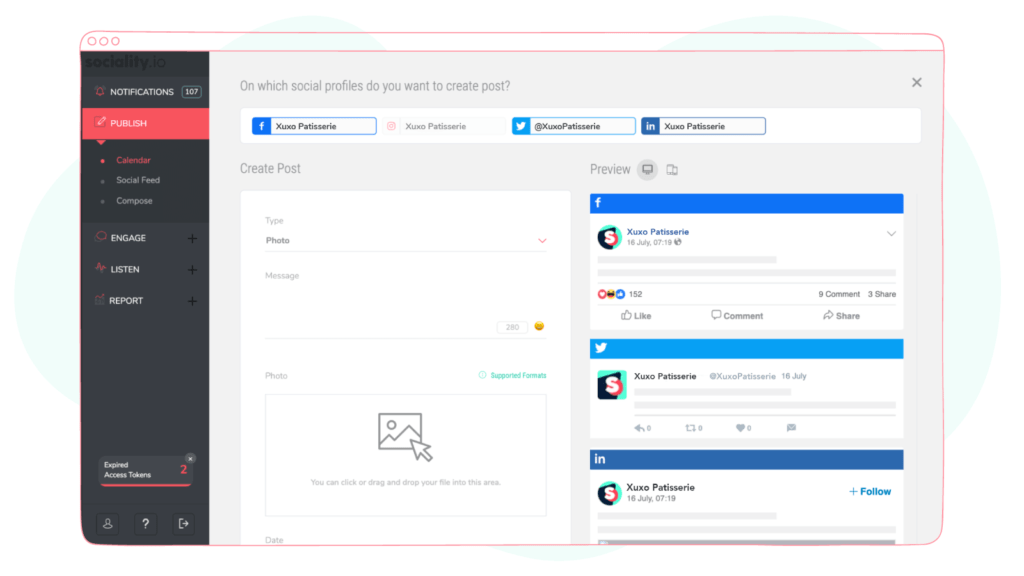 It's also really easy to do! After linking all your social media accounts with the social media management platform of your choice, you can use it to schedule posts daily, weekly, or monthly, use publishing tools, repurpose content to adapt it to another social media platform, and much more.
It is very important to do some research for your specific audience so that you can schedule these posts at a time during which they are the most active. With Sociality.io, you can determine what the best time to post is, by using our Social Media Reporting panel that includes data about follower activity hours.
Step 4: Monitor Engagement (Likes, Messages, Requests)
One of the most valuable features of social media automation tools is that many of them allow you to connect with your audience across several platforms in one place. All the messages, comments, and requests you receive can be viewed and replied to in one single panel.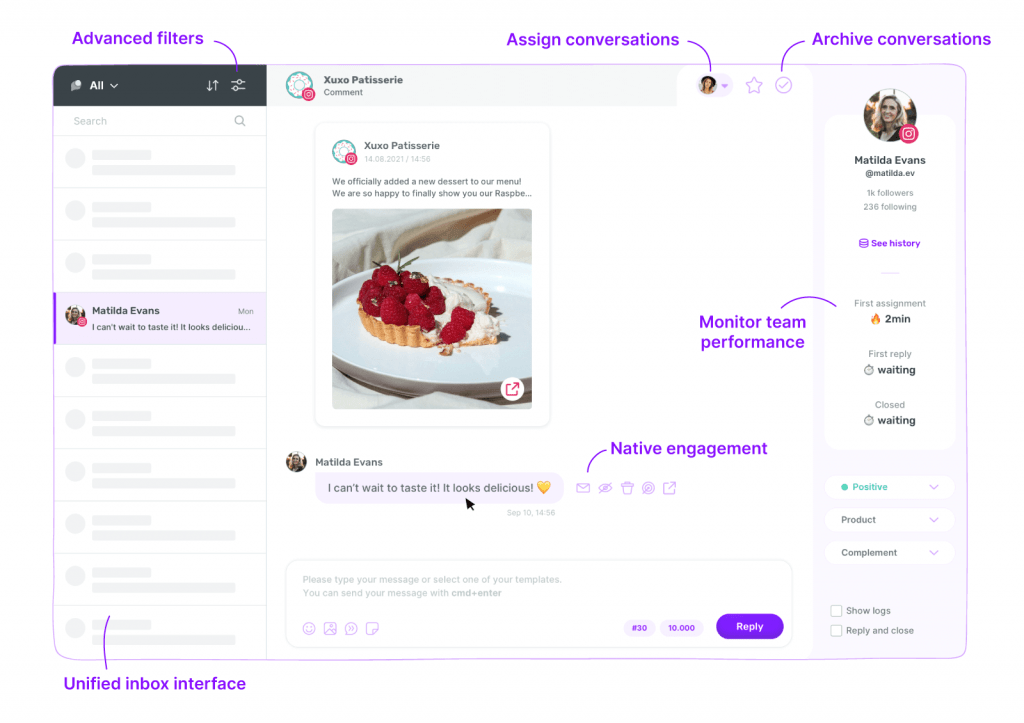 They can help you track brand mentions, responses, and all forms of communications. With all of this information in one place, it's easier to engage with your audience and for your team to get back to them quickly.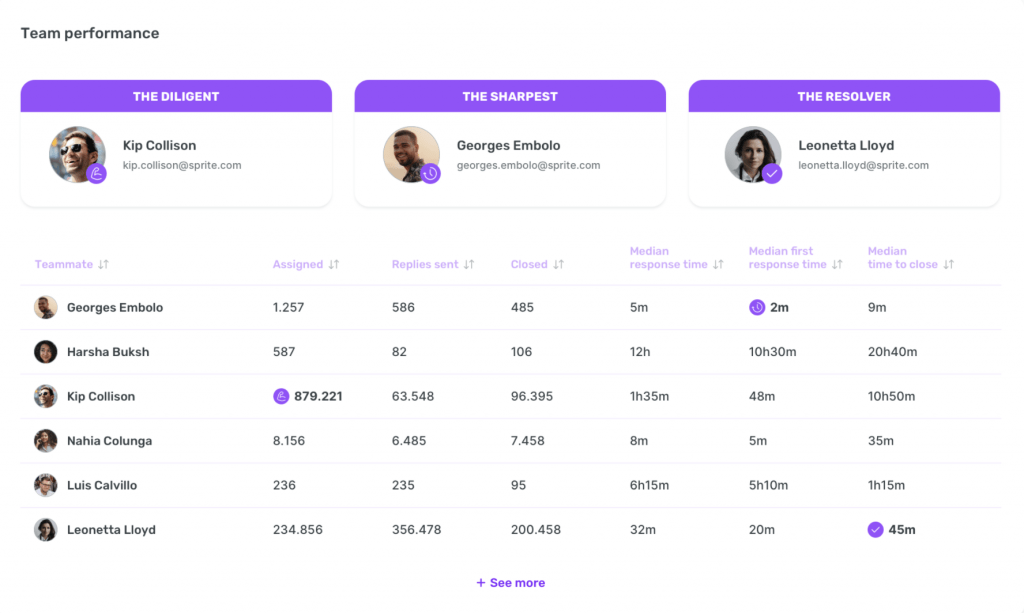 Tools like Sociality.io, for example, make it super easy to reply to messages on important sales-driving social media platforms such as Instagram, where missing one single message can hurt your clients. You can easily manage Instagram messages, ad comments, mentioned media, etc., in a single inbox using our tool.
✨ Related article: How to check and view Instagram messages on PC?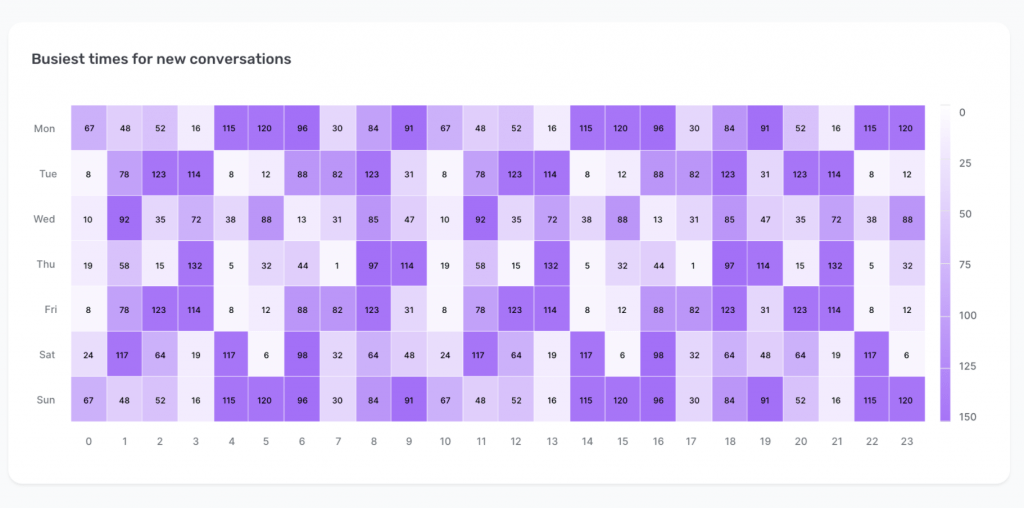 Sociality.io also allows you to assign a conversation to your teammate. This can be super helpful for mid-size to larger teams who co-manage more than 5 clients, so you can all be on the same page.
Check out our mobile applications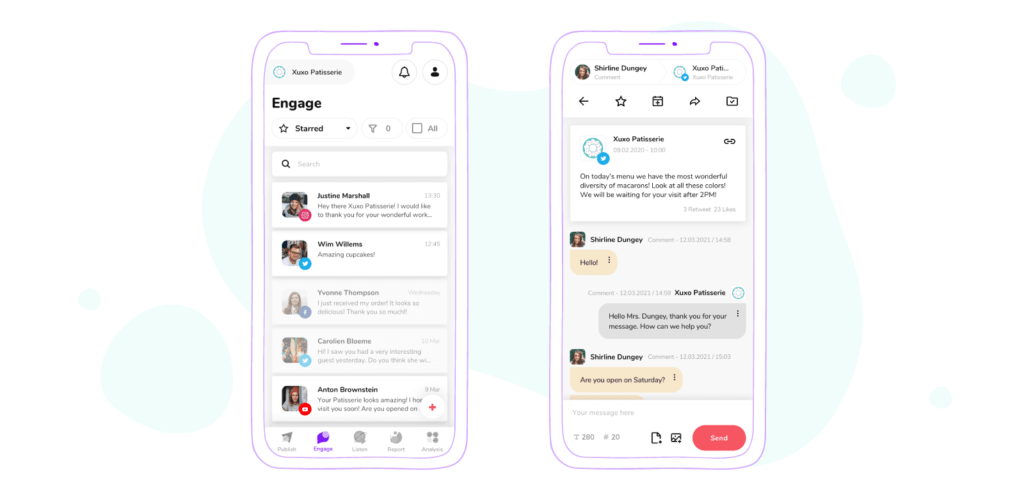 Step 5: Analyze performance and compare it to competitors
You've crafted the best content you could using automation, and easily shared it through social media management tools – but that's not where your job ends; all good content marketers understand the need to constantly analyze their content performance.
Collecting meaningful social media data and analyzing the performance of individual pieces of content is crucial to constantly improve every aspect of your marketing efforts.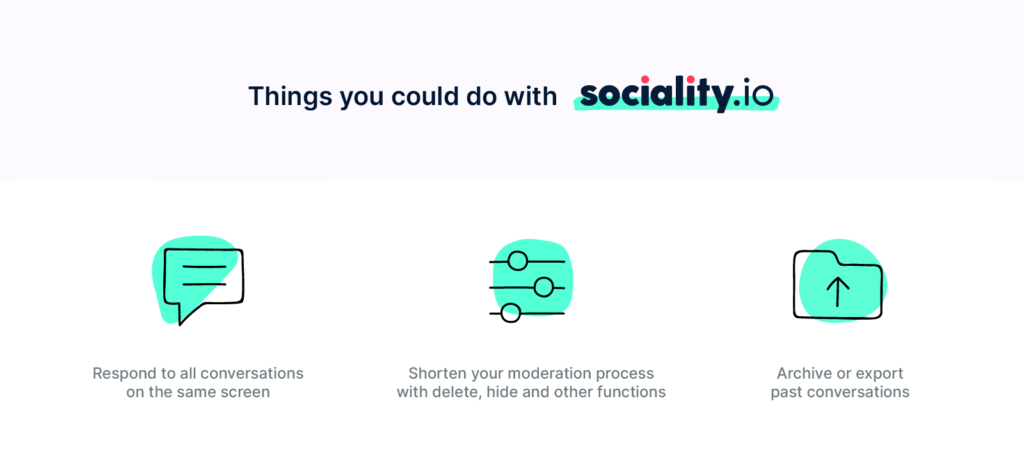 This information will help you identify underperforming material that can be improved, while also showing you what content does well so that you can make more like it.
As mentioned above, Sociality.io has a great social media reporting tool that helps you track follower activity. By using it, you can find other handy information such as team activity, most active followers, content analysis, and much more.
You can also track your content shares across all platforms in a single panel that is called 'Listening'. Fundamentally, social listening keeps track of what people are saying about your clients or industries on the internet. Try this free listening tool by BuzzSumo to get a taste of this feature.
Our platform also allows you to analyze your competitors' social media content strategy, check their growth rate, and use competitive benchmarking tactics to measure your own social media performance. Doing this may give you an insight into their strategy and what's working for them, while also letting you learn from their mistakes.

Final Thoughts
These suggestions and techniques all represent sensible, actionable, effective methods for marketers to save time, gather data, and perfect their social media strategy by using social media automation tools.
If you want to experience some of that, you've come to the perfect spot! Get your Sociality.io 14-day Trial to see our whole range of automation tools in action.
Also, let us know if you have any further questions about automation in the comments section below. We'd love to talk to you!