Instagram messages management and automation of social media management chaos
Learning ins and outs of Instagram marketing strategy has allowed businesses around the globe to connect with audiences, tell their stories, and most importantly drive sales.
Instagrammers are shoppers. Shoppers turn to social media for references. Without any doubt here is the fact: Instagram helps convert passive shoppers into confident customers.
Setting up a killer profile page, writing engaging captions, creating beautiful visuals, and boosting metrics with ads have been a part of Instagram marketing strategy to promote brands' online presence.
However, social media marketing teams managing multiple accounts at the same time, or big enterprises with numerous brands under their umbrella struggle to scale their growth and automate their marketing activities.
Managing and growing an Instagram profile up to 10K followers is a great milestone in itself. However, without proper automation and software, all activities turn into human error chaos.
Before go deep, worth reading 👉 5 Proven steps to master social media automation
Social Media News in a Nutshell
Get the latest social media news, insights, and marketing tips in your inbox once a week.
What problems social media marketers face inside Instagram messages?
Multiple Instagram profiles receive 100+ Instagram messages every day and you lose track of responsibilities distribution.
Potential customers ask questions about a product and get ignored.
Negative feedback is left unaddressed. 
The social media team frequently misses brand mentions in stories and feed.
Top managers request engagement reports. Thus, marketers spend days gathering manually social KPI.
Balancing Instagram messages of multiple accounts manually.
Lack of sufficient time to provide an extensive response to potential customers.
Cleaning the conversation threads out of spam messages.
✨ Related article: How to check and view Instagram messages on PC?
Why is Instagram engagement key to driving sales?
Creating and curating social content is key for growth. No doubt about that. However, it is only one part of social media strategy and no growth can happen without managing Instagram engagement.
If you want to grow your audience, you can't just post content and hope for the best. If you expect people to share your content, but don't provide value for them beyond sharing it, then you're going to get engaged people who aren't clicking on your links or sharing your posts. Social media is all about relationships — both online and off. When you post on social media channels to connect with others, it's not only about sharing your opinions or looking for input.
Since Instagram is a promotion channel majorly used for E-commerce, users if interested click on shopping tags, and then send direct messages or leave a comment under the post. Over 130 million users engage with shopping posts on a monthly basis. These users are readily engaging with shopping posts willing to become a customer. So, their requests need to be responded to almost instantly, otherwise, the users can disengage with content in a matter of seconds.
75% of consumers prefer to engage with brands using private messaging channels. Yet, one out of three people finds it difficult to remember where to find a certain conversation thread. Therefore, it's important to understand every piece of the sales process and stay organized on every move on Instagram messaging, otherwise, it affects sales.
Automating your content publishing process isn't a pass to unplug and go offline. While you don't necessarily need to hire a professional community manager, make sure you establish several processes to check social media engagement.
Although we don't have access to major brands' Instagram messages, by analyzing only Instagram comments we can tell that the audience interacts with IG profiles as a sales channel.
Let's take a few examples in the same furniture industry and take a look at the comments section:
1) Ikea https://www.instagram.com/ikeausa/
2) APT2b https://www.instagram.com/apt2b/
3) Herman Miller https://www.instagram.com/hermanmiller/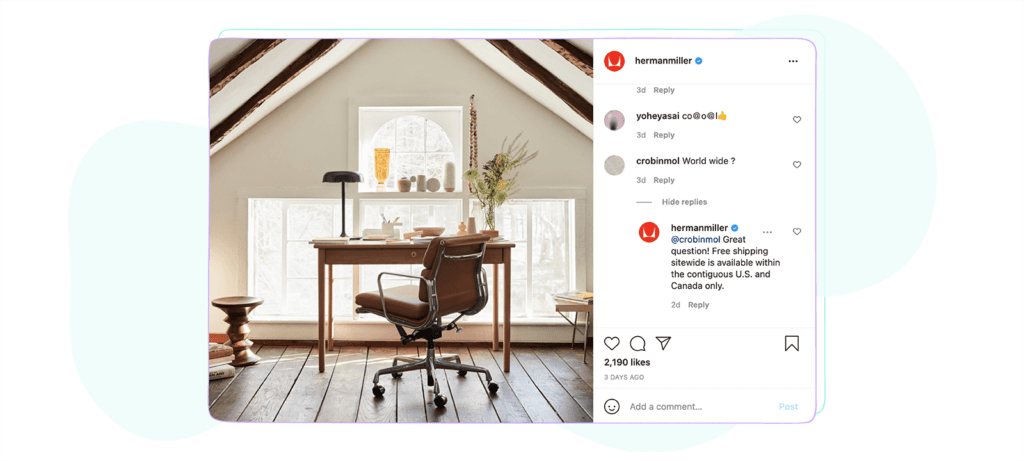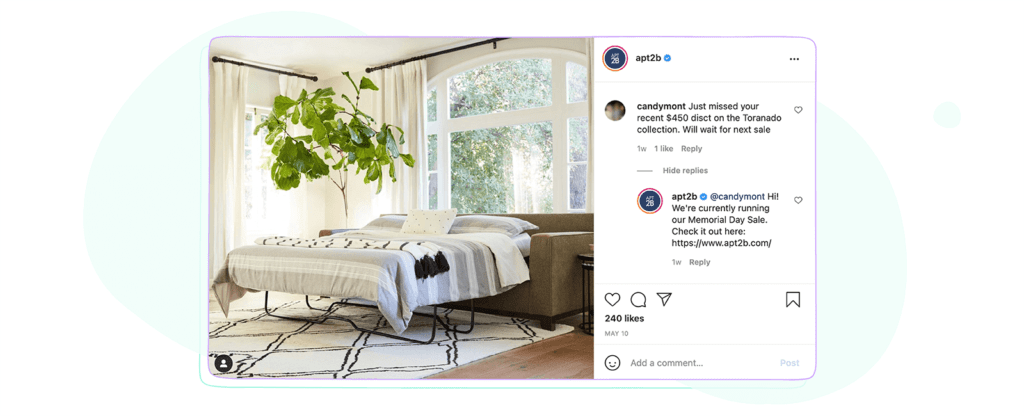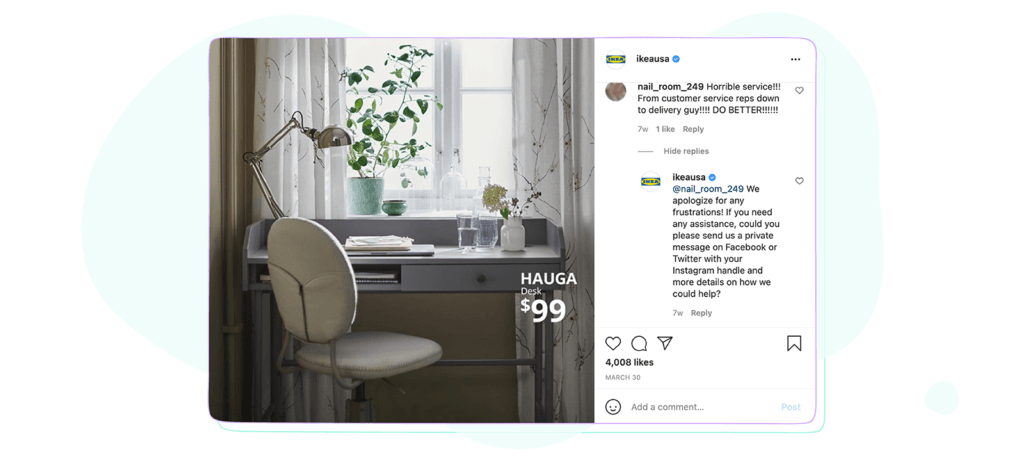 5 ways to automate for managing Instagram messages engagement via Sociality.io
In October 2020 Facebook officially announced updates to the Messenger API to support Instagram messaging, giving social media management tools and the opportunity to manage their customer communications on Instagram at scale. Now the Instagram messages can be controlled not only through the mobile application, but through the desktop as well. Instagram messaging for businesses puts a stop to endless searching and copying messages, forgotten message requests, and lost conversation threads. It means no more missed Instagram messages!
This update also offers social media teams to manage Instagram messages collaboratively, reducing the response time. Monitoring metrics can help your brand track results and better understand your Instagram audience.
Manage comments, ad comments, mentioned media/comments, and new messages in a single inbox with Sociality.io
Sentiment analysis for your Instagram messages to track your customer satisfaction
Assign conversation to the right person and manage engagement as a team
Report your message volume by days or hours to improve your CRM process
Save time with easy to use templates
API to export Instagram messages and engagement data for deeper analysis
1. Manage comments, ad comments, mentioned media/comments, and new messages in a single inbox with Sociality.io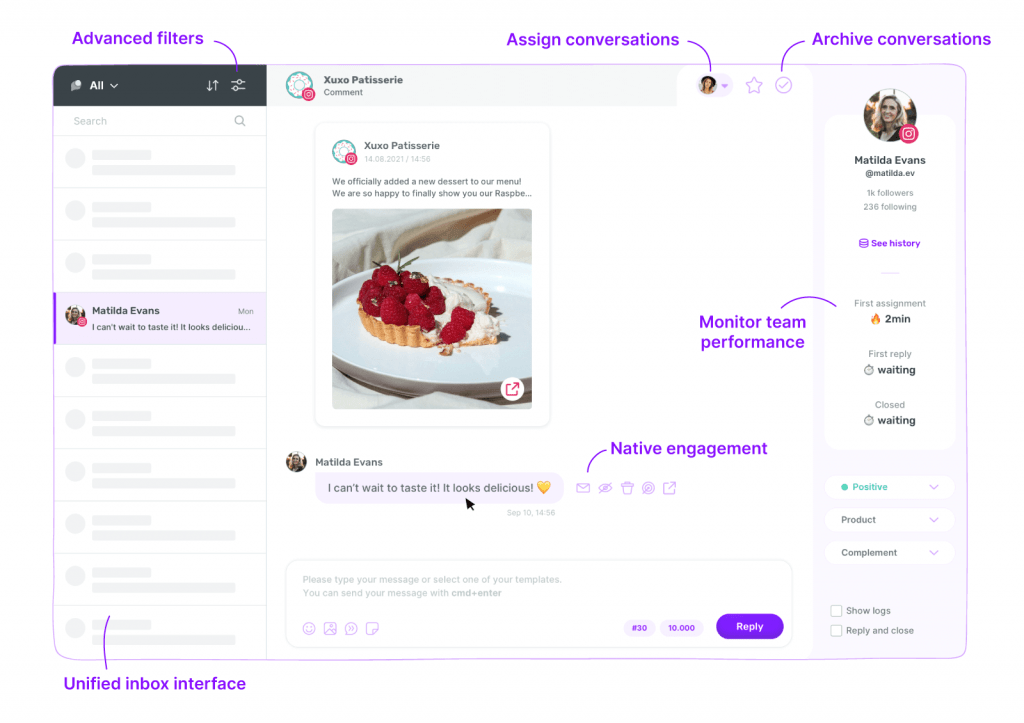 Managing Instagram accounts can be hectic. Comments, ad comments, mentions, user-generated content, messages bombard and fload the activities page. Sociality.io organizes every engagement and allows 100-people teams to collaboratively work inside a single inbox.
Every interaction with your multiple accounts is organized in a historical order as if Instagram is your email inbox. The Sociality.io Engage module will help you easily scan all activities and make sure you don't miss any message or mention.

Plus, from June 2021, it supports Instagram messages, IGTV, and Story mention, too!
2. Sentiment analysis for your Instagram messages to track your customer satisfaction
Every day hundreds of people share their customer feedback and mention your brand inside in captions and stories. There can be a huge volume of opinion data that your team could not process manually. How to navigate in this chaos and have a helicopter overview of your brand health?
Sociality.io Engage module allows you to maintain social media reputation and understand customers' needs by equipping you with sentiment analysis reports and data.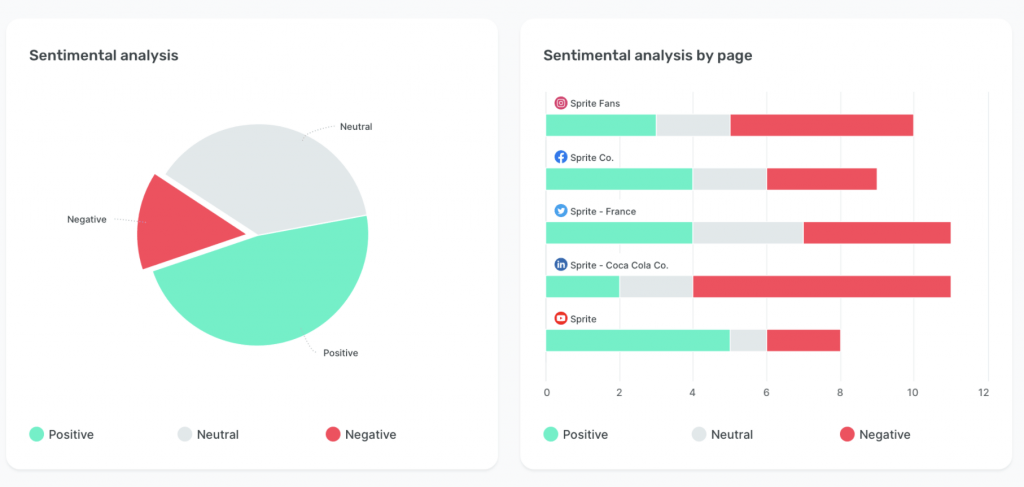 Stay up to date about how your followers feel about your brand. See if there are more positive mentions. Use sentiment analysis to instantly spot a critical issue, to create a better customer experience, to extract value from product reviews, and beyond. It will help you to make smarter decisions and boost customer satisfaction rates.
Sociality.io social listening allows you to track different platforms, paying attention to topics that are related to your brand. You may also look for posts and comments that relate to your competitors and other players in your space, as well as the industry at large.
You then go on to uncover the sentiment behind these comments, typically breaking it down into positive, negative, and neutral.
That analysis part is what separates social listening from monitoring.
With both, you pay attention to the same factors, including:
Brand mentions
Uses of relevant keywords and hashtags
Industry news and trends
Competitor mentions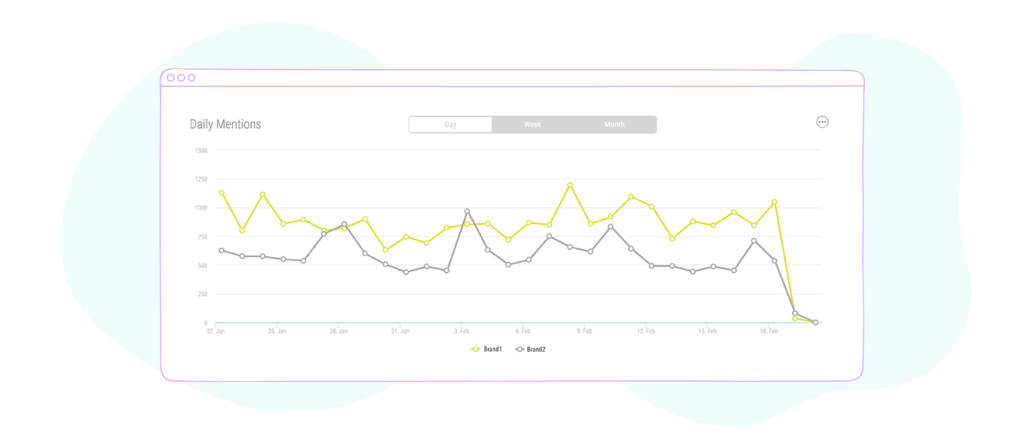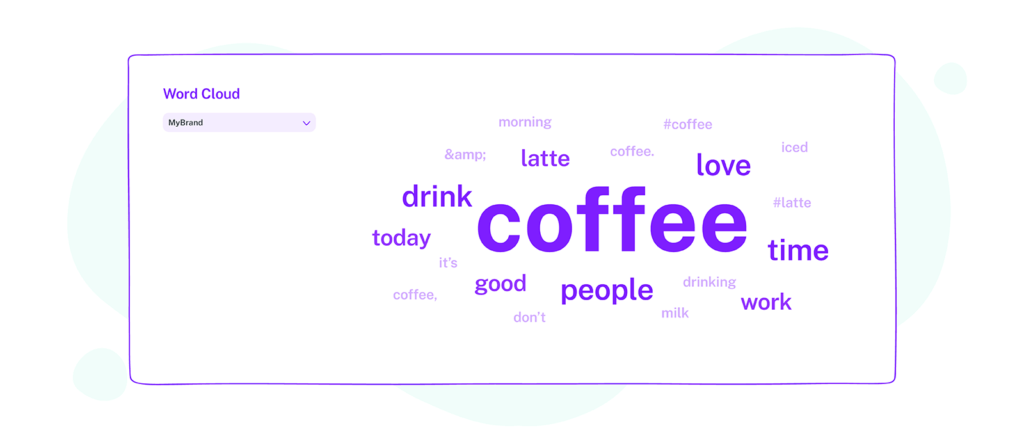 3. Assign conversation to the right person and manage engagement as a team
And if you're an agency or a team running the social media accounts of different brands, Sociality.io makes it easy to handle accounts across several teams.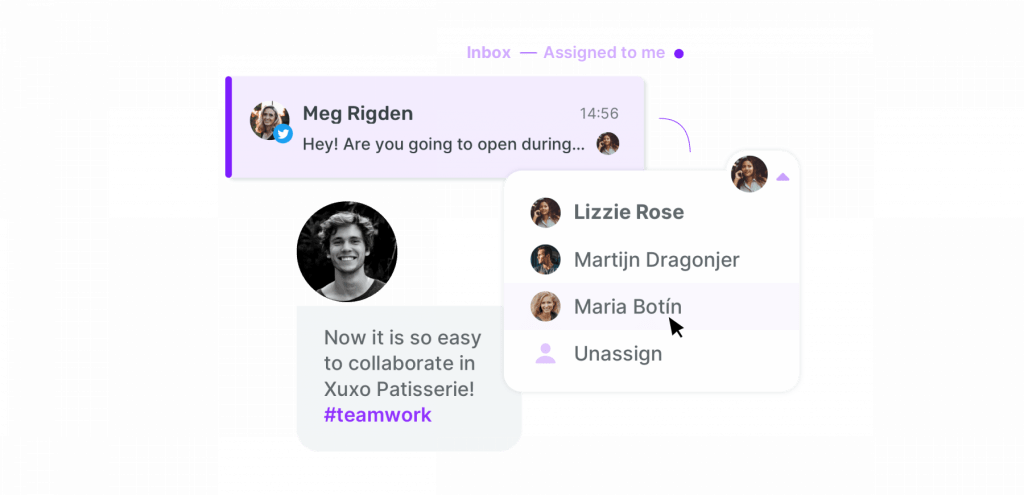 You can assign each team to only the brand they're responsible for handling. And, within that team, you can give all members different access levels, enabling them to take part or simply view the process.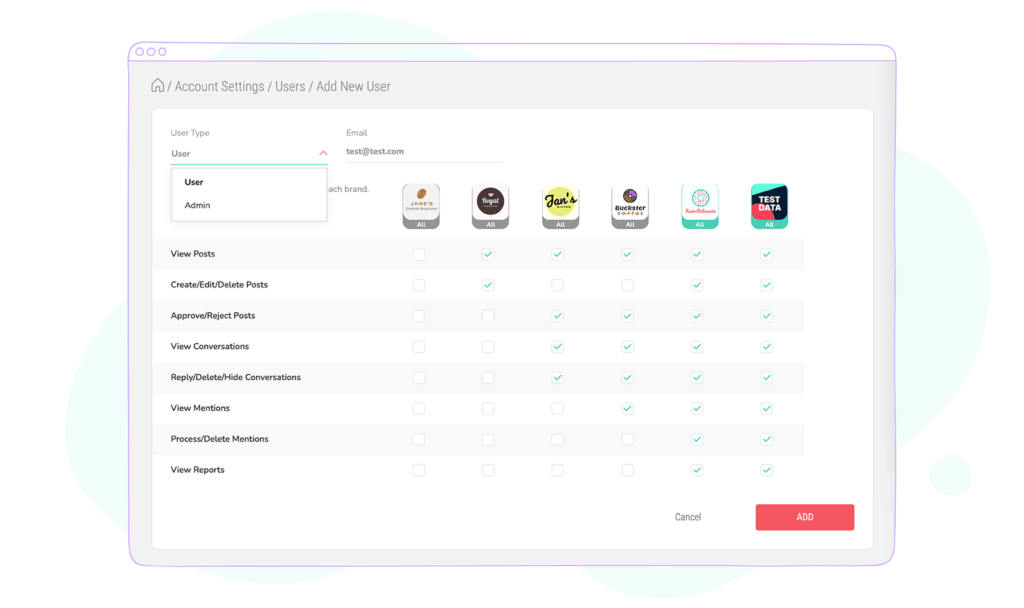 If you are an enterprise, each conversation is best handled by the person who has the most accurate and up-to-date information. And sometimes one member of the team is swamped with talking to users while someone else is free to step in.
That's where the ability to assign conversations comes in. You can simply pass each one off to the person who can provide the most value. If multiple people on the team can do that, you can assign it to all of them.
This helps you cut down on the time it takes to respond to your audience, enabling you to boost the response rate.
4. Report your message volume by days or hours to improve your CRM process and get automated reports
How to prepare effective reports to top management without manual labor of copy+pasting metrics?
Sociality.io allows you to prepare automatically generated reports sent directly to your email on a daily, weekly, and monthly basis. Each report includes metrics such as total conversation, total daily conversations, sentiment analysis of all conversations, the total number of replies, daily response rates, daily response time, and time distribution.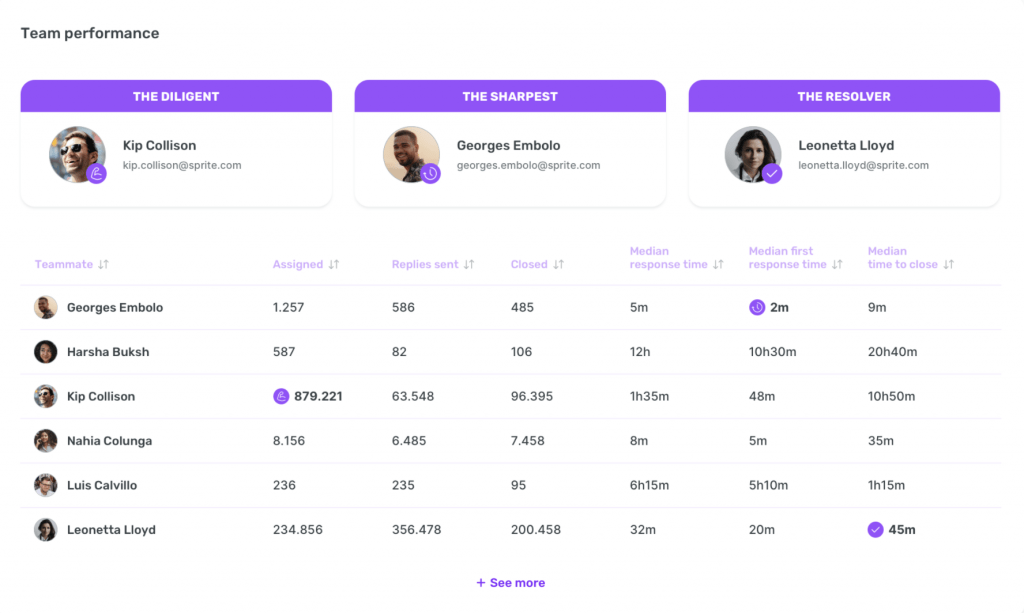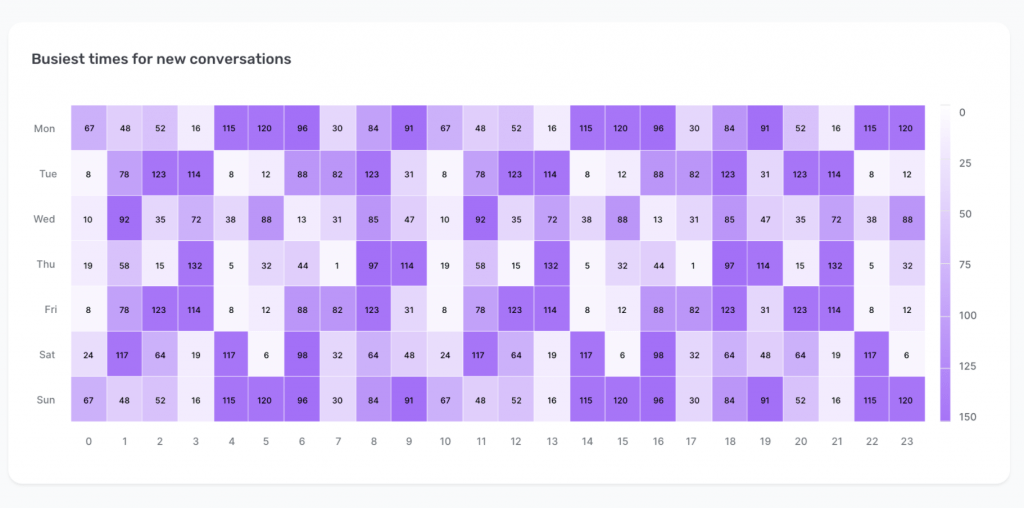 Moreover, brands can benefit by monitoring conversation activities. As a social media manager, you can have a quick overview of all conversation activities with process filters to understand how well your team is performing.

Is your team engaging users within a satisfactory time frame?
What kind of conversations are people starting with your brand?
How about the sentiment; is it mostly positive, negative, or neutral?
These are some of the questions that will help you gauge your performance, see what you're doing well, and identify areas where you might need to improve.
All conversation activities data is exportable in Excel format and in fact, can be automatically scheduled.
5. Save time with easy to use templates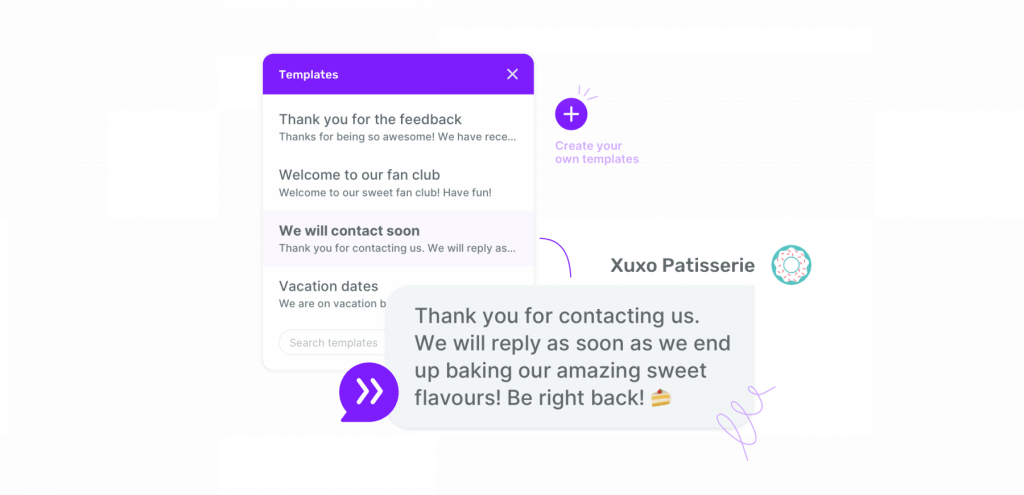 Save your team's time by using templates. You can save some ready-prepared answers to questions you commonly get, so you can quickly dip into them and avoid spending too much on repetitive replies.
Reply templates help you to swiftly handle surface-level issues, enabling you to move on to the ones that require you to get more involved.
Also, some placeholder templates are great for making sure you don't leave customers hanging, like the kind you use to let someone know that you're handing the conversation over to a different teammate who can help them better.
API to export Instagram messages and engagement data for deeper analysis
What is an API? The phrase API is an abbreviation for an application programming interface. This is an intermediary that makes it possible for two applications or servers to communicate and share data.
Click here to learn more about APIs, especially social media APIs and the best use cases of them.
Sociality.io API allows you to retrieve individual conversations as well as a list of all your conversations. The conversations are returned sorted by published date, with the most recent published date conversations appearing first.
You can integrate social media data from incoming engagement on messages, mentions, and comments into your analytics dashboards or CRM system.
Discover more information in the link: https://sociality.io/docs/api/#retrieve-a-conversation
And that's not all… We've got more!
| | |
| --- | --- |
| Send and receive Instagram messages | No more missed Instagram messages! Send and receive IG messages as text, photo, video, and stickers from one team inbox. Assign conversations, use templates, and monitor metrics. |
| View and reply story mentions in your inbox as text, photos, videos, stickers | Strengthen relationships with Instagram audiences by viewing and replying to story mentions. Proactively react to user-generated content in an organized manner. |
| React to your messages during the conversation | Engage with incoming Instagram messages like you used to. Send reactions to messages during a conversation to add a personal touch. |
| Reply post comments with private messages | Socialiy.io simplifies replying to post comments with private messages. Boost the brand's responsiveness and customer care by reaching out to your Instagram audiences. |
Building an effective Instagram marketing strategy is impossible without establishing organized processes of engaging with your audience. Whether they leave you to comment under a post, mention your brand in their stories, or send you Instagram messages — by facilitating conversations and engaging with them you can not only grow your followers count but ultimately drive sales.
Sociality.io is an all-in-one social media management platform, that allows you to bring structure to information chaos and equip you with insightful data for an effective decision-making process. Make your work smooth with the right tool.
🧁 Worth checking article: Simplify sales and lead gen with 10 LinkedIn automation tools