How to prepare an Instagram competitor analytics report in 5 minutes?
Conducting an Instagram competitor analysis helps you to avoid repeating the same mistakes. Instead of reinventing the wheel, start analyzing competitors' social media performance and learning from their successful content strategies.
This article will present a checklist of the things you need to study on your competitor's Instagram page.
Social Media News in a Nutshell
Get the latest social media news, insights, and marketing tips in your inbox once a week.
How to find Instagram competitors?
Most likely, you can identify your business competitors right away.
In the world of Instagram, your indirect competitors are as important. Every brand/business in social media competes for users' attention. News pages, popular meme accounts, influencers, and celebrities are ALL fighting for engagement rates. Therefore, your social media competitors include your indirect competitors, too.
Nowadays, social media users' decisions are highly influenced by the recommendations on social media. You can determine your indirect social media competitors by looking over your potential customers' conversations on online communities or community forums.
How to find top posts from competitors' Instagram?
Find top posts, aka unicorn content from Instagram competitors in 2 minutes. Sociality.io Competitor Analysis Module is a unique social media management software.
It enables users to quickly analyze competitors' content strategy with filters based on the number of likes, comments, engagement rate, and total interactions. Here is an example of the Starbucks Instagram page:
On top of that, Sociality.io gathers essential metrics for each post. You can collect the number of interactions, likes, and comments and show you whether the performance was reached organically or by advertising.
All reports are exportable in PDF and PPT formats. Or the same competitor reports can be auto-scheduled and sent to stakeholders regularly.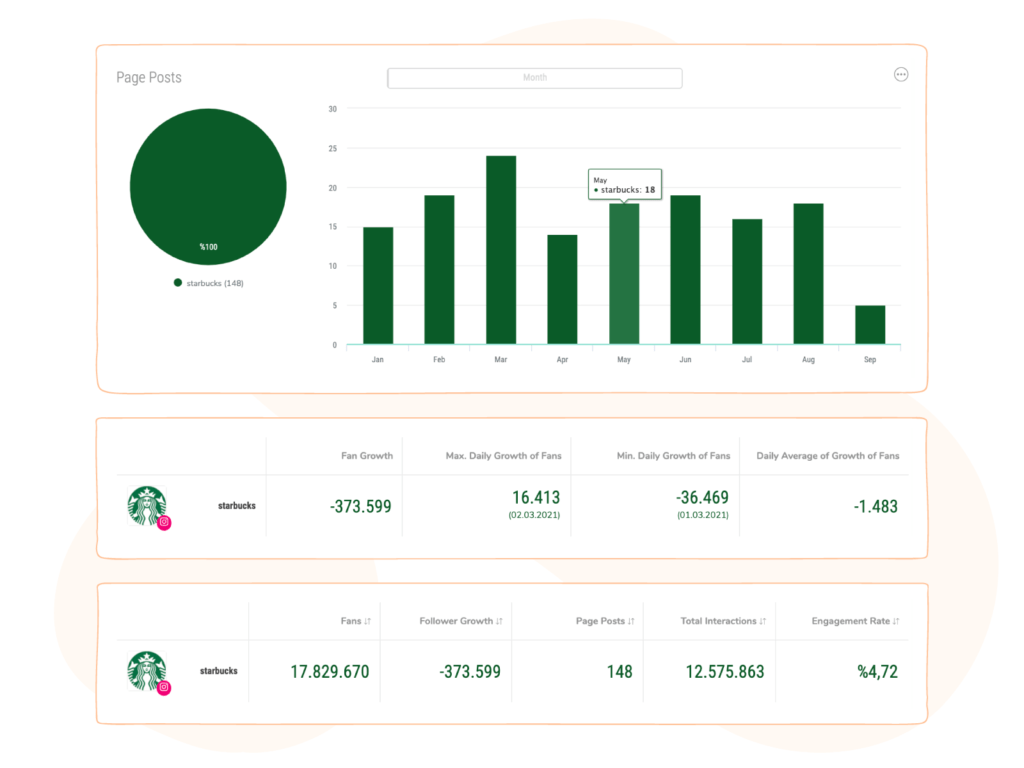 Which type of IG posts performs the best?
Content is the heart of every social media page. It can either convince customers and tell your business story in a way that sells or make them want to run away from your Instagram page.
Competitor analysis thus enables you to get to know the target audience's preferences and understand what content to publish.
Start with analyzing the type of posts the page has. Different industries utilize the formats differently. As you know, there are five types of posts on Instagram:
Standard image posts
Video posts
Carousel posts that can combine both images and videos in one posts
InstagramTV
You can perform it by manually scrolling competitors' pages. Or use the Sociality.io module, pay attention to the "Post Types" section, and analyze the distribution of content types for each social media competitor.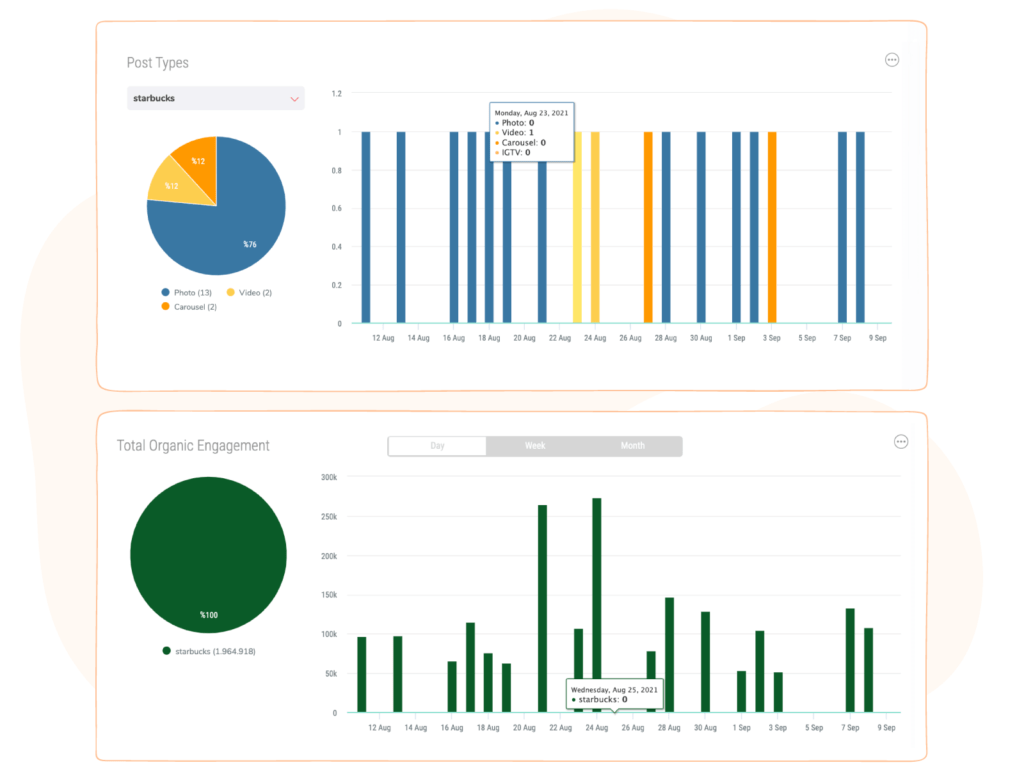 You don't have to stick with your competitors' formats, but this step will help you identify which post type performs the best and which performs the worst. Learn from your competitors' experience. Investing in video production might be expensive. However, the format might have proven to generate high engagement rates for your competitors. Thus, before spending money, you'll have competitors' metrics in your hand.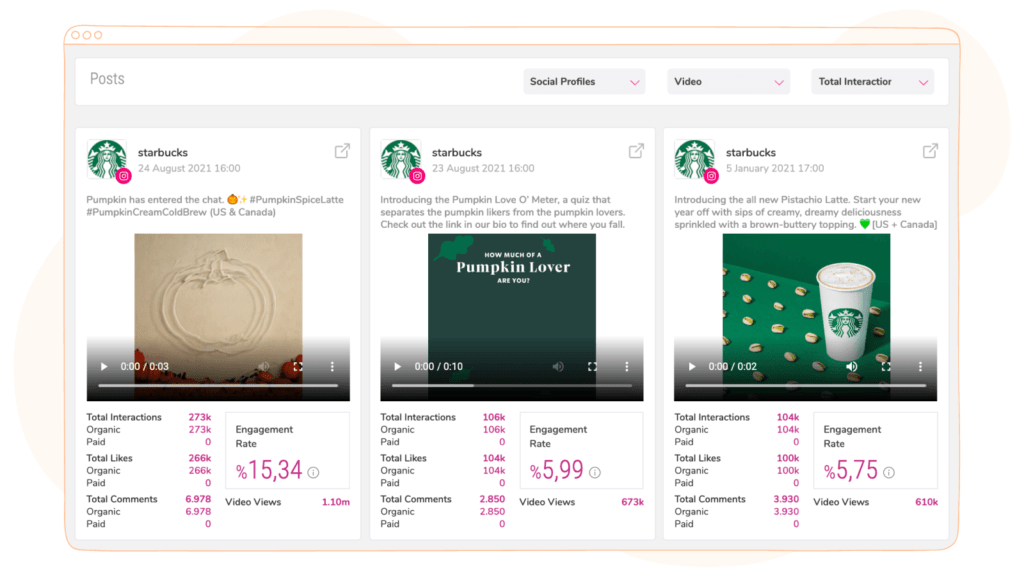 However, content creation points when determining your brand voice and strategies are key. For example, hashtag strategy or captions' tonality and length will greatly vary from business to business. There is no right or wrong approach.
You may also be interested in "Debunking 6 Instagram hashtags myths social media marketers follow"
Analyze Instagram competitors community management tactics
Besides content type and quality, make sure to understand which tactics your competitors are using for community management. You'll need community management tools for this step.
How active are your competitors on Instagram? How often do they post and interact with their followers? This will provide you with an insight into how big their social media marketing team is and whom you are competing with.
Keep in mind that posting three posts per day and interacting with every comment is not always the best tactic. You need to pair this info with the performance to understand if the chosen frequency works for that competitor or not.

Additionally, also analyze the days of the week your competitors post on Instagram. Is it every day or on specific days of the week? Look for patterns. And then take it to the next level and analyze the hours of the posts. This info will be beneficial for you when scheduling your own content. Analyze if there's a relation between the post's performance and the hour/day of it being posted.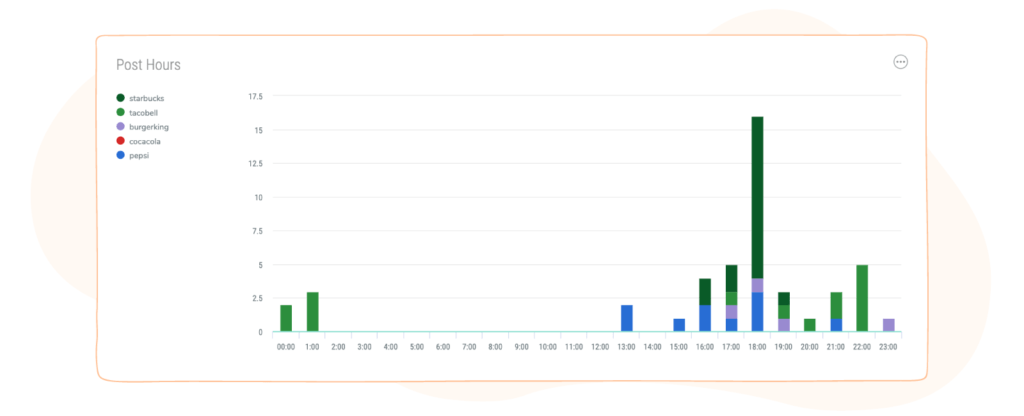 How to monitor Instagram competitors' growth?
The following growth can be misleading, as some social media marketers cheat by purchasing fake subscribers. A successful strategy can either cause Hocker growth, shifts in market trends, or can be fake.
On top of that, you can set the right benchmarks by understanding your competitors' growth rates.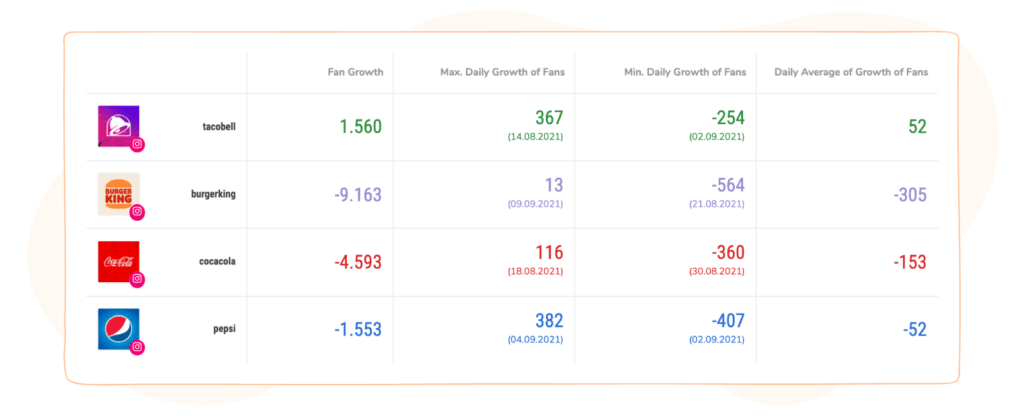 Analyze competitors' engagement rates
On social media, the engagement rate is the key indicator.
If you don't already know what the Engagement Rate is or don't remember, here's a quick refresher on what it reflects. Simply put, it shows you the percentage of followers that interact – like and comment – with the page's posts.
Engagement Rate=(Likes + Comments) / Followers * 100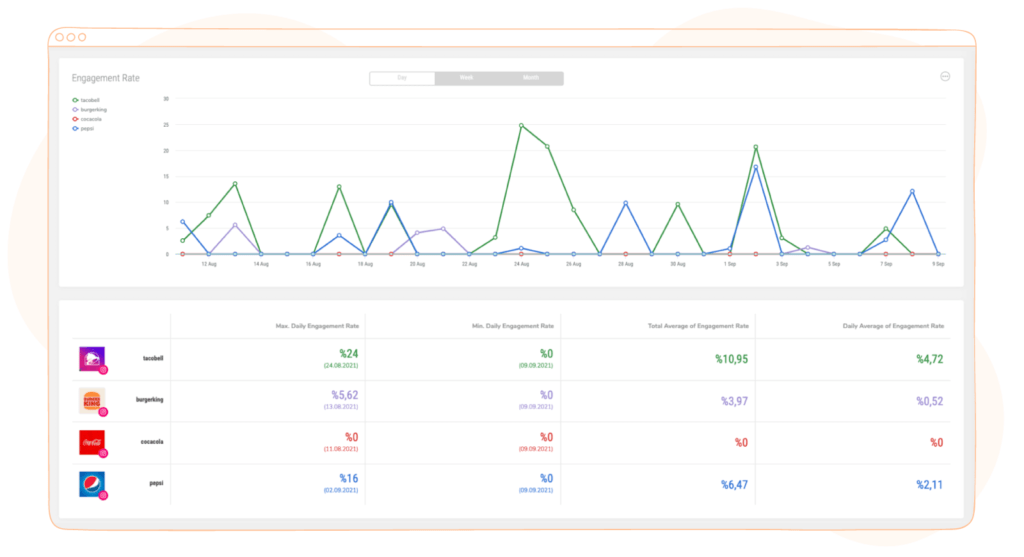 What's the average engagement rate? You can never find the answer based on your Instagram analytics data only.
You'll need to put all competitors' metrics. Based on an analysis of Burger King, Dominos, and Taco Bell, we can conclude that Taco Bell has the highest engagement rate, %5,29. Should Burger King and Dominos aim for the same goal? Note that Burger King has 27% more followers, which also affects the engagement rates. However, Burger King can try to experiment by increasing the number of posts to 15 per week.
✨ Bonus: How to calculate and boost Instagram engagement rate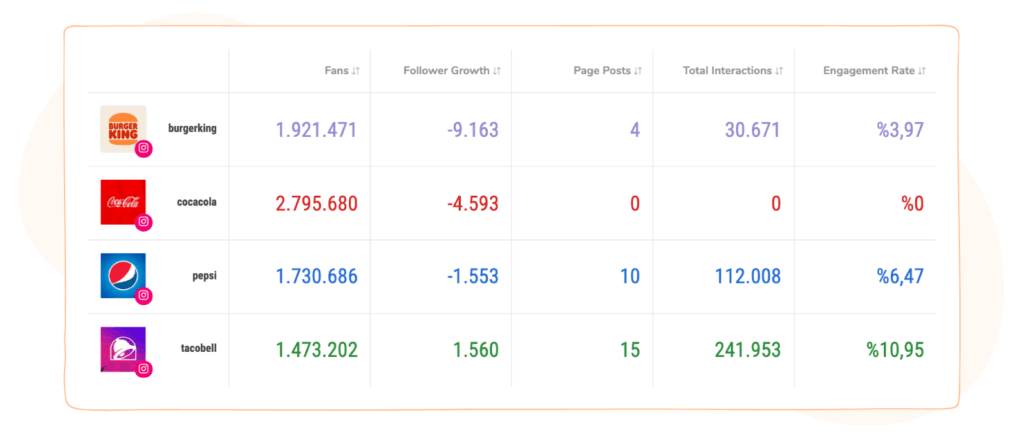 How did the IG competitors' page content strategy change over time?
Additionally, it's a good idea to study the evolution of the Instagram page to see how its content strategy has changed over time. There might be useful things you can learn, like failures or approaches that didn't work as well as the current one. This will make your experimental attempts more accurate as you will have a real-life case of things that didn't work.
For example, Nike used to post content featuring their products. However, today Nike uses its social media as its voice to raise important questions and bring awareness to critical global issues.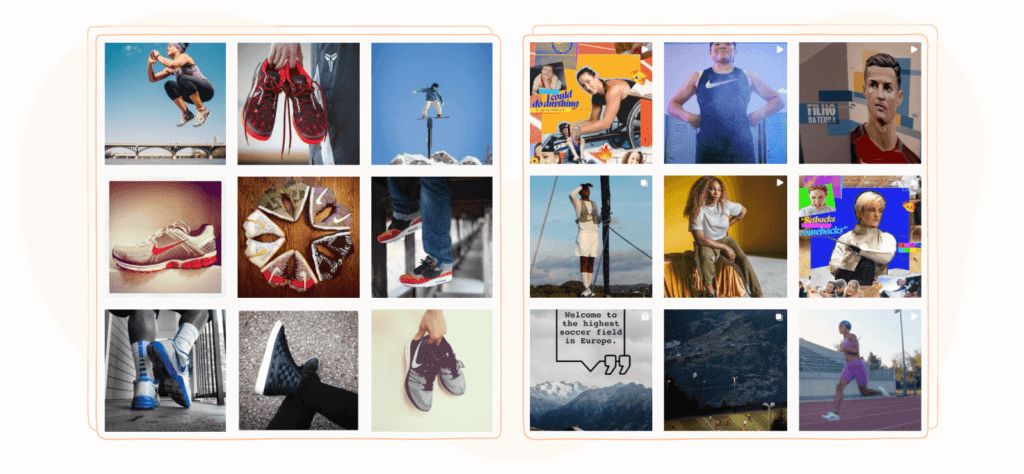 And that's a wrap!
That's it. Now you know everything you need to know about Instagram competitor analysis to get started. We hope you enjoyed this article as much as we did preparing it for you. Check out our series on social media competitor analysis below: