How to use Instagram Stories Analytics?
As of December 2021, there are over 500 million active daily Instagram Stories users and 70% of Instagram users watch stories daily. Stories have become a powerful channel for businesses to engage with their clients, increase brand awareness and make sales.
Before you start, you may want to take a look at how to use Instagram Stories for getting more customers for your business.
However, if you are already investing your time and effort in IG Stories, the next step is to measure the performance metrics. Most business owners misunderstand Stories analytics and misinterpret the results. Instagram Insights, an inbuilt Instagram stories analytical tool, is more comprehensive than just finding out which video, gif, or photo performed the best.
Also, to grow your followers on Instagram, you can check out our free Instagram growth ebook.
Understanding how your content is performing is only possible by tracking key Instagram Stories metrics over a period of time. By understanding what your audience wants, preferred timing of publishing, and demographic data you can improve your content strategy and drive more traffic as well as sales.
To learn how to organically grow your Instagram followers in your own phase, check out our article: The ultimate guideline to growing your followers on Instagram.
In contrast to other social media, Stories don't have likes or comments; instead, users interact with content in the following ways:
They Tap Forward and go to your next story.
They Tap Backward and rewatch your story.
They Exit your story and go back to the main feed.
They Reply to your story, which is shown only to you.
They Share your story with each other.
They click on the link you add into your story.
They click on your profile picture and visit your profile.
They click on any tagged accounts on your story and visit the tagged account.
Social Media News in a Nutshell
Get the latest social media news, insights, and marketing tips in your inbox once a week.
How to access your Stories Insights?
If you already have a business account on Instagram, you can automatically have access to Instagram Insights, which can show you when your audience is on Instagram, which of your posts are most popular, and your account's impressions and reach.
We highly recommend switching to a business account, as it provides more data and it is free! If you want to learn more about the Instagram business account, this article is for you. To the ones, who are worried about the reach of each post as business profiles, the Instagram algorithm does not "discriminate" business profiles as Facebook and LinkedIn do.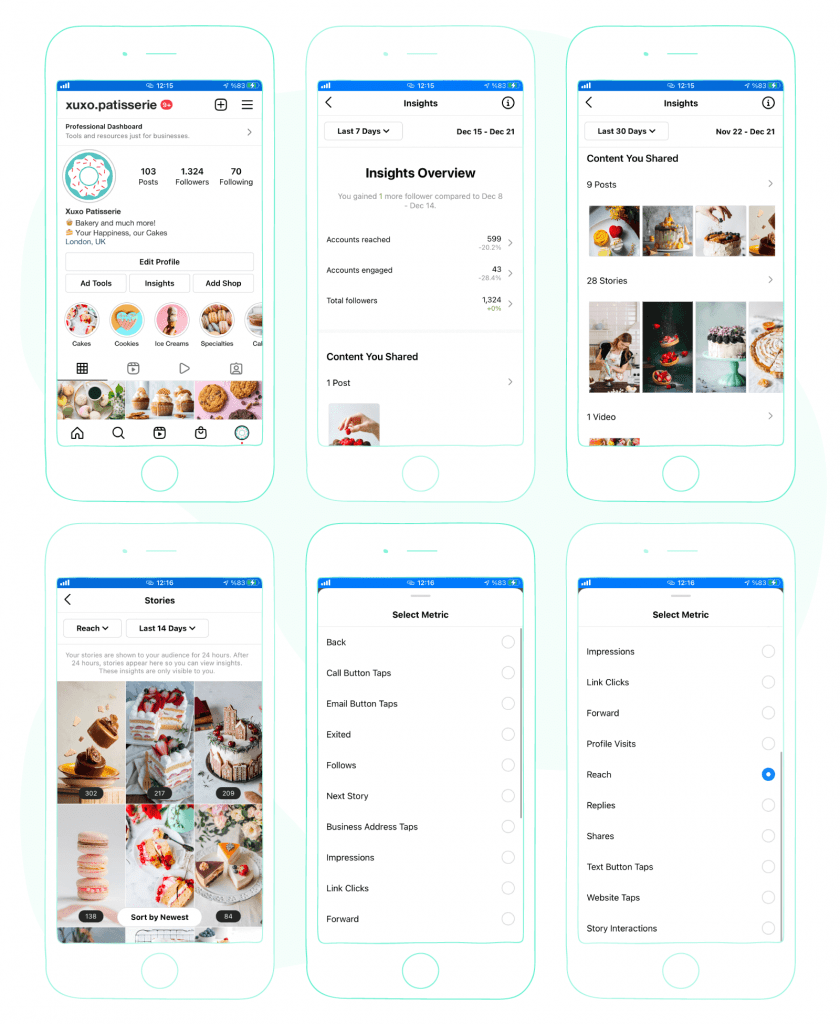 How to understand Stories' Metrics?
Overview
The overview is the summary of several key insights about your story, which are Accounts Reached, Content Interactions, and Profile Activity.
Accounts Reached: The number of unique accounts that have seen your specific story. It is different from Impressions, as Impressions take multiple views of this story by the same accounts.
Content Interactions: People take actions on your story such as shares, emoji reactions, and replies.
Profile Activity: The number of actions people take when they visit your profile after engaging with your story.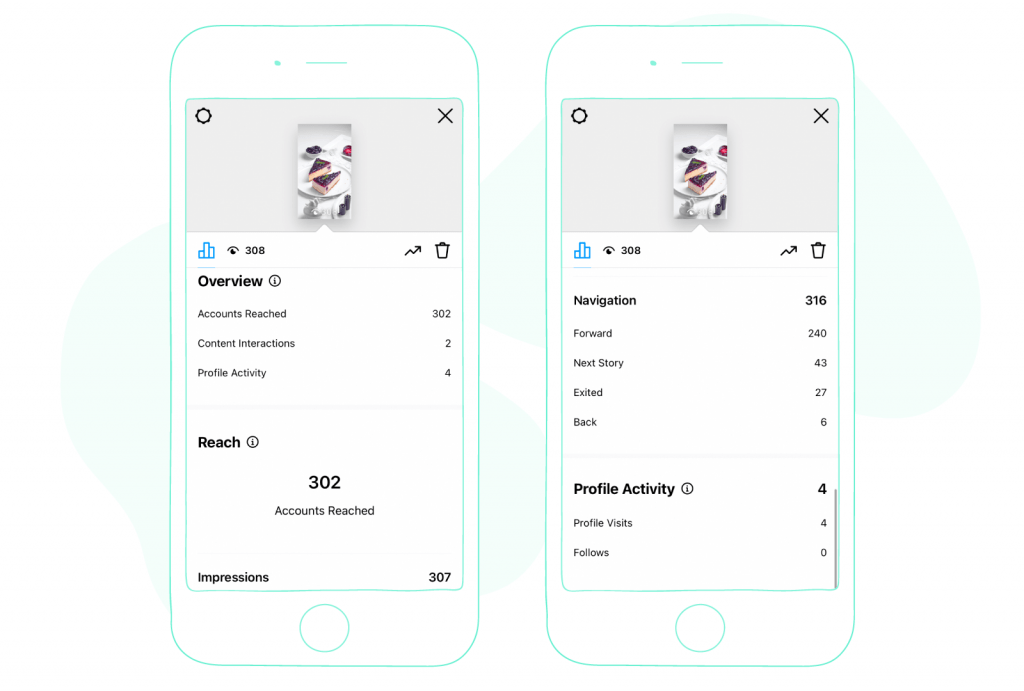 Navigation metrics are ambiguous and open to interpretation.
Back – a number of times users returned to the previous clip. This indicates the interest in your story and the desire to rewatch it again.
Forward – a number of taps the audience of your Stories went to the next one. Why? It's hard to understand whether a user liked the story or not. The user could have scrolled the story forward because he understood what you wanted to say and the story is boring. Conversely, the user can also be intrigued and simply want to know what happens next.
In general, a high number of taps forward isn't a good sign. Use this as a warning signal that your story wasn't interesting, was too long, or wasn't cropped properly.
Side note: A high number of taps forward could also mean that the composition of your story is wrong. For example, placing stickers or calls to action (CTAs) too close to the right side of the screen could lead to false taps forward. Keep that in mind. This is the reason why we said that Navigation metrics are ambiguous.
Next Story – the number of times users skipped your Stories. This happens when your stories are so uninteresting, that the user wanted to skip everything and go to the stories of another account.
Exits – the number of times users exited the story. This happens when users click on the cross in the upper right corner to exit the story section or close the application itself.
Side note: If the story has a high number of Exited, but the same story has a Swipe-up link, then it is a good signal. It means that you were able to forward people to your website. Enjoy the traffic!
Replies – the number of times an individual directly messaged you. But unlike comments on a photo or video, these responses end up in your inbox and don't appear publicly.
At Sociality.io we've analyzed hundreds of business profiles and found out that engagement in Stories is more valuable than comments under regular posts. Mainly because the engagement in Stories is private and personal. So, social media marketers have the ability to actually personalize the conversation.
Instagram Insights also shows how many times people clicked on your stickers, geolocations, and hashtags. This can be powerful insights to understand which content your audience liked the most.
Since now you have an idea of what each metrics means, let's move on to analytics, shall we?
Statistics on Instagram helps you evaluate the results of your work on your account and see if you are moving in the right direction. Or in contrast, show you where in your Stories marketing strategy you need to improve.
Related article: How to change the background color of Instagram Stories?
How to boost your discoverability on Instagram Stories?
As the daily active Instagram story users and their interactions are so high in number, you need to start investing your time in boosting your story content to grow your business.
First of all, you need to be creative and consistent with your stories so as to take the interest of your customers. To accomplish this, ask these questions; what are my customers interested in and what is their taste?
Thus, collecting feedback from your audiences would be very helpful to be more efficient and fulfill your goal. Fortunately, Instagram stories are well designed with features to learn more about your followers. You can easily ask them what they think about or would like to see on your page by using ask a question, take a poll, question stricter, and quiz sticker features of Instagram stories.
Another step to reach your target followers is using the appropriate hashtags which can lead your content to thousands of people. Placing the top-rated hashtags on your stories may help to boost the discoverability of your presence.
✨ Related article: How to repost an Instagram Story
How to calculate the engagement rate on Instagram Stories?
Engagement rate is the percentage of followers or viewers that engage with your posts. In general, you would divide the number of likes, shares, comments by your followers/subscribers number. In Stories due to the controversy of each metric, the engagement rate is not that exact. So instead of focusing on one number, take a broader look at all metrics and analyze what performed best manually. Until one day we will develop Artificial intelligence software, we can only rely on the human brain. But don't worry, it is not hard.
Get access to automated Instagram Stories analytics reports
Sociality.io is an all-in-one social media management platform that helps teams to publish content, listen to conversations, engage with your customers and measure your performance.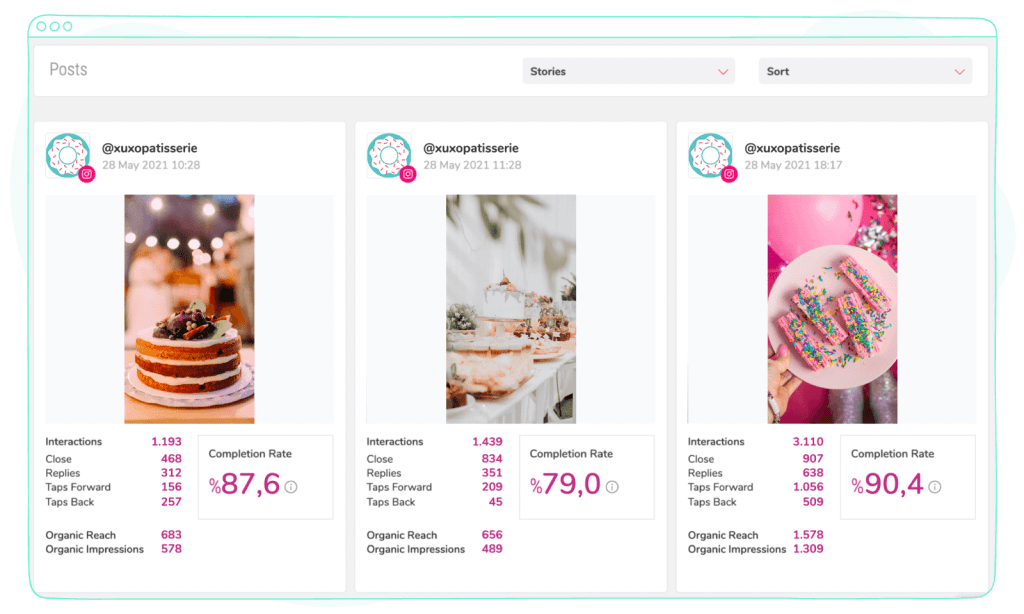 Sociality.io provides detailed reports to all social media networks you connect the platform with, including Instagram Stories.
With the Sociality.io Stories report, you can easily see what your audience likes and what content resonates with your followers' preferences.
Sociality.io automatically gathers historical data for an accurate decision-making process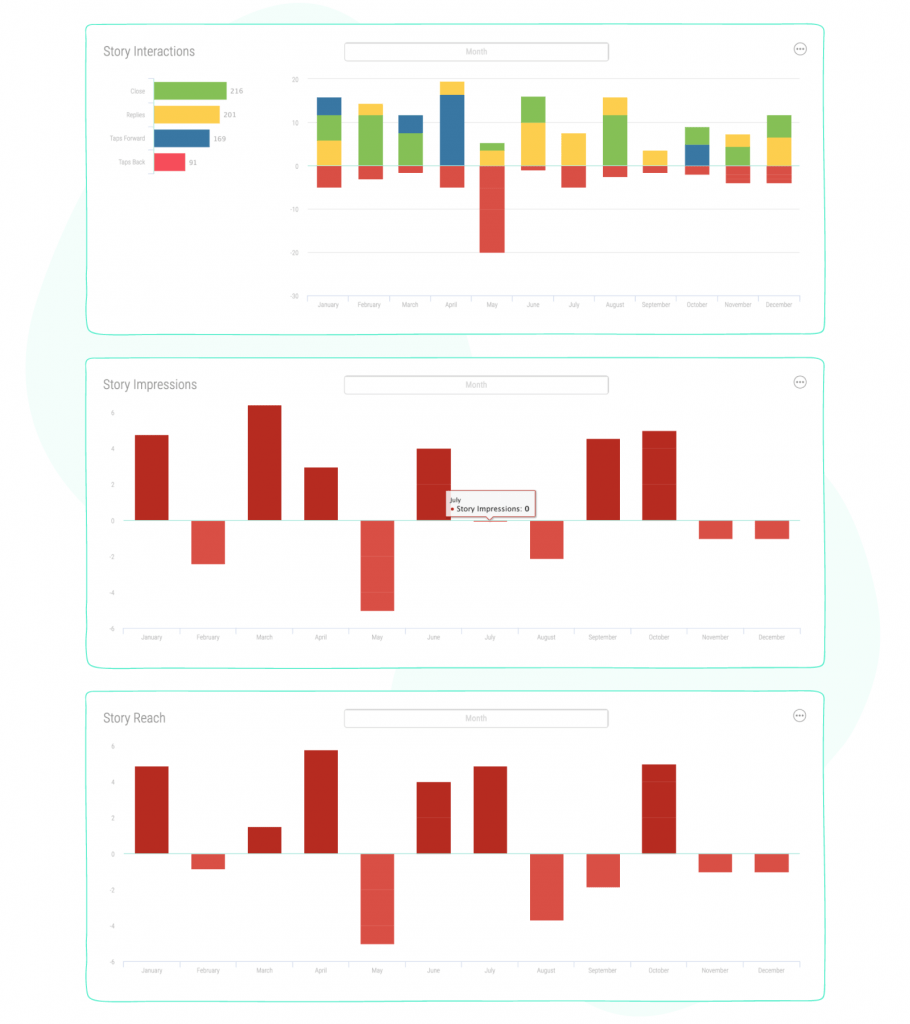 However, We highly recommend you to use both Instagram Insight and Sociality.io report, because Swipe-ups and stickers tap data are not available on social media management tools.
Sorting Stories by the number of views and replies is not an accurate way of analyzing content performance.
Instead, use our method:
1) Get a Sociality.io Stories report to have a broad picture of your stories' performance. Look at how in general, for a long period of time users interact with your content. Specifically, pay attention to the Impression of Discovery ratio.
2) Create a social media content strategy for Instagram Stories
3) Ask your team member for a feedback
4) Create the content
5) 24 hours after the publication look at results
6) Try a couple of different content types
7) Make conclusions
8) Repeat the process in case of failure of the first strategy
While the Sociality.io report provides you with the data, it's up to you to keep testing and tweak your content strategy. Try to test new visual strategies: buttons, different call-to-actions (CTAs), style, and timing. Then compare the performance of those stories to see which one does the best.
To wrap it all up, Stories drive valuable engagement. But in contrast to other social media like Facebook, LinkedIn, or Twitter, the interaction is different.
In general, the best content in Stories has a high Impression to Discovery ratio, a high number of Replies, a high number of "Back", low number of "Forward", "Exited" and "Next Story". However, as we mentioned previously Navigation metrics are ambiguous and can have multiple interpretations.