5 tactics to start brand monitoring on social media (Without crying)
When it comes to your brand, it is important to know what people are talking about. Whether it's a positive or a negative opinion or a mention, staying on top of such conversations can help you keep an eye on your audience's perception. If monitored effectively, you can use these insights to improve your brand presence, brand health, as well as brand reputation.
If you are stuck on how to get started, then this post can help you know more about brand monitoring and successful tips to ace it.
Social Media News in a Nutshell
Get the latest social media news, insights, and marketing tips in your inbox once a week.
What is online brand monitoring?
Online brand monitoring involves monitoring your brand mentions across different channels and media formats. This helps you understand the discussions happening around the brand and what people feel or perceive. You can also jump into conversations to appreciate your audiences, do damage control, share relevant information, respond to criticism, and much more. Moreover, you can collect and analyze this data to optimize future conversations.
Social listening vs. brand reputation monitoring
Social media brand monitoring is a part of brand monitoring and focuses only on different social media channels and includes social listening. Brand monitoring is more encompassing and can include TV spots, print media as well as non-social channels.
In fact, many experts agree that online brand monitoring also includes looking out for your competitors and associated conversations that are relevant to your brand.
Why you need to do social media brand monitoring
Brand reputation monitoring is not just about tracking brand mentions and associated conversations but also collecting insights and feedback from your audience to grow your brand.
Here are some of the reasons why brand monitoring should matter to you.
1. Understand customer sentiment
Brand monitoring can help you analyze the overall sentiment of your customers towards your product/service or brand—is it positive, negative, or neutral? You will get detailed insights into how people are reacting or commenting on your posts or campaigns.
2. Maintain brand reputation
One critical aspect of brand reputation management is how you handle and react to customer issues. Brand monitoring can help you tackle these situations before they get out of control. You can have a process in place to collect feedback, identify issues, and respond accordingly to ensure your customers are taken good care of.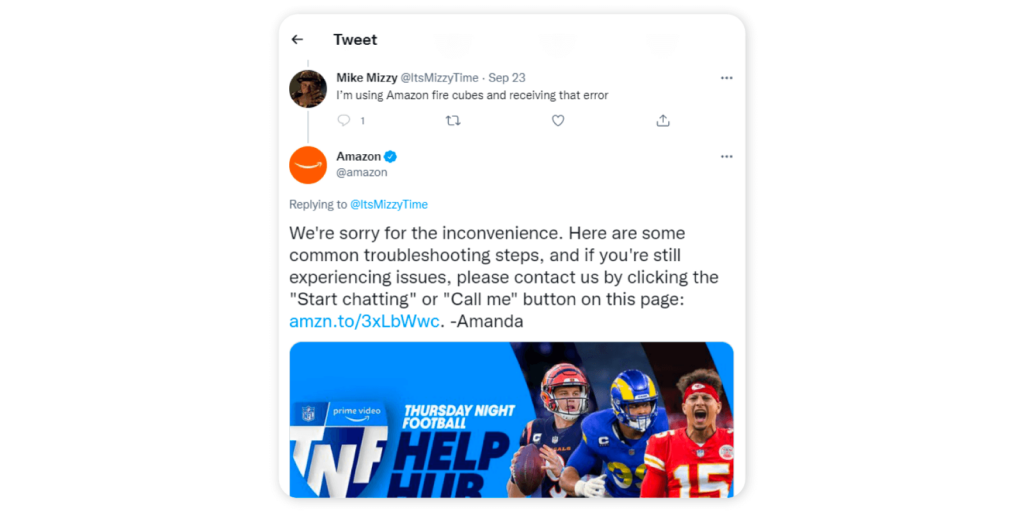 3. Engage and communicate with customers
When you are aware of what and where people are talking about you, it is easier to engage with your customers. This two-way communication makes your customers realize that you are readily available to listen to them and receive feedback.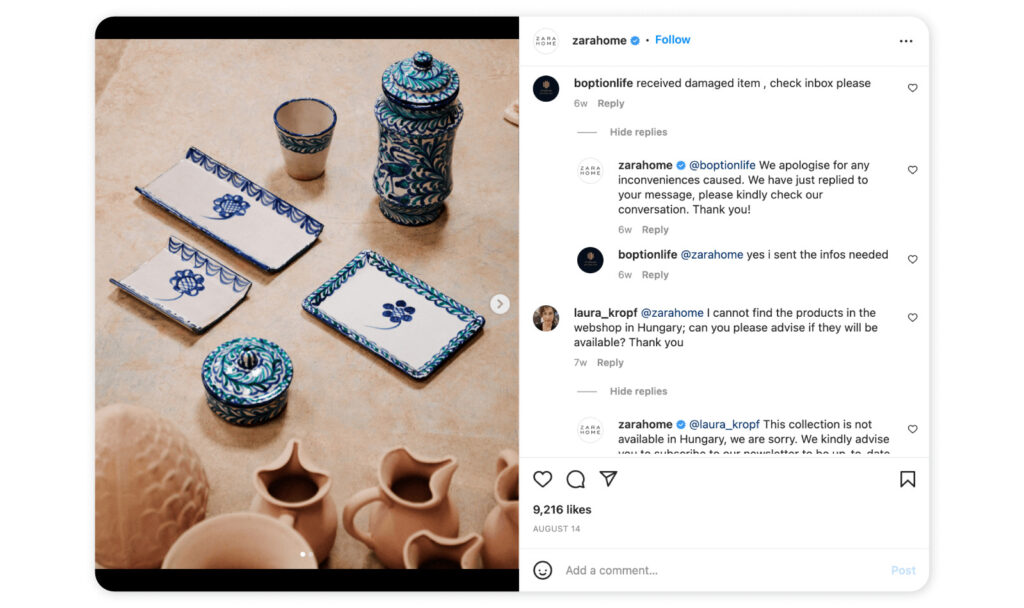 4. Identify new, user-generated content
Brand monitoring on social media channels can help you readily identify user-generated content, which is the king of content when it comes to establishing your brand authority. For instance, when people tag your brand in their stories, reels, or posts, you can show your appreciation and amplify the reach by resharing your account.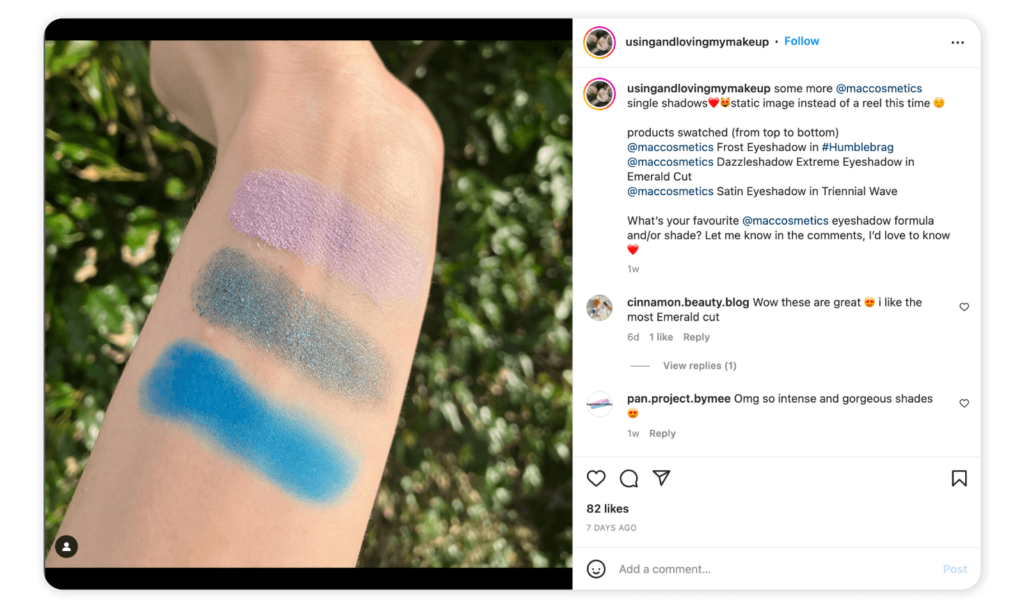 5. Stay a step ahead of your competitors
You can utilize brand monitoring to look out for your competitors too. Competitive intelligence can provide you valuable insights on what to avoid, how to or how not to respond, and learn from their experiences as well.
5 tactics to start social media brand monitoring
Before you start brand monitoring, identify the goals that you want to address with this activity. Be mindful of what type of content you want to monitor and on which platforms. Otherwise, you will be flooded with data and no conclusion or results. Also, consider what elements you want to monitor on social media, online communities, review forums, print media, etc., depending on what is relevant to your brand and the industry you serve.
Here are some tried and tested brand tracking methods!
1. Make a list of names and variations which act as identifiers for your brand
People may identify your brand in different ways. It can be all words or associated variations of your brand name, product name, etc. They may use different spellings or even abbreviations, necessitating a thorough search. Many marketers prefer to do keyword research for this step as it can help you quickly identify all words, variations, misspellings, etc. You can utilize digital marketing solutions to enhance your keyword search.
Also, if you have in the past run any successful campaigns (hashtags or marketing slogans), you can include those words in your research because you may have received certain comments or publicity for your brand. This step will help you to monitor and respond timely even when your brand is not directly tagged or mentioned in the posts or comments.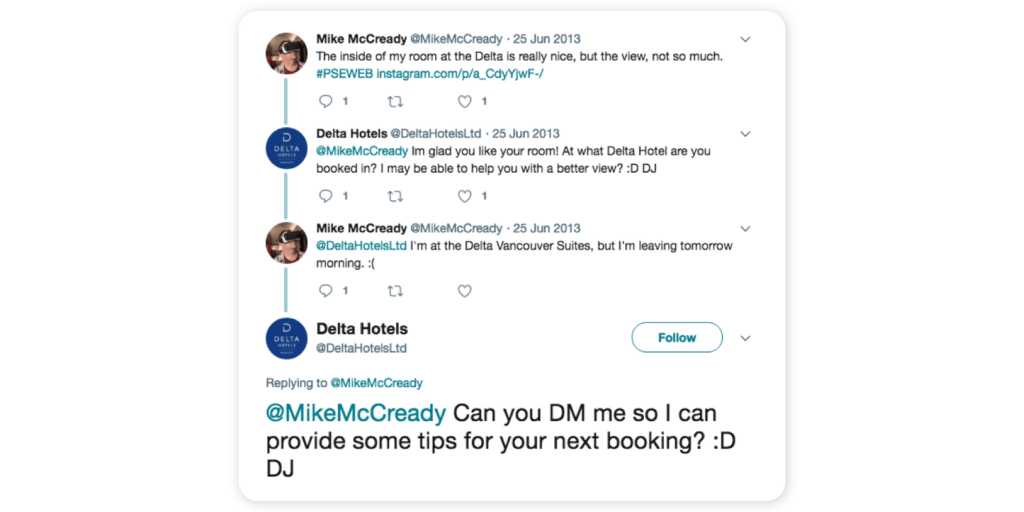 2. Keep an eye on your competition
It is always a good idea to know about your competitors, especially what they and their audience are talking about. You can carry out thorough analysis and competitor benchmarking to know how and where you stand comparatively in your industry or sector.
There are multiple social media tools available for competitive analysis, such as Sociality.io, that help you get valuable insights into your competitors.
Sociality.io's competitor analytics module helps you
Find and structure competitor's published and deleted content
Benchmark accurately based on competitors' data
Get scheduled visual reports in your inbox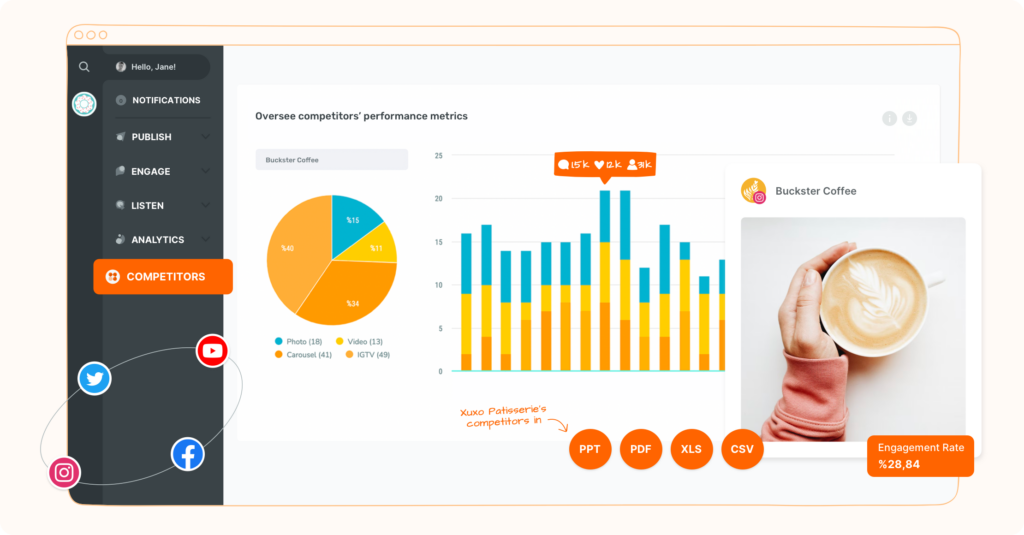 3. Be on top of the industry keywords and trending topics
Identifying industry buzzwords or jargon is important to know what's trending in your niche. It does not matter if you are being directly or indirectly mentioned in those conversations. Knowing about the updates can keep you well informed.
This will not only help you get new content ideas but also become part of conversations that matter in your industry. You can contribute positively and significantly to these conversations to establish your expertise and authority. Remember, not every conversation is about customer issues and complaints!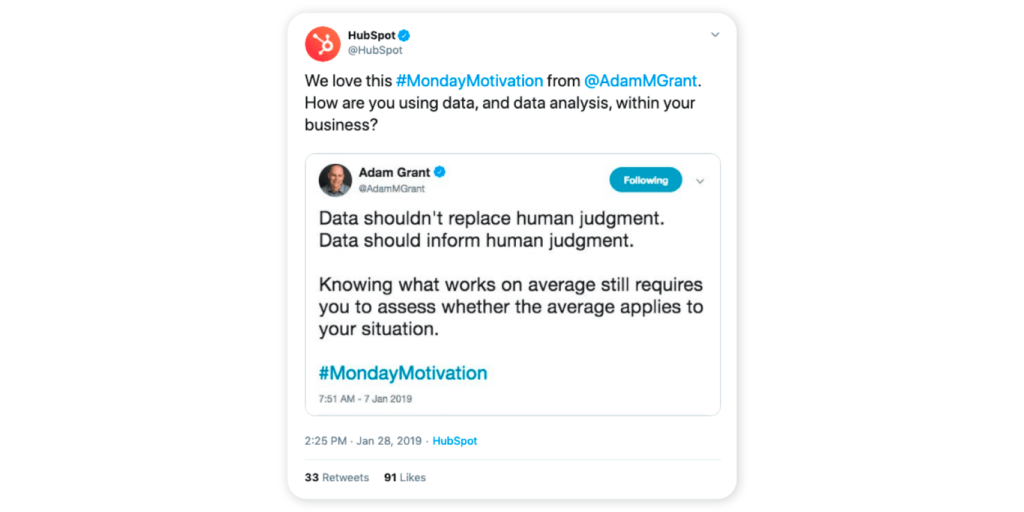 4. Monitor C-suite executives and public figures
You should monitor public-facing figures, spokespeople, or C-suite executives of your brand. Since they have a huge following, tracking their conversations can help you monitor what is being out on social media and how people are reacting to it. In case any immediate response or damage control is required, that can be executed. Even if the conversation is not directly related to your business, it can have an impact on media and public perception. Brand monitoring can definitely help you in such crisis management.
For instance, when the CEO of Bombay Shaving Company posted about supporting 18-hour work culture on his LinkedIn account, there was quite an uproar on social media platforms as well as print media.
5. Keep an eye on creator and influencer partners
You may also want to monitor your brand or influencer/creator partners. Entering into a partnership means that your brand will be associated with them, so it is important to know what they are talking about. Your brand should be showcased in a positive light, and you may not want to be associated with controversial posts or comments from your partners.
For instance, influencer and YouTuber Laura Lee was dropped by business partners, including ULTA, following a controversial tweet.
There are brand monitoring tools for you!
Yes, you guessed it right! You do not have to do all this work manually. In fact, a one-stop social media management tool or brand tracking tool such as Sociality.io can help you streamline all your social media-related tasks, including online brand monitoring and reputation management.
Brand Monitoring Software
Sociality.io is an end-to-end social media management tool that offers various modules to automate social media activities, including Publish, Engage, Analytics, Listen, and Competitor Analysis.
Key features: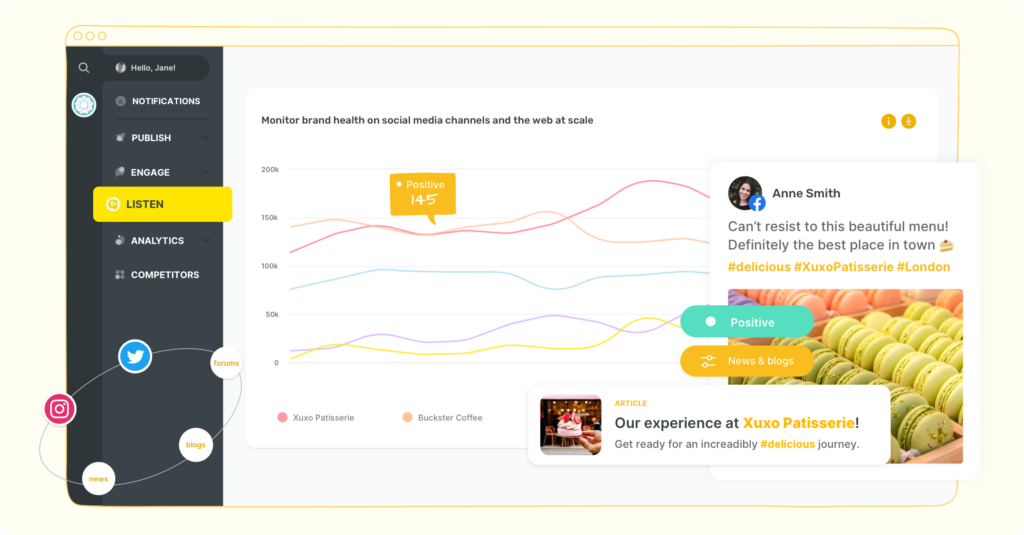 Keyhole is a popular social media analytics tool with various features, including brand monitoring, event monitoring, campaign monitoring, etc. Its social listening analytics suite offers functionalities for social listening and account optimization. 
Key features:
Access direct and indirect mentions of the brand, brand keywords, and hashtags across social media, forums, news articles, blogs, etc.
Use social listening data to know your audiences.
Understand brand sentiment for each post over a period of time.
Get insights on the share of voice and comparative sentiment with respect to your competitors.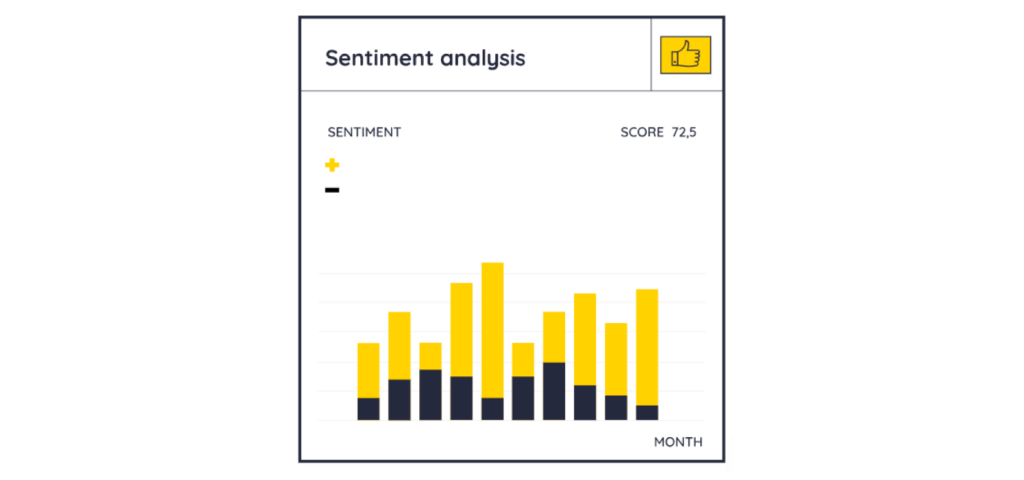 Brand24 is a popular media monitoring tool that gives insights into brand mentions across various platforms and content formats.
Key features:
Access brand mentions across social platforms, blogs, forums, news, podcasts, reviews, videos, etc.
Instant alerts for negative mentions
Sentiment detection to differentiate positive, negative, and neutral mentions
Track and engage in online conversations

Brandwatch is a social media management tool with features such as Publish, Measure, Advertise, Benchmark, Engage, Audience, and others. Its Listen module gives insights into brand perception, sentiment analysis, and much more.
Key features:
Get real-time insights on what is being talked about your brand, product, and competitors.
Monitor mentions to know the likes and dislikes of your customers.
Analyze sentiments and brand perception.
Get alerts on negative comments and unusual trends to respond immediately.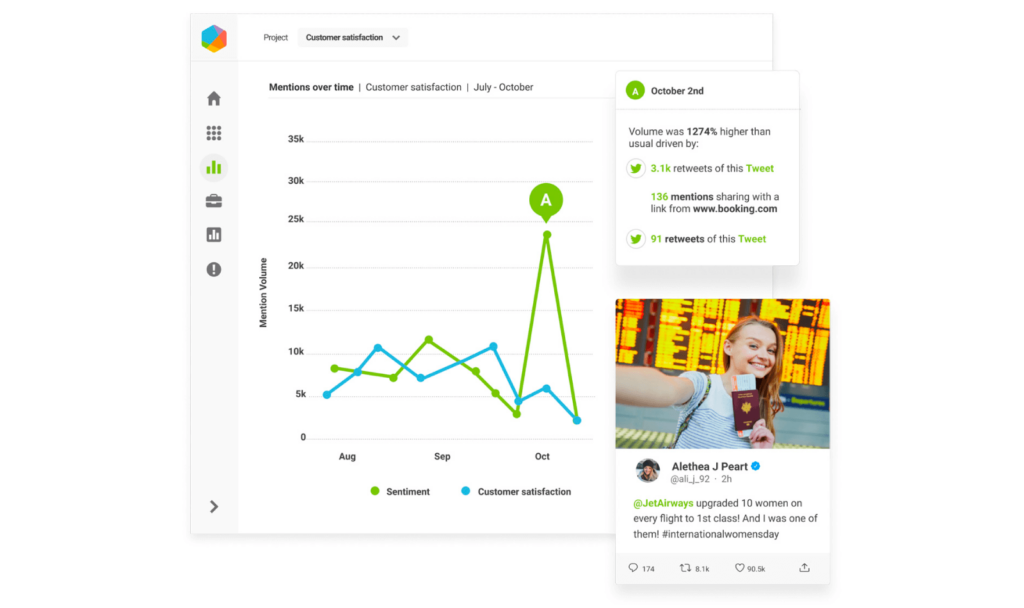 BrandMentions is a well-known brand tracking tool. It offers features such as reputation management, media monitoring, brand monitoring, business intelligence, and competitor spying.
Key features:
Track mentions about your brand or product on the web and social media.
Get real-time notifications on mentions in your inbox.
Access insights on tone and sentiment analysis with comprehensive reports.
Gain data on social media reach, brand engagement rate, authors or influencers talking about your brand, and much more.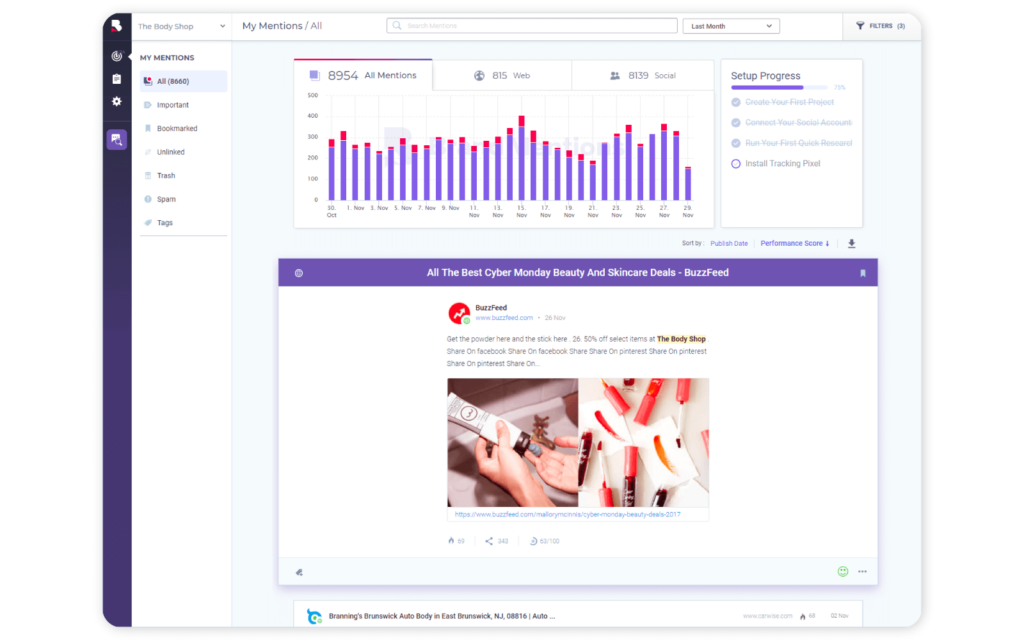 Final words
Brand monitoring can easily help you know what people are talking about your brand and/or product/service. These insights can inform you about your brand health and public perceptions to support better marketing strategies and campaigns. This will not only help you track positive mentions but also negative feedback, so you are better equipped for reputation management.
In fact, the more you monitor and are aware of the industry and competitors, the better prepared you are to create what your audience loves.
The tips discussed above can help you get started with brand monitoring but don't shy away from using brand monitoring tools to make sure you are at the right place at the right time!