Deep dive: Competitor Analysis module
Welcome! Meet Sociality.io, your social media management tool.
Get to know the basics of setting up your new account. This guide will introduce you to the Competitor Analysis module and show you how to add competitors' accounts, automatic schedule reports, and discover what works for your audience.
Have questions but no time to read this guide? Book a 1-one-1 personalized onboarding meeting to see how you can use Sociality.io to troubleshoot your team's problems.
This Deep Dive introduces the key features and capabilities available in the Competitor Analysis module. You will gain a working knowledge of how to generate competitor analysis reports and see how easy it is to onboard your entire team to the new toolsets.
About this guide:
Quickly generate competitor analysis reports.
See how easy it is to navigate the Competitor Analysis module.
Schedule automatic reports to save your team's time.
Social Media News in a Nutshell
Get the latest social media news, insights, and marketing tips in your inbox once a week.
A quick guide to using the Sociality.io Competitor Analysis module
To learn how to connect competitors' profiles, please read this guide first: How to add a competitor?
The Sociality.io Competitor Analysis module gathers only publicly available data and supports Facebook, Instagram Business, Twitter, and YouTube. Thus, the performance metrics vary depending on the platform.
Historical data
When your competitor page was added to our pool for the first time, the system begins to track the metrics from the time pages are added. Especially for the number of followers of the pages, the system saves the number of followers from the day pages was added. Unfortunately, the social channels' APIs do not provide historical data about the followers of the page. 
On the other hand, for the other metrics (e.g., posts, engagement, likes, comments, etc.) when the page is added once the system saves the most recent 100 posts of the page you can see these metrics historically. For this reason, for a more detailed date range, some metrics (e.g., number of followers or follower growth) will not be available for historical reports.
How to create a competitor analysis report
The process of creating a competitor analysis report is straightforward:
Select a social media platform
Select connected competitors
Select date range
Click "Create"

Wondering about the details?
Schedule automated reports: The Sociality.io analytics feature enables you to create automatic reports on a daily, weekly, monthly, and quarterly basis. Reports can be downloaded in PPT or PDF formats.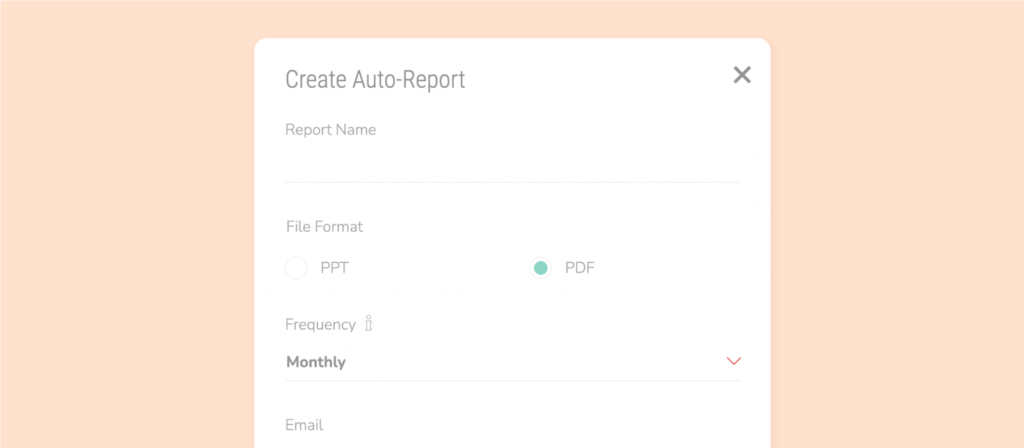 Download competitor analysis reports in PPT and XLS formats by clicking on the icons.

Download individual graphs in PNG, JPEG, PDF, or SVG formats.

Sort competitors' published and deleted content using advanced filters.