Top 8 social media community management tools in 2021
83% of customers feel increased loyalty to brands that provide instant responses on social media. Although, this rule might not be applicable to solutions receiving hundreds of direct messages each hour. Building a community around your or your clients' brand is impossible without investing in a better social media management tool to deliver a more responsive and tailored experience to your customers.
What is a social CRM (also known as social media community management), and how do you choose the best CRM system for your business? We've made a list of the top eight social CRMs and why we love each one. If you're ready to dive right in, jump straight to the list of the top 8 social CRMs.
Social Media News in a Nutshell
Get the latest social media news, insights, and marketing tips in your inbox once a week.
What is social CRM?
Social CRM combines social media management with traditional customer management software to help brands do the following:
Enhance their customer relationships
Improve marketing strategies
Unify all social notifications
Integrate with existing contacts on a digital platform
Contact potential buyers
Create a sales funnel
Execute loyalty campaigns
These Social CRM tools are typically bundled with social media management tools. Examples would be Sociality, Hootsuite, or Buffer. They usually include social media analytics as well.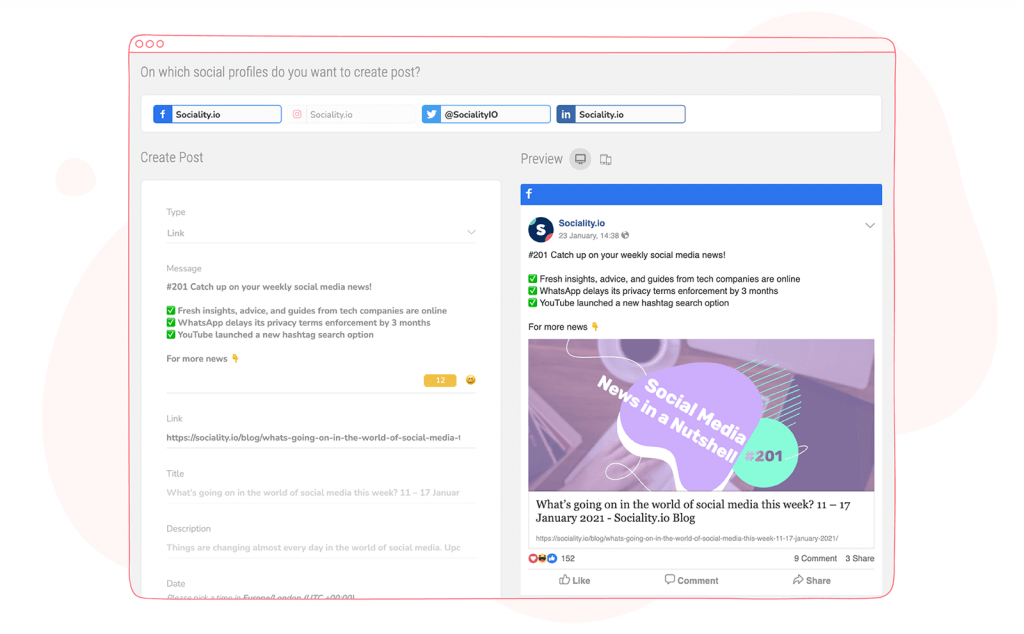 Social CRMs (also called Social Inbox, Social Engage, and Social Reply) provide a better customer service experience on social media and save you loads of time. You can respond to conversations, resolve customer support requests, share your conversation with your team members, reply to requests across Instagram, Facebook, Twitter, and many other platforms from one single collaborative team inbox. You are able to send conversations to your colleagues, avoid duplicate responses by seeing who else is viewing a conversation, write private notes and feedback, and share notes with others.
Does your business need a social CRM system?
Nowadays, a social CRM system is a must-have tool for every business. Let's take a quick look at how companies of all sizes, from start-ups to large corporations, can benefit from social CRM software.
Small businesses and start-ups
If you have a small business or a start-up, you are probably dealing with a lot of things and you don't have a dedicated person for community management and/or social media management. In a typical start-up environment, people are busy, creating a lot of miscommunication with each other and subsequently, with customers.
You might not have a face-to-face interaction with your customers, but you still need to introduce a system that provides information about your company on a customer-to-customer level. A social media CRM tool that doesn't require too much investment can help you better engage with your online customers.
Medium-sized businesses and corporations
Medium-sized businesses, on the other hand, tend to grow fast and must deal with more and more customers every day. Social CRM makes this management much more painless. And for large businesses, thousands of customers at the same time can only be engaged and managed via a sufficient, successful, and ongoing CRM system.
When you use Social CRM software, you manage all mentions, inboxes, hashtags, and comments on a single dashboard. Plus, through social CRM software, you can place your customers into convenient categories for further interaction based on criteria such as their needs, buying habits, purchase backgrounds, feedback on your service or product, and many more depending on the software you choose.
The top 8 social media community management tools
Let's reveal our top 8 social media community management tools and the reasons why they made the list!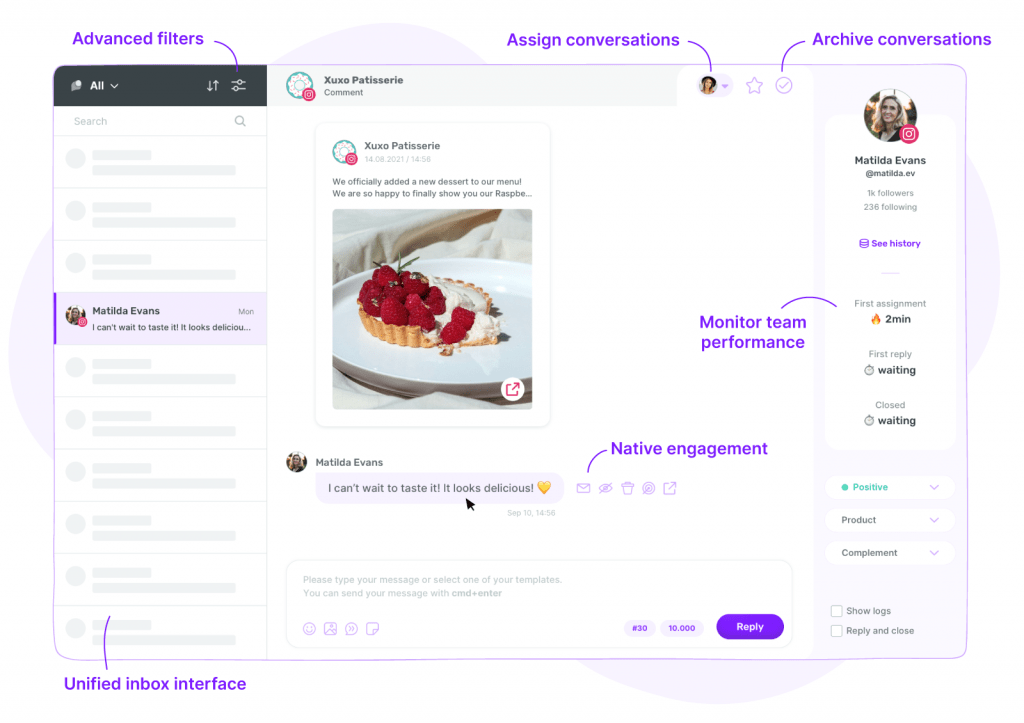 On Sociality.io, you can keep all your pages under control with the mobile app. Search through comments and messages across all accounts, and keep track of response time and other performance tracks. While using Sociality.io Social Media Engage, you can shorten your moderation process with the delete, hide, and other functions. You have all conversations on one screen, so you won't miss user messages when you're tabbing between accounts.

With Buffer's Reply feature, you can tag and create custom folders and keep track of your conversations. For ease of use, there's a keyboard shortcut for everything! You can set the status of a conversation, measure the quality of your customer service on your social media channels, and get in-depth insights into team productivity. Buffer Reply also allows you to export reports (such as volume, response time, and tag usage) in CSV format.
Read our article about Buffer to learn more about using it and some of its best alternatives.

Keyhole Social Mention monitors social mentions of your brand on Instagram, Twitter, Facebook, YouTube and news sites, blogs, and forums. By responding to these mentions, imagine how much increase you can get from revenue and improve your customer service. You don't just have a nice relationship with your customer / potential customer, you also improve your brand reputation. Keyhole also listens to your competitions and their prospects. You can take some action on it and reach out to new customers. By monitoring social mentions, it allows you to catch up on trending topics. Be aware that Keyhole doesn't have access to your inbox.

Agorapulse lets you manage LinkedIn and Youtube profiles as well as Instagram, Facebook, and Twitter — all on a single dashboard. Agorapulse Inbox captures organic and paid post comments, mentions, direct messages, and reviews in chronological order. This real-time collaboration tool allows you to instantaneously see who is taking care of business in your inboxes. The one-click translation of inbox items and the mobile app comes in pretty handy too!

Hootsuite lets you manage profiles, respond to messages from customers, monitor for mentions, and more. Hootsuite Inbox is available to Professional, Team, Business, and Enterprise plans. Business and Enterprise customers have the capability to tag Inbox messages. Enterprise customers can also create automated inbox assignments and measure message-handling efficiency with the team metrics in Hootsuite Analytics.
Read all about this tool and potential alternatives to Hootsuite in our guide.

Sprout Social's Social Customer Service feature lets you monitor keywords, hashtags, and locations to discover unique engagement opportunities. It also allows you to sort your inbox by tagging, filtering, and hiding messages to prioritize what's important. There's conversation history management for you to see where your relationship with a specific customer started as well. Plus, their new Smart Inbox makes it possible to perfectly streamline your social inbox management.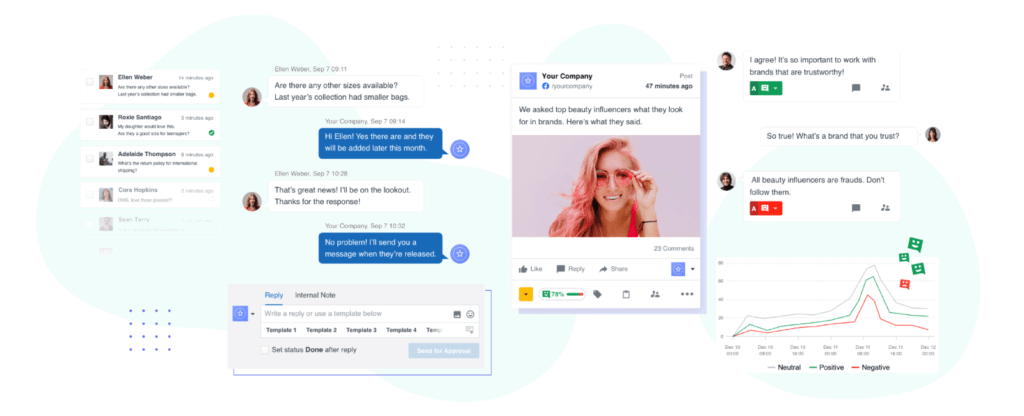 On Social Bakers Care, you can add permission levels to your team members to avoid critical mistakes! Spelling errors, off-message content, and awkward posts can be caught before they're published. You can ask for changes and write notes to your teammates too — ideal for team building. Also, every post is labeled, organized, and analyzed by AI. Once you create rules for your content and inbox, the automation will take care of the rest.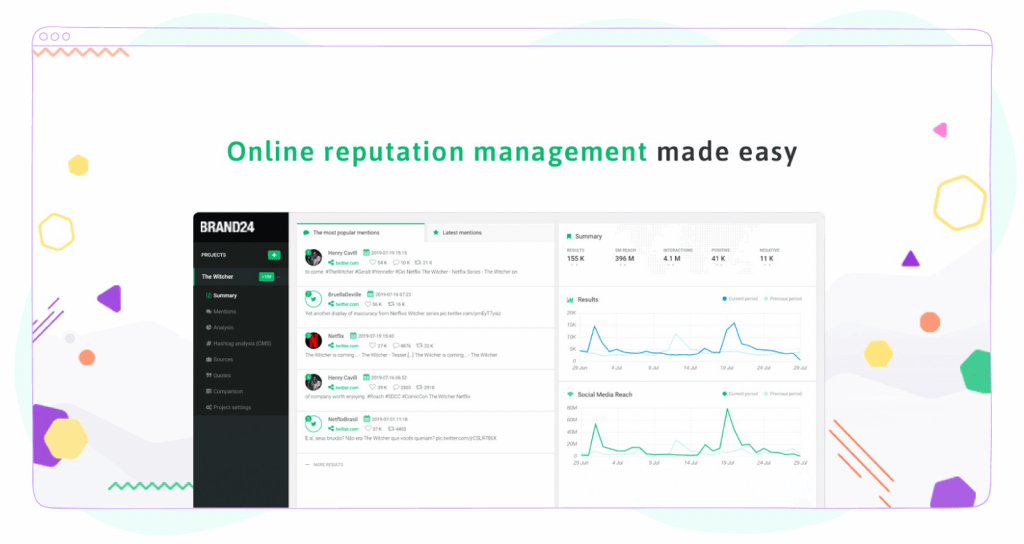 For the ultimate reputation management tool, your brand needs the Brand24 Mentions Feed. This feature gives you real-time updates on what people are saying about your brand, allowing you to react quickly. You can also measure how much people talk about your brand with the Discussion Volume chart, or get a general sense of how people feel about your brand with Brand24's Sentiment Analysis. Handling negative feedback is an important part of community management on social media, and a tool like Brand24 makes it easy.
How much do social media management tools cost?
Sociality.io did a transparent overview of social media management tool pricing, to see how tools compare against each other. Prices for social media management tools vary greatly, so it's vital to consider what your brand's needs are before paying for one. Hidden costs to look out for include:
Adding more team members
Signing up for additional features
Connecting multiple social media accounts
The best way to know which tool is best for your business is to sign up for a free trial of the tools you're interested in. That way, you have the opportunity to test the features that matter to you and you get a good comparison of the capabilities of each software.
✨ Bonus: Compare 150+ social media management tools'
Choosing the best social media community management tool
Social CRMs undoubtedly have a huge impact on your business. Customer service via social media has become more important than ever, and a powerful social CRM system makes it easy. Manage your social media presence and nurture relationships with customers, all with one tool. The eight social CRMs listed in this article all have features that help teams better understand their social media presence and engage with customers. Try them out to see how you like them!
Related article: Ridiculously effective tactics to grow social media community
✨ Worth checking: The post covid future of community marketing