Social media CRM platforms to skyrocket sales in 2023
Having a customer relationship management (CRM) strategy in place for social media is no longer an above-and-beyond feature for businesses. Today, most customers expect some degree of customer service on social networks from businesses of all sizes.
Social CRM is a necessity so it's no longer enough for only the marketing team to access data gathered from social media. The rest of your business needs the invaluable information that comes from interactions with customers and prospects on social networks. Social CRM tools help develop your customer relationship strategy for your various social media channels, as well as integrate it with your existing CRM tools.
To get your social CRM approach right, however, you need the right tool. This guide covers six social CRM platforms that will help your business boost customer engagement and skyrocket sales in 2023. But first, what exactly is social CRM, and why do you need it?
Social Media News in a Nutshell
Get the latest social media news, insights, and marketing tips in your inbox once a week.
What is social media CRM?
Social CRM is simply connecting your business's social media channels with your CRM system or software. It also consists of devising a strategy to manage leads and existing customers that you interact with on social media networks. Traditional CRM tools let your various teams track interactions with customers and leads so you can see where to focus marketing efforts or how to improve customer service. A social CRM tool lets you complete the same tasks, using information specifically from social media.
Any engagement you have on your social channels, including Instagram, Facebook, LinkedIn, Twitter, Pinterest, YouTube, and more, can generate leads. Of course, you don't want to try and close a sale with someone who commented on a Facebook post. But you don't want to lose a prospect who showed interest in your business, either. By putting this info in your social CRM platform, you can track this potential lead and nurture it towards an eventual sale later on.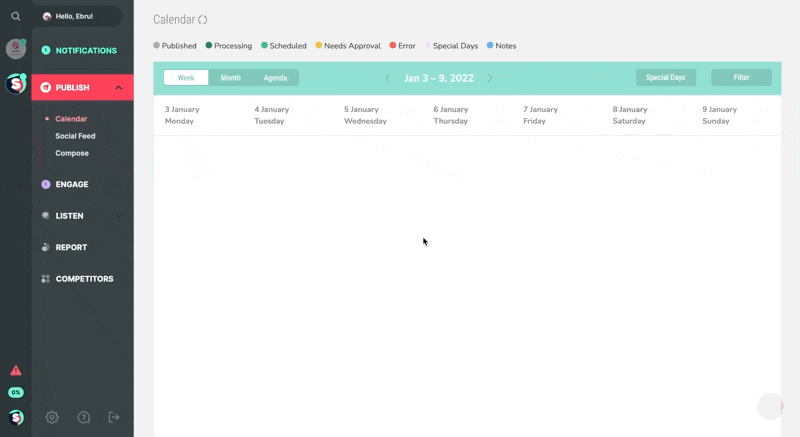 Why your business needs social CRM tools
One of the biggest benefits of social CRM is helping large teams coordinate interactions and communication from social media. Agencies and enterprises often receive product information requests or other important feedback from customers on social media and these important points of interaction directly affect sales. A social media management tool alone, without CRM capabilities, doesn't quite cut it for these large teams because most of these tools weren't built for enterprise use.
Social CRM platforms let you take a customer-service-oriented approach to your social media channels. They help you collect feedback, identify customer needs, and create targeted social ads on a much larger scale than what most social media management tools allow for.
What are some other benefits of social CRM?
More readily identify customer needs
With more insights on customer demographics, preferences, and buying behavior from social media, you can determine what your customer's needs really are. It also allows you to uncover and explore new segments of your target market.
Better return on investment
Digging deeper into customer needs will result in more productive, targeted ad campaigns, which leads to greater ROI.
🥁 Bonus article: How to define and measure social media ROI for your business
Coordinated business departments
When every team has full access to customer data from social media, it improves internal communication, which boosts productivity.
Future-proofing
Getting more data about your customers' feelings toward your products and services will help you improve your offerings. You receive feedback in real-time, allowing you to pivot more quickly toward strategies that will provide better products and experiences for your customers.
Planning for customer needs
All businesses get negative feedback on social media at some point. You can use the wealth of feedback — both positive and negative — that you receive from customers on social media to deepen customer relationships and plan better for their needs in the future. If you manage to analyze and configure the data your CRM system collected successfully, you can gain potential new customers.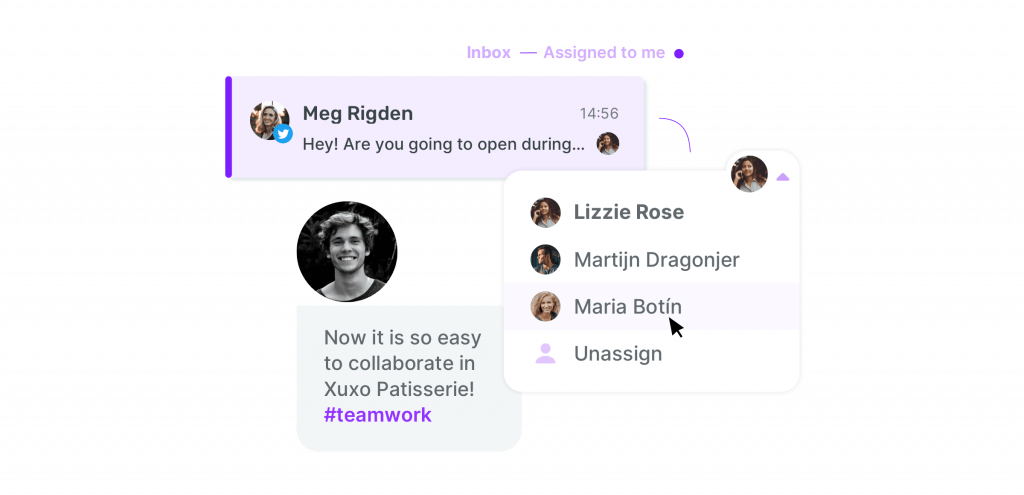 Use cases for social CRM
What exactly can you use social CRM tools for? Platforms driven by APIs allow you to streamline your social media management processes in a single dashboard; analyze performance across all your accounts and brands, and use social listening to track mentions of your brand.
Customers can create fan pages for your business.
You can gather data from any fan pages customers start and import it into your CRM to improve your marketing, networking, and communication strategies.
You can follow conversations about your brand across social networks.
CRM tools use APIs to help you track brand mentions across multiple platforms, and even for multiple brands if you are an agency. You'll see all conversations about your business in one place and glean insights about potential leads.
You can get information about your products and services out more quickly.
Social CRM platforms not only let you gather info but also allow you to engage with customers on a deeper level. You can post about product updates, upcoming events, promotions, and more.
You can respond more efficiently to negative feedback.
If you're tracking brand mentions with a customer relationship management API across social networks, then you'll run into negative feedback. You can push this feedback to your customer success team much more quickly with a CRM social media integration.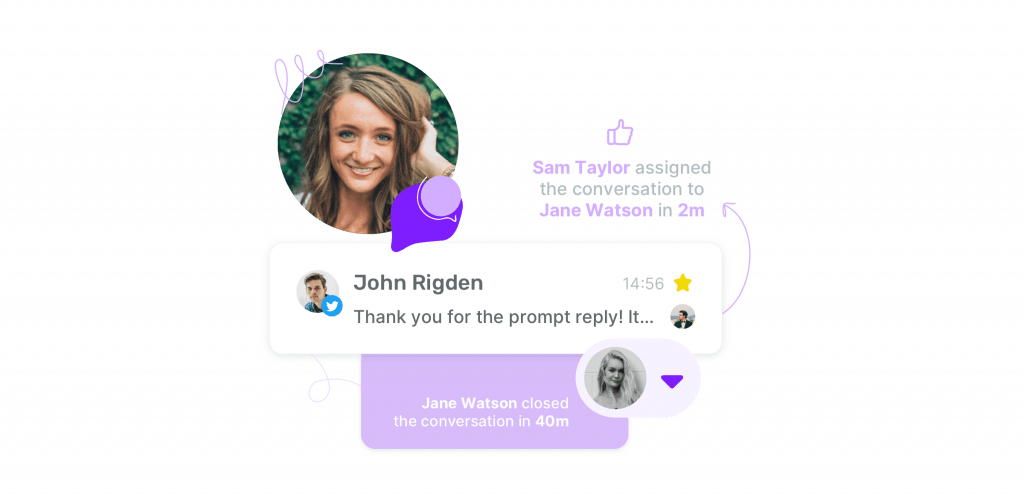 What to look for in a social CRM tool
Your next social relationship management tool should have the following features if you want it to truly benefit your organization.
Social listening: You should be able to track various platforms for mentions of your brand as well as topics related to your brand.
Team collaboration tools: Relevant teams in your organization should have access to the social CRM tool so they can get the data they need for better customer relationship management.
Social engagement dashboard: You should be able to see and respond to all customer messages in the same dashboard.
Reporting: Your social CRM platform needs robust analytics and reporting tools to gauge the performance of your posts against customer engagement levels.
6 best social CRM platforms to support sales and marketing
Now that you know what social CRM is and how it benefits your brand, let's look at the six best social CRM platforms for 2023.
Sociality.io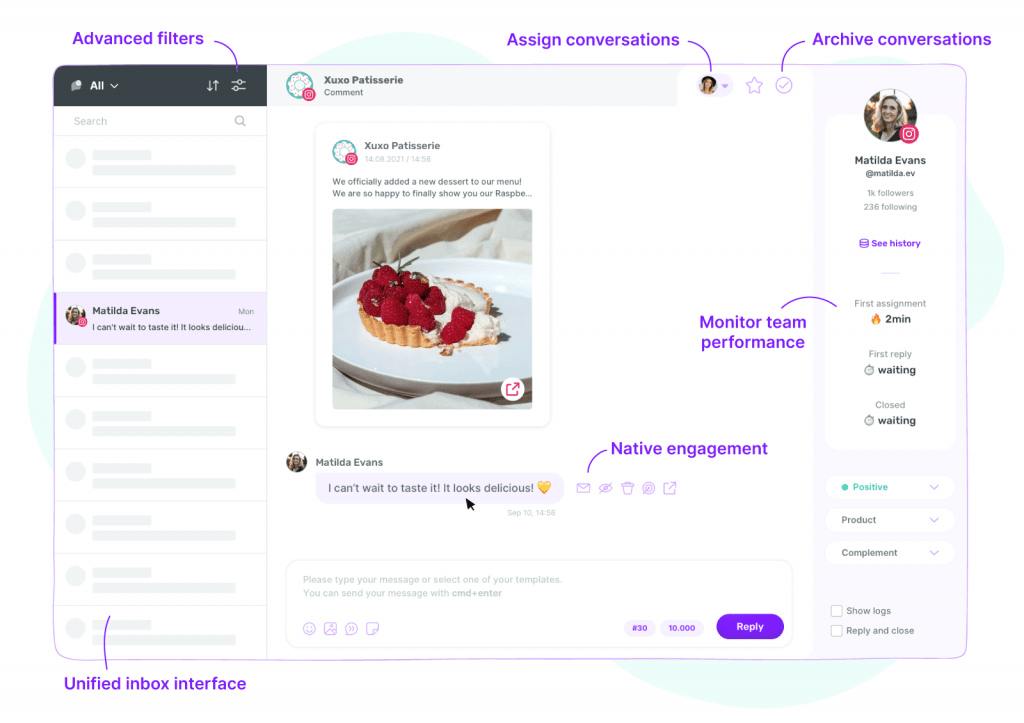 Sociality.io's Engage module is one of the most collaborative tools for social media management on the market, with intuitive communication features that resemble typical CRM solutions. You can view messages and posts from your social platforms that your business's profile is tagged in, and assign those posts to a team member to address. You can also send direct messages to team members and change the sentiment of each comment or post to positive, negative, or neutral.
Each user knows which tasks or conversations are assigned to them and what they still have to complete every time they look at the Sociality.io Engage dashboard. With Sociality.io's robust reporting features, you also get access to reports on team activities and performance. With the template creation tools, you can also create response templates for your social media channels in just a few clicks.
Benefits
Dynamic social inbox with features geared toward customer relationship management
Intuitive interface
Transparent team activities logs
Easily create templates for customer service responses on social networks
Detailed team performance reports
Leave internal notes for team members
Flexible onboarding for new users
Report scheduling sent via email
Helpful customer service 
Pricing
Pro: $99 per month for 1 user and 10 social profiles
Business: $199 per month for unlimited users and 15 social profiles
Enterprise plan available for customization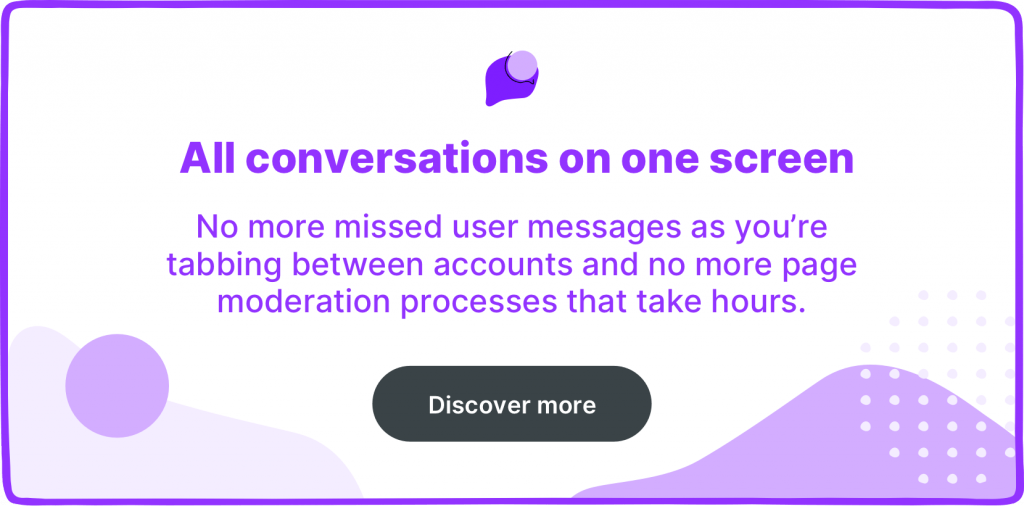 Sprout Social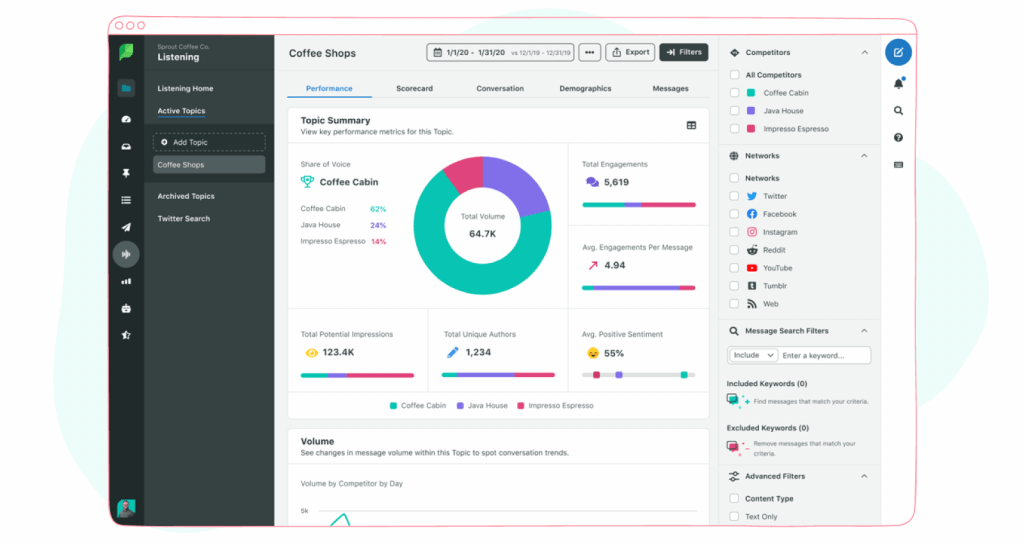 Sprout Social lets you organize campaigns across wide variety of platforms, beyond the typical social networks. You can access customer info from Google My Business, Reddit, and TripAdvisor in addition to Facebook, Twitter, and Instagram. Sprout Social lets you manage feedback, schedule and publish posts, utilize social listening, and it provides analytics and reporting.
Benefits
User-friendly interface
Smart inbox for easier engagement
Strong reporting features
Solid help desk
Sprout Link feature to connect Instagram users with URLs
Option to bulk-schedule or individually schedule posts
Drawbacks
No low-price options
Competitor analysis reports don't aggregate across platforms
Limited YouTube data
Pricing
Free 30-day trial
Standard: $89 per month per user
Professional: $149 per month per user
Advanced: $249 per month per user
Nimble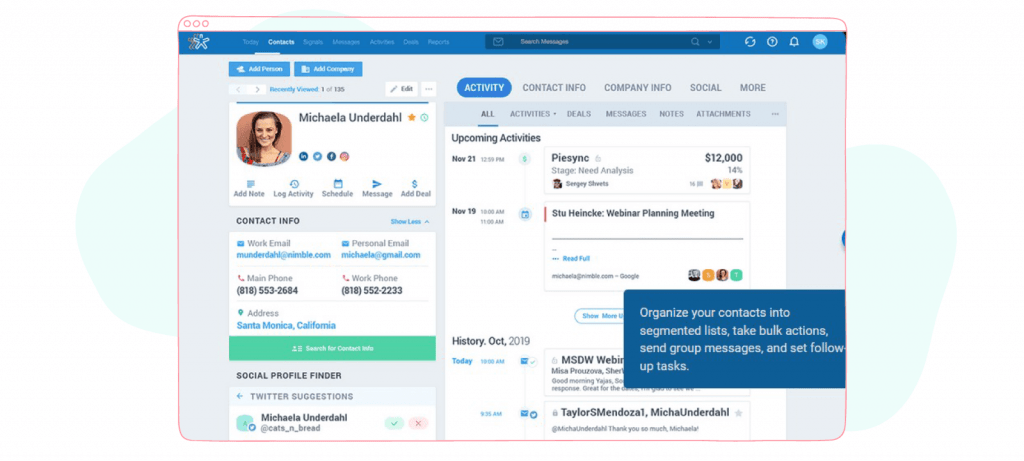 Nimble makes your social relationship management more streamlined with a browser extension that allows you to gather data as you prospect or work on other tasks. The Nimble widget pops up whenever you use an integrated network or tool, showing all the customer data you need. In addition to various social platforms, Nimble also integrates with Gmail, Outlook, Mailchimp, and other CRM software.
Benefits
Easy to set up integrations and use
Track emails related to customer experience
Communication logged even if it's not sent in Nimble
Mobile app to review customer data from your phone
Highly customizable to user needs
Drawbacks
Automatically creates a new company when you add a new customer
No built-in batch updating
Chrome plugin can be clunky
Pricing
Free 14-day trial
Nimble Business: $19 per user per month
Salesforce Essentials

Salesforce Essentials lets small businesses use popular Salesforce features but with a lighter, more affordable plan. You easily manage requests received via webchat or Facebook Messenger by integrating with Salesforce Cases. The Essentials plan doesn't come with social listening or posting, however, so you would need to add the Salesforce Social Studio feature to get the full social CRM experience.
Benefits
Seamless combination of internal workflows and external add-ons
Manage leads through the entire sales process
Several integrations with other apps
Newsfeed with updates on prospects and tasks
Inbox capability with Gmail
Mobile app for customer management on the go
Reporting and metrics to track customer support cases
Drawbacks
Cloud-based only
Social monitoring and posting not included
Can be difficult to sort through all information
Pricing
Free trial
Salesforce Essentials: $25 per month per user
Zoho CRM

Zoho CRM is an easy-to-use tool that integrates with your business's social media channels as well as other Zoho products. It's one of the most affordable social CRM platforms out there, allowing you to import data from other platforms and send messages to prospects directly.
Benefits
Scan business cards to import data
AI assistant system
Access to a full integration marketplace
Custom configurations
Accessible UI
Team communication
Drawbacks
Not much free support to get started
Premium plan only comes with 1GB of storage
Pricing
Free trial
Standard: $14 per month per user
Professional: $23 per month per user
Enterprise: $40 per month per user
Ultimate: $52 per month per user
GreenRope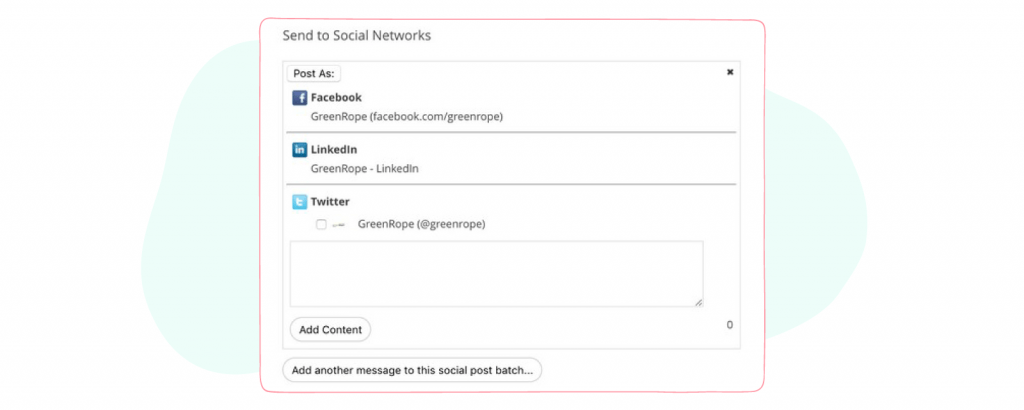 GreenRope is a cloud-based CRM aimed at small- and medium-sized businesses. It has three bundles of features for sales, marketing, and operations to encompass everything a business will need. In addition to social CRM and customer management, GreenRope also provides web hosting and email management.
Benefits
Attribution modeling to identify most lucrative clients
Trigger automatic workflows for inactive customers
VoiceBase transcription function
Lead scoring and predictive analysis for social leads
Social media post tracking and engagement
Drawbacks
Large number of customizations can be overwhelming
Slightly dated mobile app
Data exports aren't very organized
Pricing
GreenRope charges a one-time fee for the software purchase, then charges monthly based on the number of contacts stored.
One-time fees
Standard Account Setup: $349 one-time fee
Premium Account Setup: $419 one-time fee
Monthly fees
Starter (up to 500 contacts): $79 per month
Essential (up to 2,000 contacts): $159 per month
Pro (up to 5,000 contacts): $249 per month
Premium (up to 10,000 contacts): $329 per month
Powerhouse (up to 15,000 contacts): $409 per month
Supreme (up to 25,000): $499 per month
Ultimate (up to 50,000): $669 per month
Custom plans available
Choosing the right social CRM in 2023
Customer relationship management on social media directly impacts sales. Having a social customer service strategy in place is essential and the right social CRM tool can help you achieve it. Any one of the tools on this list would be a good choice, but ultimately, you have to decide which features or workflows your business needs.