Scheduling Instagram posts is a time-consuming task. All managers aim to increase the effectiveness of social media teams and integrate automation. Scheduling content in advance not only frees up time but also improves team collaboration between graphic designers, copywriters, and SMM specialists. 
Your social media team can stop doing monkey jobs and enjoy the power of automated scheduling. In this article, we'll talk about the best third party software to schedule Instagram posts and why it is essential to analyze your audiences' peak times.
Do you know when your fans are online?
Your followers prefer using Instagram during specific hours due to their daily life routines. If you start scheduling posts to the times when they're online, you'll not only gain more engagement, but you'll also notice an increase in traffic to your profile.
Instagram has a compounding effect. Once you start scheduling your posts on your followers' most active hours and have a constant content flow on your feed, you get more likes, comments, and saves. This engagement will help Instagram push your post to an even wider audience. A spot on the Instagram Explore page could be your gift! This is a cyclical process; the higher the engagement, the higher the visibility is, and higher visibility turns into a higher engagement, got it?
So, do you know when your fans are online?
Instagram Insights
Instagram Insights analyzes your followers' metrics; where your followers are located, their gender, their age, and most importantly when they are most active on the platform. Once you check this data and you decide you'll stick to it, you have two options:
1) Remind yourself to post at those times and days. Some people say setting up alarms somehow works!
2) Start scheduling your posts beforehand and thus have a constant content flow with better engagement, better reach, a much better looking Instagram feed, more views, higher ROI, and not to mention; the time you'll save from your daily tasks.

By working with a scheduler tool such as Sociality; you can focus more on your overall Instagram strategy than on individual content. That means; you get more time to think, create, and execute things like hosting a contest, a giveaway, or an Instagram Takeover for your brand and followers.
The Instagram section in Creator Studio lets you manage all of your Instagram posts and get insights from a computer. To manage your Instagram in Creator Studio, go to Creator Studio and click

, located next to

at the top of your screen.
Creator studio allows you to write captions, crop images, tag users and business partners, turn off the comment section, post to Facebook and Instagram.
Note that Instagram Creator Studio is available only to Instagram Business accounts.

You can schedule unlimited content using Creator Studio.
https://www.facebook.com/business/help/351303132187013?id=203539221057259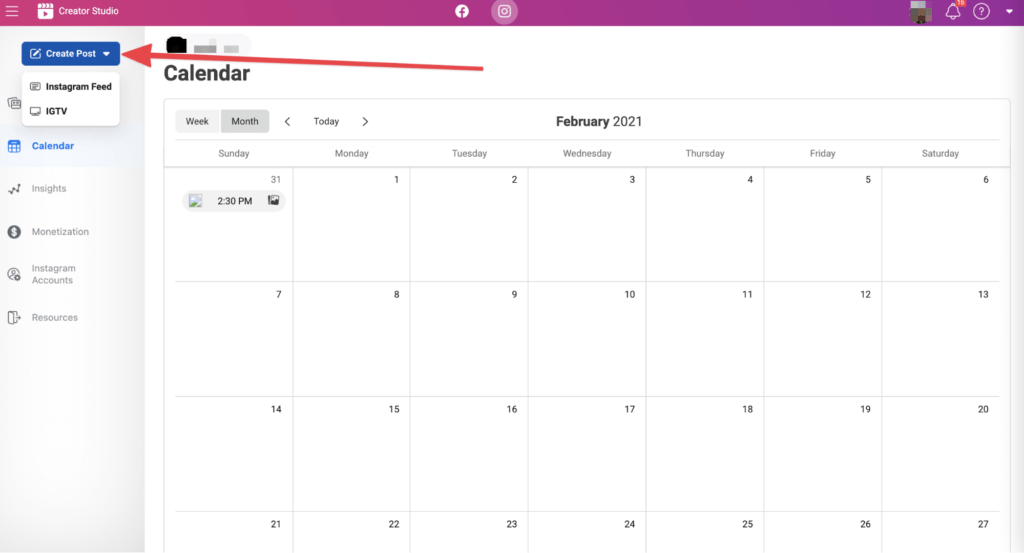 Third-party tools to automate social media scheduling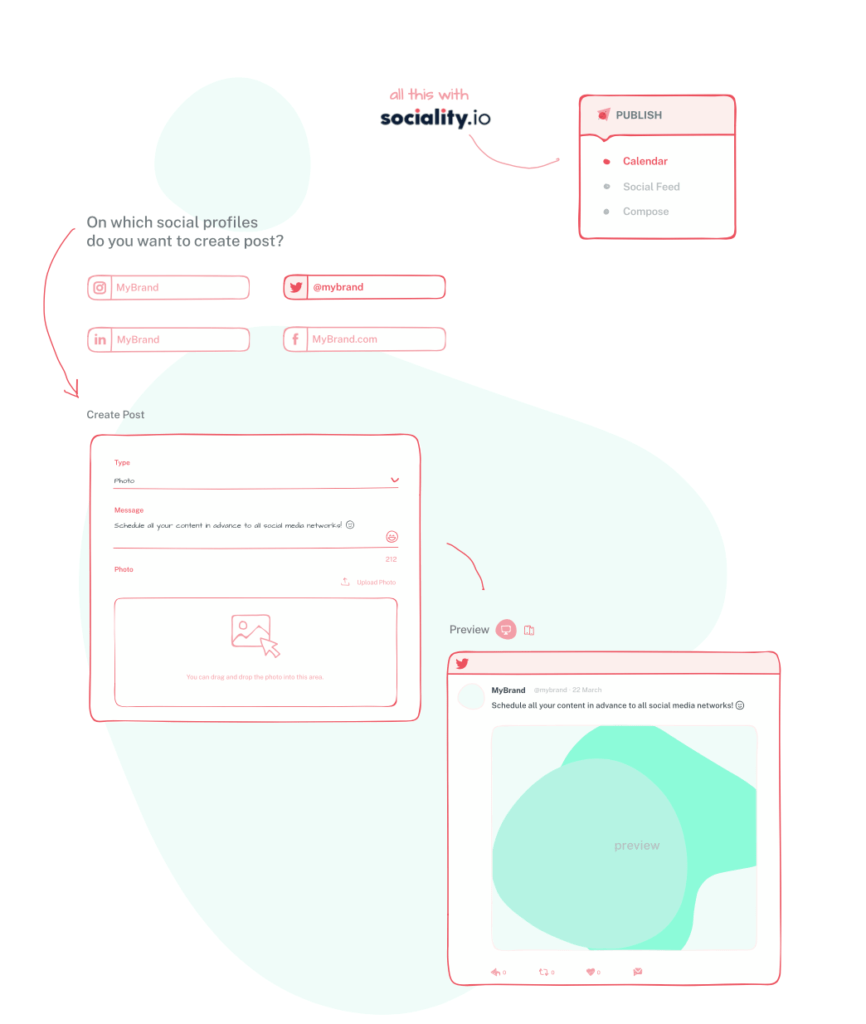 Although Creator Studio is a convenient solution for some small business owners and Instagram influencers, in general, it doesn't suit the needs of digital agencies or enterprises with bigger social media teams.
The below list of third-party tools aims to automate teams' needs, looking for solutions to collaborate managing multiple accounts under one umbrella.
Note: Only a few social media management software support direct publishing.
Instagram Direct publishing is a feature that enables users to publish directly to Instagram without extra steps. Solutions without the feature require you to install their mobile application and send you a notification to post the Instagram content manually.
We recommend you choose the platform based on the following features:
| | | | | | |
| --- | --- | --- | --- | --- | --- |
| | Sociality.io | Buffer | Agorapulse | Hootsuite | Sprout Social |
| Instagram Direct Publishing | ✅ | ✅ | ✅ | ✅ | ✅ |
| Approval & Revision Process | ✅ | ✅ | ✅ | ✅ | ✅ |
| Content preview | ✅ | ❌ | ✅ | ✅ | ✅ |
| Carousel and Story Publishing | ✅ | ✅ | ✅ | ✅ | ✅ |
| Content Calendar | ✅ | ✅ | ✅ | ✅ | ✅ |
As you can tell, the majority of social media software share similar publishing and scheduling functionality. The difference between solutions lies in UX/UI, customer support, and pricing.
All content in one calendar.
Preparing content plans, tracking approval and revision processes, scheduling approved content in social platforms are now very easy.
We at Sociality.io have built a free solution to compare 150+ pricing plans. Click here to discover more.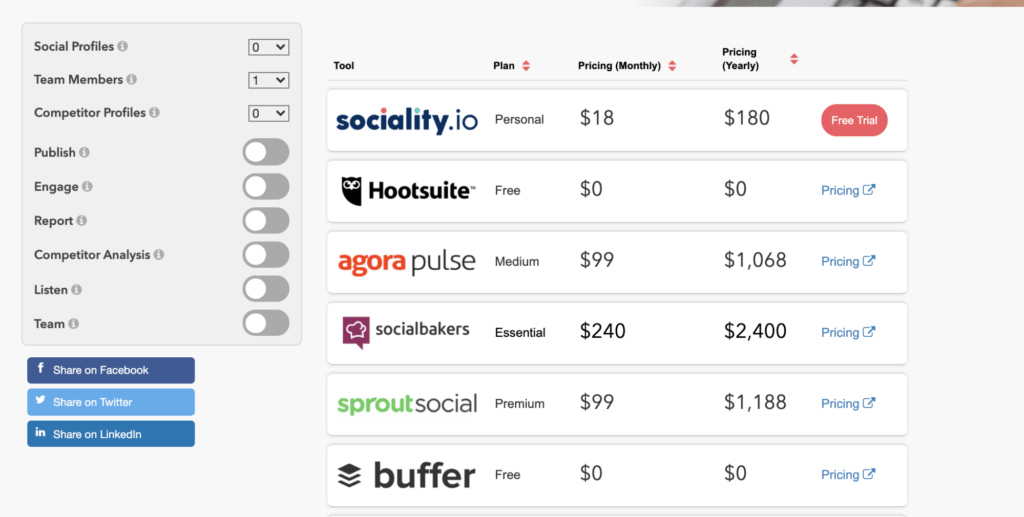 It doesn't end with scheduling at the most optimal time and date.
Automating scheduling processes is only the beginning of the social media marketing strategy. Analyzing performance and social KPIs is key to winning engagement war in the competitive Instagram world.
Once you set up your Sociality account and get back to work, you'll also see your overall Instagram performance. This will enable you to see your top and worst contents, the engagement, and reach of all the posts, and you'll understand what works well and what doesn't. You can now start making many solid strategies.