Content curation strategies and tools in 2023
Content curation is a skill you hear a lot about but isn't so easy to get right. If you're involved in social media management or content marketing at all, then you've heard about curating content and have probably done it yourself. And if you've curated content before, then you know that the tools and strategies for successful content curation are always changing.
In this guide, you'll learn which five content curation strategies to prioritize in 2023, plus the six best tools for curating content. Ready to take your curation game to the next level? Read on. 
Social Media News in a Nutshell
Get the latest social media news, insights, and marketing tips in your inbox once a week.
What is curated content and why do you need it?
Before we dive into the top five content curation strategies and the top six tools to use for content curation in 2023, let's look at what content curation is and why you need it. 
What is curated content?
Content curation is finding content relevant to your audience across a wide variety of sources and sharing it with your audience via various communication channels. The content you share could be an article, video, image, podcast, or any other type of content you find online.
Curating content refers to all types of media channels, including social media curation. On social media, you can either create a post with a link to the content or share someone else's post on the platform.
The benefits of content curation
Why should you bother curating content? With the vast wealth of information available today, you'll never be able to deliver the most value to your audience with your original content alone; it's not physically possible. By reviewing and sharing content from other sources, you give your audience what they're looking for and build connections with other content creators and brands in your industry.
Sharing high-value, relevant content also builds trust. When you curate a piece of content that your audience finds helpful, they'll keep coming back to you for more information — whether that info comes from you or another authoritative source.
As you build trust with your audience, you also mold yourself into a thought leader. Excellent content curation shows that you know what's happening in your industry and that you understand how to start meaningful conversations.
5 Content curation strategies: how to curate content in 2023
Curating content isn't simply sharing things you like. It's about finding the most relevant information for your audience and offering your take. Why should your audience read, watch, or listen to this content?
To make content curation work for you, you need a strategy. In 2023, these five strategies will make you a successful content curator:
Complementing original content
Knowing your audience
Curating credible sources
Sharing fresh content
Measuring the impact of your curated content
1. Complement original content
Your social media account shouldn't be full of curated content only. You still have to create original content and use curated content to complement it. Finding your best-performing content (or unicorn content), that engages your audience and advances your KPIs, requires a balance of curated and original content.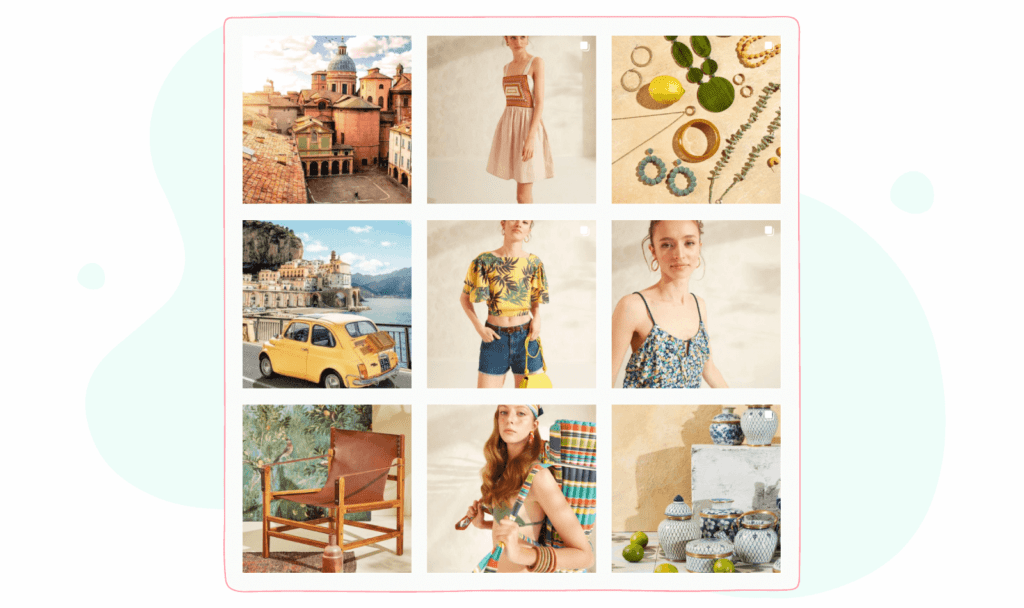 2. Know your audience
You can't share valuable content if you're clueless about your audience. Ideally, you should have an understanding of your audience before you start creating and curating content, but it's helpful to ask the following questions if you haven't already:
What kind of information is your audience looking for?
In what format does your audience typically prefer to receive their information?
What kind of content does your audience share on social media?
Does your audience like how-to articles, podcasts, videos, or some other type of content?
Does your audience care about keeping up with social media trends in your niche?
Are you more concerned with reach or impressions with your content?
After connecting all your direct and indirect social media competitors to Sociality.io, it gathers competitors' metrics and content.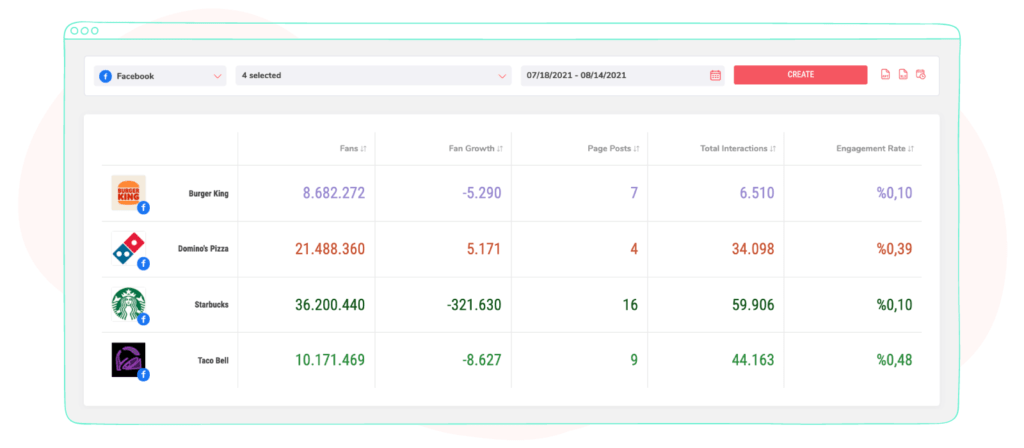 Followers' growth
Page posts number
Post types ( link, video, photo, status, stories, etc)
Total interactions
Engagement rate
Interaction types (comment, reaction, shares, like, etc)
Post days
Post hours
You can also filter competitors' posted and deleted content. After sorting all content based on total number or interactions, comments, shares, reactions, etc — you can quickly understand what works for your audience.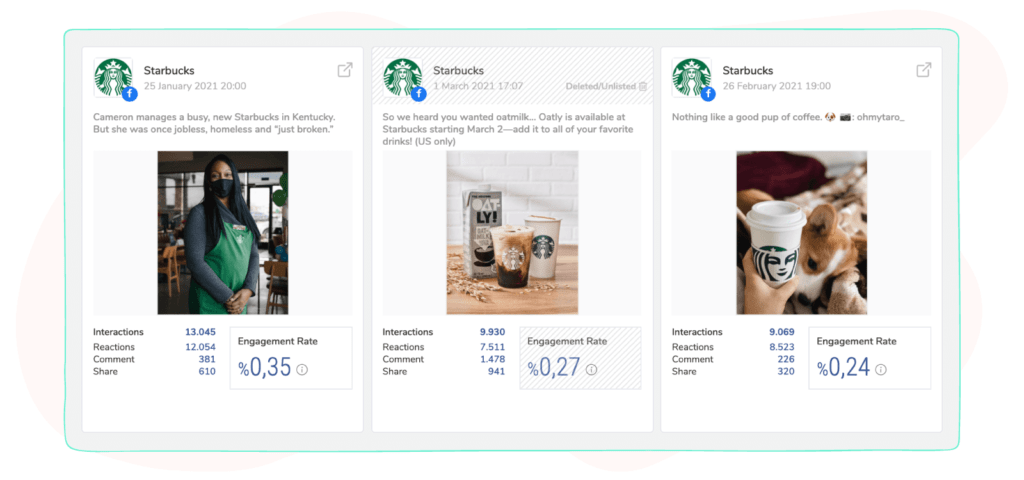 3. Curate credible sources
Remember, not every article or video you see is worth sharing. Before you post a piece of content from another source, check their trustworthiness. Is this source credible? Do they know what they're talking about? How involved is this source in their community, and how often do they post? You don't want to send your audience to a website, blog, or profile that doesn't deliver any value.
A good way to find credible sources is to figure out who your social media competitors are and see what they're sharing. Don't curate the same content as them, but find similar sources that provide value to your audience.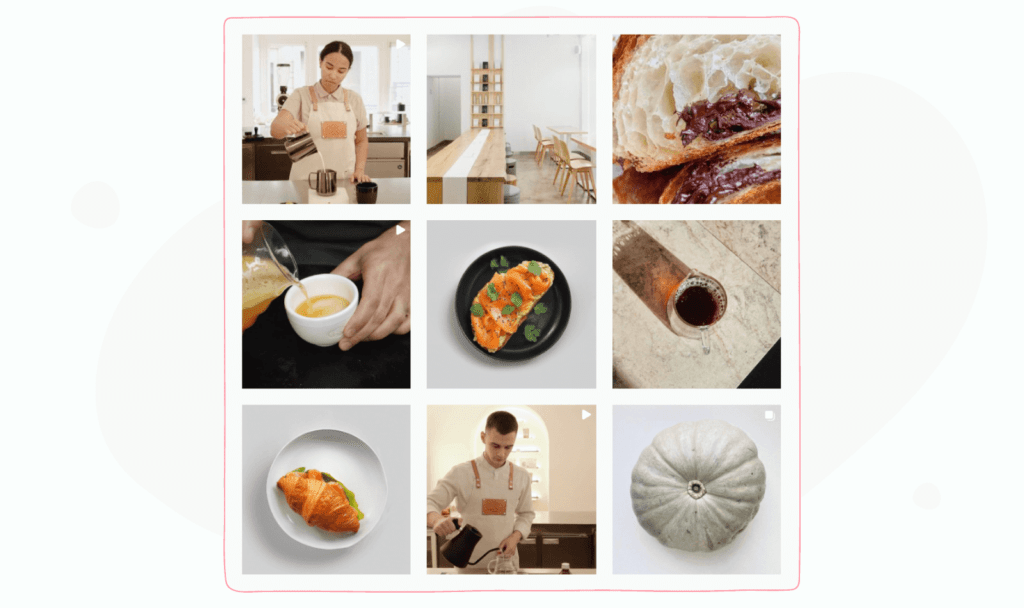 4. Share fresh content
When you curate content, get creative and try to keep things fresh. If you share a blog post that everyone in your niche is already buzzing about, it doesn't provide any value. Spend a little more time looking for something off-beat or unique, or add your own perspective before sharing.
5. Measure the impact of your curation
If you want any of the above strategies to pay off, you have to measure how well your curated content is performing. With detailed reporting and content analysis, you can see follower activity hours and if they line up with your content calendar. You can also evaluate whether you've gotten more email signups, more followers, or if your clickthrough rates have improved. Knowing how your curated content performs will help you adapt it to the needs of your audience.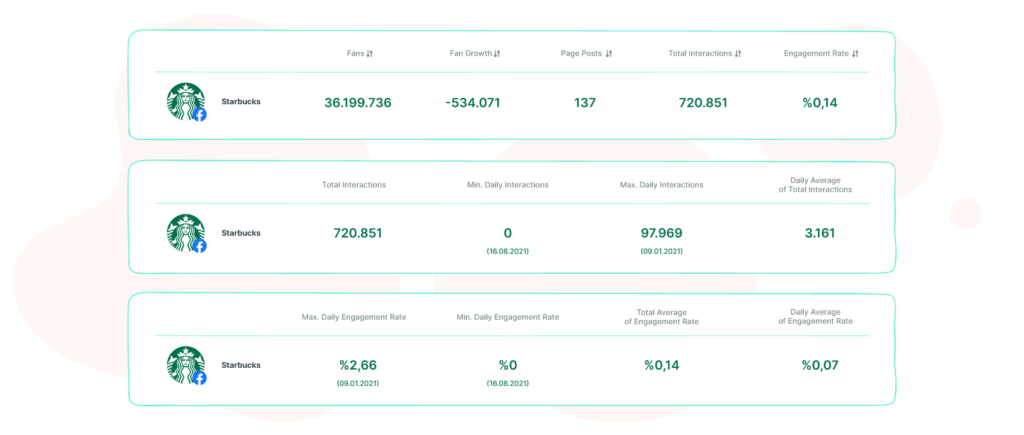 Content curation tools for 2023
Now that you know which strategies will make you a successful content curator in 2023, you should know which tools will help you get there as well. The best curating tools are:
Sociality.io
Scoop.it
Buzzsumo
Elink.io
Feedly
Quuu
Sociality.io
Sociality.io is an all-in-one social media platform for agencies and brands, that allows you to schedule content, get performance reports of your content, track conversations about your brand, and analyze your competitors on social media.
With the Sociality.io mobile app, you can curate a content calendar across all your social media profiles from your phone, so you spend more time looking for excellent content to curate and less time scheduling posts.
Pricing:
Sociality.io has three plans starting at $99/mo: Pro, Business, and Enterprise.
All modules (Publish, Engage, Report, Competitor Analysis and Listen) are available to all pricing plans
14-day free trial
Top features:
Mobile app for on-the-go content curation
Publish content to multiple accounts at once
Joint content calendar with other team members for content requests and approvals
Social media competitor analysis
Advanced analytics available from $15/mo
Best suited for:
Digital agencies with requirements for advanced performance reports
Medium size business owners looking to automate day to day activities
Enterprises looking for social API integrations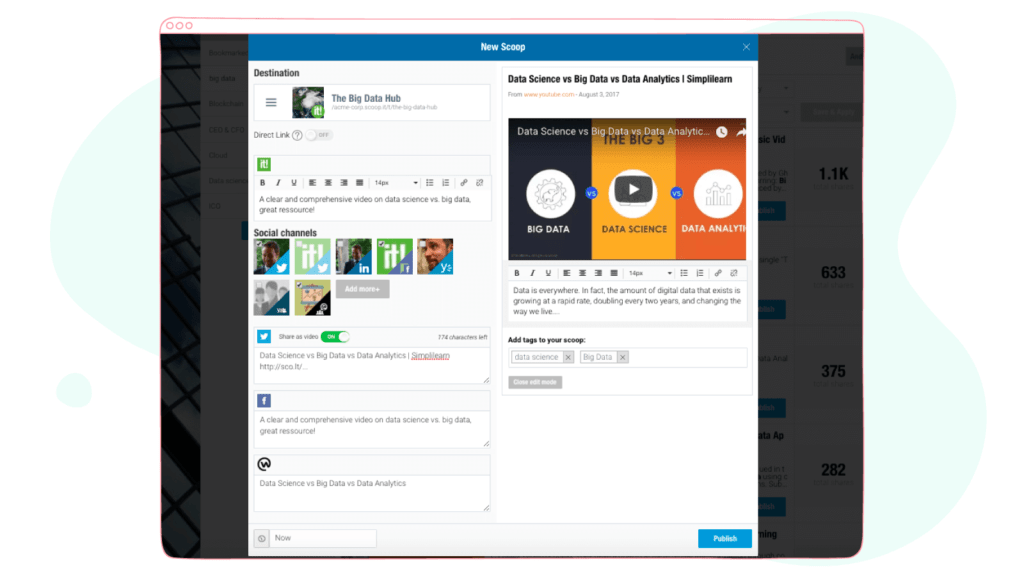 Scoop.it is like a search engine for content curators. You research your topic and the content engine delivers the most relevant articles from global sources across the web, social media, and other users. Scoop.it will also suggest other topics you might be interested in. Create a curated content page that you can feed to your website or social media channels and that you can share with team members.
Pricing
One free plan plus three paid plans starting from $12.50/mo
7-day free trial
Top features:
Content curation for blogs, social media, knowledge sharing, newsletters, and personal branding
Create a custom topic page to share on social or embed on a website
Advanced content search engine
WordPress integration
Best suited for:
Individuals
Influencers
Businesses of all sizes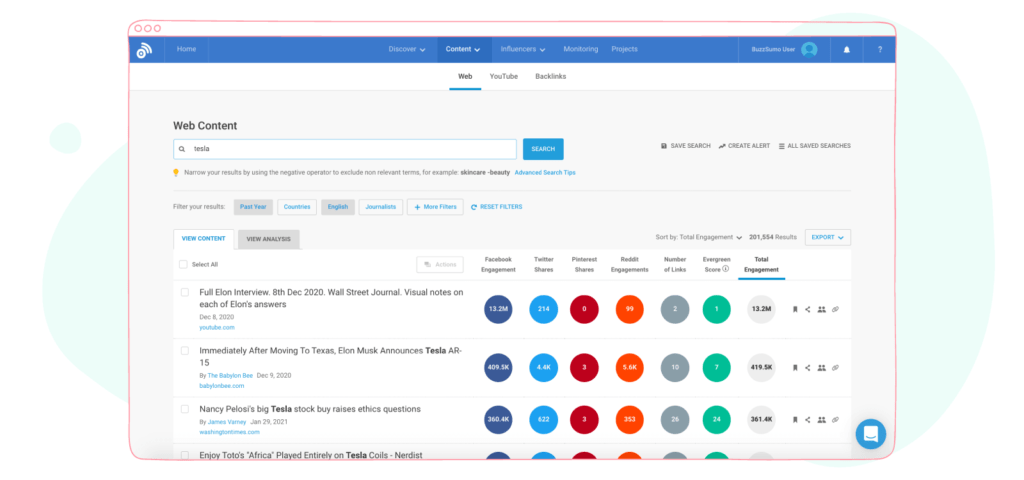 Buzzsumo lets you search for trending content related to any topic. It monitors content performance as well, so you can see how much a piece of content has been shared on various social channels. Buzzsumo helps you see what's popular and what's old news, and gives you insight into your competitors' posts. Buzzsumo is also ideal for identifying influencers in your niche whose content you can share with your audience.
Pricing:
One free plan plus three paid plans starting from $99/mo
30-day free trial
Top features:
Reports of content analysis
Research billions of articles and posts
Monitor content topics
Google Chrome extension
Best suited for:
Large publishers, brands, and agencies
Content marketers
SEO, PPC, and social media professionals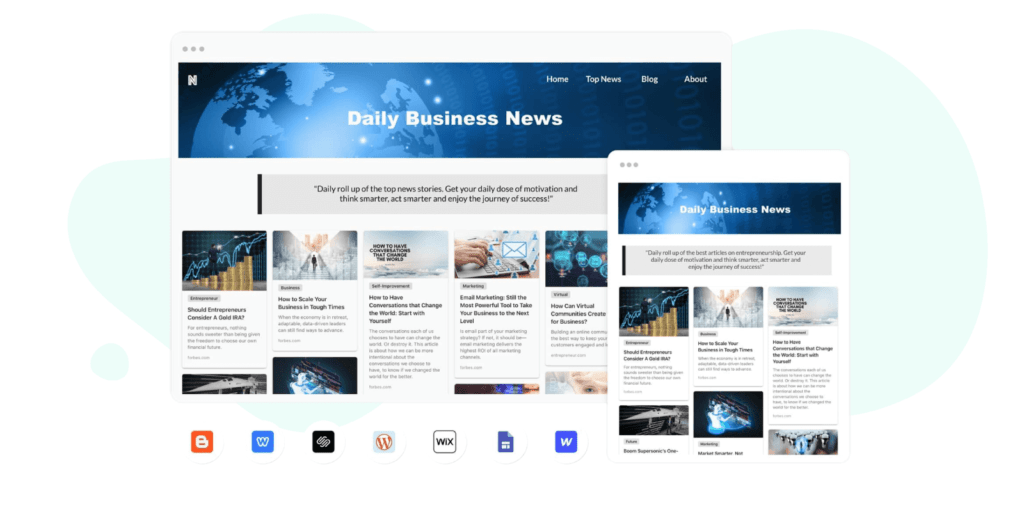 Elink.io lets you bookmark just about anything and turn them into shareable content with responsive templates. It works a bit like Pinterest, allowing you to collect and bundle your content in an appealing way. You can share your curated content to multiple places, such as email newsletters, social media bio links, web pages, RSS feeds, and more. You use your elink page to automate newsletters or website content.
Pricing:
One free plan plus two paid plans starting at $12/mo
Free trial
Top features:
Bookmark manager to save content for curation
Custom elink page with content editor
Website embedding
Automated content publishing features
Best suited for:
SMBs and enterprise
Marketers
Managers
Freelancers
Educators
Nonprofits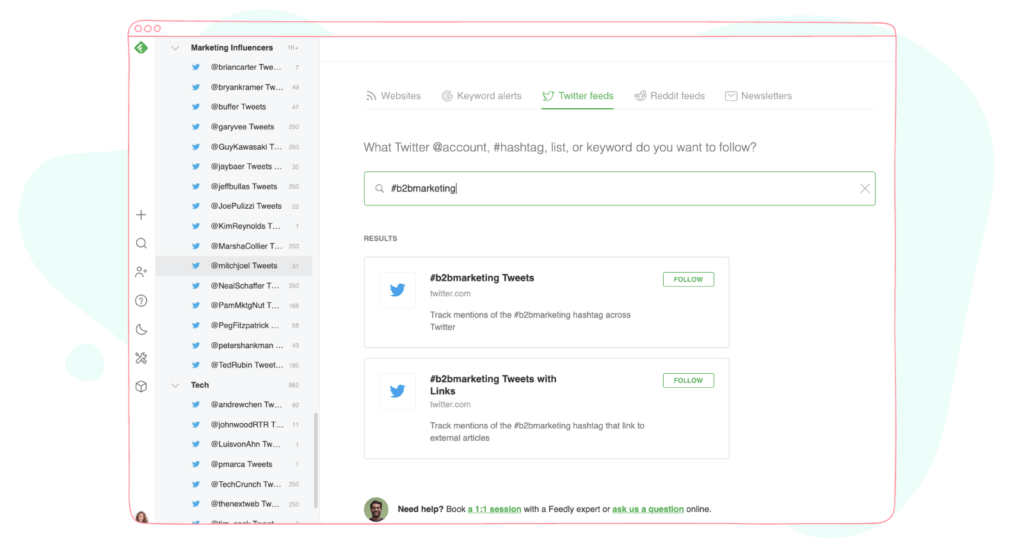 Feedly is a powerful news aggregator that lets you follow RSS feeds of all your favorite sources across countless industries. You can organize your feeds by category and Feedly's AI, Leo, will filter for the best content. You can train Leo to recognize what type of content interests you so you get better results in your feeds over time. Feedly also lets you share to Evernote, Pocket, OneNote, LinkedIn, Buffer, IFTTT, Hootsuite, and more.
Pricing:
Three paid plans starting from $6/mo
Free plan offers plain reader only
Top features:
Add between 100 and 7,500 sources depending on your plan
AI research assistant to improve quality of feeds
Follow and create newsletters
Available on desktop and mobile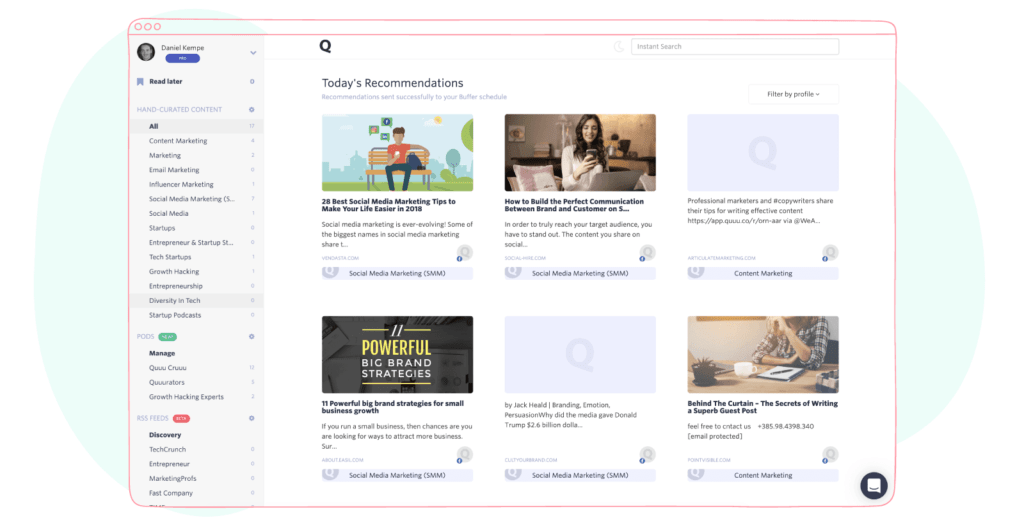 Quuu is a content curation platform geared specifically toward social media. The content is hand-picked by humans (not algorithms) based on your search criteria and sent for publication on your social channels after your manual approval. Quuu integrates with social media content schedulers like Hubspot or Buffer as well. Quuu is powered by Quuu Promote, a content marketing platform that gathers content from creators to send out for promotion or curation. When you use Quuu to find great content to curate, it's taken from content submitted to Quuu Promote.
Pricing:
Free version of Quuu
Quuu Promote plans for Automatic start at $75/mo
Quuu Promote plans for Manual start at $50/mo
Top features:
Content is hand-selected
Integrated scheduling dashboard
Content is auto-categorized
Manual and automatic publishing options
Best suited for:
Individuals
Companies
Agencies
How to curate content in 2023
Mastering content curation will only have positive impacts on your brand. Establish trust, boost engagement, and give your audience exactly what they're looking for. With the right strategies and content curation tools, you can make your content work for you in 2023.