Facebook dark posts demystified. How to create and use dark posts in 2023?
Creating general ads often comes with the dilemma of having to create an ad that speaks to different audience segments of your brand, while making sure your ads don't feel over promotional.
That's one hell of a job!
Having to be all that inclusive and creative with just one ad, is not so necessary anymore. Facebook dark posts can help you find that balance with much ease.
With Facebook dark posts you can create different hyper-targeted ads that would speak to your audience in their own way.
But I bet you're wondering if it's so good, why is it named "dark". Not to worry, this article would shed light on those dark areas, making you understand from start to finish, what dark posting on Facebook is all about.
Social Media News in a Nutshell
Get the latest social media news, insights, and marketing tips in your inbox once a week.
What are Facebook dark posts?
A Facebook dark post (also known as an unpublished page post) is simply a targeted ad that doesn't appear on the advertiser's profile page or the feeds of followers of the page, unlike regular posts that are organic and boosted. They only appear on the news feed of the targeted audience, leaving your page fans or followers in the dark, hence the term dark posts.
That term is just used to describe that such ads do not get published on the newsfeed of your page. Not because it's some mysterious post or a Facebook post with bad lighting.
How to identify Facebook dark posts
That they are called dark posts does not mean they cannot be found anywhere or that you need to have an epiphany to fish them out.
Take a look at this post: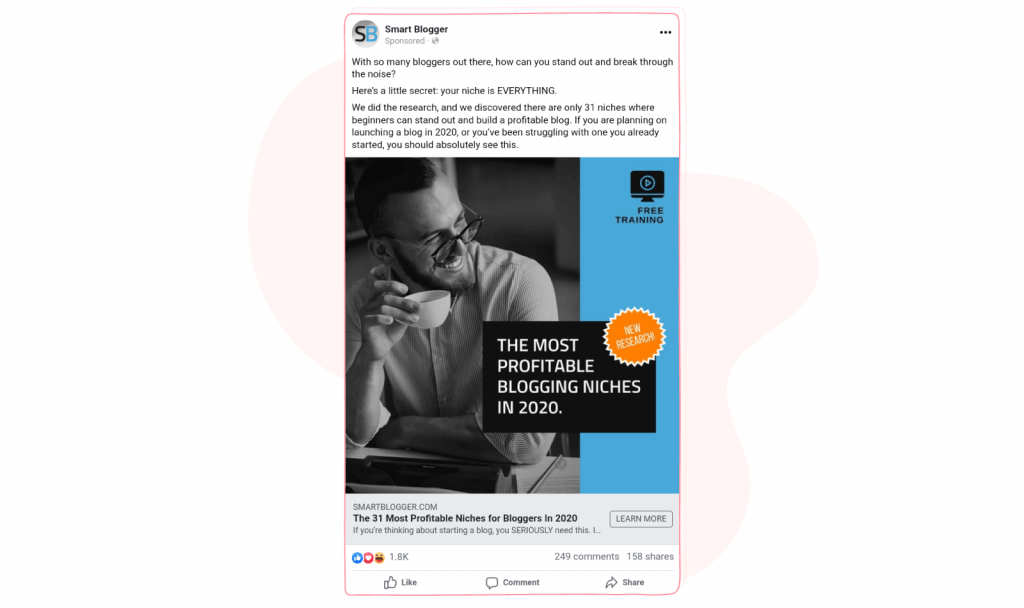 This is an example of a dark post.
How did I know?
Facebook labels every dark post as "sponsored" as you can see in the image. Even if it may not have a traditional ad design.
For context, I do not follow SmartBlogger on Facebook, and when I clicked on the company's page, I didn't find the ad. So this is a targeted ad from them to me, probably because I have visited their blog a couple of times.
Another way to find out if a post is dark is through the Ad library. The ad library shows Facebook users all the ads a company is currently running. To access the library, you can either use the URL: Facebook.com/ads/library or go to the companies page on Facebook, at the left sidebar, you would see a "Page transparency" section
Click on see all, it would take you to a page that contains some details about the company. At the bottom of this page, you would see a box indicating whether a company is running ads or not.
You can then click on the "go to Ad library" button. Here, you see all the ads the company is running.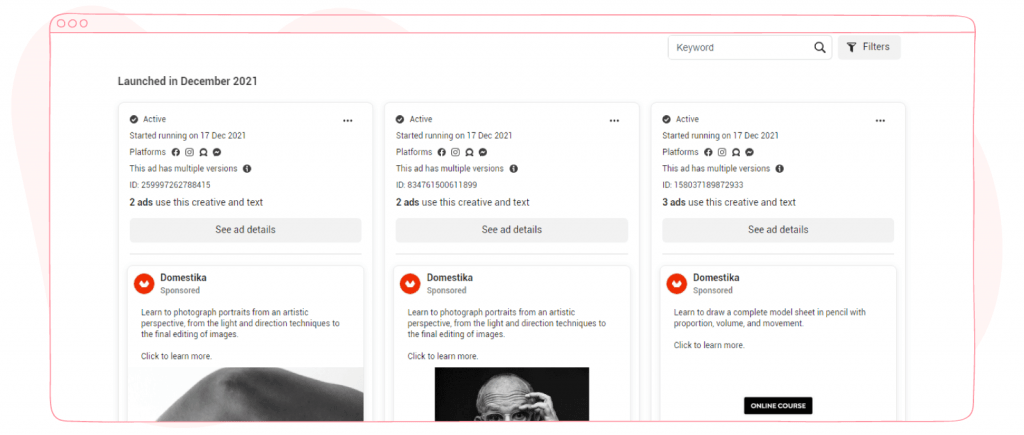 You can filter the ads by country/region, language, platform, and impression date to get as specific as possible.
Why use Facebook dark posts?
Specific audience targeting: With dark posts, you can create ads that cater to specific audience segments rather than pool all your different audience segments into one and hope your ad is inclusive enough to appeal to them all. You can make as many ads as you want, to give your audience a personalized feel and not spam your audience with irrelevant information.
Running an A/B test: No matter how well you know your audience, sometimes you are not certain on what would get them sold on your products, so you have to create multiple versions of ads.
Dark posts are great for this. You can create an ad, tweak the copy or the headline or the image or even the call to action, and have variations of the same ad, which you can test, measure to determine what works best in terms of clicks, engagements, and conversions.
Avoid spammy posts: Your audience can sometimes get tired of seeing traditional ads to the point that they just scroll past without giving it thoughts. Dark posts appear different from conventional ads, so they don't immediately trigger the defenses of an ad weary audience.
Now that we've walked you through the basics of dark posts, how to identify them and how they can benefit your business. It's time to learn how to create one.
How to create Facebook dark posts

In 2020 Facebook changed the process and now dark posts are created in the same way as ads. Just open Facebook Ads Manager. If you are not so familiar with the Ads manager, you should read our beginner's guide on how to use Facebook Ads.
Open Facebook Ads Manager and create a campaign. On Ad Set set up stage you'll be able to select the target audience for your dark post. We have an article that will guide you through all the settings. You can define your target audience by location, age, gender, or other specific interests and behaviors. It is important to make use of all these options to create a specific audience group for your campaign.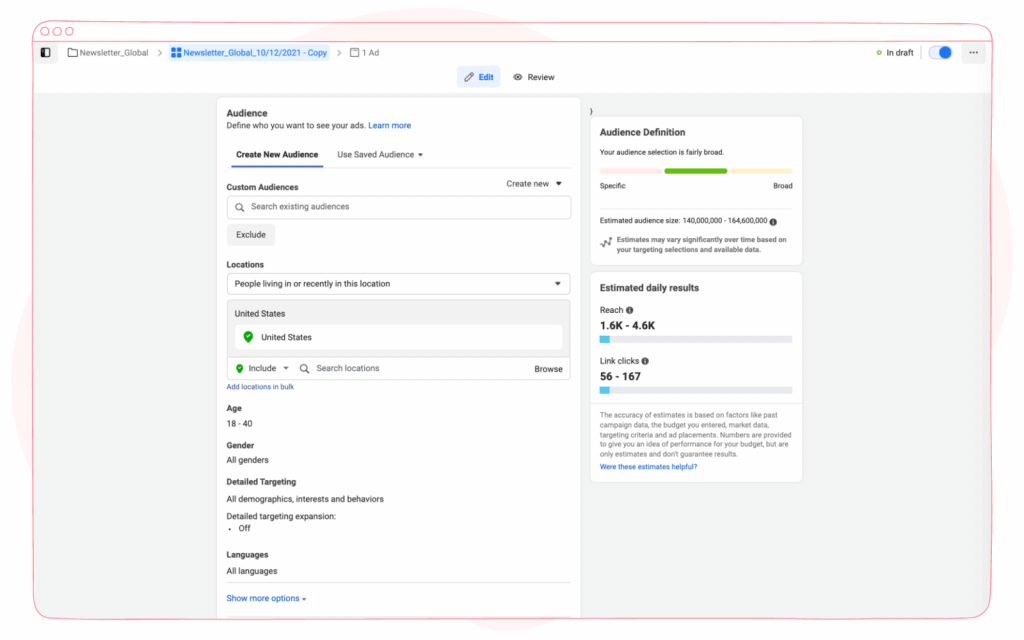 Next, you get to set up your ad. Click on "create ad". You would be presented with three ad formats to choose from – single image or video, carousel, and collection. Decide which variant best suits your campaign.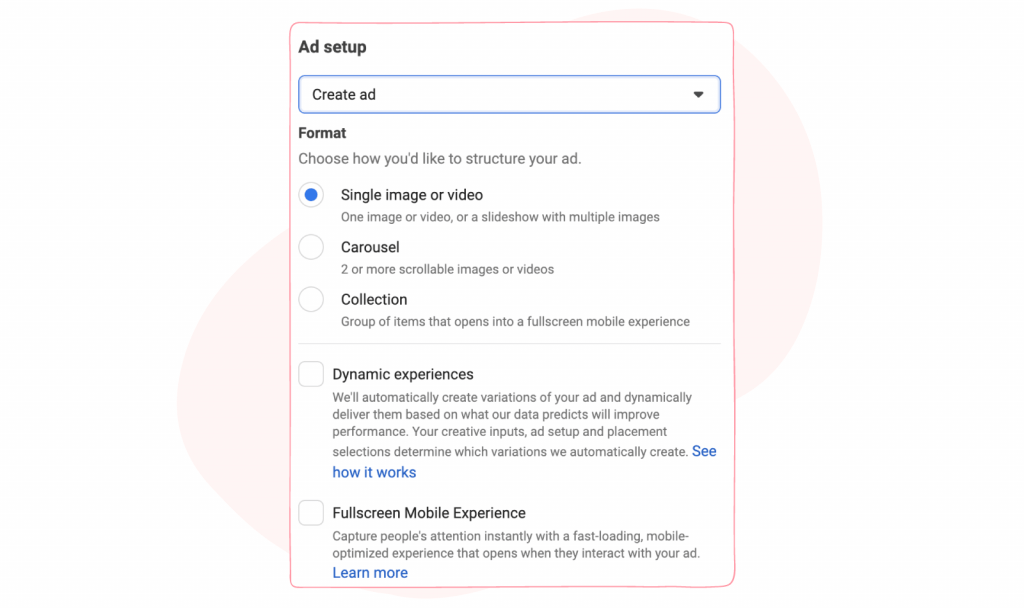 Once you have selected any of the formats that suit your needs, you are going to select an image to go with your post. You can optimize and crop the image to meet the desired resolution using the media enhancements.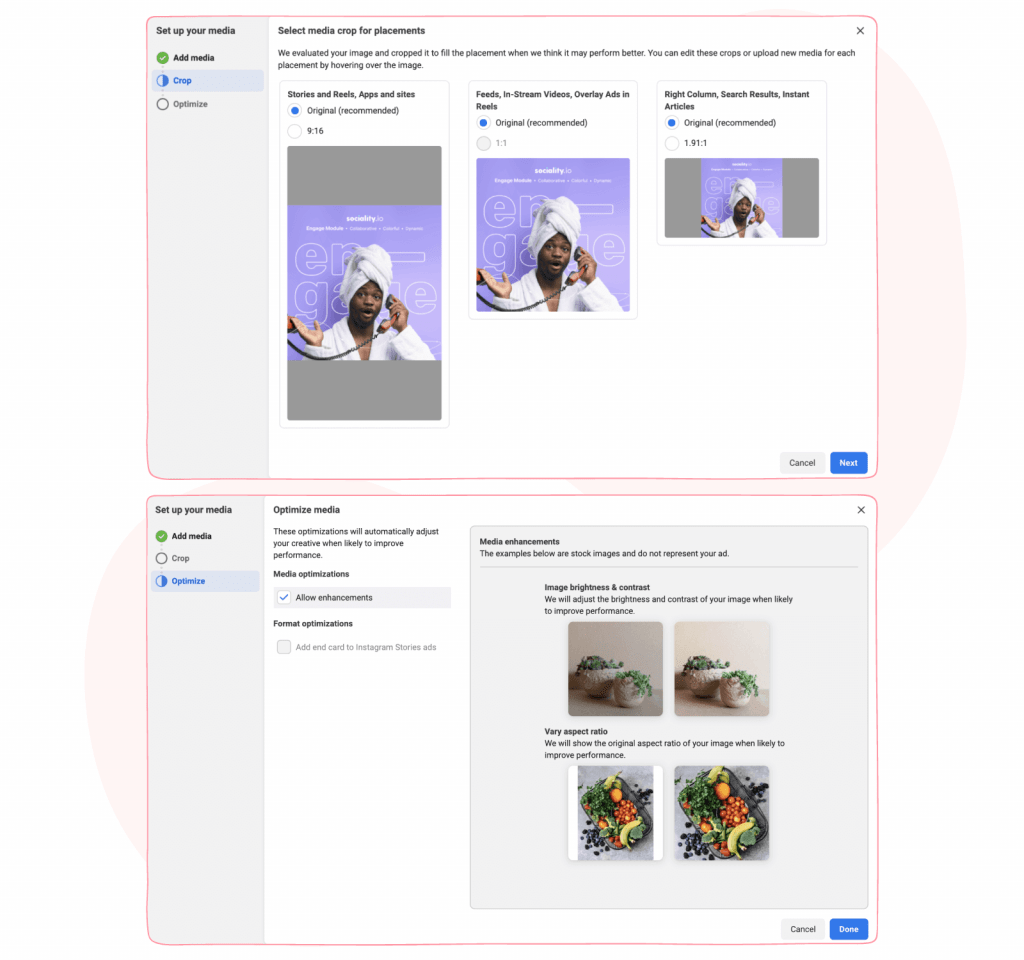 Next, you would select the words that would follow your ads. The primary text, headlines, and post descriptions. For each of these, you can create multiple options. Facebook utilizes advanced algorithms that will find the best combination that increases performance metrics.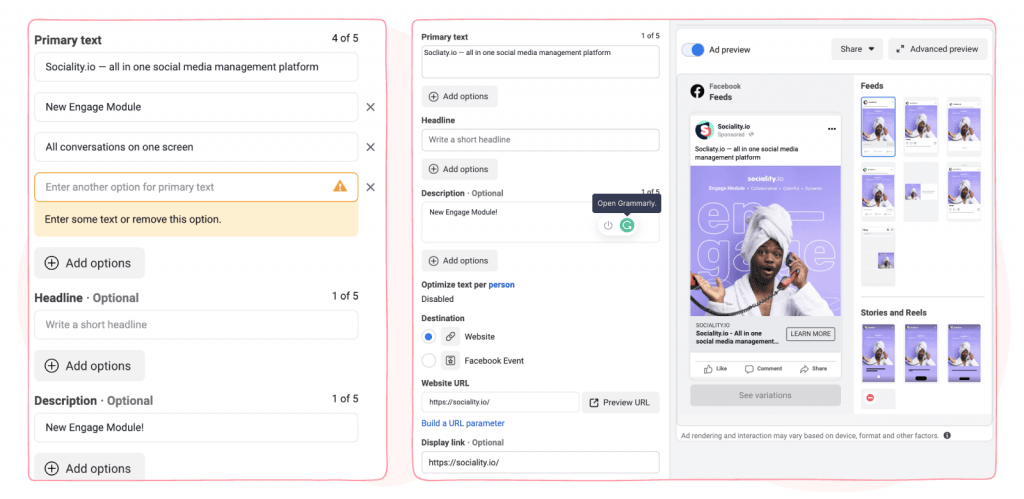 On the right side of the screen, you would see previews for each of the options you've chosen. This would give you an idea of how your ad would look before it goes live.
And with that, your Facebook dark post is ready to go get the attention of your targeted audience.
Related article: How to unhide a post on Facebook? Here are all the answers
What next?
Now that you've created your first few dark posts, it's not time to rest just yet. You should monitor and track if these posts are performing as expected. If they are not, testing and iteration is the name of the game. Tweak as many things as you can to create a high-performing ad.
Also, remember to keep an eye on your competitors and how they are using dark posts to engage with your audience. Go to the Ads library, check if they are running any dark ads, and study them.
✨ Want to learn more about TikTok Ads, too? Here is our bonus article 👉 Everything you need to know about TikTok & its Ads offerings
Bonus article: Learn from top-performing Facebook pages on how to boost engagement