How to unhide a post on Facebook? Here are all the answers
Facebook has once again updated the 'hide from timeline' feature for personal pages. Last year, this feature was removed and we were forced to 'archive' or 'unarchive' our unwanted posts. Now, you can go back to 'hiding' and 'unhiding' your Facebook posts from your timeline using the Activity Log.
On Facebook business pages, however, hiding and unhiding posts is still not an option for most posts.
If you have a Facebook Page and want to remove content from it, you will have to delete the post. Unfortunately, Facebook only allows certain posts, such as cover photo updates, events, and profile photos to be hidden. All other posts cannot be hidden or archived.
We'll show you how to unhide those posts that are able to be hidden, and where you can find them in your Activity Log.
But first, why would you want to unhide a Facebook post in the first place?
Social Media News in a Nutshell
Get the latest social media news, insights, and marketing tips in your inbox once a week.
Reasons you may want to unhide a post
If you have hidden posts on Facebook, chances are there's a reason they're hidden. But you may have an equally valid reason to bring the post back to the light of day. These reasons could be:
You hid a post by mistake and now want to unhide it.
Enough time has passed and you no longer think the post is reputationally harmful.
You feel like sharing a memory or fact with your audience that you had previously hidden.
Before you make a post visible again, be absolutely certain that you want it back on your timeline. There's no harm in reconsidering your decision to keep something out of public view, but don't bring it back if you're going to regret it later.
How to hide a post on a Facebook business page
Go to your Facebook timeline and scroll to the post you want to hide.
Click on or tap the three dots (…) button in the top right corner of the post.
Select Hide from Timeline. Move to archive.
That's it! Your post has been hidden. It will no longer appear on your Facebook Page until you decide to restore it. Keep in mind that the post may still appear in other places on Facebook, such as the News Feed. Remember you can only hide certain posts on your timeline. Some of them you will have to permanently delete if you want to remove them.
Also, there's no way to hide a post on a Facebook Page from mobile. You must do it on a browser using a computer.
How to unhide a Facebook business page post
Now that you know how to hide posts, let's figure out how to find them and bring posts back to your timeline.
Step 1: Log in to your Facebook Page account
Open your browser, a new window, or a new tab and go to Facebook. Enter your email/phone number and your password and log in.
Once you are on Facebook, click on Settings at the top of your Page.
Step 3: Go to the Activity Log
After clicking on Settings, click Activity Log in the left column.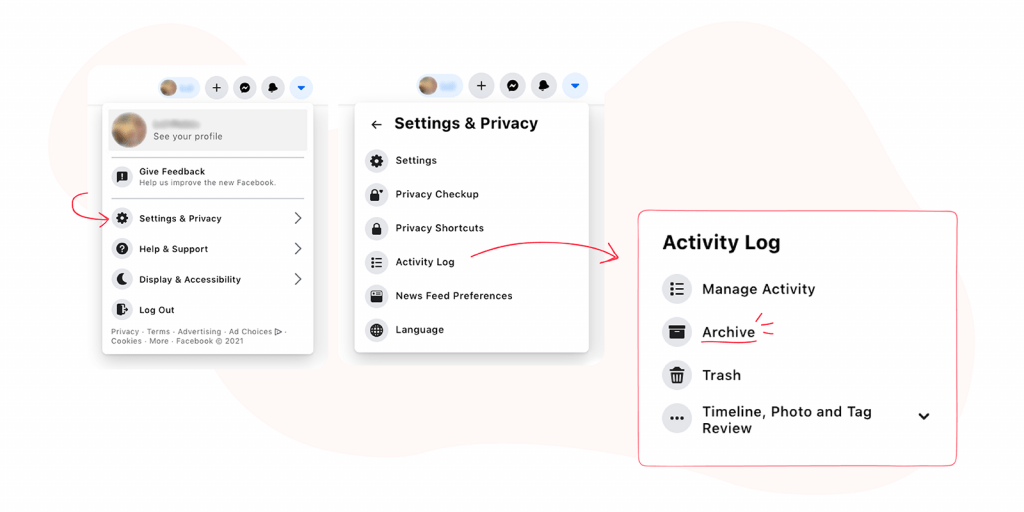 Step 4: Find your post
Scroll through your Activity Log to find the hidden posts you want to restore.
Step 5: Restore your post
Click the Edit button on the top right side of the post. You will see two options: Allowed on Page and Hidden from Page. Hidden posts will have a checkmark next to the Hidden From Page option. Click the Allowed on Page option to bring a post back to your Page's timeline.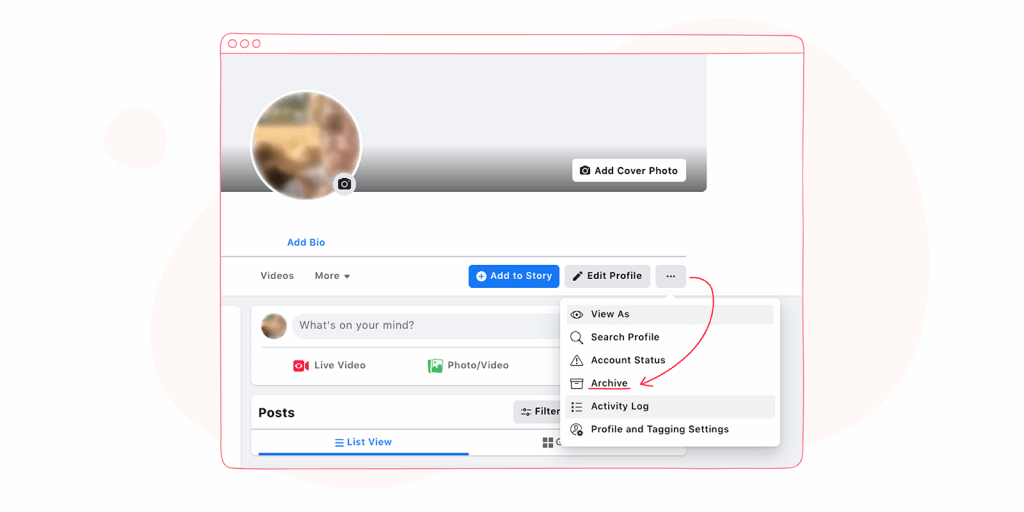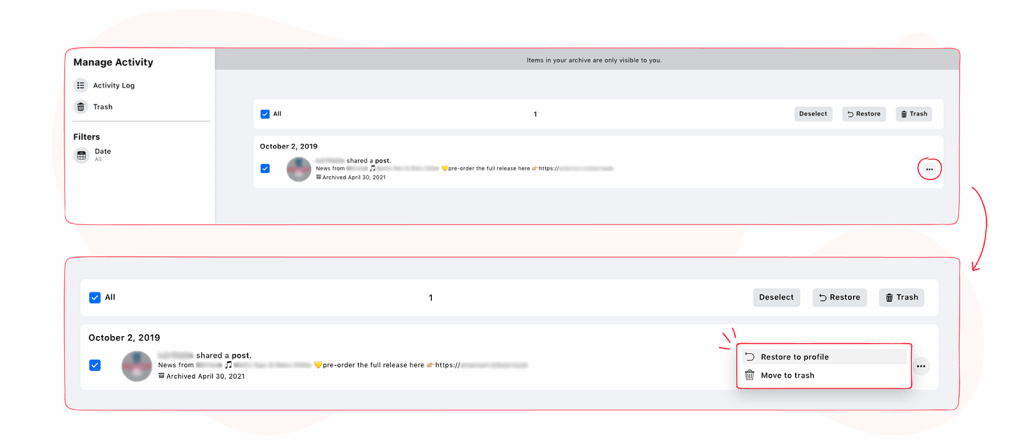 How to unhide a Facebook business page post using the mobile app
Step 1: Open the Facebook app
Open your Facebook mobile app on your smartphone or tablet device. Sign in to your Facebook account.
Step 2: Locate your 'Archive'
There are two ways to access your Archive with the mobile app:
Access your Archive from your News Feed
Tap the three parallel horizontal lines in the lower right corner of the app to open the main menu.
Scroll down and tap Settings & Privacy.
In this menu, click Settings.
Scroll down and tap the Activity Log button. This is located in the section named after Your Facebook Information, around halfway down the page.
Once you're in your Activity Log, you'll see the Archive button.
Access your Archive from your profile
Tap your profile icon on the main page of the app or open the menu in the lower right corner and then tap on your profile icon at the top of the page.
Tap the three dots (…) under your profile picture. You'll see the Archive button in the list of Profile Settings.
Once you're in your Archive, you can either Restore the post on your profile or move it to Trash for good. You can do either of them by tapping the three dots (…) on the right hand side or by selecting the archived post first, then selecting the related buttons that appear on the upper right corner.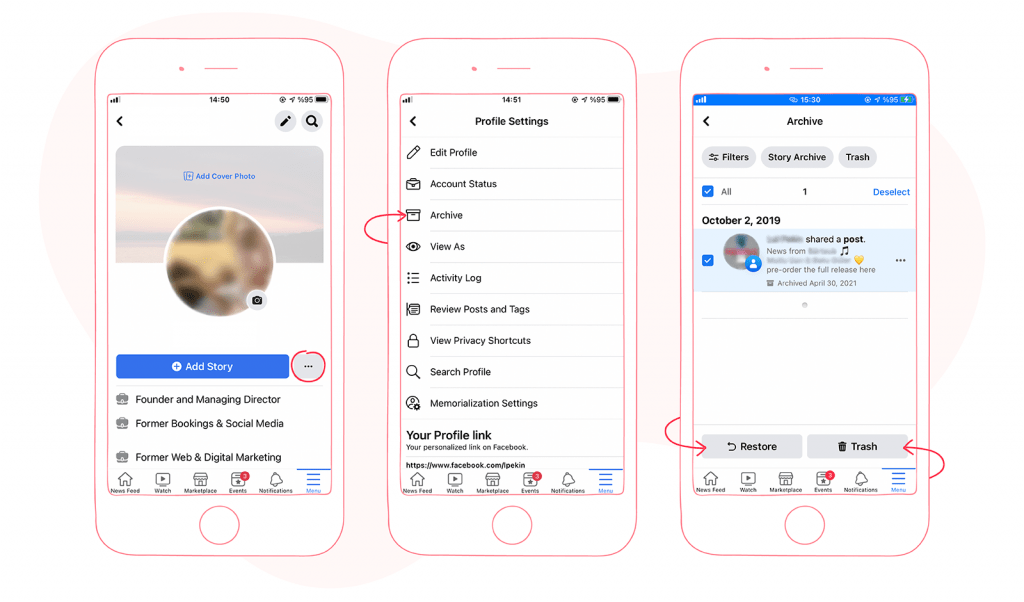 Restore any posts of your choice
Restoring your post will display your post again on your timeline with all of its reactions and comments. Depending on your post's privacy settings, your Facebook followers or the public can now view and/or engage with the post you've just unhidden. Note that it will be displayed with its original publish date.
Hiding and unhiding a Facebook page comment
Even the most lovable brands can expect negative comments on their Facebook Pages from time to time. They can hurt your business and your reputation, give other followers wrong information, and even create a big social media crisis. One solution can be hiding those negative comments and posts.
You should consider hiding comments with inappropriate content like racism and sexism, comments containing broken links, or comments that have links to sites with viruses and malware. Hiding the comment will keep it hidden from everyone except the author of the comment. They won't know that their comment is hidden so you avoid potential fallout.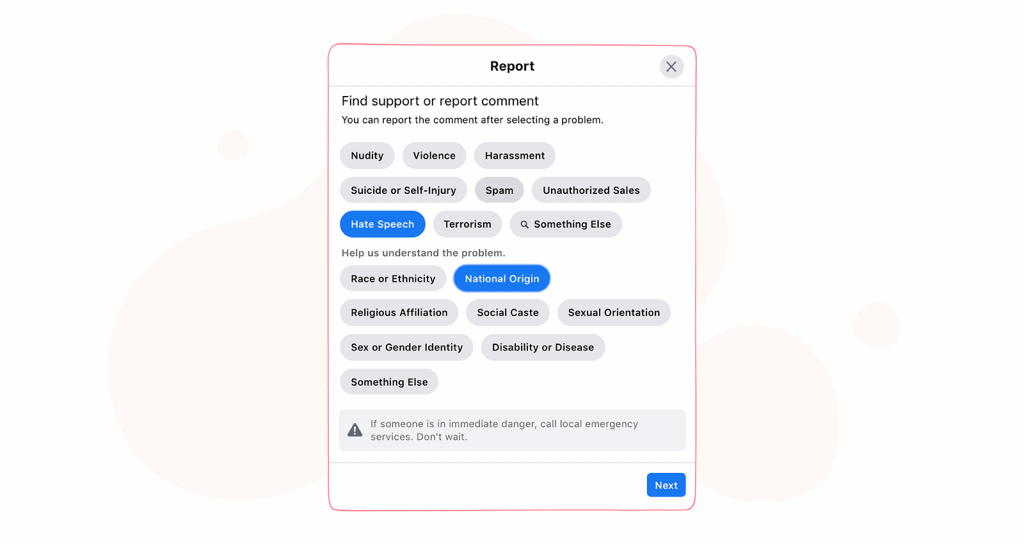 Steps to hide a comment on a Facebook business Page
Simply find the comment under your post
Click on the three dots (…) button next to the comment
Click Hide Comment
Steps to unhide a comment on a Facebook business Page
All the hidden comments will still be visible to you under the posts
Find the hidden comment
Click on the three dots (…) button next to the comment
Click Unhide
Conclusion
Although Facebook lets you delete or hide inappropriate content with a few clicks, you still need to pay attention to everything you post.
You must also keep tabs on what others write about you and your brand. Social media management tools make it simple to find comments that need your attention. These tools help you listen to the concerns coming from your followers and potential customers.
The hide posts feature on Facebook gives you the option of removing content temporarily from your Facebook business Page. Who knows, a post you previously archived might be important the next day. It's always good to know how to restore it, right?
Related article: How to conduct a competitor analysis on Facebook