How to use secret TikTok emojis? Unlock the hidden codes
Do you use TikTok for business?
Like every other social media channel, your engagement with followers plays an important role in your success on the platform. People don't log in to the app every day for a one-way experience. They want to build relationships with other people and connect with brands like yours.
TikTok realizes this too. Engagement rate is a key signal to its algorithm. And that's why audience engagement shouldn't be overlooked in your TikTok marketing strategy.
If you're looking for a way to boost your TikTok engagement, here's a simple answer.
Be social.
There's no point in hosting a party if you won't interact with your guests. To boost your brand engagement, you're needed in the comments and inboxes – constantly building relationships with viewers and followers who might someday need your service. And to help with that, TikTok has a little secret called TikTok emojis that you can use in your posts and comments.
Social Media News in a Nutshell
Get the latest social media news, insights, and marketing tips in your inbox once a week.
What are TikTok secret emojis?
Unlike the name suggests, TikTok secret emojis aren't exactly secret. They are only different from the regular emojis available on mobile phones.
It's pretty easy to access them too. All you need to know is the right phrase that relates to the emotion you want to communicate. Put this phrase within square brackets and you'll unlock the corresponding TikTok emoji.
As of today, there are 59.8 million views of the hashtag #tiktokemojis which underscores its popularity among brands and famous TikTokers.
🧁 Bonus article: 100+ trending TikTok hashtags to go viral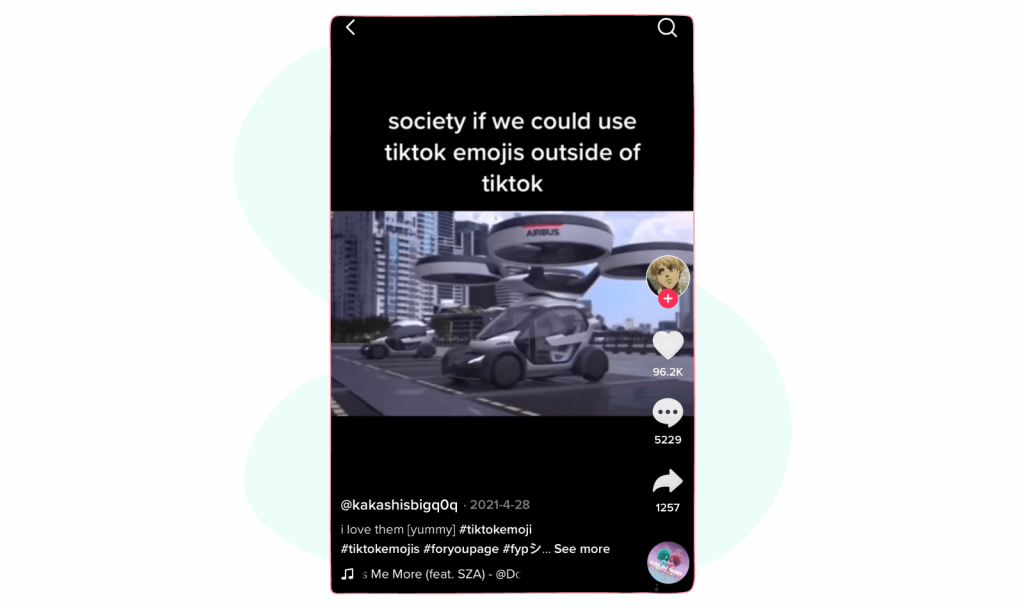 How do you access TikTok secret emojis?
There are 46 unique TikTok emojis. And like I mentioned earlier, all you need to use one of them is the right TikTok emoji code put between two square brackets.
These emojis are of two distinct styles: round emojis and flat-topped emojis. In the table below, you'll find emoji codes for each emoji in the two groups.
| | |
| --- | --- |
| Round Emojis | Flat-topped Emojis |
| [angry] | [angel] |
| [complacent] | [loveface] |
| [cry] | [nap] |
| [drool] | [awkward] |
| [embarrassed] | [astonish] |
| [facewithrollingeyes] | [pride] |
| [flushed] | [proud] |
| [scream] | [blink] |
| [funnyface] | [cool] |
| [shout] | [rage] |
| [greedy] | [shock] |
| [smile] | [cute] |
| [happy] | [disdain] |
| [speechless] | [slap] |
| [laughwithtears] | [smileface] |
| [sulk] | [evil] |
| [lovely] | [excited] |
| [surprised] | [stun] |
| [thinking] | [fears] |
| | |
| --- | --- |
| [wicked] | [hehe] |
| [weep] | [joyful] |
| [wronged] | [wow] |
| [yummy] | [laugh] |

Why should you use TikTok secret emojis?
You know how to use these emojis now. They come in handy in your comments, captions, or descriptions. But why should you care about them?
Here are two reasons why.
TikTok emojis are consistent across all mobile devices, unlike the traditional emojis. This means you don't have to worry about passing the wrong message across when you use them. Every one of your viewers will get the same message.
As seen in the popularity of the #tiktokemoji hashtag, the use of these secret emojis is a rising TikTok trend. This means usage of this feature can portray you as a well-versed TikTok insider.
🥁 Bonus article: How to nail the TikTok challenge for businesses?
Another way to use emojis on TikTok
There's another not-so-secret but still a massively underused way to take advantage of emojis on TikTok. It's called emoji combinations.
Emoji combinations are a way to inject your comments with more personality. Here are a few emoji combinations that are trending on TikTok:
🚪🏃🏼💨 — time to leave
🍿🤏🏼😯 — when drama is happening
🐂💩 — bullsh*t
👉🙄👈 — not listening
☕️👌🏼 — sipping tea
TikTok is no stranger to emojis. It has its own lineup of emojis, doesn't it?
But these emojis aren't just valuable because they are fun to post. They also make it easy for you to communicate specific meanings and phrases. If you aren't sure of what an emoji means, use a website like Emojipedia to search for its meaning so you don't offend your brand followers.