How to get on the Instagram Explore page? (Algorithm explained)
Who hasn't spent hours scrolling through Instagram's Explore Page, sharing reels with their besties instead of tackling their to-do list? It's not just us, right?
The Explore page isn't just a fun way to find new content, though. Nabbing a spot on Instagram's explore page is a big win for businesses.
The discovery tool puts your brand in front of the right users. You know, the ones who are genuinely interested in the type of content you share.
The result? Not only can you reach a wider audience, but you can boost engagement rates at the same time.
We break down everything you need to know about the Instagram Explore page, including how the algorithm works and how to reset your Instagram explore feed 2023.
Social Media News in a Nutshell
Get the latest social media news, insights, and marketing tips in your inbox once a week.
What is the Instagram Explore page?
The Instagram Explore page curates content that is specifically tailored toward each individual user's interests. Because of this, no two Instagram Explore feeds are the same.
The content that appears on Instagram Explore includes videos, images, reels, and stories.
So how exactly does it work?
Firstly, the Instagram Explore algorithm tracks the type of content a user commonly interacts with. Then, it curates related content from similar accounts.
Since the idea is "to help you discover new things", the curated content you find on your Instagram Explore page is from accounts you don't currently follow.
Users can access the Explore page by selecting the magnifying glass icon on the bottom left of the screen.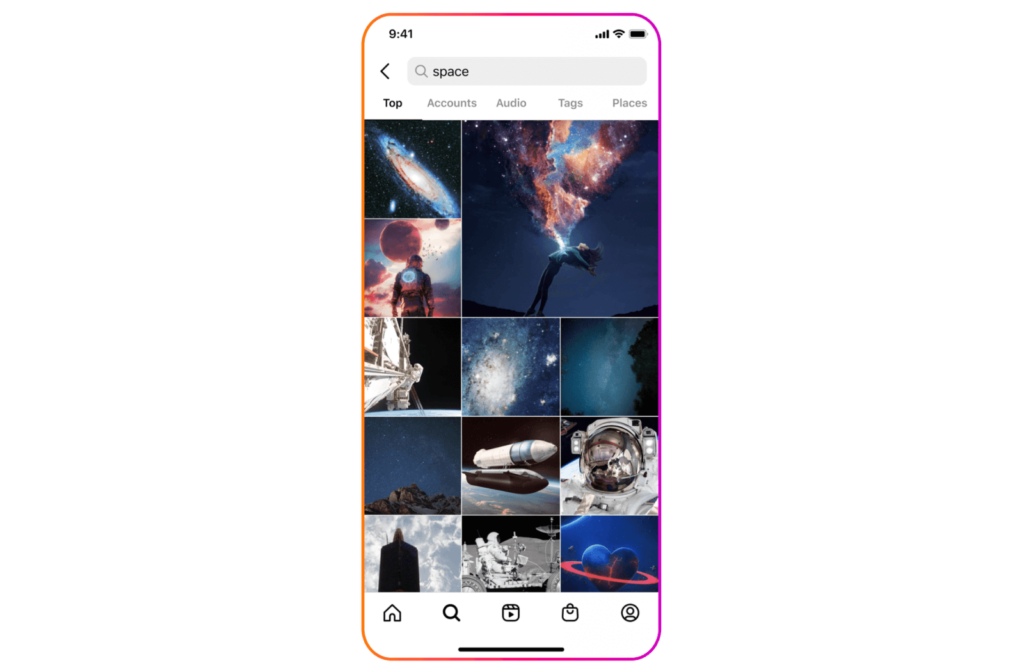 Once on the Explore page, they can use the Instagram search bar to find niche content and accounts. For instance, they can search for content related to beauty tutorials or fitness accounts.
Brands can track this data using social media analytics. This gives them invaluable insight into the type of content their customers are searching for on the app. Plus, it's a pretty awesome way to spot new trends.
✨ Bonus: Sociality.io Trends is live — All-in-one dashboard to keep up with multiple mediums with ease.
Worth a read 👉🏾 IG analytics 101
Advantages of getting on the Instagram Explore page for your business
Instagram is forecast to reach almost 1.2 billion active monthly users by 2023.
With such a colossal number of users on the app, getting featured on the Instagram Explore page can lead to big wins for businesses.
Here are four of the main benefits of getting on the Instagram Explore page:
1. More visibility
Let's start with the most obvious benefit. Landing on the Explore page will do wonders for your brand visibility. Not only will your content be pushed out to a wider audience, but it will be delivered to users that are already interested in your niche.
Considering that over 200 million accounts use the Explore page every day, that's a lot of extra visibility.
2. Increased follower count
Increased visibility translates into more followers. With 50% of Instagram users checking the Explore page daily, brands have a strong opportunity to convert some of those users into followers.
And, since your content is being displayed to users who are already interested in your niche, the chances of growing your Instagram following are pretty good.
3. Higher engagement rates
The more users that see your content, the more engagement you can expect to see on your posts. Especially if the users are already interested in similar content and accounts.
The Explore page gets your content in front of the right audience, drastically improving your chances of receiving likes, shares, and comments.
4. Better sales
The final step in the process is turning the increased visibility Instagram's Explore page offers into business results. The Explore page gets your brand name out there and in front of a primed audience, but the rest is up to you.
Once you have converted a user into a follower, your content needs to convince them to buy your product. With the right product advertising, you could turn these new followers into shoppers and boost sales.
How the Instagram Explore algorithm works
Plot twist–the Instagram algorithm isn't a single algorithm. In fact, it's actually several algorithms working together. We heard it straight from the horse's mouth.
According to Instagram, it's "a variety of algorithms, classifiers, and processes, each with its own purpose. We want to make the most of your time, and we believe that using technology to personalize your experience is the best way to do that."
In a nutshell, the main goal of the Instagram Explore algorithm is to push relevant content that will make you stay on the app for longer.
For businesses, understanding how the algorithm works is priceless. You can leverage the type of content the algorithm(s) is prioritizing to reach a wider audience.
To land a spot on Instagram's Explore page, the algorithm looks for:
How active the Creator is and if they interact with other creators' content
Reel information, such as hashtags and trending sounds
How many users engage with the Creator's content
When we compare this to the TikTok algorithm and Facebook algorithm, they all work quite similarly.
4 most important ranking factors
It's pretty incredible, isn't it? Every time you open the app, Instagram's algorithms scour all of the content on the platform to find what content to deliver to you and in what order.
When it comes to the Explore page, the algorithms pay special attention to your past activity. They comb all the posts you have liked or interacted with and curate a collection of content from related accounts that you aren't following (yet). Essentially, they rank the content based on how likely you are to interact with it (by saving, sharing, or liking it).
But how is the content chosen? We look at the four most important ranking factors.
Factor 1: Post information
The first factor the algorithms look at is the post information. How popular is the post? Are people interacting with it?
Content that receives a lot of likes, shares, comments, and saves is likely to be displayed on more Explore feeds.
Instagram will also consider how relevant content is. Generally speaking, it favors recent posts or ones that fit with trending topics on the app.
So, make sure your brand is staying on top of Instagram trends and posting content regularly to improve your chances of going viral.
Factor 2: Relationship between the poster and the viewer
The second factor is the relationship between the creator and the user. Has a viewer engaged with the creator's content before?
While most content on Instagram's Explore page is from new accounts, if a user has interacted with your brand's content in the past, there's a good chance the algorithm will display your new content on their feed.
So, businesses take note. Interacting with users (replying to comments etc.) can actually increase your chances of landing on the Explore page.
Factor 3: User's activity history
The whole idea behind the Explore page is to curate content that caters to individual users' interests. So, naturally, this plays a pretty large role in how the algorithm ranks content.
If Instagram's algorithms see that a user commonly engages with a certain type of content, they serve them more of the same. What posts have you liked or saved? Your past activity on the Explore page will inform what content the algorithms push out to you.
Again, this is a reminder to businesses: Make sure your content is engaging users and that they are interacting. And, when they are, encourage more interactions with great community management. If you do this right, you might just find yourself on the Explore page.
Factor 4: Creator's activity history
Your chances of getting featured on Instagram's Explore page are significantly higher if you have consistently been posting engaging content.
Instagram will pull information on the activity of the poster. If the account has been racking up a lot of engagement (views, likes, shares, etc.), it's more likely to get pushed out to a wider audience. It basically flags your account for producing regularly engaging content.
You know what we're going to say here, consistent posting is key. So, make sure you're planning your posts in advance and sharing engaging content regularly.
A social media management tool can automate the planning and scheduling process across all your brand's platforms.
How to reset Instagram Explore page algorithm
What could be better than having a page filled with content tailored to your interests? In theory, nothing. However, sometimes there's a glitch in the matrix, and you end up seeing the same content over and over again or posts that don't interest you.
Also, not to sound ungrateful, but it can get boring looking at the same type of content all the time. After all, it never hurts to shake things up from time to time.
For businesses, learning how to reset the Instagram Explore page is an excellent way to tap into new trends. It's also a bounty of inspiration.
If your social media team is looking for new content ideas, broadening your horizons by looking at content from brands outside of your industry can get the creative juices flowing.
Fortunately, there's a way to reboot it. Here's how to reset Explore page on Instagram:
1. Open the Instagram app
2. Click on the magnifying glass icon to get to the Explore page
3. Click on a post that doesn't interest you
4. Select the three dots in the top right corner of the post
5. Select "Not interested"
6.Repeat the process for all the content on your feed that doesn't interest you
While it may be a bit time-consuming, this is the best way to teach the algorithm what type of content you want to see.
We get it, time is money. Not everyone has time to scroll through their Explore feed rejecting posts. Luckily, there is another way to retrain the algorithm.
While this way isn't quite as effective, it's a lot quicker.
1. Open the app
2. Click your "Profile Photo" in the bottom-right corner
3. Tap the three vertical lines icon and then select "Settings"
4. Go to "Security" and then click "Clear search history"
5. Tap "Clear all" in the top-right corner
This basically resets the algorithm and starts the process over again. It will start to curate content based on the posts you like and interact with from now on.
How to get on the Instagram Explore page
The benefits are clear, but how exactly do you get featured on the Explore page? We've rounded up our top hacks.
Tip 1: Post at the right time
If you want your content to make a splash and land a coveted spot on the Explore page, timing is everything. After all, your content has a much better chance of being seen if you post when your audience is online.
Of course, the best times to post on social media differ depending on the audience, location, and industry. So, the best way to nail your post timings is to use a social media management tool like Sociality.io.
It makes it easy to track engagement data and pinpoint the optimal time to post your content to garner the most reach and engagement. Let's face it, creating great branded content isn't easy, so you may as well make sure as many people see it as possible.
As a general rule of thumb, posting Instagram content between 5 and 6 am garners the best results.
Additional reading 👉🏾 Check out our guides on the best time to post on LinkedIn and the optimal time to post on TikTok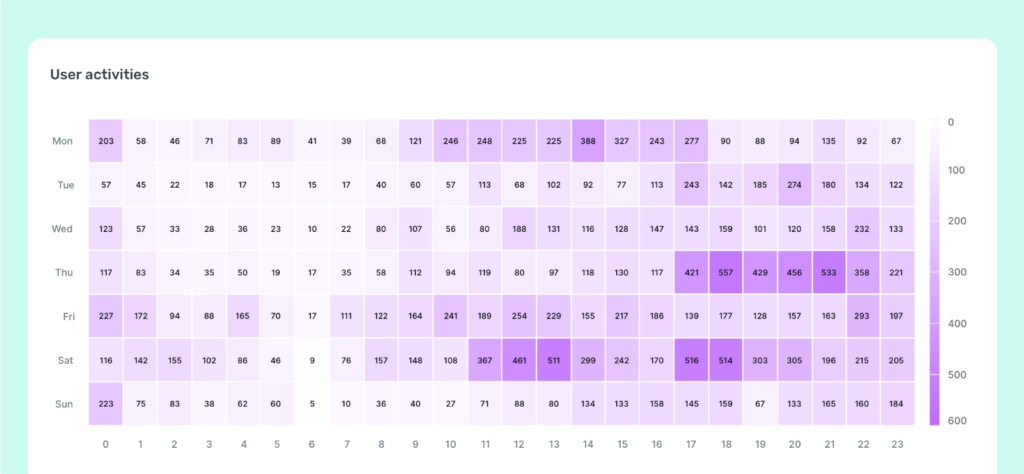 Tip 2: Leverage Instagram Reels
Reels is where it's at in 2022. And this trend looks set to continue in 2023.
You may have noticed there's now a Reels tab on the app. Reels are a relatively new content format for Instagram. As a result, the platform is pushing this format and encouraging users to engage with it.
Since Instagram is prioritizing Reel content on the Explore page, it's worthwhile tweaking your content strategy to take advantage of this. Instagram is more likely to feature your content if it's a Reel, boosting engagement and extending your brand's reach.
That said, variety is the spice of life. So, don't be afraid to experiment with other content formats, such as carousels, stories, and shoppable posts.
A diverse content plan won't just keep users engaged; staying on top of trending content formats will keep the algorithm happy too.
Don't forget to analyze how your content is performing by regularly checking IG reels analytics.
Want to automate the process? With Sociality.io's Analytics module, you can track all your company's social media KPIs in one place. No heavy lifting required.
Tip 3: Use Instagram Explore Ads
There's a lot to be said for organic reach, but sometimes running paid ads can give your content that extra push it needs.
Instagram Explore ads do exactly that.
While it doesn't mean your ad will appear directly on Instagram's Explore page, it will display your content to users who are browsing the Explore page. This is a foolproof way to expand your brand visibility and reach new audiences.
And how do Instagram Explore ads work?
When a user clicks on a post on their Explore feed and scrolls down, your ad will appear next to non-paid content in their feed.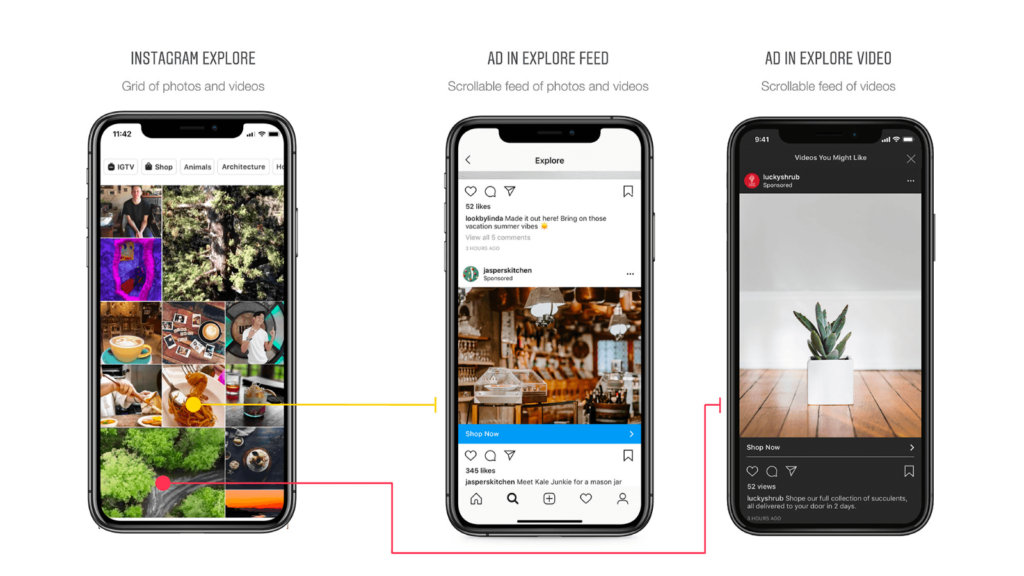 Tip 4: Up your hashtag game
Don't sleep on hashtags. They may have lost popularity in recent years, but they're still a prime way to get featured on the Explore page.
As we've already seen, Instagram's algorithm ranks well-labeled content. So, give it a hand by using a combination of general and specific hashtags that describe your content. This makes it easier for Instagram to categorize your content and deliver it to the most relevant audience.
Social listening tools (like Sociality.io) and hashtag generators will help you nail your hashtag game and get your brand featured on the Explore page.
Oh, and in case you're wondering, our advice is to use between one and three hashtags in your Instagram caption. Then, you can add up to thirty more as the first comment.
Alternatively, why not follow in the footsteps of brands like LuluLemon and create your own branded hashtag? It's a simple and effective way to promote your brand.
Get the word out there by adding your branded hashtag to your Instagram bio, using it in your captions and stories, and running contests challenging users to tag their user-generated content with the hashtag.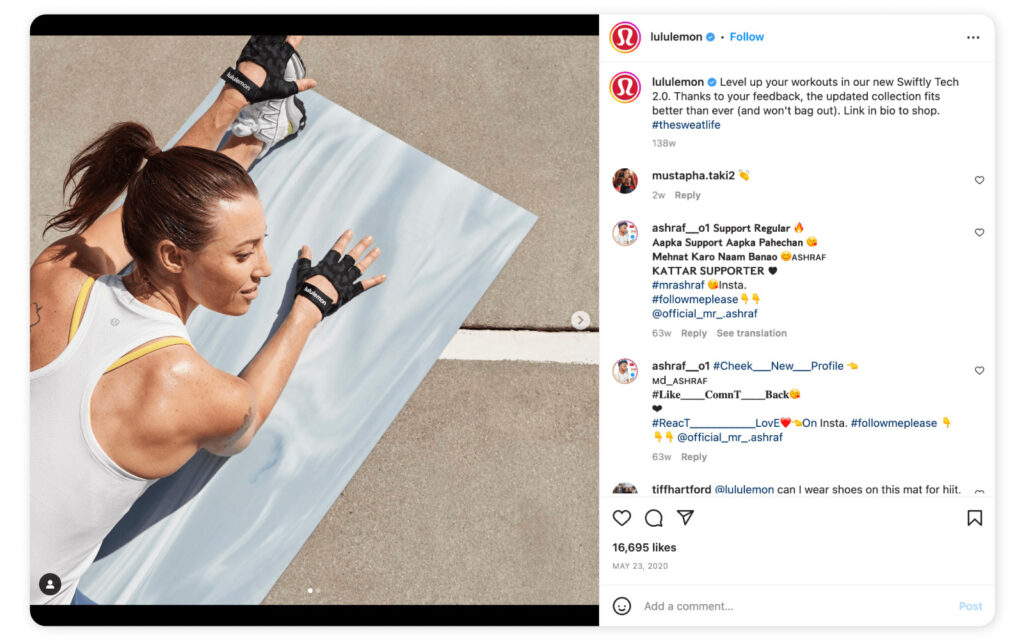 Wrapping up
Getting on the Instagram Explore page is a pretty big deal for your business. From increased visibility to boosted sales, it can put your brand on the map. That said, nabbing a coveted spot on the Explore feed isn't easy.
The algorithm ranks content based on how engaging it is, how active the poster is, and how well it's labeled. So, if your business wants to go viral in 2023, you're going to need to tick all of these boxes.
Opting for a diverse content plan that prioritizes Reels, carousels, and other trending content formats is a surefire way to get your posts featured. Having said that, creating engaging content isn't enough on its own. Your business also needs data.
That's where a powerful social media management tool comes in. It automates everything from planning to publishing social media content across different platforms. More importantly, it provides deep insights into how your audience is engaging with your content. This empowers your brand to make better-informed decisions and tweak your content strategy based on what your followers want.
The result? Better engagement increased brand awareness and a whole lot more sales.