A superhuman guide to Instagram search and its hidden features
Instagram has over one billion active users who are using this platform to showcase their brands, improve sales of their business, connect with the target audience, and much more. It primarily allows sharing visual content in the form of photos, videos, and reels but it has numerous hidden search features and options that can significantly enhance your experience on this popular social media platform.
In this article, we will explore all these unique search features to help you make the most of Instagram.
Social Media News in a Nutshell
Get the latest social media news, insights, and marketing tips in your inbox once a week.
What you need to know about Instagram search features
Instagram search for many businesses is a place to get inspiration and discover trends. When you search for topics or accounts of your interest, Instagram sifts through millions of accounts and posts to give you what you are looking for.
Instagram uses signals to rank the search results. These signals include
Text: The text entered in the search bar is matched with hashtags, usernames, bios, places, and captions to display the most relevant result.
Activity: This is based on the accounts you follow, and the posts you engaged with to show accounts or hashtags that you follow or have viewed more times.
Popularity: The search results are also sifted based on the number of likes, shares, comments, or the number of followers for an account, place, or hashtag.
Here are some best practices for you to improve your brand's or business's presence in search.
Since search results are matched on the basis of the text, it is important to go for a handle and profile name that reflects or best describes the contents of your post. If your audience is familiar with your business or brand name, use that name in your profile to improve visibility.
Add important keywords in your bio that again describe who you are. Plus, you can add your location in your bio. This will especially help small businesses, making it easier for your customers to find you.
Lastly, use relevant keywords and hashtags in the caption of your post (not in the comments) to help improve discovery.
Top Instagram search features
Now, let's explore some unique search features available on Instagram.
How to search posts from specific or nearby locations
This search can prove useful when you are planning a holiday or want to explore pictures of the restaurants or hangout places in that location. Here is how to browse such posts.
Tap on the magnifying glass () icon to open the search page.
Type in the location or name of the place and tap on the search. Five tabs will appear on the top, namely, Top, Accounts, Audio, Tags, and Places.
Select places and a list will appear of all the relevant locations that match your search. Select a location and you will be able to view Top and Recent posts geotagged in that location.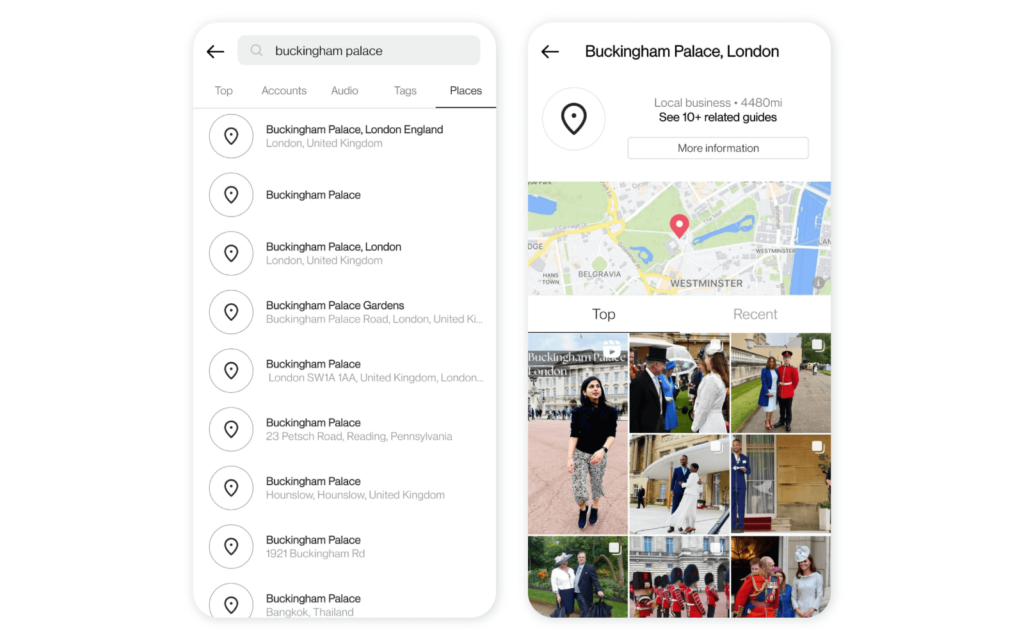 There is one more way, i.e. by taping on the geotag of an existing post. Open the post and on the top left-hand side, the geotag will appear. tap on the geotag and you will be able to view Top and Recent posts geotagged in that location.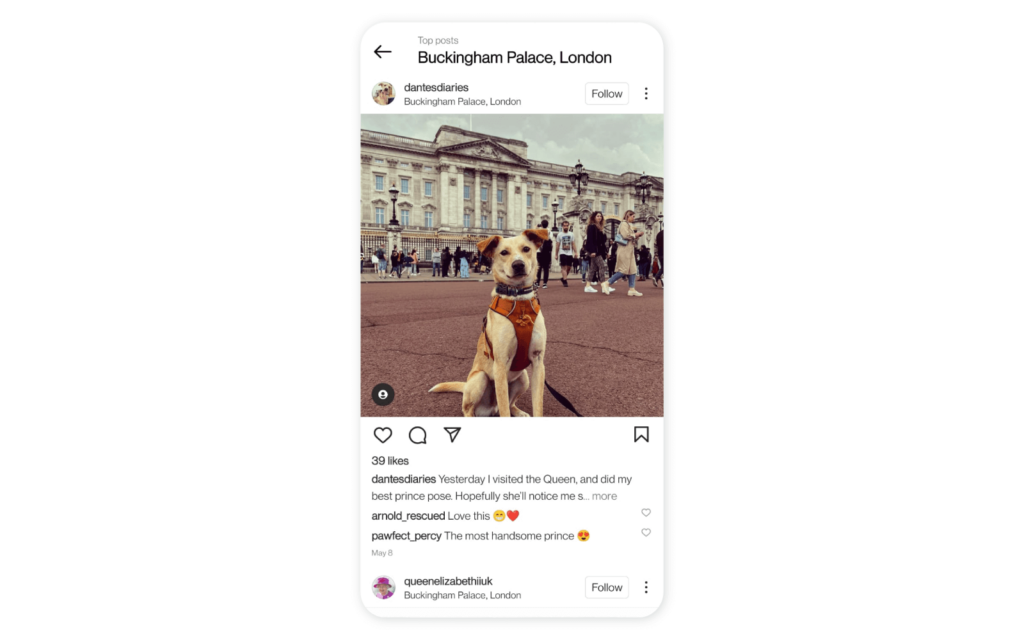 In a similar way, you can browse posts based on your current location.
Tap on the magnifying glass icon () to go to the search bar. In the places tab, tap on the search bar and select Near Current Location.
Select the geotag that you would want to explore from the list.
You will be able to view Top and Recent posts geotagged in that location.
How to search Instagram users without an account
It might happen that you do not have an Instagram account but would like to look at your favorite brands, celebrities, stores, etc. In fact, you can. Here's how.
If you are somehow already aware of the Instagram user name, then type in the user name after www.instagram.com/<insert username> in the search engine (it can be Google or any other browser). For instance, www.instagram.com/socilaity.io. You can also use site:instagram.com <insert username>. For instance, site:instagram.com sociality.io
The relevant results will appear on your browser page. tap on the profile that you are looking for. At this point in time, you may also choose to sign up for Instagram.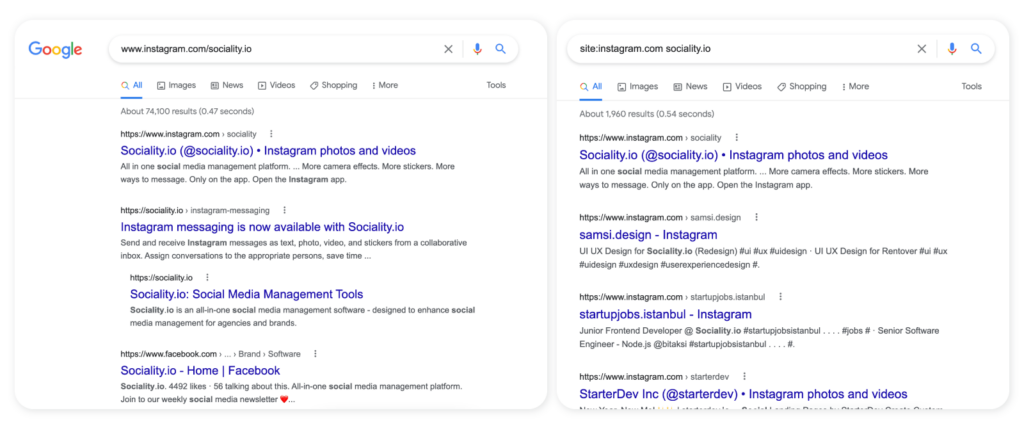 How to clear Instagram search history
Like search engines that give you the option to clear or erase your search history, Instagram also allows its users to clear search history easily in just a few taps.
Go to your profile () and tap on the hamburger menu () on the top right-hand side.
Next, tap on Your Activity and then Recent Searches.
Tap on Clear all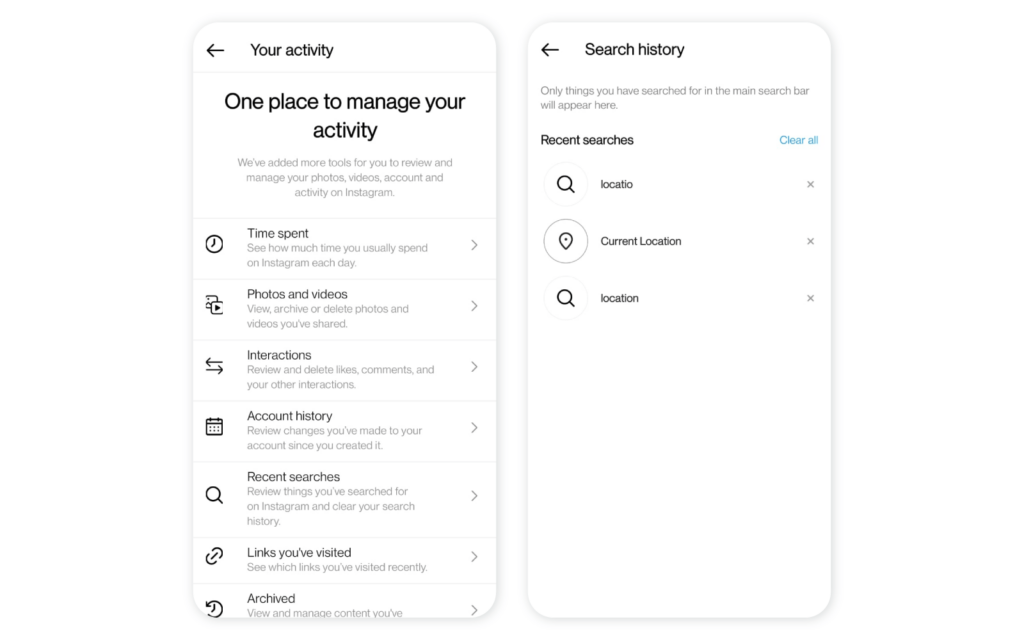 How to browse through posts (without accidentally pressing the like button)
It is pretty straightforward to like a post—double tap or tap on the heart icon. Therefore, to avoid accidentally liking a post, you can use this useful yet funny hack.
Open the page you or profile you want to explore. Scroll down, so all posts are loaded.
Next, turn on your Airplane mode and browse through all the posts without accidentally liking (or sharing) them!
How to clear Instagram search suggestions
Here's how you can do it in a few simple steps.
Tap on the magnifying glass icon ().
The search results will appear with an (x) sign.
You can clear these individually by clicking on (x) or by clicking on See All and then Clear All to remove searches in one go.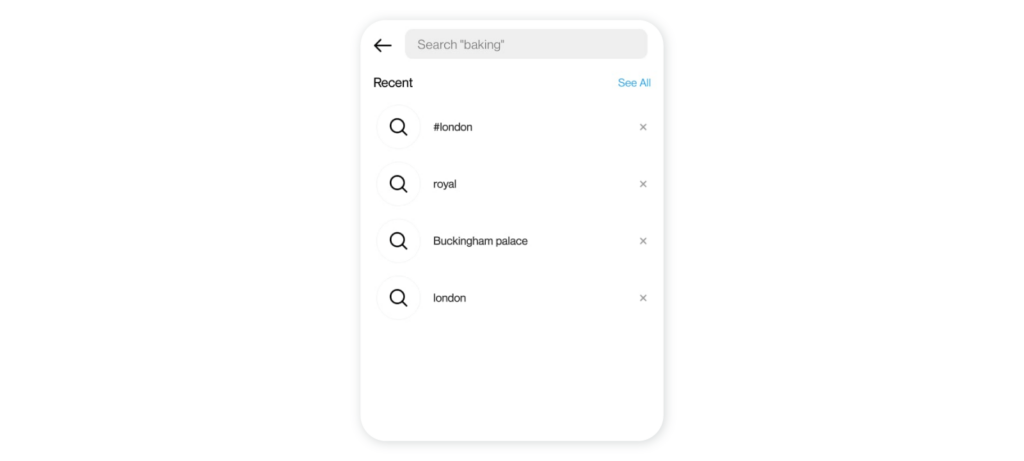 How to search the top trending hashtags relevant to your post
Hashtags are one of the most popular ways to discover and get discovered.
Tap on the magnifying glass icon ().
Type in a keyword and search. Five tabs will appear—Top, Accounts, Audio, Tags, and Places.
tap on the Tag tab and all relevant and top-performing hashtags will appear in your search.
tap on the hashtag relevant to you and you will also be able to view recent and top posts as well as reels.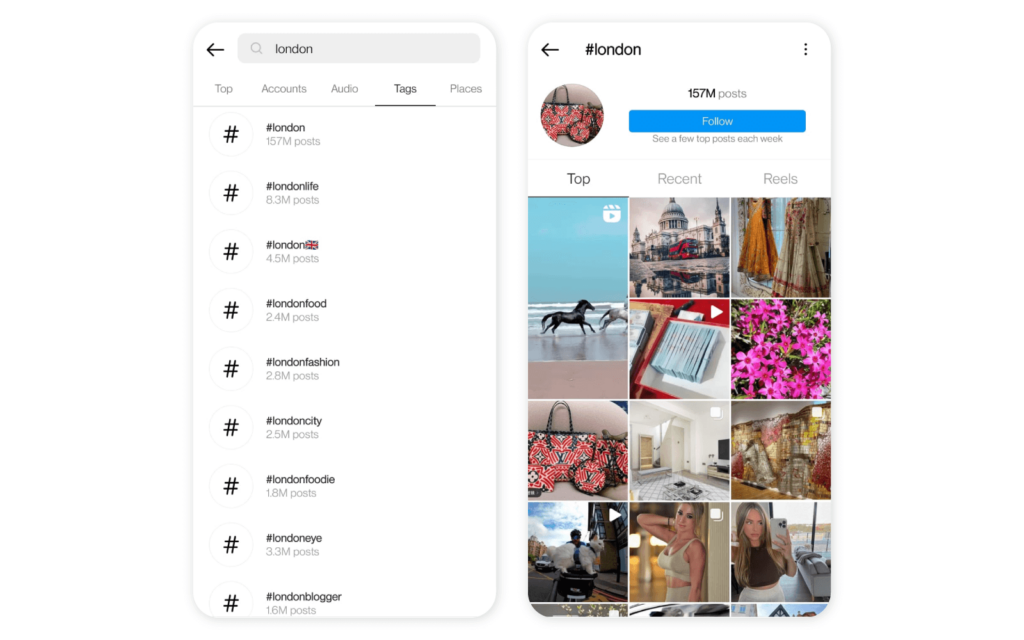 You can easily follow your favorite hashtags. All you have to do is
Tap on the hashtag that appears in the search result.
Tap on Follow on the hashtag page to see all posts related to the tag.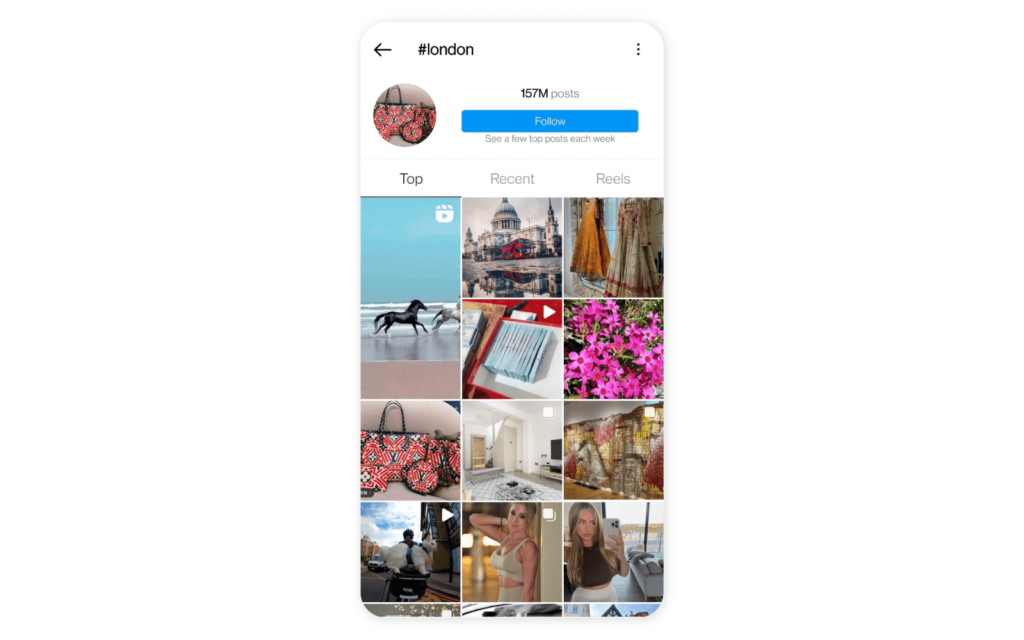 How to search and rearrange filters on Instagram
You can add filters to your Instagram post, story, reel, or even live video.
Go to the home () icon and tap on at the top right-hand side to decide if you want to upload a post, story, reel, or start a live video.
For a post, once you select photos, the filters will appear at the bottom as shown below.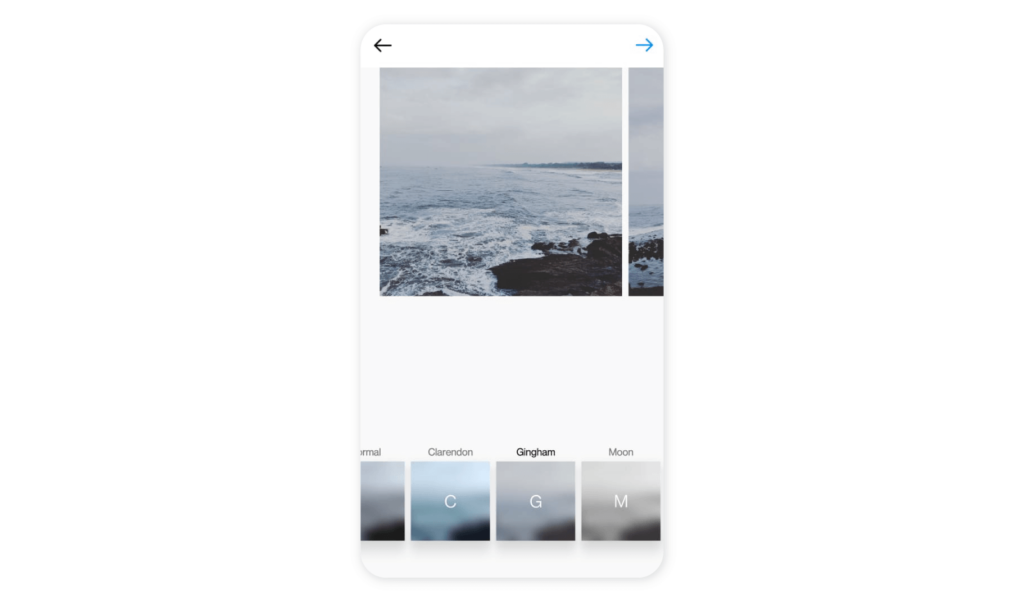 You can also change the setting of the filters. Just double-tap on the filter and you will get the option to edit the filter for your post. You can also reorder or rearrange your favorite filters forward. This can be done by holding the respective filter and moving it forward and backward.
For stories, reels, or live videos the filters will appear as shown below.
Select an existing video or photo or start recording.
Tap on the filter or three-star icon () at the top right-hand side and the filters will appear.
Scroll and select the filter options that appear at the bottom and tap on Done to apply the filter.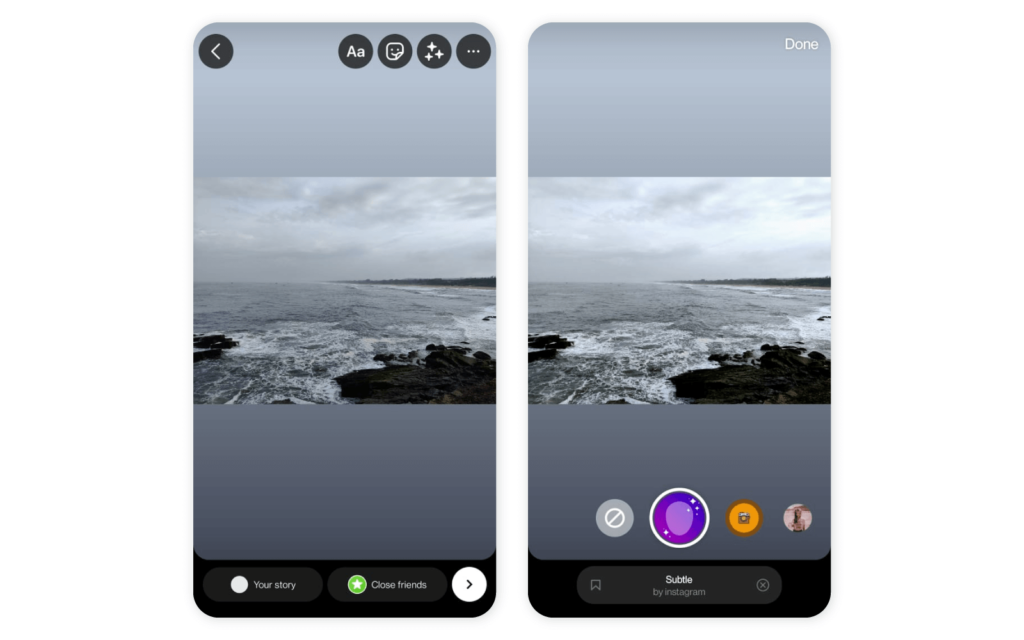 Hope you find these Instagram search hacks useful to enhance your experience on this platform!
Now, you can manage your Instagram and other social media handles effectively all at one platform using our Sociality.io tool. Know how businesses are relying on us for their social media success!