Step by step guide: The ultimate guideline to growing your followers on Instagram (without buying followers)
Fact: 80% of 1 billion users are subscribed to at least one business profile. A lot of businesses find Instagram statistics overwhelmingly impressive and put their efforts into building their social media presence. We have all been there, and we all have seen businesses get too excited about hitting their first 10K followers. But why do some business profiles grow exponentially and other ones struggle to reach a thousand subscribers. In this article, you will learn how to organically grow your Instagram followers in your own phase.
Social Media News in a Nutshell
Get the latest social media news, insights, and marketing tips in your inbox once a week.
Why do people follow brands on social media?
The answer to this question is key to your profile's success. A successful social presence starts with understanding the target audience, as this will offer insights on what content to create.
73.4% of users follow a brand due to interest in its product or service, while 58.8% are more interested in its promotions. Also, people follow business profiles that are entertaining and open for communication. Or they simply engage with brands because their friends follow their content.
Although many people follow brands because they already liked them before they discovered them online. However, you can still take the opportunity to create entertaining content and show your brand's personality to make your audience get to know you better.
Organic vs Non-organic growth
The temptation to use services and buy engagement is high. But trust us, you won't benefit from reaching fake growth at any point in the future.
You might be wondering how fake a few thousand followers can harm you, rather than just be displayed at the top of your profile and enable you to embed links to your stories.
The Instagram algorithm is complicated, but it won't recognize fake followers as fake. If out of 2000 followers only 30 liked your post or have even seen it, the algorithm will consider your content not interesting. So, it will not display your content even to the most loyal followers who truly enjoy your posts. They simply won't see it.
Fake growth will harm your engagement rates, reach, discovery, etc in many ways and will definitely downgrade your social media marketing efforts.
We highly recommend you stick to our guidelines and use strictly organic growth techniques.
Step by step Instagram organic growth guideline
Step 1: Plan, create and optimize Instagram content strategy
Your content strategy will evolve with time and reflect the ongoing behavioral and social changes. However, having a clear short-term strategy is crucial to making sure you hit marketing goals. Understand how your profile is going to represent your business and what idea it is going to be focused around. This is the right way to attract the target audience.
Samsung mobile is promoting its brand new S20FE.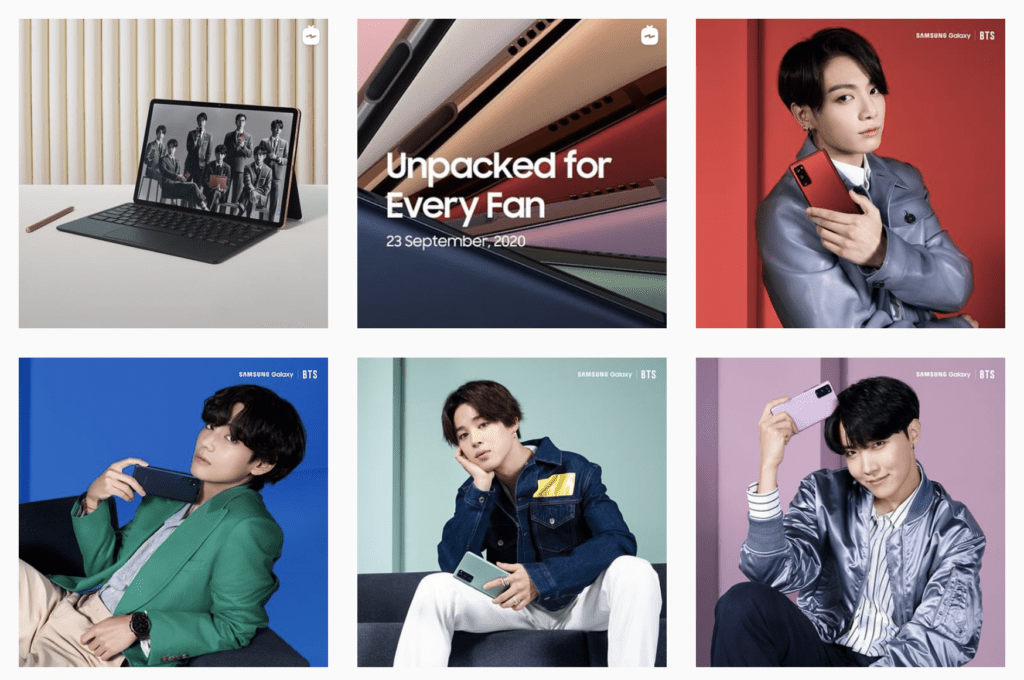 However, in the past, they used to promote a product indirectly by showcasing smartphones' camera capabilities. (Note that the below pictures are not available anymore. Samsung had deleted them when they shifted to a new content strategy that was adjusted to reflect market changes.)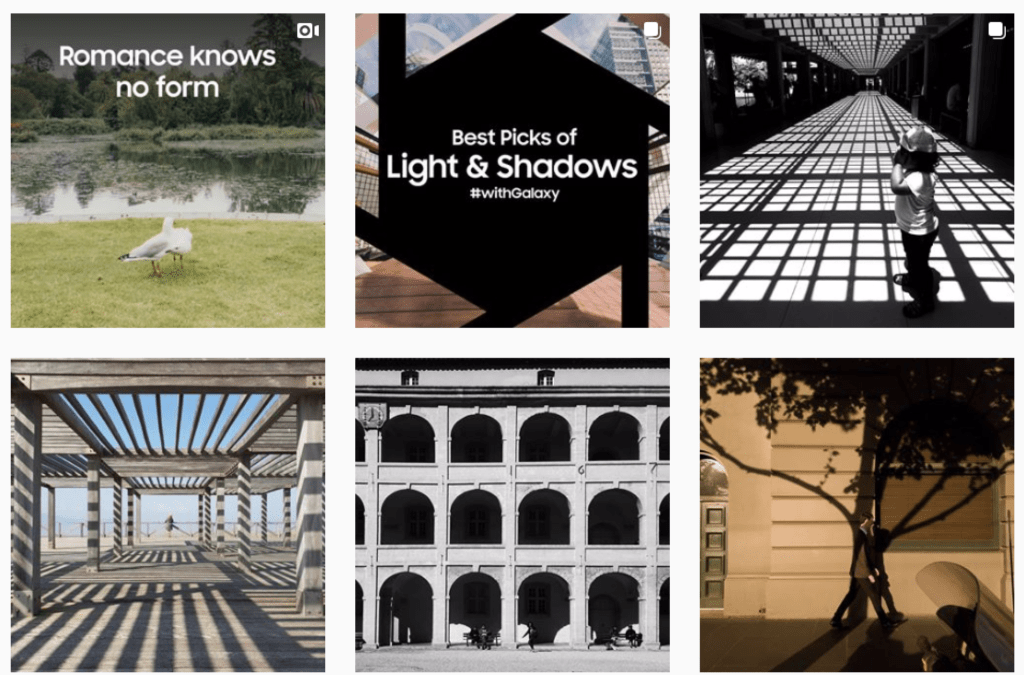 Step 2: Find your unique voice and approach
Instagram is a visual social media. It has its own personality and your business profile should get the most of it. There are no rules into what your feed should look like. So, many brands with well-known names don't use their platform to push their products. Instead, they use the feed to express their core values.
For example, take a look at Uber's Instagram. You won't find product placement or long reads about Uber benefits. Instead, Uber is using their platform to have fun, show its care for the community, and tell Uber drivers' stories.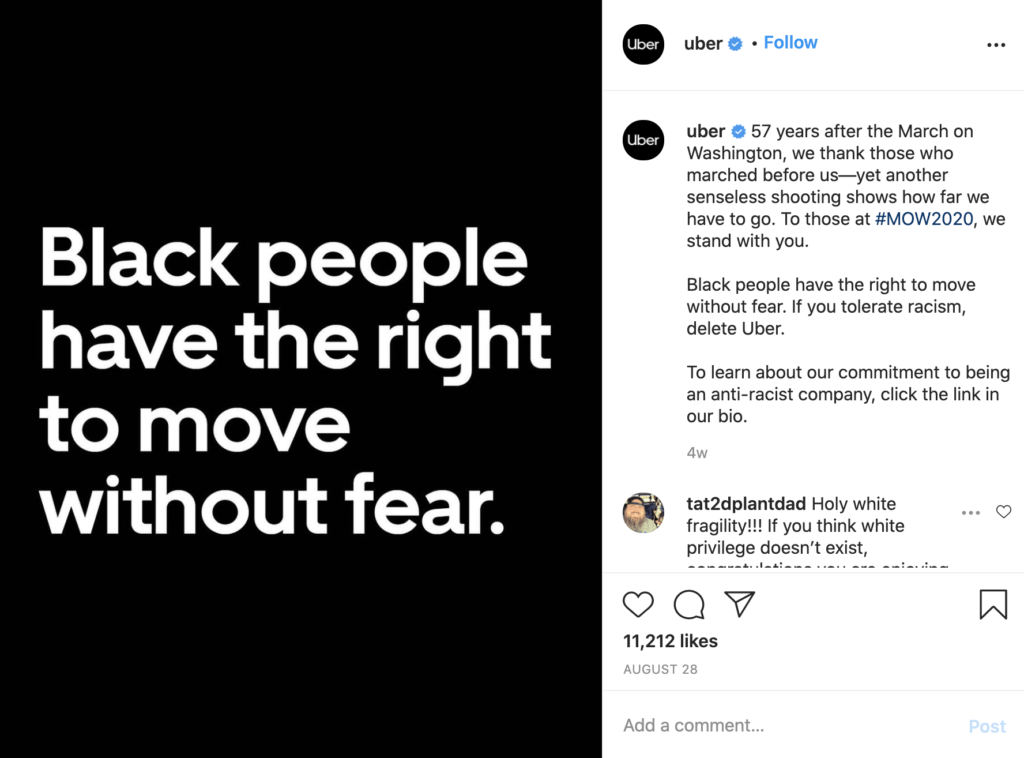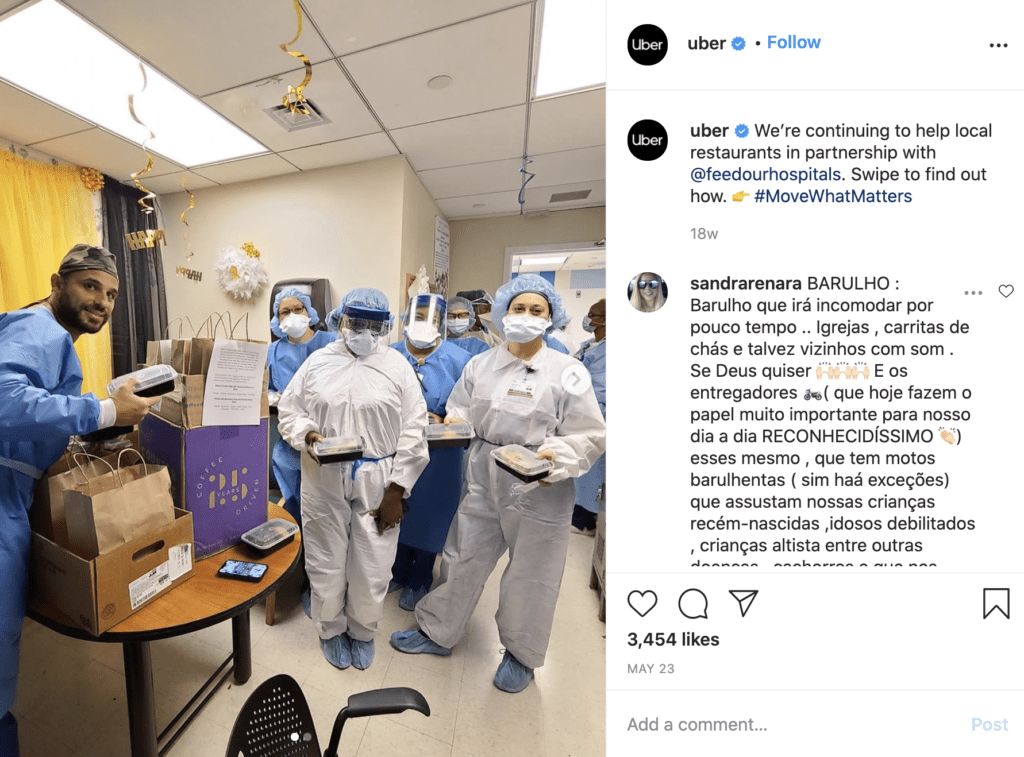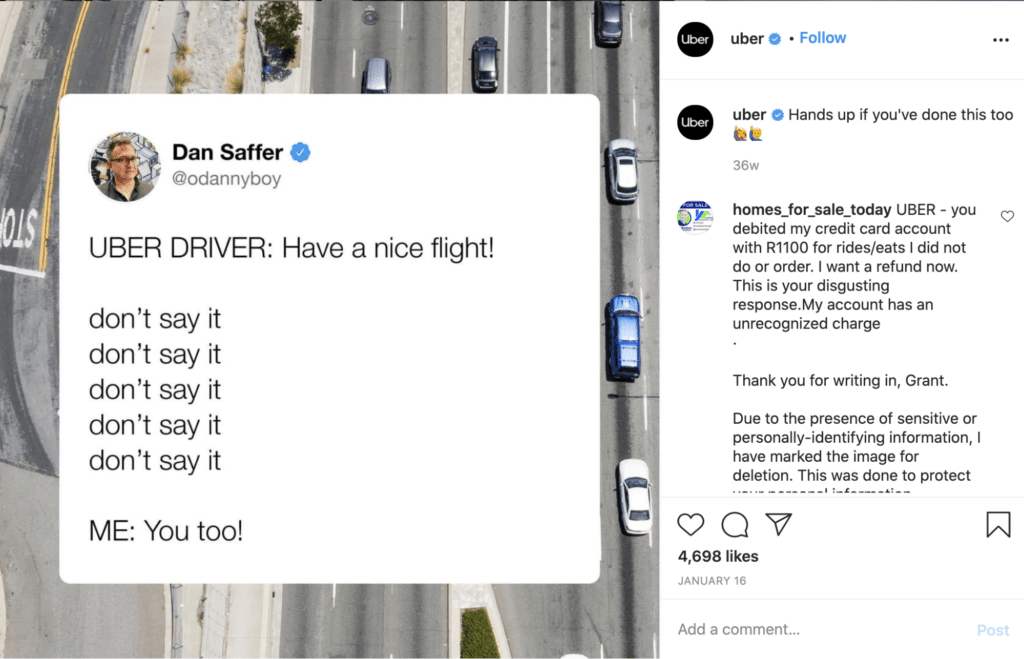 For example, Nike is also using its main profile to share their values through images. There you will find content that inspires people to do sports. Pay attention to bio: "If you have a body, you are an athlete. #justdoit".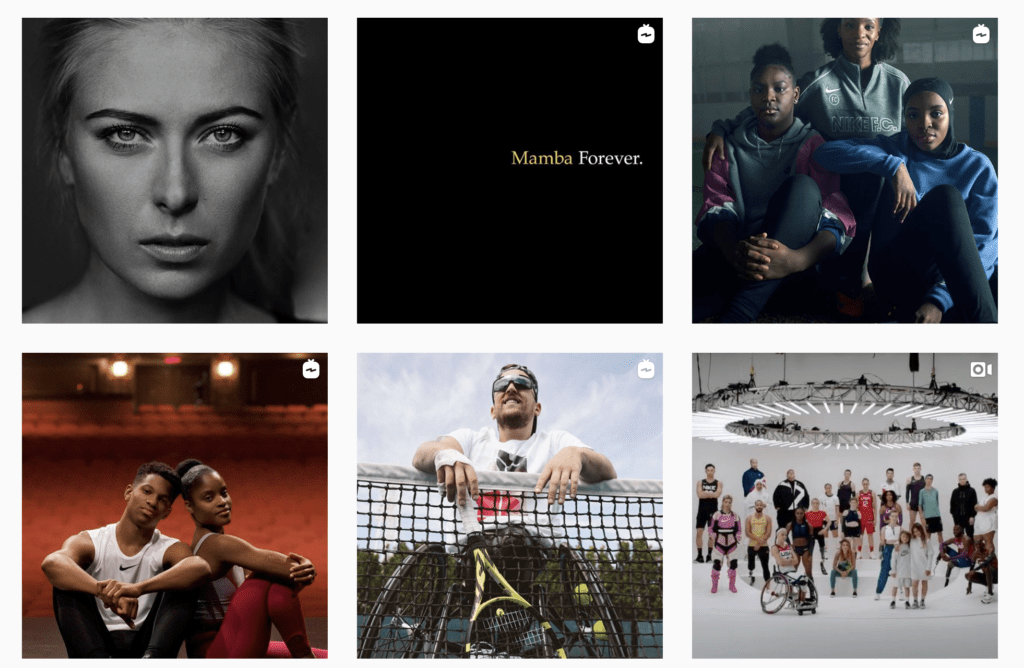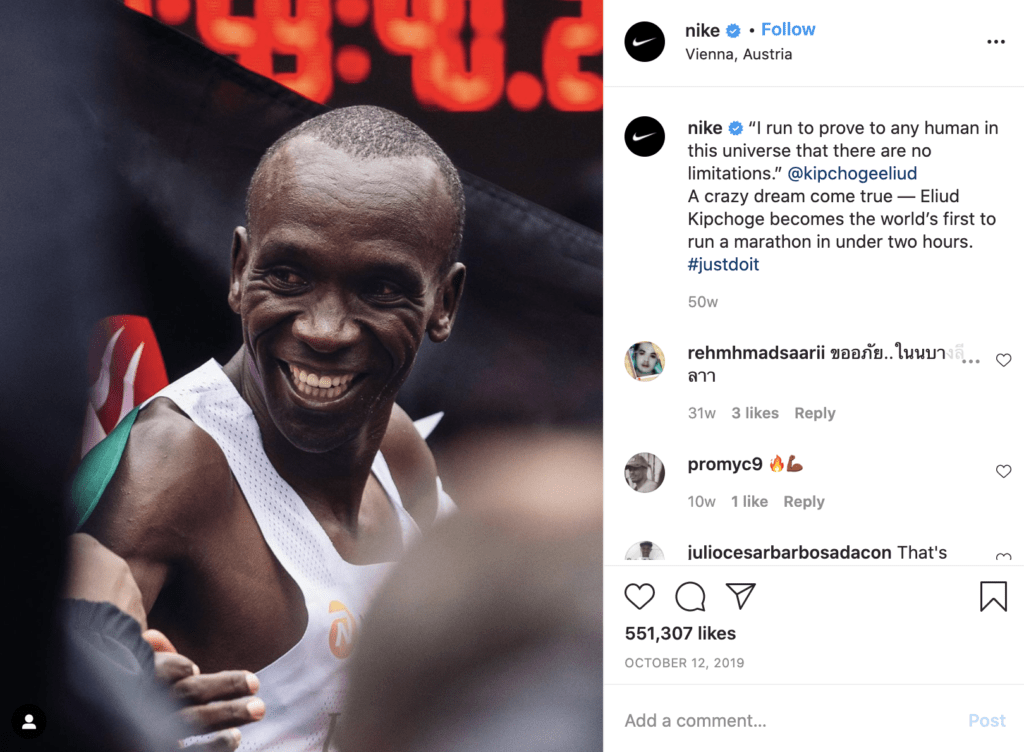 Starbucks is promoting its famous pumpkin spice latte. Thus, they are transforming their feed with bright colors to bring autumn to audiences' feeds. It is eye-catching, conveys Starbucks branding, and makes you want to buy the drink!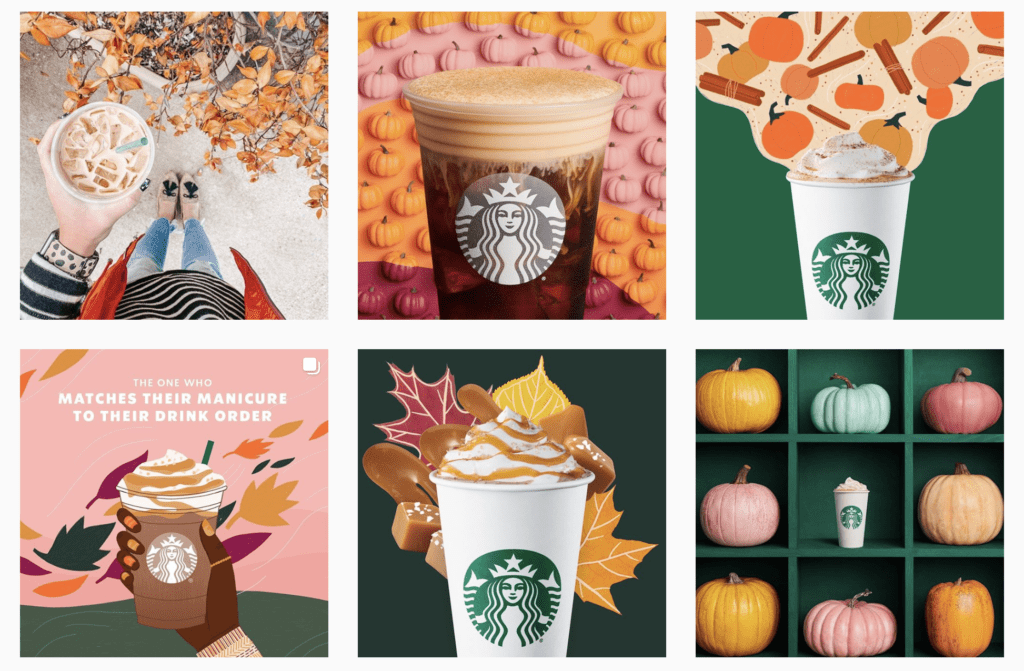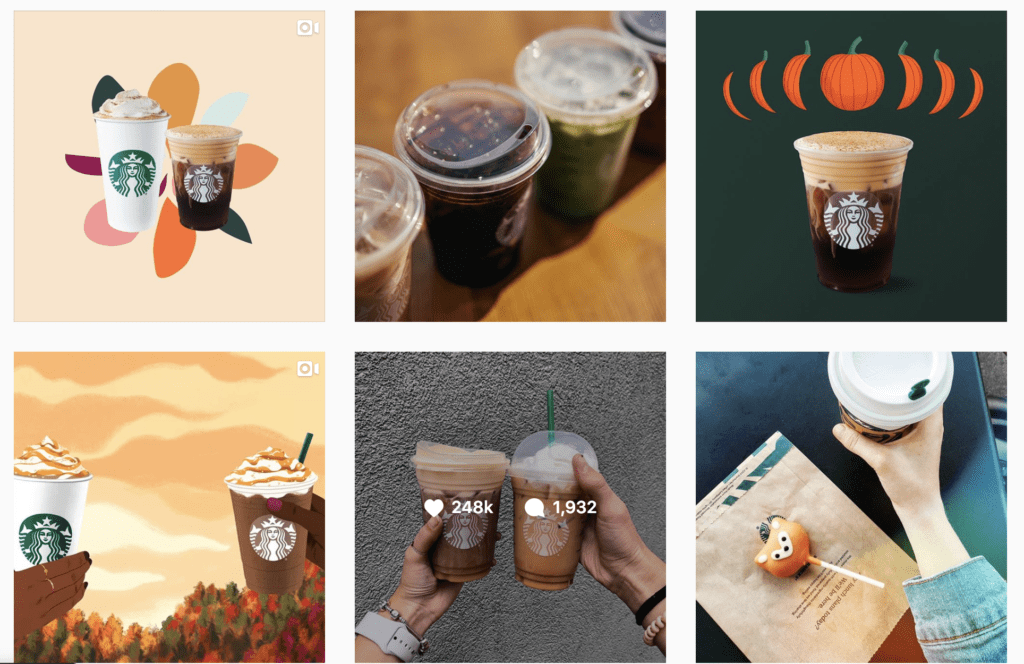 Some well-known business profiles don't use Instagram to show their product line. Instead, they share their core values and the ways you can use the product and what their brand stands for.
We love this approach. Other brands come up with creative ways to showcase their products.
Each profile is unique in its own way. Make yours too! Make your profile likable by your audience, don't be pushy with your product line—welcome people for direct conversation without a tie.
Step 3: Consistency is the key!
Posting content at random times without a consistent schedule — is engagement rates killer. Although, the Instagram algorithm is complex and continuously improves users' feed based on their engagement history.
The worst thing you can do when trying to get followers on Instagram is to post content at random, haphazard times. If you're lucky enough to get users following you in the beginning, you don't want to make them forget they followed you in the first place.
Keep to a regular posting schedule. Instagram algorithm greatly favors accounts that post content consistently. You can choose your own posting frequency and post formats whether it's posted in feed, stories, IGTV, or reels. Regular posting gives your posts more visibility by increasing the overall engagement they receive.

Pro tip: you can try a free solution developed by Facebook to plan your content. It is called Facebook Creator Studio.
Step 4: Understand Instagram's engagement-seeking algorithm
Instagram functions evolve almost every day. So does Instagram's algorithm. It works in a user-friendly way, so Instagram is more likely to show you as a user the posts from the accounts you have the most interactions with. To be more precise, the Instagram algorithm decides what posts users see each time they open the app.
Instagram doesn't reveal how the algorithm works. However, there are some factors that can affect the Instagram algorithm, such as:
Engagement: The rate of how well users interact with your content in terms of likes, comments, savings, and shares.
Timeliness: You already know that consistency is the key. In addition, session time plays a role.
Interests: If a user liked certain types of posts in the past, the algorithm is more likely to show the user that type of posts in the future.
Relationships: The algorithm shows posts from accounts that a user already interacts with more regularly.
Profile searches: What kind of accounts a user searches more often.
How to hack the Instagram algorithm?
First, clean up your Instagram profile from bots.
Add CTA (calls to action) to your captions to encourage your followers to interact with the content you post. The most common examples of CTA are "Double-tap if you agree", "Click the link in bio", "Tag your friend", etc. Make sure your CTA is relevant to your photo/video.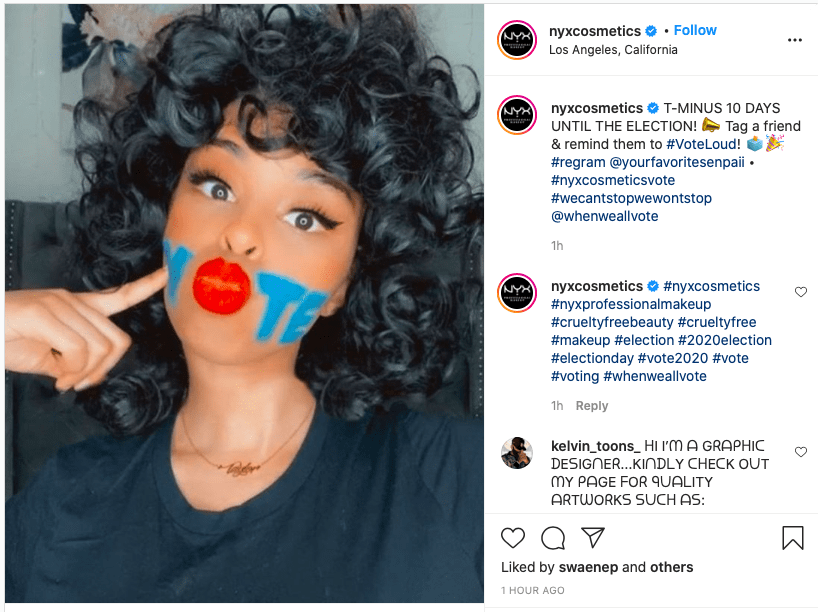 You can also add a strong CTA in your bio section to engage everyone visiting your profile to drive traffic to your website.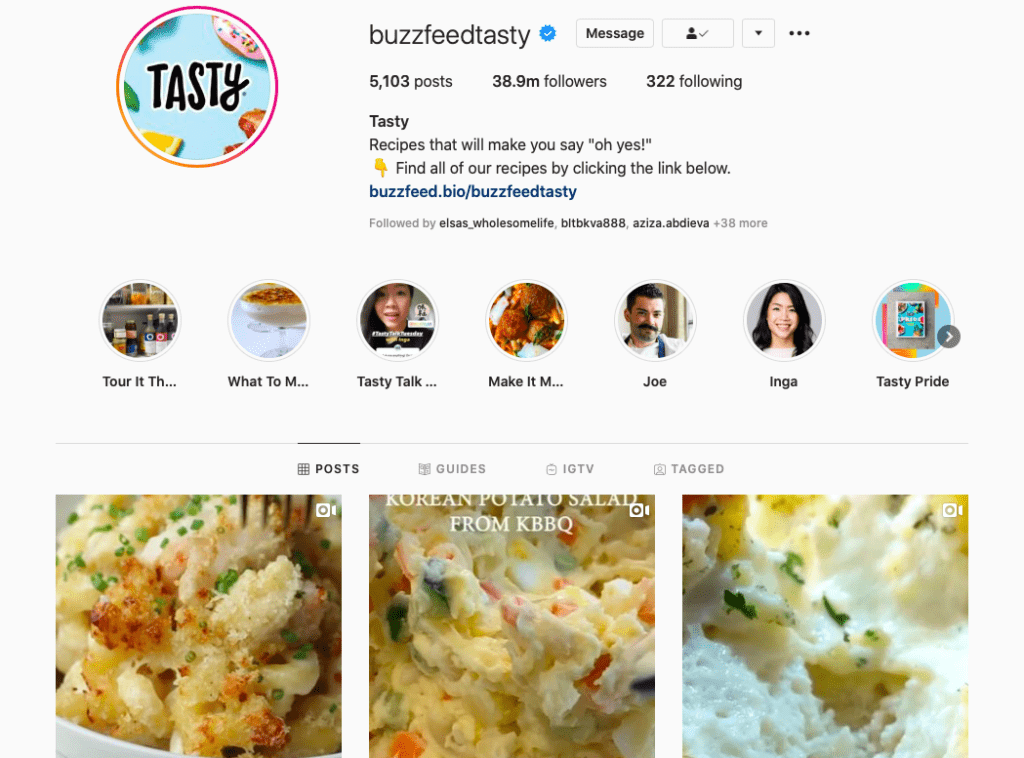 Create your custom hashtags. To build a community around your brand and to connect your followers make them feel like they are a part of this community, use hashtags. Try not to use overly popular hashtags, instead try to create your own.

Related article: Debunking 6 Instagram hashtags myths social media marketers follow
Just check out how many users dare to mask with this The Body Shop hashtag.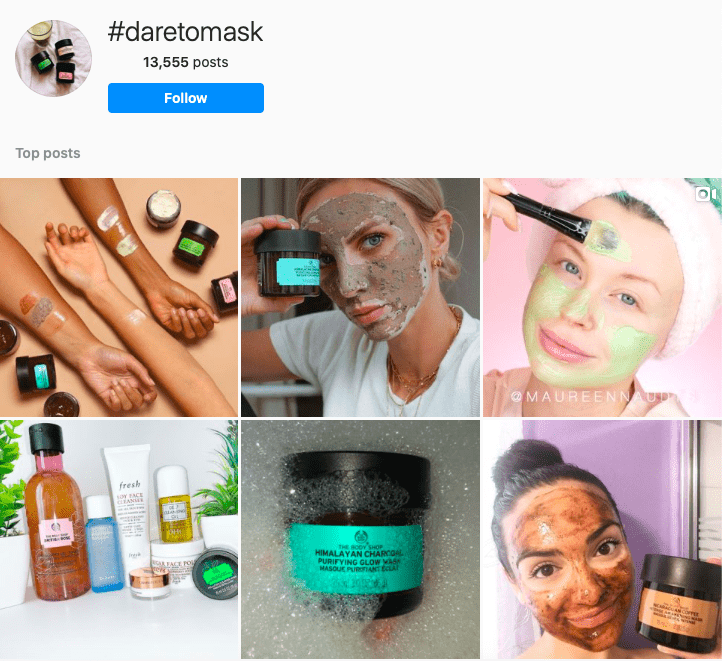 Communicate with followers. Discuss with them, ask questions – people enjoy personal attention. Create a welcoming atmosphere on your page and build a community.
Keep in mind that every action taken on a post: liking, leaving a comment, tagging someone, resharing – all these actions are indicated as a separate interaction with the post by the Instagram algorithm. More actions – more engagement.
In addition to the friendly atmosphere on the page, you need to create a strong customer support channel. Do your best to respond to every comment and Instagram direct message. Make your followers feel welcomed.
Don't just quickly respond using template answers to clients' problems, but really show your readiness to help and provide a solution for their problems. For some people, leaving feedback in the comments section is easier and faster than reaching you via email. Provide a platform for them to talk to you in a way that is more convenient for them.
The Body Shop does its work with communication extremely well, none of 2.3M followers are left with any attention.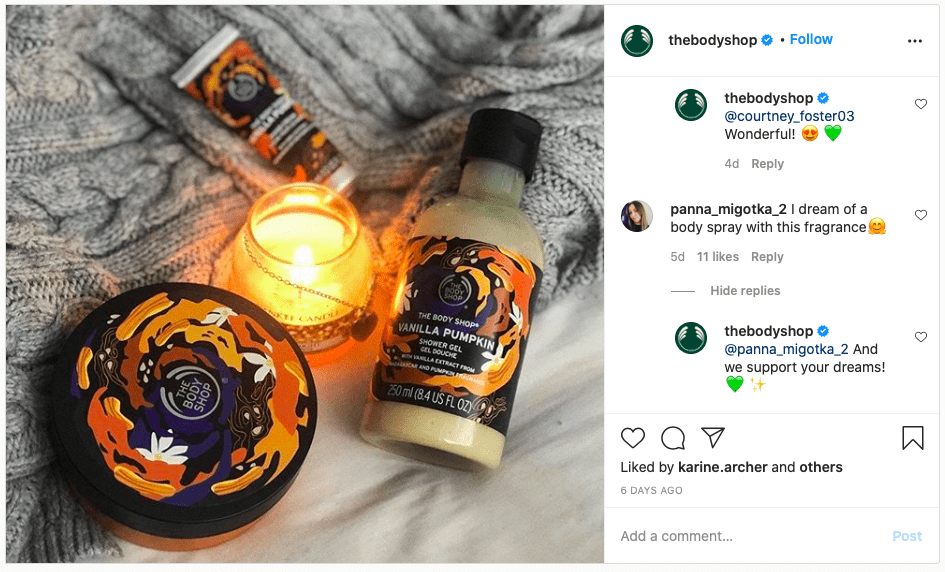 If you want to monitor all comments and engagement you receive from your followers, you need a powerful tool to help you out. You don't want vital feedback or customer complaint to be buried under many others. Try out the Sociality.io Engage tool. It tracks all engagement as well as enables you to assign tasks and add notes for productive collaboration with all your social media marketers team.
Step 5: Explore your competitors
Finding your social media competitors helps you to analyze their social media strategy efforts and learn from their mistakes and successes. Having an explicit list of competitors helps you to evaluate your own social media results against the competitors and identify the gaps in your social media marketing tactics.
It is important to evaluate what offers your consumers see. You need to know your competitors and update your current differentiation strategies.
If you are struggling to find more keywords take a look at some of the related search words. Social media users might have searched for the topic before.
🥁 Bonus: How to prepare an Instagram competitor analytics report in 5 minutes?
With the Social Media Competitor Analysis tool from Sociality.io, all competitors are in one report. You can prepare your Facebook, Instagram, Twitter, and YouTube competitor analysis reports in a few minutes. You can measure your own performance with your opponent's detailed fan and interaction charts, analyze competing page content with comparative reports and review your own content strategy.
Sociality.io offers many different features for all your needs:
PPT and Excel reports
Retrospective data
Content analysis
Sharing by email
Sharing times
Comparative charts
Graphic descriptions
Interaction rate
Unlimited number of reports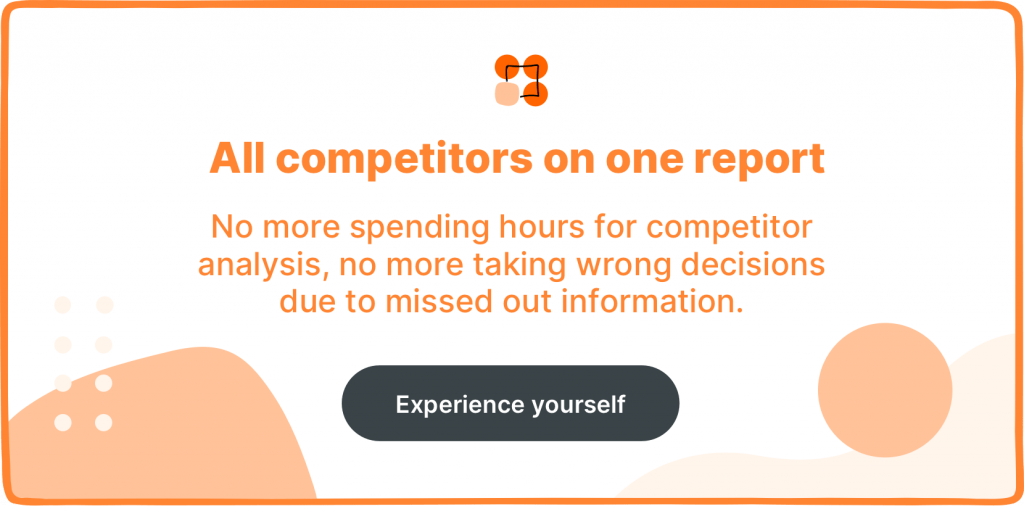 Related article: Top 6 social media competitor audit tools that are worth your time
Step 6: Advertising and Giveaways, Influencers
Once you set up your Instagram profile and create your unique concept, you will grow slowly. This type of growth is healthy and serves as a nice base for future marketing efforts. Your key metrics will be positive and overall, and the profile page will leave customers a good impression of a credible and reliable brand.
We strongly discourage you from buying followers, but it doesn't mean that there aren't paid ways to grow your account.
Advertising, giveaways, and sponsoring Instagram influencers are 3 main methods that will bring wide audience attention to your profile.
Instagram advertising: In case you have a budget for social media needs, promote your account by Instagram Ads. The algorithm enables you to segment your audience to a variety of indicators. It allows you to reach the people who are more likely to be interested in your product and online content.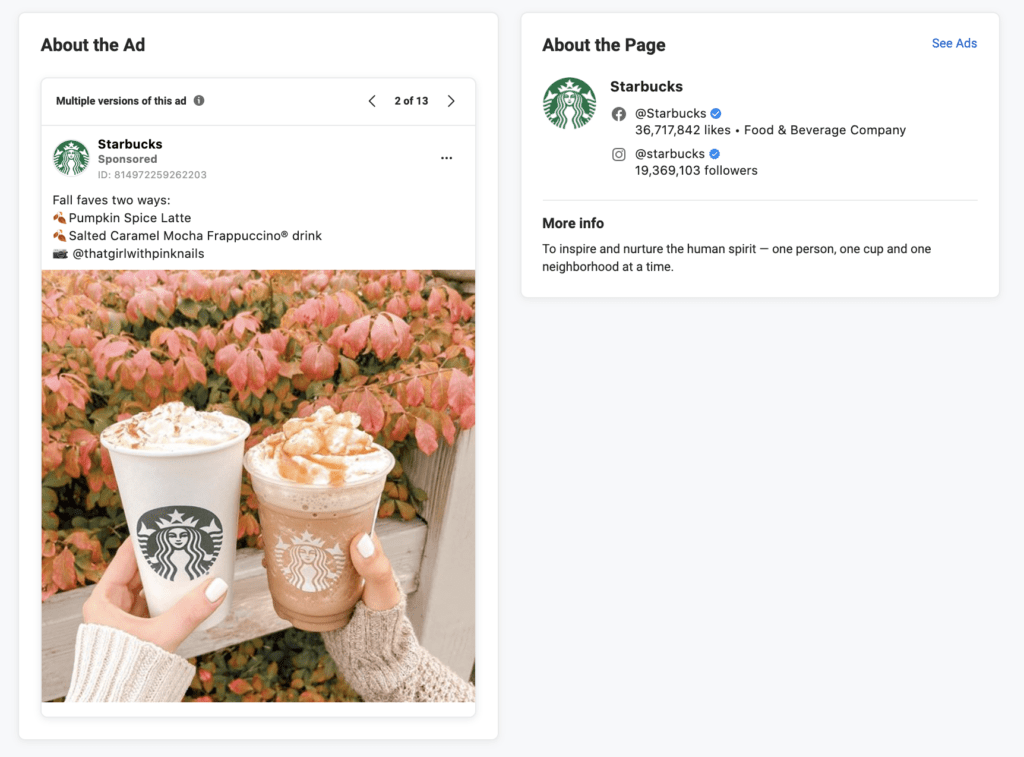 Giveaways: This is the most straightforward strategy that can truly attract many people to your account. But to reach the right audience give away something that can interest only your target segment. Brainstorm with your team what an ideal customer would want to receive and use this as a gift. It can be a 3-month free subscription or an additional feature to their plan, anything that would attract the right people.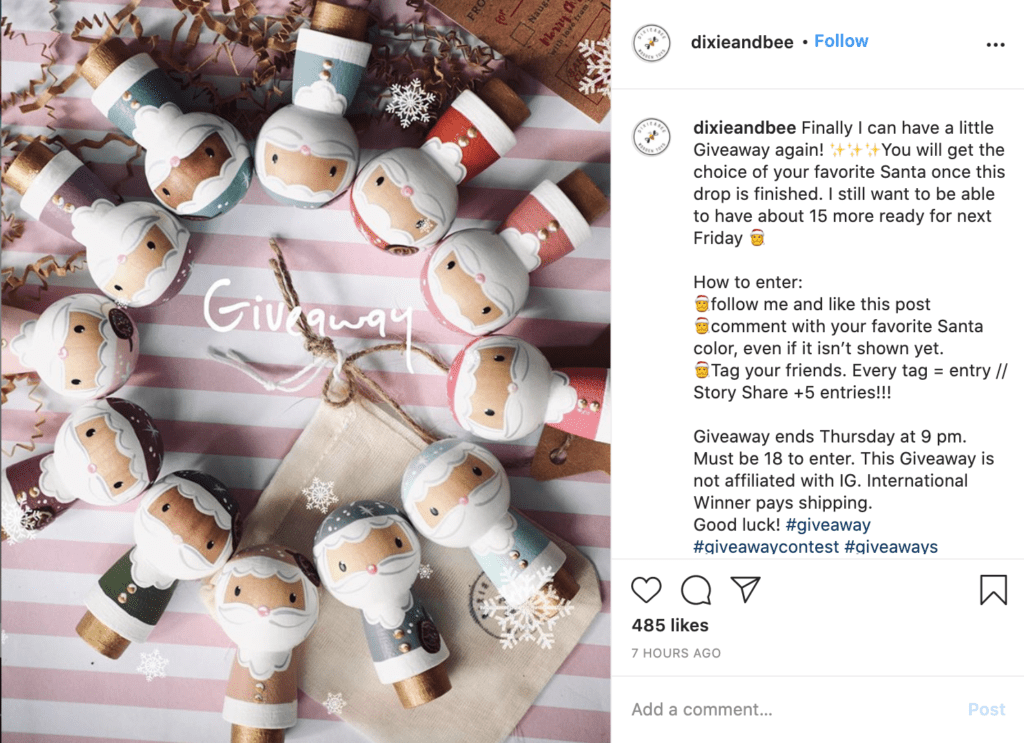 It's important to note all the pros and cons before launching a giveaway. Attracting short-term or fake followers are one of the biggest cons you should avoid. To do so, first of all, choose your goal (to gain more followers, to grow email subscriptions, etc.) and be clear and precise with your participation instructions.
Sponsoring Instagram influencers: Today, there are indeed real opinion makers, who can boost your sales. Their positive opinion shared with a million followers can be more effective than a GQ September issue cover. But not every big account owner is the right person to work with. Understand their audience and pick influencers as closest to your target segment as possible.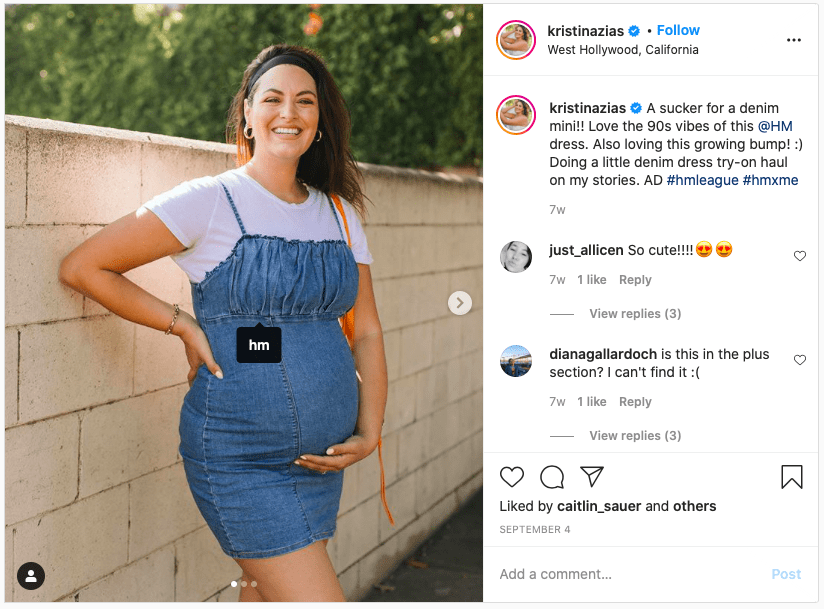 If you don't know where to start searching for the right influencer, you can use Google for some general research or get more detailed information on platforms like HYPR and Markerly.
Consider working with Instagram micro-influencers. They may not have a huge audience as macro-influencers and celebrities do, but the engagement and reach rates can be much better as shown by a study by Markerly.
Conclusion
Growing your Instagram profile is a challenge that eventually pays off with direct benefits such as increased brand recognition, a stronger bond with customers, and most importantly, increases in sales. 80% of 1 billion users follow at least one business profile for many reasons. Your goal is to increase as many incentives as possible to be trusted by your followers. Social media can become your real superpower!
We understand that sometimes you as a business owner or marketer would like to take an easy step and buy followers without understanding what consequences you will face in the future. We strongly discourage you from building fake credibility. Our best advice is to grow healthy and slowly by creating a dedicated community of people who care about your business.
Monitor your statistics with the help of the Sociality.io report feature, work on high-quality content for your followers by using all the features of Instagram effectively and do your best using our guidelines to get as far as you can.