The ultimate guideline to growing your followers on Instagram (without buying followers)
Fact: over 93% of businesses use social media to market, engage, and connect with their audiences. And while building a strong social media presence is crucial to business success, a lot of brands get overwhelmed and caught up in the pursuit of gaining followers. We have all been there, and we all have seen businesses get too excited about hitting their first 10K followers. But why do some business profiles grow followers on Instagram exponentially while others struggle to reach a thousand subscribers?
In this article, you will learn how to organically grow your Instagram followers in your own phase.
Social Media News in a Nutshell
Get the latest social media news, insights, and marketing tips in your inbox once a week.
Why followers matter on Instagram and how to grow your business on Instagram?
So, why does your follower count on Instagram matter? When done right (read: without buying fake ones), growing your followers on Instagram can do wonders for your business. Here are just a few reasons why Instagram organic growth matters.
Boost brand visibility: More followers equals more chance your content will be pushed out to a wider audience on the platform. It may even help you land a spot on the Instagram Explore page.
Social proof: Taking time to grow your socials will help to social-proof your brand. Users tend to have more confidence and trust in brands with big followings, making them more likely to engage and follow them too.
Showcase your products and services: 73.4% of users follow a brand due to interest in its product or service, while 58.8% are more interested in its promotions. Gaining more Insta followers ensures more people know about your products and promotions.
More influencer marketing opportunities: Influencer marketing is a big social media trend and one that garners impressive results. Having a large number of followers gives your brand more leverage to land high-performing influencers with big followings.
Before we look at effective ways to grow organically on Instagram, let's first explore the difference between organic and non-organic growth.
Organic vs. Non-organic growth
To buy followers or not to buy followers, that is the question. Luckily the answer is much simpler than a Shakespearean drama–don't do it. The temptation to use services and buy engagement is high. But trust us, you won't benefit from reaching fake growth.
You might be wondering how fake a few thousand followers can harm you rather than just be displayed at the top of your profile and enable you to embed links to your stories. Here's why.
The Instagram algorithm is complicated, but it won't recognize fake followers as fake. If out of 2000 followers, only 30 liked your post or have even seen it, the algorithm will consider your content not interesting. So, it will not display your content even to the most loyal followers who truly enjoy your posts. They simply won't see it.
Fake growth will harm your engagement rates, reach, discovery, etc., in many ways and will definitely downgrade your social media marketing efforts.
We highly recommend you stick to our guidelines and use strictly organic growth techniques.
How to build an effective Instagram profile to get more followers?
Now for the nitty gritty. From crafting a cohesive brand identity to leveraging strategic hashtags, our step-by-step organic growth timeline walks you through how to build an Instagram profile that looks great and attracts more followers.
Step 1: Have a clear value proposition before starting
The first step in Instagram domination is defining a clear value proposition. What's that, you ask? Well, it's the key to your brand's Insta success.
To be more exact, it's the reason why someone would follow your brand's account.
To be able to come up with a value proposition, you first need to understand who your target audience is. Doing so allows you to understand what content will resonate with them and why they would hit that follow button.
Does your account share expert tips in your niche? Do you help users reach their goals? What benefits do your followers get? Once you've defined the value proposition, condense it into a single, clear statement and use it as your North star.
Step 2: Beware what others are doing with Competitor Analysis
Don't underestimate the power of Instagram competitor analysis research. Finding your social media competitors helps you to analyze their social media strategy efforts and learn from their mistakes and successes. Having an explicit list of competitors helps you to evaluate your own performance against the competitors and identify trends and gaps in your social media marketing tactics.
It is important to evaluate what offers your consumers see. You need to know your competitors and update your current differentiation strategies.
Struggling to find keywords? Take a look at some of the related search words social media users might have looked up before.
🥁 Bonus read: How to prepare an Instagram competitor analytics report in 5 minutes?
How to analyze your competitors
That may seem like a lot of legwork, but with the Social Media Competitor Analysis tool from Sociality.io, all your competitors' data is in one report. That way, you can prepare your Facebook, Instagram, Twitter, and YouTube competitor analysis reports in a few minutes.
So how does it work? It allows you to compare your performance with your opponent's detailed fan and interaction charts, analyze competing page content with comparative reports, and review your own content strategy.
In a nutshell, Sociality.io puts the competitor analysis process on autopilot so you can easily visualize data and share it with your team. As a result, you can see the full story and make data-driven decisions about how to move forward.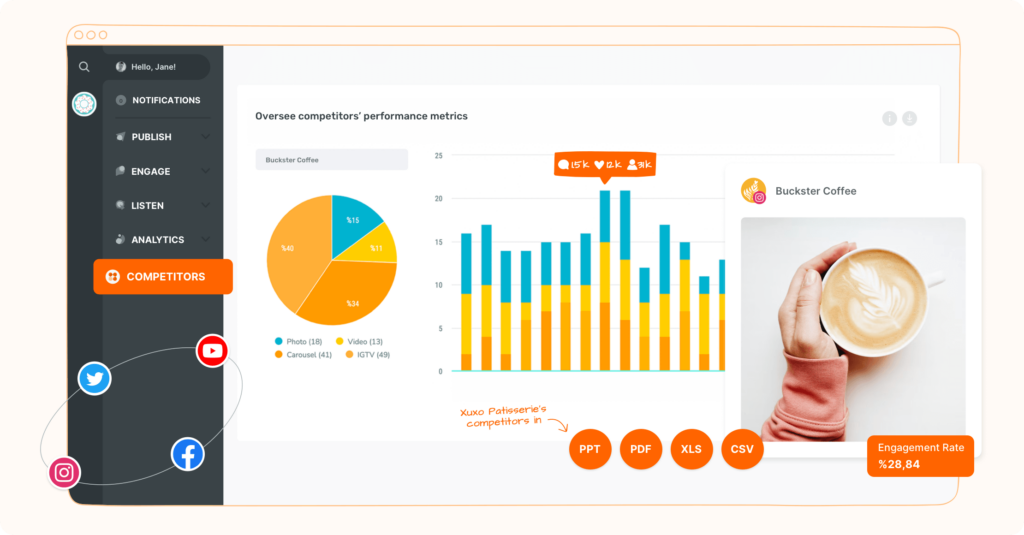 Related article: Top 6 social media competitor audit tools that are worth your time
Step 3: Create or Edit your Instagram Profile
We hate to state the obvious, but you're going to need an Instagram profile if you want to grow your follower count. And not just any profile. You're going to want to edit it so that users know exactly what your brand is all about at first glance. After all, it ain't easy standing out in a sea of brand profiles.
Follow these steps to give your brand's Instagram profile a well-needed makeover.
Upgrade your Instagram Bio
Let's start at the very top of your profile page; your bio. Your bio is the first thing users see when they stumble upon your page, so make it count.
Craft a clear and concise headline that perfectly sums up what sets your brand apart from your competitors and what you're all about. Don't be afraid to use a few well-placed emojis to break up text and add some pizazz. ✨
Including a compelling call-to-action (CTA) can encourage users to hit the follow button or visit your website.
Your bio is also an excellent opportunity to utilize relevant keywords that will help the right users find your profile. Use a social media management tool like Sociality.io to identify brand-specific keywords.
Remember, Instagram only lets you add one clickable link to your bio, so choose the one that best fits your goals for your profile. That could be your website, a specific landing page, or another platform.
Lastly, update your bio regularly with new information, products, or news.
We love this catchy bio from Innocent.

🪄 Get inspired: 50+ Instagram Bio Ideas for Your Business Profile – Sociality.io
Style your profile
Instagram is an aesthetic platform, so your profile is going to have to be easy on the eye if you want to attract new followers. With so much competition, getting users to stop scrolling is no mean feat. The best way to get their (thumb's) attention is to develop a cohesive theme that tells your brand's story and is instantly recognizable. Then, ensure you use high-quality images and videos that grab users' attention for all the right reasons.
The luxury fashion brand Chanel is a great example. You can't help but stop and admire the gorgeously styled content on its page.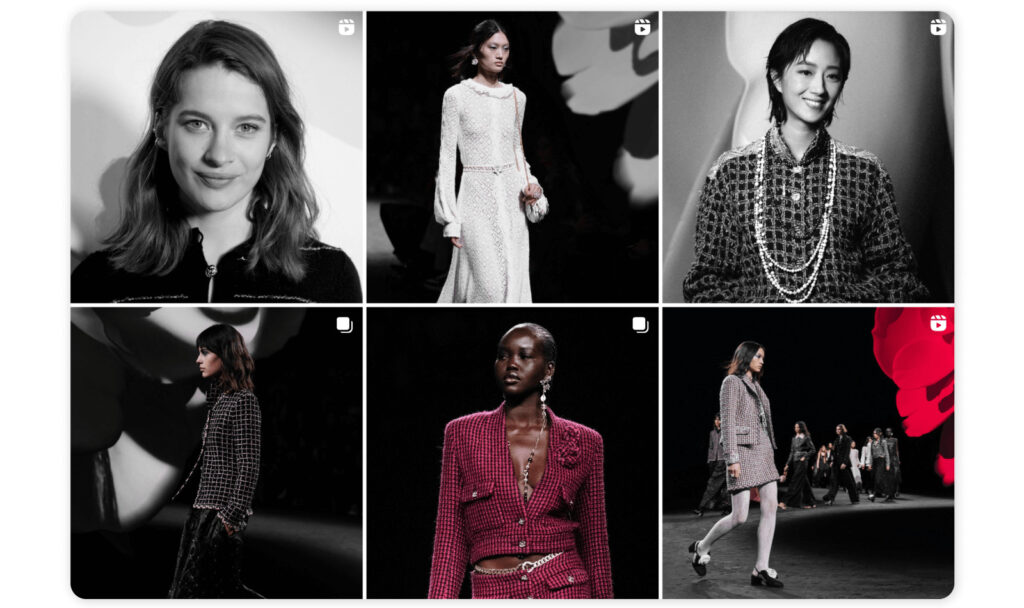 🎨 Find your style: 8 fun ways to make Instagram aesthetic for 2023
Instagram highlight
Don't neglect your highlights reels; they're an excellent way to create a cohesive and visually pleasing profile. Make sure you opt for thumbprints and icons that align with your overall theme. These Instagram highlight ideas will give you some food for thought.
We love airstream inc's colorful highlight images with simple and impactful iconography.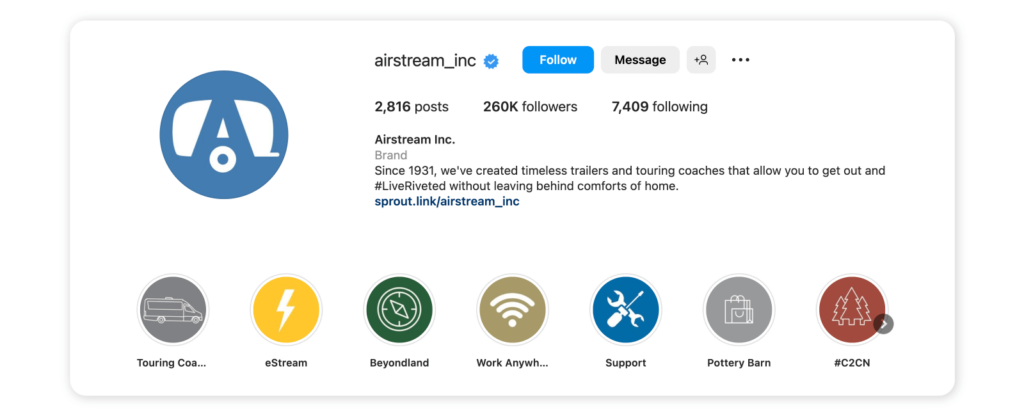 Instagram grid layout
Your brand's Instagram grid is a surprisingly effective way of showcasing your originality and creativity. From puzzle grids to cohesive color palettes, use yours to tell a story and compel users to explore your profile more.
National Geographic's Instagram grid is a sight to behold. Cohesive colors, high-quality images, and creative layouts make its profile a hit with users.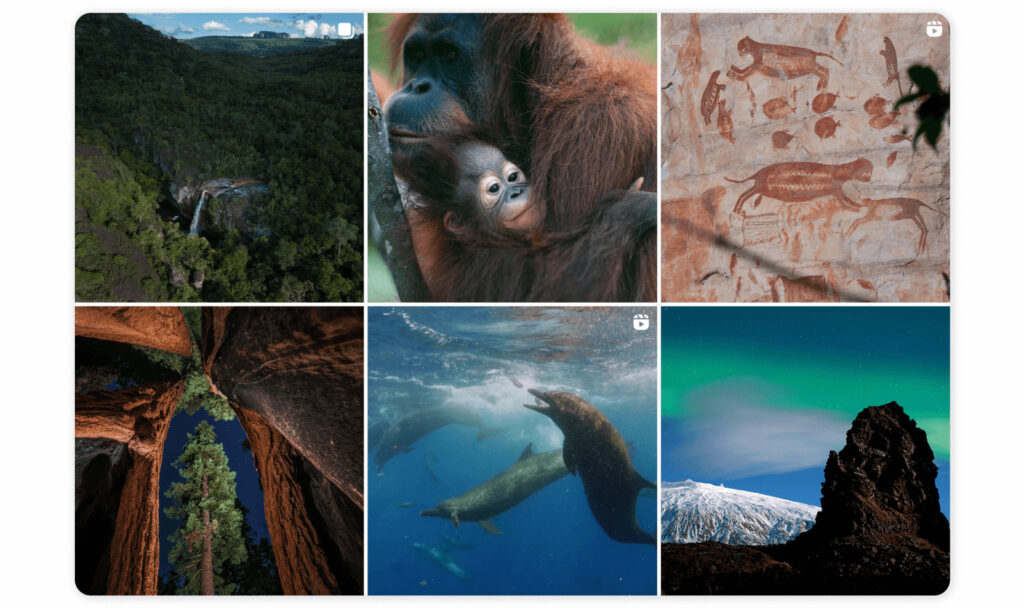 🔎 Find a layout that works: How to Style Your Instagram Grid Layout? – Sociality.io Blog
Step 4: Study Instagram algorithm
Successfully growing your following requires you to learn how the Instagram algorithm works.
Instagram doesn't reveal how the algorithm works. However, there are some factors that can affect the Instagram algorithm, such as:
Engagement: How well do users interact with your content in terms of likes, comments, savings, and shares?
Timeliness: Session times also play a role in what content the algorithm favors. The longer users spend looking at your content, the higher the chances the algorithm will push it out to a wider audience.
Interests: If a user liked certain types of posts in the past, the algorithm is more likely to show the user those types of posts in the future.
Relationships: The algorithm shows posts from accounts that users interact with regularly.
Profile searches: What kind of accounts does a user typically search for?
While the algorithm is constantly evolving, here's what we do know. Instagram is more likely to show users content from the accounts they interact with the most. To be more precise, the Instagram algorithm decides what posts users see each time they open the app.
How to hack the Instagram algorithm?
Here are a few tips to hack the Insta algorithm and boost your follower count.
Do a spring clean to clean up your Instagram profile from bots.
Add CTA (calls to action) to your captions to encourage your followers to interact with the content you post. The most common examples of CTA are "Double-tap if you agree," "Click the link in bio," "Tag your friend," etc. Make sure your CTA is relevant to your photo/video.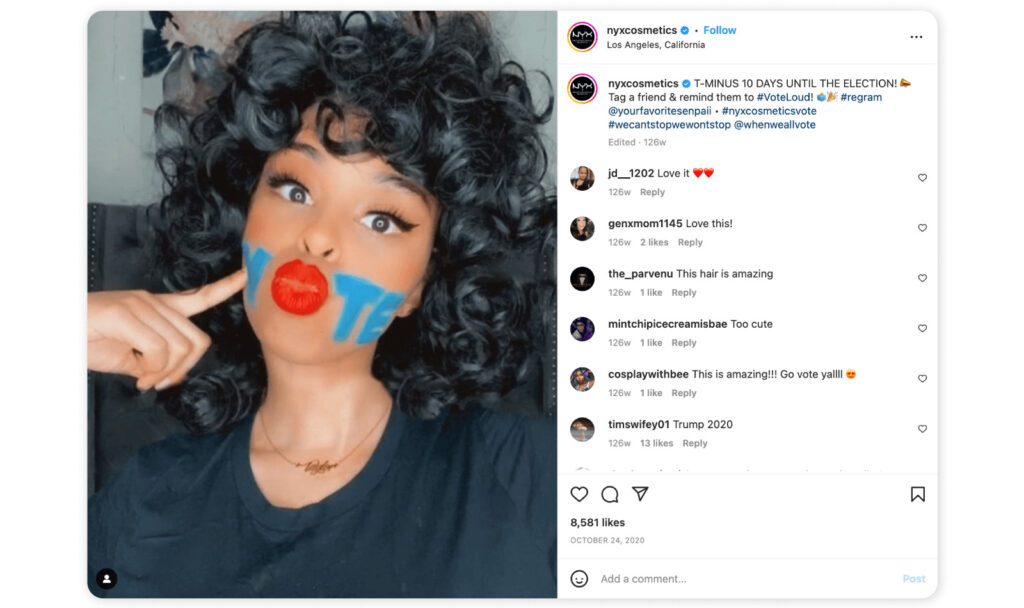 Communicate with followers. Chat with them, and ask questions – people enjoy personal attention. Create a welcoming atmosphere on your page and build a community.
Keep in mind that every action taken on a post: liking, leaving a comment, tagging someone, resharing – is considered a separate interaction with the post by the Instagram algorithm. More actions – more engagement.
Create a strong customer support channel. Do your best to respond to every comment and Instagram direct message. For some people, leaving feedback in the comments section is easier and faster than reaching you via email. So, provide a platform for them to talk to you in a way that is more convenient for them.
If you want to monitor all comments and engagement you receive from your followers, you need a powerful tool to help you out. You don't want vital feedback or customer complaint to be buried in the crowd. Sociality.io Engage tool tracks all engagement and enables you to assign tasks and add notes for productive collaboration with all your social media marketers team.
Create your custom hashtags. Build a community around your brand to connect with your followers and make them feel like they are a part of this community by using hashtags. Try not to just rely on overly popular hashtags. Instead, try to create your own.
Just look at how many users posted pics of themselves with the #mycalvins hashtag.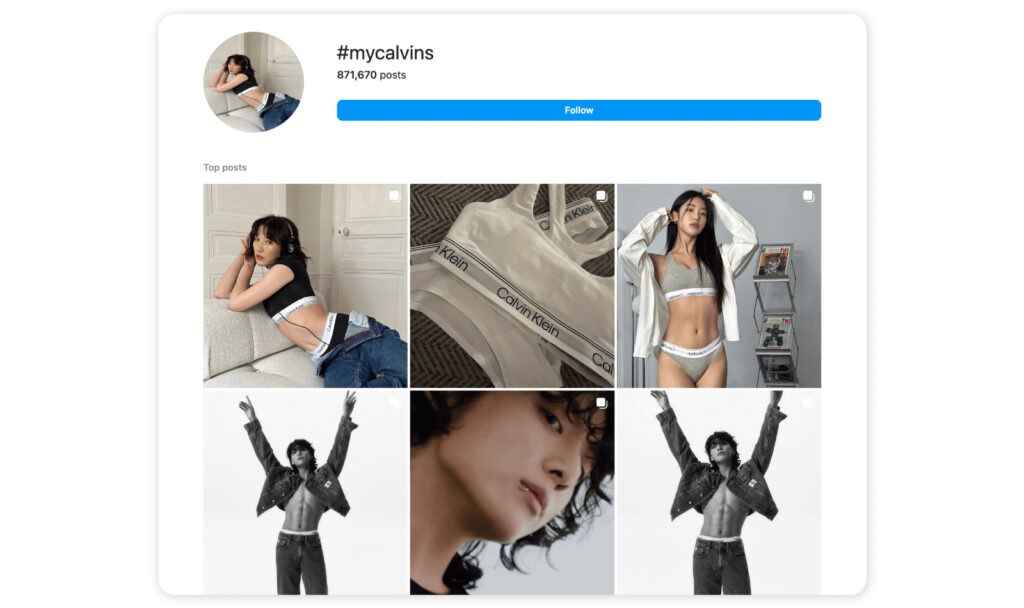 Related article: Debunking 6 Instagram hashtags myths social media marketers follow
🕵️ Crack the Instagram algorithm 2023: How to get on the Instagram Explore page? (Algorithm explained)
Step 5: Define a content strategy
Organically growing your followers on Instagram isn't something that happens overnight. You'll need to roll up your sleeves and plan, create, and optimize your Instagram content strategy. Sounds difficult, right? Don't worry, it's actually more straightforward than you think.
Your content strategy will evolve to reflect the ongoing behavioral and social changes. However, having a clear short-term strategy is crucial to making sure you hit marketing goals. Understand how your profile is going to represent your business and what idea it is going to be focused around. This is the right way to attract your target audience.
Ethical clothing brand Kotn uses its Insta profile to reflect its socially-conscious values. Using soft colors and making its customers the face of its brand, Kotn stands out for all the right reasons. Instead of the usual Black Friday promotional posts, Kotn decided to take the opportunity to spotlight its social projects.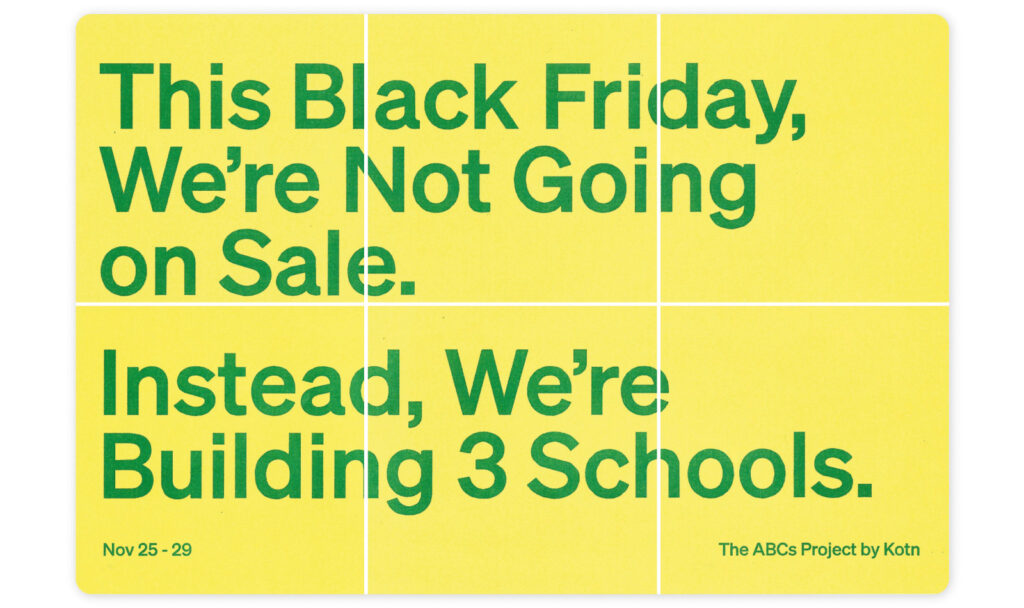 📚 Get the knowledge: Content curation strategies and tools in 2023
Work on hashtags
Hashtags can boost the visibility of your content, helping you reach targeted new audiences. That said, don't just use any old hashtag and hope for the best. To reap the benefits, you'll need to do your research and debunk common hashtag myths.
Jumping on trending hashtags and challenges is a wonderful opportunity to join in existing conversations and connect with a broader audience. Once your hashtag game is strong, you'll want to take a crack at making your own custom hashtags too.
The trick is to use hashtags that are relevant to your audience and content. And, of course, make sure your content is engaging enough to compel users to hit the follow button.
So how many Instagram hashtags should you use? While you can technically add up to thirty, anywhere between three and five is the norm. It really depends on the post and relevant hashtags. Do some testing to find the sweet spot.
Let's take a moment to appreciate Red Bull's #PutACanOnIt hashtag, which encouraged fans to share pictures of them putting a Red Bull can on everything from bikes to trucks to dogs. With over ten thousand original user-generated photos using the hashtags, the campaign was a resounding success.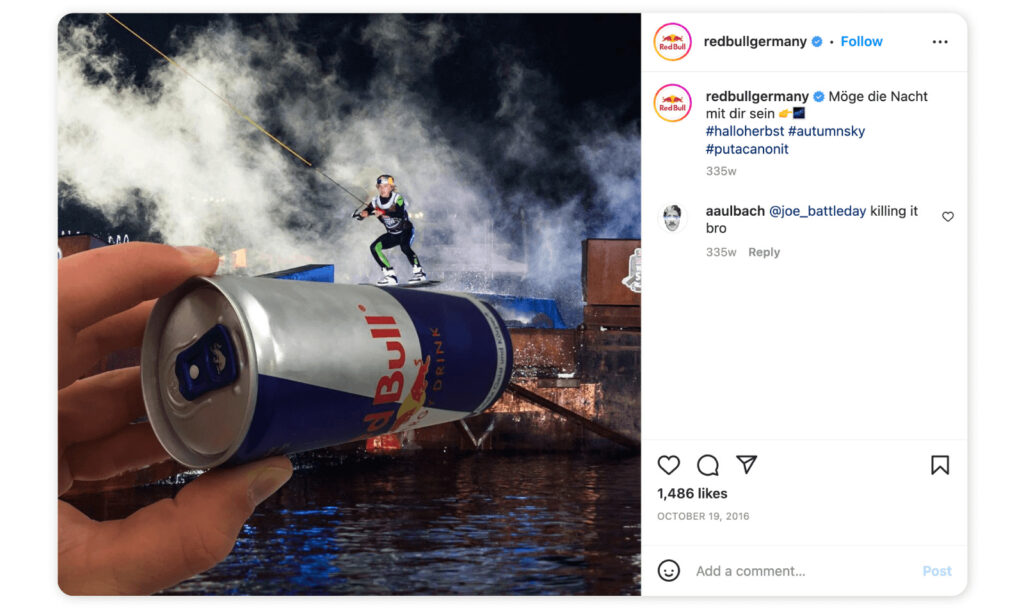 Have the best captions
Captions are a golden opportunity to engage users, give your content context, and showcase your brand's personality. When done right, a well-crafted caption can tell a story, add value, compel users to take action, and encourage engagement.
The secret to caption success is to keep it short, snappy, and always on brand. Channeling your inner comedian can help too.
Check out our foolproof guide on How to write good Instagram captions?
Taco Bell brings the humor (and the hunger) by juxtaposing a mouthwatering product shot with the tongue-in-cheek caption "A light snack." It's just the right mix of sales and silly.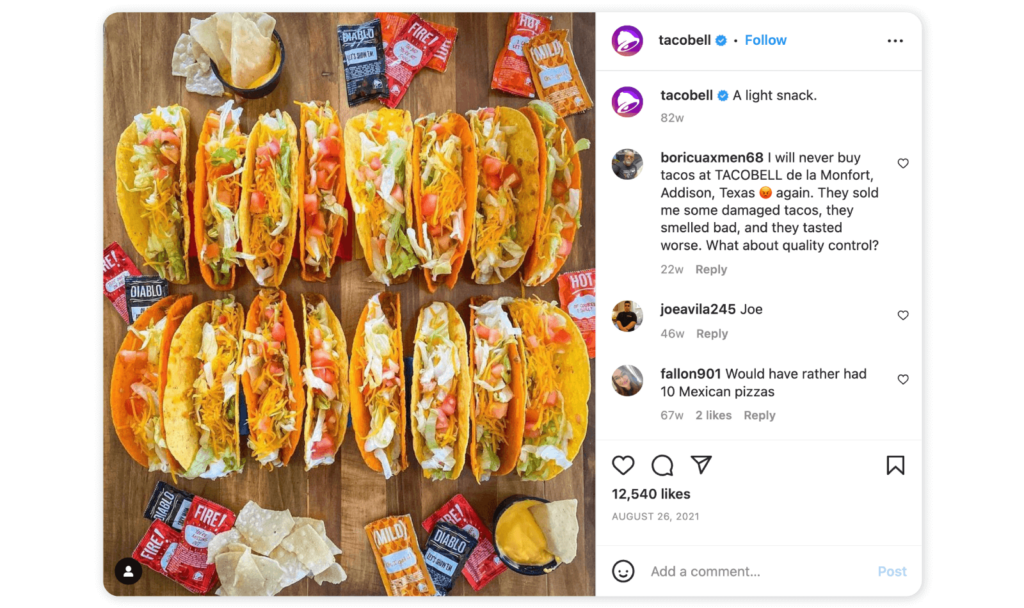 Ritual is another brand that knows how to poke fun at itself and connect with its audience. Known for promoting a healthy, green lifestyle, it shared this adorable photo with the caption "me after making a green smoothie once." Cute and relatable–now that's a winning combination.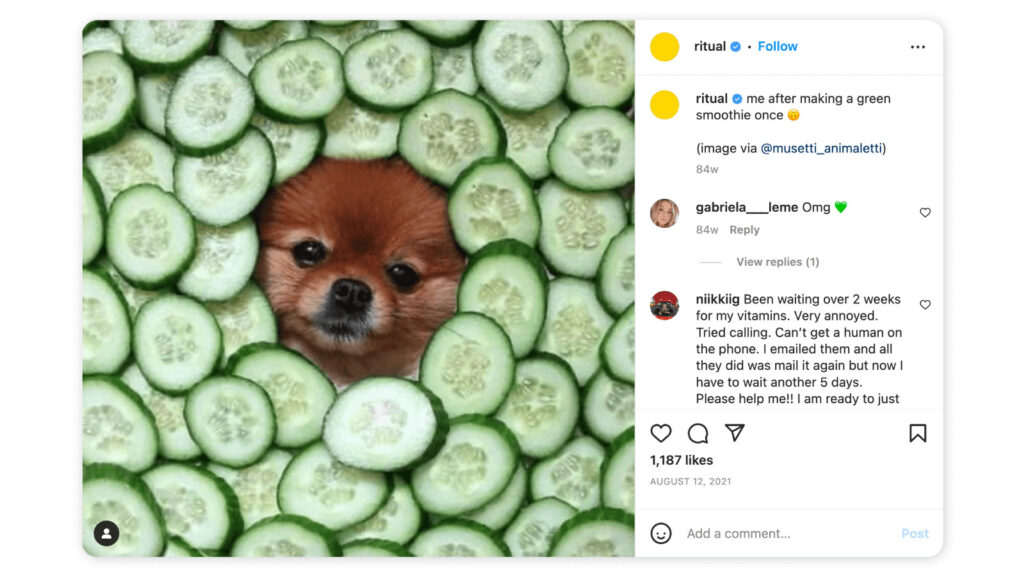 Tap into Instagram Reels
First and foremost, IG reels are great for engagement. So, if your goal is to connect with your audience, Reels are the way to go.
They're also excellent for reaching new audiences. Pay attention to how beauty brand Drunk Elephant leverages Insta reels to answer common user questions about its products.
Doing this enables the brand to reach viewers at every stage of the customer journey, from existing customers to people who are totally new to the brand and product.
New to IG reels? Check out our guide on how to make Reels on Instagram
Use Instagram Stories
IG stories are another powerful tool to grow your following and garner better engagement rates. The beauty of stories is the sheer number of ways to use them. From behind-the-scenes snippets that build loyalty to hashtags and location tags that boost visibility, there's no shortage of ways to utilize this feature.
IG stories come with interactive features like polls, questions, and quizzes to encourage followers to interact with your content. As a result, this can lead to more shares and new followers.
Instagram Story ads are also an effective means of promoting your brand and targeting specific audiences based on their demographics and interests.
Jessica Alba's The Honest Company is a dab hand with Insta Stories, sharing a mix of informative and witty content that thrills its millennial audience and promotes its products at the same time.
It also uses stories to let followers know a bit more about the brand and its employees, fostering a deeper connection.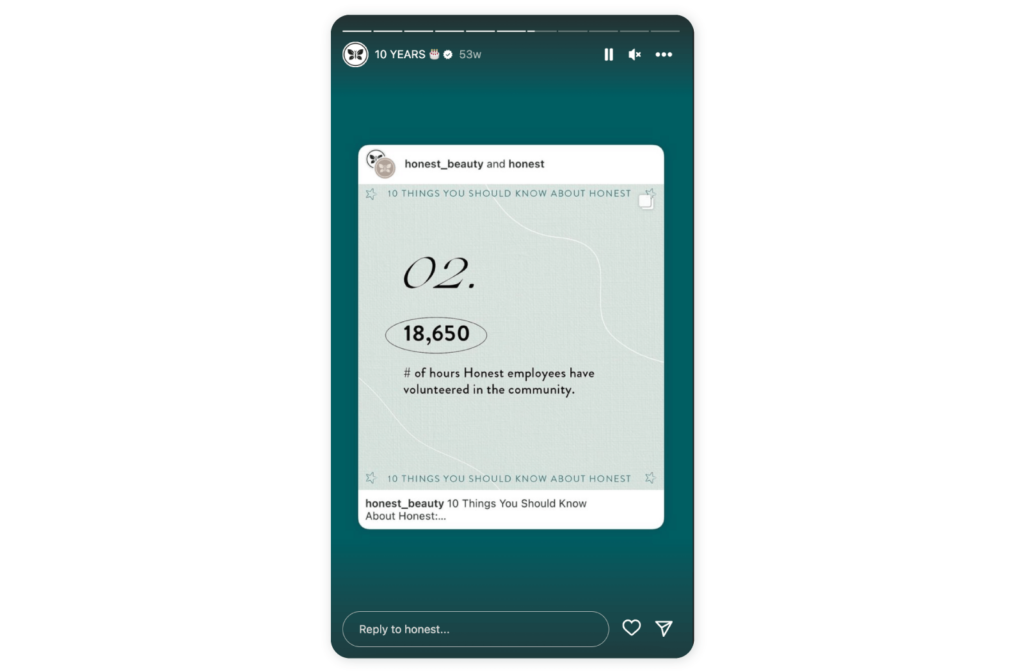 🗞️ Extra content: How to Use Instagram Stories to Get More Customers
Step 6: Find your best time to post on Instagram
Posting content at random times without a consistent schedule — is engagement rates killer. The Instagram algorithm is complex and continuously improves users' feeds based on their engagement history. So, you're going to want to leverage that. Do your homework and find out the best times to post on social media.
The worst thing you can do when trying to get followers on Instagram is to post content at random, haphazard times. If you're lucky enough to get users following you in the beginning, you don't want to make them forget they followed you in the first place.
Keep to a regular posting schedule. Instagram algorithm greatly favors accounts that post content consistently. You can choose your own posting frequency and post formats, whether it's posted in feed, stories, IGTV, or reels. Regular posting gives your posts more visibility by increasing the overall engagement they receive.

Pro tip: you can try a free solution developed by Facebook to plan your content. It is called Facebook Creator Studio.
Step 7: Promote your content
We strongly discourage you from buying followers, but it doesn't mean that there aren't paid ways to grow your account. Promoting your content to get it in front of as many eyes as possible increases your chances of gaining new followers. Even better, getting your content in front of the right audience (i.e., people who are already interested in your brand, product, or industry) will significantly boost your follower count.
Here are some ways to promote your content on Instagram.
Run Instagram ads
Instagram Ads are ideal for promoting your content. The IG algorithm enables you to segment your audience to a variety of indicators so you reach the people who are more likely to be interested in your product and content.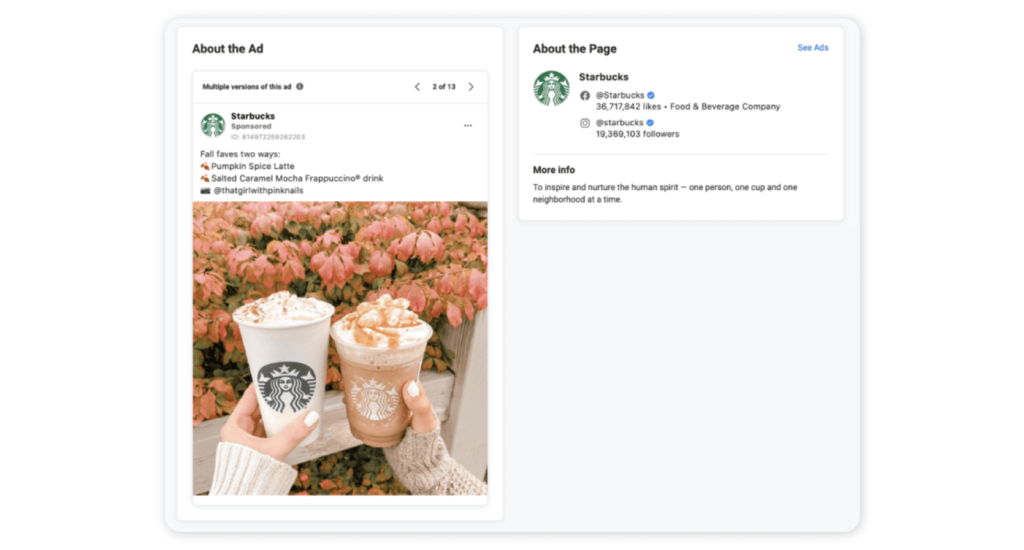 You may also be interested in: How to use Facebook ads for beginners?
Partner with influencers and brands
Influencers have become real opinion makers who can dramatically boost your sales. Their positive opinion shared with a million followers can be more effective than a GQ September issue cover. But not every big account owner is the right person to work with. Understand their audience and pick influencers that align closely with your target segment.
We're big fans of Chipotle's social media team. Funny, irreverent, and fresh, the fast food chain posts content that resonates with its audience. And it isn't shy of a good influencer partnership. Over the years, Chipotle has partnered with the likes of Shawn Mendes and David Dobrik. It even launched a Chipotle Creator Class, a group of fifteen influences who promote Chipotle across social media.
In 2021, Chipotle partnered with famous drag queens in celebration of Pride Month. The campaign featured each drag queen's go-to Chipotle orders on the app, and $1 of the profits from each entree was donated to an LBTQ+ charity.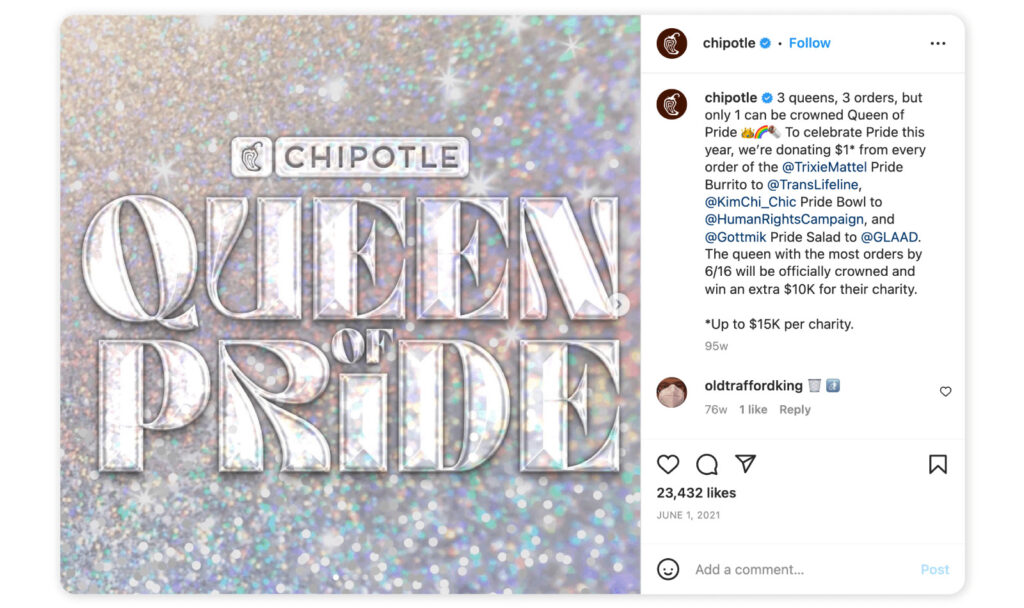 If you don't know where to start searching for the right influencer, you can use Google for some general research or get more detailed information on platforms like HYPR and Markerly.
Don't have the budget for famous influencers? Consider working with Instagram micro-influencers. They may not have a huge audience as macro-influencers and celebrities do, but the engagement and reach rates can be much better, as shown by a Markerly study.
Looking for your next influencer collab? How to find social media influencers for your brand?
Giveaways
This is the most straightforward strategy to truly attract people to your account. But to reach the right audience, you need to give away something that interests your target segment. Brainstorm with your team what an ideal customer would want to receive and use this as a gift. For instance, a 3-month free subscription or an additional feature to their plan, anything that would attract the right people.
Collaborating with another brand is a fresh and exciting way to run a giveaway (and tap into a whole new world of followers). This joint giveaway from Blendjet and Kiehl's was a huge hit, garnering over four thousand comments. Users simply had to like and tag to be in with a chance of winning a brand new blend jet and some Kiehl's products.
Note how they use the color purple to create cohesion between the brands.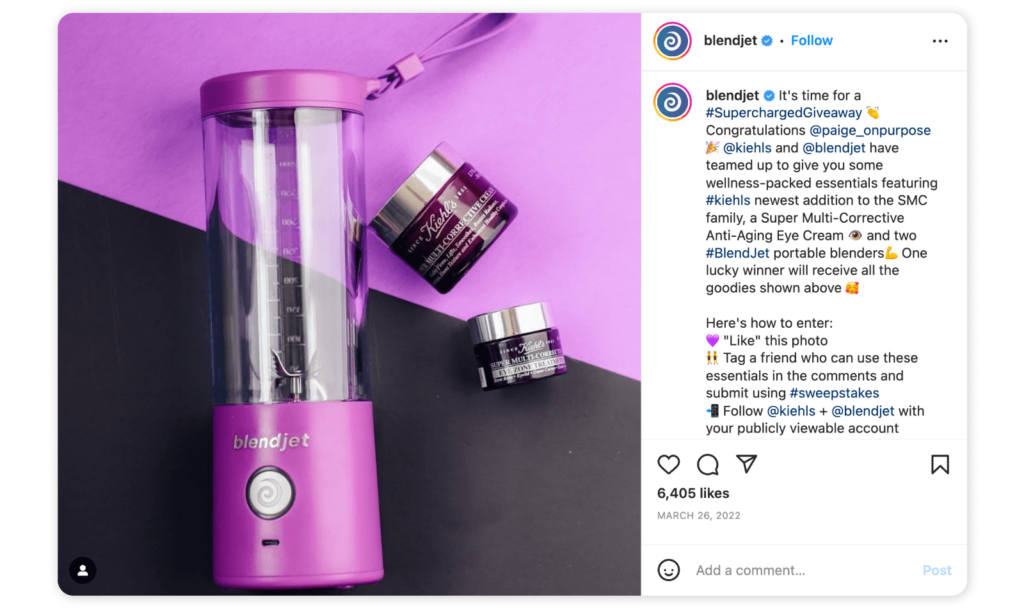 Step 8: Maximize the engagement with your audience
Let's face it; the best way to keep your follower count high is to focus on engagement. It's all about finding your stride and posting the right content at the right time. Once you master this, high engagement will follow.
That's where Engage by Sociality.io can really shine. It streamlines the process of engaging with your audience across multiple platforms, so you can have better conversations and higher conversions. Automating this process simplifies your workflows and makes connecting with your audience (new and existing) scalable and seamless.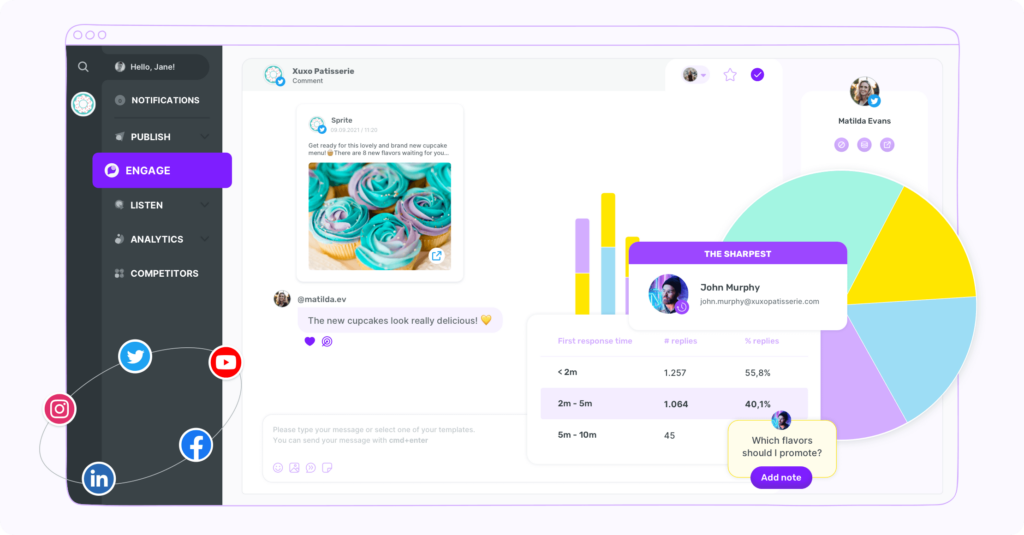 Step 9: Run Instagram page audit
Running a regular Instagram page audit offers valuable insights into your audience, content, and strategy. These insights are worth their weight in gold when trying to grow your follower count and create a more engaged IG community.
A thorough audit should review your brand, content, and followers. That way, you have a clear picture of your brand health, content performance, and actual engagement rates.
Check out Followers
Do you remember when we suggested cleaning up your Instagram profile to get rid of bots? Well, this really is an important step to take when organically growing your followers.
The main task during an IG clean-up is to remove fake followers. This will give you a realistic view of your follower count and engagement rates. From there, you can take steps to win new followers that will engage and interact with your content.
Running regular Instagram page audits ensures your profile is clean and free from bots which can hurt your engagement rates and credibility. Fortunately, it's pretty straightforward to run an audit with the right tools.
For instance, Sociality.io Report is a social media analytics tool that gives you the full picture of how your (or your client's) social media is performing compared to your competitors.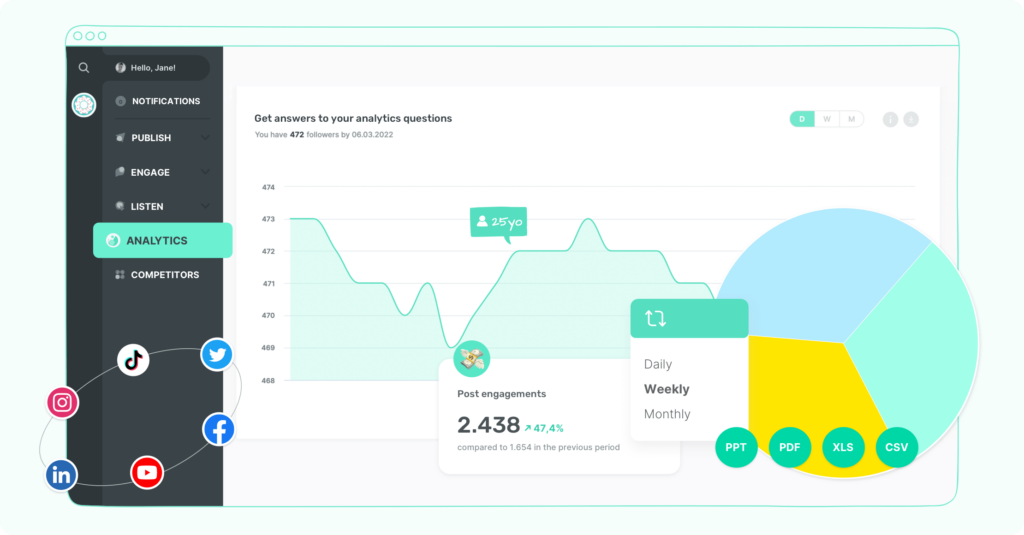 📈 Track follower growth: Best Practices on Tracking Instagram Follower Growth
Step 10: Track Instagram analytics
Instagram data analytics are excellent for getting to know your audience and their needs, so you can create content that resonates with them. The more you do this, the more likely the algorithm is to push your content out to a wider audience, allowing you to grow your platform.
So what exactly can you track with IG analytics? You can gain deep insight into your audience's demographic (age, gender, etc.), preferences, and behaviors. On top of getting better acquainted with your audience, tracking Instagram analytics reveals how your existing content is performing. For example, you can see engagement rates (likes, comments, shares, etc.), when your content is getting the most engagement, and who is interacting with your posts.
Mining this data puts you in a great position to tailor and optimize your Instagram content strategy for further growth.
🎓 Become an Instagram analytics master: Instagram analytics 101: Everything you need to
A final word on growing your Instagram following
Growing your Instagram profile is a challenge. That said, it pays off, with businesses reaping rewards like increased brand recognition, a stronger bond with customers, and, most importantly, increases in sales. When utilized correctly, social media can become your brand's real superpower, building trust and driving growth.
Like most things in life, the only way to do something right is to do it slowly. So, resist the temptation to buy followers. After all, fake credibility is just that: fake. Our best advice is to put the time into growing an authentic, dedicated community of people who care about your business.
You can achieve this by monitoring your statistics with the help of the Sociality.io report feature, using all of Instagram's features to create high-quality content for your followers, and using these best practices to guide you.
Related article: Top 6 social media competitor audit tools that are worth your time