Why micro influencers matter? Here is how to launch an Instagram micro influencer campaign 
Social media users are becoming more repellent towards any form of advertisement appearing on their screens and this has forced marketers to think of new ideas to get their audience's attention.
One of such ideas which have now become mainstream is the use of micro influencers. This has seen a power shift from popular celebrity influencers; many brands are now turning to micro influencers to promote their products.
Why is that?
It's simple. When your target audience sees a post from a micro influencer, they don't see an advertisement, they see a friend trying to recommend a product or service they can benefit from.
Who are these subset of influencers, why do they have that much power over their audience and how can they even be of help to your business?
This post is going to answer the questions you have about micro influencing and how it is done on Instagram.
Social Media News in a Nutshell
Get the latest social media news, insights, and marketing tips in your inbox once a week.
Who is a micro influencer?
A micro influencer is someone who has managed to build a community out of his social media following. They make regular posts about their area of interest or expertise and their followers have come to recognize them as a thought leader in that field. Their social media following is larger than that of an average social media user but less than that of major influencers or celebrities.
Despite their "modest" number of followers, they still wield enough power to start new trends, drive conversations, engagements and influence their audience to take certain decisions.
How many followers does a micro influencer have?
The social media landscape is constantly changing and with the advent of Nano influencers (a lower tier of influencers), we would peg the range to 10,000 – 100,000 followers
Those numbers can change anytime but for now, that range safely covers anyone regarded as a micro influencer on Instagram.
How does micro influencing benefit your business?
We've shown you what makes a micro influencer, now it's time to see how these people can be of help to your business.
They are more cost-effective: Most marketers are often restricted by their budget and micro influencers definitely would not cost you as much as trying to get Kylie Jenner on a campaign. Even better, you can bank on their engaged audience to give you a return much more proportionate to your investment.
Targeted audience: In marketing, the more specific you are about your ideal audience, the better your chances of hitting it off with them. Micro influencers often have a niche audience and this can play to your advantage once you can find one whose audience intersects with yours. You can be assured that you are reaching people who already have an interest in your product or service niche.
High engagement rates (ER): This is where the number of followers micro influencers have come to play. Unlike macro influencers, they are still able to engage actively with their audience. They've come to form a bond with their audience and their audience rates their opinion enough to at least engage with it.
To manually calculate an influencers engagement rate on Instagram, just divide the average number of engagements (likes and comments) they get on their post by their follower count, multiplied by 100%
Engagement Rate = (Likes + Comments) / Followers x 100
Quality authentic content: Micro Influencers care about their followers and often have a standard of content they don't like to fall short of. If you get a micro influencer who is interested in your brand, you can be sure to get quality authentic content and not just one that screams "ad".
Easy to work with: Reaching out to the big guys in the influencing industry can be difficult, they have so many brands jostling for their attention. But with micro influencers what you have to do most times is make them see the value your brand offers. Not to mention, that it's much easier to create long-term working relationships with them.
How much do micro influencers charge?
A lot of factors affect how much micro influencers charge; location, industry niche, length of the campaign, time, and resource required. Some charge per post, others charge by engagement rates.
But to give you an idea of what you are most likely to encounter; $100-$500.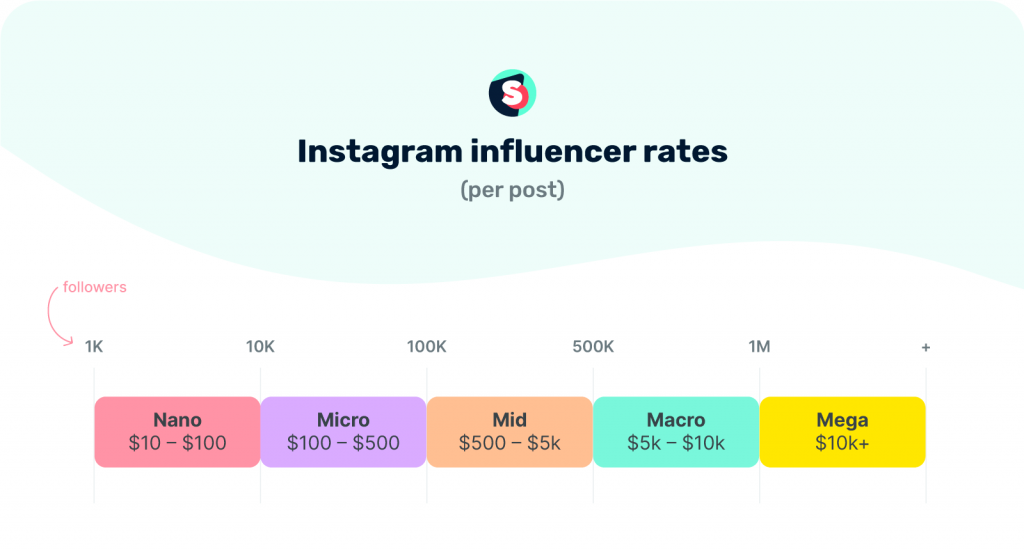 How to find the right micro influencers on Instagram?
Before you start figuring out which influencers you can work with, you need to settle on the goals you are looking to achieve with the collaboration. Your goals should influence who you can work with and how you would collaborate with them.
Are you looking to increase brand awareness, sales, engagements, or just social media following? Whatever those goals are, clearly define them from the start and let them be the light that guides you home (in this case, to the right influencers).
We would love to assume that you have a good understanding of your ideal target audience already, merge that with your goals for the campaign and you are ready to start fishing out potential influencers.
Step 1: Go through your follower list
Run through your follower list on Instagram and see if any of your followers have an interesting follower count that fits the status quo. If you find any, click on their profile to be sure this is something they would be interested in before jumping the gun.
Finding a micro influencer this way is ideal because it means this person is already a fan of your business and you don't need to do so much to get them on board.
Step 2: Use a Hashtag search
Go to Instagram's search bar and input hashtags or keywords relevant to your brand and the product or service you're offering. Use this method to find accounts with high engagement rates within your niche.
🎉Related Article: Debunking 6 Instagram hashtags myths social media marketers follow
Step 3: Consider using tools
A popular tool like Buzzsumo is another way to find influencers in your niche. Buzzsumo allows you to search and filter out influencers using keywords relevant to your niche
Step 4: Use influencer marketing agencies
These agencies have databases of different tiers of influencers across various niches.
Next, draw up a list of micro influencers that caught your attention in your search through these various platforms. But just before you start contacting them(more on how to go about that soon), here are some questions that can help you further prune that list:
Is their content in line with your brand or campaign message?
How engaged are their followers?
How regularly do they post?
What are their audience characteristics(age, sex, location)?
Have they collaborated with any of your competitors before?
Getting answers to this question can be stressful without a tool. That's why we recommend using the Sociality.io social media listening feature to automate this process. The answers to these questions give you even more details about their Instagram account and their followers.
Related article: What is influencer marketing? Learn how to leverage your business
Collaborating with micro influencers for your campaign
Now that you have an idea of the possible micro influencers that fit your brand, how do you get them interested?
You need to reach out to them. Here are different ways you can get in touch with the influencers of your choice:
Emails
This is a traditional and more formal way of reaching out to micro influencers you want to work with. Getting the mail contact of an influencer should not be a difficult task. Some of them link to it directly on their bio or have a site on their profile that links to their mail.
The good thing about email is that it allows you to be very detailed about your proposal or message. A good email proposal should contain:
A simple subject line. You don't need to be overly creative here. Just make sure it's something that would interest the influencer to open.
A proper introduction of who your brand is, why you are reaching out and why you consider them a perfect match.
Your offer or compensation.
It's important to frame your mail as a proposal that they have the freedom to reject and not make them feel like you are entitled to a collaboration.
Direct Messages
DMs might not allow you to be as expressive as a mail, so you have to be a little creative here to catch the attention of the influencer with fewer words
The key is to keep it personalized, short, and straight to the point. Be sure the influencer has an interest in your brand before going over the details of your proposal with them.
Comments
This is a good way of building positive rapport with the influencer before officially trying to establish a working relationship. More so, it makes them a little familiar with your brand name before going ahead to the DM.
Having said all that, drawing up a final working contract is also of utmost importance.
Things you should include in your collaboration contract
Payment or other remunerations.
Briefing or onboarding materials.
Length of contract.
Content Deliverables and Deadlines.
Campaign workflow- How much input would you be allowed to make towards every content they produce, what are the benchmarks for content approval, how much feedback can you give on every content before it goes live.
Usage rights of the content they produce.
Exclusivity: this defines whether or not they can collaborate with any of your competitors within the same period of your contract.
Clause for cancellation of the contract.
4 Ways you can collaborate with micro influencers on your campaign
Product Reviews: Go through the page of your chosen micro influencer to decide which of your products would interest them the most. Give it to them and let them make a review content for their audience. Remember that most micro influencers are big on being honest with their audience, so offer them a high-quality product they don't have to lie about.
Exclusive Promo codes or Discounts: Give the micro influencer a special promo code their friends or community members can use to get a discount on your product or service
Brand Ambassadorship: This is a long-term commitment between your brand and the influencer and would often require more financial commitment on your path. The influencer would be charged with the duty of regular promotion of your brand in their content.
Giveaways: Here, the influencer encourages his followers to take a particular action related to the goals of your collaboration and in return, they give out some of your brand products for free.
Examples of micro influencer campaigns on Instagram
1. Coke Ambassador Campaign
Yes! Industry leaders like Coke also leverage Microinfluencers to promote their products. Their #Cokeambassador campaign has different micro influencers post content regularly with a coca-cola product in hand or the background. They collaborated with micro influencers from the lifestyle, travel, and fashion industries. The hashtag has over 3,000 posts on Instagram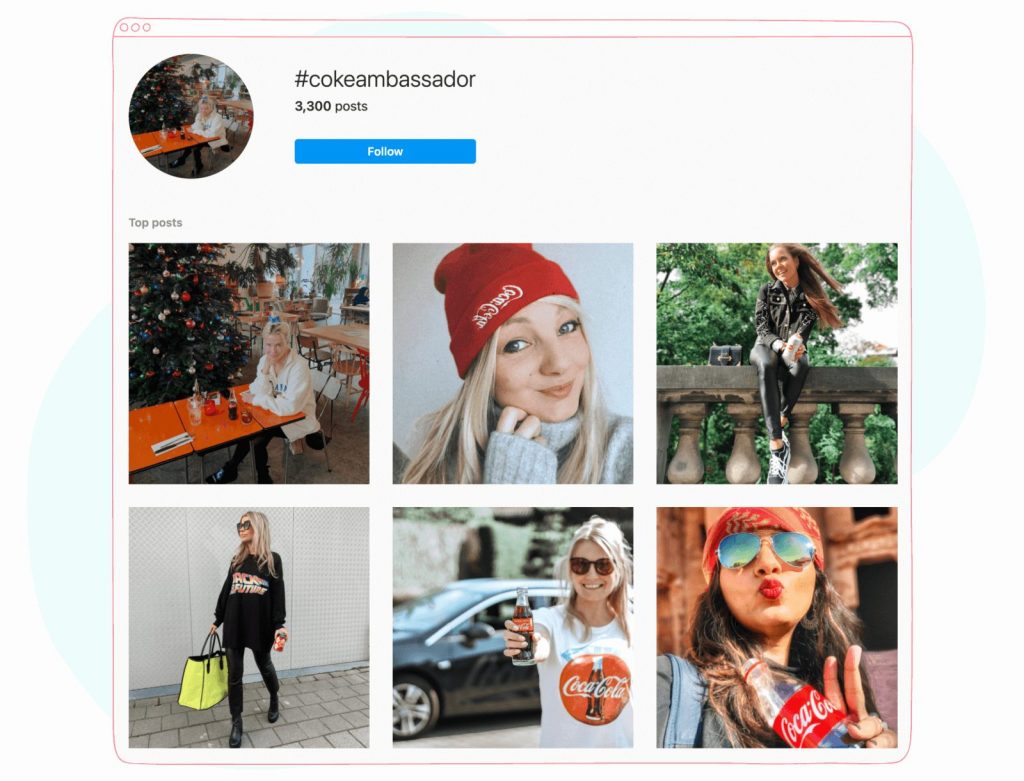 2. Audible x Jesse Driftwood
Amazon audio bookshop – Audible collaborated with photographer Jesse Driftwood on Instagram.
Rather than use a direct sales promotion approach, Jesse just shared his perspective on how the product has helped his productivity. The post received over 10,000 likes and 200 comments.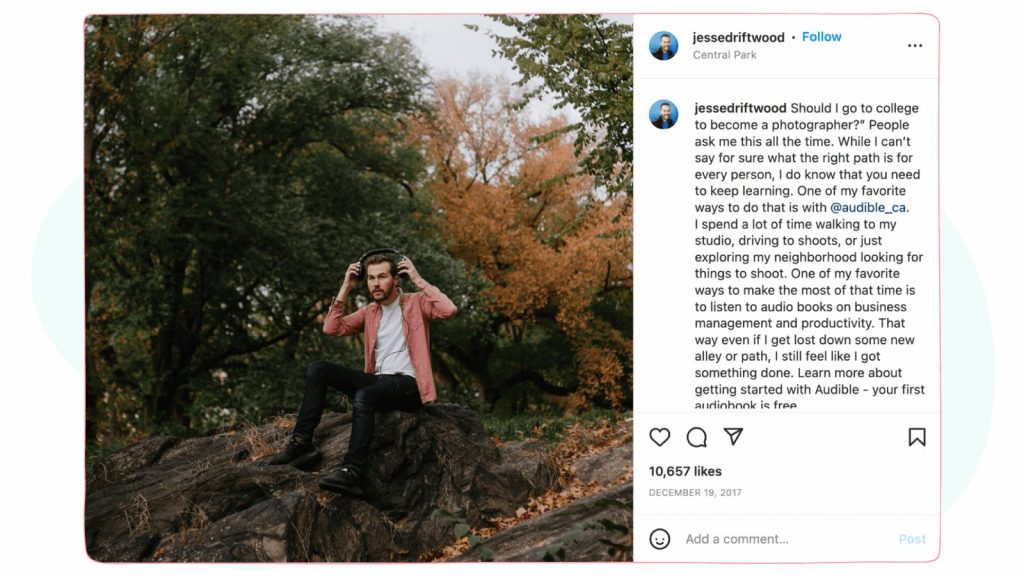 3. Daniel Wellington's Pick of the Day campaign
The Swedish Watchmaking brand offers its products to different influencers in exchange for a post promoting their brand.
They also created an official hashtag #DWPickoftheDay to collect all the content posted and the most creative content is reposted on their official account.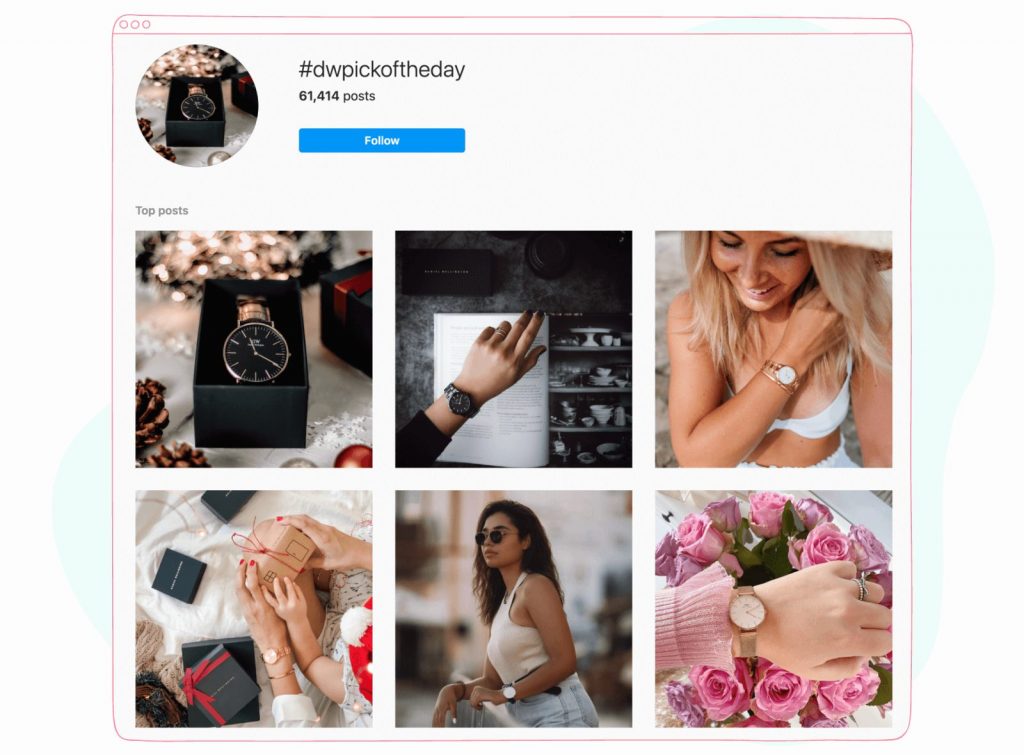 Measure the success of your campaign
While it is true that in marketing, you can make educated guesses, you never really know what's going to work for your audience until you try.
That you did all the groundwork on your audience and the micro influencer of your choice does not 100% guarantee success, and that's why you are expected to monitor the metrics of whatever campaign you're collaborating on.
That way, you would be able to see what's working and what's not. If the content is doing the expected numbers and if at all the collaboration is bringing you closer to your goals.
You may also consider Instagram takeover to liven your business's Instagram account with collaborating with influencers.