---
Almost every Instagram account attracts "non-living" followers: bots, spammers, and dead accounts. Here is why you should consider cleaning up your Instagram account and how you can do it effectively.
In 2020 the number of followers is no longer important! The trend shifted towards the engagement rates (ER). Thus, a public account with 100K followers can demonstrate the same engagement rate as an account with 10K.
With current Instagram algorithms, the number of followers is not directly proportional to how actively the account will be promoted by the platform's algorithm. Only the percentage of active users is important. The higher the number of inactive followers, the lower is the ER. And bots and dead accounts certainly cannot be called active followers. One of the ways to increase the ER is to get rid of "junk" followers.
At the "wild west" era of social media networks, some brands and opinion-makers used to purchase followers to look more "established". Back then there was no battle for quality content, there was a race for quantitative results.
So what is the big deal? After all, an account looks more "respectable" with a large number of followers. And who would guess that most of them are bots and ghost accounts, no one will rummage through thousands of followers, checking everyone? However, today we have access to tools that can reveal the organic follower growth and the true amount of followers. Tracking follower growth can reveal the disconnection between follower count and engagement rate. This misconception of "the more the better" ruins accounts.
How to differentiate bots, dead accounts, and spammers?
There is no golden formula for identifying a bot or dead account.
Sometimes it can be challenging to figure out if the account is real or fake. It's almost impossible to objectively detect them, you will need to use your critical thinking.
| | |
| --- | --- |
| Dead accounts | Dead accounts are those who aren't active anymore. One who created the account might have forgotten the password, or the account was created for a special purpose, and no one has logged in ever since. |
| Bots | Bots are designed to follow, like, and comment on other Instagram accounts through automation. Bots may sound like a solution for a busy person who has not enough time to deal with building the audience. But it is worth remembering that any kind of automation on Instagram strictly violates the platform's terms of use. |
| Spammers | Spammers are the easiest to identify. They leave identical comments or comments with ads under different posts. Besides, Instagram direct message inbox also can be filled with unwanted messages from spammers. |
---

How to detect bots and spammers?
To detect bots and spammers, you need to pay attention to the following basic things:
The lack of a profile picture and posts.
A username consisted of a set of numbers or letters or both.
No profile bio description.
A high number of subscriptions and a small number of followers.
Absence of content or content full of ads and questionable offers.
** Although the absence of a profile picture or posts does not yet guarantee that it is a bot. Most of the time it's not the reason to "wipe it off".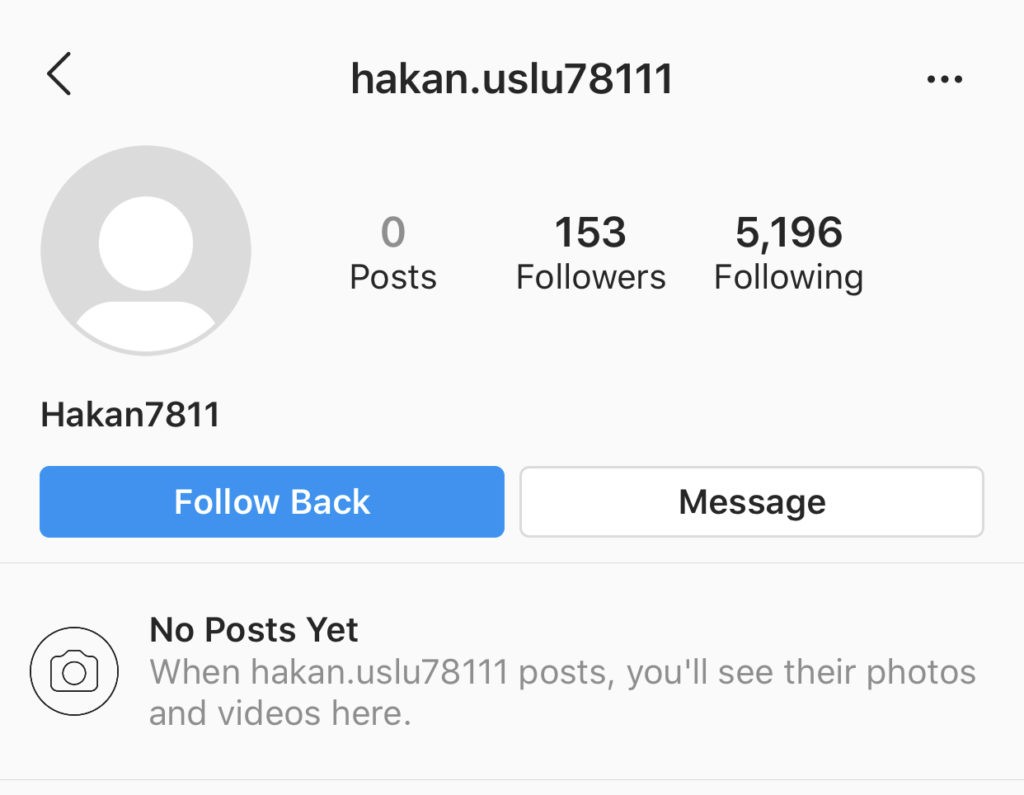 The above account looks like a bot.
Use Instagram data to monitor the presence of bots and dead subscribers
To detect the presence of bots you need to carefully monitor your statistics. You can do this with the help of the Sociality.io Report module.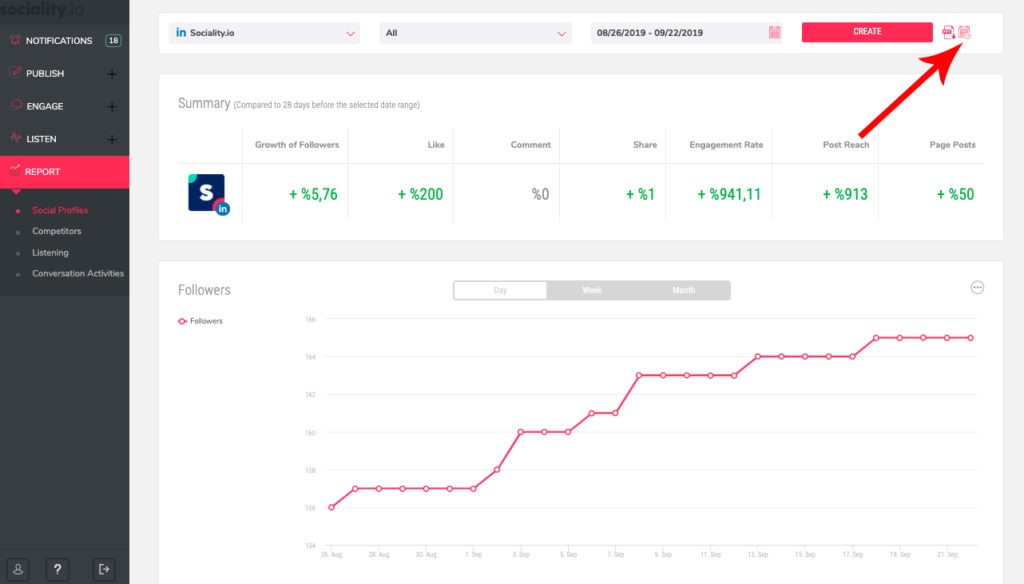 Or you can go to business account mode and open statistics on Instagram itself.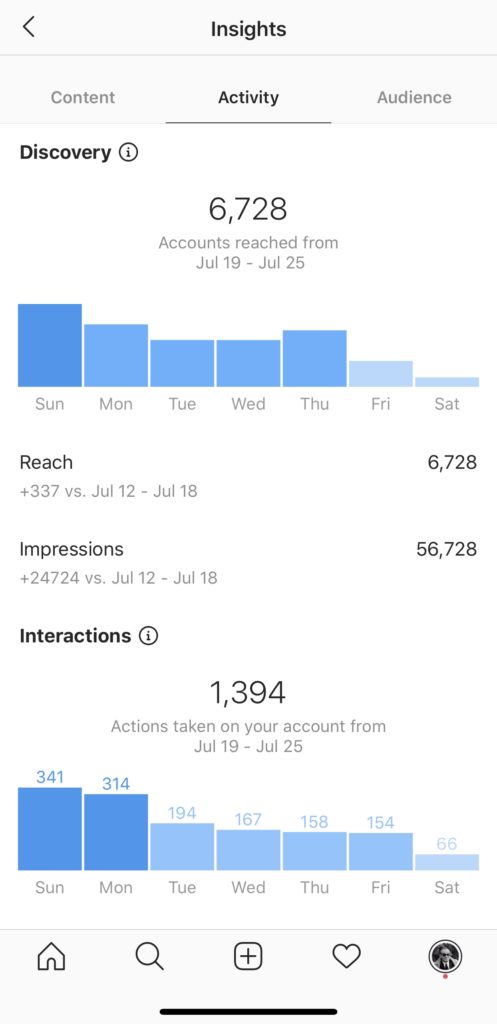 Instagram Statistics
Instagram's Insights are a good tool for providing overall information on your performance. However, built-in analytics of Instagram can show you Content, Activity, and Audience insights for the past week only. You can't view the data on a desktop, see older data, or export it. So you may need to keep copies of the insights or consider using third party analytics. Pay special attention to the reach and growth of followers. If sudden increases happen, then most likely some bots are taking over your account. As a result, it can downgrade your ER.
Action time! How to clean up an account?
Let's talk about the most common mistakes?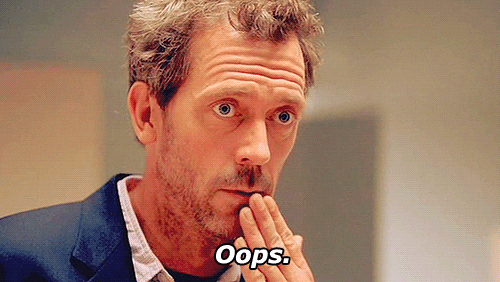 Before starting to clean up your profile, consider thinking over a strategy, and try to avoid possible mistakes.
1. Ignorance of your target audience
Before starting cleaning up, make sure you know the portrait of your target audience aka buyer persona. Some people hide behind the "empty" accounts with no posts just because they don't want to share their personal life, but love to follow others. They also may be interested in your brand or product. Just need some time and courage to purchase it.
2. Desire to remove everything too fast
Rapid decrease in the number of followers can lead to a drop in organic reach. Instagram can interpret this rapid change as a bad sign. As a result, the cleaned account can fall low in the feed. You will need some time to recover.
3. Doing nothing after cleaning
Removing bots and ghost accounts can't bring you a rapid increase in the level of engagement by itself. Instagram algorithms are constantly changing and getting complicated. Cleaning profile is good, but it is important to continue working on your content, so you can attract a new audience. Growing your audience authentically brings a lot of pros in the long run.
4 Rules for cleaning your Instagram account from "junk"
Instagram is evolving and changing very fast, so bot cleaning services may sometimes work less efficiently.
Start promoting your account before starting the cleanup, so you can gain real users instead of bots you are about to remove.
Define the criteria for cleaning in advance, try to avoid removing the real accounts too.
If you have a large number of followers, consider using trusted bot cleaning services.
Two ways to clean your Instagram account
How can you get rid of the bots and dead accounts? There are two ways you can do it. Each has its pros and cons.
Manual Instagram account cleaning
Honesty is always the best policy: you can warn your followers that you are doing some "clean up". Ask those who are interested in your account to leave comments below the post. It may appear that empty accounts are real people who are interested in your content.
If there are few followers and the activity is good, then you can analyze the account yourself. Based on the criteria outlined above, you can check each follower. Though it is a very time-consuming process, it's often the best choice.
Once you identified a bot or a dead account you want to remove:
Open your profile
Click on the "Followers" section below your username
Go to the profile you need to remove
Tap "…" (three dots at the upper right corner of the screen)
Choose "Remove Follower"
It's done 🙂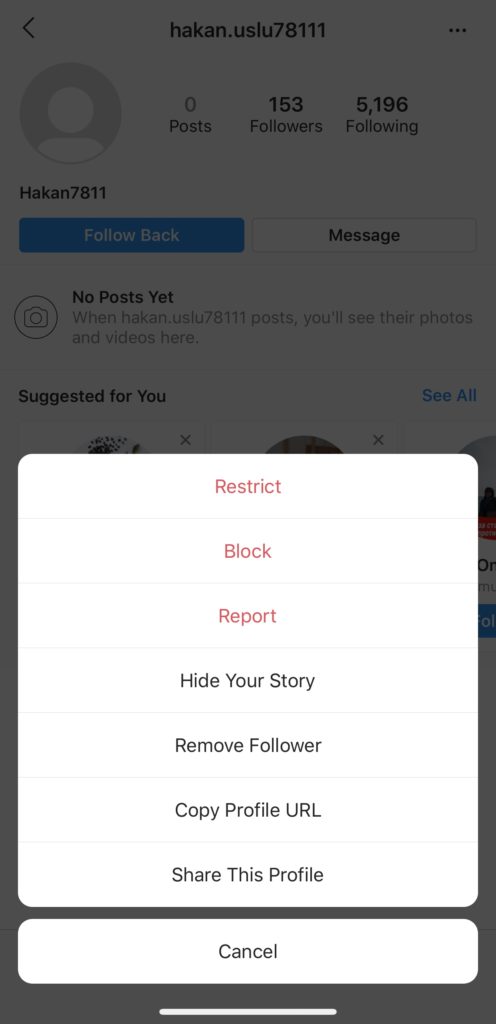 Automated bot cleaning services
If manual cleaning is not possible due to the lack of time to process a large number of followers or the difficulty of identifying bots without technical means, automated methods are used.
The bad news is no automated tool on the market can distinguish between the spammers and real accounts with good content. The good news is there are a lot of tools out there that can help an Instagram user to "clean out" bots and dead accounts.
How do they work? Download them from your application store. Or you may use the ones that work online. Make sure your account stays safe while using third-party services with access to your account. The services go through your account and identify inactive followers.
Using bot cleaning services allows you to save time and remove unnecessary accounts in a couple of clicks. Consider checking these services out:
---
Conclusion: Content is king
There is a "Content is king" article written by Bill Gates in 1996. He was right in his predictions. Nowadays social network users are not as interested in the number of followers as in the quality of content. If you have content problems, removing bots and dead accounts won't help.
Once you are done with cleaning up, continue monitoring your statistics with the help of the Sociality.io report feature and work on high-quality content by using all the features of Instagram. Content is king 🙂
Manage your Instagram Accounts in one place
Schedule your posts and stories, engage with your audience, and create export-ready Instagram posts and story reports in one place.