How to manage multiple Instagram accounts in one app?
Managing multiple Instagram accounts for your brand can seem like a hellish task.
From trying to figure out how to manage the tons of messages you receive daily to deciding the best strategy for posting your content on the platform. From brainstorming ways to grow your Instagram profiles and then wondering if your business growth reflects your effort.
No one can blame you for wondering if anyone can manage multiple Instagram accounts. And if it's worth it to do so.
Well, I can tell you that you can manage multiple Instagram accounts. And with the right execution, you can drive your business forward with them.
In this post, I'll show you how to add and manage your Instagram profiles using the Instagram app. And then introduce you to Sociality.io, our social media management platform, that will assist you in managing your Instagram accounts.
Let's begin.
Social Media News in a Nutshell
Get the latest social media news, insights, and marketing tips in your inbox once a week.
Can you manage multiple Instagram accounts in one app?
I'll first answer this question: Can you have multiple Instagram accounts?
The answer is yes. You can have more than one Instagram account. In fact, Instagram doesn't put a limit on the number of Instagram accounts you can create. So, you're free to create 20 different Instagram profiles as long as you provide an email address for each one of them.
But would you be able to manage all of them in one Instagram app?
Not exactly. You can only have up to five different Instagram accounts on one app, that you can switch between without logging out of them.
This means that if you have just three Instagram accounts, you can easily add the accounts to your app and switch between them seamlessly. But if you have 6 Instagram accounts, you'll need to log out of one of the five accounts already added in order to access the sixth one.
So yes, you can create as many Instagram accounts as you like. But if you have more than five profiles to grow, switching between them can quickly become a frustrating chore.
Here's how to start managing multiple Instagram accounts using the Instagram app
1. Add your different accounts to the Instagram app
If you want to manage multiple Instagram accounts on the Instagram app, you'll need to add the accounts first. Here's how to go about that.
Open the Instagram app on your iPhone or Android phone.
Now, go to your profile page. You'll get there by tapping your profile picture at the bottom right corner of your screen.
Tap the hamburger menu icon at the top right corner of your screen, then tap the settings icon at the bottom of the menu that slides out.
Scroll to the bottom of the list and tap on Add Account.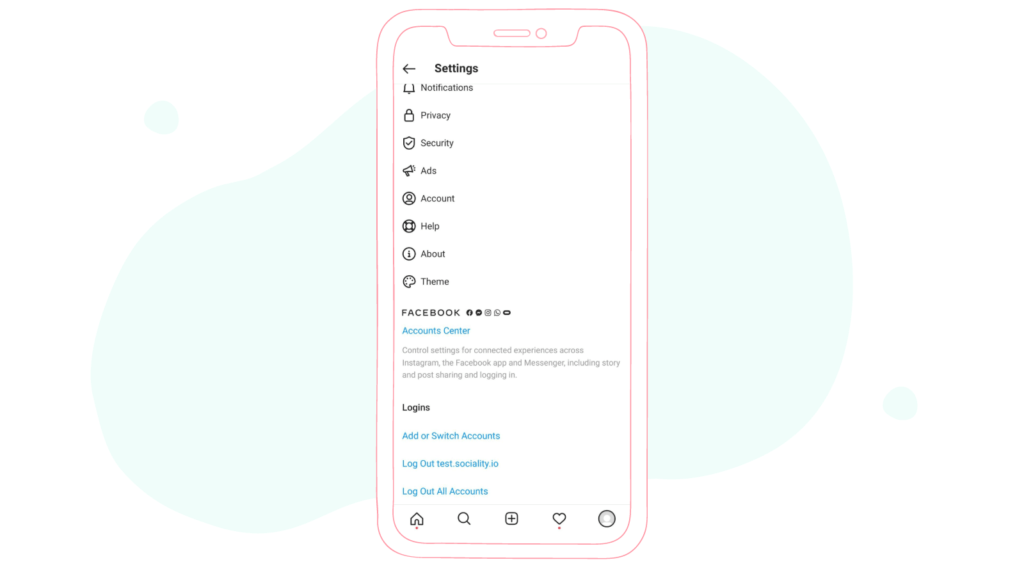 Two options will slide up from the bottom of your screen. You can either choose to Log Into An Existing Account or Create a New Account.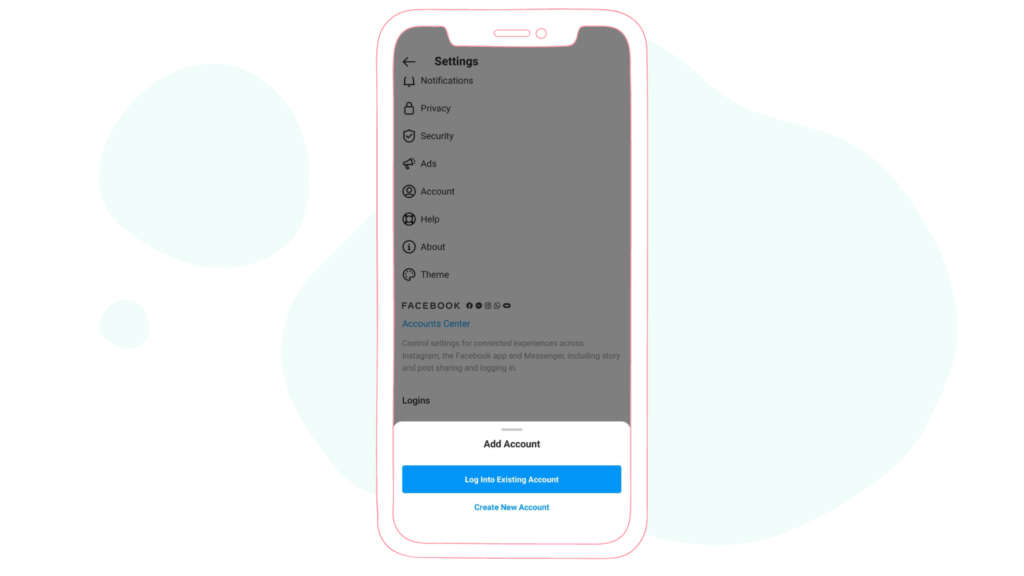 If you already have an Instagram account ready, click on the first option and enter the login information of the account you want to add i.e your username and password.
Tap login, and you've successfully added an Instagram account to the Instagram app.
But if you don't have one yet, tap the second option to begin the process of creating a new Instagram account.
Follow the steps above for each new account you want to add. Remember that the limit is five.
2. Switch between different accounts on the Instagram app
Once you've added your Instagram accounts to the app, switching between them is a breeze. Follow these steps to switch between your Instagram accounts.
On your profile page, tap on your username on the top left corner of your screen. This will bring up a list of added accounts. You could also hold your profile picture on the bottom right corner of your screen to show you your added accounts.
Choose which one you want to use and the selected account will open.
You can switch back and forth between any of your added accounts whenever you want.
3. Post to multiple accounts on the Instagram app
There's no point in adding all these accounts if you'll not be able to post content on them, right? You can share content with your different Instagram accounts using the app.
To post to an account, switch to the desired account and post your content as usual.
Unfortunately, you can't schedule your Instagram posts using the app. But there are two other options you could try apart from setting an alarm on your phone.
Step up your Instagram marketing game with Sociality.io
There is a limit to how much account management you can do with your Instagram app.
Unless you have low expectations for your Instagram campaigns, you can only go so far with managing your Instagram accounts on the Instagram app.
For starters, Instagram's five account rule puts a limit on how many profiles you can manage at once. And creates the inconvenience of having to log out of one profile in order to add another one.
Granted. If you do not have up to five accounts, this rule doesn't affect you that much. We can't all have a gazillion Instagram accounts like Nike.
But let's assume that you found out that the best time to post on your three accounts are 1 pm, 6 pm, and 2 am respectively. This most likely means you'll have to set an alarm on your phone so that you'll remember to post at the right time.
One more trivial task vying for your attention — all because the Instagram app doesn't have a scheduling feature.
And that's not all it doesn't have.
Instagram analytics is an important feature for the Instagram app, especially for brands like yours that need business profiles. But if you want a deep dive into the data behind your Instagram numbers, Instagram's in-built analytics feature will come up short.
For instance, this tool doesn't allow you…
In order to deal with messages and mentions across your social media accounts, you'll need to jump from one account. That's time-wasting, and I'm sure you don't need anyone to tell you that time is money.
So, in order to stop losing money, you need a system that helps you become more efficient with your time.
Sociality.io is that solution.
Sociality.io is a social media management platform that allows you to schedule your social media content, analyze and report the content's performance, track conversations about your brand, and so much more.
Let's start with the Instagram messaging feature. If your Instagram engagement is in chaos — understandable if you manage two or more accounts — you could be creating dissatisfaction in your audience.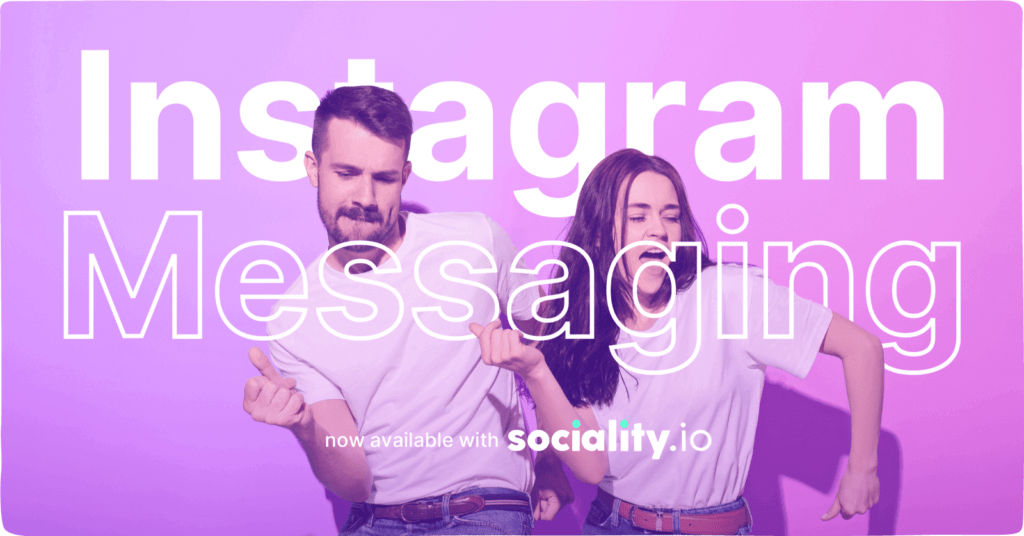 But with Sociality.io's Instagram messaging feature, you'll receive all your messages in one team inbox, saving the need for you to jump from one profile to another.
In this inbox, you'll be able to view and reply to your audience's reactions to your Stories, reply publicly or privately to your post comments
I talked about time earlier. Sociality.io's Instagram messaging feature has more features that'll help you save it. For instance, you can assign conversations to certain members of your team. And have access to ready-to-use messaging templates that'll increase your customer satisfaction and free up your time.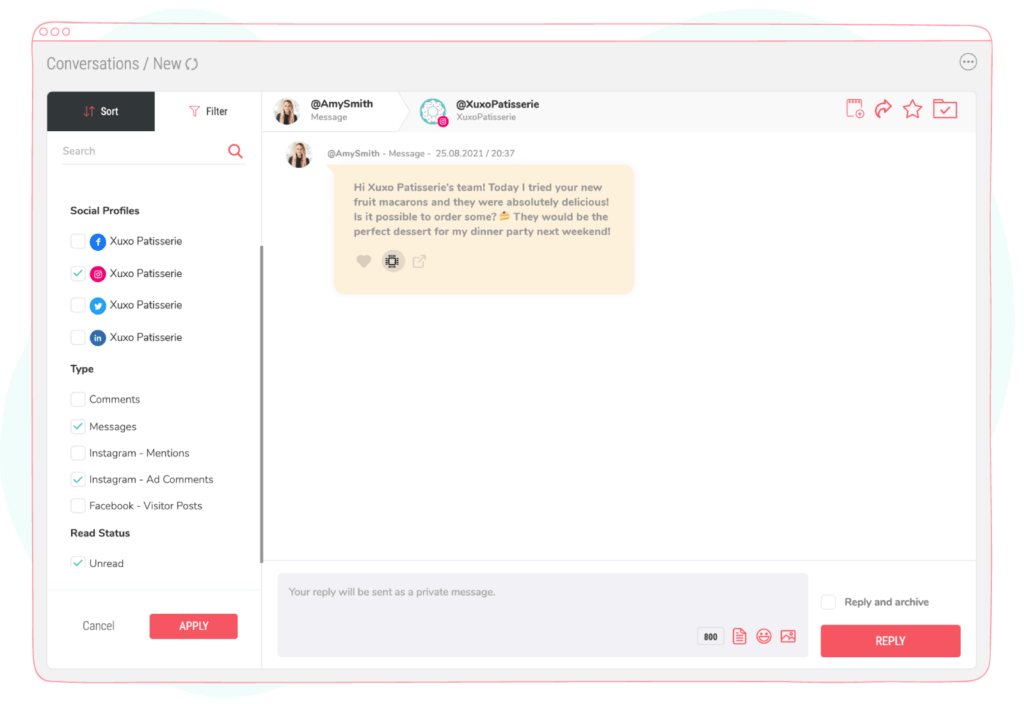 That is not the only way Sociality.io helps you manage your Instagram accounts more efficiently.
I already mentioned how the inability to schedule your Instagram posts can be a pain in the neck. Well, it won't be with Sociality.io. This is because you'll be able to create a content calendar and schedule your posts to go out at specific times.
Actually, this calendar is not limited to Instagram. It is a social media calendar. So if your brand is on multiple social media platforms, you'll be able to plan your content in one place.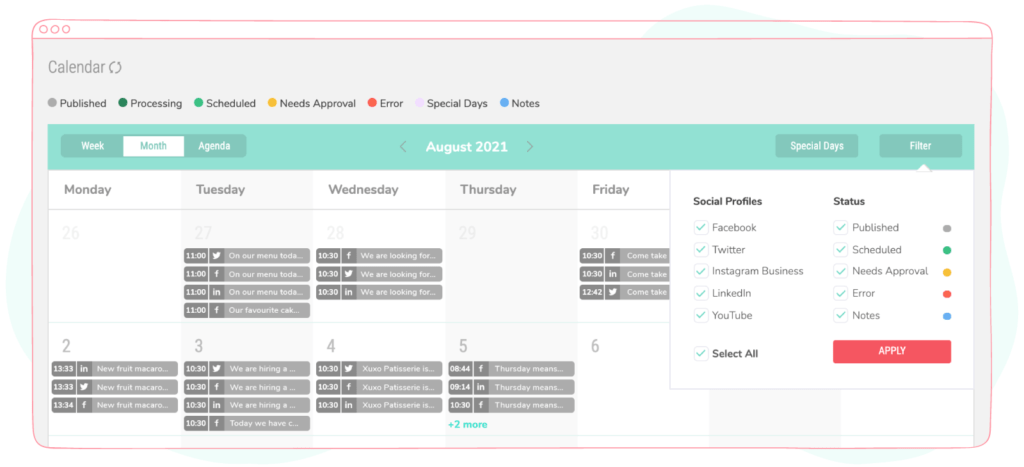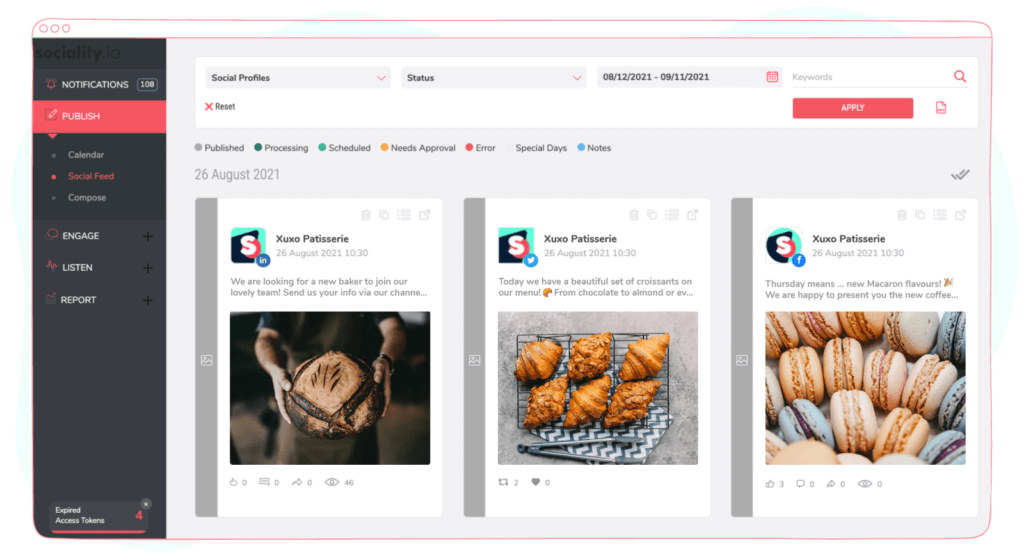 There are other features in Sociality.io that provide you with more functionalities that the Instagram app can't give you.
Like the Listen module which tracks the latest news about your brand on Instagram.
And the Competitor Analysis module allows you to research your competitors so that you can make more accurate strategic decisions.
And the Report module allows you to generate and export the performance report of your Instagram accounts in minutes.
You can have all these and more with Sociality.io.
And that's why I'm excited to let you know of Sociality.io's mobile application. It gives you access to desktop-level social media management features on your ios or android. So, if you want to track your Instagram performance on the go, you can download the Sociality.io mobile application from the Google PlayStore or the App Store.
Conclusion
Having multiple Instagram accounts allows you to reach different segments of your target audience on a platform that has one billion monthly active users.
But in order to maximize the gains of owning multiple Instagram accounts, you need to effectively manage all your accounts.
This is where Sociality.io's social media management platform can help you. You'll be able to manage all your social media accounts without switching between platforms.
You can join them by activating your 14-day free trial here. No credit card required.