Don't boost post on Facebook and Instagram
We all know how stressful yet crucial it is to monitor engagement rates on Facebook and Instagram. You develop new content strategies, engage with audiences 24/7, and monitor social media competitors. However, at the end of the day, neither Facebook nor Instagram favors Business Pages. Fact! So frustrated page admins panic and choose a path with the lowest resistance. Since the "boost post" on Facebook or "promote" on Instagram buttons are tempting and so easy to click.
Boosted posts generate higher reach and impressions. And although the engagement consideration can be a part of your strategy, it surely doesn't fit every objective of every campaign.
This article will reverse engineer boosted and promoted posts and show you what exactly happens when you click that magic button.
Moreover, we'll explain in which scenarios boosting posts indeed suits your marketing objectives and when the feature simply drains your advertising budgets. Without further ado, let's get started! Let's stop wasting money altogether and start driving real conversions.
Social Media News in a Nutshell
Get the latest social media news, insights, and marketing tips in your inbox once a week.
What is the "boost post" feature?
By boosting your posts, you can reach new people who are more likely to react, share and comment. Beginner business page admins like the feature because all friction points are eliminated, and it quickly kills the frustration of low engagement rates.
After you share a post on your Facebook or Instagram page, you have an option to boost/promote your post via paid ads. The Facebook algorithm favors personal pages over business pages. Thus, this trouble-free way to sponsor your content without leaving the page comes in handy. 
Boosting posts and driving engagement rates sounds good in theory but usually fails to drive real results. We'll talk more about its limitations and why launching a well-optimized ad campaign using Facebook Ad Manager is a better alternative. Of course, we'll cover scenarios when boosting posts is ideal. 
🧁 Bonus article: Learn from top-performing Facebook pages on how to boost engagement
How to boost posts on Facebook on Instagram?
Option 1:
Simply choose a post and click "Boost Post."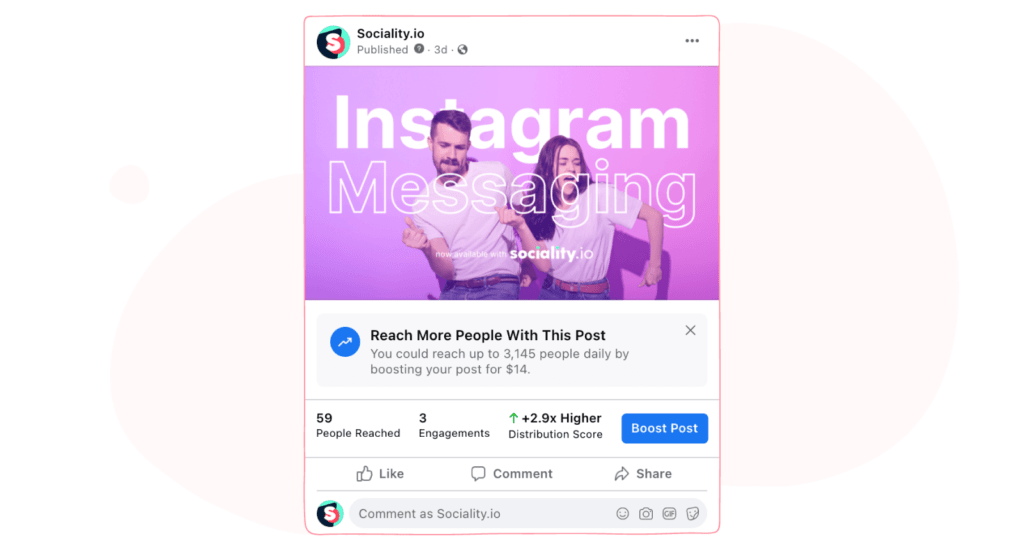 Option 2:
Go to "Ad Center"
Click "Create Ad"
Choose "Boost a Post"
Either click on Facebook or Instagram tab
Choose a post to boost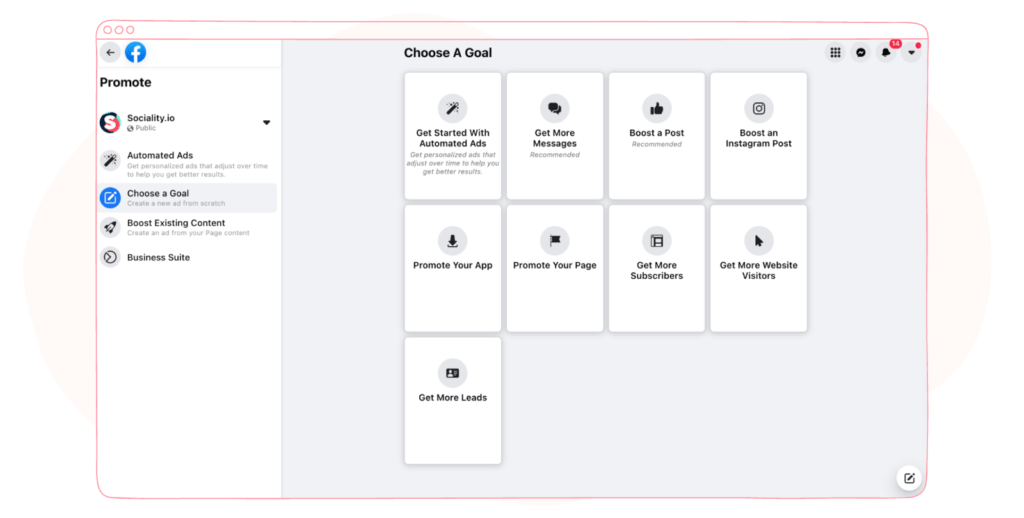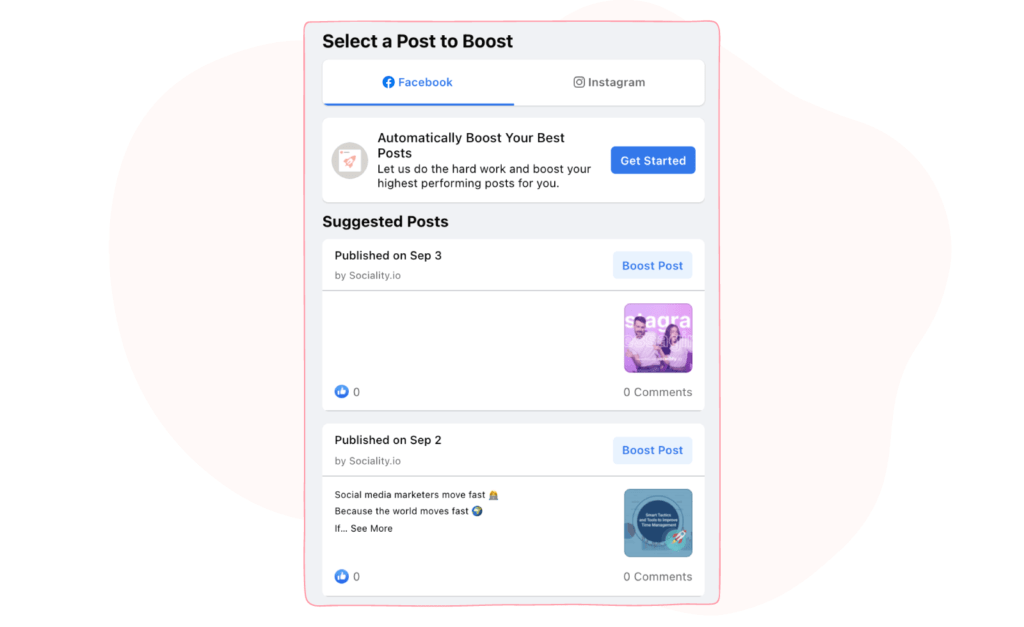 How to "boost post" on Facebook?
Let's imagine you've clicked on "Boost Post" on Facebook. The system allows you to choose your audience, budget, and campaign duration. But what you might don't know is that Facebook automatically chooses your ad's goal should be. And it can choose wrong.

Thus, you can click on "Change" and choose a different goal that will suit your needs better:
Automatic
Get more leads
Get more website visitors
Get more messages
Get more engagement
Get more calls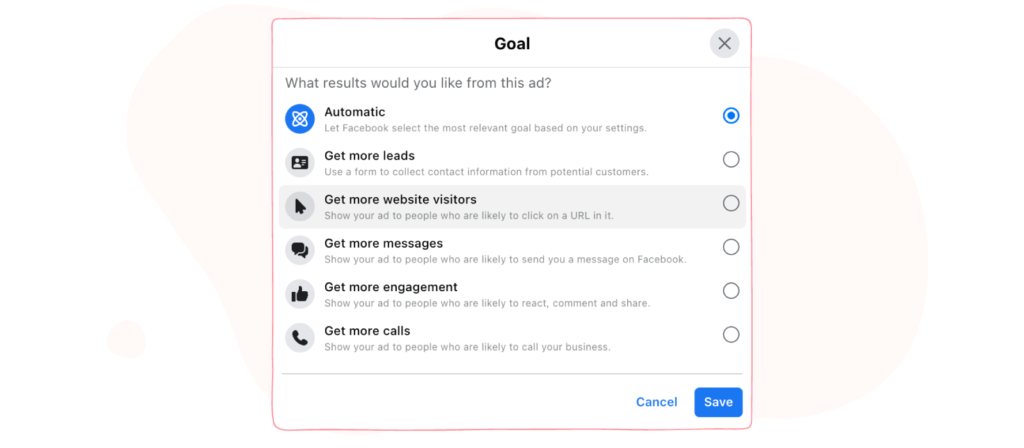 In comparison, Facebook Ad Manager allows you to choose 11 goals: Brand Awareness, Reach, Traffic, Engagement, App installs, Video views, Lead generation, Messages, Conversions, Catalog sales, Store traffic.
We have a step-by-step guide to Facebook Ad Manager, where we've covered all possible goals to choose from. Based on the advertising campaign's objective, consideration, and goal, Facebook's algorithm changes its "engines" accordingly. You can read this article to learn more about it in detail: https://sociality.io/blog/how-to-use-facebook-ads/
After you choose a goal, you can add a button.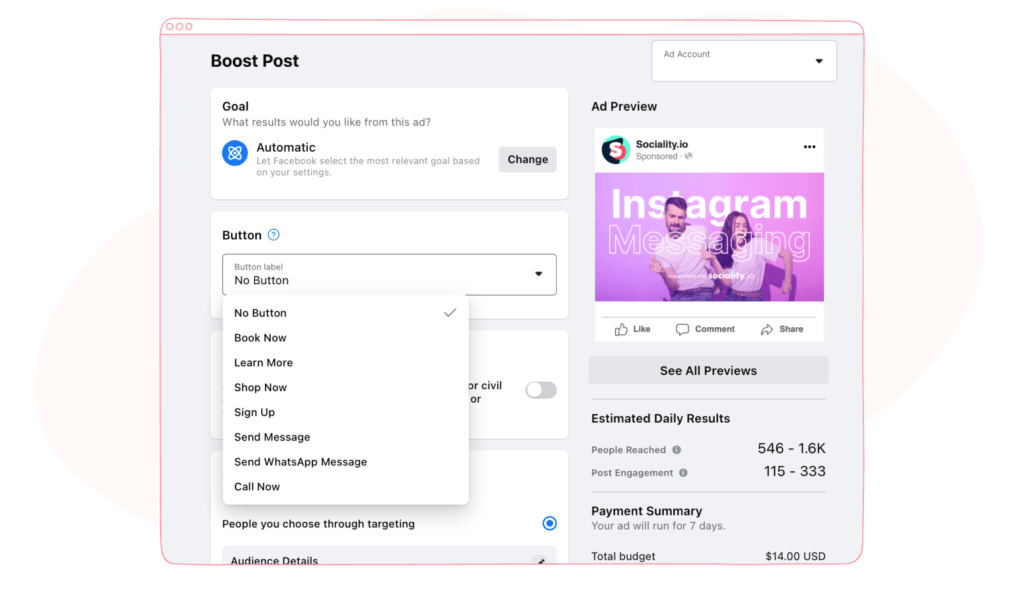 The major limitations of boosting posts on Facebook
Although Ad Center is improving with every single iteration, to this day, it still lacks advanced targeting options.
You can choose gender, age bracket, location, and essential, detailed targeting (interests, demographics, interest, behaviors).
Also, placement options are limited to only Facebook, Instagram, and Messenger. We highly recommend turning on Facebook Pixel, which will allow you to measure ads performance in Google Analytics.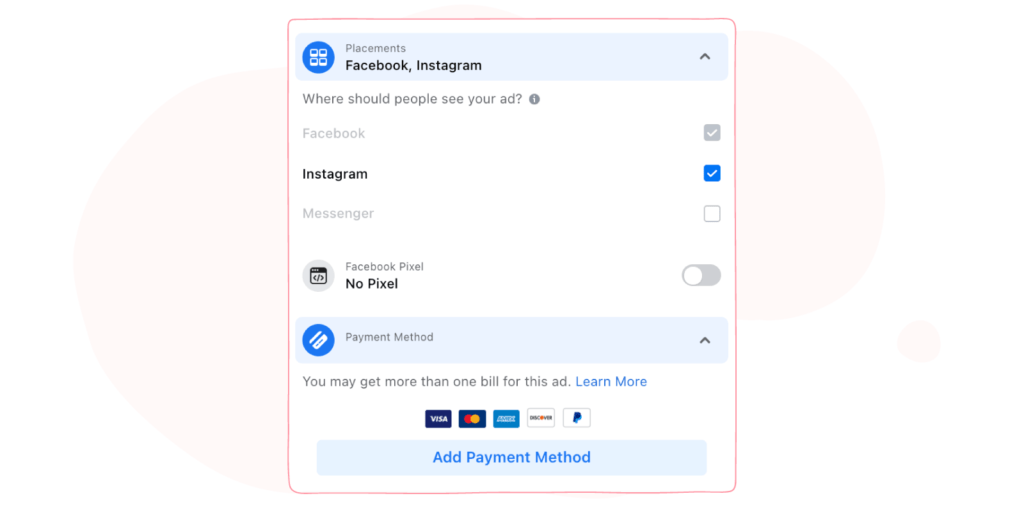 In comparison, Facebook Ad Manager allows you to manually choose the social media platform and the specific placement where your ad will be shown. For example, you can't boost Facebook posts only inside Facebook Stories or In-stream videos.
How to "promote" posts on Instagram?
When you promote your post on Instagram with the help of this magic blue button, you face just pretty much the same thing: the system allows you to choose the destination where to send people, define your audience, budget, and campaign duration. Here on Instagram, boosted posts automatically have an "Engagement" consideration. As a result, the post may get a lot of engagement, but that may not be your goal of the ad.
Engagement – increases user interaction with a particular post to send people to your profile, website, or Instagram DM.
Select a goal. (More profile visits, more website visits, more messages.)
Select an audience. You either can choose Automatic, which is a Lookalike audience, or create your own.
Select your budget and duration. The higher the budget, the higher is the estimated reach.
Review your ad and launch!
Related article: Which is more important: Reach vs. Impressions
Note: Inside, create your audience. You can choose basic targeting options such as location, interests, age.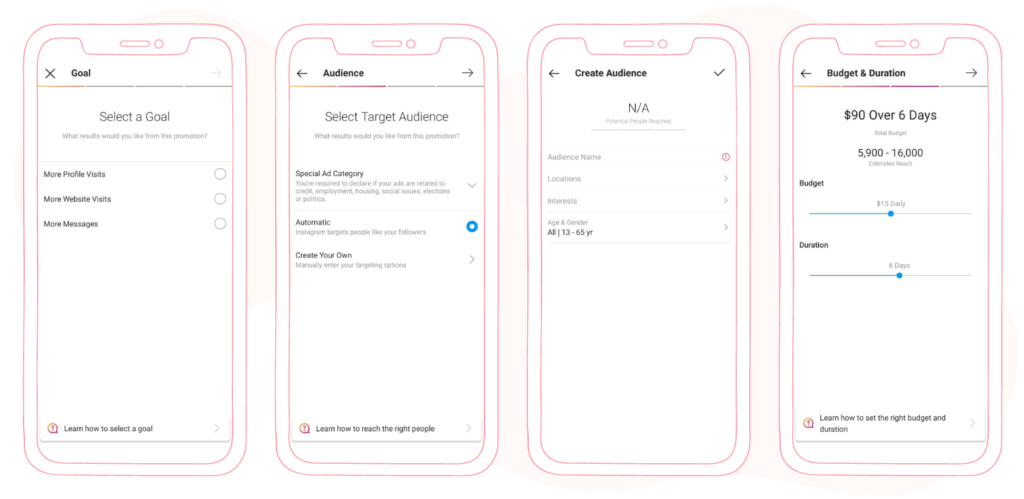 Why boosted and promoted posts don't drive measurable results?
Businesses love online advertising. In contrast to traditional mediums, digital ads allow you to talk to targeted audiences. You can send your message to people who are more likely to purchase your product or service. By specifying to Facebook and Instagram who your ideal customer is, you are more likely to reach the results.
However, the automatically set engagement consideration of boosted posts, in fact, serves the goal of increasing engagement and showing your ads to a bigger audience. To make it short, boosted posts are not a panacea for all problems.
In addition to limited objective/goal options of boosted posts, ad placement is also poor. There is no chance to target different mobile devices or operating systems. No Audience Network, no Desktop right-hand column.
With a boosted cost, there is also no chance to reduce the cost of your ad: no narrowing the interest targeting and optimizing your ad visual. What else? If you decide to edit your boosted post. You have to delete it first and start over again.
The superpowers boosted posts lacks
| | | | |
| --- | --- | --- | --- |
| Feature | Boosted posts on Facebook | Promoted posts on Instagram | Facebook Ad Manager |
| Considerations | Engagement, Messages, Leads | Engagement | Brand awareness, Reach, Traffic, Engagement, App installs, Video views, Lead generation, Messages, Conversions, Catalog sales, Store traffic. |
| A/B testing | No | No | Yes |
| Option to "exclude" some audiences | No | No | Yes |
| Advanced control over location targeting | No | No | Yes |
| Option to choose demographics and behaviors in targeting | Yes | No | Yes |
| Control over ad placement | No | No | Yes |
| Control over cost | No | No | Yes |
| Control over start and end date | Yes | No* | Yes |
*The control over advertising duration is limited to 30 days only.
How to use boosted and promoted posts to drive real results?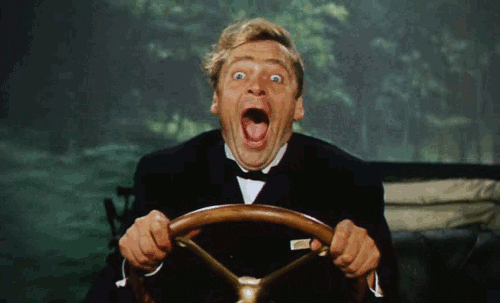 It is time to show you another side of a coin. Boosted posts are not as useless and indeed can be a part of your advertising budget. There are exceptional cases when boosting some posts and publications on Facebook, and Instagram certainly drives actual results and affects the bottom line.
1. Boost unicorn posts
You've discovered unicorn posts with awesome and authentic communities sharing their opinions and thoughts under your post.
Every page has an expected level of engagement it receives daily. Occasionally, your post is doing so well that the engagement rates are 70% higher than average. Something is fantastic about it! Great job. By boosting the post, you'll boost it even further and show it to a bigger audience.
Sociality.io reporting module easily enables sorting content with highest to lowest engagement rates.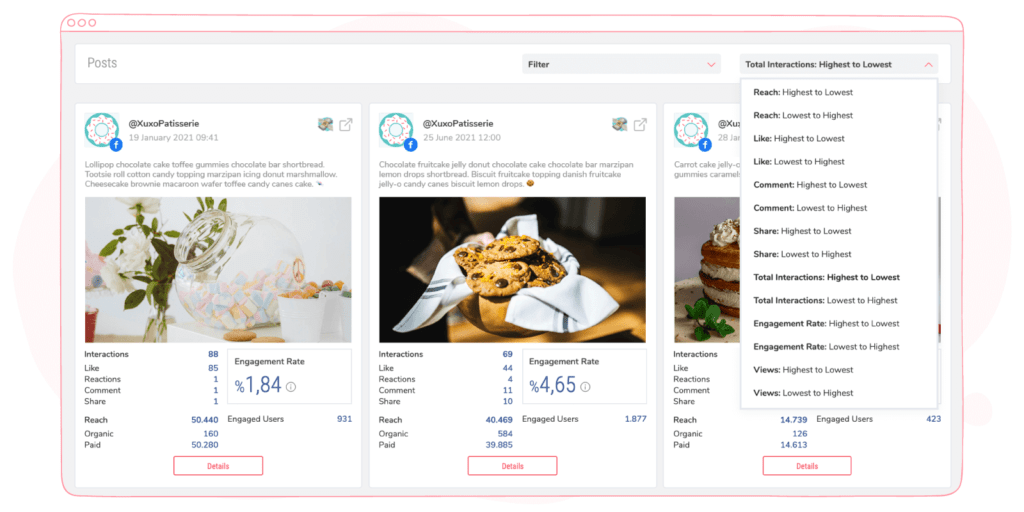 However, don't just boost posts that perform a certain percentage better than average. Check the comment section. Sometimes people come and share their personal stories and build authentic communities right under your content. Then inviting more people to participate via promoting the post drives incredible results. Moreover, you can react very fast by setting up a campaign in 5 minutes.
2. Boost posts to bring your account back to live
Sometimes companies or creators forget about social media. Facebook doesn't like admins to be inconsistent. They go through phases of extended holidays or social media detox. So, your first posts after a long break will be punished by the algorithm and won't appear in the front lines of followers' feeds.
Boosting posts helps to bring your account back to life by juicing it up with paid engagement.
Choose " People who like your page" to bring your account back to life in the audience section.
To wrap it all up,
We've shown you two coins of boosted or promoted posts on Facebook and Instagram in this article. We discovered what happens when you click on the "Boost Post" button and its algorithm by reverse-engineering the features.
When you need to boost your post, remember to choose your own goal, make sure to turn the Facebook Pixel on if you have the Facebook Pixel installed on your site, and select your audience.
At Sociality.io, we always believe in the power of social media marketing and love empowering businesses with intelligent SaaS solutions and expert opinions to help you grow.