How to track competitors' promoted Instagram posts?
It's a safe bet that you've probably found yourself wondering what your competitors are up to on social media, particularly Instagram.
Have they beaten you to an important realization about what content your audience likes? Have they made a costly mistake that you still have time to avoid?
Especially since you want the best possible ROI from your ad spend, you might be asking what posts your competitors have chosen to promote and if there are lessons for you to draw there.
In today's article, we're helping you figure out how to track competitors' promoted Instagram posts.
But first, a rundown of why this is a can't-miss tactic to start using right now.
Social Media News in a Nutshell
Get the latest social media news, insights, and marketing tips in your inbox once a week.
Why is it essential to track competitors' promoted Instagram posts?
Let's look at three reasons why tracking competitors' promoted posts is a good use of your time.
Reason 1: Learn what works
If someone's already discovered a strategy that works, what's the point in eventually learning it through trial and error?
By looking at your competitors' promoted posts on Instagram, you can quickly identify what's working for them. And that can serve as inspiration for your own paid strategy.
With 72% of Instagram users buying a product after seeing it advertised, according to Business Insider, the opportunity is there and it's huge.
But, hey, there's only so much ad spend to go around, plus you've got ROI targets to hit.
If you can learn from others in your space, you'll optimize your Instagram ad budget better and get more out of it.
Reason 2: Learn what not to do
If you're tracking your competitor's promoted posts and realize they've stopped running a certain ad after just a short while, chances are it was a dud.
Analyzing it can give you some clues as to why it didn't work, prompting you to avoid making the same choices for your brand's promoted posts.
With metrics like the number of interactions and engagement rate, you can be even more certain about the performance of each of your competitor's promoted posts.
That can give you specific insight into why the post didn't do so well, meaning you won't have to lose any of your own ad budgets to learn the lesson.
Reason 3: Differentiate your brand
Or it could be the case that you realize the need for your own promoted posts to have a voice of their own, different from what your competitors are sharing.
Keeping an eye on competitors' promoted posts will serve you well here, too, and you'll see how you can create promoted posts that stand out from your competitors' ads—positioning you to win more attention and engagement.
If you're looking to learn more about the benefits and get a clearer general picture, this article on competitor analysis is a helpful resource.
🥁 Bonus: How to prepare an Instagram competitor analytics report in 5 minutes?
Use Facebook Ad Library to track competitors' promoted Instagram posts
We'll start with Facebook Ads Library, a free tool launched by Facebook in 2019 to promote transparency on the ads running on its platforms.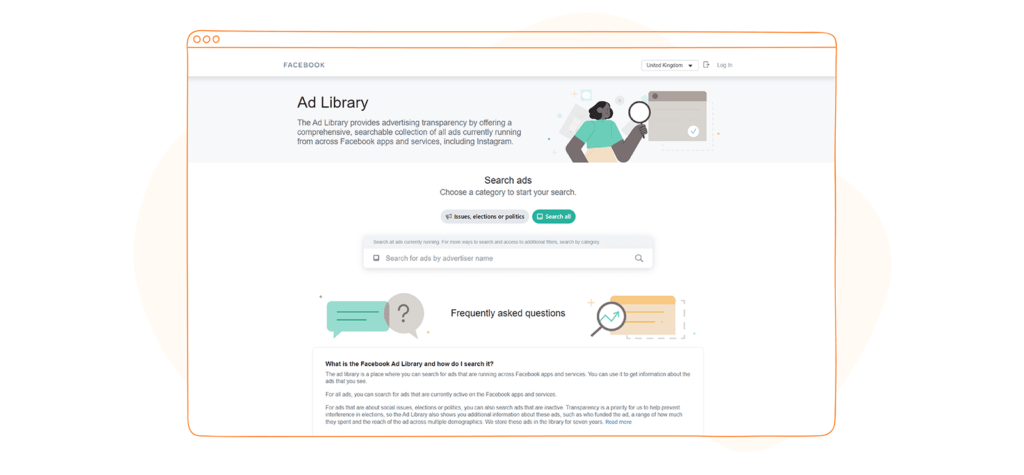 When you first visit the page, the default ads it searches for are those with political content, so be sure to toggle it to the "Search all" option.
Next, you'll need to type in the name of your competitor's brand into the search bar. Once the account you're looking for appears, simply click on it, and you'll be taken to a page showing all the ads they're currently running.
Using Wish Doorbusters as an example, Facebook Ad Library shows these results: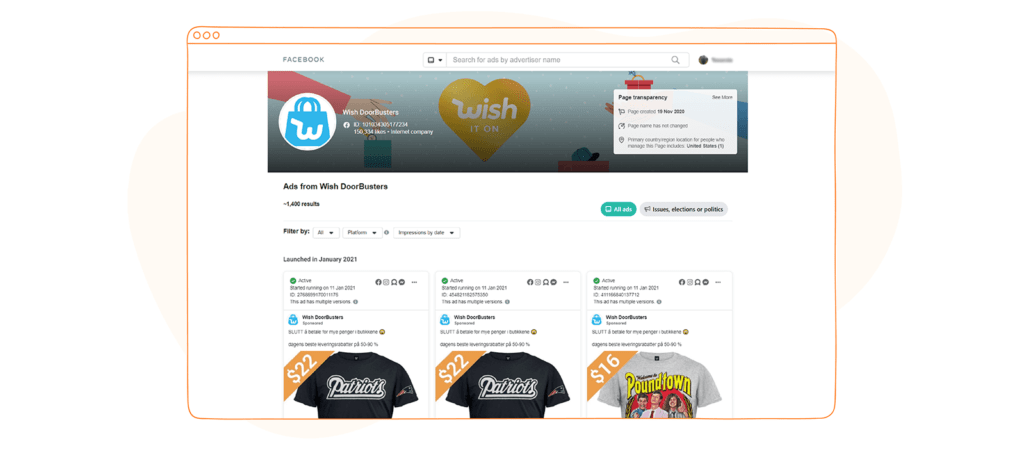 Since we're focusing on Instagram, head over to the platforms section of the filters and select—no points for guessing!—Instagram.

The other two are also handy. You can filter by country to track your competitors' promoted Instagram posts that are targeted at a particular region.
And the "Impressions by date" drop-down box is useful for limiting results to a particular time frame, e.g. seeing what promoted posts your competitor ran in the lead-up to Valentines' Day, Black Friday, Christmas, etc.
Whatever filters you apply, results will be sorted from the posts that got the highest impressions to those that got the least.
You can certainly get a rough idea of what works best, but you'll be short on any concrete numbers that can help you take your competitor analysis a level higher.

In any case, you'll be presented with all the posts your competitor is promoting on Instagram, along with how long they've been promoting each one.
Clicking on "See ad details" for each ad lets you learn a little more about it. The most significant info you can gather here is how many versions of the ad are running.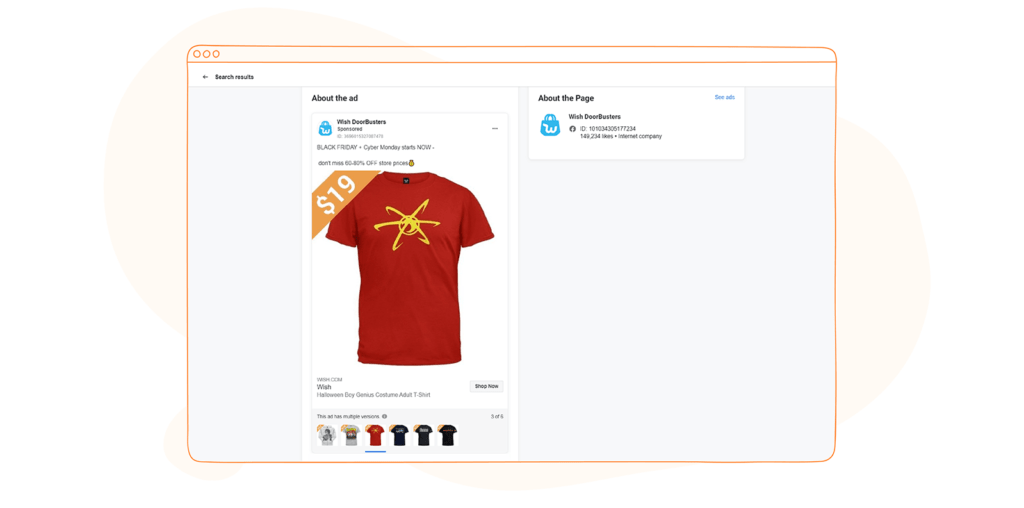 For the above ad, for example, there are six. It's a way to see the different pictures, videos, and text that your competitor is testing for each ad. In the above example, it looks like different designs and colors of pretty much the same T-shirt.
Below, you can see that Glossier is using the same picture but from slightly different angles for each version of their ad. And they're applying the text to one of the images. Maybe they've caught wind of the fact that stories with central text outperform those without in 75% of cases.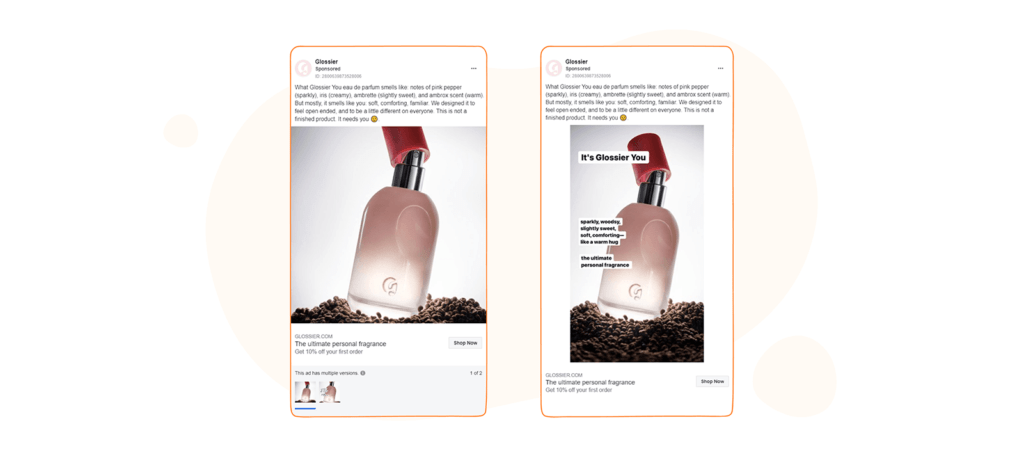 Facebook Ad Library is a great tool for keeping up with the Instagram posts your competitors are promoting at any given time, along with getting some insight into how they're A/B testing each ad.
That may be enough if you're just looking to get a broad idea of the ads your Instagram competitors are running, but you'll find the lack of stats too limiting if you're after specific insights.
Plus, you'll have to remember to return to Facebook Ad Library every now and again so you can stay updated on your competitors' Instagram ad strategy.
It's no biggie if you can fit it into your schedule. But having automatic reports sent to your inbox gives you one less thing to do, and it increases the chances that you'll keep a constant eye on the posts your competitors are promoting.
Here's a roundup of what you may like about using Facebook Ad Library to track competitors' promoted Instagram posts, and where you might find it a bit underpowered:
Facebook Ad Library pros
Multiple filter options for refining results
Shows different versions of an ad where applicable
Shows how long the ad has been running
Facebook Ad Library cons
Lacks precise statistics
You can only analyze one competitor at a time on a single screen
Inability to generate reports
Using Sociality.io to track competitors' promoted Instagram posts
Another way you can track competitors' promoted Instagram posts is with Sociality.io.
You'll start off by going to the competitor analysis section under the report module.
To narrow the results down to just Instagram, our focus for today, simply select Instagram business under the platform filter.

There are likely multiple competitors whose Instagram promoted posts you're interested in tracking at the same time. Unlike Facebook Ad Library, Sociality.io lets you do this for multiple competitors at once.
Just select the relevant ones from the list of competitors you've pre-added. .

Once that's done, hit "create," then scroll to the posts section of the report. You'll immediately notice that some posts have a green dollar sign icon on them. Those are your competitor's promoted Instagram posts.
To only show the promoted posts and leave out organic ones, click on the filter drop-down list and select "paid."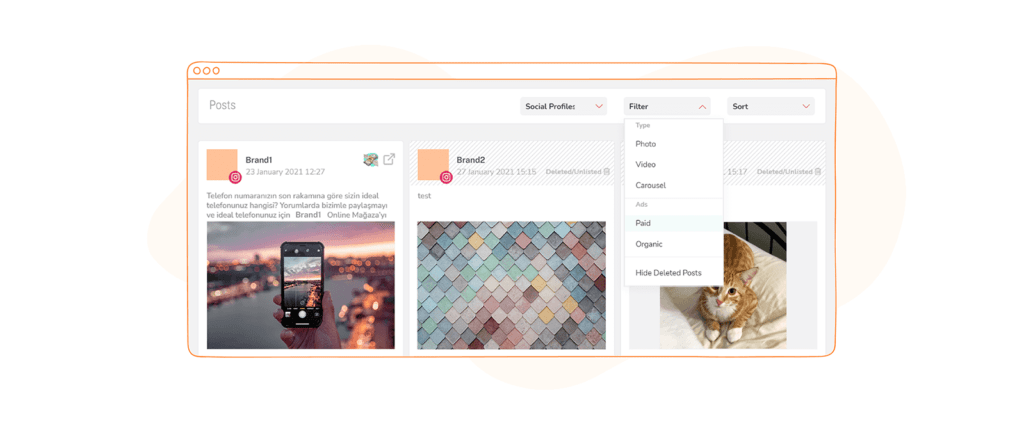 Now all the posts that appear are promoted.
The sorting options offer more variety than Facebook Ad Library, which lets you tinker with the time frame but shows results in the same order—highest impressions to lowest.
With Sociality.io, you can sort posts according to likes, comments, engagements, and total interactions in either ascending or descending order.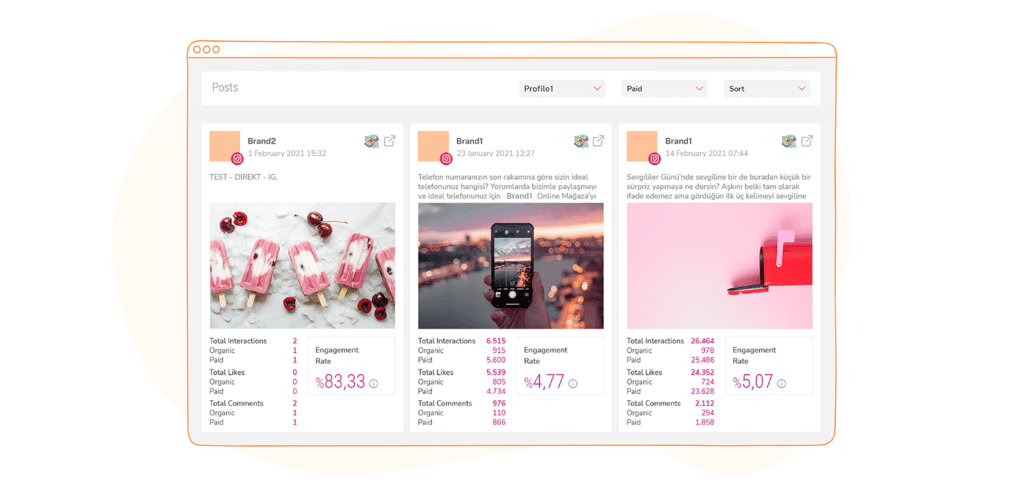 Notice that, apart from seeing that the posts have been promoted, you can also tell how they've performed.
And the interactions, likes, and comments are separated according to whether they came organically or through the promotion of the post.
You can also see the overall engagement rate, giving you a clear idea of the results your competitors are getting from their ad spend.
If you're a social media manager with a ton to do, you'll appreciate having a report with competitors' promoted Instagram posts drop into your inbox automatically. That's an option you have with Sociality.io, and the reports are sent to you at a frequency of your choosing.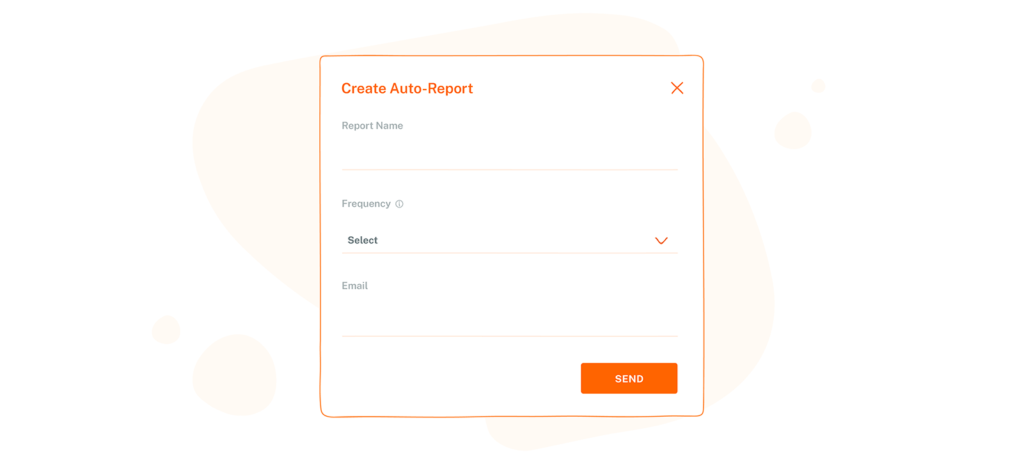 Here's why you might find Sociality.io a great tool to track competitors' promoted Instagram posts and some areas where you may need to refer to Facebook Ads Library from time to time:
Sociality.io pros
Post performance metrics such as interactions, likes, comments, overall engagement—separated according to paid and organic
Ability to receive the data in scheduled, automatic reports
Ability to view and analyze multiple competitors' promoted posts on the same screen
Results are shown within a complete report that gives context into how the promoted posts are affecting the brand at large
Variety of sorting options
Sociality.io cons
Doesn't show multiple versions of an ad
Doesn't filter ads according to country
Closing thoughts…
Before you start using your ad spend, seeing what Instagram posts your competitors have chosen to promote can give you some perspective as to the kind of posts that are likely to give you the best ROI—and those that aren't.
Making this a permanent part of your competitive benchmarking is a sure way to spot opportunities for getting ahead of other brands that are competing for your audiences' attention and getting the results to show! Metadata: Learn how to keep track of your competitors' promoted Instagram posts. Figure out their paid strategies and use them to inform yours.